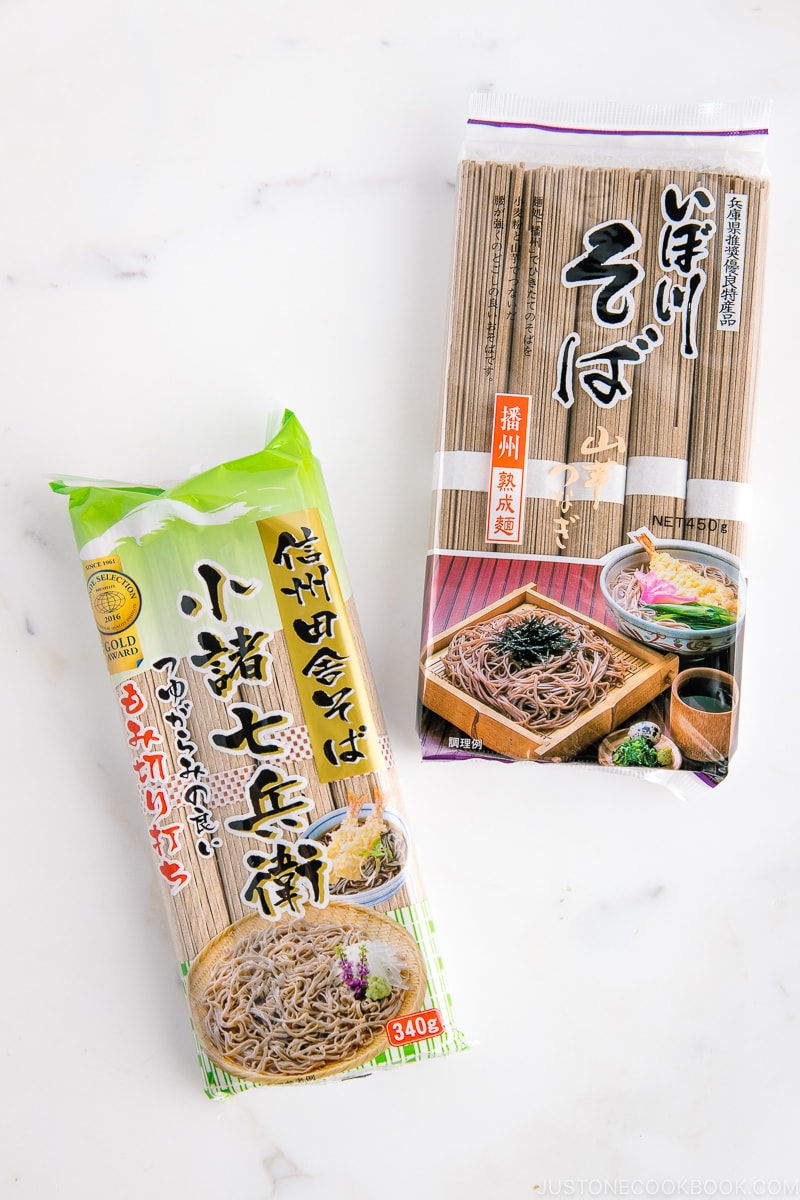 What are Soba Noodles (そば or 蕎麦)?
Soba noodle is commonly referred to as a type of thin noodles made from buckwheat flour, or a combination of buckwheat and wheat flours.
While the traditional method of making soba consists mainly of buckwheat and water, wheat flour has been added to help hold the noodles together easier during the production. That is why the most common type of soba you can find in Japan is Hachi-wari soba (八割そば), which is made of a mixture of 80% buckwheat flour and 20% wheat flour. Nowadays, you can even find soba noodles flavored with other fun ingredients such as matcha green tea, ume plum, and wild yam.
In Japan, soba noodles are served either chilled with a dipping sauce, in a hot dashi broth as a noodle soup, or at room temperature all year round. Come with a light or dark grayish-brown color, soba noodles are known for its earthy and deep nutty flavor from the buckwheat. Some would also describe soba as a slight grainy taste. The best way to enjoy soba is with a mild broth or a simple dressing, so its unique nutty flavor will still stand out and doesn't get concealed by other seasonings.
Origin of Soba
Considered as Japan's washoku cuisine, soba is said to have originated in China and been brought to Japan toward the end of the Jomon period (10,000 BC to 300 BC). While there are many theories detailing the origin of soba, soba was first made in a shape that was similar to boiled dumplings before it was developed into the thin, long noodles during the Edo period. Because it can be made and eaten quickly, soba became very popular among the commoners and people started selling it as fast food on the streets.
More than just noodles that fuel energy, soba is synonymous with Japanese cultural heritage and is regarded as one of the most prominent dishes of Japan's modern food cuisine to date.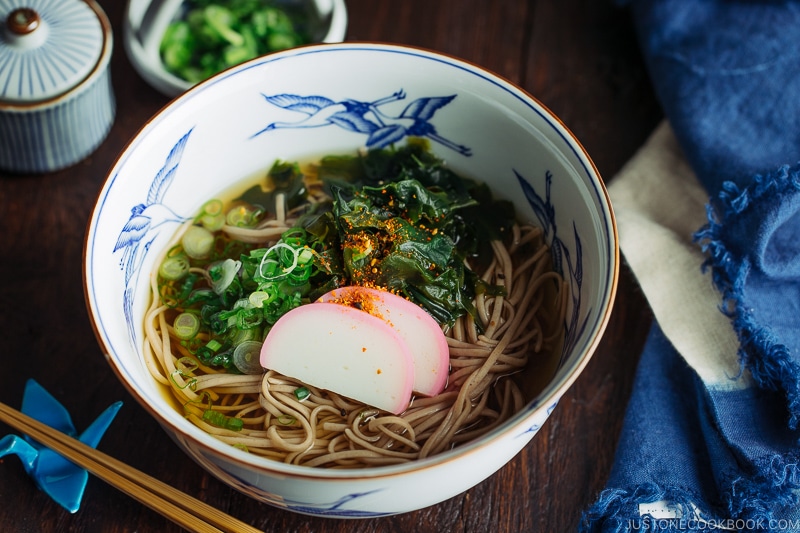 The tradition of Eating Soba Noodles on New Year's Eve
On New Year's Eve, or Ōmisoka (大晦日), it is a custom for the Japanese to eat hot soba noodles, called Toshikoshi Soba (年越し蕎麦), or year-crossing noodle, to usher in the coming year. The thin, long soba represents good fortune and symbolizes strength and resilience like the tough buckwheat crop. The soba noodle dish is usually served in its simplest form, covered in a hot dashi broth with finely chopped scallions. These days the soba noodles are also enjoyed with tempura, fish cakes, or raw egg.
Famous Regional Soba – Nagano Prefecture
One of the regions that are particularly well-known for their premium soba is the Nagano Prefecture where its pristine natural features are ideal for growing buckwheat. Surrounded by highlands with volcanic ash soil and fresh clean water, Nagano also has very distinctive temperatures that are well-suited for soba production. Togakushi and Kurohime are just two of the more famous soba production centers located in the prefecture. You can even find many of the local shops and facilities offering visitors soba-uchi (making soba noodles by hand) experiences.
Interested in learning more about soba making? Visit Togakushi Soba Museum in Nagano prefecture.
Soba Noodles Nutrition
In Japan, soba has long been considered healthy food that provides many nutrition values to the body. It is said that eating soba can give you a long life. Even though it is still not as trendy and well-known as ramen in the US, people are starting to recognize the unique flavor of soba noodles and as a healthy alternative to wheat-based pasta and other noodles.
You'll be surprised to learn that buckwheat flour, which is the key ingredient in making soba noodles, is actually not a wheat, but an ancient grain that is high in many essential minerals, vitamins, iron, fiber, and amino acids. Soba noodles are also unique in their high protein content, which makes them a satisfying diet option for fueling energy. For those who are watching their waistlines or prefer a low-carb diet, soba makes an excellent choice as it is low in fat and calories.
Soba noodles can be a delicious alternative for those who are unable to consume wheat. Since not all soba noodles are made with 100% buckwheat, make sure to check the ingredient list and make sure it's 100% buckwheat noodles.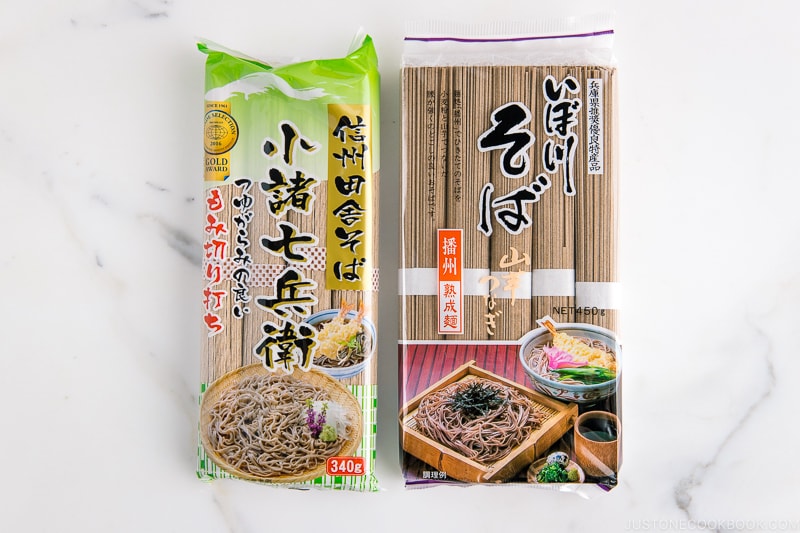 How to Cook Soba Noodles
To cook soba noodles, bring water to a boil in a large pot. Unlike pasta, you DO NOT need to add salt to the water when cooking soba noodles. When the water is boiling, add in the soba noodles in a circular motion, separating the noodles from each other. Cook the noodles for 4-5 minutes or according to the package instructions (each brand is slightly different). Stir the noodles once in a while so they don't stick to each other. Check the tenderness and do not overcook it. Once it is cooked, you want to quickly drain the soba noodles and rinse under running cold water to get rid of the starch and prevent further cooking. This is a very important step for getting the best texture. Shake off the sieve to drain the water completely before you serve it cold or hot with a broth.
Where to Buy Soba Noodles
Soba noodles are commonly sold in dried form. A typical package comes with 3 to 6 bundles of noodles. You can also find fresh soba in the refrigerated or frozen sections at Japanese or Asian grocery stores.
If you are looking for soba noodles from Japan, find the word そば on the package. Some Japanese grocery stores offer Juwari Soba (十割そば) that is made of 100% buckwheat flour.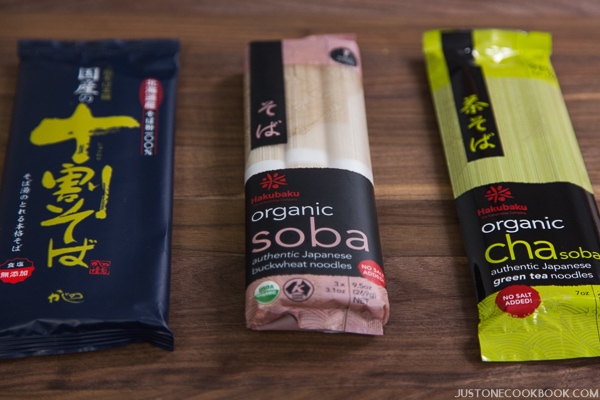 In the US, you can find some of the common brands like Hakubaku Organic Soba, Hime Soba Noodles, or Eden Foods Soba (this is 100% buckwheat; gluten-free) available online or at your local grocery stores. 
Recipes Using Soba Noodles