Soba noodles consist of buckwheat and wheat flour, which have a slightly sweet and nutty flavor with a firm texture. The Japanese eat these buckwheat noodles year-round, both hot and chilled.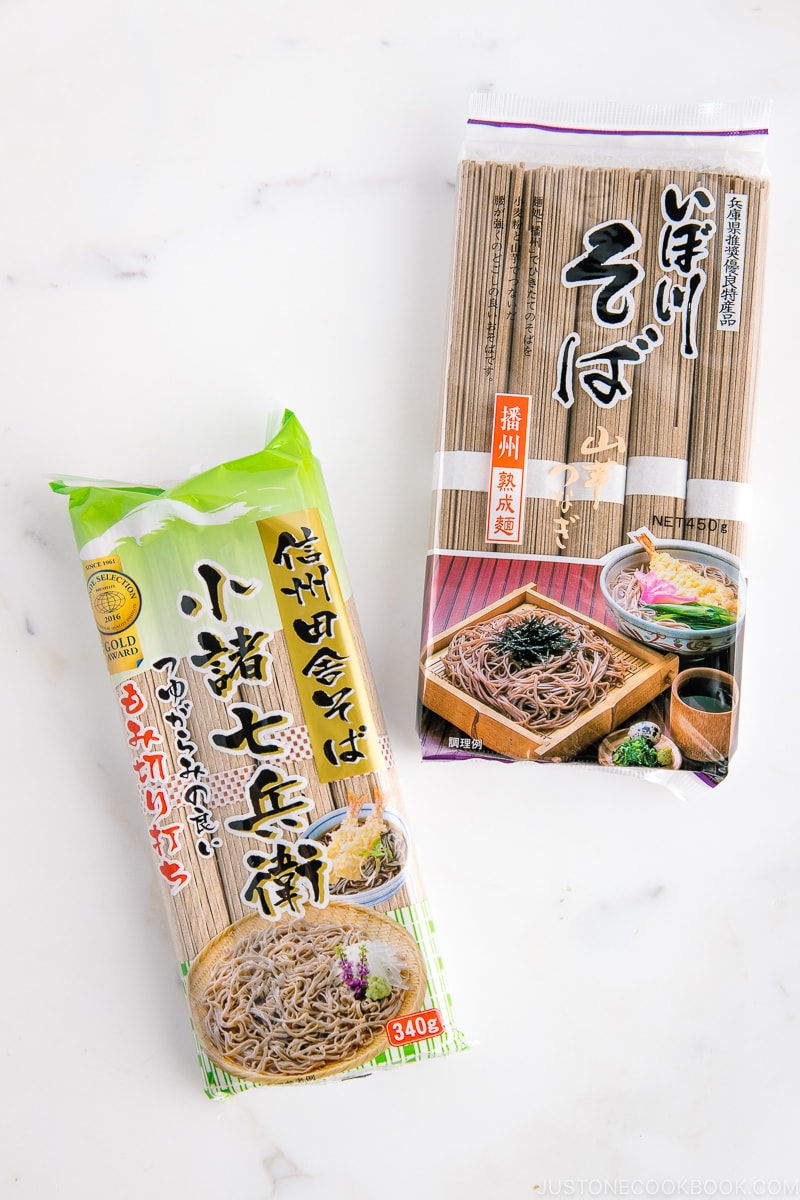 Soba noodles (蕎麦・そば) are a type of Japanese noodle made from buckwheat flour or a combination of buckwheat and wheat flour. They are available fresh or dried. Soba shops with noodles made in-house are a real treat as the dough is highly brittle and difficult to knead, thus requiring mastery of the craft. High in vitamins and minerals, it's a specialty you won't want to miss when visiting Japan.
What Are Soba Noodles
Soba noodles are long buckwheat and wheat flour noodles. It has a light or dark grayish-brown color.
Traditionally, soba consists of buckwheat and water. Adding wheat flour acts as a binder to make it easier to form the dough. Besides buckwheat and wheat flour, there are noodles with additions such as matcha, ume plum, and yam, for color, flavor, and aroma.
The Japanese eat them chilled with a dipping sauce or hot dashi broth. While some non-Japanese interpretations call for a loaded bowl with veggies, tofu, and protein or eaten as a noodle salad, it's best served simply with minimal garnishes for the flavors to shine through.
Confusingly, in some cases, "soba" can also refer to noodles not made of buckwheat. Examples include chuka soba (中華そば, "Chinese noodles" – refers to ramen noodles), yakisoba, and Okinawa soba.
What Does It Taste Like
Soba noodles have an earthy and deep nutty flavor from the buckwheat. You'll notice the difference immediately if you compare the taste to udon, wheat flour noodles. A higher percentage of buckwheat results in a more aromatic and nutty flavor, but the noodles are harder and firm.
Varieties Of Soba
The world of soba is quite deep. There are two main varieties of soba: styles and the ratio of buckwheat. Here are some names you may encounter.
Styles
Sarashina soba (更科蕎麦): Made with refined buckwheat flour, the color is off-white, and cut into thin noodles
Yabu soba (藪蕎麦): Originating from Toshima-ku (northwestern Tokyo), the noodles are slightly green from the buckwheat skin
Inaka soba (田舎蕎麦): Dark in color, with a strong buckwheat flavor and thick. It's made of unhulled buckwheat seeds ground into coarse flour
Ratio of buckwheat
100% buckwheat: Juwari soba (十割蕎麦) is extremely hard and chewy but is highly aromatic
80% buckwheat and 20% wheat: Hachiwari soba (八割そば) is the most basic and well-balanced
20% buckwheat and 80% wheat: Niwari soba (二割蕎麦) is the smoothest noodles with a slight hint of buckwheat. It tends to be the most affordable
Origin Of Soba
Soba supposedly originated in China and was brought to Japan toward the end of the Jomon period (10,000 to 300 BC). While there are several theories of the origin of soba, soba was first eaten as boiled dumplings called soba-gaki (蕎麦がき). You can still find soba-gaki on the menu of some soba restaurants.
It wasn't until the Edo period (1603-1867) that soba became the thin, long noodles we know today. Soba was a popular street food that could be prepared and eaten quickly.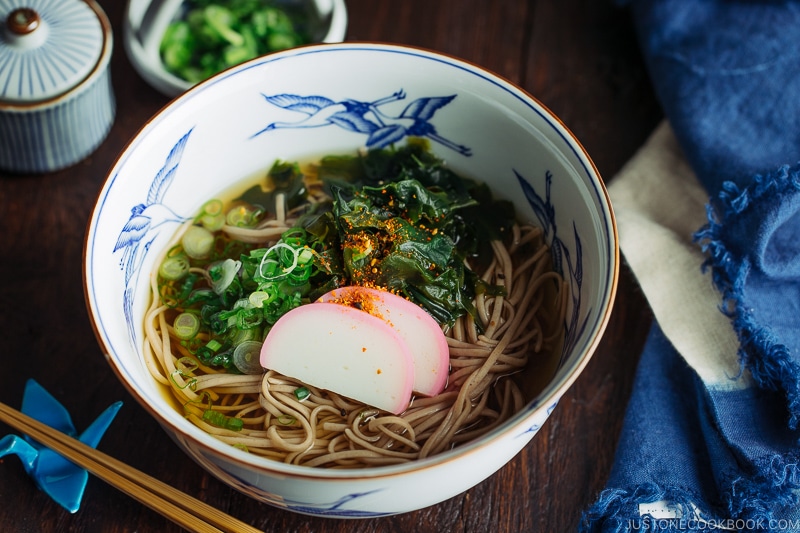 Soba Noodles On New Year's Eve
On New Year's Eve, or Ōmisoka (大晦日), it is custom for the Japanese to eat soba. Called Toshikoshi Soba (年越し蕎麦, "year-crossing noodles"), it's eaten to usher in the coming year. Like the tough buckwheat crop, the thin, long soba represents longevity, strength, and resilience. The dish is usually served in its simplest form, in a hot dashi broth with finely chopped green onion. It is also enjoyed with vegetable tempura, fish cakes, or poached egg. 
Famous Regional Soba – Nagano Prefecture
Regions particularly well-known for its premium soba is Nagano Prefecture. It's an area where 80% of the land is mountainous, a pristine environment for growing buckwheat but not rice. Surrounded by highlands with volcanic ash soil and fresh, clean water, Nagano also has distinctive temperatures well-suited for soba production. Togakushi (戸隠) and Kurohime (黒姫) are just two of the more famous soba production centers located in the prefecture. You can even find local shops and facilities offering soba-uchi (蕎麦打ち, making soba by hand).
Interested in learning more about soba making? Visit Togakushi Soba Museum in Nagano prefecture.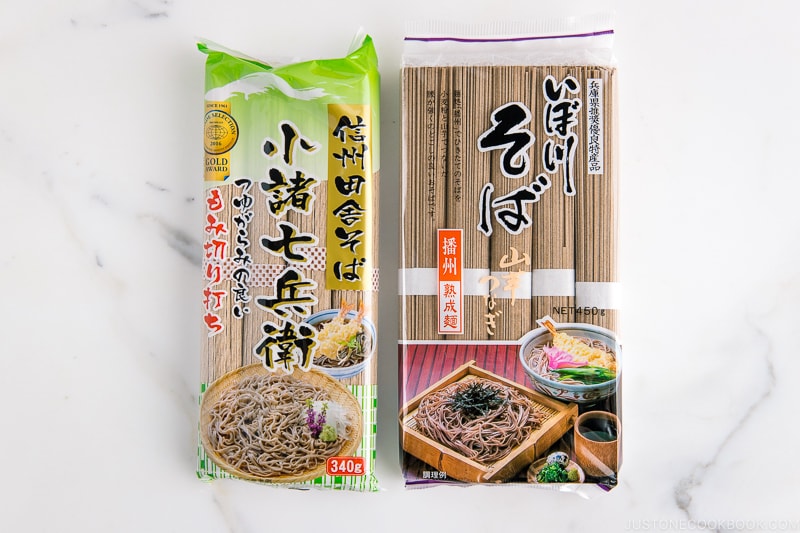 How To Use
To cook, bring a large pot of water to a boil on medium-high heat. Unlike pasta, there's no need for salt. Add soba to the boiling pot in a circular motion, separating the noodles from each other. Cook the noodles for 4-5 minutes or according to the package instructions (each brand is slightly different). Stir the noodles once in a while so they don't stick. Cook until tender.
Once cooked, quickly drain the noodles and rinse under cold water to remove the starch and prevent further cooking. Drain the water completely before you serve it cold or hot.
To add flavor to the noodles, eat with grated ginger, chopped scallions, a dab of wasabi, shredded nori, or shichimi togarashi.
Recipes Using Soba Noodles
Where to Buy
Soba noodles are commonly sold dried. A typical package comes with 3 to 6 bundles of noodles. You can also find fresh or frozen soba in the refrigerated or frozen sections at Japanese or Asian grocery stores or some gourmet stores.
How To Choose The Best
If you are looking for noodles from Japan, find the word そば on the package. If you want to try the real deal, try juwari-soba made of 100% buckwheat flour.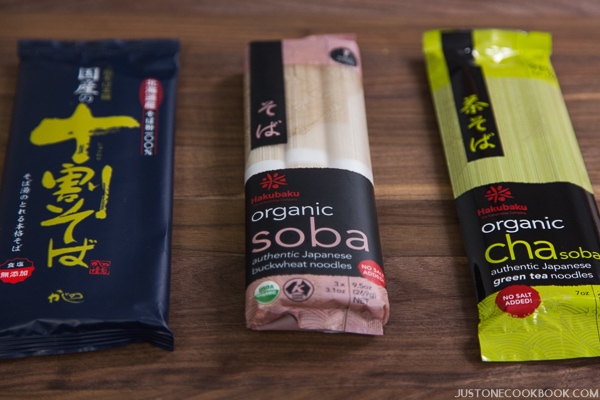 In the U.S., some brands like Hakubaku Organic Soba, Hime Soba Noodles, or Eden Foods Soba (this is 100% buckwheat; gluten-free) are available online or at your local grocery stores. 
How To Store
Store dried packages in a low-humidity, cool, dark place like other dried noodles. Once you open the package, make sure to seal it properly.
Fresh soba will last 1-2 weeks, but check the expiration date and use up quickly.
For cooked noodles, you can store leftovers in the freezer or fridge. Consume within two days.
Substitutions
You can replace it with rice, whole wheat, or udon. However, these substitutes contain gluten and won't have the same nutritional content as soba.
Health Benefits
In Japan, soba is considered a health food. Even though it is still not as trendy and well-known as ramen in the U.S., many recognize the unique flavor of soba as a healthy alternative to wheat-based noodles. 
Buckwheat flour is not a wheat but an ancient grain that is a good source of nutrients like protein, fiber, iron, carbohydrates, thiamine, and manganese. Soba contains fewer calories, fiber, and protein than spaghetti and other pasta, so that it won't spike your blood sugar levels. For those who prefer a low-carb diet, soba is an excellent choice as it is low in fat and calories.
Soba is a delicious alternative for those unable to consume wheat. Make sure to check the ingredient list before purchasing.
FAQs
Q: What's the difference between soba and udon noodles?
One significant difference is its ingredients. Soba is made of buckwheat and sometimes wheat flour and a binder, whereas udon is made with wheat only. Read more about the difference between soba and udon noodles here.
---
Wish to learn more about Japanese cooking? Sign up for our free newsletter to receive cooking tips & recipe updates! And stay in touch with me on Facebook, Pinterest, YouTube, and Instagram.