Japanese plums (ume) are bright green and firm and appear early to mid-May. The plums are enjoyed in many ways, especially in Japanese plum vinegar, plum wine, syrup, pickled plums, and desserts.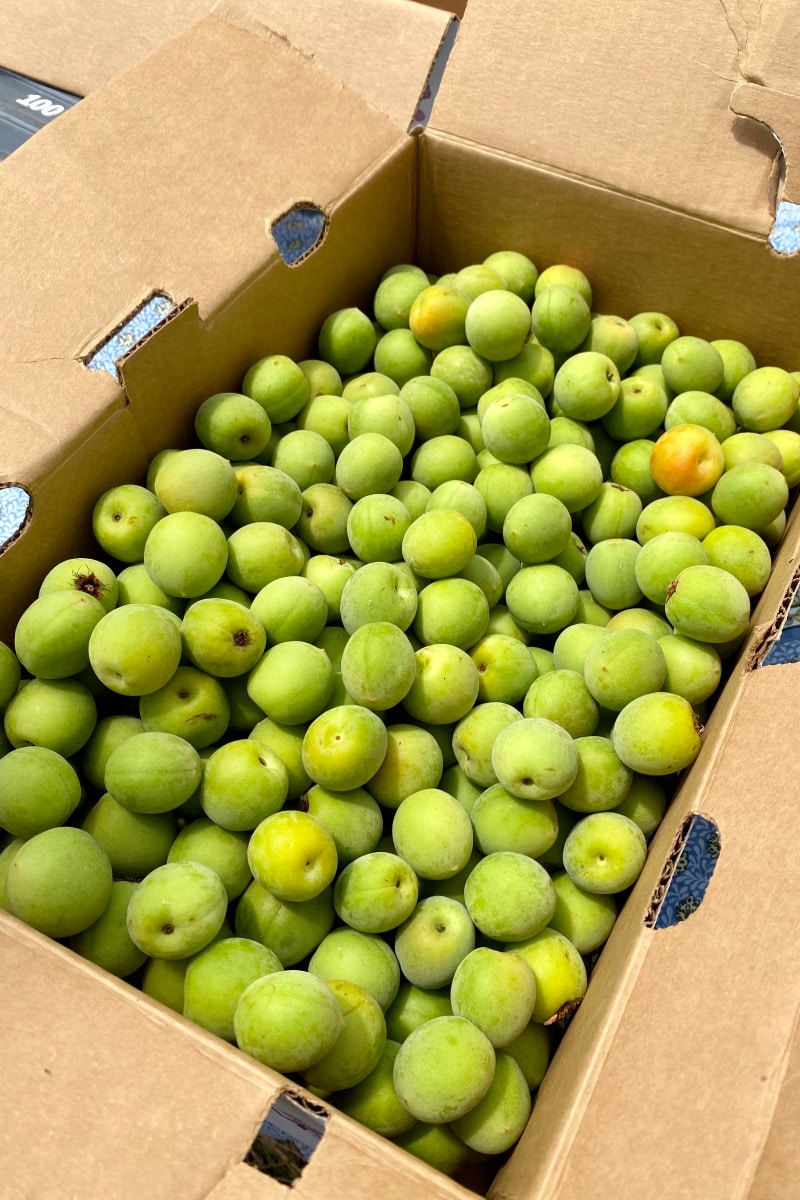 Ume (梅, うめ), plums, or Japanese apricots, grow on large, broad-leaved trees with a short growing season. The young bright green fruits are slightly smaller than a golf ball and green to yellowish-green in color. When ripe, they have a beige-peach flush.
They are not for eating but are used to make condiments, pickles, and drinks such as Umeboshi (pickled plums), Japanese plum wine (Umeshu), Ume miso, and more. It's a well-known superfood high in citric acid but is on the decline among the younger population.
What Are Ume Plums
Ume plums (Prunus mume) are a variety of sour apricots known for their beautiful pink flowers. Plum blossom is a special time for the Japanese as it signals the end of winter and the arrival of spring. The blossoms bloom a month before the cherry blossoms.
The fruits start ripening in late spring and last through early summer. While the season is short, their uses are infinite and can be enjoyed throughout the year.
Many countries in Asia, including Japan, use ume plums to pickle, ferment, infuse, or cook in sweet and savory dishes.
What Does It Taste Like
Ume are incredibly tart, astringent, bitter, and not palatable. Even ripe ones are barely edible and will give you an upset stomach.
However, the flavor changes through pickling, fermenting, and infusing in alcohol.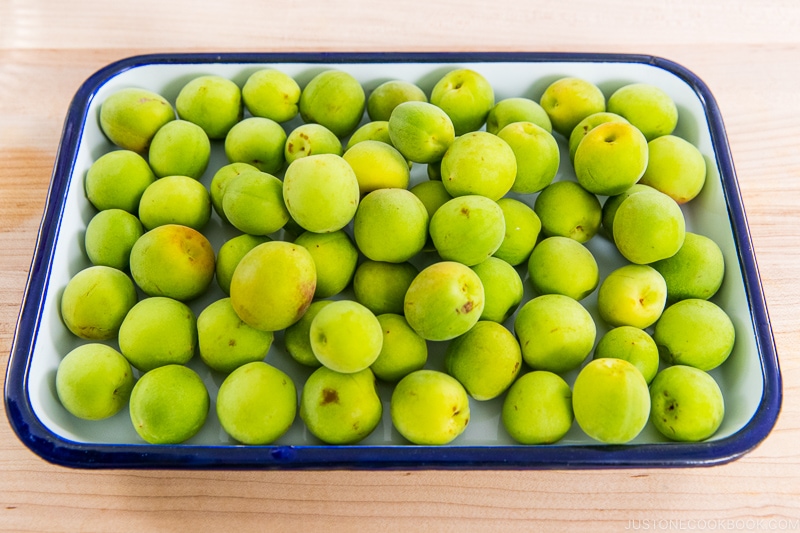 How To Use
The Japanese use ume in a variety of ways. As the Japanese strongly associate with the four seasons, ume and ume products remind them of the spring season.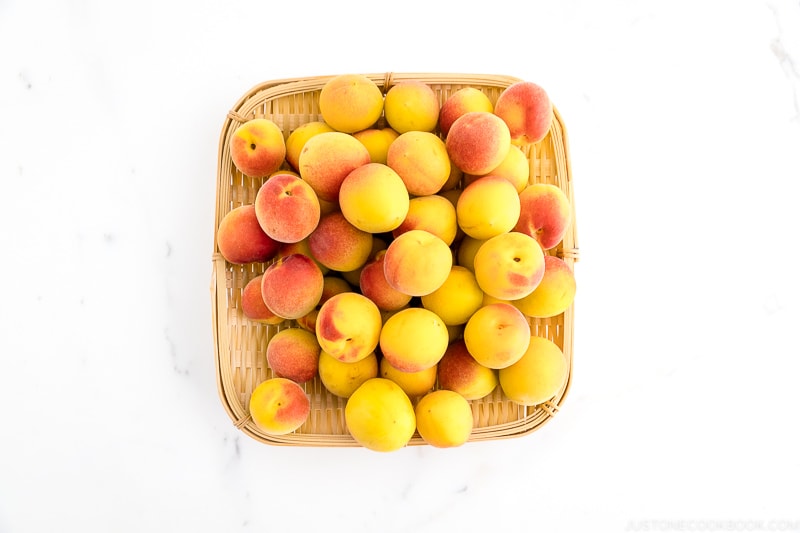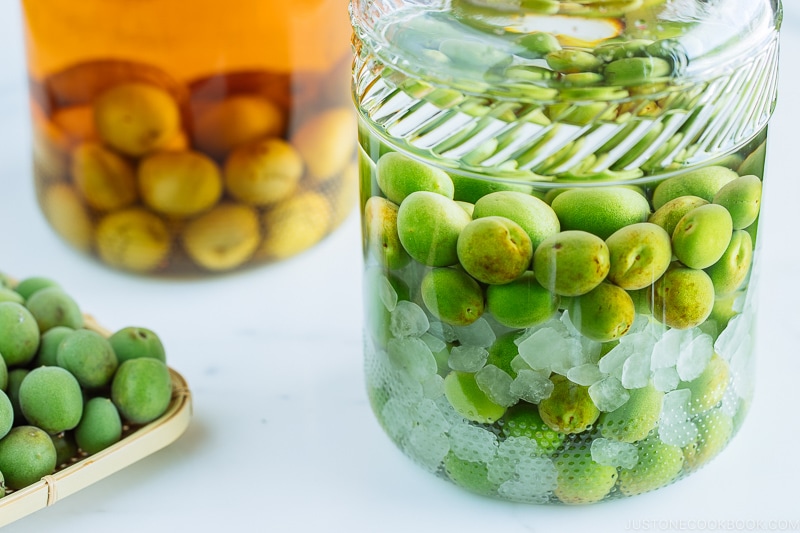 Umeshu (梅酒) and Ume syrup (梅シロップ) are ume infusions. Umeshu is a fruit liquor of ume and distilled alcohol. Ume syrup is ume-infused syrup, a non-alcoholic version of umeshu. My kids and I love this syrup and dilute it with carbonated water to enjoy during summer.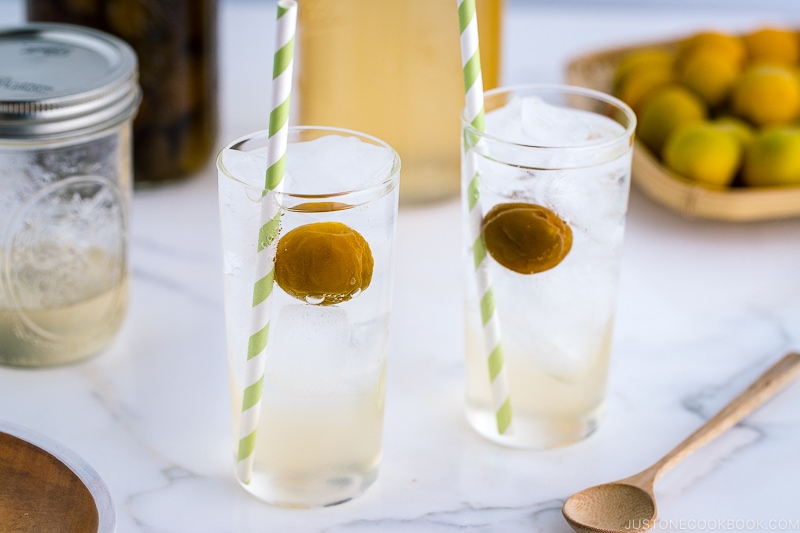 In Japan, the most common way to use ume is to pickle for umeboshi. We serve umeboshi with rice, onigiri (rice balls), okayu (rice porridge), or as a sour agent to noodles and salad dressing. It's a traditional food that's labor-intensive to make but is packed with nutrition, especially for the hot Japanese summers.
Another popular product is ume su (ume vinegar), made from the pickling brine from umeboshi plums with sea salt and red shiso. It's a sour-tart condiment that can be a vegan substitute for fish sauce.
The flavor of ume is so distinct and popular that you can get kinds of ume-flavored snacks and foods such as tea, soda drinks, ice cream, rice crackers, and rice seasoning in Japan.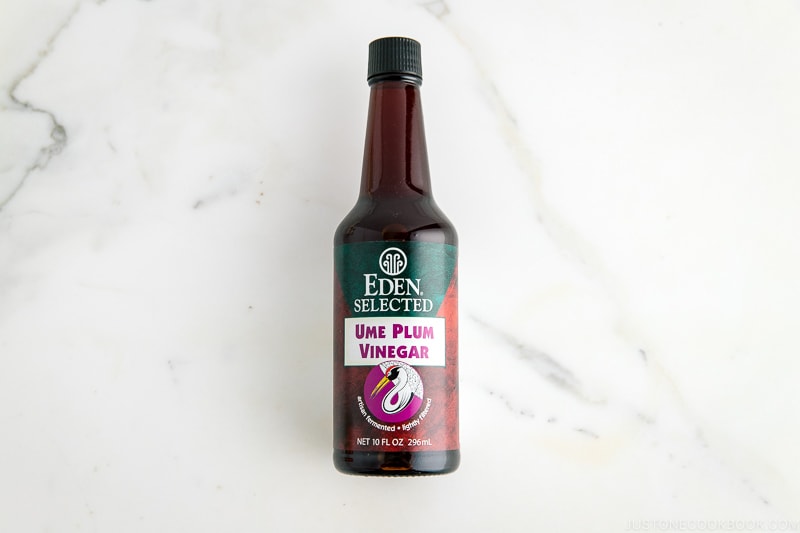 Where To Buy
Green ume plums are available around early to mid-May. In Japan, you will see the plums sold along with red shiso leaves to make homemade umeboshi.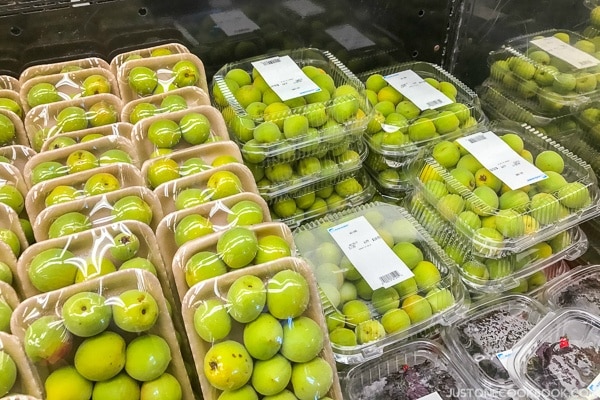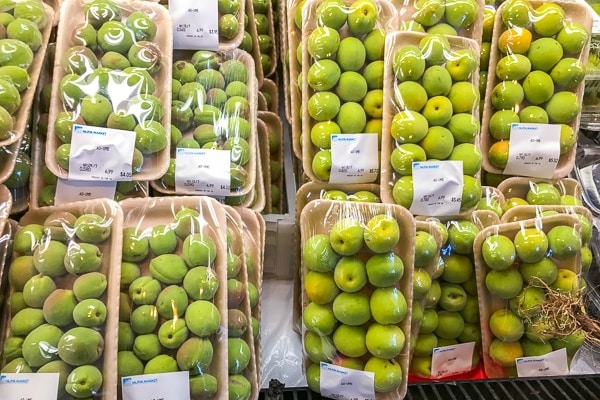 If you live in the U.S., you can find ume plums in Japanese and Korean grocery stores and maybe at your local farmers' market.
My friend John will offer ume fruit again this year and has scaled back to local sales only. If you are in the SF Bay Area, please write to: fortheloveofume@gmail.com. He will be harvesting ume beginning April 30, 2023. Fruit will be sold with a 10-pound minimum.
You can also find them at specialty fruit producers online.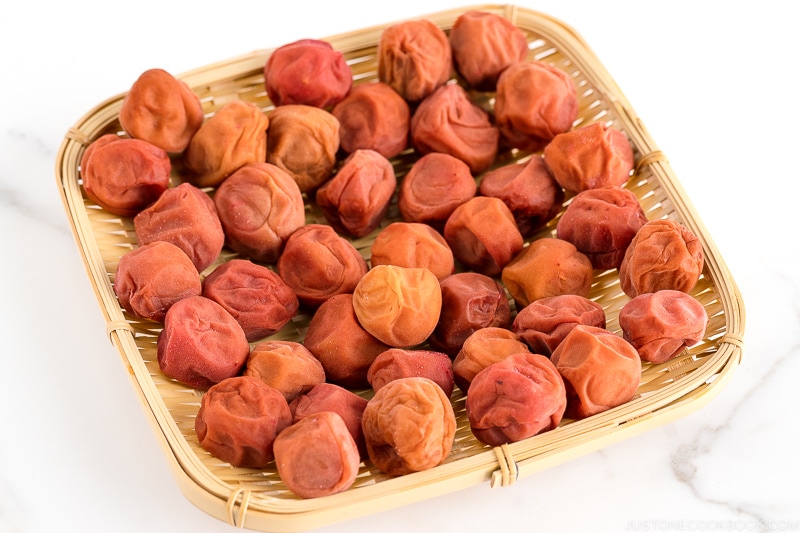 Health Benefits
Throughout East Asia, ume plums have long been regarded for their medicinal properties. When raw, they contain few vitamins and minerals.
However, when pickled into umeboshi, they transform into powerful food with high nutritional content. Umeboshi is a mouth-puckering preserved food that's an acquired taste for first-timers.
Umeboshi has been used to treat physical fatigue, infections, colds, high blood pressure, digestive issues, alcohol poisoning, hangovers, and liver toxicity.
Other ume products such as ume miso, drinks such as umeshu, and ume soda have some benefits, but umeboshi contains all these benefits in concentrated form.
However, it has a high salt content, so consume one or two a day.
---
Wish to learn more about Japanese cooking? Sign up for our free newsletter to receive cooking tips & recipe updates! And stay in touch with me on Facebook, Pinterest, YouTube, and Instagram.