Used in both savory and sweet dishes, Japanese sweet potato or Satsumaimo has a deep magenta skin and creamy pale flesh. It is starchier and has an intensely sweet flavor, and is so good in all your favorite recipes. Learn more about the amazingly versatile Japanese sweet potato, its health benefits, and how to cook with it today!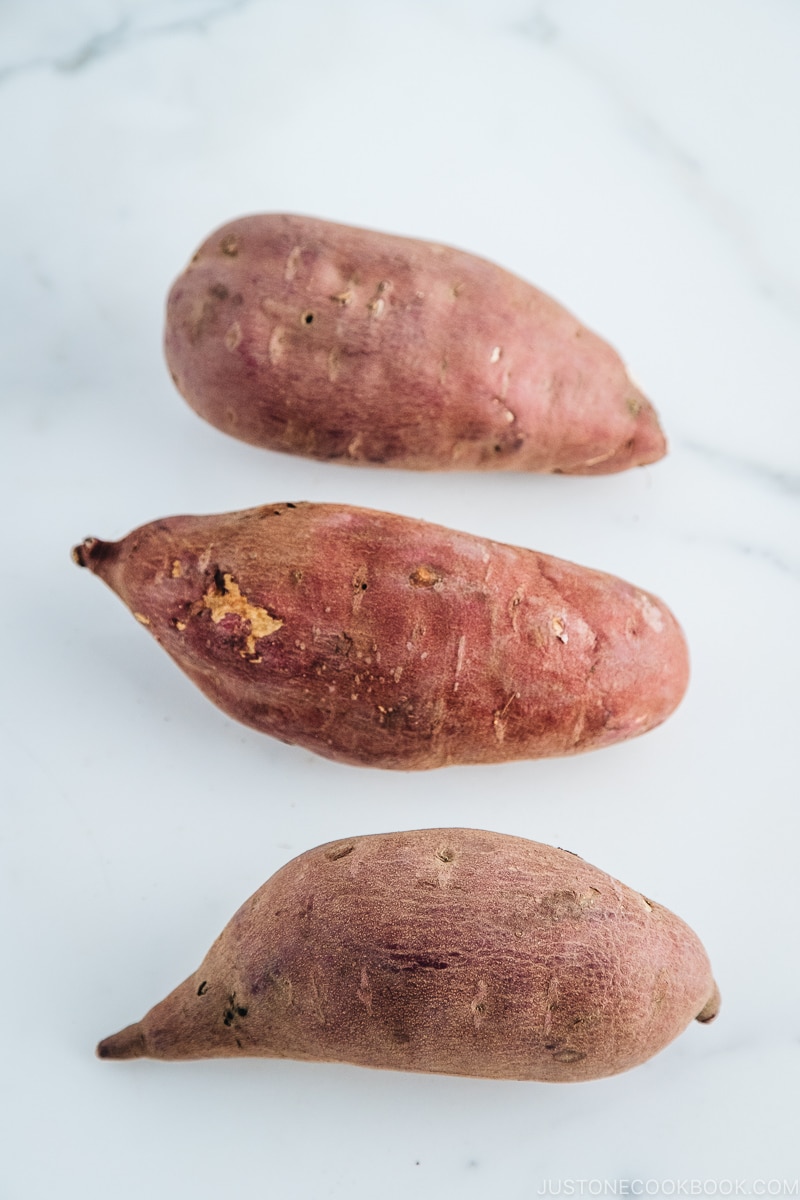 Japanese sweet potatoes are called Satsumaimo (さつまいも, サツマイモ). With distinct purple-ish or reddish color skin, inside the sweet potatoes are creamy white flesh that turns yellow after cooking. They come in small to medium sizes and are generally rounder with tapered ends.
In Japan, sweet potatoes are the signature flavor of fall. Nothing beats the warmth of a freshly roasted Japanese sweet potato when the weather turns cool. The sweet and wonderful aroma fills the air. So comforting that we simply enjoy it as a snack. They are also filling and packed with nutrients.
For many Japanese, they are nostalgic food that reminds us of home and the change of season. During the Japanese New Year, the sweet potatoes are boiled and mashed before they are mixed with syrup chestnuts to make a special dish called Kurikinton, which symbolizes wealth and prosperity.
If you are new to Japanese sweet potatoes, let's discover more about this amazing root vegetable today!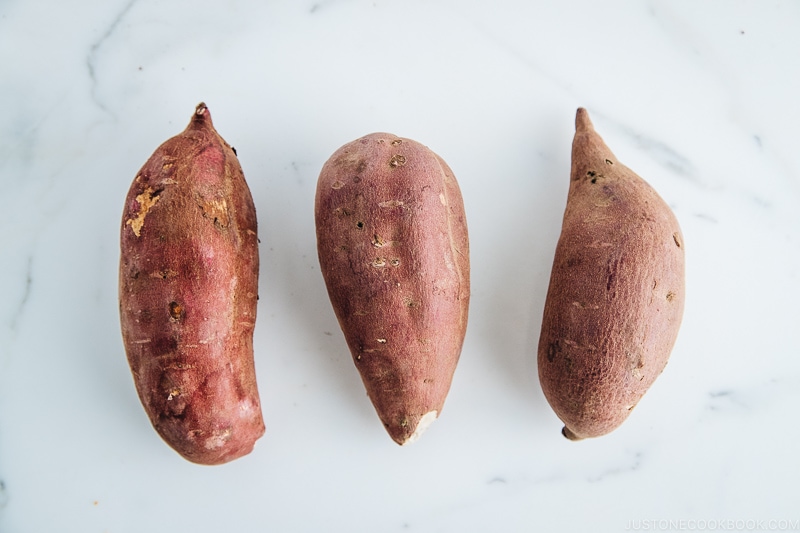 What Does Japanese Sweet Potato Taste Like
Japanese sweet potatoes have a much sweeter taste than ordinary sweet potato varieties found in the US. They have a nutty flavor reminiscent of roasted chestnuts. The texture is drier, firmer, and starchier, and its concentrated sweetness makes them an ideal ingredient for making desserts.
The Versatility of Japanese Sweet Potatoes (Satsumaino)
From roasting, steaming, simmering, and deep-frying to baking, there are endless ways to enjoy Japanese sweet potatoes. You may have tried them as tempura, where they are lightly coated with batter and deep-fried into perfection. Another popular dish is daigaku imo, where they are diced into cubes, deep-fried till crispy, glazed in a sweet sugary syrup, and finished with a sprinkle of black sesame seeds. It is absolutely my favorite!
They can also be used to make sweets, confectionaries, mixed rice (takikomi gohan), or added to soups, stews, or curries. The possibilities are infinite. Instead of regular sweet potatoes, I love using Japanese sweet potatoes as a filling for my holiday pies. You have to try it!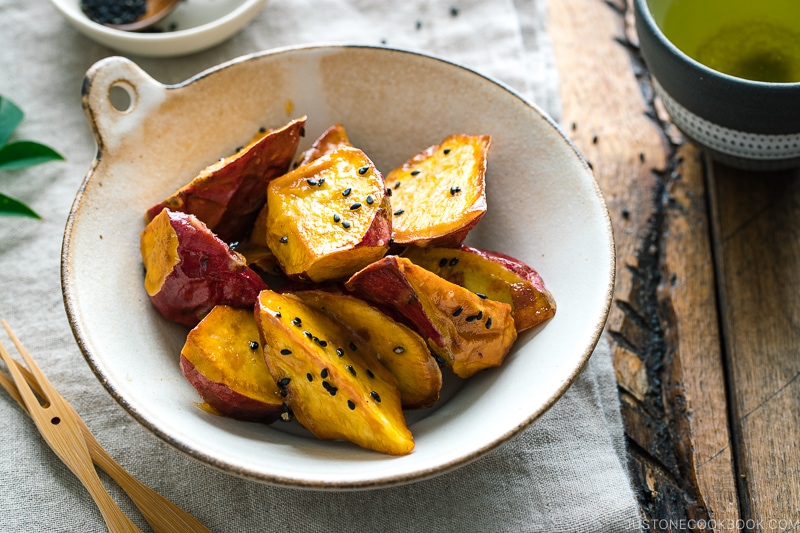 Health Benefits
It's known knowledge that all sweet potatoes are good for you. High in complex carbohydrates and dietary fiber, they provide a good source of energy. This is why they are particularly enjoyed by farmers and hard labor workers in Japan. They are also a great source of vitamins (especially vitamin A), minerals, potassium, iron, and copper. Best of all they contain all the essential amino acids that our bodies need.
Are Japanese sweet potatoes healthier than regular sweet potatoes? All varieties of sweet potatoes are good for you but these purple-skin tubers do have higher concentrations of specific vitamins and nutrients. Here are some significant health benefits you'll like to know:
Rich in antioxidants – Some people claim that Japanese sweet potatoes are their secrets to healthy skin. Thanks to its hyaluronic acid content and Vitamin C & A which are important for skin health, eating it regularly helps to promote hydration and elasticity of the skin.
Helps regulate glucose levels – Sweet potato starch is higher in amylose than amylopectin, which raises blood sugar slowly. It makes a healthy choice for diabetics.
Promotes weight loss – Japanese sweet potatoes are naturally low in ​fat, high in fiber​ and ​contain no cholesterol​. It makes a great alternative for those who need to watch their diet. Healthy complex ​carbohydrates​ are crucial for the production of energy needed for metabolic and physical processes. You can soothe your carb craving with these starchy tubers. As it is delicious on its own, it makes a satisfying food to eat—whether as a main or as a snack that will keep you full and energized.
Where To Buy
I usually buy it from my local Japanese grocery store, but you can find them available at major grocery stores in the US these days. Look out for them at Whole Foods, Trader Joe's, farmers' markets, or local co-ops when in season.
Japanese sweet potatoes are different from Okinawan sweet potatoes, which have striking purple flesh, although both are considered staple diets of Okinawa.
How to Choose the Best
Delicious sweet potatoes are plump and thick and have a bright crimson color. Choose one that feels heavy. If they are elongated and have a lot of roots, they probably have too much fiber.
Check the surface and make sure they have minimal scratches or discoloration. You might find some sweet potatoes that have sticky liquid coming out of the cut end. They are sweet for sure!
Storage
They will keep up to a month when stored in a cool, dry, and dark place. I usually put them in a basket under the pantry shelf.
After harvest, the starch turns into sugar and becomes sweeter. I highly recommend ripening them for at least 1 to 2 weeks after you bring them home.
Recipes Using Satsumaimo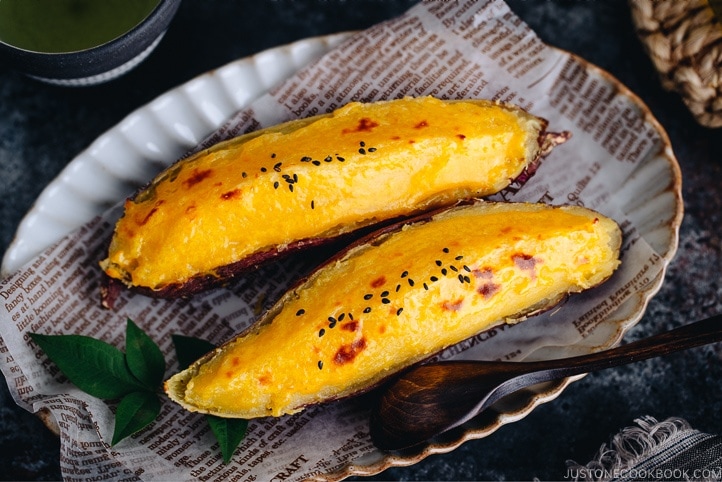 Desserts & Snacks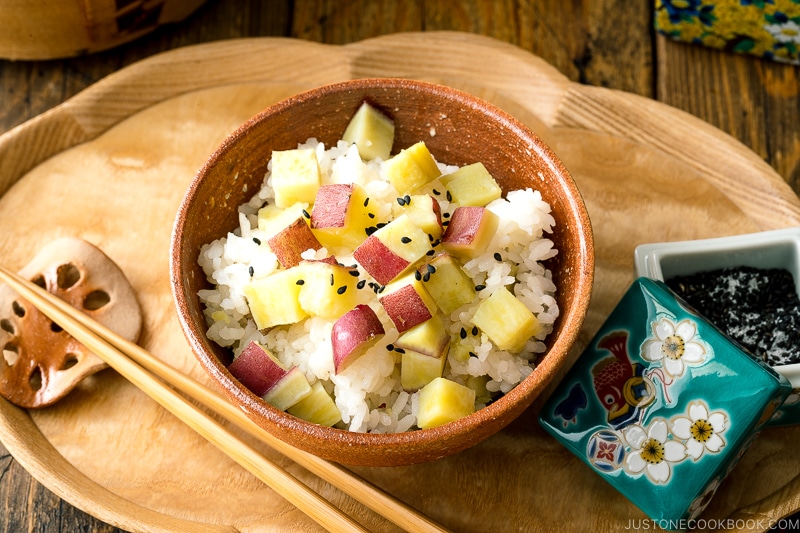 Savory

---
Wish to learn more about Japanese cooking? Sign up for our free newsletter to receive cooking tips & recipe updates! And stay in touch with me on Facebook, Pinterest, YouTube, and Instagram.