With this foolproof recipe, you can make Baked Japanese Sweet Potatoes (Yaki Imo) that are perfectly tender, fluffy, and sweet!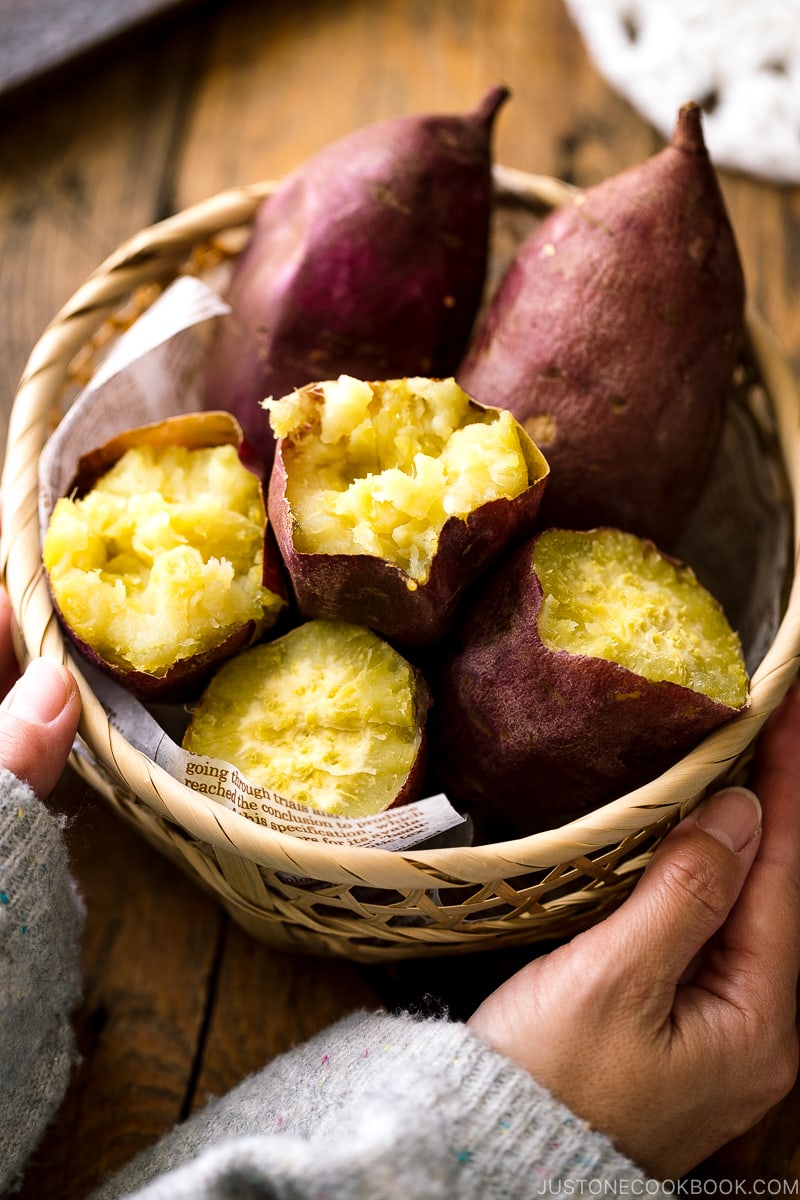 Yaki Imo (焼き芋) or Baked Japanese Sweet Potatoes is the classic Japanese autumn and winter street snack that evokes nostalgic memories, one that always takes me back to my childhood.
While making yaki imo at home is as easy as popping them into the oven, there are a few methods to bake the sweet potatoes to the ideal texture and flavor. So today, I'm here to share my best tips on making yaki imo at home.
My Memories of Yaki Imo in Japan
Traditionally, yaki imo were sold by small trucks equipped with a stone roasting pot called Ishiyaki Imo (石焼き芋), literally stone-roasted-potato. The vendors would drive through neighborhoods, with speakers blasting out their calls, "Ishiyaaaakiimo… Oimo! (Stone-roasted potatoes…potatoes!)"
Slow-roasted to perfection over a hot stone, these sweet potatoes are in its purest form. The first thing I'd do was to open the newspaper parcel and let the wisp of steam and sweet warm aroma of the sweet potatoes envelope my face before I took the first bite.
There's no added salt or butter — only its best natural taste. The skin is cooked until crisp and light browned on the edges and the inside is creamy with a slightly caramelized deliciousness.
Unfortunately, the old-school yaki imo trucks are getting fewer and fewer these days. However, I still have fond memories of the delicious sweet potatoes I had growing up.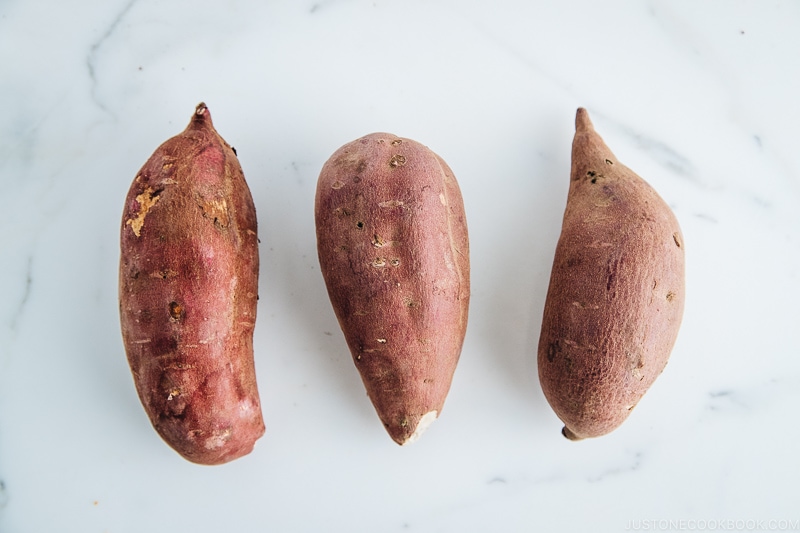 Type of Sweet Potatoes for Yaki Imo
This sounds obvious — we only use Japanese sweet potatoes called satsumaimo (さつまいも, サツマイモ) for yaki imo. They have a distinct red-toned purple skin and off-white interior that turns yellow after cooking. When compared to the orange sweet potatoes or purple sweet potatoes/ purple yams, satsumaimo variety tends to be smaller and slender in size. They are also a lot sweeter with a chestnut-like flavor. When cooked right, they are incredibly tender and fluffy.
You can learn more about Japanese sweet potatoes on my pantry page.
Where to Buy Japanese Sweet Potatoes
I usually buy satsumaimo from my local Japanese grocery store or farmers' market, but you can certainly find them at local Asian grocery stores and major grocery stores in the US such as Whole Foods, Trader Joe's, or local co-ops.
How to Choose the Best Japanese Sweet Potatoes
Choose the ones with smooth skin and feel heavy when you hold them. If they are elongated and have a lot of roots, they have too much fiber and are not delicious. You might find some sweet potatoes that have sticky liquid coming out of the cut end or got solidified on the skin. They are good and sweet, so grab them!
How to Store (and Ripen) Sweet Potatoes
They will keep up to a month when stored in a cool, dry, and dark place. Let them ripen for at least 1 to 2 weeks after you bring them home.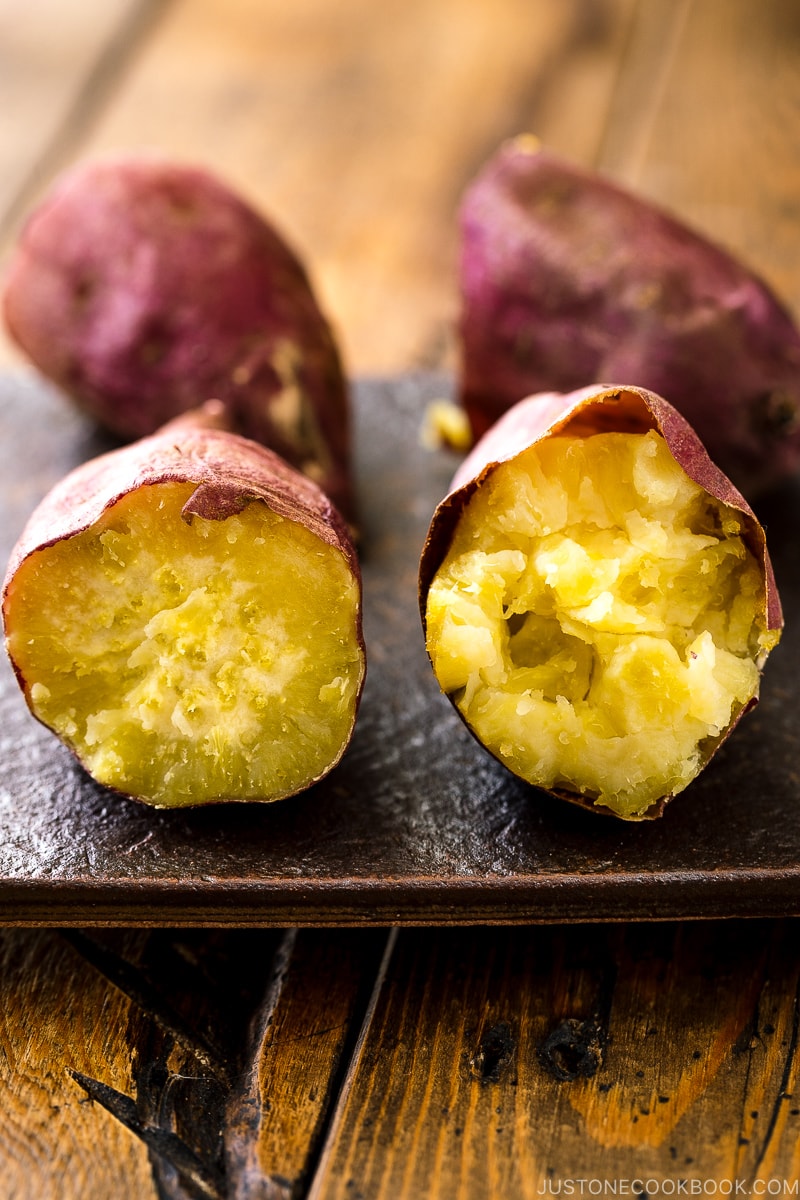 How to Bake Japanese Sweet Potatoes in the Oven
Not many of us have a hot stone oven at home, so the easiest way is to cook satsumaimo in the oven (or toaster oven).
📝 5 Important Tips To Remember
Let the sweet potatoes ripen for 2 weeks after purchase (highly recommend; read above). Poke a few holes on the sweet potatoes with a wooden skewer or fork to avoid the explosion. 
Foil-wrapped or bare (naked) – your choice, but I'll show you the differences below.
Bake at low temperature (325ºF or 160ºC).
Slow and steady will bring out the best texture and flavor, so let it bake for 90 minutes.
Check the doneness with the bamboo skewer. The thickness of each sweet potato is different, so make sure it's cooked through using a skewer. Don't guess!
Choose Foil-Wrapped or Bare (Naked)
Let's talk about these two choices – foil-wrapped vs. bare. Both methods will give you delicious yaki imo, but when the sweet potatoes are cooked, they are slightly different in texture and flavors.
My recommendation is to make them both ways at once first and decide what you like for the future.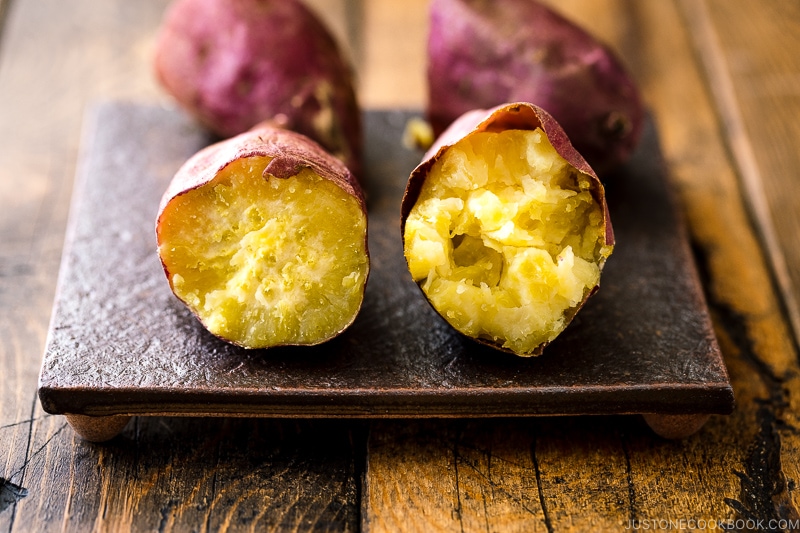 The image above shows the cross-section of the two baked sweet potatoes: wrapped in foil and bare. It's obvious how different they look, but let's check out the texture and taste.
Foil-wrapped (Left)
It's easy to break in half with two hands.
Very moist and tender because the moisture didn't escape from the foil. しっとりしてる
The skin is also moist and soft so it's pleasant to eat it. It's stuck to the flesh so it's not easy to peel.
The flavor is very good.
Bare (Right)
It's a bit too hard to break in half with two hands because the skin is loose and fragile.
It's more fluffy and flaky compared to foil-wrapped. ホクホクしてる
The skin is crisp and dry so it's less pleasant to eat it. The skin is loosen so it's easy to peel.
Has a slightly more intense sweetness because the moisture has evaporated.
Everyone has their own preference, and it's good to find out what you like. I personally like the one with foil-wrapped.
Bake at Low Temperature
The secret for delicious yaki imo is to keep the internal temperature of the sweet potatoes at 150-167ºF (65-75°C) for a long time so that the enzymes will be activated and starch will be easily decomposed to the sugars (maltose).
For this reason, I like to use a slightly lower oven temperature and take time to cook the sweet potatoes.
Differences between Baking and Roasting
As some sources titled their yaki imo recipes Roasted Japanese Sweet Potatoes, I wanted to briefly talk about the differences between baking and roasting.
Both baking and roasting apply the dry heat method to cook the food. While the two terms seem to be used interchangeably, there are some differences between them.
One of the main differences is the temperature. Baking uses a temperature of 375°F (190ºC) or lower while roasting requires a higher oven temperature of above 400°F (200ºC). Because of the higher heat, roasting results in shorter cook times and makes the outside of the food crispy.
As I cook my sweet potatoes in an oven in a lower heat at 325ºF (163ºC), I use Baked Japanese Sweet Potatoes in my recipe title.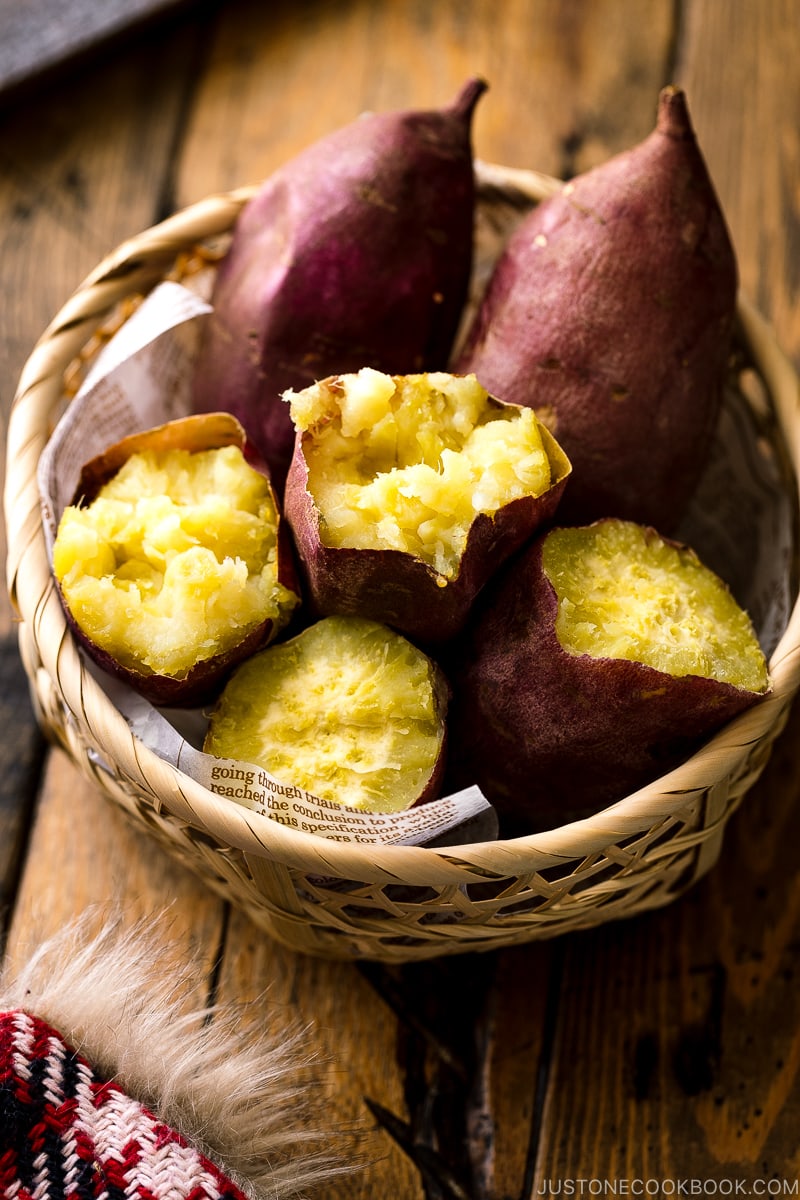 How to Enjoy Yaki Imo
Typically in Japan, we enjoy yaki imo as it is. It makes a hearty yet healthy snack, but you can still serve it as a side as a part of a meal.
We eat the skin of Japanese sweet potatoes. That's why it's important to scrub and wash the sweet potatoes well before you bake them.
Of course, you can peel it before you eat, but don't forget that the skin has plenty of nutrients! If you wrap the sweet potatoes in foil, it's much easier to eat compared to no-wrapped sweet potatoes. Oh, you must eat them while they are hot!
How to Store Yaki Imo
Once you have finished baking, let them cool completely. You can store the sweet potatoes in the fridge for 3 days and in the freezer for a month.
My puppy Miso loves Japanese sweet potatoes, so I pack one snack portion in individual small containers and keep them in the freezer.
To use, you can defrost in the fridge overnight or at room temperature before eating.
More Japanese Sweet Potato Recipes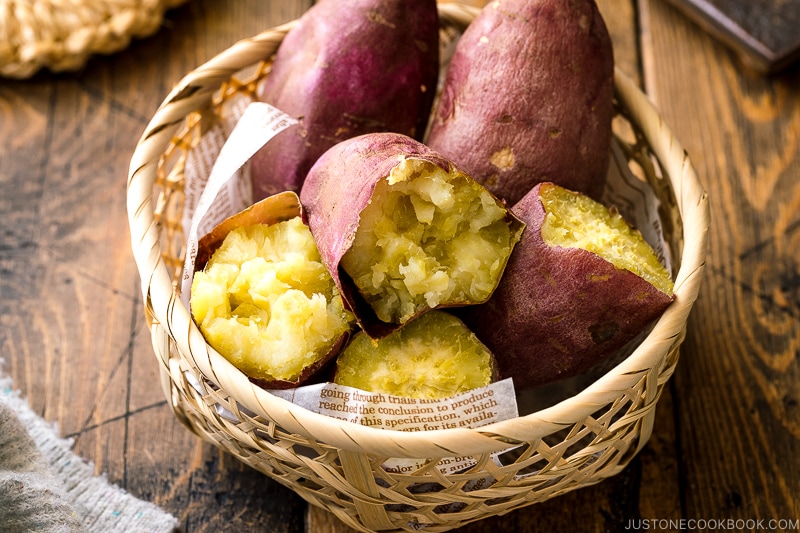 Sign up for the free Just One Cookbook newsletter delivered to your inbox! And stay in touch with me on Facebook, Pinterest, YouTube, and Instagram for all the latest updates.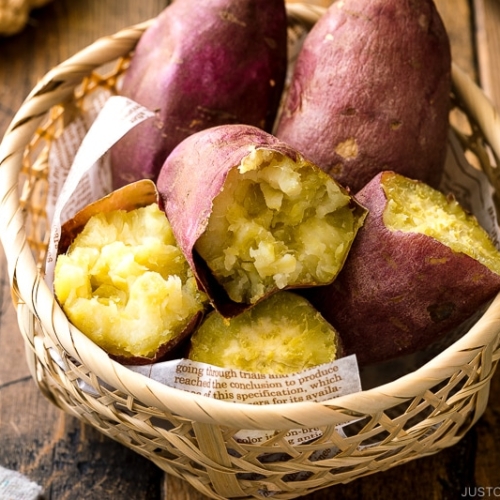 Baked Japanese Sweet Potatoes
With this foolproof recipe, you can make Baked Japanese Sweet Potatoes (Yaki Imo) that are perfectly tender, fluffy, and sweet!
Ingredients
4

Japanese sweet potatoes (satsumaimo)

(10 oz or 300 g each)
Japanese Ingredient Substitution:
If you want substitutes for Japanese condiments and ingredients, click
here
.
Instructions
Gather all the ingredients. I'm using 4 sweet potatoes; two will be baked bare, and the other two will be wrapped in aluminum foil (so I can show you the differences). Please read the post to decide which method you prefer.

Preheat the oven to 325ºF (163ºC). Meanwhile, gently but thoroughly wash the sweet potatoes really well with a brush. I use this Japanese tawashi brush for root vegetables.

Dry the sweet potatoes with a clean towel or paper towels. Poke a few holes on the sweet potatoes with a wooden skewer or fork to avoid the explosion. Then wrap the sweet potatoes in foil or you can leave them as they are.

Place the sweet potatoes on the baking sheet lined with parchment paper and bake for 90 minutes, or until you can easily insert a wooden skewer through the sweet potatoes. Remove from the oven, unwrap the foil (if using), and let it stand for a few minutes. If you don't unwrap the foil, the sweet potato skin will be wet and sticky from the steam. If you don't mind the wet skin, you can keep the sweet potato in the foil. The texture of the sweet potato will be a bit mushy and super tender. You can experiment to see what you like the best. Serve hot but be careful!

These images were taken right after they are done. The left image shows the sweet potato wrapped in foil while baking. The right image shows the sweet potato baked without foil.
To Store
Once you have finished baking, let them cool completely. You can store the sweet potatoes in the fridge for 3 days and in the freezer for a month.
Nutrition
Calories:
258
kcal
·
Carbohydrates:
60
g
·
Protein:
5
g
·
Fat:
1
g
·
Saturated Fat:
1
g
·
Polyunsaturated Fat:
1
g
·
Monounsaturated Fat:
1
g
·
Sodium:
165
mg
·
Potassium:
1011
mg
·
Fiber:
9
g
·
Sugar:
13
g
·
Vitamin A:
42561
IU
·
Vitamin C:
7
mg
·
Calcium:
90
mg
·
Iron:
2
mg
©JustOneCookbook.com Content and photographs are copyright protected. Sharing of this recipe is both encouraged and appreciated. Copying and/or pasting full recipes to any website or social media is strictly prohibited. Please view my photo use policy
here
.