Using seasonal ume plums, make this sweet and fragrant homemade Ume Miso with just 3 ingredients! I save a few ume plums every year just to make this special blend of miso. It is so drool-worthy and requires minimal effort.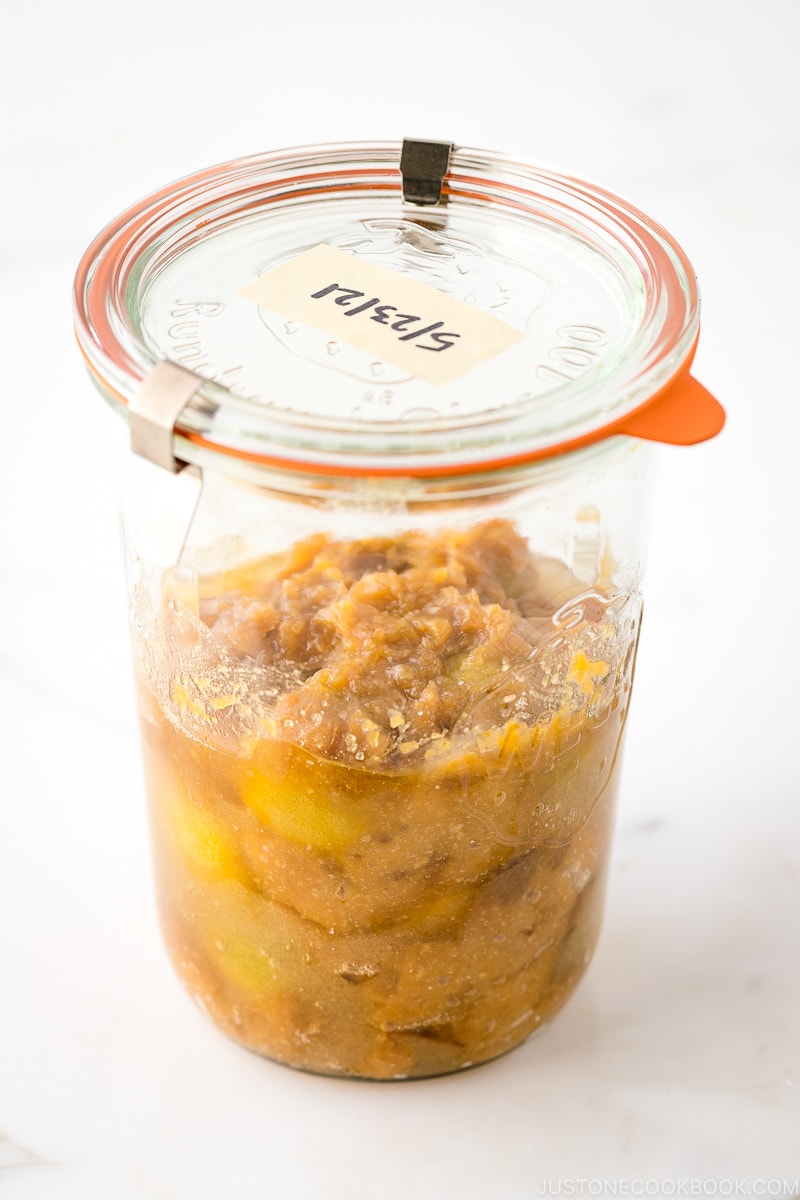 Everyone in my family looks forward to the ume season every year so I can make their favorite Umeshu (plum wine) and Ume Syrup. My recent obsession is this sweet and fragrant Ume Miso (梅味噌).
What is Ume Miso
As the name suggests, Ume Miso is a homemade miso blend made with miso of your choice, sugar, and unripe green ume. The process involves a quick fermentation but is as simple as it can get.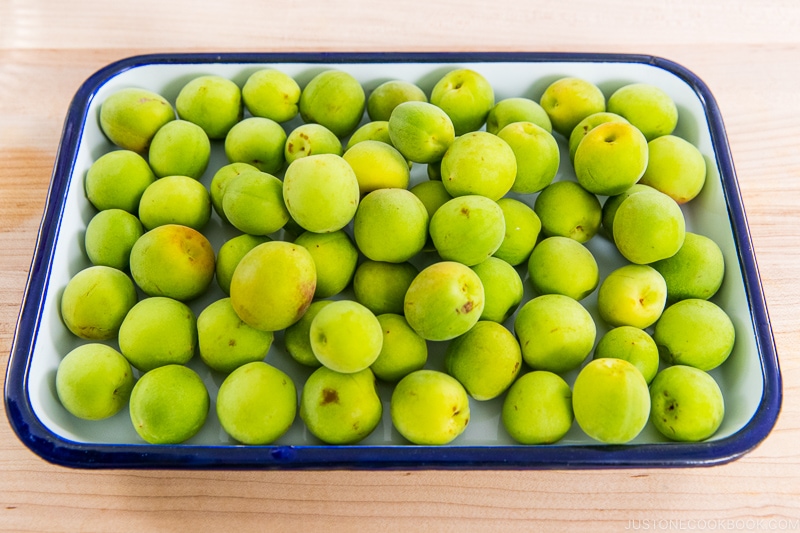 Ume (梅) or Japanese plums are sour when it's unripe. Both Japanese and Korean grocery stores sell ume plums around early to mid-May. You can get green ume plums ($10 per pound) from Nicholas Family Farms. Please text or call Penny at 559-393-3009. Make sure to mention JOC22 for 10% off!
Ume yields an amazing fruity aroma and zestiness that is slowly released into the miso and sugar mixture. You can adjust the amount of sugar-based on your preference, but unripe ume is extremely tart and sour so the sugar will help to balance out the acidity.
There is sweetness from the sugar, saltiness and umami from the miso, and sourness from the green plums – all meld beautifully as the mixture sits for a month.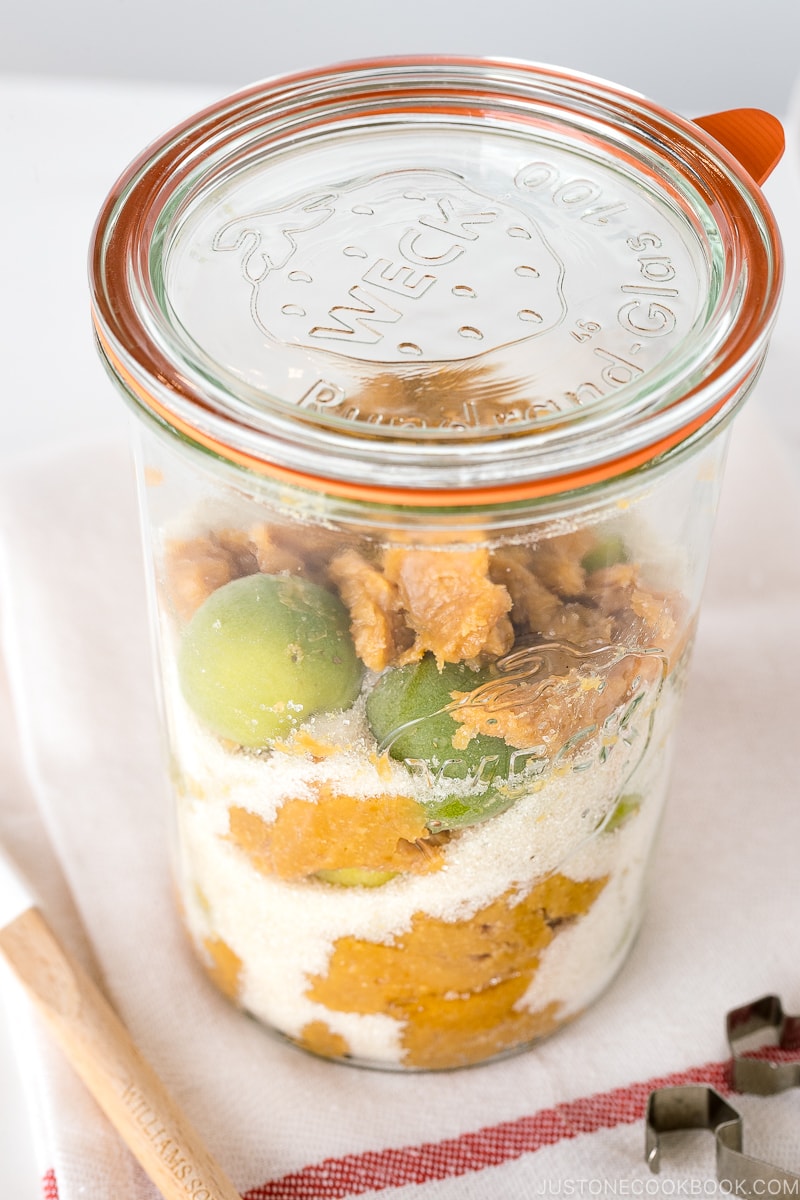 How to Use Ume Miso
There are countless ways to enjoy this brightly flavored condiment. The easiest one would be to dip some fresh cucumber or carrot sticks in the ume miso and enjoy as a snack.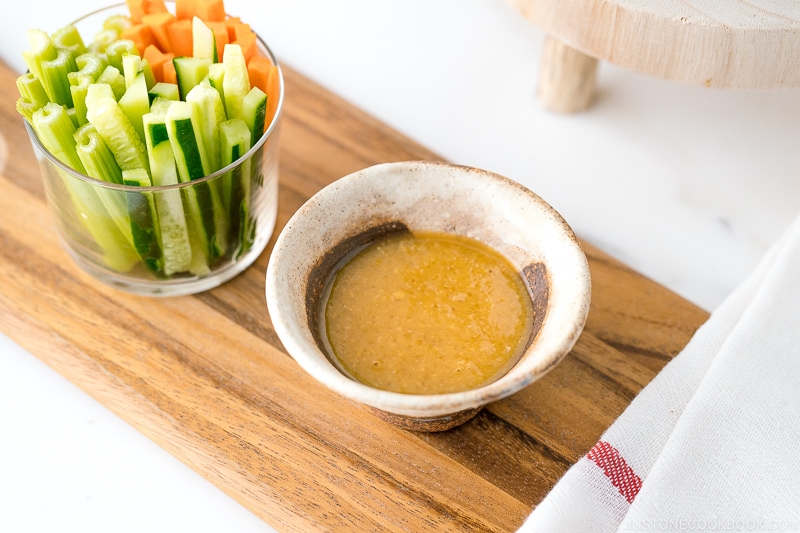 If you make a big tub, you get to relish this special miso in many imaginable ways. Here are just some delicious suggestions:
Grill/Simmer with meat, fish, tofu, or konnyaku – Marinate the protein of your choice with ume miso and chopped used ume in meat dishes. Pork and chicken can highlight the unique flavors.
As a dip or topper to go with chilled tofu and vegetable sticks – A small dollop of punchy, savory ume miso can liven up vegetables and tofu. I'm also thinking of serving it with a platter of Japanese-style of crudités. Perfect for summer entertaining!
Boosts a salad dressing – It makes a brilliant key enhancer for your dressing.
As a dipping sauce for your soba or udon noodles – Mix a spoonful of the ume miso with dashi to make into a thin sauce for your soba or udon noodles.
Flavoring onigiri rice ball – You can mix ume miso with rice and make onigiri, or fill the rice ball with ume miso. You can also slather on the rice ball and grill in a frying pan to make Yaki Onigiri.
Scroll down and see delicious Ume Miso recipes below!
What To Do With Ume in the Miso?
You can consume the ume plums used to make the miso. Remove seeds and chop up the flesh to eat or cook with other ingredients.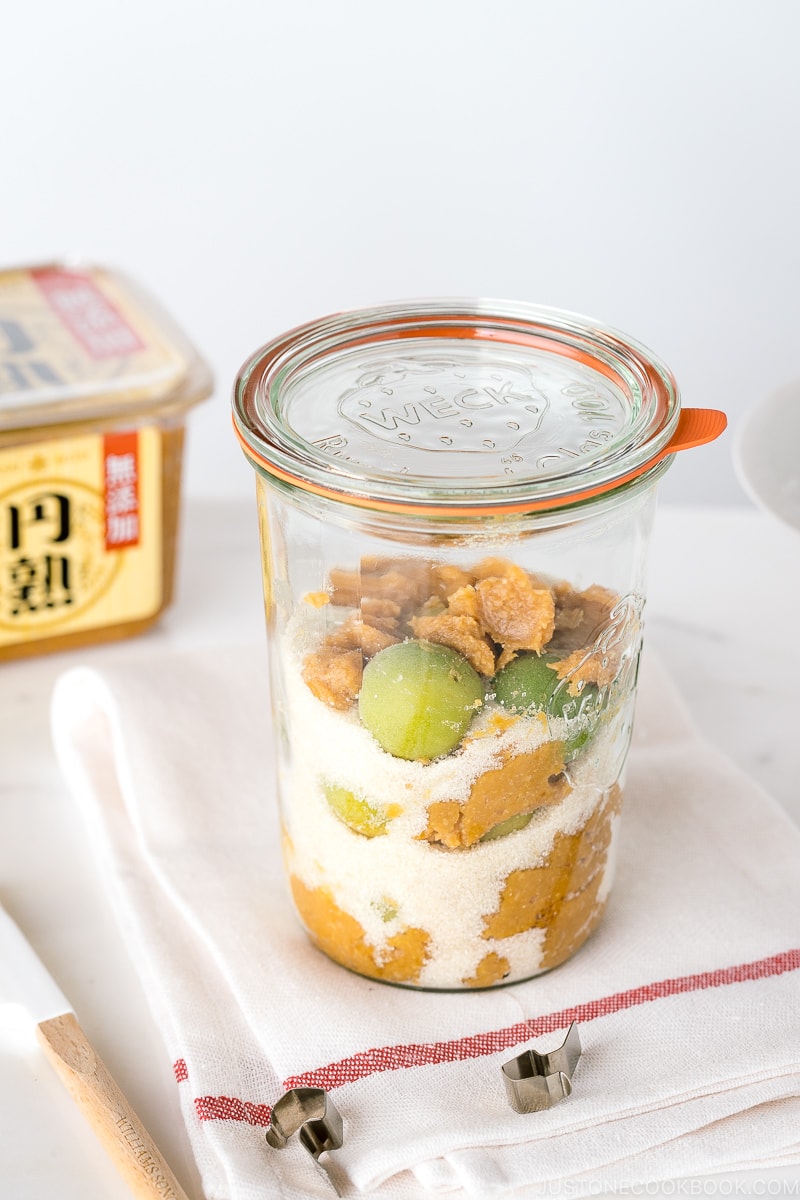 How to Make Ume Miso
Ingredients You'll Need
Ume plums (unripe, green ume)
Miso (any miso you'd like to use; I'll talk about my choice below)
Sugar (I used organic cane sugar)
An Overview: Quick Steps
Rinse ume plums, dry completely, remove the stem ends with a bamboo skewer.
In a jar or plastic bag, layer the ingredients – miso, ume, sugar in that order.
Let it sit in a cool, dark place for a month before consuming.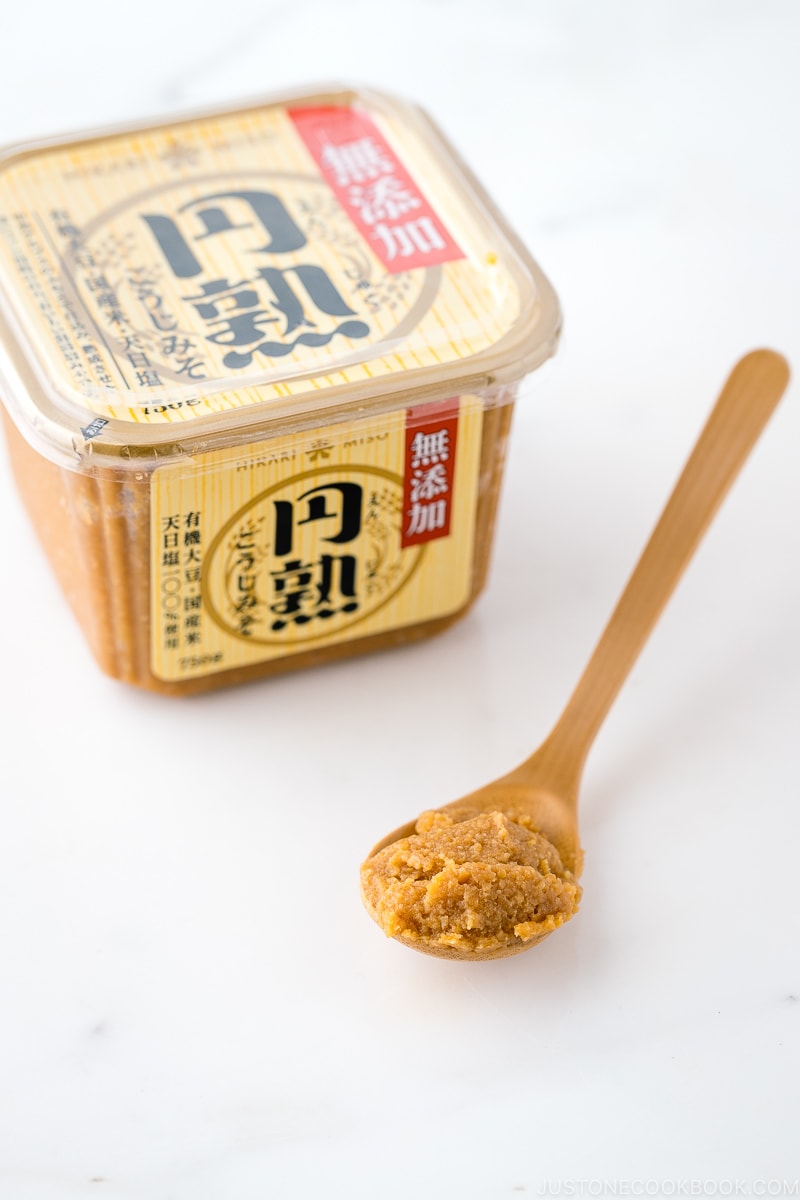 Which Type of Miso Should I Use?
There is no specific type of miso you have to use for this recipe. Be it white miso, awase miso, or red miso, just go with the one you enjoy most. A mixture would work fine too. If you are new to miso, read this post to get familiar with it.
I used Enjuku Koji Miso from Hikari Miso® as the base. I love the hint of sweetness that Koji Miso is known for. The more koji in the miso, the sweeter it tastes. I love making dressing and sauce with ume miso and the natural sweetness from koji complements the purpose.
Ume miso reminds me of sunshine in a jar, and it's surprisingly easy to make at home. If you have enough ume plums to spare, don't forget to make extra jars for gifting too.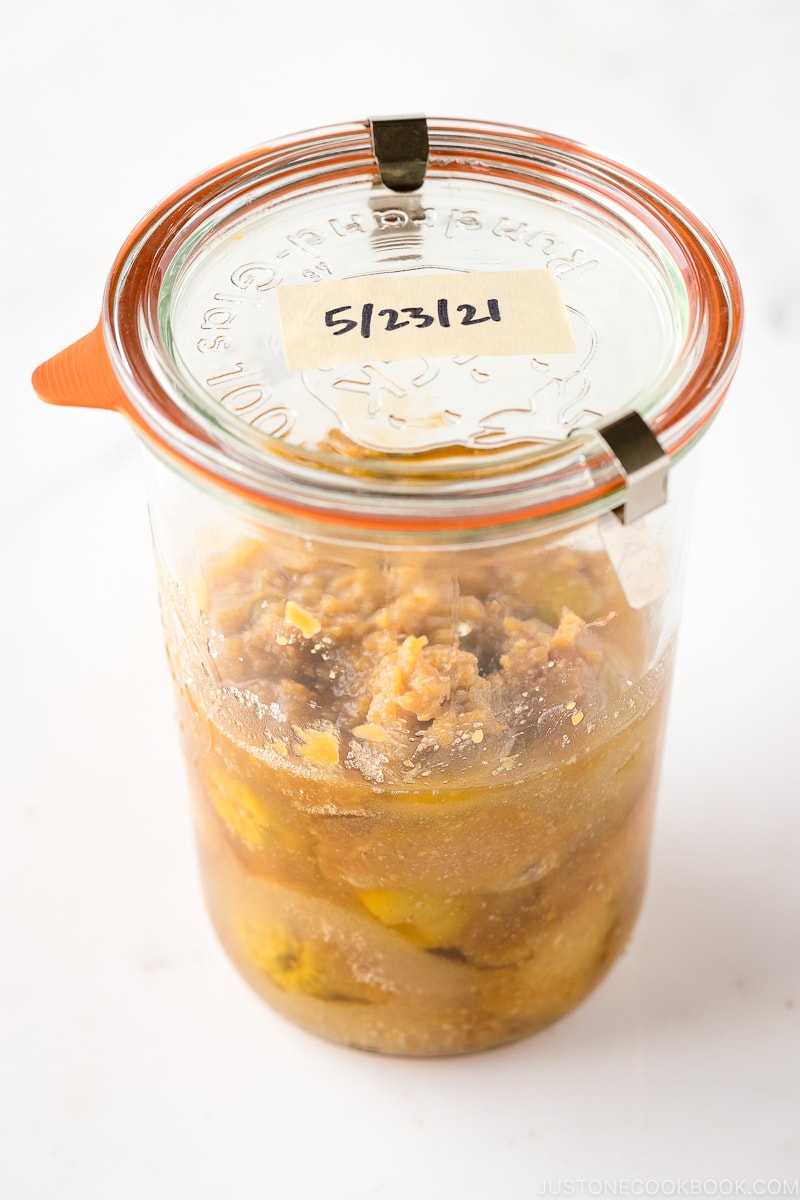 Ume Miso Recipes You Want to Try!!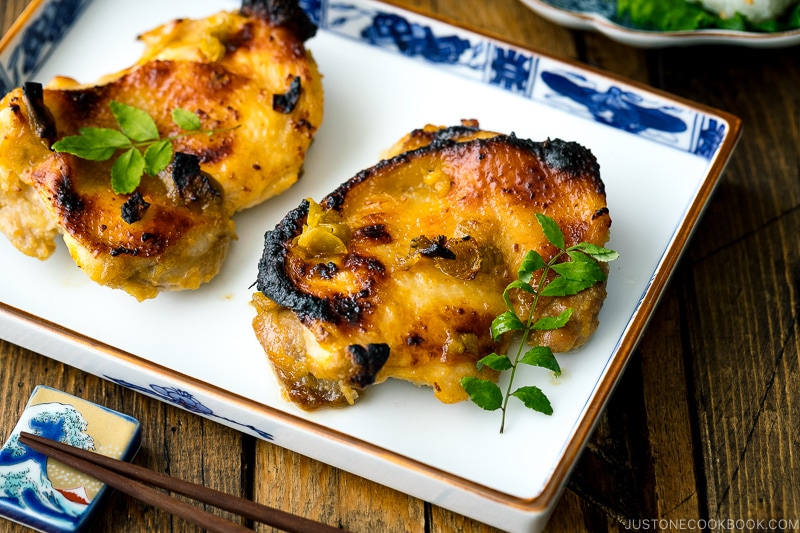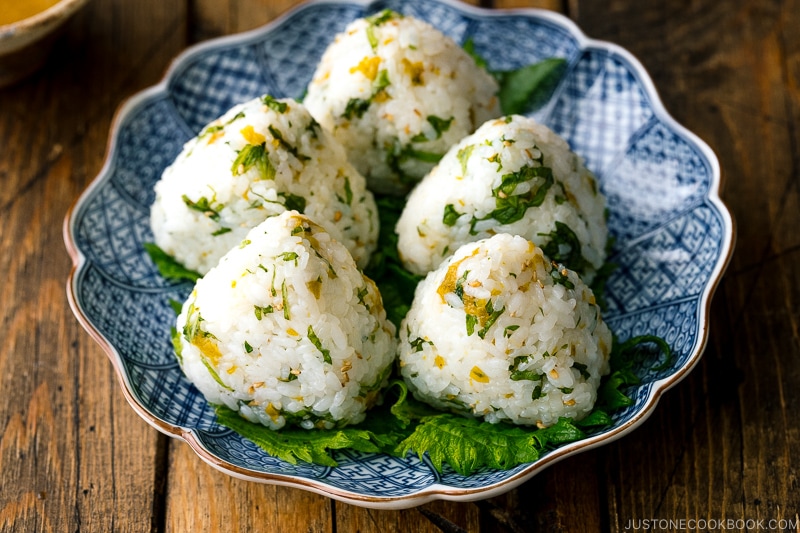 Other Delicious Ume Recipes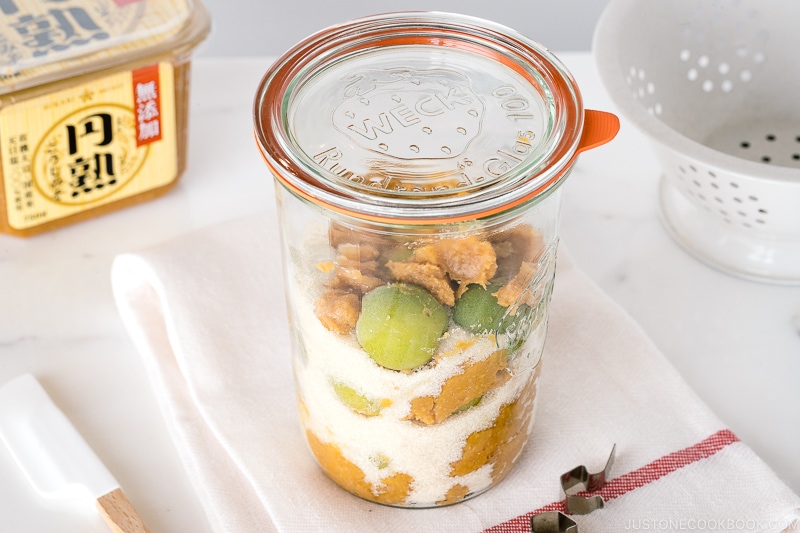 Sign up for the free Just One Cookbook newsletter delivered to your inbox! And stay in touch with me on Facebook, Pinterest, YouTube, and Instagram for all the latest updates.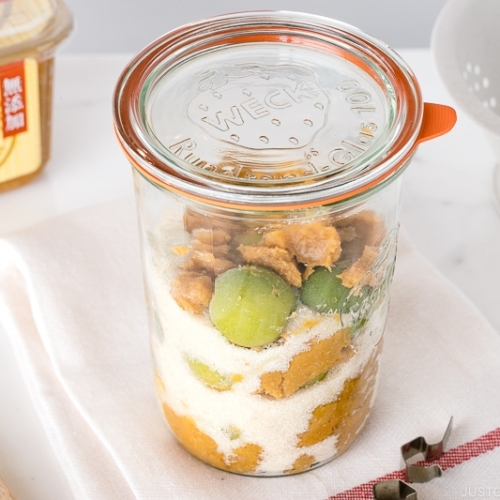 Ume Miso
Using seasonal ume plums, make this sweet and fragrant homemade Ume Miso with just 3 ingredients! I save a few ume plums every year just to make this special blend of miso. It is so drool-worthy and requires minimal effort.
Ingredients
7

oz

green ume plums (

14

1-inch ume plums)

7

oz

miso (

¼

cup plus

2

Tbsp; I used Hikari Miso Enjuku Koji Miso)

½

cup

sugar

(use at least 50% of the weight of ume/miso for good preservation; the typical ratio is 1:1:1 for ume miso)
Japanese Ingredient Substitution:
If you want substitutes for Japanese condiments and ingredients, click
here
.
Instructions
Gather all the ingredients. Rinse the jar thoroughly with soap and hot water and wipe with a clean towel. While the jar is still hot, pour boiling water inside and shake to clean it, then drain. Air dry until completely dry. Dampen a clean towel with shochu or vodka that's at least 35% ABV (alcohol by volume) or 70 proof. Then, wipe the inside of the jar with it.

Wash

7 oz green ume plums

and immediately dry them thoroughly.

Remove the stem ends from the plums with a bamboo skewer or toothpick. Discard any plums with brown or blemished spots.

Now, layer the ingredients into the clean jar. First, add a bit of the

7 oz miso

to cover the bottom of the jar. Then, add a few of the ume plums in a single layer.

Next, add some of the

½ cup sugar

to cover the plums, followed by another layer of miso. Repeat the layers of ume plums, sugar, and miso until you've used all the plums and sugar. Tip: the last layer of plums should be completely covered with miso/sugar.

Seal and write the date on the jar. Store it in a cool, dark place (but not in the refrigerator) to ferment for one month. Once in a while, shake and rotate the jar to make sure the plums are covered with the miso/sugar mixture so the plums won't go bad.
To Store
Option 1: After one month, you can mix it with a clean spoon and store it in the refrigerator for up to a year. The flavor is mature at 2–3 months after storing it in the refrigerator, but you can start using it as soon as you finish fermenting it for a month. You can eat the ume itself, or remove the seed and cut up the flesh to use in recipes like Ume Miso Chicken or Ume Miso Dressing. Option 2: After one month, you can remove the seeds from all the ume plums, chop up the ume flesh into small pieces, put them back into the ume miso, and boil the mixture on low heat for several minutes (to kill any bacteria) before storing it in a new clean jar.
Nutrition
Nutrition Facts
Ume Miso
Amount per Serving
% Daily Value*
* Percent Daily Values are based on a 2000 calorie diet.
©JustOneCookbook.com Content and photographs are copyright protected. Sharing of this recipe is both encouraged and appreciated. Copying and/or pasting full recipes to any website or social media is strictly prohibited. Please view my photo use policy
here
.