Sweet, savory miso sauce slathered on warm rice balls, this Miso Yaki Onigiri is such a simple and humble dish, yet so deliciously comforting. Perfect for a summer picnic, afternoon snack for your children or midnight treat for yourself!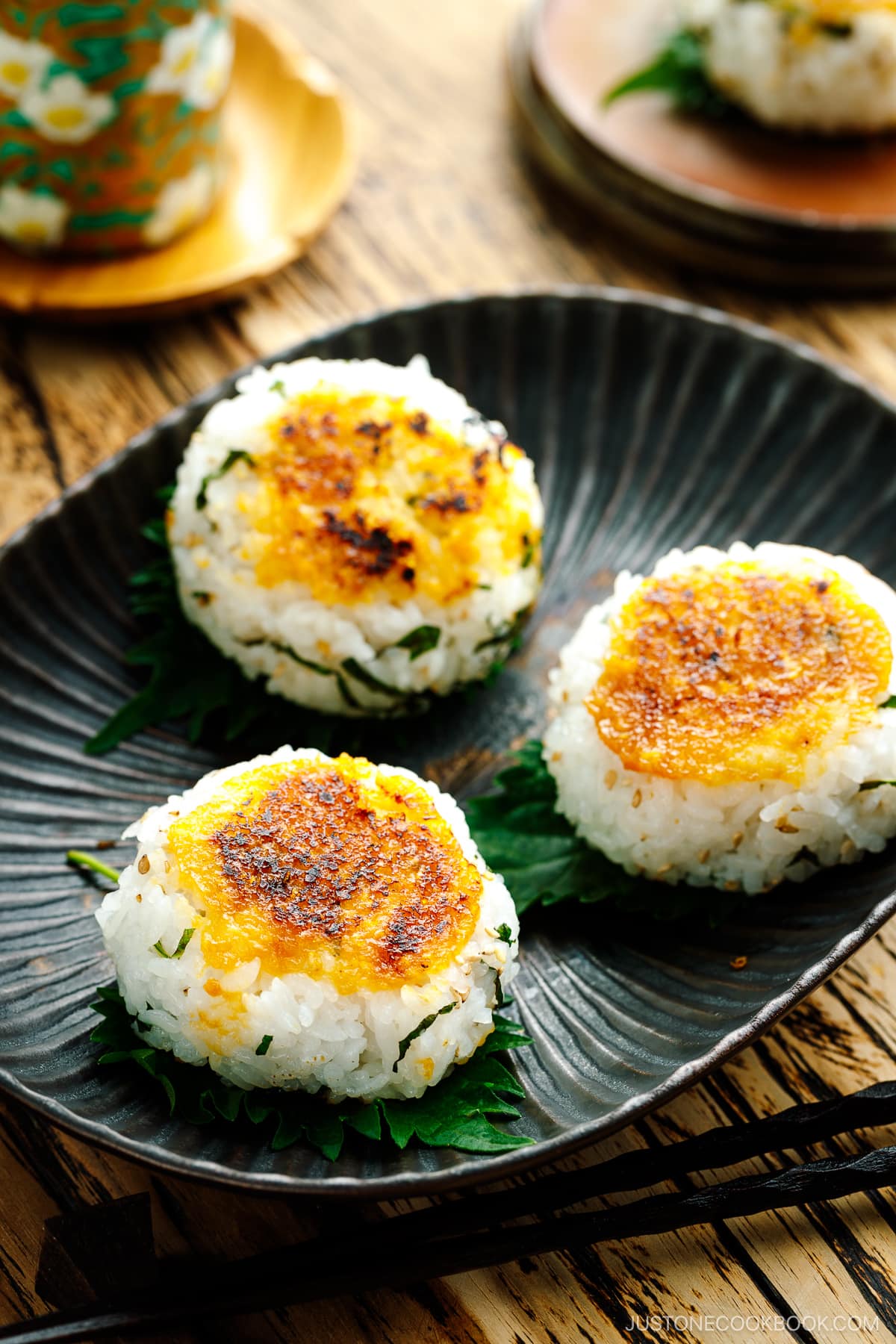 Miso is one of the most versatile condiments. In Japan, miso is not only used to make our daily miso soup but is also used to marinate various proteins and make sauces and salad dressings. Today, we make Miso Yaki Onigiri (味噌焼きおにぎり) using miso to season grilled rice balls.
What's Yaki Onigiri?
Yaki Onigiri (焼きおにぎり) is grilled rice ball. Yaki means "grilled" in Japanese (such as Teriyaki, Yakisoba, Yakiniku, Yakitori, etc), and onigiri means "rice ball."
If you have tried Japanese rice balls in the past, but not yaki onigiri, today is the day for you to discover this true Japanese comfort food!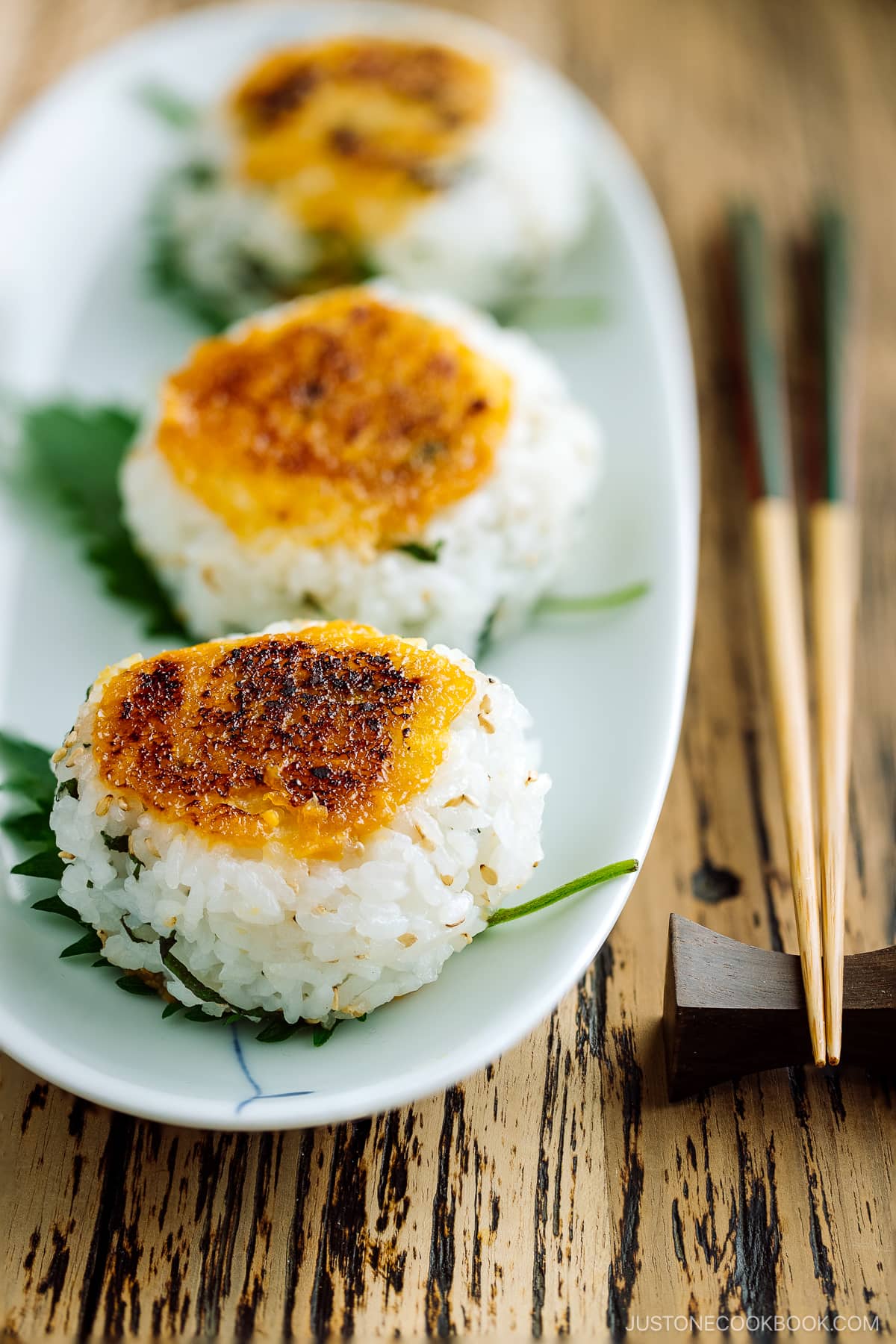 Bold and Flavorful Miso Yaki Onigiri
Onigiri can be served plain, flavored only with salt, and enjoyed with some delicious main dishes such as salted salmon, chicken teriyaki, honey soy chicken or as a part of your bento lunch. It can also be turned into something fun and substantial when you stuff the rice balls with fillings, and eat them as a snack.
Another delicious method to enjoy onigiri is to apply different sauces on top of the onigiri and grill them until crisp, toasty and golden. Called the yaki onigiri, these grilled rice balls are absolutely one of the best savory snacks favored by all Japanese adults and kids alike. Grilling crisps up the rice, creating an irresistible crust on the outside, while the rice stays soft and tender on the inside.
In the past, I've shared a Yaki Onigiri recipe where you can use soy sauce or Unagi Sauce (so yummy!). Today I want to introduce miso flavored yaki onigiri.
Miso is packed with so much umami that a little goes a long way. Take note that there are different variations of miso and each brand of miso tastes slightly different from one another. You want to work with the miso you're using so its salt level and flavor profile suit your preference.
For this recipe, I made the yaki onigiri with shiso leaves (perilla) and sesame seeds. Shiso gives an amazing fragrance and a refreshing taste that shines through the bold miso flavor. Sesame seeds add a crunchy popping texture to the soft tender steamed rice. If you can get shiso leaves, that would be great, but if you don't, I still recommend adding sesame seeds (feel free to skip if you're not a fan of sesame seeds).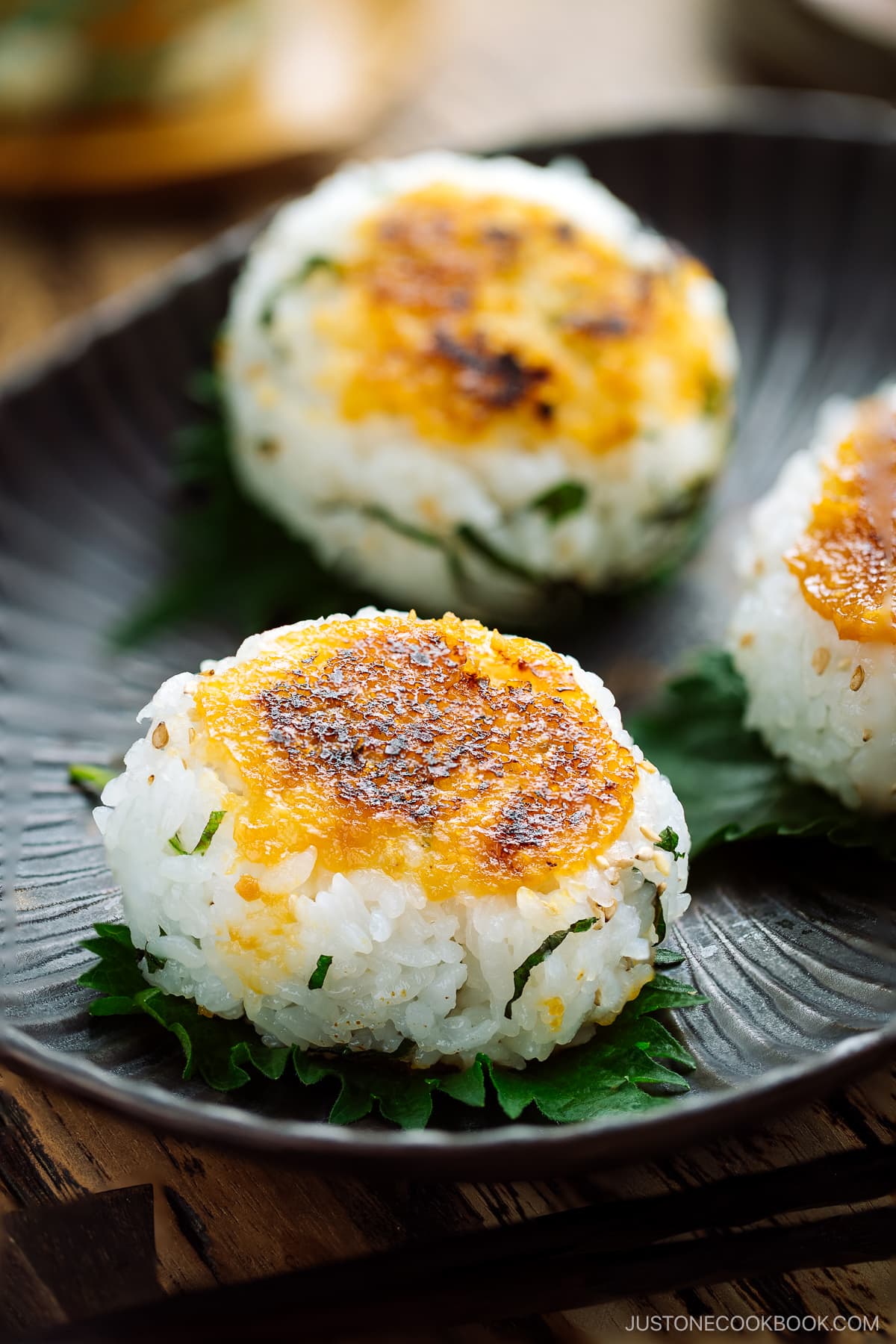 Benefits of Miso & Which Miso to Use
Miso, a protein-rich paste made from fermented soybeans, is rich in enzymes due to the fermentation process and it increases the number of probiotics (beneficial bacteria) in the food. As a result, it enhances the body immune system and has a wide range of health benefits, especially for digestion, absorption, and assimilation of nutrients.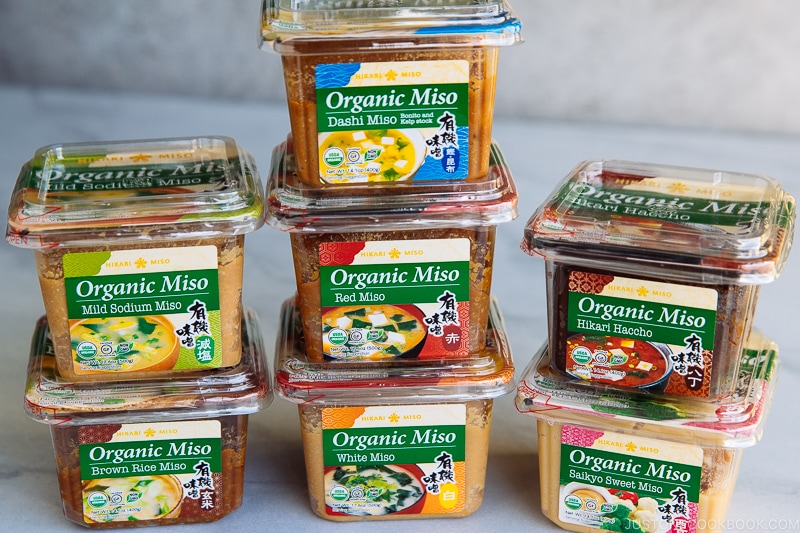 I've been using Hikari Miso ever since I discovered the brand. Hikari Miso now carries various types of miso that are organic and non-GMO.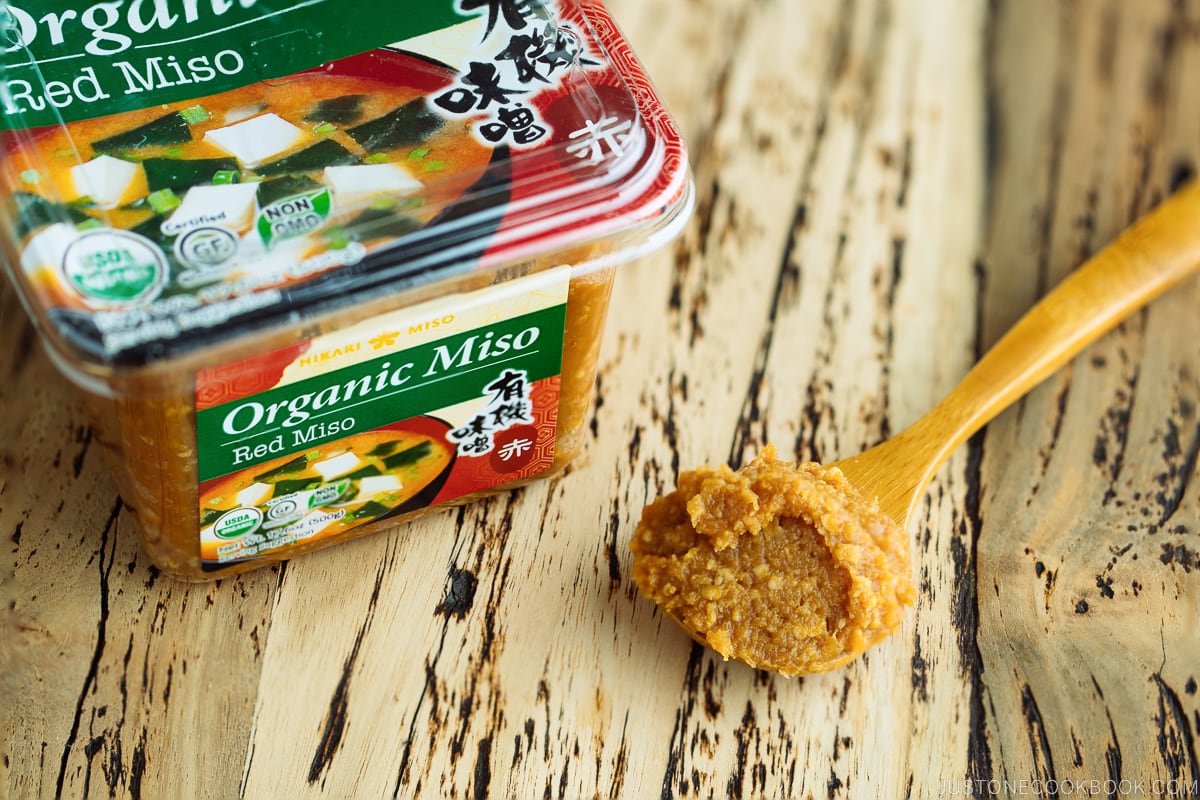 For this recipe, I've used Hikari Miso® Organic Miso – Red Miso, but you can use other types of miso to try out different flavors. You can purchase Hikari Miso from a majority of Japanese/Asian grocery stores or on Amazon.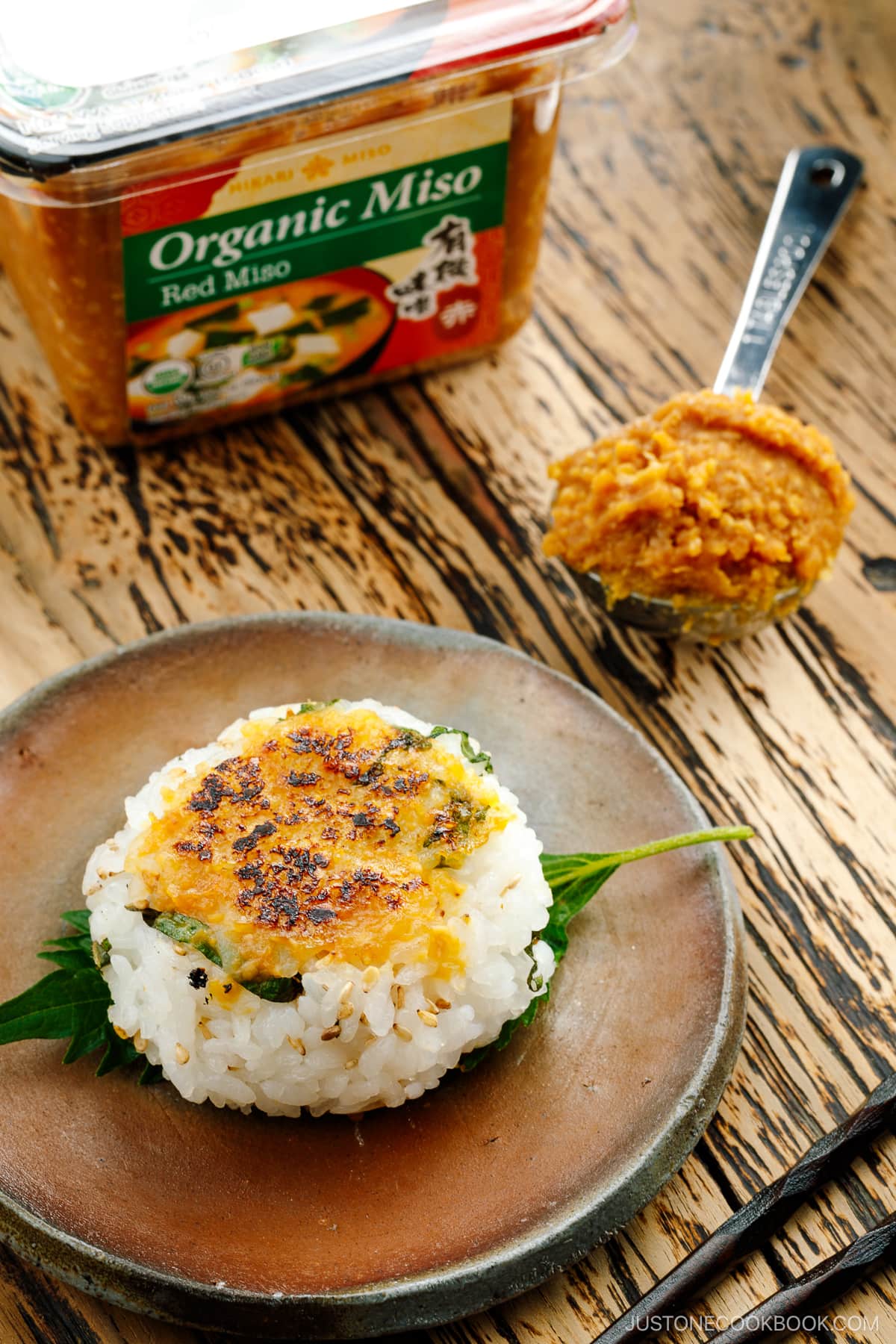 Tips to Make Miso Yaki Onigiri
Here are some tips that may be helpful to make Miso Yaki Onigiri.
1. Use the right kind of rice
This applies to making rice balls. Some of you have asked how to ensure your rice balls stay in shape without the rice falling apart. If you're using Japanese short grain rice, this problem should not happen. Medium grain rice should work too, but please use Japanese brand to be sure. Japanese rice is not sticky rice (sticky rice is called glutinous rice, aka mochi rice), but the rice is stickier than other Asian rice varieties. That's why Japanese rice naturally sticks to each other and will not fall apart.
2. Use salt for preservation
I've been asked several times why we use salt when we make rice balls. There are 2 reasons. First, salt is used as preservation. Back in the day when refrigerators were not in existence, people rub salt on their hands to make rice balls as salt prevents food from spoiling. Then why are we still using salt in the modern days when every home has a refrigerator? That is because rice gets very hard and lose its fluffiness when you store it in the refrigerator. Therefore, we still keep rice balls at room temperature and use salt to preserve the freshness to this day.
The second reason is for seasoning. When you eat a lot of plain rice, it can get a little bland and boring. Back in the day when food was limited in Japan, people use salt as a seasoning for rice balls, and we call these rice balls Shio Musubi (塩むすび) or Shio Onigiri (塩おにぎり).
3. Gentle but firm pressure
Do not squeeze the rice balls when you are shaping them. Just apply gentle but firm pressure on each stroke as you shape.
4. Use parchment paper
For my other Yaki Onigiri recipe, I used my cast iron pan to achieve the nice char on the rice balls. For this recipe, I attempted a different method because miso gets burnt easily. I did not want the miso sauce to have direct contact with my pan, so I used a sheet of parchment paper to place it between the pan and the rice balls. This little trick worked like a charm. Miso did not get stuck and clean up was easy. Just a word of caution: you want to cut the parchment paper smaller than the frying pan so it doesn't catch fire from the stove's heat.
5. Watch out, miso burns really fast!
I want to emphasize again that miso gets burnt SUPER fast. Once you brush the rice balls with the miso sauce, you will only need 15 seconds to cook each side over low heat before they achieve a nice brown char. Keep a close eye on them and remove the grilled rice balls immediately once they are done.
With the grilling season upon us, these miso yaki onigiri make a great addition to your Asian or Japanese themed BBQ or potluck party. Any leftovers are great for your next day bento lunch box. For more delicious summer BBQ and potluck recipe ideas, you want to check out this summer BBQ list and also this salad recipe list to go with the yaki onigiri.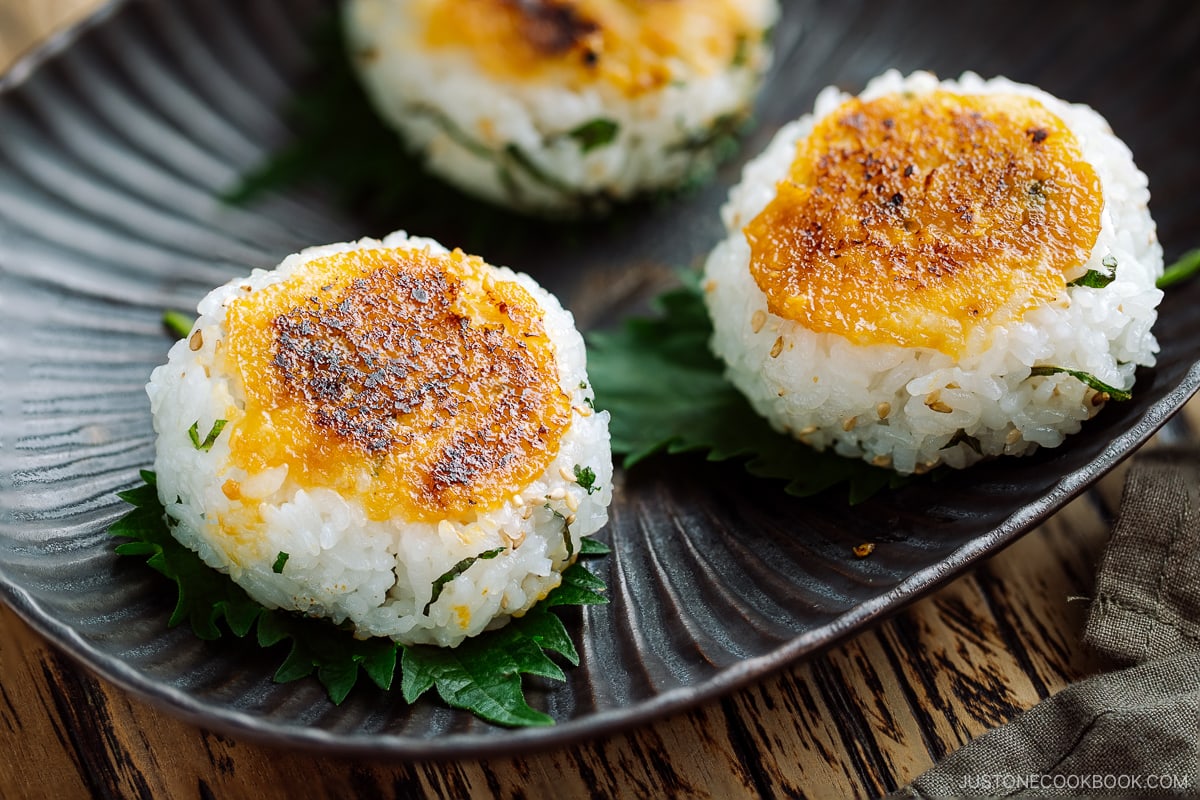 Wish to learn more about Japanese cooking? Sign up for our free newsletter to receive cooking tips & recipe updates! And stay in touch with me on Facebook, Pinterest, YouTube, and Instagram.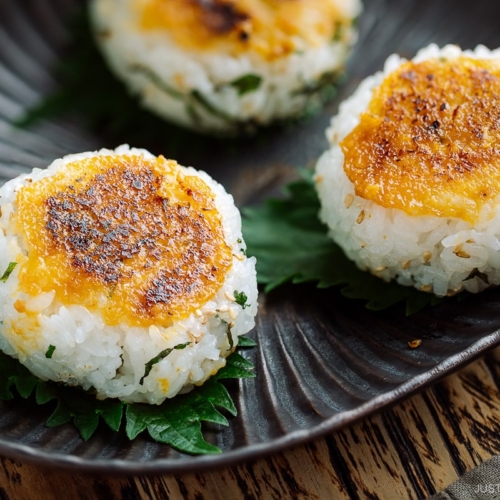 Miso Yaki Onigiri
Sweet, savory miso sauce slathered on warm rice balls, this Miso Yaki Onigiri is such a simple and humble dish, yet so deliciously comforting. Perfect for a summer picnic, afternoon snack for your children, or midnight treat for yourself!
Japanese Ingredient Substitution:
If you want substitutes for Japanese condiments and ingredients, click
here
.
Instructions
Gather all the ingredients.

In a small bowl, combine

2 Tbsp miso

,

1 tsp sugar

, and

1 Tbsp mirin

and mix well. Depending on the type of miso, it might be saltier or sweeter than mine. Adjust the flavor by removing/adding sugar. Set the sauce aside for brushing the rice balls later. 

For serving the rice ball, keep

6

of the

10–12 shiso leaves (perilla/ooba)

aside to place under the rice balls later. Roll up the rest of shiso leaves and cut into julienned strips.

Add the julienned shiso leaves and

2 tsp toasted white sesame seeds

to a bowl with

3 cups cooked Japanese short-grain rice

. Using a rice scooper, fluff up the rice while you mix in shiso leaves and sesame seeds.

Prepare a small bowl of water and roughly 2 to 3 tsp

Diamond Crystal kosher salt

. Wet your palms with water, dip your fingers into the salt and rub some of the salt lightly onto your palms. Then, using a rice scooper, 1 portion of the steamed rice (you should be able to make

6

rice balls).

Gently form the rice into a ball shape, and then flatten top and bottom. It should look like a thick disc shape.

Cut the parchment paper to fit the bottom of your frying pan and place it on the pan. Brush some of the

½ Tbsp neutral oil

on the parchment paper. Place the rice balls on the paper and start cooking on medium heat. Make sure to keep some distance between rice balls so they don't stick to each other.

Cook the bottom of the rice for about 2.5 minutes. When it's nicely browned, brush some oil on the top of the rice balls and flip to cook the other side for 2.5 minutes or until nicely browned.

When both sides are browned, reduce the heat to low. Brush or spoon the sauce on top of the rice balls. Flip to cook the miso side for just 10–15 seconds. Then, brush the sauce on the other side and flip to cook for 10–15 seconds. 

MISO BURNS QUICKLY. Adjust the heat so the miso doesn't burn but the onigiri still has a nice char. You can also use an oven, oven toaster, or broiler, but make sure to keep an eye on it.

Serve each rice ball on a shiso leaf. Enjoy!

Nutrition
Nutrition Facts
Miso Yaki Onigiri
Amount per Serving
% Daily Value*
* Percent Daily Values are based on a 2000 calorie diet.
©JustOneCookbook.com Content and photographs are copyright protected. Sharing of this recipe is both encouraged and appreciated. Copying and/or pasting full recipes to any website or social media is strictly prohibited. Please view my photo use policy
here
.