Pungent and spicy, wasabi, also known as Japanese horseradish, is eaten with sushi, sashimi, and other dishes. Let's look at this intriguing plant and its fiery nose-tingling flavor.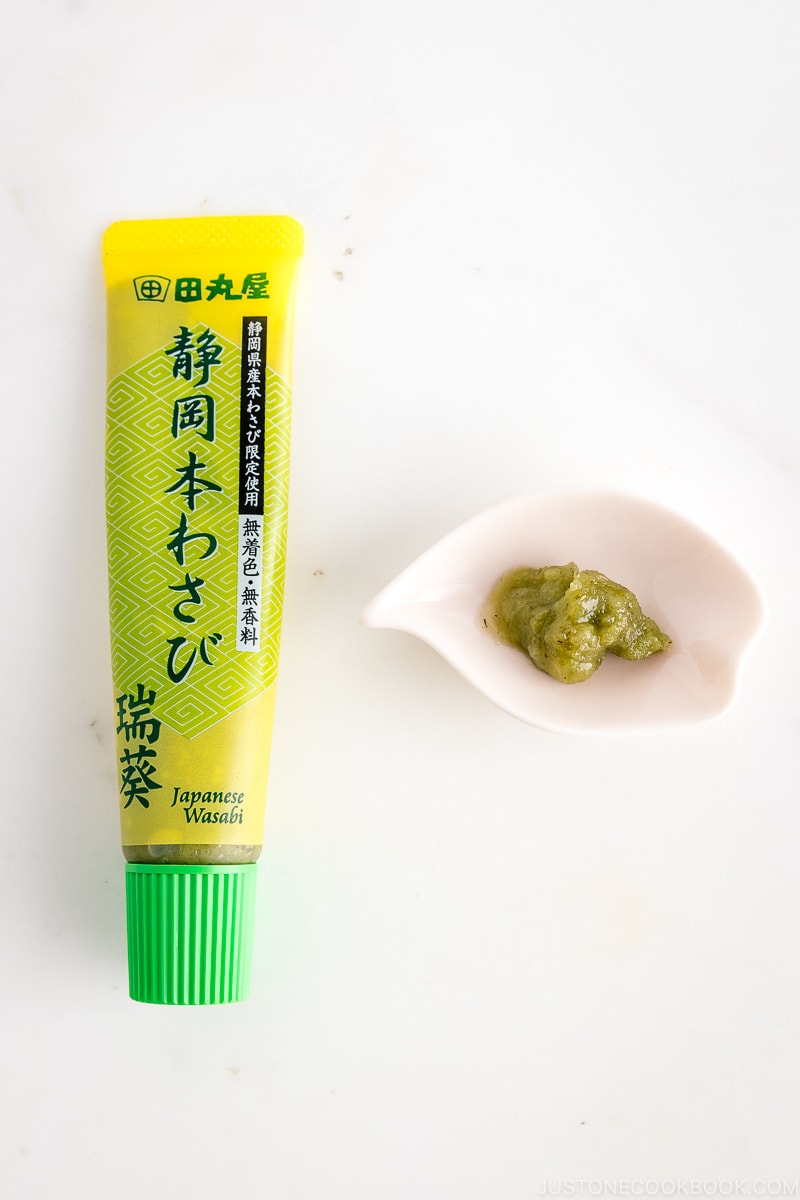 Wasabi (山葵, わさび) is the spicy green paste served as a condiment to sushi and in some Japanese dishes. Real wasabi is made from the rhizome of the Wasabia japonica or Eutrema japonicum plant of the Brassicaceae mustard plant. While it resembles a root, what we eat is the plant's stem.
It's native to Japan and grown commercially in southwest China, Taiwan, Korea, and the U.S.
Read about the JOC family's visit to a wasabi farm in Azumino, Nagano prefecture.
What Is Wasabi?
The wasabi plant resembles a short green root. It's most commonly used by grinding it into a fine paste and used as a condiment for sushi, raw fish, soba noodles, steak, and other dishes. The entire plant, including the root, stem, leaves, and flowers, is edible.
Wasabi dates back to the eighth century, used as medicine for its antibacterial properties to prevent food poisoning. Wasabi cultivation began in the early Edo period (1604-1867).
Wasabi grows wherever an abundance of fresh mountain water is available. The regions famous for wasabi include Shimane, Nagano, and Shizuoka prefectures.
What Does Wasabi Taste Like?
Freshly grated real wasabi is a treat. It tastes bright and fresh with a hint of a quickly fading sting. It is intense yet delicate enough to let the flavor of raw fish shine.
This characteristic sting is due to the chemical compound allyl isothiocyanate, also found in mustard and horseradish. But the burning sensation is much shorter than the fiery spiciness of chili peppers. To describe the difference, wasabi burns your nasal passages while chili peppers burn your tongue.
You may encounter real wasabi at high-end sushi restaurants and Japanese restaurants. Wasabi served with sushi highlight the fish's flavor, not to overwhelm it (FYI, do not ask for more wasabi at a sushi bar. Real wasabi is expensive, but it's also an insult to the sushi chefs who are crafting the perfect balance of fish and spice. Read more about Japanese dining etiquette here).
The majority of the wasabi you may encounter, including wasabi in tubes, is horseradish dyed green. Although there are some wasabi tubes with some real wasabi mixed in, check the label. A sure sign of fake wasabi is an immediate burning sensation in the nose and uniform green color and texture.
How To Use
Tube wasabi and powdered wasabi are the most accessible forms of wasabi. Store opened tube wasabi in the refrigerator. Try to find ones with real wasabi.
To make the paste from powdered wasabi, mix with water to reconstitute it into a paste. Most powdered wasabi does not include wasabi and is a combination of mustard, horseradish, and food coloring.
Real wasabi is expensive, whether imported from Japan or cultivated elsewhere. It's susceptible to open air and will lose its flavor in 15 minutes. Putting a smear of wasabi under the cut of fish for sushi prevents oxidation. Sushi masters will grind wasabi per order and will never make a batch. If you see a pile of green paste, it's fake wasabi.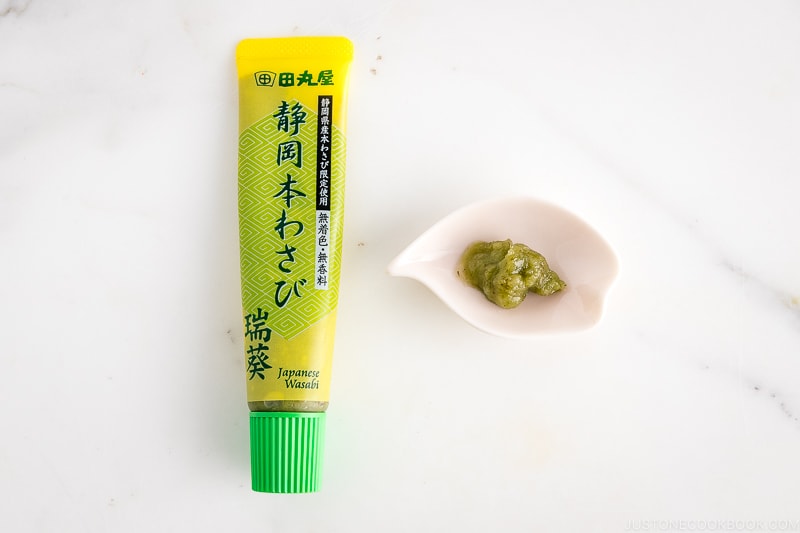 Recipes Using Wasabi
Where To Buy
You can find tube and powered wasabi at Japanese and Asian grocery stores and many conventional supermarkets. You may be able to find real wasabi at high-end or Japanese grocery stores.
How To Choose The Best Wasabi
It's OK to buy a tube or powered wasabi. It's convenient and much more affordable, after all! Just check the label and see if you can buy those with real wasabi. It'll say "hon-wasabi" or "nama-wasabi" on the label, which means it contains at least 50% real wasabi.
If you're lucky enough to find real wasabi, choose fresh and unshrived stems. Bigger does not necessarily mean better, so choose the size that fits your purpose.
How To Store
Store powdered wasabi in a cool and dark place with low humidity, like your spicy cabinet. You can keep tube wasabi in the refrigerator.
For fresh wasabi, wrap in dampened paper towels and put in a plastic bag. Check on it occasionally when not in use and change the paper towel. If necessary, trim away any black spots. It won't keep indefinitely, so use it quickly.
Substitutions
Powdered or tube wasabi are the best substitution for real wasabi.
Health Benefits
Wasabi's anti-bacterial effects have been known for centuries and safeguarded Japanese diners without knowing how and why. There are naturally occurring compounds that have antibacterial properties against certain foodborne illnesses. It also has anti-inflammatory properties, which suppress cells and enzymes that promote inflammation. It also contains cancer-fighting properties.
It also contains vitamins B, C, and A and minerals such as calcium, magnesium, and potassium. It's low in cholesterol and sodium. While it's not high in nutrients, it's usually served with highly nutritious fish and seafood.
FAQs
Q: Why is real wasabi so expensive?
Real wasabi is expensive because the wasabi plant is extremely difficult to grow commercially. It requires a specific environment to cultivate: a clean flow of water, shade, temperature between 8-20C/46-68F, and their stems partially submerged in water. That's why the majority of the wasabi out there is fake wasabi.
Q: Is fake wasabi spicier than real wasabi?
Yes, fake wasabi tends to be much spicier than real wasabi. The taste of real wasabi tends to be subtle compared to fake wasabi. Plus, horseradish has a more potent sting.
---
Wish to learn more about Japanese cooking? Sign up for our free newsletter to receive cooking tips & recipe updates! And stay in touch with me on Facebook, Pinterest, YouTube, and Instagram.
Our Recommendations for Buying Sashimi Online


When we have a sudden craving for sashimi we usually buy from our local Japanese supermarkets. If you don't have a reliable shop to purchase quality sashimi nearby, we would recommend buying from Catalina Offshore online.
They've been in business for over forty years and all the sashimi products we've tried from them are outstanding. Use J1COOK20 for 10% discount. Disclosure: We earn a small percentage commission from your purchase of products linked to Catalina Offshore.