Learn how to make your favorite sushi at home! From California roll to classic nigiri to temaki hand roll, this collection of sushi recipes will teach you how to make sushi like a pro.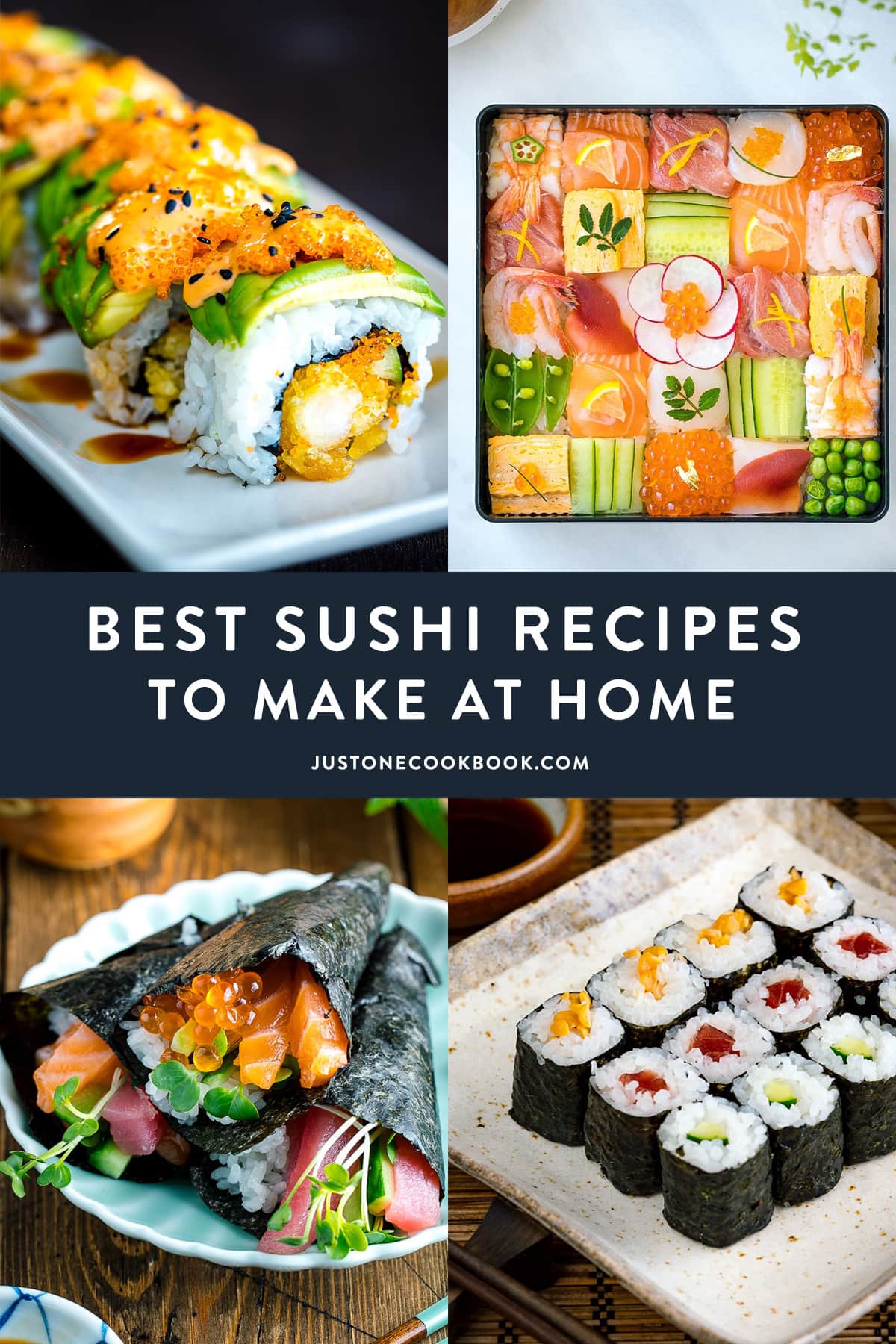 Love sushi, but feel intimated by the idea of making sushi at home? Don't be! As a Japanese home cook, I'm here to assure you that everyone can make solid, beautiful sushi in their own kitchen. And oftentimes, it requires just a few ingredients and basic techniques. You'll only get better with practice!
More reasons to make sushi at home? It's easy and a lot cheaper than eating at sushi restaurants. You get to customize the ingredients to your liking. Also, it doesn't need to be perfect the first time as it's about trying and having fun.
Here, we've included our best sushi recipes—from traditional to modern interpretations—that will get you started.
What is Sushi?
First thing first, the word sushi (寿司, 鮨) actually means "sour rice" in Japanese. To make great sushi, you need to start with the rice. We first cook Japanese short-grain rice and then season it with sweetened vinegar. Once the rice cools just slightly, we'll shape it to make sushi.
Get my complete guide on How to Make Sushi Rice.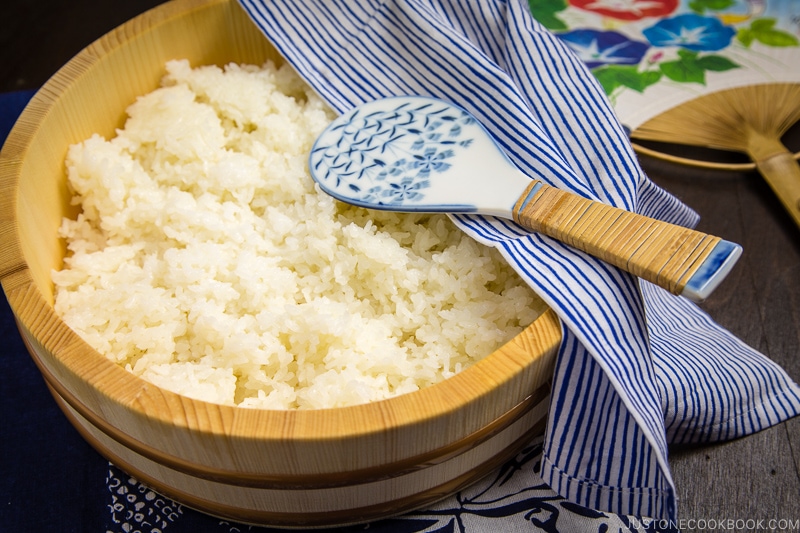 Depending on the style of sushi, it can be topped or filled with a variety of ingredients such as seafood (both raw and cooked) and vegetables.
To learn more about the origin of sushi, its types, etiquette, etc., read our Ultimate Sushi Guide.
Ingredients for Making Sushi
Sushi Rice – You'll need Japanese short-grain rice, rice vinegar, sugar, and salt. I often add kombu (kelp) for additional fragrance, but it is optional.
Nori (Seaweed) – We'll use roasted sheets of nori seaweed (nori sheet). For the best quality nori, look for the most expensive one available at your local Asian grocery stores or online. I get mine (imported from Japan) from my local Japanese store.
Ingredients – In Japan, seafood (raw or fresh) is the primary ingredient used in sushi. Popular choices are salmon, tuna, shrimp, octopus, etc. Veggies such as carrots, cucumber, daikon radish, shiso leaves, etc. are also included in certain types of sushi. Depending on the sushi, you can certainly work with whatever ingredients you prefer.
Sushi Accompaniments – We often serve soy sauce, wasabi, and gari (pickled ginger) alongside the sushi.
Tools You'll Need to Make Sushi at Home
These different tools will help your sushi-making a lot easier.
Rice Cooker – There are different ways to cook rice, but a rice cooker will make your life easier. Learn how to cook rice in a rice cooker.
Sushi Mat – If you're making a sushi roll, a bamboo sushi mat or the makisu (巻き簾) is a great tool for rolling the sushi. You can also consider this sushi kit from Amazon, which includes a set of sushi oke/hangiri, a bamboo mat, and rice paddles.
Sharp knife – A quality sharp knife allows you to slice your sushi into perfect shape. I love santoku and gyuto chef knives from my favorite knife shop, Kikuichi Cutlery. You can try and see their knife in person at Perfect Edge Cutlery in San Mateo if you're in the Bay Area. Don't forget to use the discount code "JOC10" for 10% off.
Ready to make your favorite sushi at home? Let's jump right to it!
14 Best Sushi Recipes To Make At Home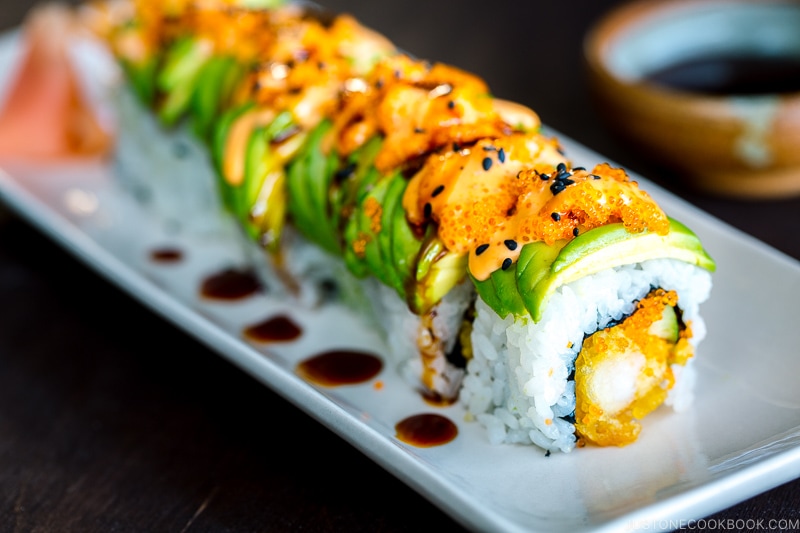 Crunchy shrimp tempura tucked inside sushi rice and nori, and on the top, we have avocado slices and drizzles of spicy mayonnaise and unagi sauce. Dragon roll, a type of shrimp tempura roll, is as amazing as it sounds. My recipe will show you all the tips you need to make the perfect dragon roll as good as your favorite sushi joint!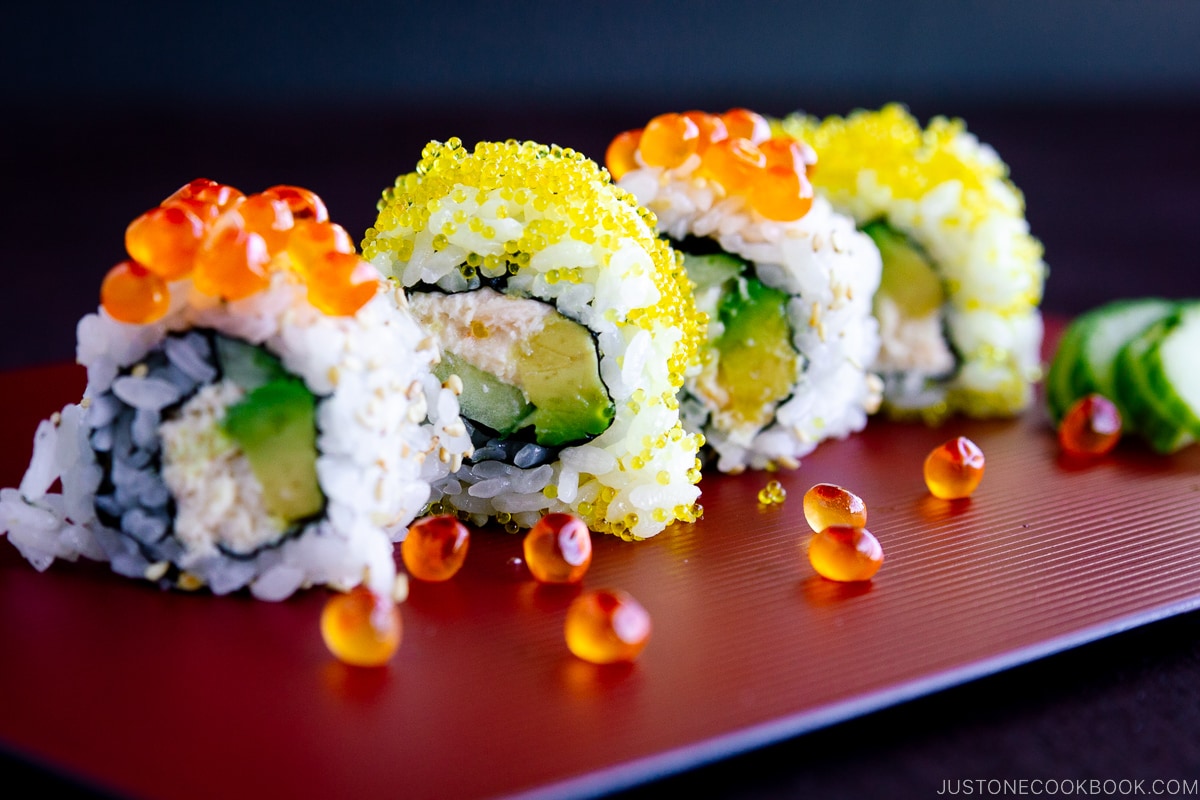 Filled with creamy avocado, sweet crab meat, and crunchy cucumber, the California roll is by far the most popular sushi roll outside of Japan. I'll show you how to select the ingredients, and how to roll and slice the sushi in the recipe. I added colorful jewels of fish roes on top of the rolls, but you can definitely leave them out for a simplified version.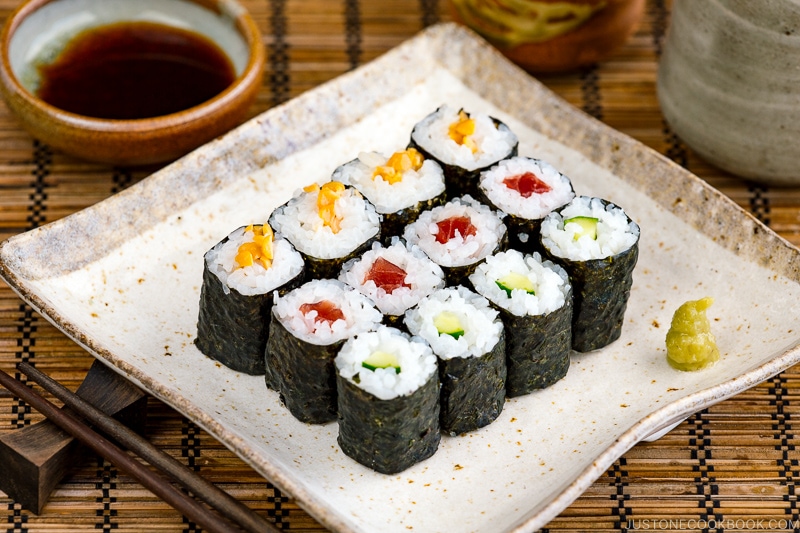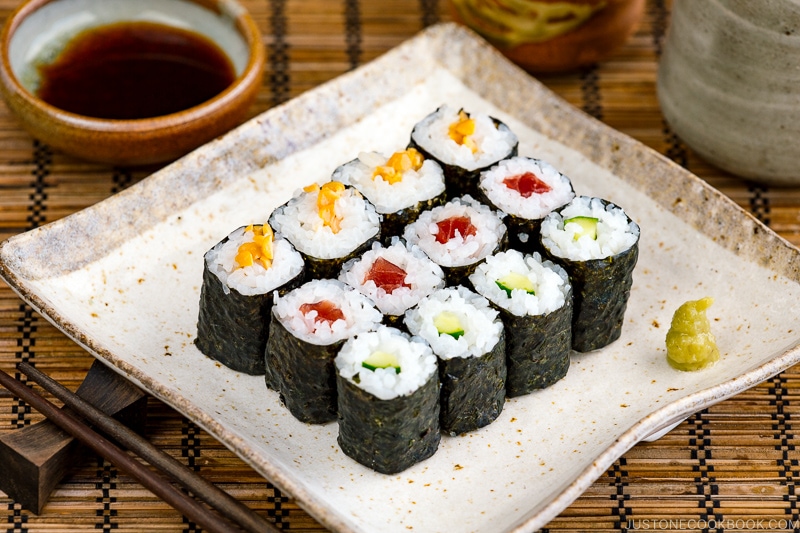 Sushi rolls or maki sushi is the most classic and traditional sushi one can make at home. To get started, you just need a few ingredients like tuna, cucumber, nori, and Japanese short-grain rice. You can certainly add whatever other fillings you like. Go ahead and try shredded egg crepe, avocado, carrot strips, kimchi, imitation crab, or pan-fried tofu for your homemade sushi rolls.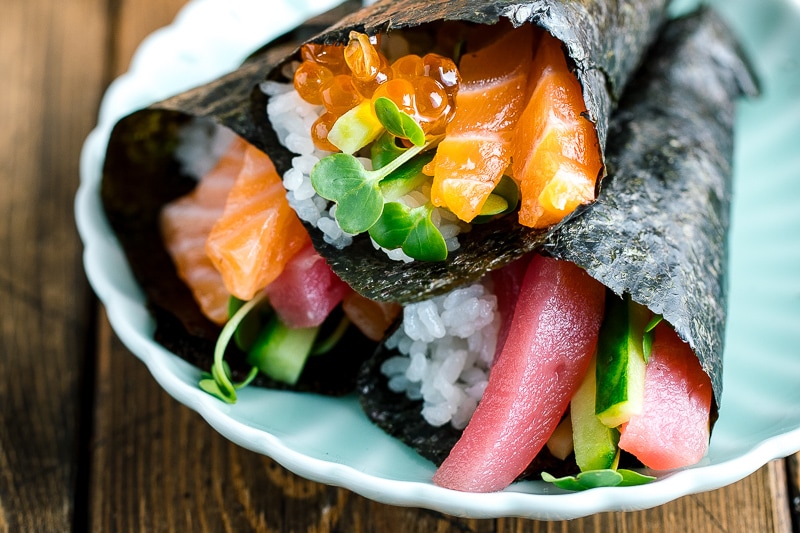 Temaki sushi is my family's favorite party meal! Everything—the sushi rice, nori, and the fillings—can be prepared in advance. At the table, each person makes hand-rolled sushi based on their favorite mix of ingredients. Make sure you have enough to satisfy everyone!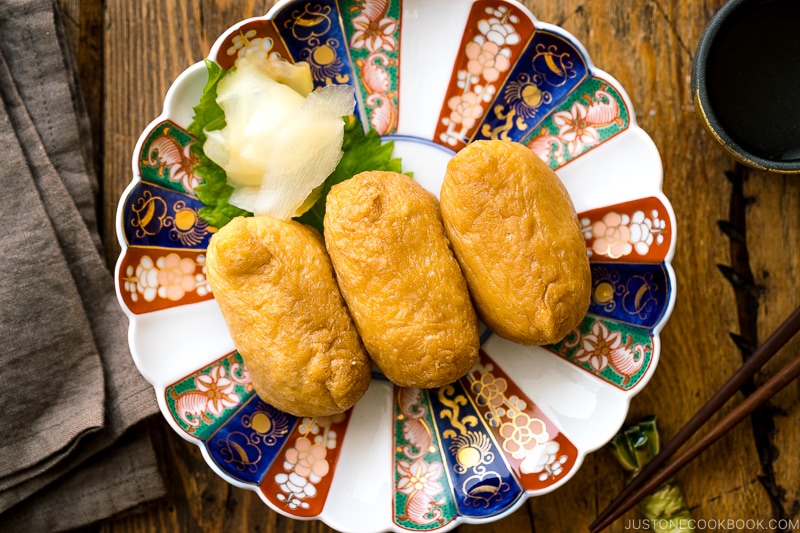 Sweet and tangy rice tucked inside little deep-fried tofu pouches, inari sushi (or inarizushi) is one of the easiest sushi dishes to make at home. They make a most satisfying snack and finger food to enjoy.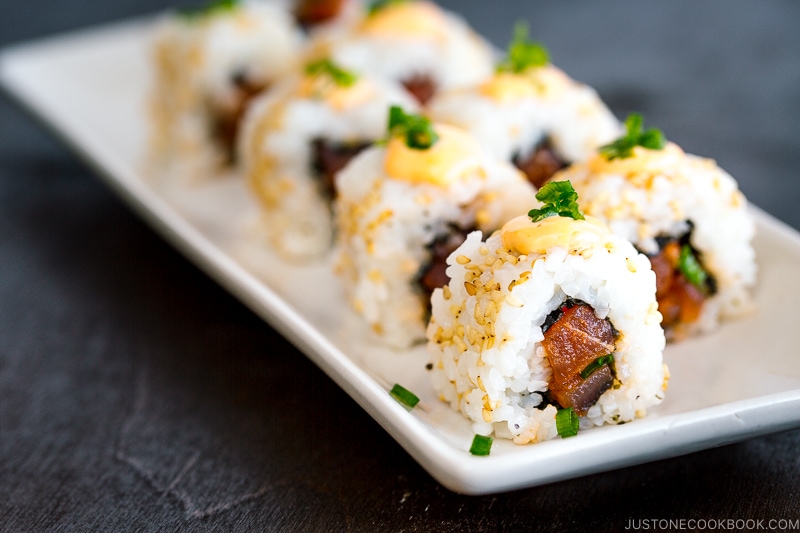 Sashimi-grade tuna rolled with sushi rice, garnished with sesame seeds, and topped with spicy sriracha mayo for extra oomph! You'll need only a few ingredients to make a fiery spicy tuna roll.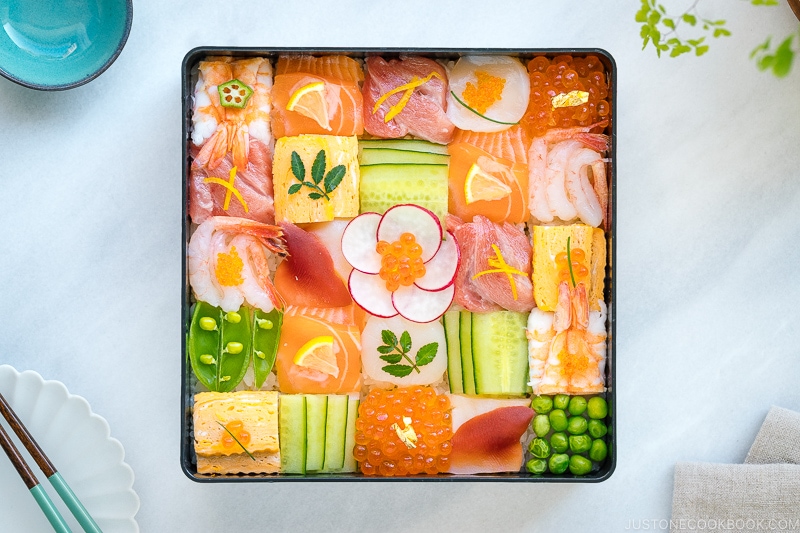 Get ready to feast your senses! This colorful mosaic sushi features sashimi, tamagoyaki rolled omelette, and vegetables arranged in a checkerboard pattern over sushi rice. It's fun to make and a delight to eat.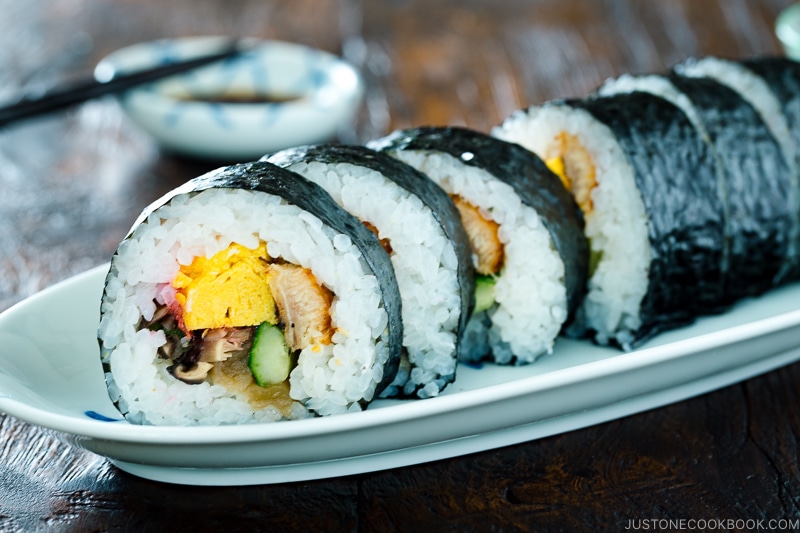 Planning to bring homemade sushi for your picnic or potluck? I recommend making futomaki. This traditional thick and fat sushi roll is a popular choice in Japan as you can make it in advance. We also love that it brings a nostalgic and cozy feeling to a get-together.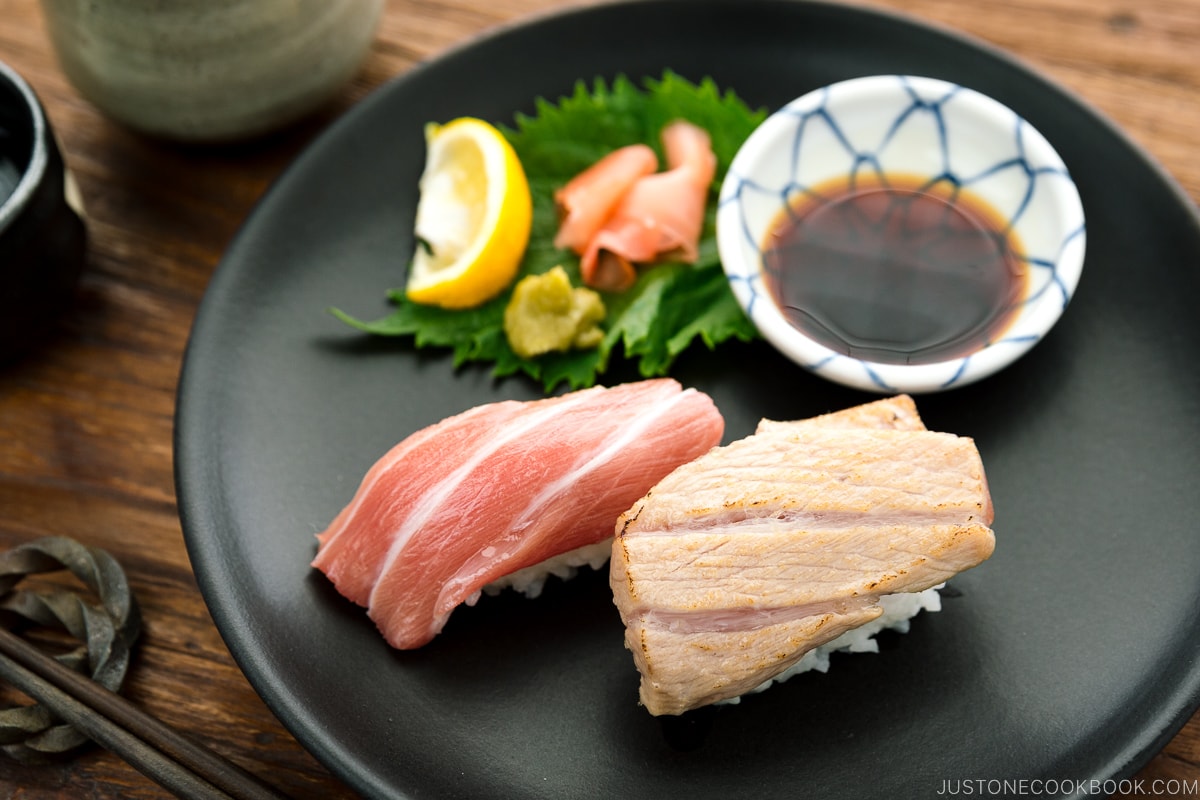 Sliced raw fish on top of a sushi rice pillow, otoro sushi is the best way to enjoy the prized part of tuna. Lightly seared the tuna will bring out an unbeatable umami flavor.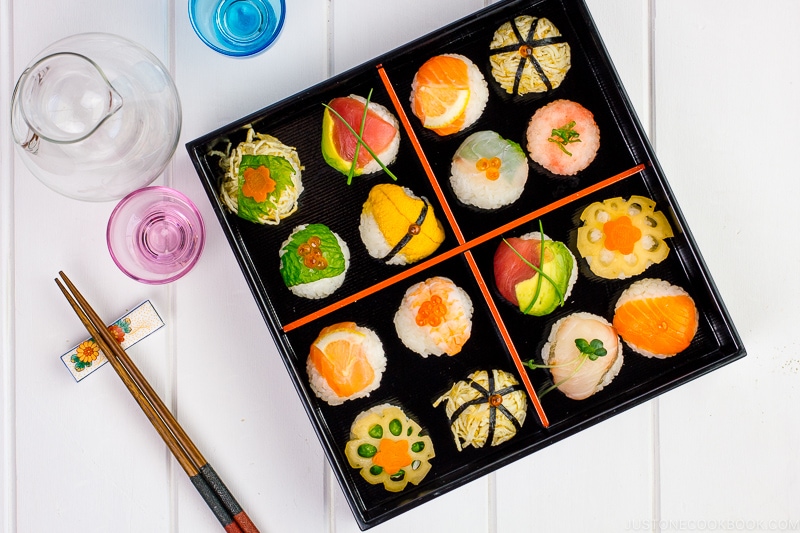 Temari sushi are the cutest sushi you can easily make at home. Adorned with a variety of colorful toppings, these ball-shaped sushi are often served during happy occasions like Hinamatsuri (Girl's Day) in Japan. Kids love these sushi balls. They make a great item to serve at a party or potluck too! You will only need plastic wraps to form the sushi into a pretty shape.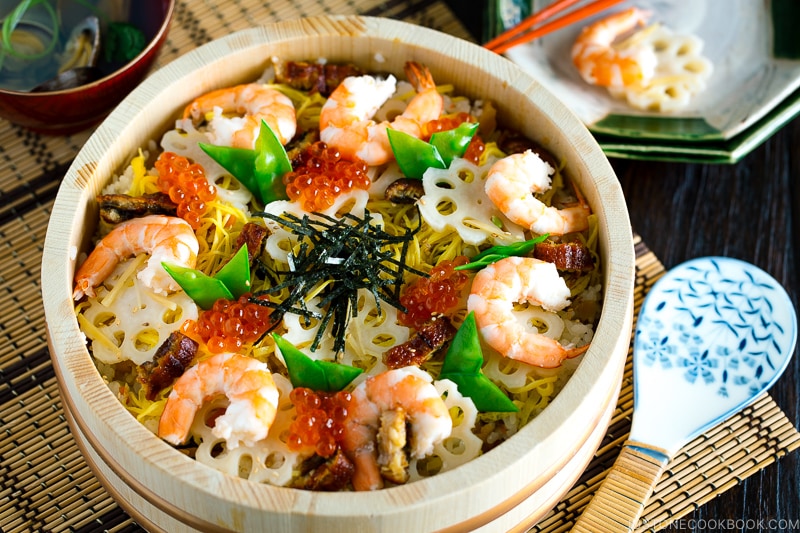 This bright and festive dish is made of sushi rice with a variety of vegetables mixed in, and cooked ingredients scattered on the top. Literally translated to 'scattered sushi, chirashi sushi is a traditional style of sushi said to have inspired the modern-day sashimi bowl.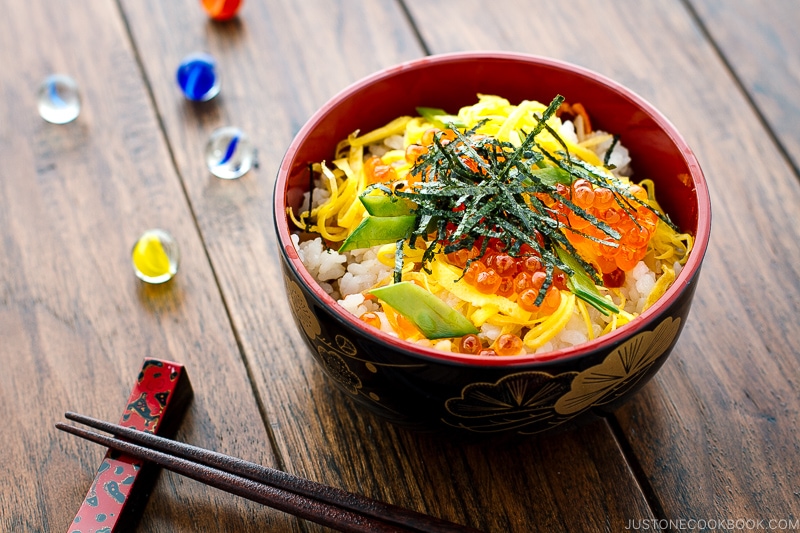 Very much a deconstructed sushi, this is a fuss-free and easy version of the traditional chirashi sushi. You can make it any time of the week whenever your sushi craving strikes.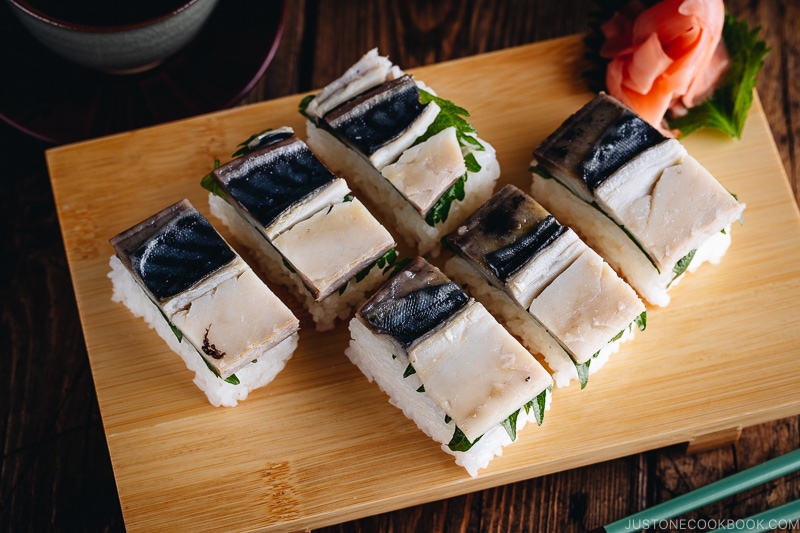 Mackerel pressed sushi is made from layers of cured fish and sushi rice that are placed in a special box called oshibako, and then compressed together by weight, making them into a tightly packed sushi stack.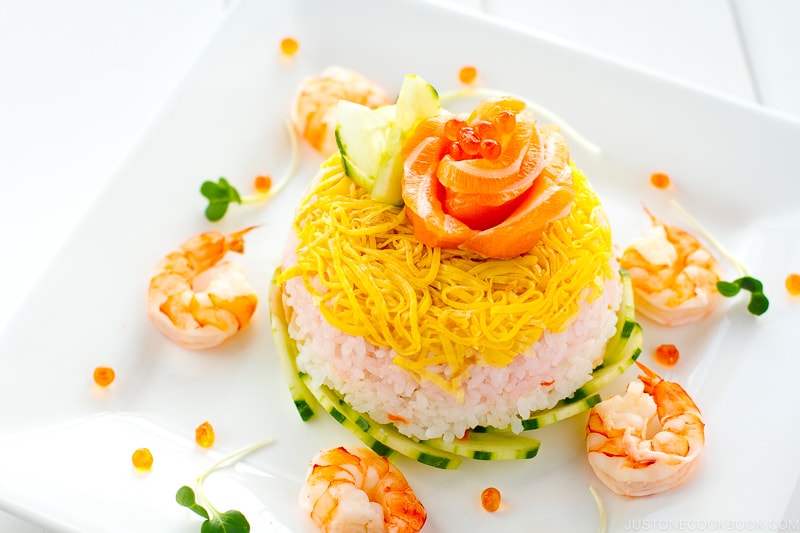 This is chirashi sushi in cake form! To make the 'cake', use a round or square container to shape the sushi rice and toppings. You can also adorn it with additional garnishes to resemble a decorated cake. It's perfect for occasions such as birthday parties or Doll Festival (Hinamatsuri). When ready to eat, slice the sushi cake like how you would a regular cake.
Where to Buy Sushi Grade Fish (Sashimi)
You can find sushi-grade fish in the sashimi selections of your local Japanese grocery stores.
If you live in San Francisco, you can place an order from TrueFish for local delivery or pickup. I go to the Suruki Supermarket in San Mateo for sashimi. They usually take orders in advance via email. If you are using it for hand roll, ask for the hand roll cut (a stick shape rather than sashimi style).
You can also order online from Catalina Offshore. Use the discount code "J1COOK20" for 10% off.
How to Enjoy Your Sushi Meal At Home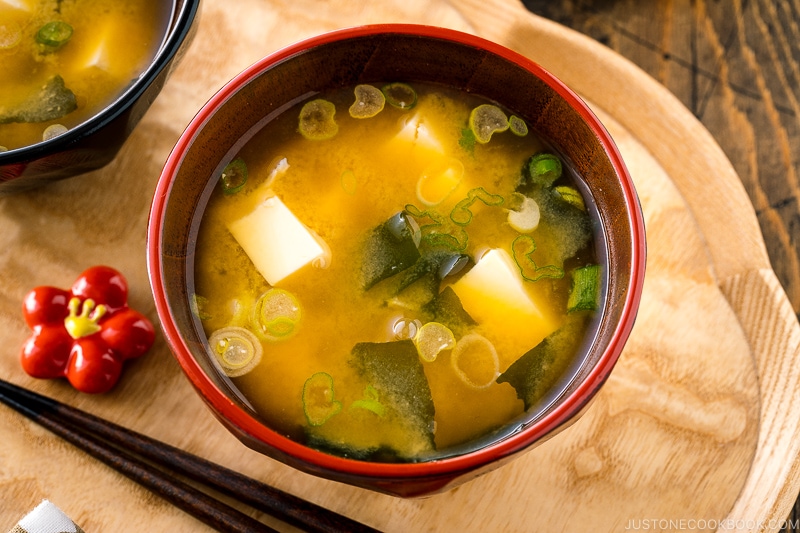 If you wish to recreate an authentic sushi meal experience at home, here are a few items to complete your meal.
---
Wish to learn more about Japanese cooking? Sign up for our free newsletter to receive cooking tips & recipe updates! And stay in touch with me on Facebook, Pinterest, YouTube, and Instagram.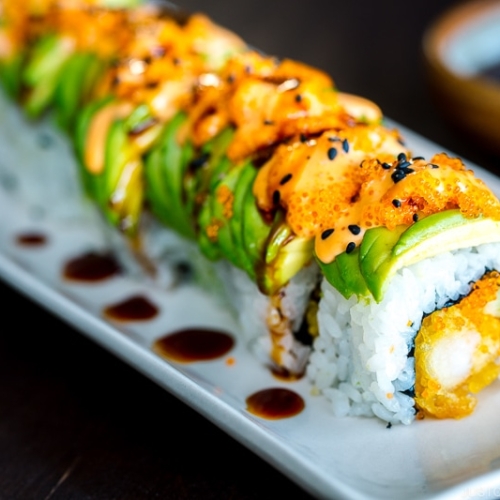 Best Sushi Recipes to Make At Home
Learn how to make your favorite sushi at home! From California roll to classic nigiri to temaki hand roll, this collection of sushi recipes will teach you how to make sushi like a pro. Also, read our Ultimate Sushi Guide to learn more about the origin of sushi, its types, etiquette, etc.
Japanese Ingredient Substitution:
If you want substitutes for Japanese condiments and ingredients, click
here
.
Instructions
Select the sushi recipes you want to make from the list above.

Follow the detailed instruction in each post (tips and substitutions included).

Make and enjoy the authentic sushi recipes at home.

Take pictures and share in the comment box below!
©JustOneCookbook.com Content and photographs are copyright protected. Sharing of this recipe is both encouraged and appreciated. Copying and/or pasting full recipes to any website or social media is strictly prohibited. Please view my photo use policy
here
.
Our Recommendations for Buying Sashimi Online


When we have a sudden craving for sashimi we usually buy from our local Japanese supermarkets. If you don't have a reliable shop to purchase quality sashimi nearby, we would recommend buying from Catalina Offshore online.
They've been in business for over forty years and all the sashimi products we've tried from them are outstanding. Use J1COOK20 for 10% discount. Disclosure: We earn a small percentage commission from your purchase of products linked to Catalina Offshore.