Lightly boiled and perfectly salted, edamame is the classic Japanese snack that is not only delicious but also packed with nutrients, proteins, and antioxidants. Learn how to cook these young soybeans with the authentic Japanese method. 
Edamame (枝豆), pronounced eh-DAH-ma-meh in Japanese (ay-duh-MAH-may in English), is most popularly known as the little snack or appetizer that is brought to you when you sit down to a table at a Japanese restaurant.
With a sweet buttery taste, these lightly boiled or steamed soybeans are not only delicious, but they're also fun to munch on while waiting for the rice bowl or ramen or sushi platter to be served. In this recipe, I'll show you the easy Japanese method on how to cook edamame at home.
What is Edamame? 
Edamame are edible soybeans that are harvested and picked when they are young and green. If you're wondering, they are the same soybeans used to make tofu, soy milk, natto and soy sauce.
In Japanese, the name edamame literally means 'stem beans' as they are often sold while still encased in pods with the stems attached. Long been consumed in Japan since ancient times, edamame is now considered a mainstream ingredient in the US.
The most common way to enjoy and eat edamame is by boiling them in pods in salted water and enjoy as a snack or appetizer. We also enjoy the shelled edamame beans as an easy side or pair them with a great variety of dishes.
Where Can You Buy Edamame
Edamame are as common as peas where you can find them being sold in plastic bags in the freezer aisle at most of the grocery stores. You can buy edamame three ways: fresh or frozen in the pod or frozen shelled. For this classic Japanese recipe, we're looking for edamame in pods!
The fresh edamame pods are in season between June to September, so you can hunt for them in your local Japanese grocery stores! Look for fresh pods with stems attached and they should look bright, plump and slightly fuzzy.
If you can't find fresh pods, you can use frozen raw edamame and cook them just the same by following my recipe tips below.
Health Benefits of Edamame 
Low in calorie and high in fiber, edamame have always been considered as a superfood in Japan that delivers many nutritional values. Just 1/2 cup of these soybeans a day punches up the vitamin and mineral content of the diet needed by our bodies!
There are plenty of reasons to include edamame in your diet, and here are just some of the top benefits:
1. High in Dietary Protein
As the only plant-based source of complete protein, edamame provides all 9 essential amino acids needed for the bodies, which may help reduce insulin resistance and prevent hypertension. A great protein choice for those who follow a vegetarian or plant-based diet! They also keep you full and satisfied, so it makes a great healthy snack for weight loss.
2. Calcium
The calcium in the soybeans may help to increase bone mineral density, regulate blood sugar and lessen symptoms of premenstrual syndrome (PMS) among women.
3. Rich in Vitamins, Magnesium, and Minerals
Edamame is also rich in several vitamins and minerals, especially vitamin K and folate. Adequate folate intake is particularly important for pregnant women and young children as it is responsible for red blood cells and brain health. The plant compounds are essential to lower cholesterol.
4. Iron
For a plant food, edamame provides an excellent source of iron. Sufficient iron is essential to transport oxygen throughout the body, ensuring the energy level of our bodies. It is also necessary to maintain the health of our skin, hair, and nails.
5. Phytonutrients
A rich source of phytonutrients like isoflavones, saponins, phytosterols, and carotenoids, edamame provide antioxidant and anti-inflammatory that help lower the risk of cancer.
How Do You Prepare Fresh Edamame
1. Cut off both ends of the pods
I still remember spending my summer evenings at my grandma's house where I was assigned the task of trimming edamame pods. Do you know why we cut off both ends of the pods? We do that so the salt water will season the soybeans inside the pods when boiling. What a neat trick, isn't it?
2. Rub with salt
Sprinkle salt and rub the edamame pods against each other. This helps to remove some of the fuzzy hairs on the pods. It also helps to retain the bright green of the pods and absorbent of flavors while cooking.
3. Boil in 4% salt water
A rule of thumb is to blanch edamame in 4% salt water (so don't mess up the classic method). It's easy to remember 40 grams of kosher salt for 1000 ml water. 40 grams of salt is used for rubbing the edamame before boiling and for the boiling water.
Once you finished cooking, drain well but do not rinse under water. We let the edamame absorb more flavors from the pod naturally. It is not required to sprinkle salt after cooking in salt water. However, you can sprinkle a tiny bit of salt if you like.
How to Serve and Eat Edamame
If you're in Japan, you'll most likely enjoy these fun snacks with some foamy cold beer. At home, you can serve these freshly cooked edamame as a snack or appetizer in a serving bowl. I usually prepare another empty bowl for the discarded shells.
To eat, gently squeeze the soybeans out of the pods into your mouth, and discard the shells in a separate bowl.
More Edamame Recipes You'll Enjoy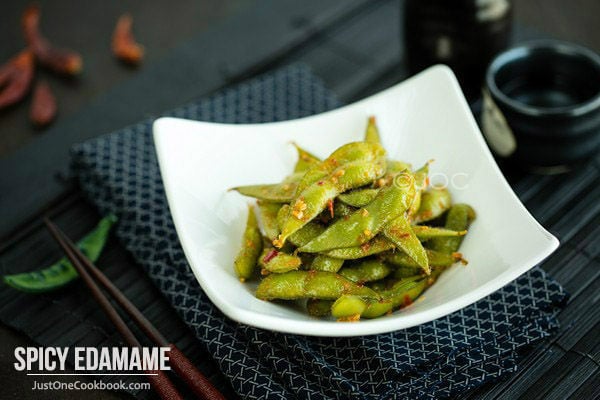 The fresh pods of edamame as great as a standalone snack, but you can also enjoy shelled edamame beans in a variety of dishes. Try it in your salads, soba noodles, fried rice, miso soup, or rice bowls!
Here are some of my favorite recipes featuring the delicious soybeans:
Wish to learn more about Japanese cooking? Sign up for our free newsletter to receive cooking tips & recipe updates! And stay in touch with me on Facebook, Pinterest, YouTube, and Instagram.
How to Cook Edamame (Nutrient, Benefits & Recipe)
Lightly boiled and perfectly salted, edamame is the classic Japanese snack that is not only delicious to snack on but also packed with a nutritional punch. Learn how to cook these young soybeans with the authentic Japanese method. 
Ingredients
8.8

oz

edamame

(can be between 200-300 g)

2

Tbsp

kosher salt (Diamond Crystal; use half for table salt)

(2 Tbsp + ½ tsp to be precise)

4 ¼

cups

water
Japanese Ingredient Substitution:
If you want substitutes for Japanese condiments and ingredients, click
here
.
Instructions
Remove pods from the stems.

Measure the weight of edamame pods (if you do this once, you know the rough amount next time without measuring).

Now we're ready to begin. Prepare 1000 ml water (4 ¼ cup) and 40 g kosher salt (2 Tbsp + ½ tsp)

Start boiling water in a pot. Using a pair of kitchen shears, cut off both ends of edamame pods. If the water starts boiling, cover and turn off the heat for now.

Place the edamame in a bowl or tray and sprinkle 1 Tbsp of (40 g) kosher salt. Rub the pods against each other with hands.

Add the rest of the kosher salt into the boiling water.

Then add the edamame pods WITHOUT removing the salt. Cook on medium heat for 3-5 minutes depending on the size of the pods. It's easy to remember 4 minutes, but start checking the doneness after passing 3.5 minutes. Remember we do not run cold water on edamame after boiling so I recommend under-cooking slightly.

Stir occasionally to make sure all the pods are cooking evenly. If you see the foam forming on the water, remove it with a fine mesh skimmer because we do not wash the pods after cooking.

Drain water in the sink or scoop up the edamame pods to a sieve. Let cool naturally so the edamame can absorb the flavor (If you skip cutting the ends of pods, please leave it for at least 1 hour). If you like, sprinkle a little bit of salt (I used sea salt flakes). Enjoy!
To Store
If you want to preserve the edamame, cook the edamame and then freeze. You can defrost naturally but you can also quickly blanch in boiling water or use microwave to reheat.
Nutrition
Calories:
76
kcal
·
Carbohydrates:
6
g
·
Protein:
7
g
·
Fat:
3
g
·
Saturated Fat:
1
g
·
Polyunsaturated Fat:
1
g
·
Monounsaturated Fat:
1
g
·
Trans Fat:
1
g
·
Sodium:
6
mg
·
Potassium:
272
mg
·
Fiber:
3
g
·
Sugar:
1
g
·
Vitamin C:
4
mg
·
Calcium:
75
mg
·
Iron:
1
mg
©JustOneCookbook.com Content and photographs are copyright protected. Sharing of this recipe is both encouraged and appreciated. Copying and/or pasting full recipes to any website or social media is strictly prohibited. Please view my photo use policy
here
.