Print Recipe
Jump To Recipe
Super easy, copycat recipe for Trader Joe's popular Japanese Fried Rice with Edamame, Tofu, and Hijiki Seaweed! Keep the ingredients stocked in your kitchen, and you can make this delicious fried rice any time, any day.  It's gluten free and vegetarian/vegan!
Back in November 2017, when I shared a picture of Trader Joe's popular Japanese Fried Rice, many of you said how much you would love to get a recipe to make it from scratch with fresh ingredients.  Your enthusiasm about the flavor combination inspired me to create my own version to share with you.  So I picked up a few bags from Trader Joe's, cooked up the Japanese Fried Rice, and got to work replicating the dish for you.
How to Make Japanese Fried Rice with Edamame, Tofu and Hijiki Seaweed
Super easy, copycat recipe for Trader Joe's popular Japanese Fried Rice with Edamame, Tofu, and Hijiki Seaweed!
Japanese Fried Rice is Sweet?
When you first taste Trader Joe's fried rice, the first thing you may notice is the sweetness.  For many of you who eat fried rice often, this could be the strangest fried rice you encounter.  Why does the Japanese fried rice taste so sweet?
Well, Trader Joe's Japanese Fried Rice is seasoned with mirin, sugar, soy sauce, sake, and sesame oil. I'm pretty sure this product was created simply by combining steamed rice with Japanese Hijiki Seaweed Salad (or Simmered Hijiki) (ひじきの煮物).
The classic Hijiki Seaweed Salad is seasoned with mirin, sugar, soy sauce, sake, and sesame oil. The taste can be on the sweeter side especially when it's meant to be served at room temperature or chilled. So when the steamed rice is mixed with Hijiki Salad, you end up with sweet Japanese fried rice!
One thing to note: Trader Joe's Japanese Fried Rice is much sweeter than my copycat recipe. In keeping with authentic home-style Japanese cooking, it's elemental for me to balance the sweet and savory without overpowering one another. You will find my version less sweet than Trader Joe's original. However, if you prefer a sweeter taste, please feel free to adjust the amount of mirin or sugar.
Gluten-Free & Vegetarian/Vegan Japanese Fried Rice
Because the Japanese consume rice and rice products in our diet, you can easily adapt many Japanese foods into gluten-free. For recipes with simple seasonings, you just need to replace regular soy sauce with either one of the Kikkoman's Gluten-Free Soy Sauces.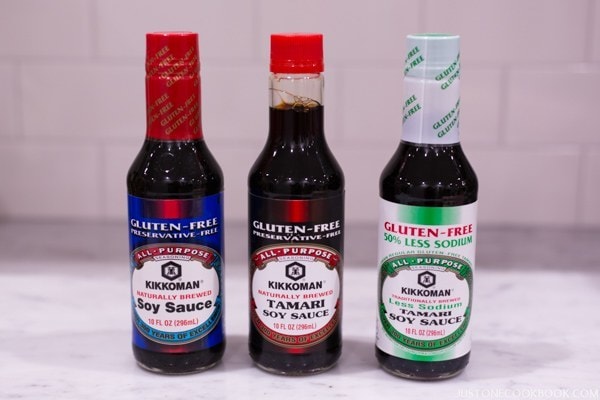 To make this Japanese fried rice, I used Kikkoman's Gluten Free Tamari Soy Sauce (black label in the center of the picture above). If you do not have to make this recipe gluten-free, feel free to use regular soy sauce.  The flavor is pretty much the same, so there is no need to adjust the amount.
Besides rice, the other main ingredients include a simple combination of edamame, tofu, and hijiki seaweed. It makes a wholesome meatless meal, perfect for those who are vegetarian and vegan.
Of course, you can always toss in some chicken or shrimp too if you wish to add in different proteins to bulk things up.
Substitutes for Japanese Fried Rice
1. Japanese Rice:
I suspect this would be the first question I'll get, so let me clarify this in advance. When you make fried rice with Japanese short grain rice, the rice tends to stick to each other instead of separating like Chinese-style or Southeast Asian-style fried rice. Japanese short grain rice (sometimes labeled as Japanese sushi rice) is stickier than other types of steamed rice, however, it is not sticky rice (or glutinous rice or sweet rice).
To achieve the right texture and flavor, Japanese short-grain rice is the way to go. Good news is Japanese rice is widely accessible these days even at major grocery stores. So, why not just grab a bag and get cooking!
2. Hijiki Seaweed:
I know, we have many types of seaweed in Japan.  You are most likely familiar with nori seaweed for sushi and maybe wakame seaweed in miso soup. Today we're using hijiki seaweed, which is the main ingredient that gives the fried rice its unique character, texture, and flavor.
Hijiki seaweed is a brown variety of seaweed which resembles dried black tea leaves. It may not be as recognizable as nori, but the seaweed is one of the favorite sea vegetables used in Japanese cooking. You can find Hijiki seaweed being sold in dried form in a bag in Japanese/Asian grocery stores or Amazon. To replicate the exact flavor of this fried rice recipe, you do need to get hijiki seaweeds.
Have a read of this article to learn more about different types of seaweeds used in Japanese cuisine and their health benefits.
3. Edamame (Soybeans):
These days you can find edamame in pods or without pods in the freezer section of America or Asian grocery stores. Trader Joe's carries ready-to-use or frozen edamame too. Defrost them prior to cook, but to keep the nice green color, don't add the edamame to the sauce too early otherwise they will end up darker green. If you're not a fan of the soybeans, you can skip them.
Aburaage (Deep-Fried Tofu Pouch):
I learned from my readers that it's actually a lot easier to find Inariage (Seasoned Deep-Fried Tofu Pouch shown below) in Asian grocery stores than Aburaage (shown above). If you use inariage instead of aburaage, remember to adjust the amount of seasonings since inariage is already well-seasoned (sweet and salty).
Mirin and Sake:
Mirin and sake are very important ingredients in Japanese cooking. If you plan to cook more Japanese dishes, don't use substitutions and get them in Japanese/Asian grocery stores. Along with soy sauce, they are the primary condiments used in flavoring this fried rice too.
If you are new to the blog, I encourage you to read this post where we talked about mirin and sake in details. You will learn about the differences, their uses, substitutions, and our recommended brands etc.
Minimalist at its best, this copycat version of Trader Joe's Japanese Fried Rice is truly one of the easiest meals you can whip up any time of the week. Because the fried rice is made from scratch, at home, it also means it is fresher tasting, better seasoned and healthier for you.
Don't want to miss a recipe? Sign up for the FREE Just One Cookbook newsletter delivered to your inbox! And stay in touch with me on Facebook, Pinterest, and Instagram for all the latest updates.
Japanese Fried Rice with Edamame, Tofu and Hijiki Seaweed
Instructions
Gather all the ingredients first. If rice is not cooked yet, make 2 rice cooker cups (360 ml) rice in your rice cooker (See instructions).

Re-hydrate hijiki seaweed in 1 cup water for 20 minutes.

Bring a small pot of water to a boil. Add the aburaage in the boiling water and flip once. This step is optional, but it's best to remove the oil from the aburaage. Transfer to a plate to let cool. Cut into thin strips and squeeze out water.

Slice the carrot into slabs and then julienne.

Heat sesame oil over medium heat in a large frying pan. When it's hot, add the hijiki seaweed, aburaage, and carrot. Sauté to coat with the oil.

Add 1 Tbsp sake, 1 Tbsp granulated sugar, and 3 Tbsp mirin.

Add 3-4 Tbsp gluten free soy sauce and mix all together.

Add the edamame and steamed rice. Break the rice into smaller pieces (as Japanese rice tends to stick together).

Once the rice is no longer clump together, each grain is well coated with the seasonings and heated through, serve and enjoy immediately.
Recipe Notes
Recipe by Namiko Chen of Just One Cookbook. All images and content on this site are copyright protected. Please do not use my images without my permission. If you'd like to share this recipe on your site, please re-write the recipe in your own words and link to this post as the original source. Thank you.
Full Disclosure: This post was sponsored by Kikkoman USA.  Thoughts and opinions stated are my own.