Print Recipe
Jump To Recipe
Garlicky and buttery, this simple Japanese Garlic Fried Rice topped with garlic chips is a dish I have cooked many times over the years as one of my go-to rice dishes.  This fried rice recipe matches so well with a delicious side like succulent grilled shrimp.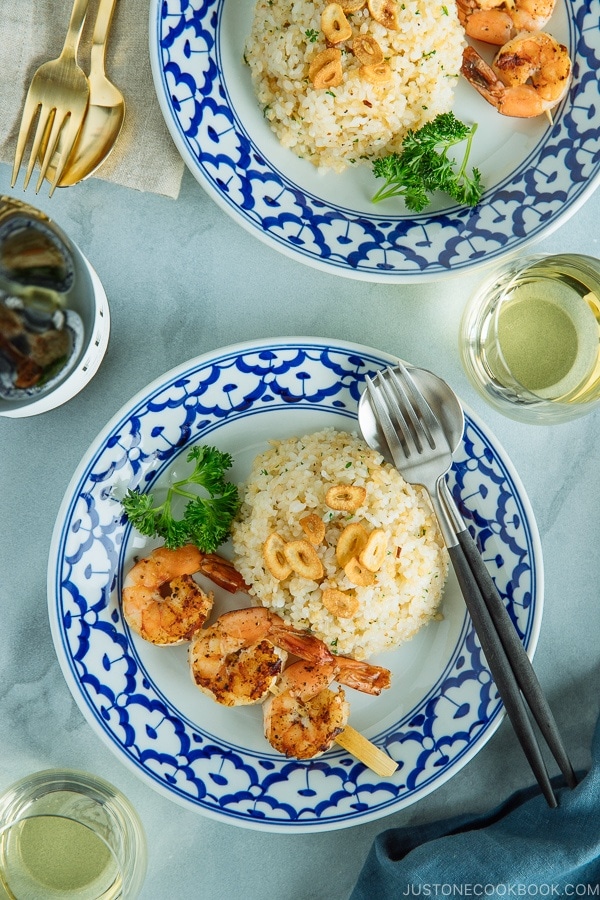 Japanese Garlic Fried Rice, or what we call Garlic Rice (ガーリックライス) in Japan, reminds me of my college days when I used to cook this dish over and over.  I craved comfort foods like this rice dish that were easy and quick to prepare, and super flavorful and delicious.
With a salad and a meat, seafood, or other protein dish on the side, it was a nice home cooked meal that kept me healthy, and kept me going on those long study nights.  Now many years later, I'm still cooking this Japanese Garlic Fried Rice for my family and they love it as much as I do.
Watch How to Make Japanese Garlic Fried Rice
Watch "Japanese Garlic Fried Rice" Video on YouTube
What's in Japanese Garlic Fried Rice?
As the name suggests, the rice is stir-fried in garlic flavored oil. What makes it uniquely Japanese? It's the simplicity of the dish (i.e. not overpowered with seasonings), as well as the use of Japanese short grain rice that is slightly stickier than other types of rice generally used in fried rice recipes.
Ingredients:
If you have been cooking Japanese recipes, you may have realized that the amount of garlic used in Japanese cooking is very small compared to other cuisines. One to two cloves of garlic is considered a "good" amount of garlic in Japanese dishes.  So keep that in mind when you make this dish, especially if you're used to using a lot of garlic in your cooking daily. It might not be "garlicky" enough for your taste so feel free to increase the amount of garlic to your liking.  Just make sure it doesn't overpower the side dish you plan to enjoy it with.
Besides garlic, other common ingredients in Japanese Garlic Fried Rice are butter and parsley.  You can omit butter if you're vegan, or use a substitute.  If you don't like parsley, you can replace it with scallions.  Also, like other fried rice recipes, you can add fried eggs, but if you are going to serve this garlic rice as a side dish, I would recommend keeping it simple.
Seasonings:
The seasoning for Garlic Rice is usually just salt, black pepper, and a little drizzle of soy sauce. Remember that soy sauce is NOT to season the entire rice, but to add umami and char taste created from stir-frying in the hot frying pan.
What to Serve with Japanese Garlic Fried Rice
Garlic Fried Rice is really delicious on its own, but it's often served with Yoshoku – Japanese-style western meal. Here are my recipes on the blog that I sometimes serve Garlic Rice with:
Wine Pairing with Japanese Fried Garlic Rice
We previously paired FEL's pinot noir with our Waygu post, and it was really delicious so we were excited to try their 2015 FEL Chardonnay Anderson Valley. The Chardonnay didn't disappoint and paired perfectly with the garlic fried rice and grilled shrimp.
As you smell the wine, it is refreshing, pure, with a hint of sweetness. You can already dream of how delicate the wine will taste. As you take the first sip, it feels like sipping peach juice on a warm sunny day, with flavors of melons and pear fruits. The mouthfeel is light, like drinking spring water and we love how it's not syrupy and overly sweet. Finally, it finishes with a hint of citrus with no lingering aftertaste.
If you are looking for a bottle of white to pair with seafood, or to enjoy on a warm sunny day with friends, give this bottle a try.
Don't want to miss a recipe? Sign up for the FREE Just One Cookbook newsletter delivered to your inbox! And stay in touch with me on Facebook, Google+, Pinterest, and Instagram for all the latest updates.
Japanese Garlic Fried Rice
Course:
Main Course, Side Dish
Ingredients
2

rice cooker cups

uncooked Japanese short grain rice

2-3

cloves

garlic

2

Tbsp

extra virgin olive oil

(30 ml)

1

Tbsp

unsalted butter

(15 g)

1

tsp

soy sauce

(5 ml)

¼

tsp

kosher salt

(or more for taste)

freshly ground black pepper

3

stalks

parsley
Grilled Shrimp Skewer (Optional – see below)
6

pieces

shrimp

(medium size)

½

Tbsp

extra virgin olive oil

1

Tbsp

sake

(15 ml)

kosher salt

freshly ground black pepper
Instructions
To Prep:
Gather all the ingredients first.

Cut half of the garlic cloves in thin rounds widthwise (so you see a hole in the center) and mince the other half.

Remove the parsley leaves from the stems and mince them.
To Cook Garlic Fried Rice:
Add the olive oil in the large frying pan. Slowly fry the thinly sliced garlic pieces until golden brown. If you add the garlic slices in hot oil, they would burn too fast and you may end up with burnt garlic slices. Transfer to a dish lined with paper towel and keep the garlic infused oil in the pan.

Add the minced garlic in the same pan and stir fry until golden brown and fragrant.

Add in butter and swirl around to coat the pan. Then add warm steamed rice. Cold rice would take too long to warm up and the garlic would get too dark (and may burn).

Break the chunk of rice to separate. The Japanese short grain rice is stickier than other types of rice, so it's normal that rice is stick to each other, but should not be in huge chunks. Once the garlic oil is coated with the rice, add the soy sauce and toss the fried rice.

Season with kosher salt and freshly ground black pepper. Taste the rice and make sure it is seasoned to your liking.

Lastly add the chopped parsley and mix all together.
To Serve:
Put the garlic fried rice in a rice bowl, pressing gently to make sure there is no space in the bowl, and invert the rice on a serving plate.
To Make Grilled Shrimp Skewer (Optional)
If you like to serve the garlic fried rice with grilled shrimp skewers, shell and

devein the shrimp

. You can keep or remove the tail. Add sake and coat well with shrimp.

Skewer 3 shrimp on each damp skewer without leaving spaces. Sprinkle kosher salt and freshly ground black pepper.

Lay skewers flat on a greased cast iron pan (or regular frying pan). Cook the shrimp with the lid on about 2 minutes per side or just until cooked through and no longer transparent. Remove the shrimp from the grill and serve with garlic fried rice.
Recipe Notes
Recipe by Namiko Chen of Just One Cookbook. All images and content on this site are copyright protected. Please do not use my images without my permission. If you'd like to share this recipe on your site, please re-write the recipe in your own words and link to this post as the original source. Thank you.
Full Disclosure: We received 2015 FEL Chardonnay Anderson Valley from Jarvis Communications free of charge to use in exchange for an honest review.  We received no compensation for the wine review.