In this post, we're going to talk about the differences between Japanese Wagyu beef and American Kobe beef. You will also learn some quick tips on how to prepare delicious steak, along with a simple recipe using fried garlic and minimal seasonings.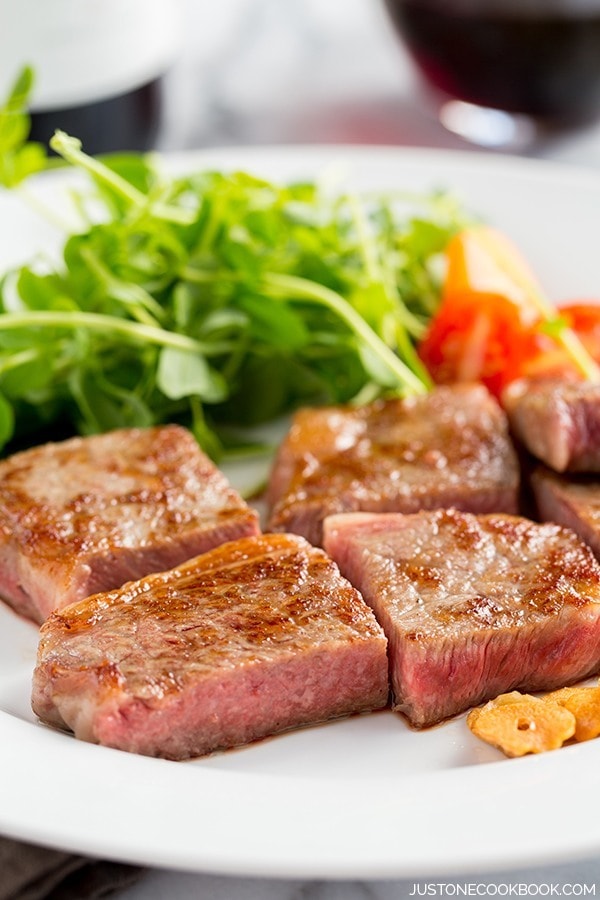 My late grandfather had a number of businesses and one of the ventures was the restaurant business. He had a couple of teppanyaki-style steak restaurants in Osaka and I was lucky to grow up enjoying the best premium Japanese beef, wagyu beef.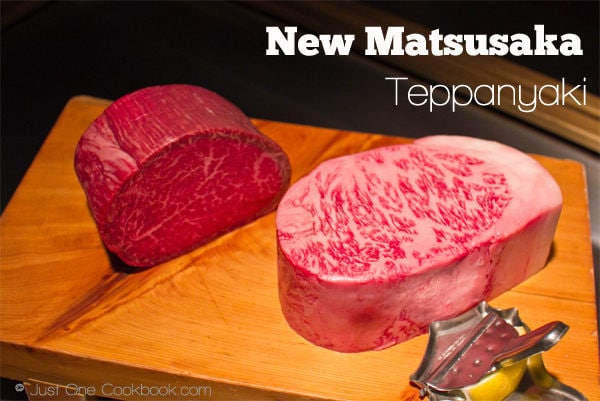 What's so special about Wagyu? The perfectly marbled wagyu beef is legendary for buttery texture with superior flavor, and the best grade wagyu literally melts in your mouth. You've probably heard of Kobe beef, but that's just one type of wagyu beef from, you've guessed it, Kobe.
Wagyu Beef vs. American Kobe (Steak Recipe)
Japanese Miyazaki Wagyu and American Kobe Steak prepared with minimal seasoning and paired with fried garlic. Simply divine!
What's

Wagyu

?
Wagyu (和牛) literally translates to Japanese cattle, and the 4 Japanese cattle breeds are world-renowned for its distinct web of marbling. You can enjoy this tender beef in many ways including Sukiyaki, Shabu Shabu, and steak.
What makes this Japanese beef different is that it's intensely marbled with softer monounsaturated fat. What's even better about this fat is that it's considered "good fat", containing omega-3 and omega-6 fatty acids, and is lower in cholesterol than other types of beef.
The name of the Japanese Wagyu doesn't tell you what breed they are, but rather the location where they are raised. Popular and well-known ones include Matsusaka beef (松阪牛), Kobe beef (神戸牛), Ōmi beef (近江牛), Yonezawa beef (米沢牛), Miyazaki beef (宮崎牛) in Japan.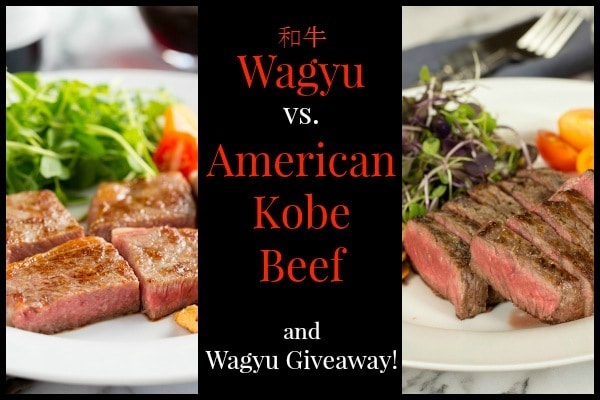 Four Breeds of Wagyu
For Wagyu, regardless of where they are raised, they will be one of the four breeds: Japanese Black (黒毛和種 Kuroge washu) which consists of 90%, Japanese Brown (赤毛和種 Akage Washu or Akashu), Japanese Polled (無角和種 Mukaku Washu), and Japanese Shorthorn (日本短角和種Nihon Tankaku Washu).
Even though many places in Japan raise Wagyu, the 3 best known and elite brands of Wagyu are called Sandai Wagyu (三大和牛 Three Big Wagyu); and they are Kobe beef (神戸牛), Matsusaka beef (松阪牛) and Ōmi beef (近江牛) or Yonezawa beef (米沢牛). What these cattle share in common is that they are all from the Tajima strain of Japanese Black.
Marbling & Rating of Wagyu
There are different marbling system used by the US and Japan. In Japan, there are 12 grades of Beef Marbling Standards (B.M.S.). Typically to be considered the "branded beef", it has to be higher on the BMS grade. For example, to be considered and recognized as Miyazaki, the beef needs to have a marbling grade of 5 or higher. Beyond the marbling, the beef is also rated based on color, firmness, and texture of the meat, and color/luster of the fat. Each factor is graded from 1 to 5, with 5 being the highest score. You can learn more about B.M.S. and Japanese grading system here.
My reader Kathryn Dodd told me about the great episode "Delicious Wagyu Beef 和牛" on BEGIN Japanlology. This episode features the relationship the Japanese have with cows by looking at how this world-famous beef is produced.
What's American Kobe Beef?
The increase in popularity of tender and well-marbled beef in the United States has led to the creation of American Style Kobe Beef (or American Kobe). There are many farms in the US now that either raise 100% full blood Wagyu beef or hybrid crossbreed between Japanese Wagyu cattle and European cattle such as Angus or Holstein.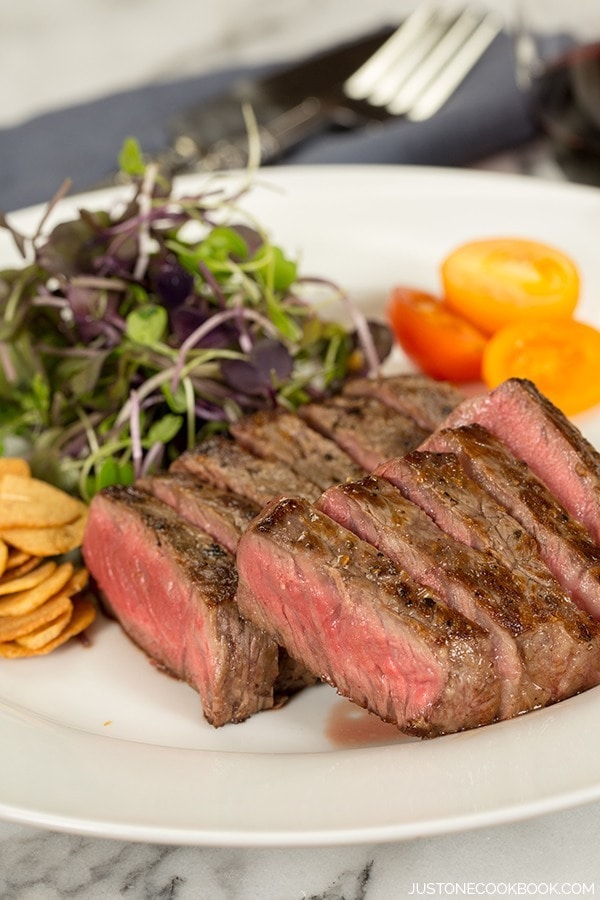 (To be fair… this photo was taken under studio light at night)
Misconception and misused of the word "Wagyu" & "Kobe"
A lot of restaurants and meat stores outside of Japan, including the United States, market steak that is incorrectly labeled as Kobe Beef due to a lack of legal recognition of the Kobe Beef trademark.
Some use the term "Wagyu" as being synonymous with Kobe Beef when Wagyu simply means Japanese cattle. True Kobe Beef or Wagyu Beef is 100% full-blood wagyu (Japanese cattle).
So be careful what you pay for when you order "Kobe Burgers" or "Kobe Steaks" from restaurant menus because authentic Kobe beef or wagyu beef outside of Japan is rare.
For the history on American-Style Kobe or American Kobe, I recommend reading these 2 great Forbes articles, Food's Biggest Scam: The Great Kobe Beef Lie and The New Truth About Kobe Beef: Scarce Amounts Now Available In The U.S., But Not In Europe.
The Taste Test
Today I'm comparing with 100% pureblood Miyazaki Wagyu I purchased from DeBragga and American style Kobe Beef from Snake River Farms. For the taste test, I prepared them the exact same way. Please note these are not two exact same cuts of beef, one is a New York and the other is ribeye. We searched for the exact same cut everywhere, but couldn't get the same cut with the quality I looked for; hence we opted for the best quality we could get instead of the same cut.
The Miyazaki Wagyu we purchased had a rating of 5 which falls within BMS 8-12, and Snake River Farm black label falls within BMS 6-9. For authenticity, DeBragga sent us upon request the certificate for the beef, including the rating as well as the cattle's parents, and grandparents to authenticate it's a full blood Wagyu. One more thing to note, Miyazaki Wagyu won the past 2 Wagyu Olympics in Japan.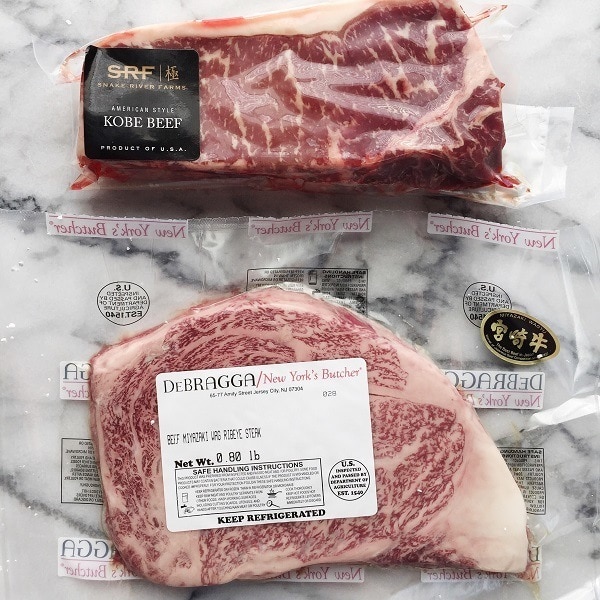 Easy Way to Prepare Delicious Steak
When you enjoy steak in a Japanese restaurant, all the fat and tendon are removed prior to cooking. You should do the same as well so the meat will cook evenly. When you experience mouthfuls of buttery tender meat, you don't want to be interrupted by the tendons in between.
When you buy quality meat, it already has amazing flavor naturally. To enhance the flavor, we only use seasonings that brings out the flavor, and not overpowering the meat. My grandfather's restaurant uses 4-5 seasonings for steaks – their original salt & pepper mix, squeeze of lemon juice, wine, and sometimes (not always) a tiny dash of soy sauce.
The most important point when it comes to cooking wagyu beef is the heat. To retain maximum flavor, wagyu beef should not be cooked further than medium-rare. Wagyu beef fat melts at much lower temperatures 77°F (25°C) than the melting point of regular beef. You'll notice that even handling the meat in your hand sometimes melts the fat. Therefore, if cooked for too long or the heat is too strong, the well-marbled fat simply melts away, losing the outstanding buttery taste. Do not barbecue this steak! Lastly, make sure the steaks are at room temperature prior to cooking.
So the final decision. Which steak is better?
As wagyu beef has a buttery texture and really high "good fat" content, to be honest half of this steak is more than enough for one person. I believe it tastes the best when it's eaten in a small quantity at a time. Even for a big meat eater like Mr. JOC, he was very full with half of the steak. So if you're planning to buy these steaks, you probably don't need much per portion. After all, you can't keep eating butter, right?
The wagyu beef has amazing flavor and tenderness and my family fully enjoyed this experience. Wagyu has it all – flavor, tenderness, and fatty marbling… The combinations of these deliver soft, tender, buttery flavor compared to other beef, and it's unparalleled.
The American Kobe beef has a more meaty texture although this piece was much more tender than ordinarily USDA prime steaks we taste at restaurants. I enjoyed the bolder flavor of the American Kobe. As I chew (yes, this doesn't melt in your mouth, so you have to chew), the flavorful juice comes out from the meat and it's simply delicious!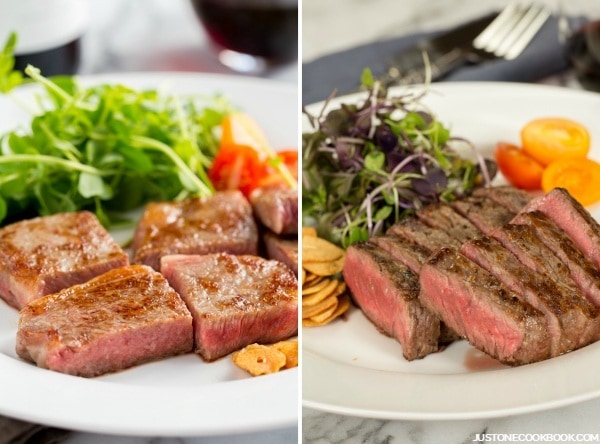 Both steaks were amazing; however, after eating wagyu beef, American Kobe simply can't beat the overall experience from eating Wagyu. I actually recommend cooking both types of steaks and you can enjoy the best of both worlds. I recommend eating American Kobe first, then move onto Wagyu so you won't ruin the tasting experience.
Finally, the price of these steaks is also not the same. Wagyu is $120/lb while American Kobe is $40/lb.
A good wine to go with steaks
To go with the steak, we enjoyed it with 2012 FEL Pinot Noir Anderson Valley.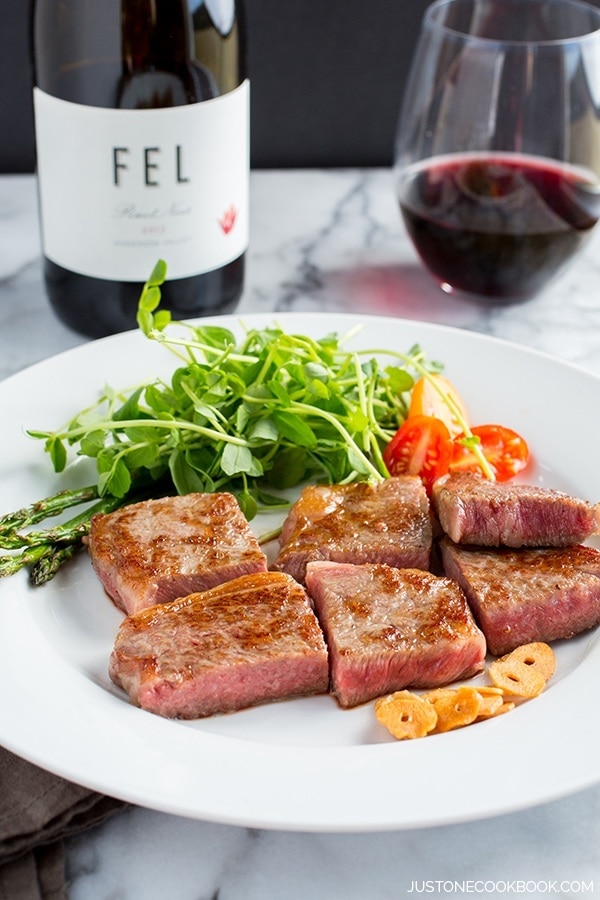 Since we hardly season the steak, we wanted a delicate wine to enjoy with the Wagyu and American Kobe. The FEL 2012 Pinot Noir was perfect, the flavors were bright and refreshing with hints of berries and plum. As you sip the wine, it's silky and does not leave any trace as it goes down smoothly. I couldn't agree with the Winemaker's note more, in addition to the berries, you taste blackberry, thyme, and a bit of cola. When you are looking for a great pinot that doesn't overpower the food, give this 2012 FEL Anderson Valley a try.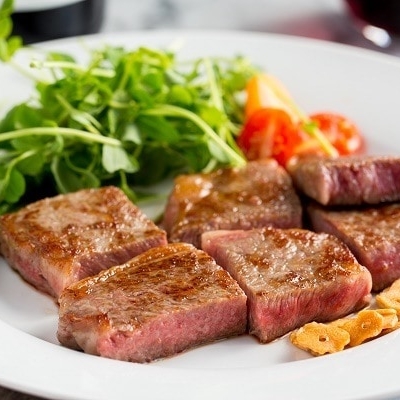 Wagyu Beef & American Kobe Beef
In this post, we're going to talk about the differences between Japanese Wagyu beef and American Kobe beef. You will also learn some quick tips on how to prepare delicious steak, along with a simple recipe using fried garlic and minimal seasonings.
Ingredients
1

head

garlic

3

Tbsp

neutral oil

12

oz

wagyu

(or American Kobe Beef)

1

lemon

1

Tbsp

red wine
Japanese Ingredient Substitution:
If you want substitutes for Japanese condiments and ingredients, click
here
.
Instructions
Gather all the ingredients.

Take out the large cloves from the head of garlic. Thinly slice them and remove the green core. You can omit this step; however, the core will come out easily from the garlic and burns quickly, which will result in darkening the oil color. Therefore, if you have time, I recommend removing it.

Heat the oil in the frying pan over medium-low heat and fry the garlic until golden brown, then dry on paper towel. Transfer the garlic infused oil into a small bowl.

Remove excess fat and tendons. The fat separates different parts of the rib eye for wagyu so I cut into two parts (middle photo).

Put a generous amount of salt and pepper on the meat.

Heat the frying pan on medium heat and add garlic oil. When the frying pan is hot, but not smoking, it's ready to cook.

For Wagyu, place the meat and cook for 1.5 minutes. Do not touch the meat during this time in order to get a nice sear. You can press the meat down gently to sear evenly. Turn over and cook for 1.5 minutes.

For American Kobe, place the meat and cook for 2 minutes. Do not touch the meat during this time in order to get a nice sear. You can press the meat down gently to sear evenly. Turn over and cook for 2 minutes.

Squeeze some lemon juice and pour the wine.

For wagyu, I cut it into bite-size pieces on the frying pan. For American Kobe beef, I took it out and let it rest for a few minutes before slicing the meat, so it'll lose less juice when slicing.
To Store
You can keep the leftovers in an airtight container and store in the refrigerator for 3 days.
Nutrition
Nutrition Facts
Wagyu Beef & American Kobe Beef
Amount per Serving
% Daily Value*
* Percent Daily Values are based on a 2000 calorie diet.
©JustOneCookbook.com Content and photographs are copyright protected. Sharing of this recipe is both encouraged and appreciated. Copying and/or pasting full recipes to any website or social media is strictly prohibited. Please view my photo use policy
here
.
Please note: We received no compensation for the wine review. We received 2012 FEL Pinot Noir Anderson Valley from Jarvis Communications free of charge to use in exchange for an honest review.