Learn how to achieve perfectly cooked medium rare Japanese-style sous vide steaks. This Wafu Steak is served with grated daikon, scallion, and ponzu sauce.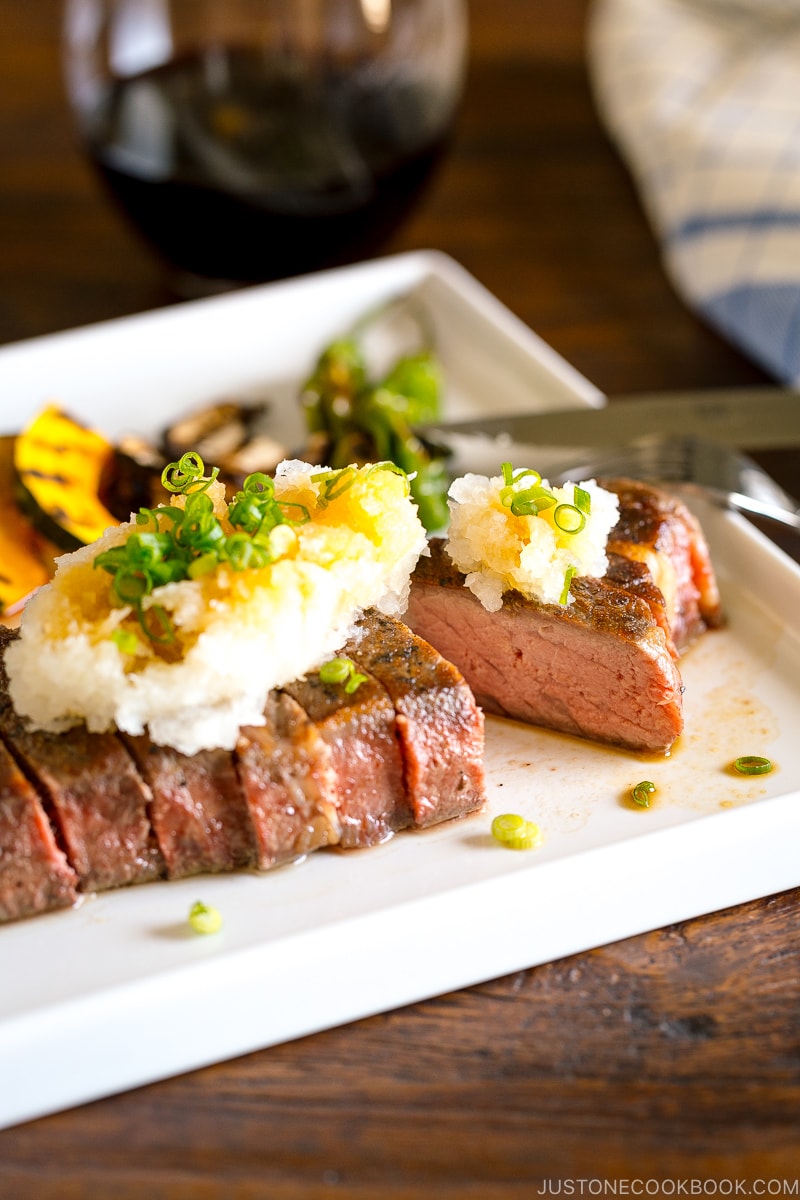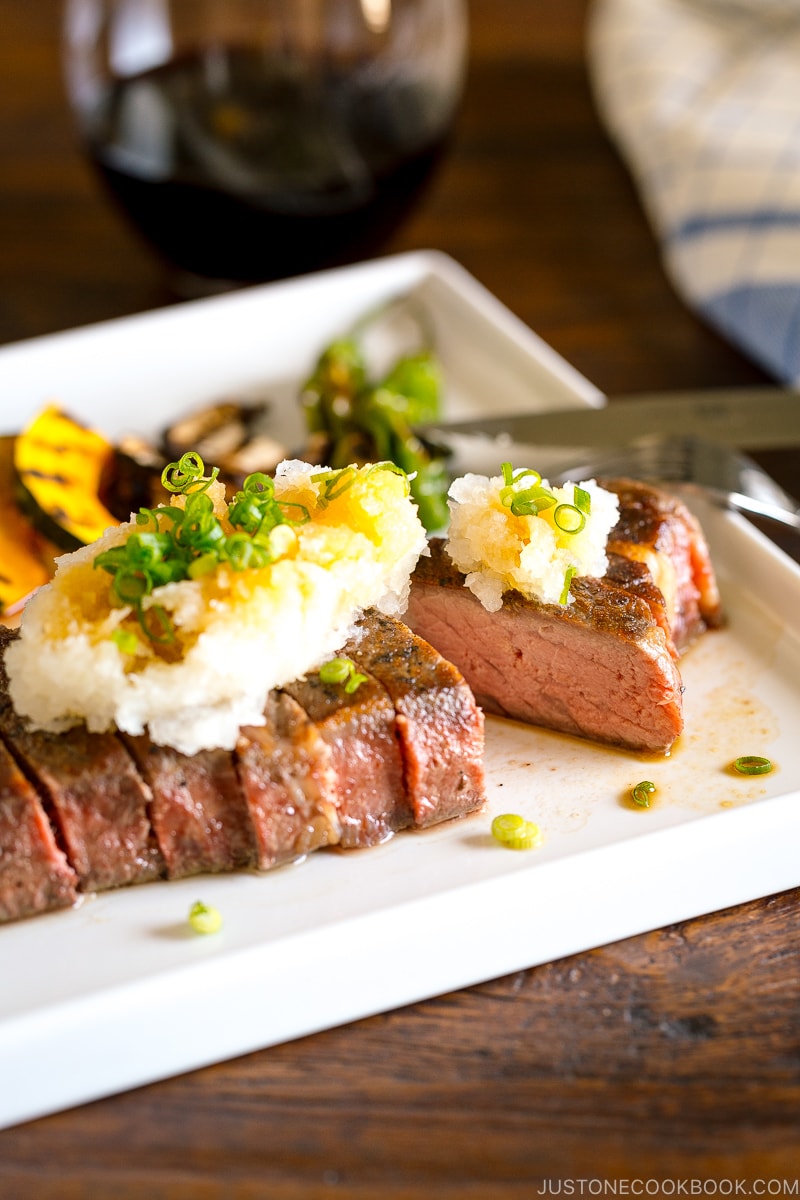 At the dinner party you host next time, your steak will be perfect. Whether you are cooking for two or for a large party, no sweat. Everyone will get a perfectly cooked steak on their plate.
How is that possible? I'll show you how I make Japanese-Style Sous Vide Steaks or Wafu Steak (和風ステーキ).
What's Sous Vide?
Sous vide (/suːˈviːd/; French for "under vacuum") cooking is a method of cooking in which vacuum-sealed food is placed in a temperature-controlled water bath.
You set the temperature of the water exactly where you want it to be (typically much lower than normally used for cooking), around 131 to 140°F (55 to 60°C) for meat and higher for vegetables. Since the water is maintained at the temperature you want the food to reach, you don't have to worry about overcooking or burning the food.
The idea of the water bath technique is to cook the food evenly, ensuring that the inside is properly cooked without overcooking the outside, and retains moisture.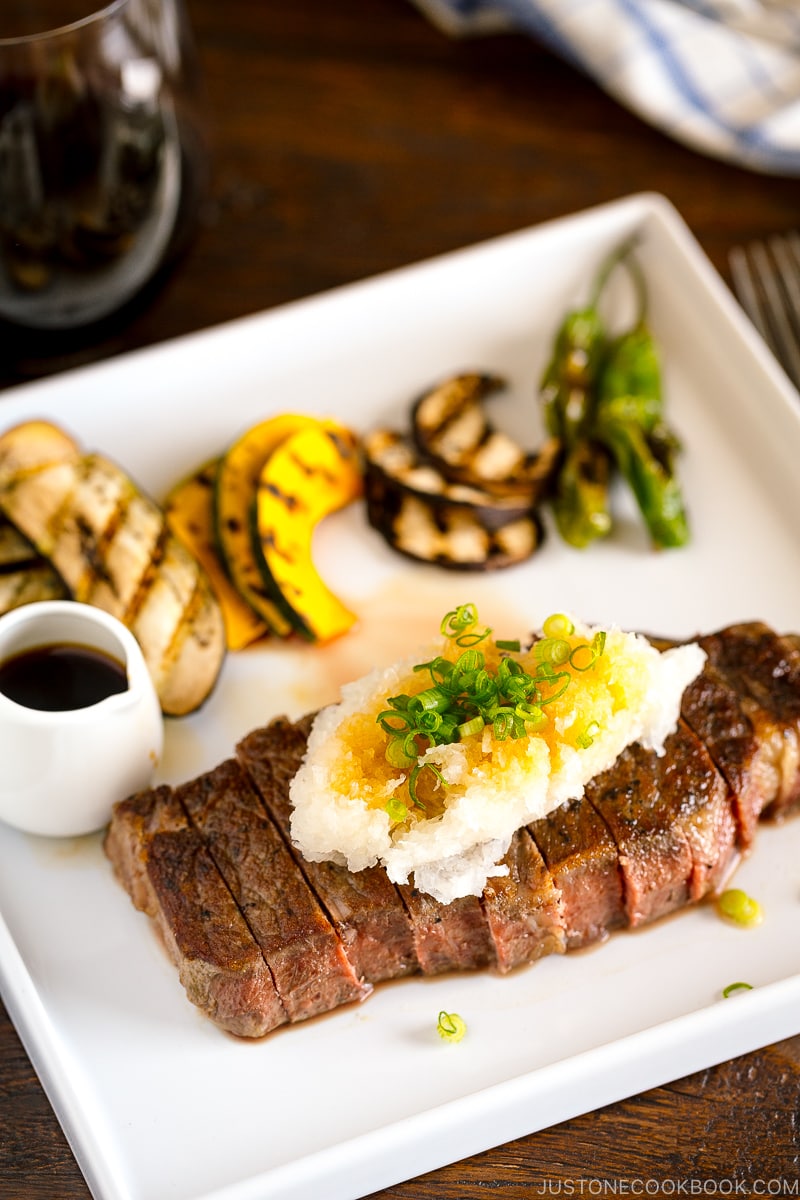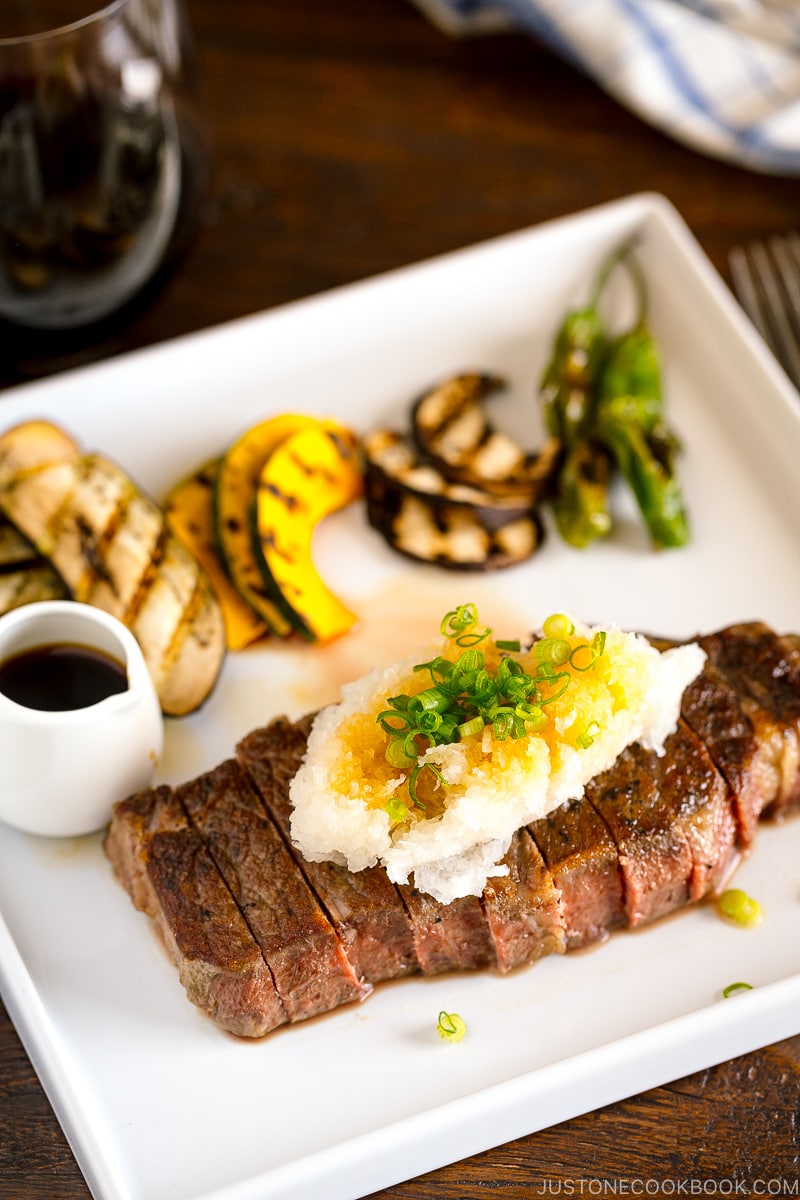 Benefits of Sous Vide Cooking
No Over-/UnderCooking: You can control the texture of the food and eliminate any chance of over-or undercooking the food item because the bath temperature is the same as the target cooking temperature.
Perfectly Moist: Since the food is sealed in a vacuum bag, none of the moisture and flavors is lost through the cooking process vs. a grill or a stovetop. The protein stays super juicy and flavorful, you no longer have to figure out exactly how long to cook.
Evenly Cooked: It's challenging to prepare irregularly shaped or thick food items on a stove. With sous vide cooking, it will come out perfectly as the optimal temperature will be reached throughout the food item.
More Flavor & Aroma: Spices or other ingredients added to the food item in the bag transmit their flavor more intensely than during normal cooking. Do not overseason the food.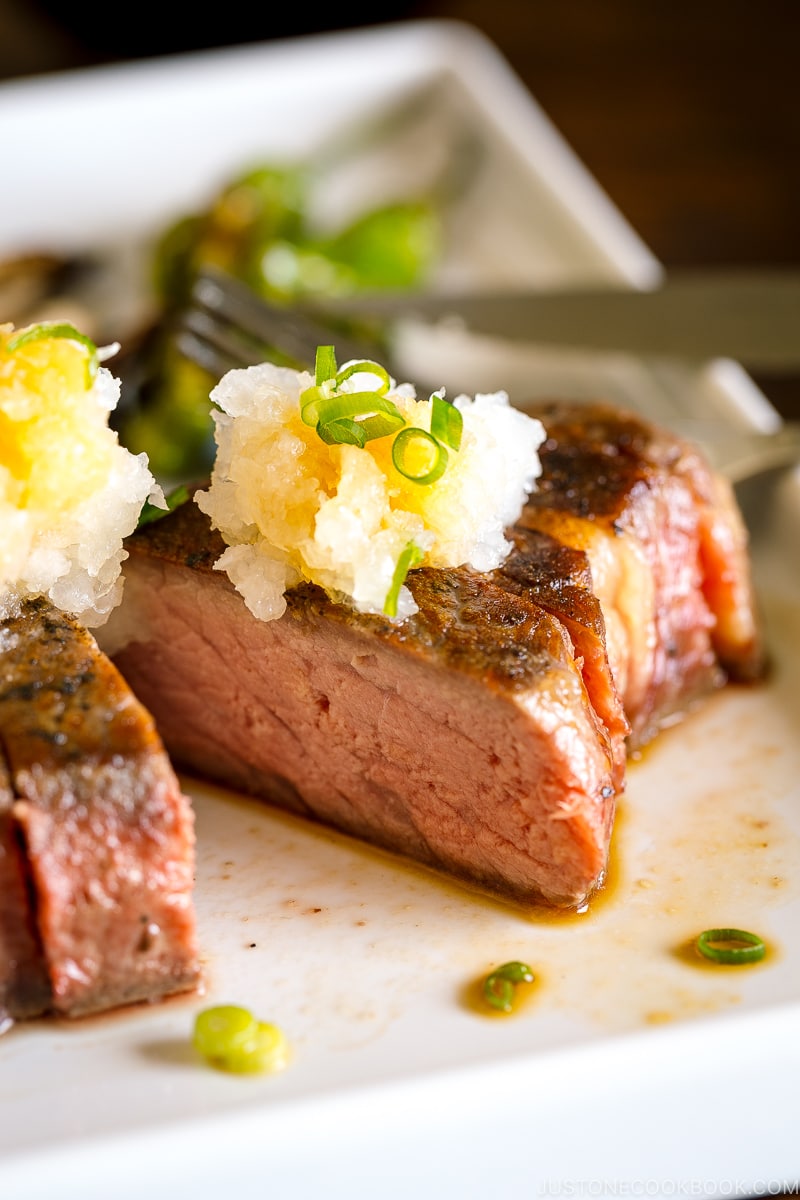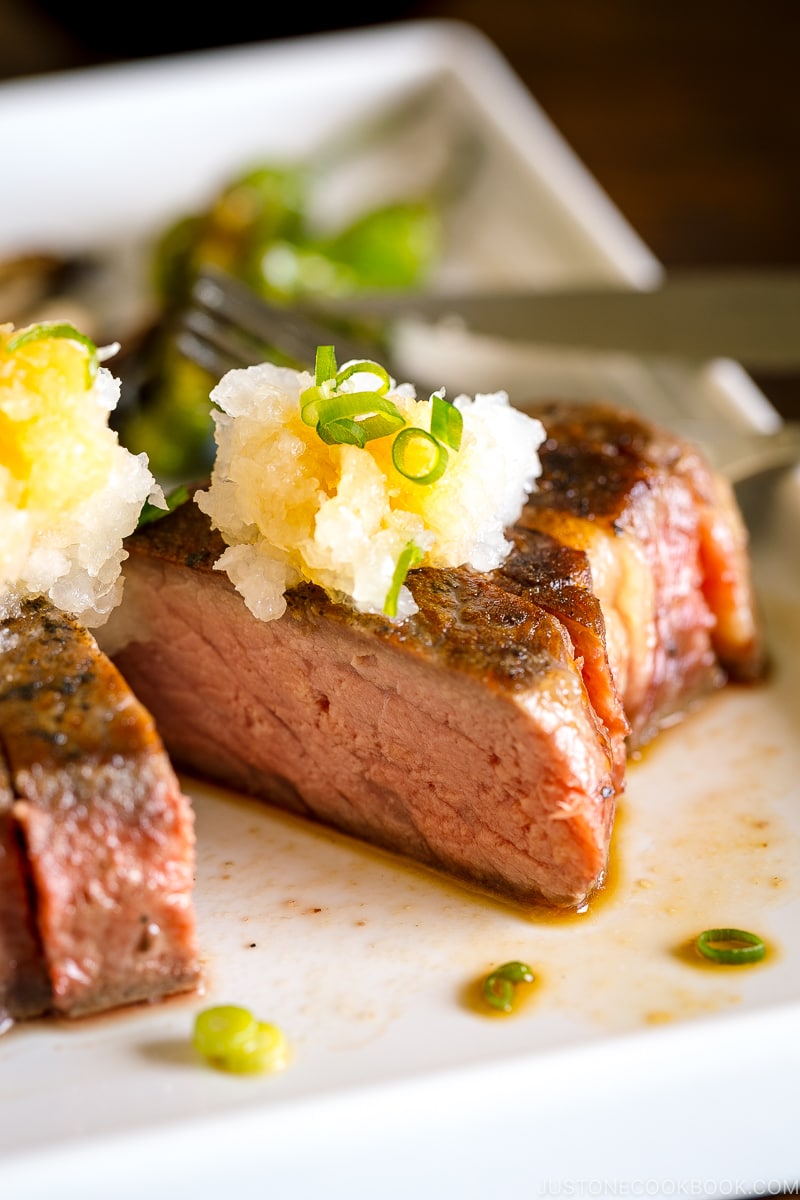 How to Perfectly Sous Vide Steaks
If you are going to cook a medium-rare steak, you would submerge the bag of raw steak at 135°F (57°C) and leave it in the temperature-controlled water bath until the steak reaches that temperature. Hence, the cooking time is longer than normal cooking times.
Recommended Temperatures for Steak Doneness
Based on my own research on the internet, here are the guidelines for cooking steak.
Rare: 120°F / 49°C
Medium Rare: 135°F / 57°C
Medium: 140°F / 60°C
Medium Well: 150°F / 66°C
Well Done: 160°F / 71°C
The Sous Vide Equipment You'll Need
I find these two tools helpful when I sous vide at home.
An Immersion Circulator: It's the device that you insert into a pot of water or tub. The idea is fairly simple. It heats and circulates the water to a precise temperature in the pot.
For this recipe, I used the Wifi Nomiku and I love this sleek device! In the beginning, I wasn't sure if the Wifi functionality would be handy. However, as soon as I started using it, it made perfect sense. It was really easy to keep track of the cooking process on my phone even when I was out of the house.
It also doesn't take up too much space in your storage space compared to Sous Vide Supreme Water Oven.
A Vacuum Sealer: Mr. JOC purchased a FoodSaver last year at Costco to store foods that we buy in bulk and to keep the leftover foods fresh for a longer time. Now we've been using our FoodSaver for sous vide cooking as well.
Alternatively, many people use a heavy-duty plastic zipper-lock bag (but the air has to be pressed out of it) if they don't have a vacuum sealer. It's okay to use those bags as long as they are rated for higher-temperature cooking.
Wish to learn more about Japanese cooking? Sign up for our free newsletter to receive cooking tips & recipe updates! And stay in touch with me on Facebook, Pinterest, YouTube, and Instagram.
Sous Vide Steak – Japanese Style (Wafu Steak)
Learn how to achieve perfectly cooked medium rare Japanese-style sous vide steak (Wafu Steak), served with grated daikon, scallion and ponzu sauce.
Video
Ingredients
1

clove

garlic

1

1-thick (2.5 cm) steak

(NY or any cut you like)

Diamond Crystal kosher salt

(as needed)

freshly ground black pepper

(as needed)

1

Tbsp

extra virgin olive oil

(for sous vide cooking)

1

Tbsp

neutral oil

(for searing)
Japanese Ingredient Substitution:
If you want substitutes for Japanese condiments and ingredients, click
here
.
Instructions
Gather all the ingredients.

Fill your pot with water (with Nomiku, fill water past the line).


Preheat water to your desired temperature. For medium-rare steak, set to 135°F (57°C).

Slice the garlic clove. Trim off the excess fat around the steak.


Season both sides of the steak with kosher salt and freshly ground black pepper.


Seal the bottom end of the food saver pack.


Place the steak in the bag and add the garlic slices and 1 Tbsp. olive oil. Then seal the top of the bag. Make sure you pick "moisture" option as we have olive oil inside.

Place the bag into the preheated water. A one-inch-thick steak will be ready to eat in 1 hour, the general rule is 1 inch per hour of cooking. The best part about sous vide is that it'll never overcook, so it can be in the water for much longer (as long as water stays at the same temperature).


When the steak is almost done with sous vide cooking, slice the green onion thinly and grate the daikon. Set aside.


When 1 hour has passed, pick up the bag and cut open the vacuum package. If you have more than 1 bag in the pot and plan on searing the meat separately, you can leave the rest of bags inside the pot.


Remove the excess moisture on the steak with paper towel. It's important to do this step so that steak will have nice sear. The excess moisture will "steam" the steak in the pan.


To get nice sear marks on the steak, remove the garlic slices. Don't worry, the steak already has nice flavor and aroma from the garlic while cooking in sous vide. If you like, you can cook the garlic on the side of the pan. Keep in mind when you cook sous vide, do not over season the meat. It cooks for hours with the seasoning inside and the seasoning is completely absorbed.


Preheat the cast iron skillet (or any frying pan) over high heat and add the grapeseed oil. When you see the smoke coming off from the side of the pan, add the steak. Sear each side of the steak for about 1 minute until it develops a golden-grown crust. Press down the steak once in a while to get nice sear mark, but don't move it around. Flip and repeat on other side. You can also finish the steak on the grill.


Transfer to a plate (no need to rest with sous vide!). If you serve the steak in traditional Japanese way (with chopsticks), transfer to a cutting board and cut into ½ inch slices.


Gently squeeze grated daikon (liquid should not drip down) and place generous amount on top of the steak. Sprinkle green onion and pour the ponzu on top. Serve with extra ponzu on the side.

To Store
If you are not planning to eat the steak immediately after sous vide cooking. Soak in iced water (½ ice and ½ water) for 30 minutes to chill, and then transfer to the refrigerator to store and enjoy later.

Notes
Equipment you will need:
Nutrition
Nutrition Facts
Sous Vide Steak – Japanese Style (Wafu Steak)
Amount per Serving
% Daily Value*
* Percent Daily Values are based on a 2000 calorie diet.
©JustOneCookbook.com Content and photographs are copyright protected. Sharing of this recipe is both encouraged and appreciated. Copying and/or pasting full recipes to any website or social media is strictly prohibited. Please view my photo use policy
here
.