When you want a simple salad to make the meal complete, this easy Spinach Salad with Asian Dressing is all you need.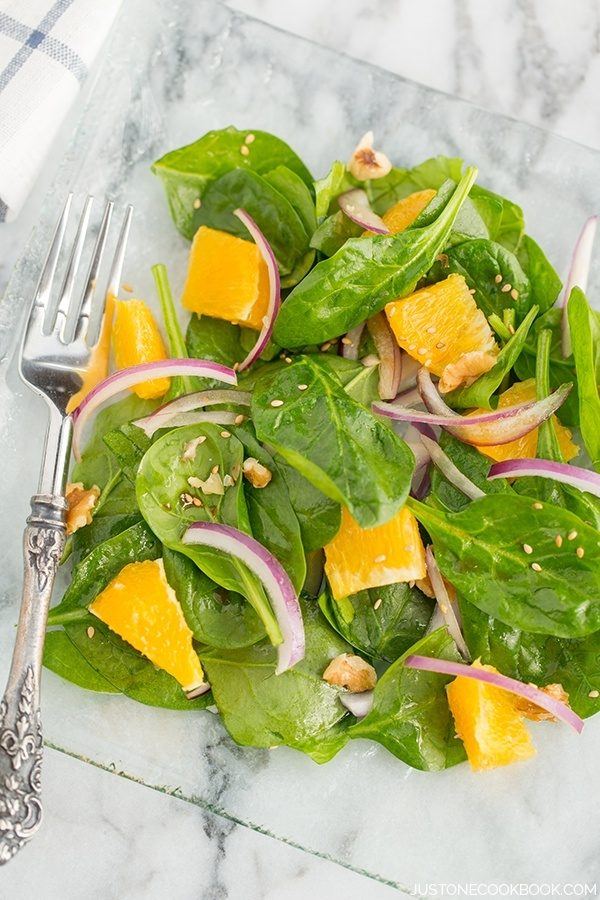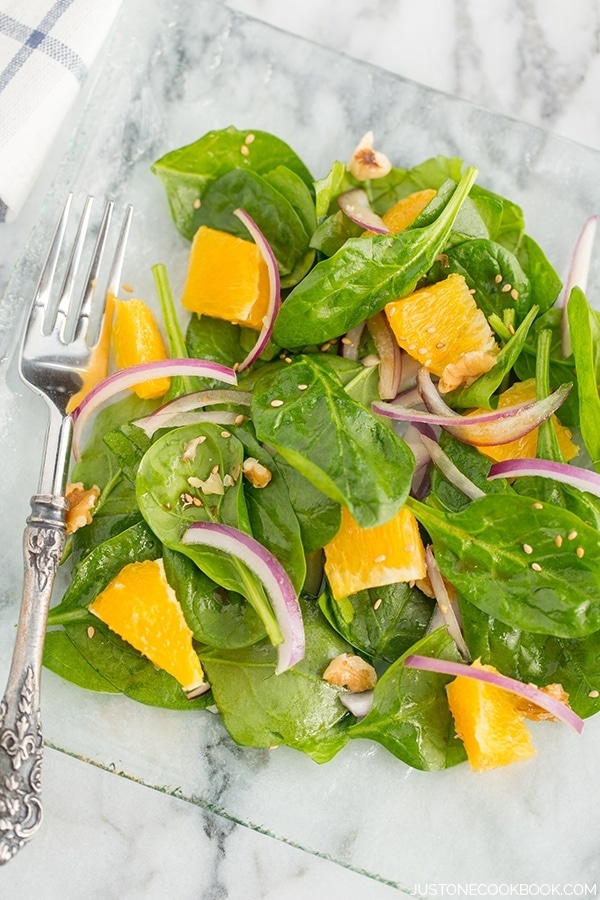 Do you usually buy or make your own salad dressing? With our busy lives and wide selection of dressings on store shelves, it's difficult to resist them in the supermarket. However, the homemade dressing does taste much better than store bought dressings and much healthier too. If you are not familiar with making your own dressing, don't worry, I'll show you how. It's all about knowing the simple rules of thumb and experimenting!
I'll show you the basics of making salad dressing and share an easy Asian salad dressing that goes really well with Spinach Salad or any kinds of leafy salad!
Watch How To Make Spinach Salad with Asian Salad Dressing
Refreshing spinach salad with navel orange and drizzled in a irresistible Asian salad dressing.
Oil vs. Vinegar Ratio for

Salad Dressing
For salad dressing, oil and acidity are 2 very important components. You just have to remember the standard ratios for oil : acids ranges from 2 : 1 to 3 : 1 ratio. I recommend starting from 2 : 1 ratio. For example, you can combine 4 Tbsp. of extra virgin olive oil (EVOO) and 2 Tbsp. fresh squeezed lemon juice.
Oil of Your Choice
Extra virgin olive oil (EVOO) is most commonly used for western style salad dressing. However, for Japanese salad dressing, neutral flavored oil like vegetable oil and canola oil are usually used.
Acids of Your Choice
Any kinds of citrus juice like lemon, lime, orange is the simplest acids you could use. Or you could use vinegar as well. For western dressing, balsamic vinegar, white/red wine vinegar, champagne vinegar, and cider vinegar are commonly used while for Japanese salad dressing we use rice vinegar.
By the way, some people call rice vinegar "rice WINE vinegar" but they are actually the same thing. The rice vinegar is rice wine that has been turned into vinegar.
Don't be afraid to mix both citrus juice and vinegar, or two kinds of vinegars for your own secret recipe. It's all about experimenting.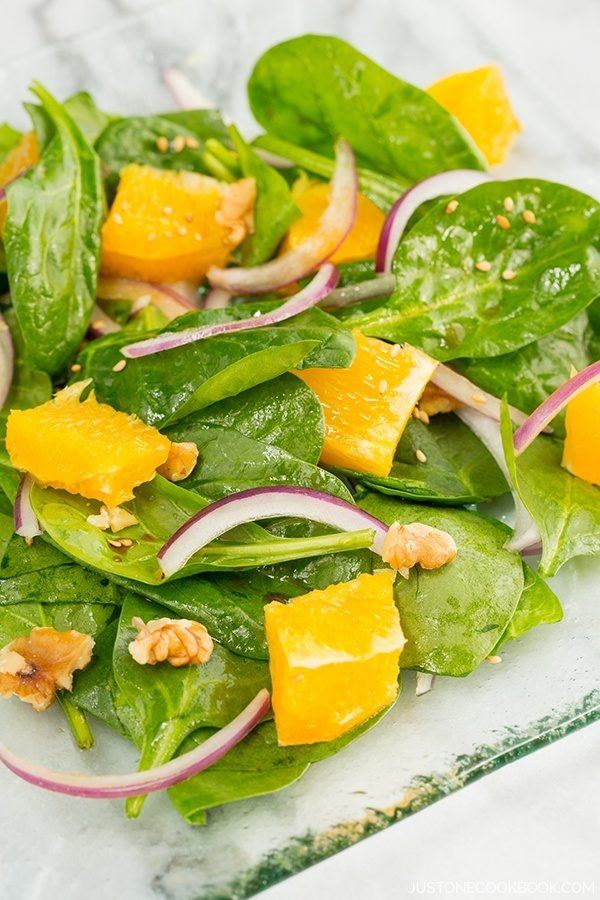 Variations for Salad Dressings
Now you've got oil and acid components in the dressing. What's next? Add other ingredients and experiment to discover what flavors work best for you! The different combination yields all kinds of different flavors in the dressings! You will definitely go through some trial and errors, but without experimenting, you don't know what type of dressings you might like!
Here are some suggestions of ingredients you could put in your dressing mixture:
Salt and Freshly Ground Black Pepper is a MUST: Adding a bit of salt brings out the true flavor of the food, just like a magic. Instead of adding more seasonings, add a pinch of salt to adjust. If you are using salty ingredients like soy sauce, remember to reduce the amount of salt added.
Fresh Ingredients: Chop garlic, ginger, shallots, chives, parsley and scallions into fine pieces and add them into the dressing.
Seasonings: Dijon mustard, mayonnaise, soy sauce, ponzu, miso, tahini, red pepper flakes, ground sesame seeds, etc… You can add almost anything!
Sweeteners: Don't be afraid to sweeten if the acid component is too strong. You can add honey, sugar, brown sugar, maple syrup, agave nectar, etc.
Fresh or Dried Herbs: Choose one of herbs like basil, oregano, marjoram, mint, dill, etc to add more flavors.
Sprinkles: Sprinkle sesame seeds, walnuts, almonds, pine nuts, pecans, cashews to add texture to the dressing and salad!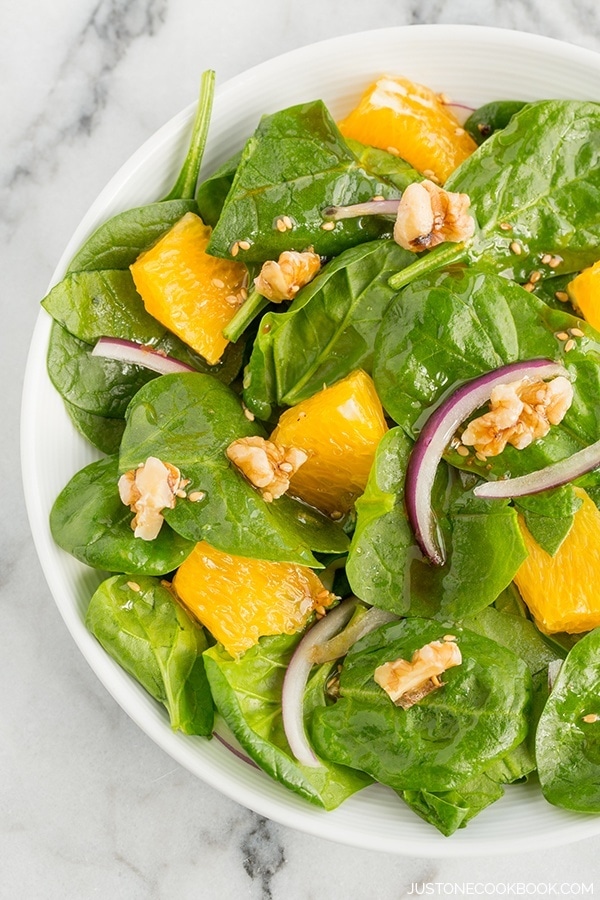 Useful Tools for Salad Dressing
You really don't need anything special to make salad dressings at home, but I have 2 kitchen items are that are "helpful" if you have them.
Flat whisk – So many people had asked me about this flat whisk that I often use in my recipe and YouTube videos. Unlike a regular whisk, this flat whisk is perfect when you have small amount of liquid on the bottom of the mixing bowl. You get a nice whip out of the dressing or mixture you have in the mixing bowl.
Mason jar (or really, any type of jar) – You don't need a whisk if you can use a jar. Just close the lid and shake it up. But the best part is that you can store in the refrigerator directly from the table. As I usually make small portions of dressing at a time and only keep it for several days in the fridge since I don't sterilize the jars beforehand.
Other Japanese Salad Dressings
Try this, memorize the following recipes: 2 tablespoons of EVOO, 1 Tablespoon of lemon juice or balsamic vinegar, a big pinch of salt, and freshly ground black pepper! It's one of the best-tasting dressings and also the easiest!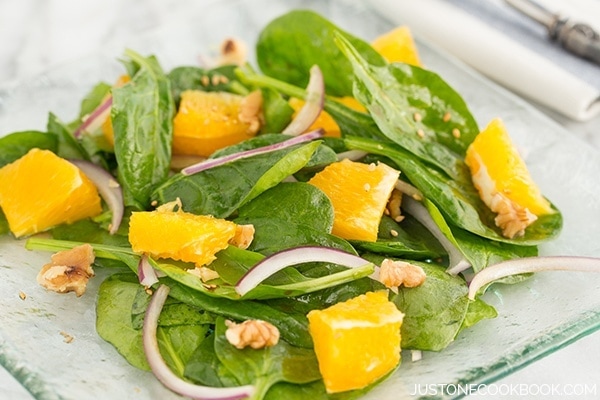 Wish to learn more about Japanese cooking? Sign up for our free newsletter to receive cooking tips & recipe updates! And stay in touch with me on Facebook, Pinterest, YouTube, and Instagram.
Spinach Salad with Asian Salad Dressing
When you want a simple salad to make the meal complete, this easy Spinach Salad with Asian Dressing is all you need.
Video
Ingredients
3

Tbsp

roasted walnuts

¼

red onion

1

navel orange

3

oz

baby spinach
Japanese Ingredient Substitution:
If you want substitutes for Japanese condiments and ingredients, click
here
.
Instructions
To make the dressing, in a small bowl, whisk together 3 Tbsp vegetable oil, 2 Tbsp soy sauce, 1 ½ Tbsp rice vinegar, ¼ tsp grated ginger, ¼ tsp sugar, and ½ Tbsp sesame seeds and set aside.

Heat a frying pan over medium high heat and toast the walnuts, stirring frequently until fragrant. Transfer the walnuts to a plate and set aside.


Slice the red onion thinly. Cut the navel orange into 8 wedges. Slice off the peel and pith. Cut each wedge into 2-3 pieces.

Add the spinach, the navel orange, and walnuts in a large bowl. Pour as much dressing as you like and toss gently to coat thoroughly. Serve immediately.

Nutrition
Nutrition Facts
Spinach Salad with Asian Salad Dressing
Amount per Serving
% Daily Value*
* Percent Daily Values are based on a 2000 calorie diet.
©JustOneCookbook.com Content and photographs are copyright protected. Sharing of this recipe is both encouraged and appreciated. Copying and/or pasting full recipes to any website or social media is strictly prohibited. Please view my photo use policy
here
.