Ramen Eggs (Ajitsuke Tamago) are delicious as topping on ramen or enjoyed as snack. Read on to learn how to make this flavorful soft boiled eggs recipe at home.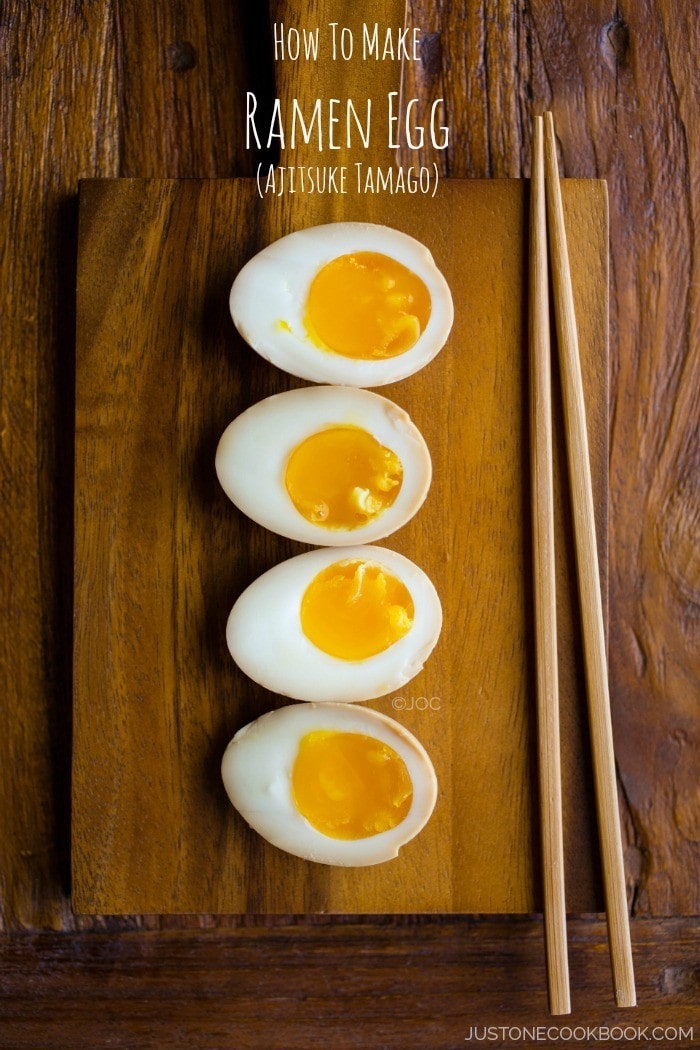 There seems to be a ramen craze sweeping the US lately.  No, I am not referring the instant ramen packages you find in the grocery store aisles.  I am referring to the fresh ramen noodles served in a delicious hot broth the chef has been preparing for days, topped with slices chashu (stewed pork), veggies, and a ramen egg.
Watch How to Make Ramen Egg 味付け玉子・煮玉子の作り方
Flavorful soft boiled eggs with custard like egg yolk soaked in soy sauce and mirin, used for topping on ramen or enjoyed as a snack.
Across the US, cities from New York, Nashville, to San Francisco, there seems to be always a line outside the popular Japanese chains as Ippudo (博多一風堂) and Santouka (山頭火), as well as local stores.  At the recent ramen festival in San Francisco, if you wanted a bowl of ramen it was a 3+ hour wait.  I'll be sharing a series of posts for different ingredients to make miso ramen at home, starting with these ramen eggs.
Ramen eggs are a bit unique; they are soft boiled but the egg yolk part is never fully cooked.  The egg yolk can be super runny, or it can be custard-like with firm texture.  In Japan, we call these soy sauce marinated eggs Ajitsuke Tamago (味付け玉子) or Nitamago (煮玉子).  Although most commonly eaten as a topping in ramen, these flavorful eggs can be enjoyed a side dish or a snack, or included as part of bento.
The best part is that these eggs are easy to make and you need just 4 ingredients – eggs, soy sauce, mirin, and water.  Of course, every ramen shop has their own secret sauce and seasonings they've added to the marinade, but today I'm going to show you the simplest yet delicious recipe.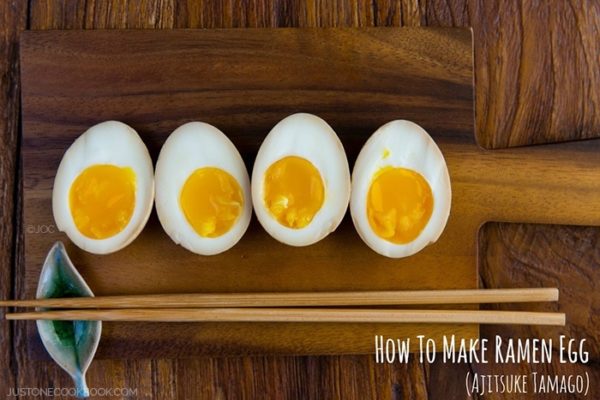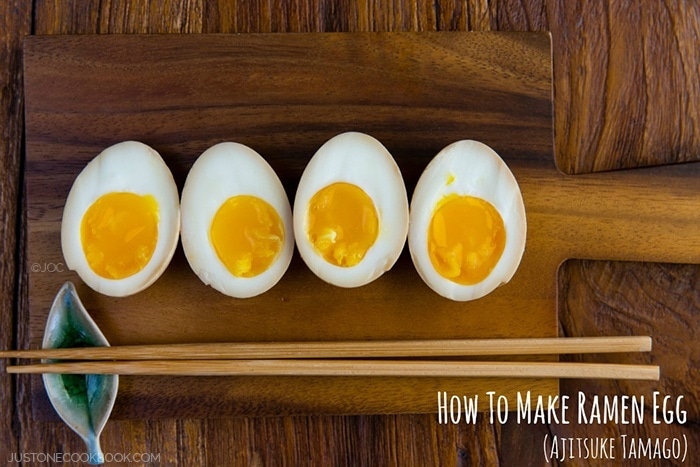 Tips & Tricks on Making Ramen Egg at Home
There are many ways to make soft boiled eggs.  If you already have a method that works for you, feel free to do so instead.  Some recipes start off with eggs that are at room temperature instead of refrigerated eggs, but room temperature could be different depending on where you are so I like to boil cold eggs right out of the refrigerator.  I use large American eggs for this recipe and knowing egg sizes do vary a bit around the world, you might need to adjust the cooking time slightly.
When the eggs are done, you could run the cold water to cool, but I like to use ice bath because it stops the eggs from cooking any further immediately.  It's also an easy way to control the exact time for cooking your eggs.
You could marinade the ramen eggs for just a few hours or overnight which I prefer.  That way I can focus on making ramen the next day while the eggs stay marinated in the fridge waiting their appearance.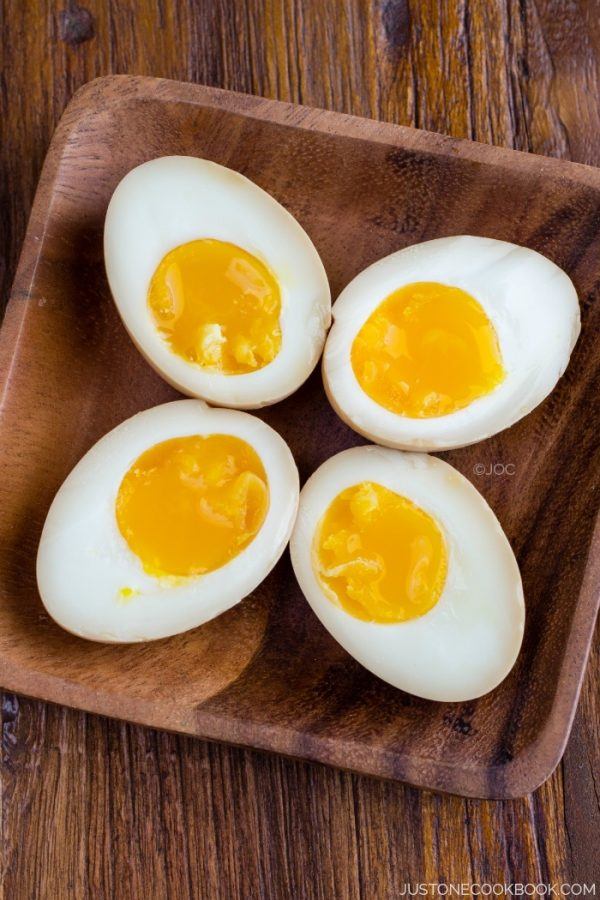 Don't want to miss a recipe? Sign up for the FREE Just One Cookbook newsletter delivered to your inbox! And stay in touch on Facebook, Google+, Pinterest, and Instagram for all the latest updates. Thank you so much for reading, and till next time!
Ramen Egg
Instructions
Gather all the ingredients. With this recipe, you can use up to 4 eggs.

Combine soy sauce, mirin and water in a plastic bag. Set aside.


Bring water to a boil in a medium saucepan. There should be enough water to cover the eggs (should be 1 inch above eggs).


When boiling, take out the eggs from the refrigerator and carefully submerge the eggs into water with a mesh strainer/skimmer or ladle.


Immediately reduce heat to maintain a simmer and cook the eggs for exact 7 minutes (See Notes). Make sure the water is simmering, but not so hot that the eggs bounce around.


After 7 minutes, immediately take out the eggs and soak in ice bath to stop them from cooking further. Let them cool for 3 minutes.


The soft boiled eggs are not completely hardened so gently peel the eggs.


Put the eggs in the sauce bag and close tightly. The eggs should be submerged in the marinade. Let them marinate for overnight to up to 2 days in the refrigerator. If you want to marinate for a longer time, make a new batch of marinade and use it instead. The marinade will become slimy after 3rd day and it's not so safe to continue using it or re-using it.


Take out the eggs and discard the marinade. Cut in halves to serve. Enjoy the eggs by themselves or use them as ramen topping.

Recipe Notes
Cooking Time for Eggs:
Runny egg yolk - 6 to 6 1/2 minutes
Custard-like egg yolk but not runny - 8 to 9 minutes
Recipe by Namiko Chen of Just One Cookbook. All images and content on this site are copyright protected. Please do not use my images without my permission. If you'd like to share this recipe on your site, please re-write the recipe and link to this post as the original source. Thank you.