Known as Ajitsuke Tamago or Ajitama in Japanese, Ramen Eggs are delicious as a topping on ramen or enjoyed as a snack. Learn how to make these flavorful, soft-boiled eggs at home with just 5 ingredients!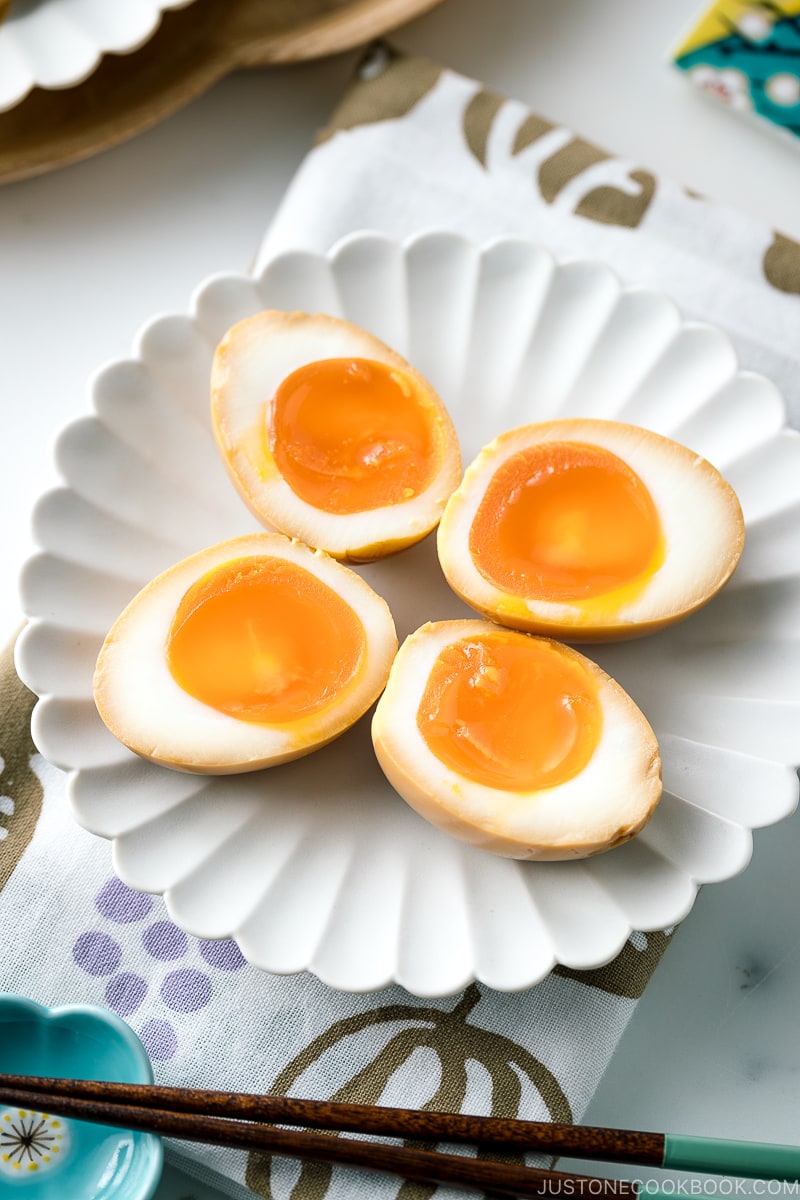 A great bowl of ramen is built upon a few significant components. There's hot broth, fresh-made noodles, and the toppings. As far as the toppings go, no one can resist a perfectly cooked ramen egg that sits alongside sliced chashu, sheet of nori, and green onions. Some would even argue that ramen egg is a must!
When done right, ramen egg is creamy, silky, full of umami, and ready to enrich and intensify your ramen enjoyment. Truth is, ramen eggs are not just for ramen alone. You can enjoy these delicious eggs anytime, in many different ways!
What Are Ramen Eggs
Ramen eggs are Japanese soft-boiled eggs known for its custardy jammy egg yolk and umami flavor. They are marinated overnight in a sweetened soy-based sauce. In Japan, we call these marinated eggs Ajitsuke Tamago (味付け玉子) or short for Ajitama (味玉) or Nitamago (煮玉子).
While these eggs are excellent on ramen, they are also amazing to enjoy as a side dish or alone as a snack, or included as part of bento. And of course, don't limit yourself there. You can even add them to your salad or in a sandwich. That's the magic of ramen eggs. So good and amazingly versatile.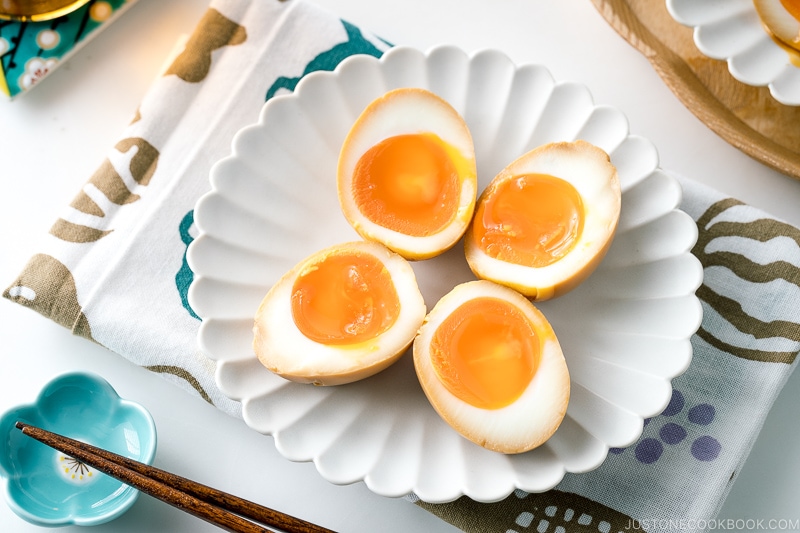 How to Make Ramen Eggs
Ingredients You'll Need
5 ingredients is all you need and you'll be surprised at how easy it is to make ramen eggs at home.
Good quality eggs, especially if you plan to make soft-boiled eggs
Soy sauce
Mirin
Sake (or water)
Sugar
For the marinade, you can create your own version with additions (such as chili flakes for spice, etc), but today, let's stick with the basics.
What changed from the 2011 Recipe?
Some of you might be familiar with the original recipe that I shared in 2011. In the past, I used water instead of sake (Japanese rice wine). However, for food safety reasons, I started making my ramen eggs with sake and came to like this version a lot better.
Why sake? The amino acids in the fermented rice wine actually enhance the flavors of food by adding hints of sweetness and umami, which makes the eggs taste better. In case you're wondering, we would boil off the alcohol from the sake before marinating the eggs so it's perfectly safe for kids to consume.
As part of the refinement, I also added a bit of sugar. To put the old and new recipes to the test, I had my family try out the two versions multiple times and they concluded that the winner goes to this updated recipe. For those who can't consume alcohol, you can still use water.
Overview: Quick Steps
Make the marinade.
Cook soft-boiled eggs.
Marinate the eggs overnight.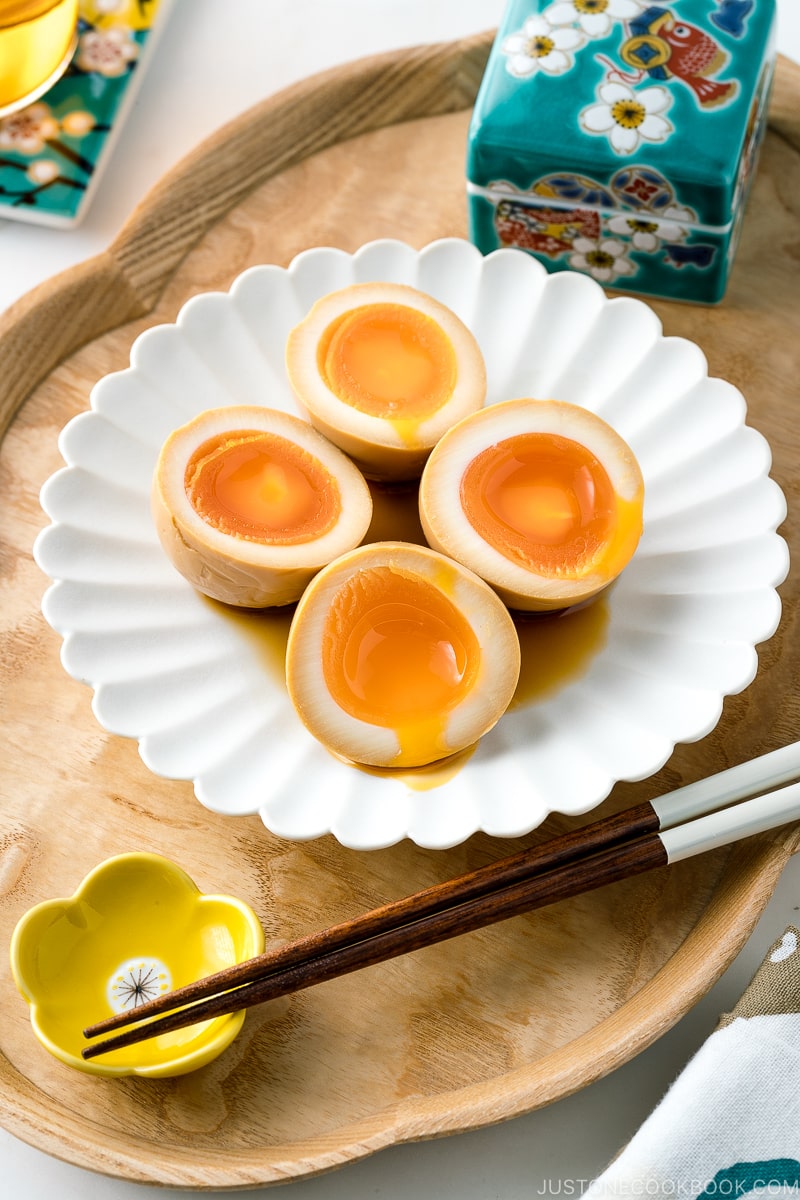 Important Tips & Tricks to Make Ramen Eggs
Tip #1: Cook the marinade
To make the marinade, I highly recommend cooking it for 1 minute after boiling. This ensures the sugar dissolves and the alcohol evaporates completely leaving only the natural umami and sweetness in the sauce.
Tip #2: Add vinegar and salt when boiling eggs
If you don't have a particular method of cooking boiled eggs, try adding vinegar and salt to the boiling water before you add the eggs.
I've tried many different approaches and I was shocked at the 100% success rate with the vinegar & salt method when comes to peeling my eggs. The peels come off perfectly every time.
Have you tried it? Do you use any "trick" to make boiled eggs? Please share your method in the comment below.
Tip #3: Use refrigerated eggs
Using a fine-mesh sieve/strainer, gently lower your eggs straight from the fridge into the (already) boiling water and lower the heat slightly to a simmer.
Tip #4: Cook 7 minutes from the first egg in boiling water
Start setting the timer for 7 minutes from the first egg submerging in boiling water. It takes about 30 seconds or less to submerge all 4 eggs. (In other words, set the timer for 6 minutes and 30 seconds if you start the timer when you finish submerging all the eggs. Little adjustment matters!
I use large American eggs for this recipe and knowing that egg sizes do vary in different parts of the world, you might need to adjust the cooking time slightly.
Tip #5: Shock the eggs in ice water
Shock the boiled eggs in ice water immediately and let them chill for at least 15 minutes. I use the same ice water to dip the boiled eggs a few times when peeling them. Water goes into the gap and helps peel easily.
Tip #6: Marinate the eggs overnight
You could marinade the ramen eggs for just a few hours or overnight which I prefer. That way I can focus on making ramen the next day while the eggs stay marinated in the fridge waiting for their appearance.
I'd stop marinating around after 2 days, or else it gets salty. Also, soft-boiled eggs should be consumed in 3-4 days.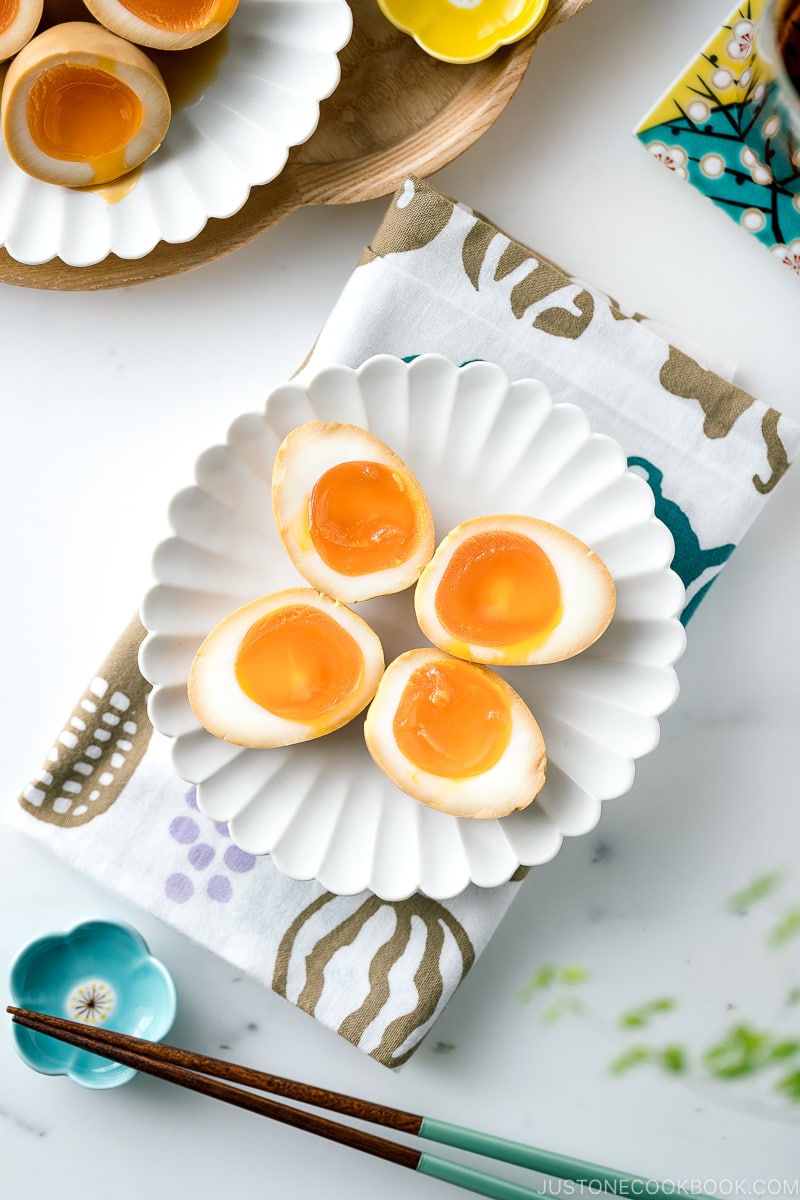 How to Serve Ramen Eggs:
I hope you'll give this recipe a try because it can truly make your day better. Here are some of my absolute favorites to enjoy the eggs, BUT I'd like to hear your ideas too.
Tableware from Musubi Kiln
I've partnered with a great ceramic online shop from Japan called Musubi Kiln. You will get 10% off with a coupon code JUSTONECOOKBOOK for your purchase. In this post, I've used:
Wish to learn more about Japanese cooking? Sign up for our free newsletter to receive cooking tips & recipe updates! And stay in touch with me on Facebook, Pinterest, YouTube, and Instagram.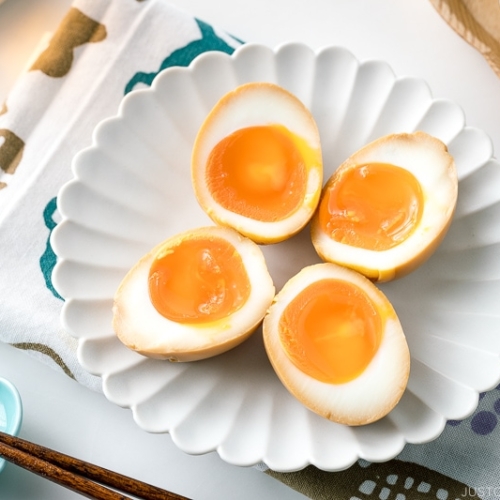 Ramen Eggs (Ajitsuke Tamago)
Ramen Eggs (Ajitsuke Tamago or Ajitama) are delicious as a topping for ramen or enjoyed as a snack. Read on to learn how to make these flavorful Japanese soft-boiled eggs at home. 
Video
Ingredients
4

large eggs (50 g each w/o shell)

(refrigerated; use slightly older eggs, which are easier to peel)
Japanese Ingredient Substitution:
If you want substitutes for Japanese condiments and ingredients, click
here
.
Instructions
Before You Start: Please note that this recipe requires a marination time of 8 hours or overnight. Gather all the ingredients.
To Make the Marinade
In a small saucepan, combine all the ingredients for the marinade:

¼ cup soy sauce

,

¼ cup mirin

,

¼ cup sake

, and

1 tsp sugar

.

Bring it to a boil and whisk it a few times to let the sugar dissolve completely. Once boiling, lower the heat and simmer for 1 minute. Turn off the heat. Set aside to cool completely.
To Make the Soft-Boiled Eggs
Add 4 cups (1L) water (for 4 eggs) to a medium saucepan and bring it to a boil. There should be enough water to cover the eggs by at least 1 inch (2.5 cm). Once at a full boil, take out

4 large eggs (50 g each w/o shell)

from the refrigerator. Carefully and gently lower one egg at a time into the boiling water with a mesh strainer/skimmer or a ladle. When you add the first egg, set a 7-minute timer. You can cook them 6 to 6½ minutes for a runny egg yolk and 8 to 9 minutes for a custard-like egg yolk.

Once all the eggs are in the saucepan, lower the heat to maintain a gentle boil. Make sure the water is simmering, but not bubbling so strong that the eggs bounce around. If you want your egg yolks to be centered, gently rotate the eggs with chopsticks once in a while for the first 3 minutes.

After 7 minutes, immediately take out the eggs and shock them in iced water for 15 minutes.

Once the eggs are completely cool, gently crack the shell at the wide bottom end of the egg and start peeling it vertically toward the pointy top. Dip the egg in the iced water a few times to help with the peeling. Once you peel one section vertically, the rest of the shell comes off easily.
To Marinate the Eggs
Place the eggs in a plastic bag and add the marinade to the bag. Why am I recommending a plastic bag? With a plastic bag, we don't have to use a lot of marinade to submerge the eggs. This marinade is used only one time for food safety reasons, so it's most economical to prepare no more than the amount you need. If you use a container instead of a bag, it requires more marinade to submerge the eggs.

Remove the air from the bag and use a clip or rubber band to seal the bag right above the eggs. This way, the eggs are completely submerged in the marinade. Refrigerate for 8 hours or overnight. You can rotate the eggs occasionally if you like.
To Serve
Remove the eggs from the marinade and cut them in half lengthwise to serve. Use a piece of string, fishing line, or cheese cutter (that's what I used here) to cut the eggs in half cleanly. Enjoy the Ramen Eggs in bento, as a ramen topping, or as a snack sliced in half and sprinkled with furikake (rice seasonings) and shichimi togarashi (Japanese seven spice). If you want to warm up the eggs, soak the bag in warm water to bring up the temperature faster.
To Store
Keep the Ramen Eggs refrigerated at all times. Do not freeze as the texture of eggs changes when frozen (with the exception of tamagoyaki). The ramen eggs will get saltier the longer they marinate, so take them out from the marinade after 12–24 hours (depending on your preference). Enjoy the ramen eggs within 3–4 days if your eggs are soft-boiled. If your eggs are hard-boiled, you can keep them in the refrigerator for up to a week. For food safety reasons, I do not recommend reusing this marinade with new boiled eggs. You can repurpose this marinade as a seasoning sauce for your stir-fried or simmered dishes but use it soon.
Nutrition
Nutrition Facts
Ramen Eggs (Ajitsuke Tamago)
Amount per Serving
% Daily Value*
* Percent Daily Values are based on a 2000 calorie diet.
©JustOneCookbook.com Content and photographs are copyright protected. Sharing of this recipe is both encouraged and appreciated. Copying and/or pasting full recipes to any website or social media is strictly prohibited. Please view my photo use policy
here
.
Editor's Note: This post was originally published on September 14, 2014. It has been updated with new images, video, and blog content in September 2021.