Print Recipe
Jump To Recipe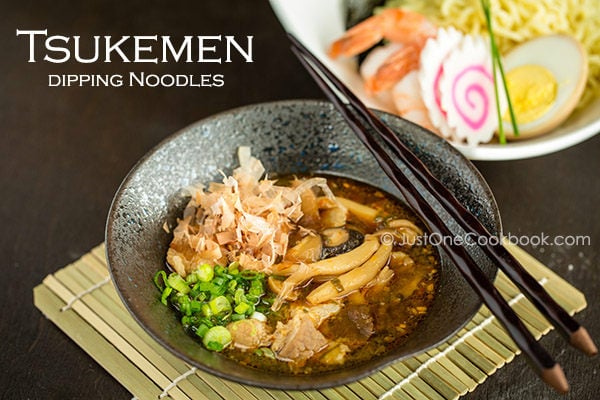 It is quite hot and humid in Japan and all I want to eat are cold dishes and noodles.  I shared Hiyashi Chuka (Cold Ramen) recipe not a long ago and today I'm sharing another favorite cold noodle recipe.
Have you heard or tried Tsukemen?  It means "dipping noodles" and cold noodles are served separately with hot dipping soup and toppings on the side (Hiyashi Tsukemen is served with cold noodles and cold soup).
We use chukamen (fresh ramen noodles) that are springy and chewy for this dish, and the cold noodles go really well with hot soup with all kinds of toppings in it.  You pick up few strands of noodles with your chopsticks, dip them into the soup, the slurp them up.
Just like ramen noodles, there are all sorts of tsukemen soup types and flavors.  Today I'm going to share the one that my family really enjoy – soy sauce base with a little bit of tangy vinegar kick.  If you enjoy spicy food and has spicy chili bean paste (la doubanjiang), you can make the spicy version of this recipe as well.
I used fatty pork belly to make the soup base, but you can substitute with ground pork or other meat/seafood.  If you only drink the soup by itself, it is too salty.  But when you dip the cold noodles in the hot soup, the flavor is well balanced with cold noodles and other toppings.
For toppings today, I served Tsukemen with shrimps, eggs, narutomaki (fish cake), and nori.  Feel free to add other ingredients to your liking.  Hope you enjoy this dish!
Don't want to miss a recipe? Sign up for the FREE Just One Cookbook newsletter delivered to your inbox! And stay in touch on Facebook, Google+, Pinterest, and Instagram for all the latest updates. Thank you so much for reading, and till next time!
Tsukemen (Dipping Noodles)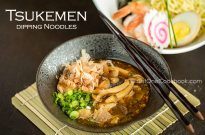 Ingredients
2

packages

Chukamen

(fresh ramen noodles, see Notes)

½

lb

sliced pork belly

½

inch

ginger

3

cloves

garlic

2

shiitake mushrooms

2

green onions/scallions

1

Tbsp

sesame oil

1

package

katsuobushi (dried bonito flakes)
Instructions
Gather all the ingredients.

Cut the meat into 1 inch pieces. Mince the ginger and garlic. Discard the bottom of shimeji and shiitake mushrooms and slice shiitake mushrooms. Finely chop scallions. Remove the shell and devein shrimps.


In a medium saucepan, heat sesame oil over medium high heat and add ginger and garlic when oil is hot.


When fragrant, add (spicy) chili bean paste (Doubanjiang or La Doubanjiang) and stir constantly so it won't burn.


Add the meat and cook until no longer pink.


Add the shiitake and shimeji mushrooms and cook until wilted.


Add Menetsuyu and water and bring to a boil.


Lower the heat to medium low and add miso and soy sauce in the soup and simmer for 5 minutes.


Add the chopped green onions and rice vinegar. Turn off the heat and set aside.


Prepare toppings. In a small saucepan, bring water to a boil. Add 1 Tbsp. sake and shrimp. Once the shrimp starts changing color, turn off the heat and cover to let the remaining heat cook the shrimp (so you won't overcook the shrimp). Drain and set aside.


When all the toppings are ready, bring a big pot of water to a boil and cook the noodles. Make sure to separate each noodles when you drop them into the boiling water. Cook according to the package instructions, but keep the noodles al dente. Drain the water and rinse the noodles to remove starch. Soak the noodles into a bowl of ice water to cool. Drain completely and divide the noodles on plates/bowls. Serve all the toppings on the noodles or on a separate plate.


Pour the hot soup in a bowl. Serve the cold noodles, toppings, and soup and sprinkle katsuobushi in the soup right before eating. Enjoy!
Recipe Notes
Chukamen: If you cannot find fresh ramen noodles, use udon noodles instead. They go well with this tsukemen soup as well!
Mentsuyu (noodle soup base): Homemade recipe, click here.

Recipe by Namiko Chen of Just One Cookbook. All images and content on this site are copyright protected. Please do not use my images without my permission. If you'd like to share this recipe on your site, please re-write the recipe in your own words and link to this post as the original source. Thank you.