Does the summer heat have you dreaming of taking a dip? Then cook up a bowl of Tsukemen (Dipping Ramen Noodles) – cold ramen dipped into a bowl of intensely flavorful hot soup!
Have you heard of Japanese Dipping Ramen Noodles? Known as Tsukemen (つけ麺), it is one of the most beloved styles of ramen in Japan, especially during the summer months.
The dish involves serving cold noodles alongside a bowl of hot soup. You would dip the noodles into the soup and enjoy the toppings served atop or on the side of the noodles. The contrast of cold noodles and hot broth, in my opinion, is literally the best of both worlds.
When the noodles craving hit, even in the heat of summer, this sensational ramen is going to satisfy. So let's make it at home today!
A Brief History
There are a few theories about the origin of Tsukemen, but it is said that Masayasu Sakaguchi and Kazuo Yamagishi, invented the noodles in the late 50s. Both Sakaguchi and Yamagishi are relatives and owned famous Taishoken ramen restaurants in Tokyo.
On sweltering summer days, the staff would eat cold leftover noodles by dipping it into a hot soup flavored with soy sauce, just like zaru soba. The staff seemed to enjoy their meal very much that curious customers began to request trying out the dish. Eventually, they decided to put the dish on the menu.
Soon the word got out and Tsukemen's popularity started to spread across Japan during the 1970s and 80s, and it received all the rage during the ramen resurgence in the past two decades. You can now find specialty shops throughout Japan serving a variety of Tsukemen dishes.
And of course, the Tsukemen ramen craze finally hit shores in the US. In 2019, Taishoken opened its first location in San Mateo, serving up its famous bowls of Tsukemen.
Tsukemen vs. Ramen
The most distinctive difference between Tsukemen and the standard ramen is the noodles and soup are served separately for Tsukemen. You would dip the noodles, typically chilled or at room temperature, into the hot soup before slurping them down. This way the noodles stay cool without losing its firmness and the soup stays hot enough for you to flavor and moistens the noodles. What a simple yet thoughtful idea!
For Tsukemen, the noodles matter more than the soup. Since you're tasting more of the noodles, a good bowl of Tsukemen is judged by the quality and texture of the noodles. At the specialty shops, they often serve homemade noodles that are thicker, chewier, and springy as the textures provide wider surface areas to absorb the sauce.
The soup also tends to be saltier and more intense than the typical ramen broth, as it's for dipping rather than drinking.
How to Assemble Tsukemen at Home
Just like ramen noodles, there are many types of soups and flavors for Tsukemen. Today's recipe is one that my family really enjoys – a soy sauce-vinegar based Tsukemen which comes with a tangy kick.
1. The noodles
I usually use chukamen (fresh ramen noodles) that are springy and chewy when I serve Tsukemen at home. After you boil the noodles, dunk in cold water to cool them down right away. This method is known as 'shimeru', which means tightening, and it helps to bring back the springiness of the noodles.
2. The soup broth
I use fatty pork belly to create a rich broth, but you can substitute with ground pork or other meat/seafood. It's tempting to drink the soup, but it is intentionally made to be salty to drink. But when the cold noodles soak up the sauce, it balances the saltiness off and you get the optimal flavor.
I also like to jazz up the broth with spicy chili bean paste (la doubanjiang) for a deep bold, spicy flavor, but feel free to leave it out.
3. Toppings
I serve my Tsukemen with shrimp, eggs, narutomaki (fish cake), and nori. You can use other ingredients too. Whatever you like to dip in the soup!
Dipping Ramen Noodles for the Summer
To enjoy this summer-perfect ramen, pick up a few strands of the noodles with your chopsticks, dip into the soup and make sure they are fully submerged, then slurp!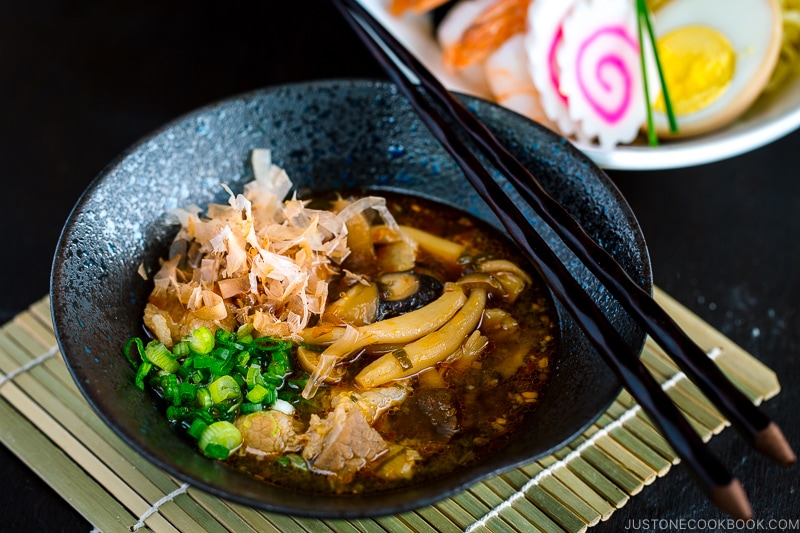 Wish to learn more about Japanese cooking? Sign up for our free newsletter to receive cooking tips & recipe updates! And stay in touch with me on Facebook, Pinterest, YouTube, and Instagram.
Tsukemen (Dipping Ramen Noodles)
Tsukemen is cold ramen noodles served with a separate bowl of flavorful broth for dipping. Enjoy with a variety of topping for the perfect summer bowl!
Japanese Ingredient Substitution:
If you want substitutes for Japanese condiments and ingredients, click
here
.
Instructions
Gather all the ingredients.
To Prepare Ingredients
Cut the meat into 1 inch pieces. Mince the ginger and garlic. Discard the bottom of shimeji and shiitake mushrooms and slice shiitake mushrooms. Finely chop scallions. Remove the shell and devein shrimps.
To Make Soup
In a medium saucepan, heat sesame oil over medium-high heat and add ginger and garlic when oil is hot.

When fragrant, add (spicy) chili bean paste (Doubanjiang or La Doubanjiang) and stir constantly so it won't burn.

Add the meat and cook until no longer pink.

Add the shiitake and shimeji mushrooms and cook until wilted.

Add Menetsuyu and water and bring to a boil.

Lower the heat to medium-low and add miso and soy sauce in the soup and simmer for 5 minutes.

Add the chopped green onions and rice vinegar. Turn off the heat and set aside.
To Prepare Toppings
In a small saucepan, bring 1 ½ cup water to a boil. Add 1 Tbsp sake and shrimp. Once the shrimp starts changing color, turn off the heat and cover to let the remaining heat cook the shrimp (so you won't overcook the shrimp). Drain and set aside.
To Boil Noodles
When all the toppings are ready, bring a big pot of water to a boil and cook the noodles. Make sure to separate each noodle when you drop them into the boiling water. Cook according to the package instructions, but keep the noodles al dente. Drain the water and rinse the noodles to remove starch. Soak the noodles into a bowl of ice water to cool. Drain completely and divide the noodles into plates/bowls.
To Serve
Serve all the toppings on the noodles or on a separate plate. Pour the hot soup in a bowl. Serve the cold noodles, toppings, and soup and sprinkle katsuobushi in the soup right before eating. Enjoy!
Notes
Mentsuyu (noodle soup base): Homemade recipe, click here.
Recipe by Namiko Chen of Just One Cookbook. All images and content on this site are copyright protected. Please do not use my images without my permission. If you'd like to share this recipe on your site, please re-write the recipe in your own words and link to this post as the original source. Thank you.
Nutrition
Calories:
924
kcal
·
Carbohydrates:
30
g
·
Protein:
30
g
·
Fat:
75
g
·
Saturated Fat:
25
g
·
Trans Fat:
1
g
·
Cholesterol:
341
mg
·
Sodium:
1413
mg
·
Potassium:
526
mg
·
Fiber:
3
g
·
Sugar:
5
g
·
Vitamin A:
518
IU
·
Vitamin C:
5
mg
·
Calcium:
103
mg
·
Iron:
3
mg
©JustOneCookbook.com Content and photographs are copyright protected. Sharing of this recipe is both encouraged and appreciated. Copying and/or pasting full recipes to any website or social media is strictly prohibited. Please view my photo use policy
here
.
More Cold Summer Noodles You'll Love:
Editor's Note: The post was originally shared on July 28, 2013. The post has been updated and republished in August 2020.