Made with beef, potatoes, carrots, mushrooms, and curry roux, this savory and hearty Japanese beef curry makes a fabulous introduction for new curry eaters. Adapted to Japanese taste, it's milder, sweeter with a stew-like texture. Even children enjoy it thoroughly! You have to give this easy recipe a try.
Japanese Curry Rice or Karē Raisu (カレーライス) is extremely popular dish for all ages in Japan and it is considered one of the country's national dishes along with ramen and gyoza!  This Japanese beef curry dish takes a bit of preparation but the end result is super delicious!
Watch How to Make Japanese Beef Curry ビーフカレーの作り方
Savory and hearty Japanese beef curry made with beef, potatoes, carrots, mushroom, and Japanese curry roux.
Curry was introduced to Japan by the British in late 1800s in the form of curry powder, and it was adapted to Japanese taste.  The flavor of Japanese curry is quite different from Indian or Thai curry.  Japanese curry is thicker, milder, and sweeter and always served with rice.  We don't have the choices of yellow, red, or green curry like Thai curry, but instead there are usually three degrees of spiciness indicating mild, medium hot, or hot.
This recipe uses a box Japanese curry roux, which can be found at Asian supermarkets or an Asian food isle at your local grocery stores.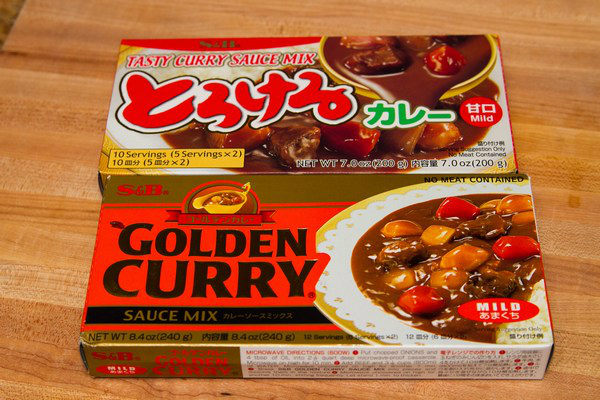 All the curry spices are packed in a form of solid roux resembling a block of baking chocolate.  To avoid "out of box" taste, mix up 2-3 different brands of roux and add your own condiments (e.g. Worcestershire Sauce) to enhance the flavor for the curry sauce.  If you want to make curry roux base from scratch, I have the recipe for homemade roux.
Japanese curry usually includes a protein of your choice (usually beef, chicken, pork, or seafood), onions, potatoes, and carrots.  For vegetarian option, you can add firm tofu right before you serve just to heat it through. The recipe I shared today is for  Japanese beef curry.
Just like a comforting pot of stew, you don't need expensive cut of meat for Japanese beef curry because of its long simmering time. One of the important steps is to brown the beef chunks to bring out the flavor. Once the sauce is thicken, you will be rewarded with a delicious curry with tender pieces of meat in a rich, velvety sauce. It's absolutely heaven when enjoyed with steamed rice. This is also a freezer-friendly recipe so you can make a big batch to enjoy later.
If you want to skip the simmering time for curry, you can try out my Pressure Cooker Japanese Curry recipe.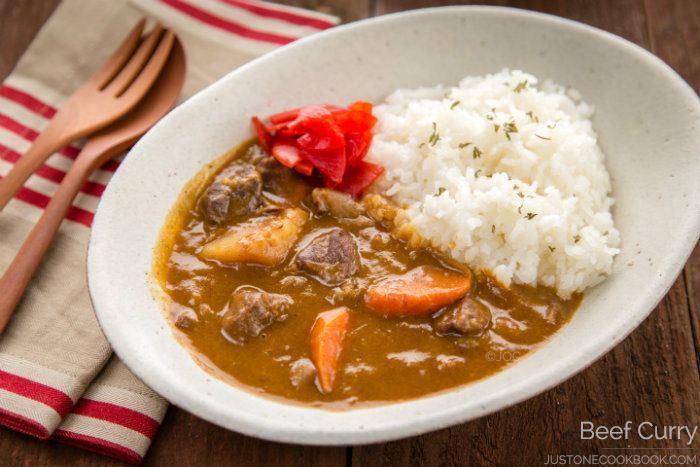 Don't want to miss a recipe? Sign up for the FREE Just One Cookbook newsletter delivered to your inbox! And stay in touch on Facebook, Google+, Pinterest, and Instagram for all the latest updates. Thank you so much for reading, and till next time!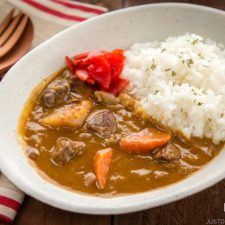 Japanese Beef Curry
Ingredients
3

onions

(3 onions = 2 lb 13 oz or 1.3 kg)

3

carrots

(3 carrots = 8 oz or 230 g)

1

russet potato

(1 russet potato = 9.5 oz or 270 g)

8

mushrooms

(8 mushrooms = 9.2 oz or 260 g)

2

lb

lean beef stew meat

(2 lb = 907 g)

salt (kosher or sea salt)

Freshly ground black pepper

2

Tbsp

all-purpose flour

2

Tbsp

extra virgin olive oil

(2 Tbsp = 1 Tbsp for beef, 1 Tbsp for onion)

2

Tbsp

unsalted butter

(2 Tbsp = 1 Tbsp for beef, 1 Tbsp for onion)

2

cloves

garlic

(minced)

1

inch

ginger

(1" = 2.5 cm) (grated)

1

Tbsp

curry powder

2

Tbsp

tomato paste

(or ketchup)

1

cup

red wine

8

cups

beef stock

(8 cups = 2 QT or 1.9 L)

2

bay leaves

1

box

Japanese curry roux

(1 box = 7-8.4 oz or 200-240g) (see Notes for homemade roux recipe)

2

Tbsp

milk

1

Tbsp

Worcestershire sauce

1/4

apple

(I use Fuji apple, optional)

Furkujinzuke (red pickled daikon)

(to serve, optional)
Instructions
Gather all the ingredients.

Cut the onion into thin slices. Cut the carrot diagonally while rotating it a quarter between cuts (in Japanese we call this cutting technique "

rangiri

").

Halve the potato, and then cut each piece into quarters. Soak in water for 15 minutes to remove the starch.


Clean the mushrooms with a pastry brush (don't wash mushrooms) and slice them.


Cut the beef into 1 ½ inch cubes and sprinkle salt and pepper. Coat the meat with the flour.


In a cast iron skillet, heat oil and butter on high heat. Add the beef but do not crowd the skillet. Do a second batch if necessary. Cook beef until brown.


In a large heavy bottomed pot or large pot, heat the butter on medium heat and add the onion. Add the olive oil and stir to coat the onion with the oil. Add 1 tsp. salt after 10 minutes and sauté the onion until it's soft and translucent.


Add garlic, ginger, curry powder, and tomato paste and sauté for 2 minutes.


Add the beef and the wine and let the alcohol evaporate.


Add the vegetable and pour the beef broth until it covers the vegetables. Cover with the lid and bring it to a boil.


Add bay leaf, cover with the lid but leaving slightly ajar, and simmer until vegetables are tender.


Once in a while, skim the broth. Add the rest of beef stock (if you have any leftover and if necessary).


Using a ladle and with fork/chopsticks, dissolve the curry roux. If the curry is too thick for your taste, add water to dilute. From this point, stir often and be careful not to burn the curry!


Add milk and Worcestershire sauce. Grate the apple to add a hint of sweetness. Simmer uncovered on low heat, stirring occasionally, until the curry becomes thick. Serve the curry with Japanese rice on the side topped with fukujinzuke.

Recipe Notes
Japanese curry roux: Homemade recipe, click here.
Recipe by Namiko Chen of Just One Cookbook. All images and content on this site are copyright protected. Please do not use my images without my permission. If you'd like to share this recipe on your site, please re-write the recipe and link to this post as the original source. Thank you.
Editor's Note: This post was originally published on April 15, 2011 and has been updated with new pictures/video and revised recipe instructions.