Made with crunchy daikon, cucumber, eggplant, and lotus root pickled in a soy sauce-based solution, this Homemade Fukujinzuke is a must-have relish for Japanese curry.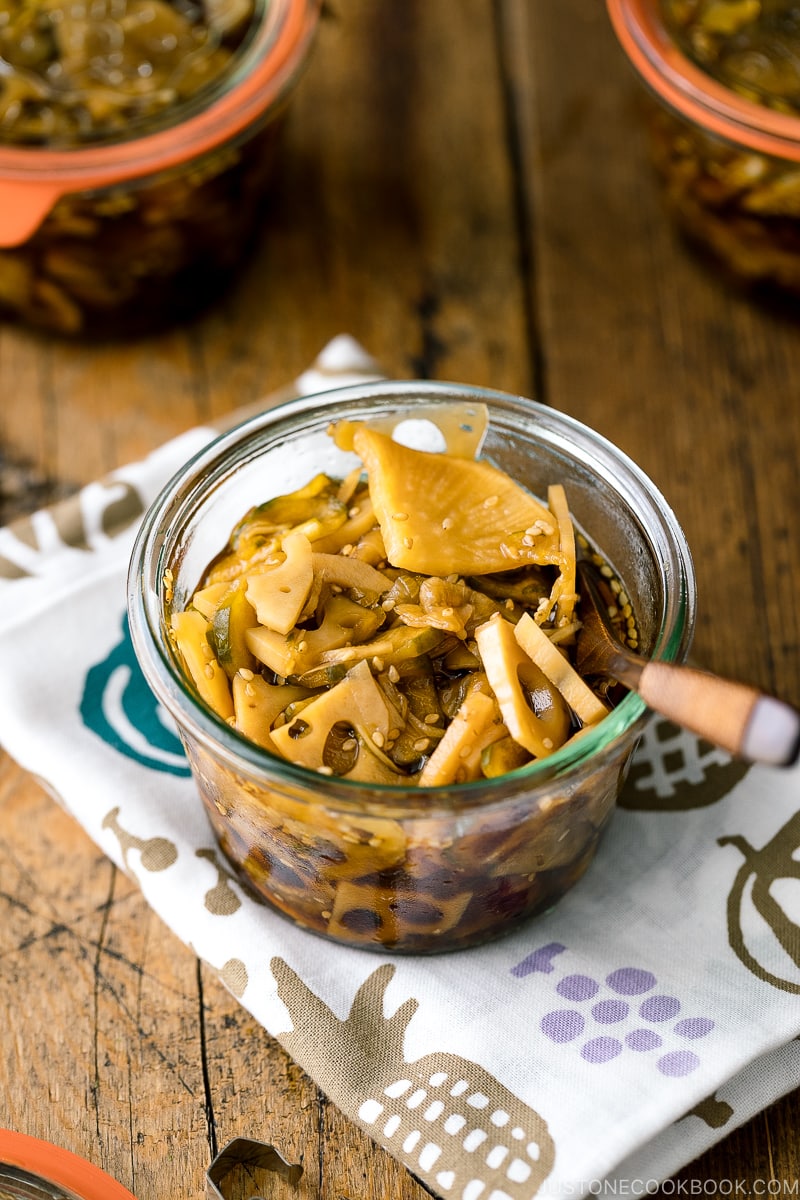 Japanese curry is often served alongside with steamed rice and an accompaniment of bright crimson red relish called Fukujinzuke (福神漬け). These pickled vegetables are sweet and tangy, which is perfect to set off the richness of curry.
You can easily get store-bought Fukujinzuke but I like to make them from scratch in the summer when most of the ingredients are fresh and in season.
What is Fukujinzuke
A customary item for Japanese curry, Fukujinzuke (福神漬) is a type of Tsukemono, Japanese pickled vegetables. The pickles are easily recognizable for its eye-catching red color as they sit atop in almost every curry dish.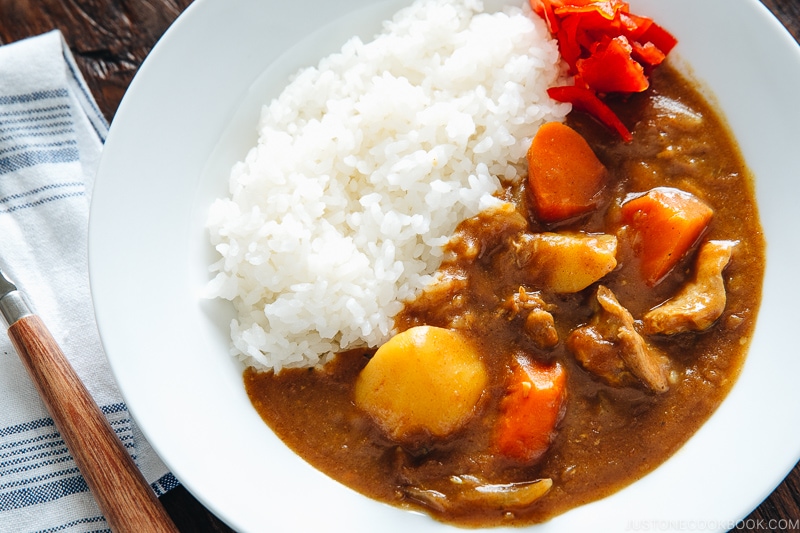 Despite its intriguing name, Fukujinzuke are simply made of a medley of vegetables such as daikon, eggplant, lotus root, cucumber, and bamboo shoots. They are cut thinly into small pieces, salted to withdraw the moisture, and then pickled in a soy sauce, mirin, and sugar-based liquid.
There are a few theories of the origin of the name "Fukujinzuke." One of the popular theories is that the pickles use 7 kinds of vegetables, hence it's named "Fukujin-zuke" (Fukujin-pickle) as a tribute to the Seven Lucky Gods, or Shichi-fukujin (七福神).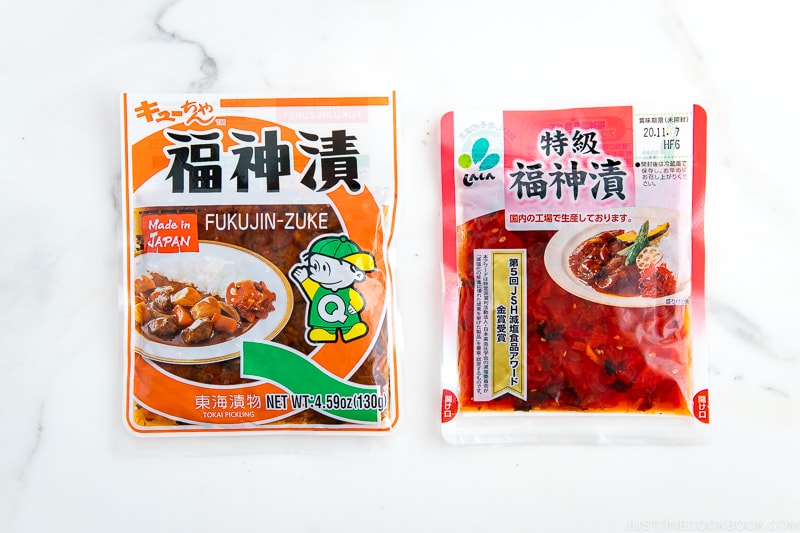 The commercial Fukujinzuke typically use food coloring to give it the signature red, but I prefer to leave the coloring out and rather focus on the taste and texture when making the pickle at home.
Fukujinzuke is savory, sweet, and tangy, and addictingly crunchy. That's why we love fukujinzuke with steamed rice and curry!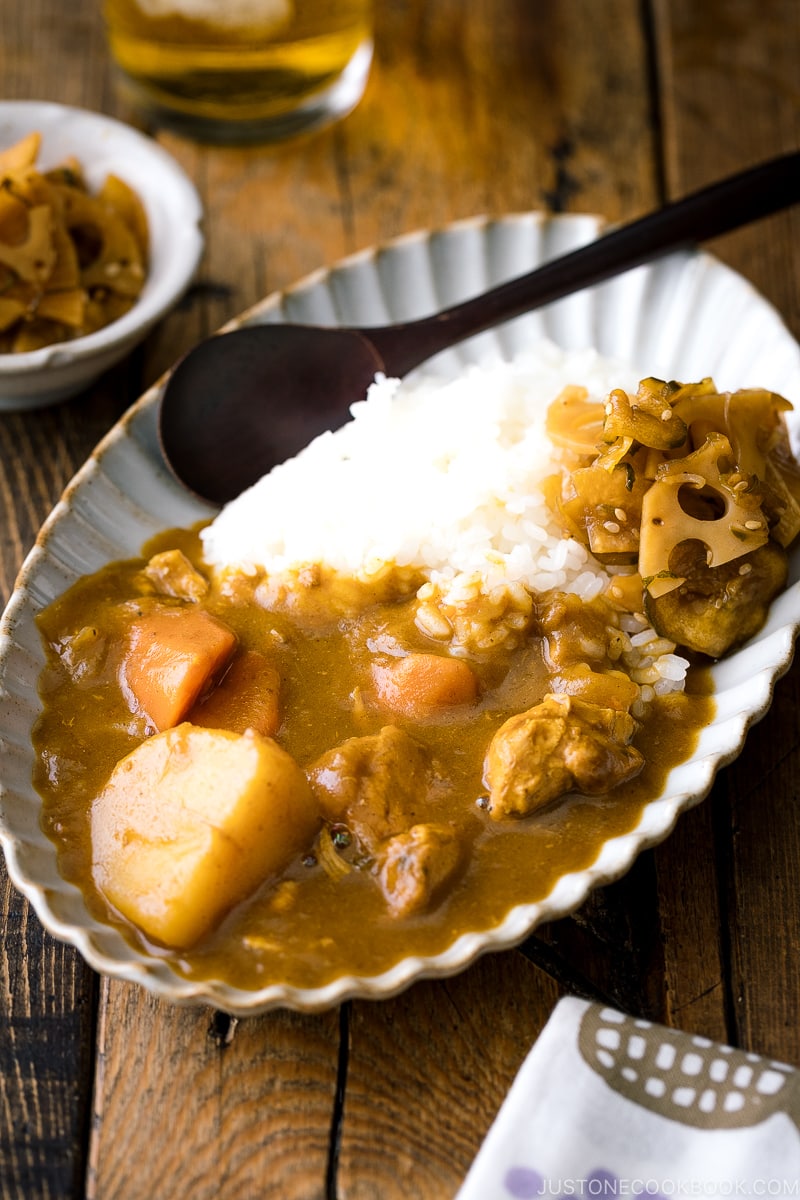 How to Make Homemade Fukujinzuke
Ingredients You'll Need
Daikon
Cucumber
Lotus Root
Eggplant
Young Ginger
Shiso leaves
Condiments: soy sauce, mirin, rice vinegar, sugar, kombu, and white sesame seeds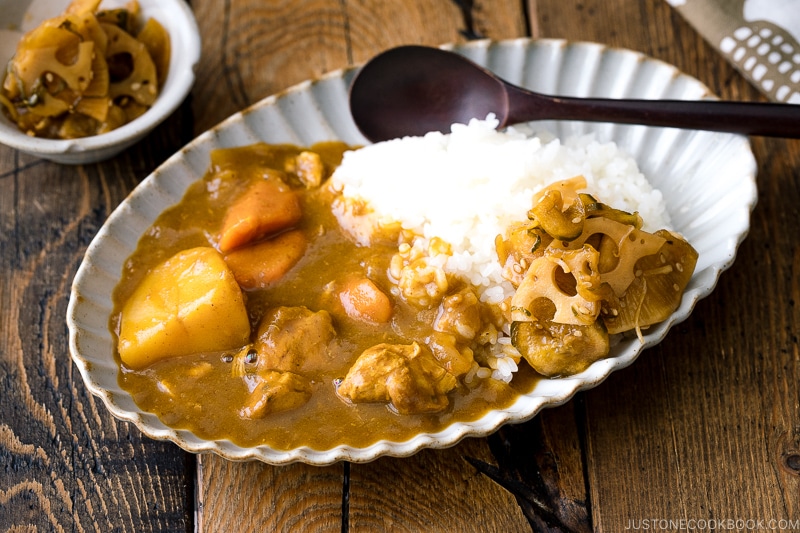 Overview of Cooking Process
Cut vegetables into thin, small pieces. Sprinkle salt to withdraw moisture from the vegetables for 20 minutes.
Make pickling solution by combining all the condiments.
Rinse the vegetables and squeeze the water out.
Blanch the vegetables in the pickling solution for 20-30 seconds and transfer to the jars.
Reduce the pickling solution by simmering for 5 minutes.
Add the solution to the vegetables and let them marinade overnight. Enjoy!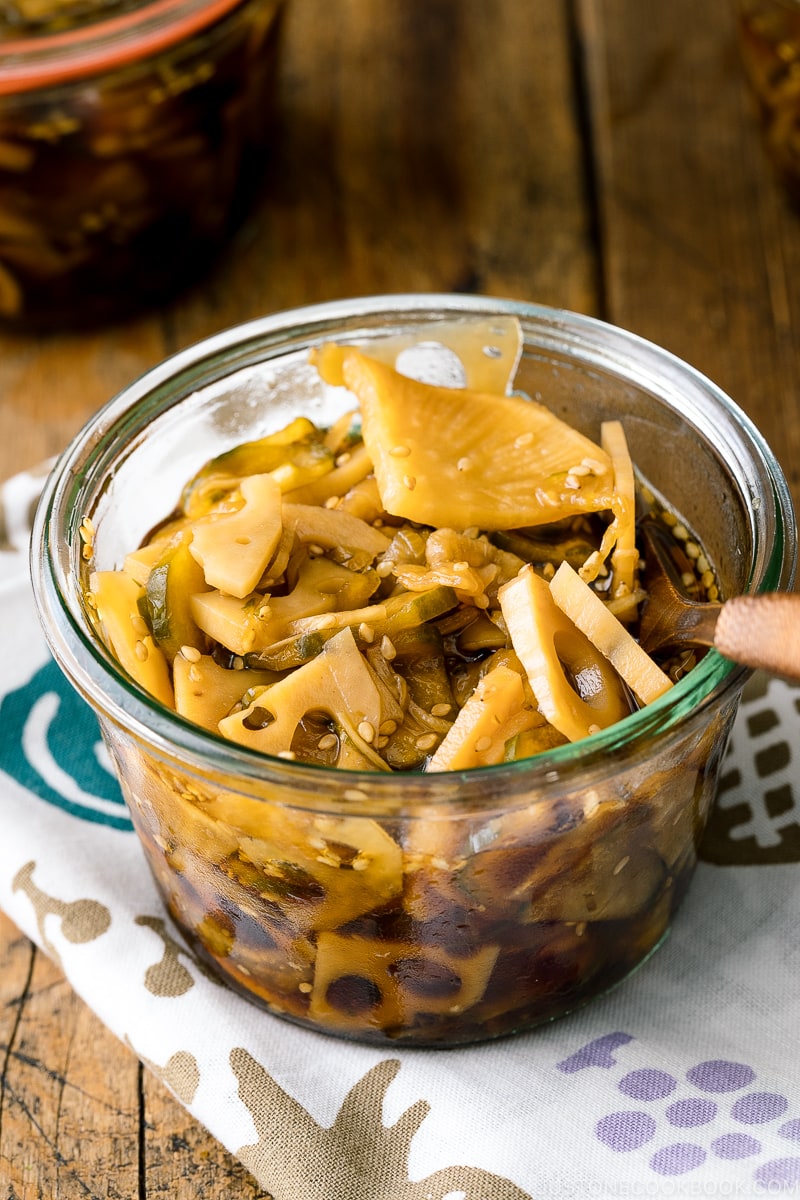 Important Tips To Read Before Cooking
I like to cut the vegetables into small and thin slices, about 3 mm thickness and less than 1 inch (2.5 cm) squares. The uniformed size and thickness help to cook the vegetables evenly.
I use 3% salt of the vegetable weight to withdraw moisture out of the vegetables. You can increase up to 5%; it will be slightly saltier, but the food last longer (food safety).
The process of salting and removing moisture from the vegetables and the cooking them determines the end texture of your Fukujinzuke. I like my vegetables to on the crunchier side, but you can always experiment and adjust the recipe instructions to your liking.
Reduce the pickling solution slightly to let the moisture evaporate so you will have a stronger pickling solution.
It's best to enjoy after pickling overnight.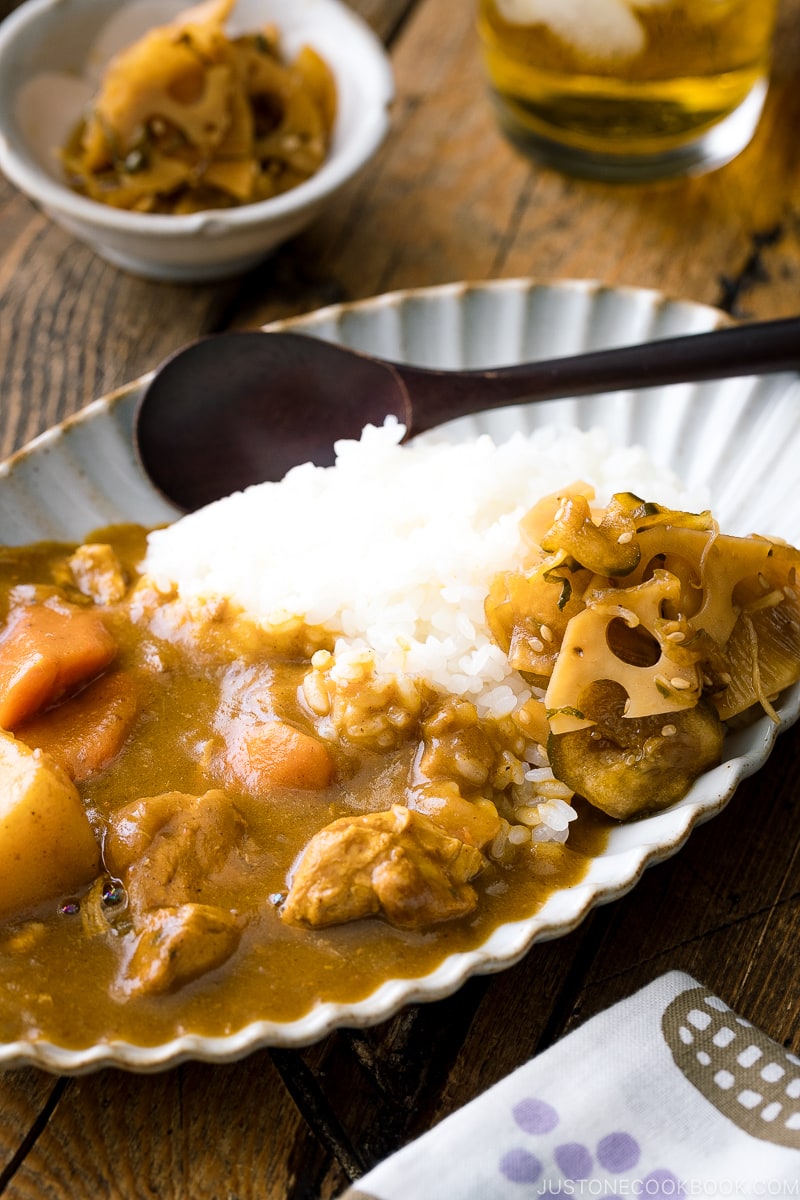 Delicious Japanese Curry Recipes
Enjoy your homemade Fukujinzuke with any of these curry recipes! The pickled vegetables are delicious on their own too, so I won't tell if you take a few bites even without the curry or enjoy them with Ochazuke!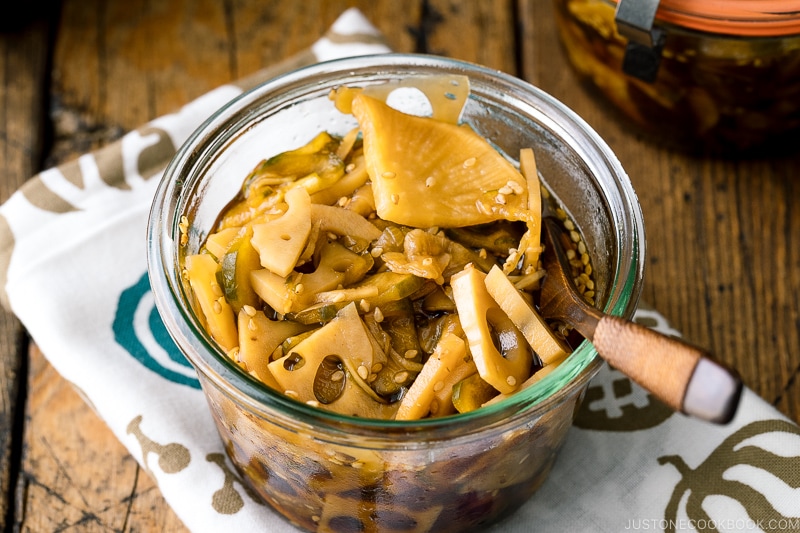 Sign up for the free newsletter delivered to your inbox and stay in touch with me on Facebook, Pinterest, YouTube, and Instagram for all the latest updates.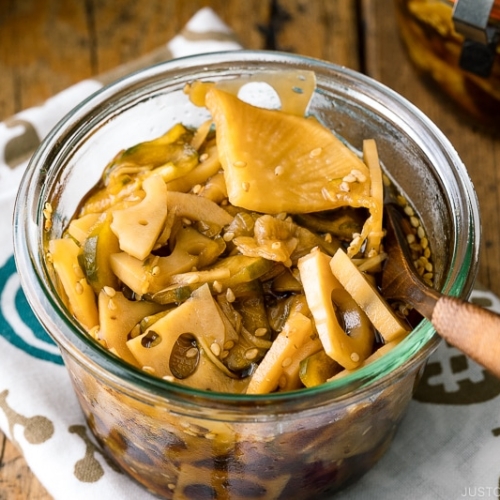 Homemade Fukujinzuke (Japanese Pickles for Curry)
Made with crunchy daikon, cucumber, eggplant, and lotus root pickled in a soy sauce-based solution, this Homemade Fukujinzuke is a must-have relish for Japanese curry.
Ingredients
For the Pickling Solution
Japanese Ingredient Substitution:
If you want substitutes for Japanese condiments and ingredients, click
here
.
Instructions
Before You Start: Please note that this recipe requires a marination time of overnight. Now, gather all the ingredients. Also, prepare a kitchen scale to weigh your prepared vegetables so you can calculate the amount of salt you need.
To Prepare the Vegetables
Peel the

2 inches daikon radish

. Cut it into quarters lengthwise and slice thinly.

Peel

2 Japanese or Persian cucumbers

alternately to give a stripe pattern, then slice thinly.

Cut

1 lotus root (renkon)

into quarters lengthwise and slice thinly. I used a packaged, pre-boiled lotus root; if your lotus root is raw, you can quickly blanch it until just tender.

Peel

1 Japanese eggplant

. (I recommend peeling the skin completely. If some skin remains, the skin will discolor and the fukujinzuke will not have a good color). Cut the eggplant in half lengthwise and slice thinly.

With a knife or spoon, scrape off the skin of

1 knob young ginger

. Cut it into thin slabs and thin julienned strips.

Put an empty large bowl on a kitchen scale and put all the chopped vegetables in the bowl. Check the weight (I have 675 g).

You will need 3% of the total weight of your vegetables in kosher salt. For my 675 g of vegetables, I used 20 g (roughly 2 Tbsp). Calculate and measure the

Diamond Crystal kosher salt

you need. Sprinkle the measured salt on the vegetables and knead them with your hand. Set aside for 20 minutes.
To Prepare the Pickling Solution
Combine

½ cup soy sauce

,

½ cup mirin

,

6 Tbsp rice vinegar (unseasoned)

, and

½ cup water

.

Add

1 piece kombu

and

6 Tbsp sugar

. Mix well and bring it to a boil.

When it's about to boil, remove the kombu (and reserve it to make Simmered Kombu or Homemade Furikake). Turn off the heat and set it aside.
To Drain the Vegetables
After 20 minutes, put the vegetables into a large sieve (colander) and rinse off the salt under cold running water.

Squeeze the vegetables to drain the water and transfer back to the clean bowl.

Roll up

5 shiso leaves (perilla/ooba)

and cut them into thin julienned strips. Add to the squeezed vegetables in the bowl.
To Cook the Vegetables
Bring the pickling solution to a boil again and add the vegetables.

Add

½ Tbsp toasted white sesame seeds

and make sure the vegetables are well submerged. Cook for 30 to 60 seconds. I like to keep my vegetables crunchy, so I usually cook for just 30 seconds.

Drain the vegetables and transfer them to the bowl.

Put any excess liquid in the bowl back into the pot. Over low heat, reduce the pickling solution for 5–10 minutes (so the flavor will intensify).

Transfer the vegetables into airtight jars (I used three 1-cup Weck jars) and add the pickling solution to cover the vegetables. Put the Fukujinzuke in the refrigerator and let it marinate overnight. Enjoy!
To Store
You can keep the Fukujinzuke in an airtight container and store it in the refrigerator for up to 5–7 days and in the freezer for a month. Use a clean utensil to take out the portion you will eat. Tsukemono in general is salty, but if you are worried, you can drain the liquid after a day or two. You cannot reuse this to make more Fukujinzuke because the liquid is already diluted with moisture from the vegetables.
Nutrition
Nutrition Facts
Homemade Fukujinzuke (Japanese Pickles for Curry)
Amount per Serving
% Daily Value*
* Percent Daily Values are based on a 2000 calorie diet.
©JustOneCookbook.com Content and photographs are copyright protected. Sharing of this recipe is both encouraged and appreciated. Copying and/or pasting full recipes to any website or social media is strictly prohibited. Please view my photo use policy
here
.