Craving a dish that is light yet comforting? This easy, homemade Ochazuke with green tea or dashi, steamed rice, and simple savory ingredients will hit the spot.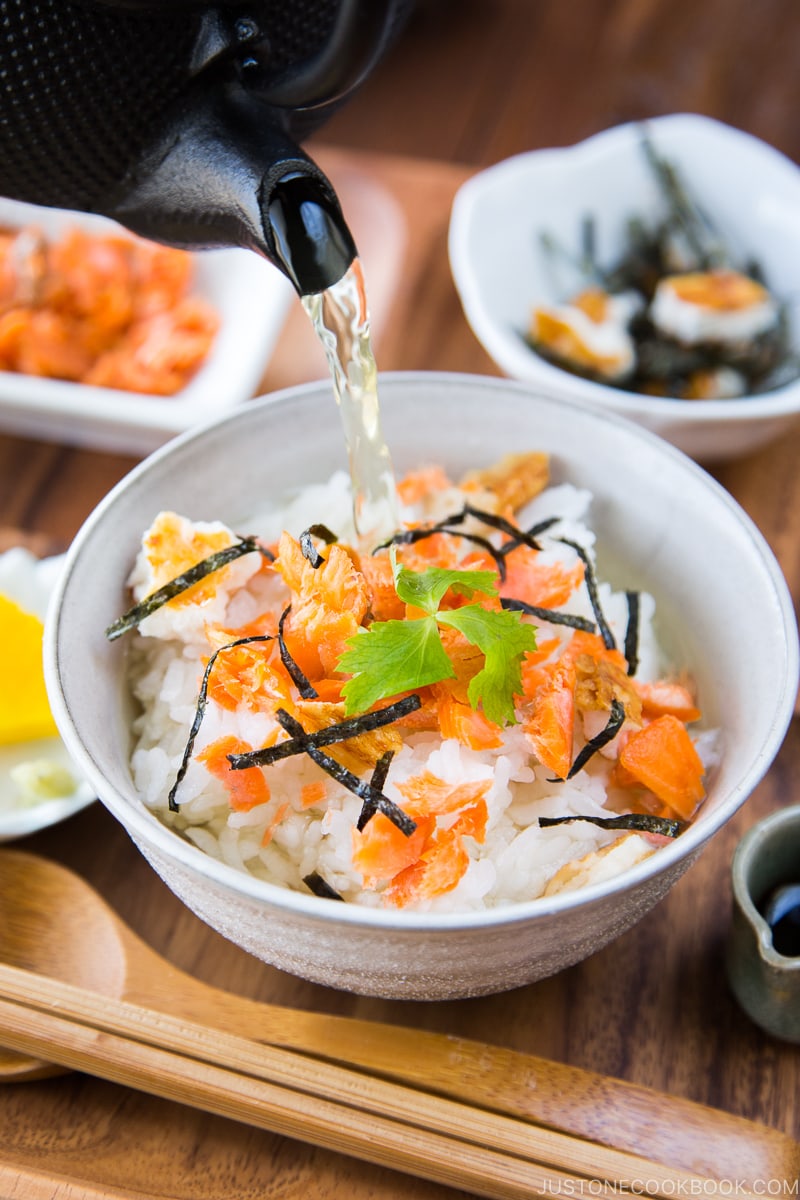 Ochazuke (お茶漬け) is a simple one-bowl dish featuring steamed rice with an assortment of savory ingredients, partially steeped in green tea. Ocha refers to green tea, and zuke means "submerged". Instead of proper mealtime food, the Japanese enjoy it more as a quick meal or at the end of the meal to fill up.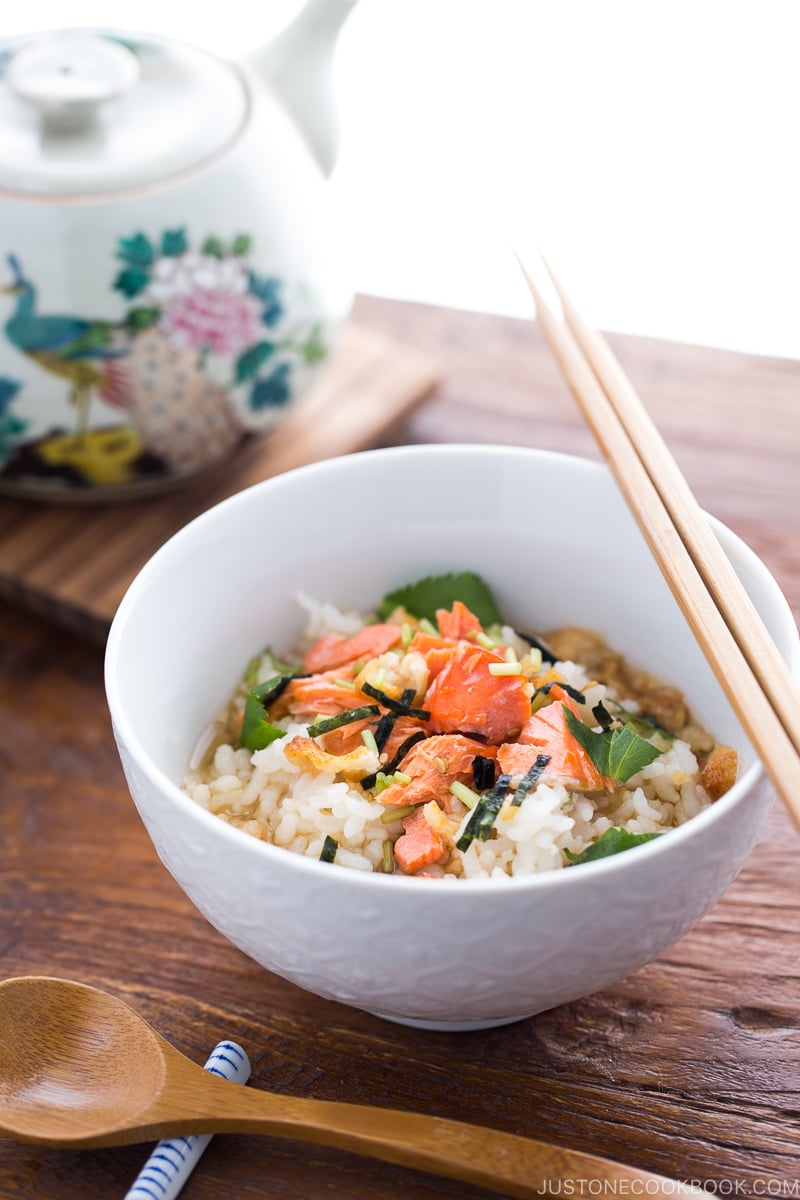 Ochazuke – The Comfort Food
Soothing to eat and easy on the stomach, Ochazuke is the kind of comfort food that I crave. When I suffer from jet lag after a long plane ride from Japan, I would always make the rice dish to satisfy my midnight hunger pangs. The warm tea and rice were well received by my exhausted body and tasting it immediately comforted my homesickness.
We often eat Ochazuke when we feel under the weather or simply when there are no other ingredients to cook with. It's the easiest meal to put together! All the ingredients are the usual staples from a Japanese pantry.
In Japanese manga and drama, you'll find scenes of Japanese student scarfing down a bowl of Ochazuke while burning the midnight oil, or a tired salaryman gets home from work and need something quick to eat before hitting the snooze button.
Ochazuke is a perfect quick meal to ease your hunger, as it's light and can be quickly prepared. It also has the magic to make you feel all warm and fuzzy inside after eating.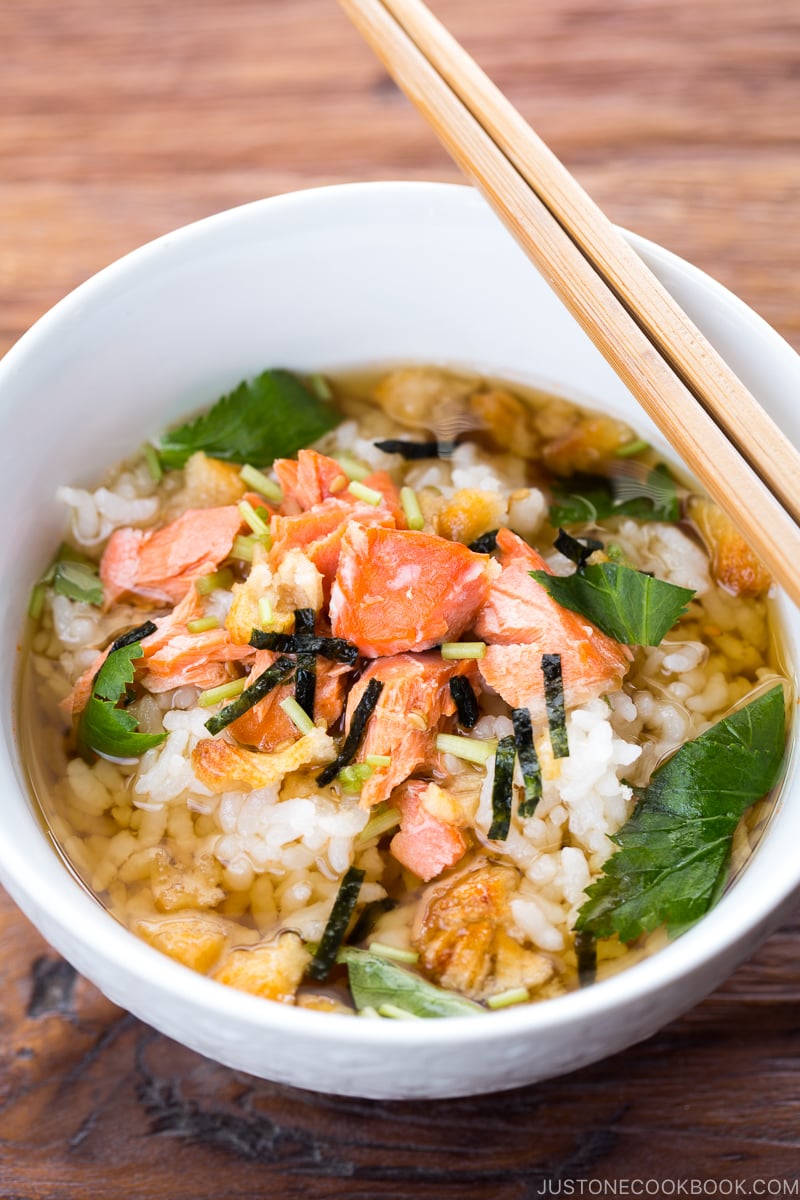 Types of Green Tea & Broth You Can Use for Ochazuke
You can use various kinds of green tea such as Genmaicha, Sencha, Hojicha, etc to make Ochazuke. However, when you order Ochazuke in Japanese restaurants, it is typically made with dashi broth instead of green tea.
The Ochazuke served with green tea tends to be bland and relies on salty toppings to add more flavor. But with good dashi, the dish can be very flavorful even with just a few simple toppings.
You can also make it with cold tea or broth in the summertime.
Suggestions for Toppings
I know some of the ingredients are quite hard to get outside of Japan, so feel free to change it up. You can keep it simple by using leftover rice and whatever you have from the fridge!
Here are the ingredients commonly used to make Ochazuke:
Bubu Arare (tiny rice cracker balls; Amazon sells it)
Japanese pickles like umeboshi (salted pickled plum)
Nori seaweed
Pollock roe (tarako & mentaiko)
Salmon Flakes (recipe coming soon!)
Salmon roe (ikura)
Scallion or mitsuba
Sea Bream (tai) sashimi
Sesame seeds
Wasabi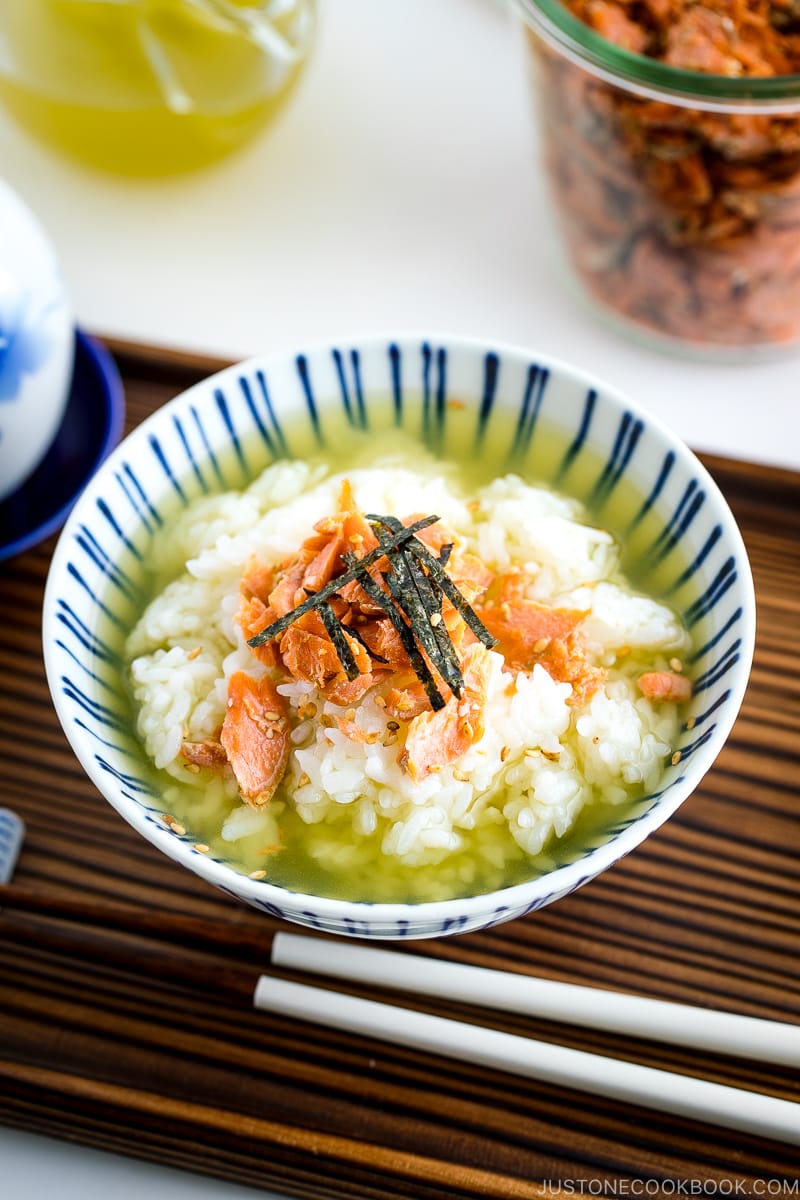 There are instant ochazuke packets you can buy from Japanese/Asian grocery stores or Amazon. They include dried pickled plum, salmon, nori, rice crackers, and green tea, and all you need to do is pour hot water or tea over. It's convenient, but you can't beat the taste and flavor of homemade Ochazuke.
I often make the recipe when I have leftover salted salmon. It is especially comforting and delicious with homemade dashi broth! I wouldn't even mind eating it for breakfast, lunch or dinner.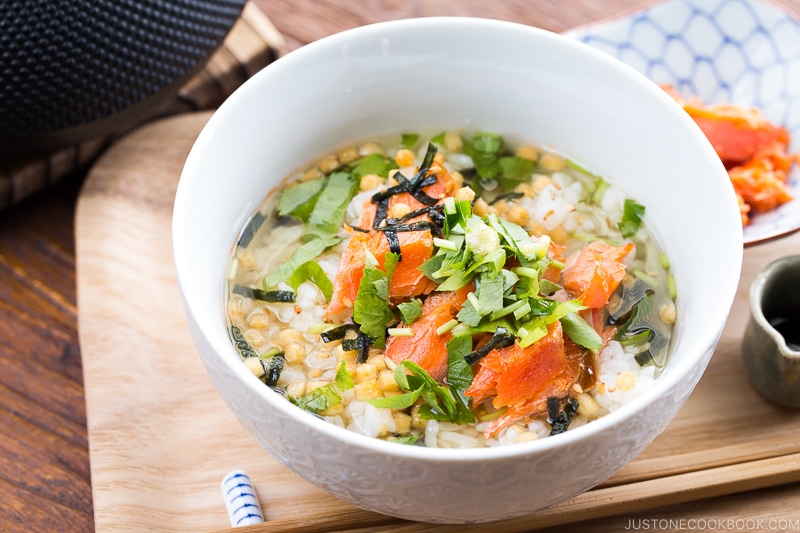 Wish to learn more about Japanese cooking? Sign up for our free newsletter to receive cooking tips & recipe updates! And stay in touch with me on Facebook, Pinterest, YouTube, and Instagram.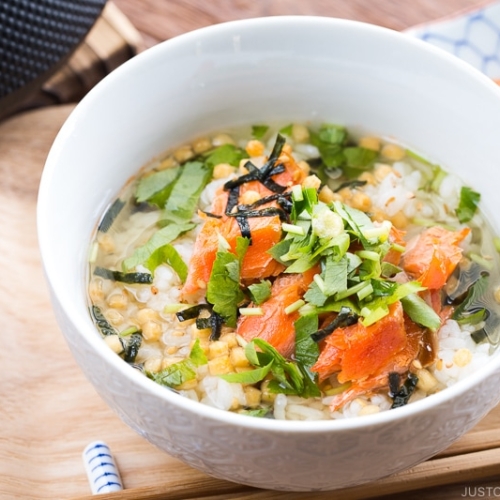 Ochazuke (Green Tea Over Rice)
Craving a dish that is light yet comforting? This easy, homemade Ochazuke with green tea or dashi, steamed rice, and simple savory ingredients will hit the spot.
Ingredients
1

Homemade Japanese Salted Salmon

(or ½ fillet of salmon and a pinch of salt for 1 serving)

1

cup

cooked Japanese short-grain rice

1

tsp

bubu arare (crispy puffed rice pellets)

(or use crushed Japanese rice crackers; it's a bit expensive, but you can buy bubu arare on Amazon)

2

sprigs

mitsuba (Japanese parsley)

(you can substitute trefoil or ⅛ scallion for 1 serving, cut into small pieces)

wasabi

(optional, to taste)
For Ochazuke with Dashi (picture on the left):
For Ochazuke with Green Tea (picture on the right):
2

tsp

Japanese green tea leaves

(I used genmaicha, but sencha, hojicha, and mugicha work as well; 3 g (1 tsp) tea leaves for 100 ml (about ½ cup) hot water)

1

cup

hot water

(see the tea package for appropriate temperature for your tea leaves)

½

tsp

soy sauce

(optional)
Japanese Ingredient Substitution:
If you want substitutes for Japanese condiments and ingredients, click
here
.
Instructions
Gather all the ingredients.
To Prepare the Ingredients
Preheat the oven to 425ºF (218ºC). For a convection oven, reduce the cooking temperature by 25ºF (15ºC). Bake the salted salmon fillet (shiojake) for 20-25 minutes until the skin and flesh are blistered and charred (Japanese salted salmon is always cooked until firm and well done). If you're using regular salmon, season it with a pinch of salt and set it aside for 10 minutes before baking. When it's cooked, remove the skin and bones and break up the salmon flesh into flakes. Set aside.

If you don't have bubu arare, crush Japanese rice crackers into small pieces (you can also use a bag to crush it).
To Prepare the Dashi or Tea
Ochazuke with Dashi: Combine all the ingredients in a small saucepan and bring it to a boil. Pour the soup into a small teapot.

Ochazuke with Tea: Put the tea leaves in the pot. Bring the water to the appropriate temperature for your tea and pour it into the pot. Set aside for 1-2 minutes (follow the directions on your tea package).
To Serve
Now, place the cooked rice in the serving bowl. Place the flaked salmon on the rice and sprinkle the rice crackers, nori, and sesame seeds on top. Serve with tsukemono (pickles), such as Pickled Cucumber, as a part of the meal.

Ochazuke with Dashi: Pour the dashi into the bowl to cover half the rice and top with the mitsuba and wasabi. Enjoy!

Ochazuke with Tea: Pour the tea into the bowl to cover half the rice and top with the mitsuba and wasabi. Add the soy sauce, if you'd like.
For Ochazuke in Summertime
You can use cold rice and cold dashi or tea (I love mugicha or barley tea) in the summertime to enjoy a cool and refreshing version of Ochazuke.
Nutrition
Nutrition Facts
Ochazuke (Green Tea Over Rice)
Amount per Serving
% Daily Value*
* Percent Daily Values are based on a 2000 calorie diet.
©JustOneCookbook.com Content and photographs are copyright protected. Sharing of this recipe is both encouraged and appreciated. Copying and/or pasting full recipes to any website or social media is strictly prohibited. Please view my photo use policy
here
.
Editor's Note: The post was originally published on July 23, 2014. It's been edited and republished in April 2020.