If you love curry, it's time to try Japanese Seafood Curry packed with amazing flavors from the shrimp, squid, scallops, spices, and kombu dashi.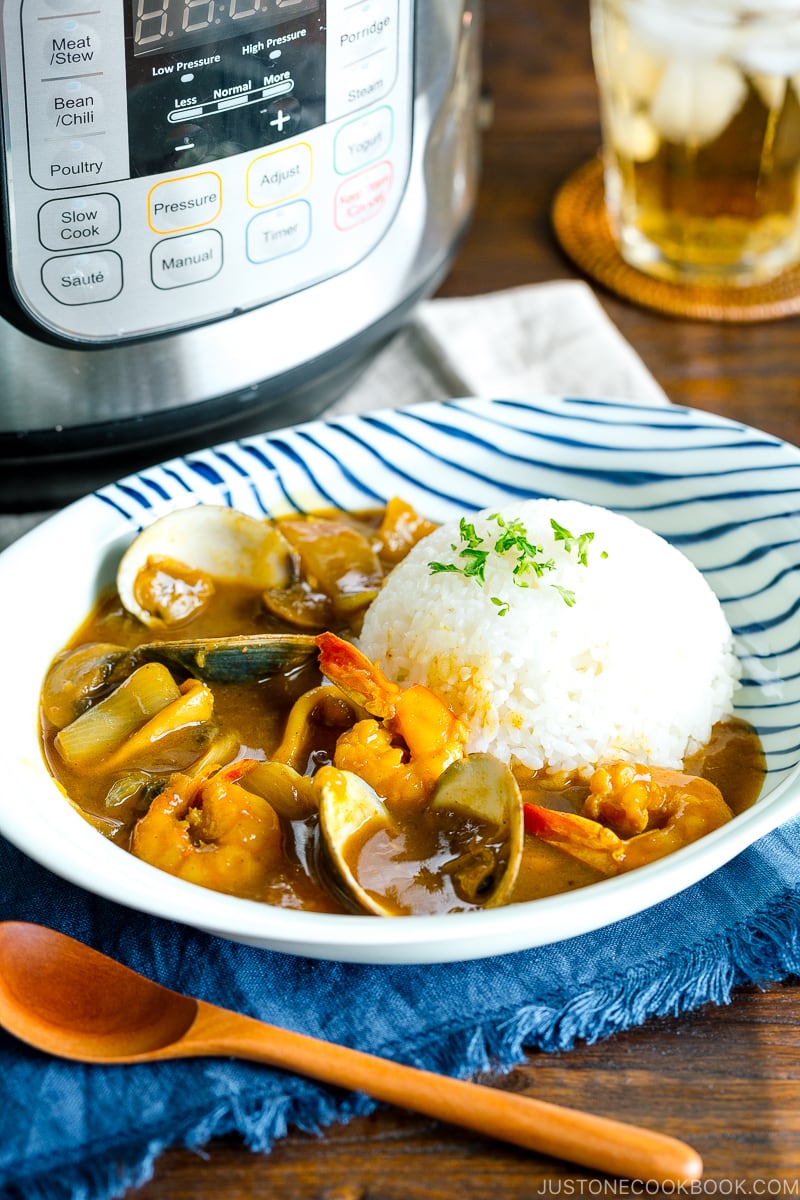 To me, one of the most underrated Japanese Curry is Seafood Curry (シーフードカレー). All the delicious flavors of various seafood culminate in an amazing umami flavor to the curry. If you love beef and chicken curry but haven't tried Japanese Seafood Curry, you have to make it today!
Watch How To Make Pressure Cooker Japanese Seafood Curry

The Key Ingredients for Japanese Seafood Curry
1. Seafood Choice
Most of the Japanese seafood curry include 2 to 3 of the following ingredients or all of them. Fish is usually not part of Japanese seafood curry (although Indian fish curry is one of my favorites!).
Calamari
Scallop or baby scallop
Manila clams and/or mussels
shrimp/prawn
I usually check out what fresh seafood the market has to offer that day to pick and choose my ingredients. For convenience, you can also use a frozen seafood mix if you like all the seafood choices in the bag.
And if you use fresh clams, don't forget to de-grit (let the clams purge sand and grit) before you cook. I recommend doing this even though the package or fishmongers say "ready to use". I often taste sand/grit in them, and you don't want to experience that while eating your delicious curry. I will show you how to do it on this page.
2. Stock Choice
In today's recipe, I used kombu dashi. This is SO easy to make, and it's the right amount of flavors for the basic stock for the Japanese seafood curry. If you plan to make the seafood curry ahead of time, soak the kombu in water overnight. It's good to give plenty of time for umami to ooze out from the kombu.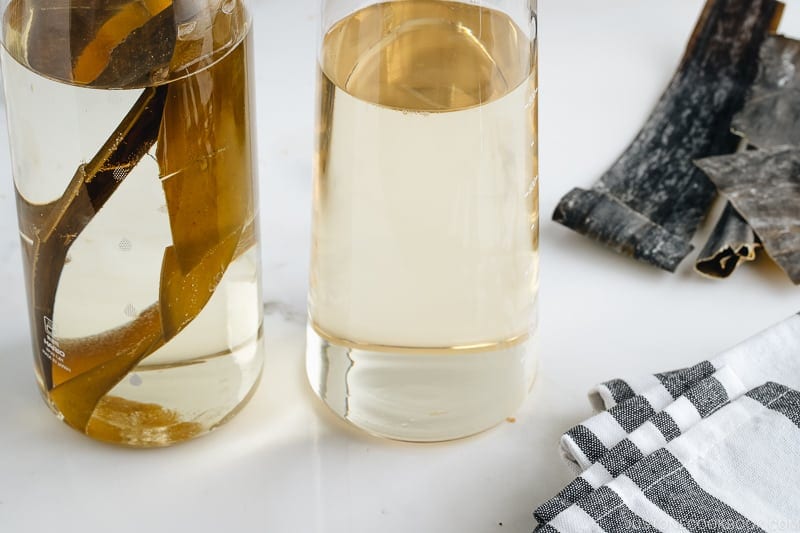 You might wonder if you can use chicken or beef stock for this recipe. The answer is no, I do not recommend using meat stock for a seafood dish. However, you can use/make shellfish stock. If you choose to make shellfish stock, make sure to buy shrimp with shell and head still attached (and at least 8-10 shrimp).
Simply put shrimp shell and head, chopped veggies (small bits of onion, carrot, celery), bay leaf, parsley (if you have any), and peppercorn in a pot. Pour 6 cups water and cook on a low simmer (not boiling) for 30 minutes, skimming the foam often. Strain, and it's ready to use. If you would enjoy a rich and bold SEAFOOD kick in your curry, use this shellfish stock instead of kombu dashi.
3. Vegetable Choice
Onions are almost always included in Japanese curry recipes as soft and tender onions naturally sweeten the curry. If time allows, I'd even caramelize the onions. Delicious!
In Japan, seafood curry is often on the restaurant menu during the summer, and it usually includes summer vegetables like eggplant, zucchini, and bell peppers. But today, I am keeping the recipe simple for everyone.
4. Japanese Curry Roux
Supermarkets in Japan have endless selections of Japanese curry roux brands. But for us living outside of Japan, we are lucky if we have some choices. That's okay, it's still convenient! Here's how the store-bought curry roux looks like.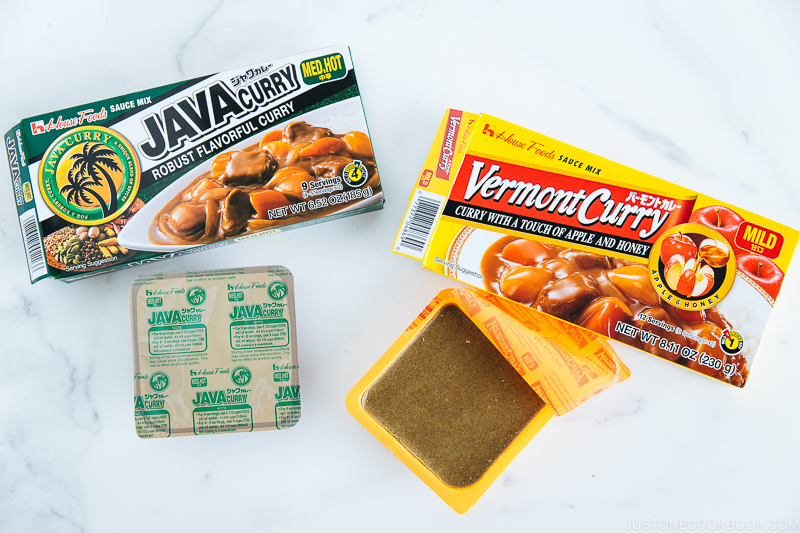 But for those who prefer to make homemade Japanese Curry Roux, I have a recipe for you here. The roux is pretty easy to make, and it's MSG-free. 🙂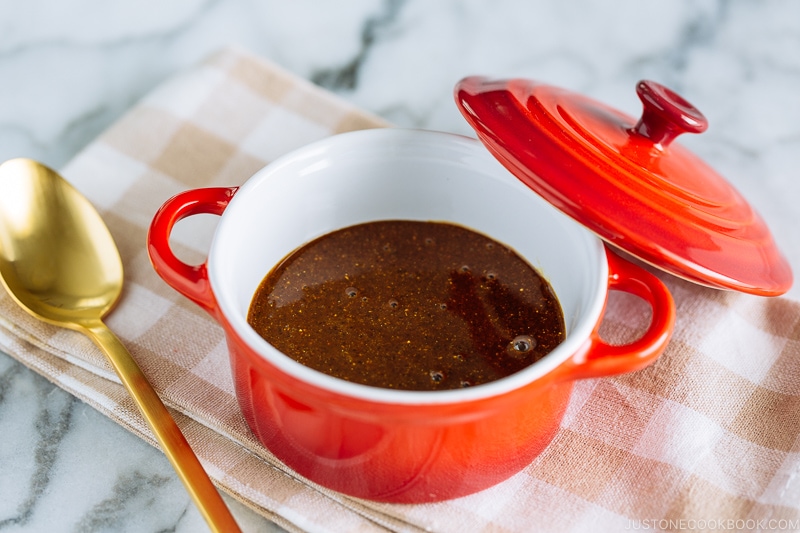 For gluten-free curry roux, you can use gluten-free flour (thanks JOC friends for your feedback!).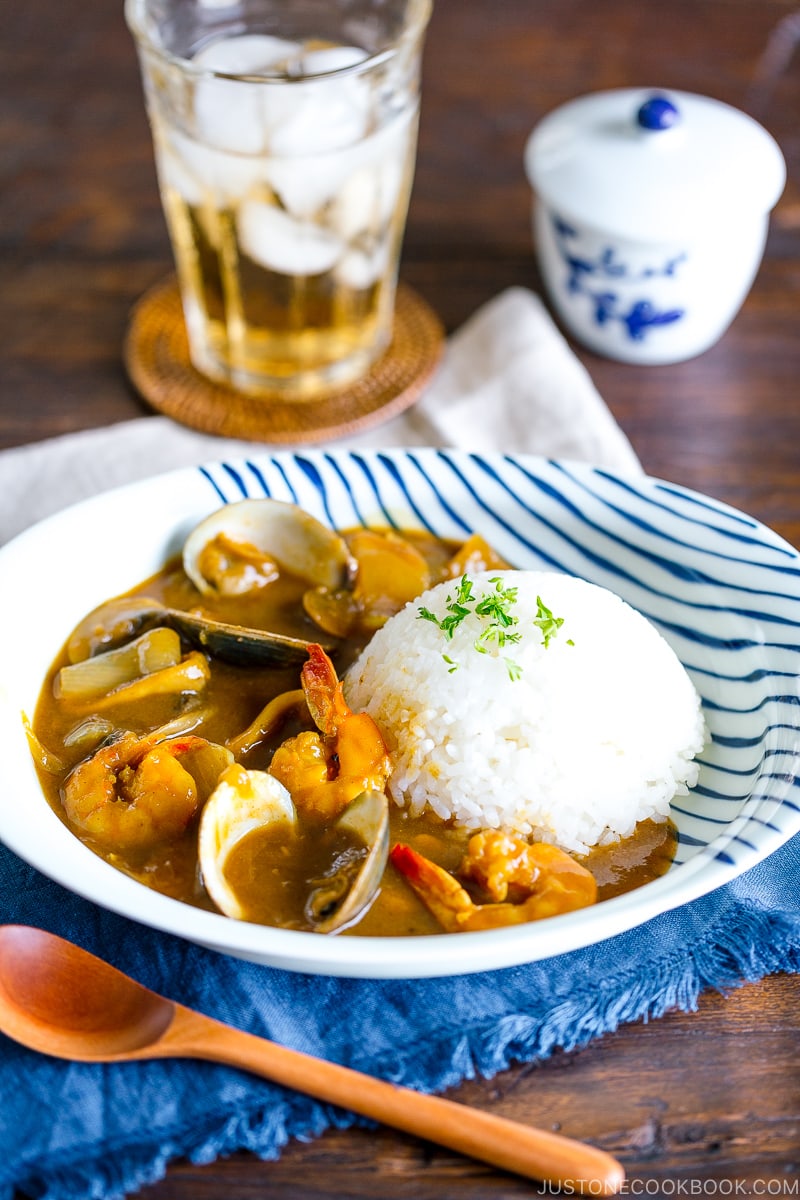 "Kakushi Aji" for Japanese Seafood Curry
Kakushi Aji (隠し味) means a secret ingredient. The direct translation would be "Hidden Taste/Flavor", and I feel like the Japanese like to say "Add this and that for kakushi aji" a lot while they are cooking. Or is it just my mom?
I think the most popular Kakushi Aji for western-style Japanese food is soy sauce. It makes me smile thinking that adding a splash of soy sauce justifies "Japanese-ness" in foreign/western food. We need to squeeze in our familiar taste in the food!
If you want to join the kakushi aji club, add a splash of soy sauce to this Japanese seafood curry. What else can we put in the curry? Check out this post.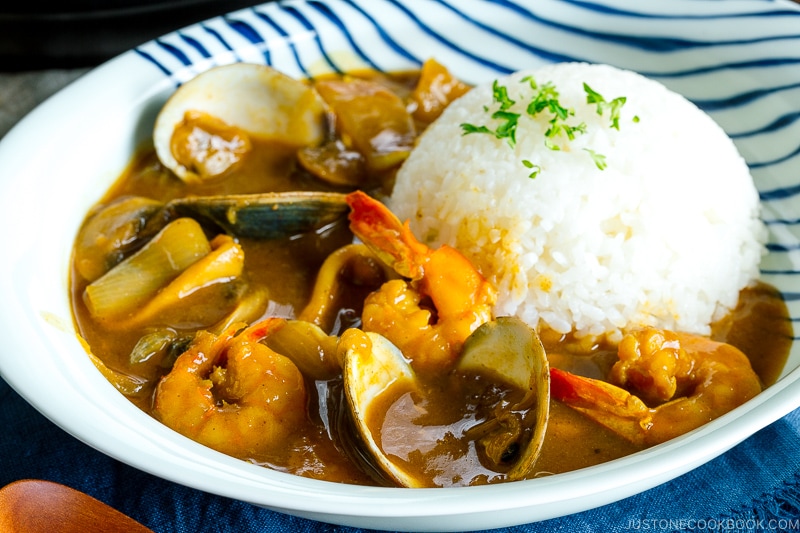 Wish to learn more about Japanese cooking? Sign up for our free newsletter to receive cooking tips & recipe updates! And stay in touch with me on Facebook, Pinterest, YouTube, and Instagram.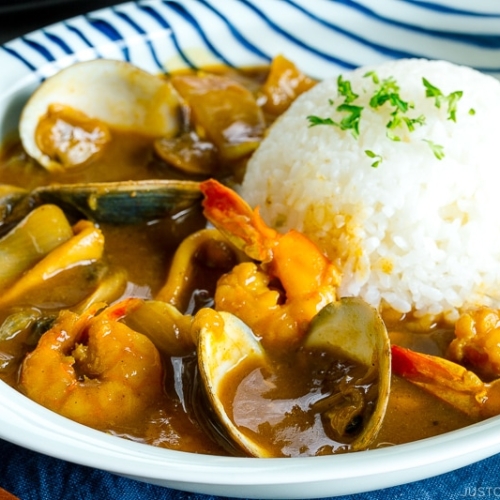 Pressure Cooker Japanese Seafood Curry
If you love curry, it's time to try Japanese Seafood Curry packed with amazing flavors from the shrimp, squid, scallops, spices, and kombu dashi.
Video
Ingredients
Japanese Ingredient Substitution:
If you want substitutes for Japanese condiments and ingredients, click
here
.
Instructions
Gather all the ingredients.

To Prepare the Clams (1 hour before cooking)
It's very important to de-grit clams. Follow my instructions (easy!) here.
To Prepare the Dashi Stock (1 hour to overnight before cooking)
In 3 cups (720 ml) of water, drop a piece of kombu.
To Prepare the Ingredients
Cut the onions in half and then cut the halves into 5 wedges. Cut the mushrooms into ¼" (5 mm) slices.

Mince the garlic and grate the ginger (keep the juice too).


Peel the shrimp and devein the back of shrimp with a skewer (the vein runs right along the back so you can insert the skewer and pull out the vein).

To Cook the Seafood Curry
Press the "Sauté" button on your Instant Pot (I use this 6 QT Instant Pot and heat 1 Tbsp vegetable oil.

When the pot is hot, add the onion and coat with oil. Then add minced garlic and grated ginger.


Add all the seafood (clams, shrimp, calamari, and bay scallop). Add ¼ cup (60 ml) white wine to deglaze the bottom of the pot with a wooden spoon. The brown bits (called fond) stuck to the bottom of the pot are where all the flavors are.


When the alcohol is evaporated, add the kombu dashi (kombu water you made) and add the mushrooms.


Add the curry roux (or homemade curry roux) and freshly ground black pepper. Use spatula to push down the ingredients but keep the curry roux blocks on top so they won't get stuck and burn at the bottom.


Cover and lock the lid. Make sure the steam release handle points at "sealing" and not "venting". Press the "Keep Warm/Cancel" button on the Instant Pot to stop sauté. Press the "Pressure" button to switch to the manual pressure cooking mode. Change to "low" pressure and press the "minus" button to change the cooking time to 5 minutes.

[stove-top pressure cooker] Cook on high heat until high pressure is reached. Then reduce the heat to low but maintain low pressure for about 5 minutes.

When it is finished cooking, the Instant Pot will switch automatically to a "Keep Warm" mode. Immediately quick release the pressure/steam by sliding the steam release handle to the "Venting" position until the float valve drops down. Important: We don't want to naturally release seafood curry because the seafood could be overcooked with the remaining heat. Unlock the lid and add 1 Tbsp soy sauce and grate ¼ of apple. Mix well and make sure all the curry roux has been dissolved.

Serve the curry over steamed rice.
To Store
You can keep the leftovers in an airtight container and store in the refrigerator for up to 3 days.
Nutrition
Nutrition Facts
Pressure Cooker Japanese Seafood Curry
Amount per Serving
% Daily Value*
* Percent Daily Values are based on a 2000 calorie diet.
©JustOneCookbook.com Content and photographs are copyright protected. Sharing of this recipe is both encouraged and appreciated. Copying and/or pasting full recipes to any website or social media is strictly prohibited. Please view my photo use policy
here
.