Make Japanese curry with commercial curry roux. There are different levels of spiciness and flavors, and you can mix and match to blend your own!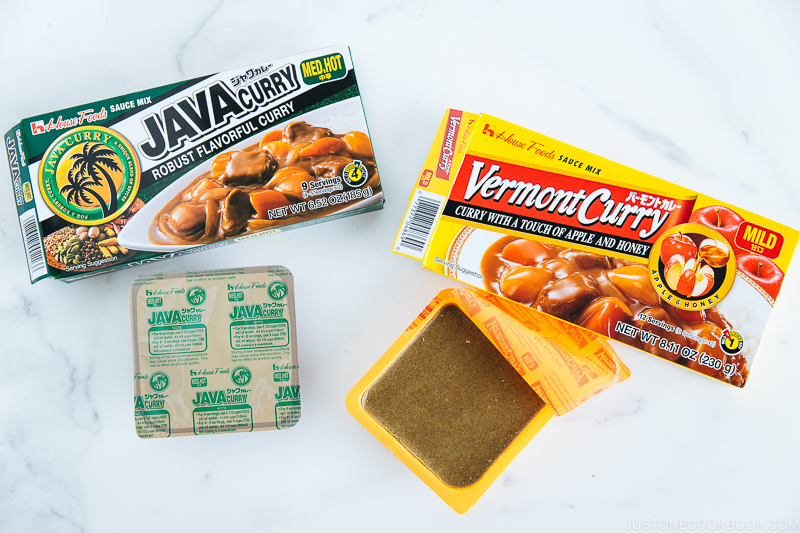 Japanese curry mix or roux (カレールー) is sold in cubes or powdered form. All you need to do after sauteeing the vegetables and protein is to add the mix to the pot, and it's done!
What Is Japanese Curry Mix
Japanese curry mix refers to commercial curry roux. While it requires some assembly and cooking time, you can make Japanese curry easily.
What Does It Taste Like
The taste will differ according to different brands, but the mix usually contains spices, such as cardamom, ginger, cumin, cinnamon, nutmeg, coriander, chili powder, and turmeric. It will contain flour for the roux unless the package says it's gluten-free. The Japanese usually blend two or more brands of mixes, but you can stick to just one.
How To Use
It's just the sauce, so you must prep the ingredients beforehand. In a pot, saute onions and garlic, then add proteins, such as chicken, beef, pork, or seafood and vegetables like carrots and potatoes. Then, add the mix and water to cover until the curry thickens. You can add ketchup, unsalted butter, chicken stock, soy sauce, fresh ginger, garam masala, or instant coffee granules for a depth of flavor.
You can top the Japanese curry rice with katsu for Katsu Curry or dilute the curry sauce with dashi for Curry Udon.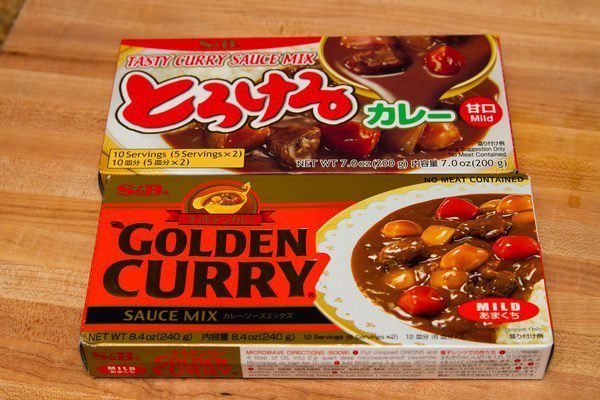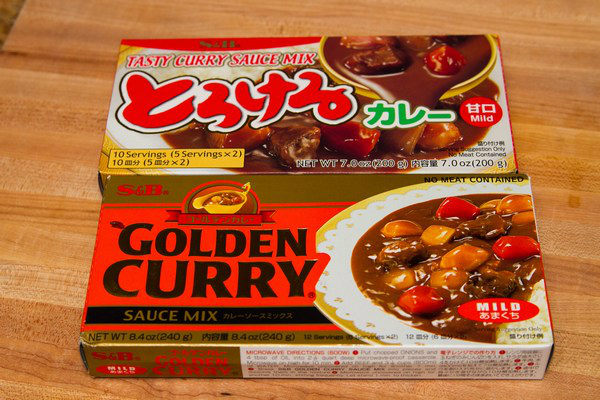 Additionally, you can make the mix from scratch. It won't have the preservatives and additives that the commercial versions tend to have, meaning it has a shorter expiration date. But the perk is that you can customize the flavor, spice level, and thickness to your preference. If you avoid gluten, you can make the roux using rice flour instead of wheat for a gluten-free version.
Where To Buy
You will see many different brands and levels of spiciness. S&B's Golden Curry, House's Vermont Curry, and Java Curry are famous brands. Find it at Japanese and Asian supermarkets and on Amazon.
How To Store
Keep unopened packages in a pantry and refrigerate opened packages.
Recipes Using Japanese Curry Sauce Mix
---
Wish to learn more about Japanese cooking? Sign up for our free newsletter to receive cooking tips & recipe updates! And stay in touch with me on Facebook, Pinterest, YouTube, and Instagram.