Also known as myoga ginger or Japanese ginger, myoga has a distinctive flavor with a mild ginger overtone and zesty tang. It is shredded thinly and used in Japanese summer cooking.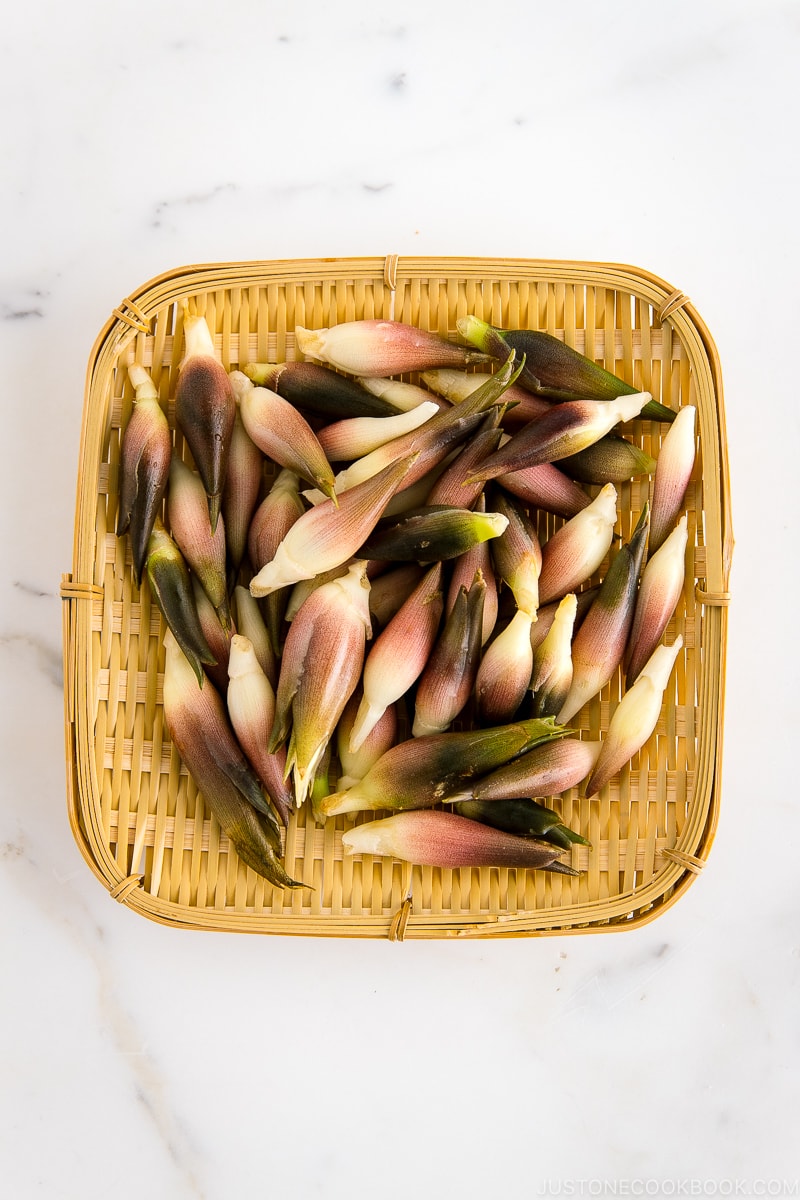 Myoga (ミョウガ, みょうが, 茗荷) are young shoots and emerging flower buds of the ginger family. Native to Japan, China, and Korea, it is harvested for its unopened flower bulbs and flavorful shoots. The buds are slightly larger than the thumb size and come in striking pinkish-bronze outer layers. 
What Is Myoga
Myoga (Zingiber mioga) is a perennial plant associated with summer. It's used as a topping for salads, chilled tofu, somen, udon noodles, or mixed into steamed rice. It can also add color to a sashimi platter and sunomono. Or add it to miso soup, pickle it for tsukemono, or deep fry it for tempura. Nowadays, you can find it year-round in Japan.
Other names include myoga ginger and Japanese ginger.
What Does It Taste
It has a distinctive flavor, with a mild ginger overtone and zesty tang. It has a tender, crunchy texture and gives a refreshing taste to the palate. It's delicate and floral compared to ginger root. That is why the Japanese believe eating it can help boost appetite.
However, one should practice caution, as according to a famous legend, overeating can cause forgetfulness!
Myoga Weight
I grew myoga in my garden. Here's a comparison of my homegrown and supermarket varieties.
Small (5 grams)
Medium (7 grams)
Large (10 grams)
Extra large (20 grams) – imported from Japan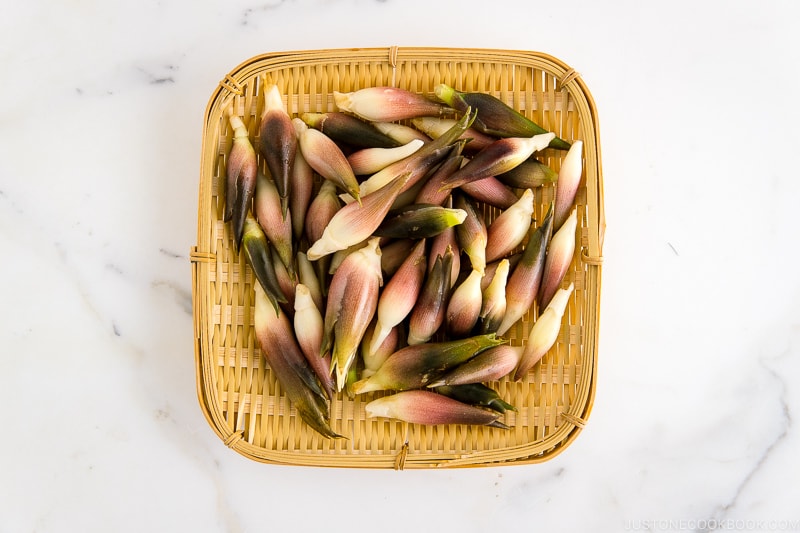 How To Use
These unique ginger buds are more commonly used in Japanese cuisine. They are eaten fresh or pickled. The easiest way to enjoy it is to finely shred the flower buds and use them as a garnish on cold dishes such as tofu, chilled noodles, and salads. It is a versatile ingredient.
Myoga Recipes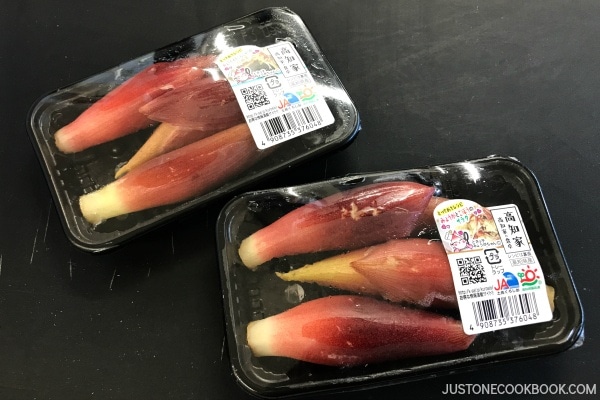 How To Choose The Best
Choose those with a bright color, well-rounded, and compact shape. Avoid those that have soft or brown spots.
Where To Buy
Japanese grocery stores or some Asian markets will carry fresh myoga. Check out your local farmers' market and nurseries as well.
For those who have a garden and live in a temperate climate, check out this seller on Etsy and grow them in your backyard. It prefers partial shade, rich soil, and good even moisture. The peak season is from June to July, but it can be grown year-round.
How To Store
To keep myoga for longer, wrap it in dampened paper towels and a plastic bag. Or submerge in water and change the water every two days. Store in the fridge.
To freeze, cut into slices or mince, then wrap in plastic. Lay flat and freeze.
Substitutions
Unfortunately, there is no good substitute. The closest good substitute is mild-flavored young ginger. The skin is very thin, and it has a similar floral flavor.
Health Benefits
In Chinese traditional medicine, it's used to preserve stamina against heat fatigue and to aid digestion. It contains vitamins B1, B2, and B6, fiber, potassium, calcium, magnesium, iron, and manganese.
Recent studies have shown that myoga may help increase memory ability and reduce weight gain and insulin resistance.
---
Wish to learn more about Japanese cooking? Sign up for our free newsletter to receive cooking tips & recipe updates! And stay in touch with me on Facebook, Pinterest, YouTube, and Instagram.