With fresh cucumber, salt, kombu, and 5 minutes of prep time, you can make this amazing Pickled Cucumbers and Myoga in just a few hours.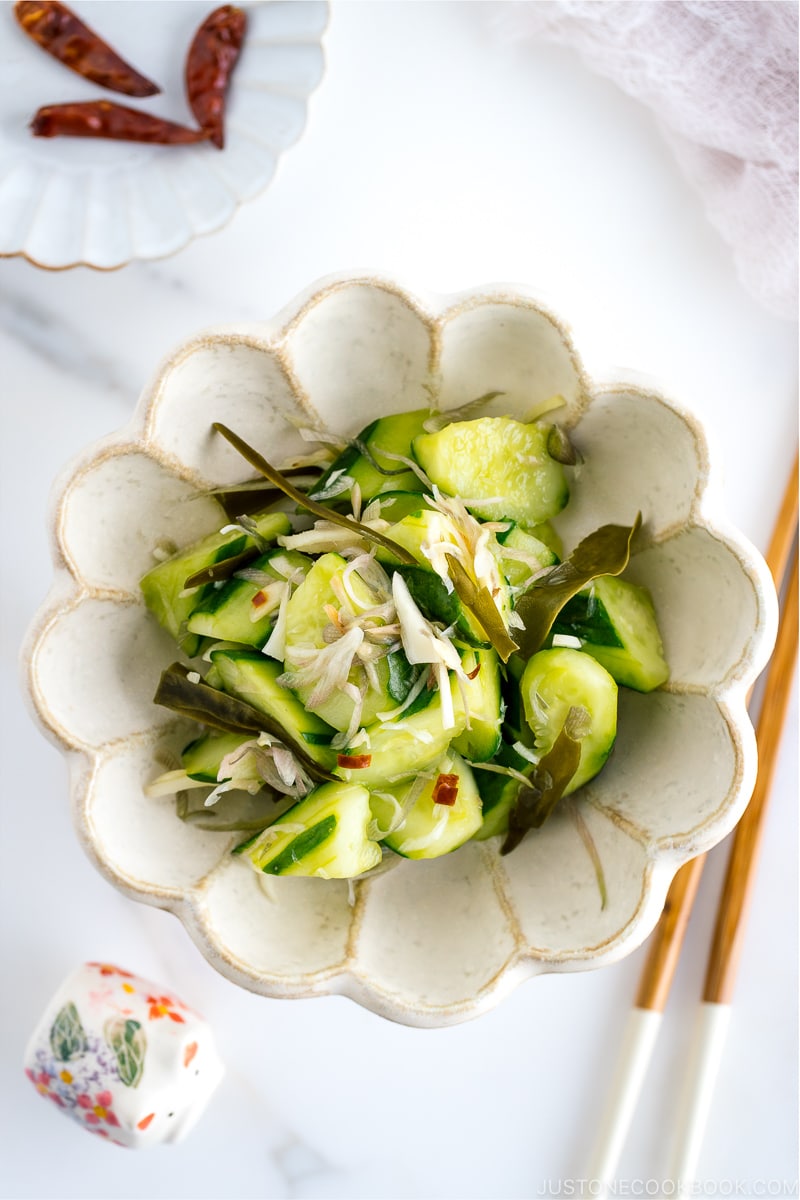 I've shared different variations of pickled cucumbers here on the website, but we always have room for another possibility, right? Cucumbers are budget-friendly, delicious, and the shelflife prolongs once pickled! This Pickled Cucumbers and Myoga (きゅうりとミョウガの浅漬け) is one that you can make quickly and efficiently. Within hours, the pickles will be ready for you to enjoy!
Why You Should Make Pickled Cucumbers and Myoga
For home gardeners, cucumbers are easy to grow and come in abundance. It's a brilliant solution for preserving your summer harvest.
Cucumbers are economical, even when you have to purchase from the store.
Use simple ingredients, totally customizable.
Super quick to prepare!
Who can resist this healthy, refreshing, crunchy dish?!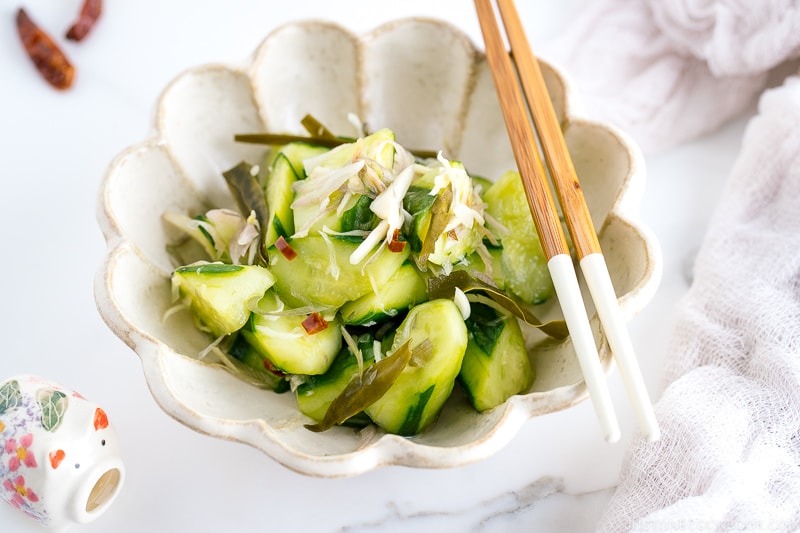 Asazuke – Japanese Quick Pickles
Japanese pickles are a bit different from western pickles. In Japan, we make a lot of Asazuke (浅漬け), which can translate into "quick pickles" in English. These pickles are not intended to keep for a long time but rather for casual eating over the course of a couple of days or so.
Vegetables are "pickled" or dressed in the pickling solution for a few hours. Some tender vegetables can be ready to serve as early as 30 minutes of pickling time.
The best part is that the taste of the pickling solution is not too sour or salty like western pickles or traditional Japanese pickles (Tsukemono). Asazuke is very much like a jazzed-up version of a salad. They have the right amount of tang yet still taste amazingly fresh and crunchy.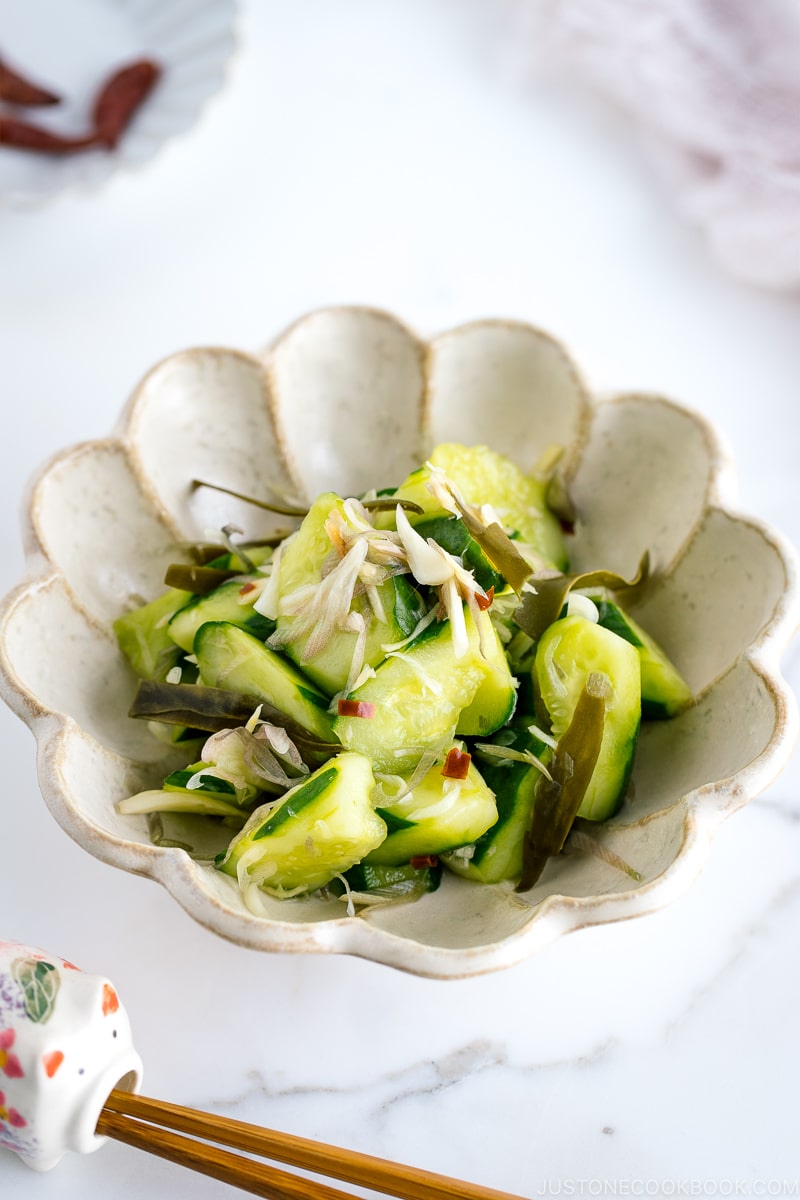 Tips on Making Pickled Cucumbers and Myoga
Even though it's an easy pickle to make for all levels of cooks, I think I can share a few tips to make this dish better.
Cut the cucumbers into rangiri (乱切り) – Rangigi is the Japanese cutting style, which creates more surface to absorb flavors. It's basically cutting the cucumber into angles while rotating it. We use this cutting technique for carrots in Japanese curry or Nikujaga (Meat and Potato Stew).
Cut kombu into strips – To extract the umami essence from kombu, I recommend cutting it into strips (some kombu is harder to cut than others). There are so many different types of kombu (Read our post), and some packages may not provide any information on the kombu type (usually lower grade). Do we need to add kombu? Well, kombu may not look important, but it's an umami-packed ingredient, so you wouldn't want to skip it.
Add a bit of spice with a dried red chili – You will notice many Japanese recipes would ask you to remove the seeds from the dried red chili. That's because we can't tolerate the heat. But if you love the spice, add the seeds and maybe increase the amount of red chili. For most Japanese recipes, one red chili is standard (and without seeds!).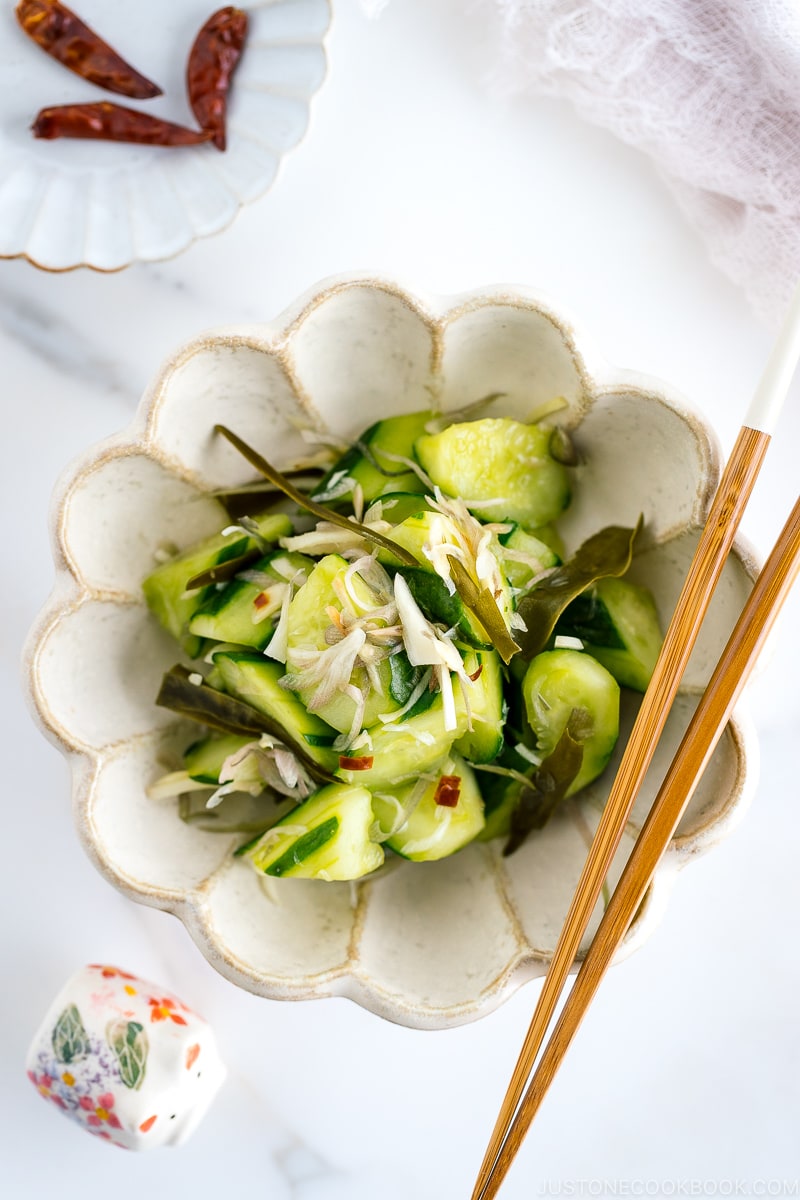 What is Myoga & Where to Find It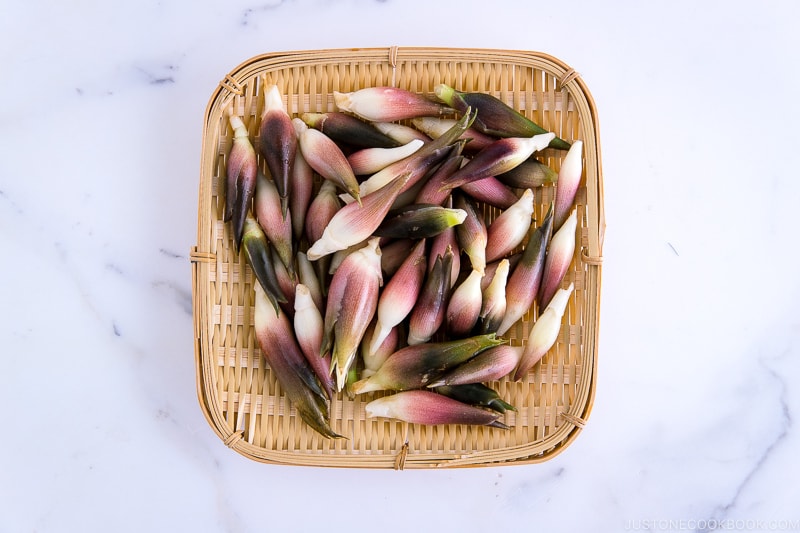 Myoga is sometimes called myoga ginger or Japanese ginger. This unique plant is harvested for its unopened flower bud and flavorful shoot instead of its root. It has a very distinctive flavor, with a mild ginger overtone. In the summertime, we believe that eating myoga can help to revive the appetite. You can also learn more about Myoga here.
In the US, you can find myoga from Japanese grocery stores like Mitsuwa or Nijiya or Tokyo Central. Or if you are looking to add another edible plant to your growing garden, check out this seller on Etsy.
Can't Get Myoga?
The closest substitute is ginger, as myoga is called Japanese ginger. It's even better if you can get young ginger (with pink tip) as the flavor is not too sharp and tastes milder. If you are using regular ginger, cut it into julienned strips, and soak in water for 5 minutes. This will help remove the strong gingery taste.
If you are in Singapore, Malaysia, Philipines, and other SEA countries, you might be able to try it with torch ginger flower (bunga kantan). I understand that torch ginger flower has a very similar taste and uses to Myoga, so I'll be curious to know how you like it!
Or simply skip it for this recipe.
Whichever substitution you decide to use, please start with a smaller amount than what I used for Myoga. They may have a stronger flavor, so taste and adjust as needed.
What to Serve with Pickled Cucumbers and Myoga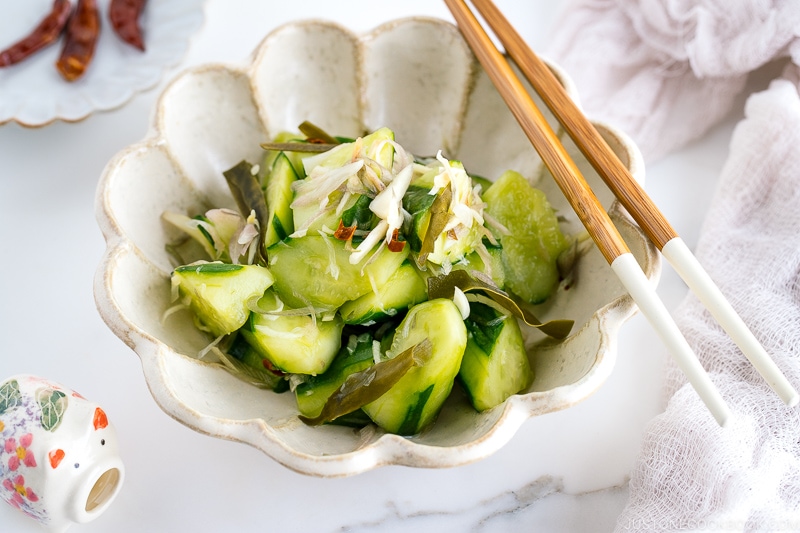 Japanese Ingredient Substitution: If you want to look for substitutes for Japanese condiments and ingredients, click here.
Wish to learn more about Japanese cooking? Sign up for our free newsletter to receive cooking tips & recipe updates! And stay in touch with me on Facebook, Pinterest, YouTube, and Instagram.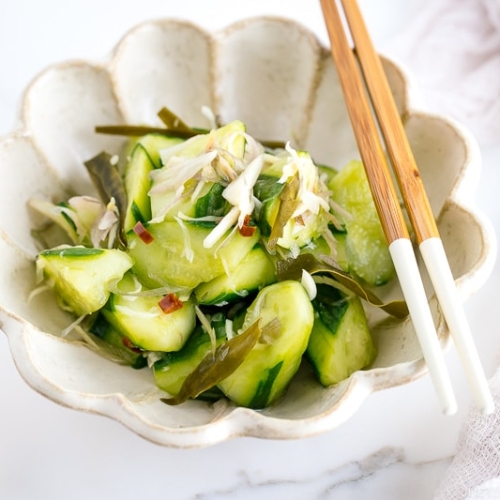 Pickled Cucumbers and Myoga
With fresh cucumber, salt, kombu, and 5 minutes of prep time, you can make this amazing Pickled Cucumbers and Myoga in just a few hours.
Japanese Ingredient Substitution:
If you want substitutes for Japanese condiments and ingredients, click
here
.
Instructions
Gather all the ingredients.

Peel the cucumber alternately to create stripes. Remove the ends.

Cut the cucumbers into Rangiri (rotate the cucumber as you cut in angle).

Discard the tough ends of myoga and slice thinly.

Thinly slice the ginger and cut them into juliened strips.

Remove the seeds from the dried chili pepper and cut it into rounds.

Cut the kombu into thin strips using a pair of scissors.

In a mason jar, add all the ingredients and salt.

Close the lid and shake it to distribute the salt around the ingredients.

Open the lid and put the weights. Close the lid tightly and refrigerate for several hours. Moisture is going to be drawn out from the cucumber and dilute the saltiness.
To Serve and Store
Remove the weights and serve in a dish. You can store the jar (without weights) for 2 days.
Notes
Recipe by Namiko Chen of Just One Cookbook. All images and content on this site are copyright protected. Please do not use my images without my permission. If you'd like to share this recipe on your site, please re-write the recipe in your own words and link to this post as the original source. Thank you.
Nutrition
Nutrition Facts
Pickled Cucumbers and Myoga
Amount per Serving
% Daily Value*
* Percent Daily Values are based on a 2000 calorie diet.
©JustOneCookbook.com Content and photographs are copyright protected. Sharing of this recipe is both encouraged and appreciated. Copying and/or pasting full recipes to any website or social media is strictly prohibited. Please view my photo use policy
here
.