Learn how to make easy, melt-in-mouth Chashu pork belly recipe at home! Braised in a sweet and savory sauce, you can now enjoy the tender slice of meat as topping with your ramen!
What is your favorite topping in your ramen?  For me it is the perfectly cooked soft-boiled marinated egg (Ajitsuke Tamago), however for most people including Mr. JOC, it is the melt-in-your-mouth juicy, tender, and flavorful slices of braised pork belly known as Chāshū (チャーシュー, 焼豚).
Watch How to Make Chashu チャーシュー・煮豚の作り方
Chashu – Melt in your mouth pork belly braised in sweet and savory soy sauce based sauce. Sear with torch to enhance flavor and enjoy with ramen!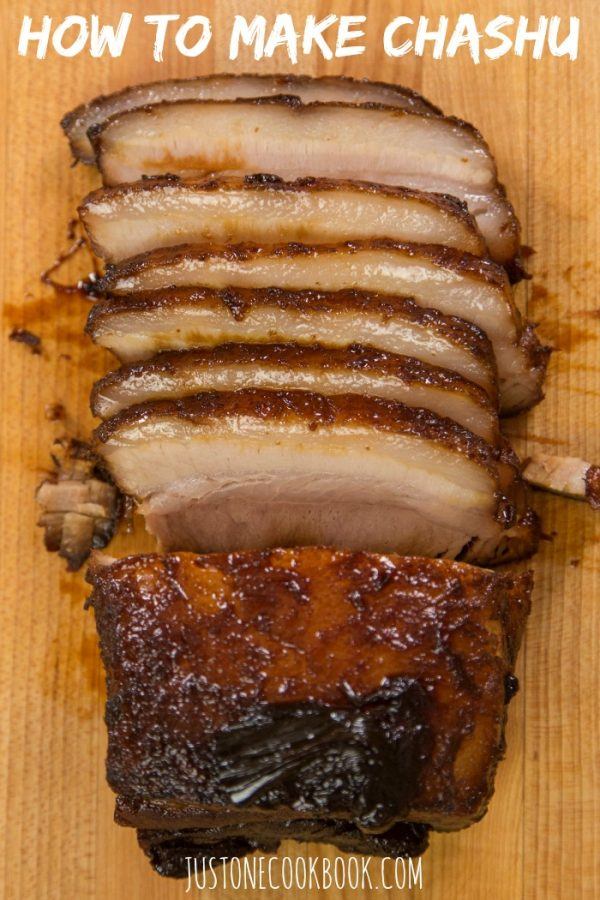 Origin of Japanese Chashu (Pork Belly) 
The origin of chashu came from Chinese barbecued pork called Char Siu (叉燒).  Traditionally Chinese char siu is marinated in soy sauce, honey, hoisin sauce, rice wine, five spice powder and red food coloring, and then roasted in a covered oven or barbecued over a fire.  You have probably seen the slabs of barbecued pork hanging in Chinese deli shop windows.
On the other hand, Japanese chashu served with bowls of ramen are actually braised in soy sauce, sake and sugar at low temperature.  Then it's kept marinated in the sauce till serving.  Chashu is sometimes called "nibuta" (煮豚) in Japanese, literally meaning "simmered/braised pork".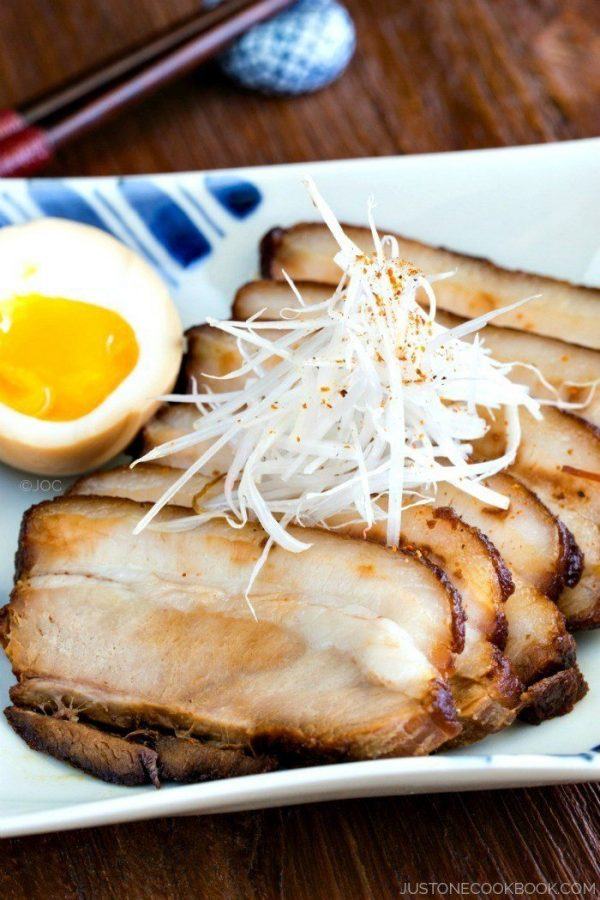 How to Make Melt-in-Mouth Chashu Recipe at Home
Typically, chashu is prepared by rolling the pork belly into a log with butcher's twine for the shape as well as keeping the pork moist.  As the pork belly block I buy from the local Japanese supermarket is a little too short for making into a log, I don't do this step in my recipe.  However, if your pork belly piece is long enough, you could cut it into halves or roll into a log (in that case, use a smaller pot or increase the sauce portion so the sauce will cover the meat).
Speaking of pork belly, that's actually my favorite pork cut for chashu.  There are other pork cuts that are used for chashu, such as pork shoulder and pork loin.  So if you can't get pork belly (be sure to ask the butcher – sometimes it's in their freezer), you can also make this recipe with other pork parts.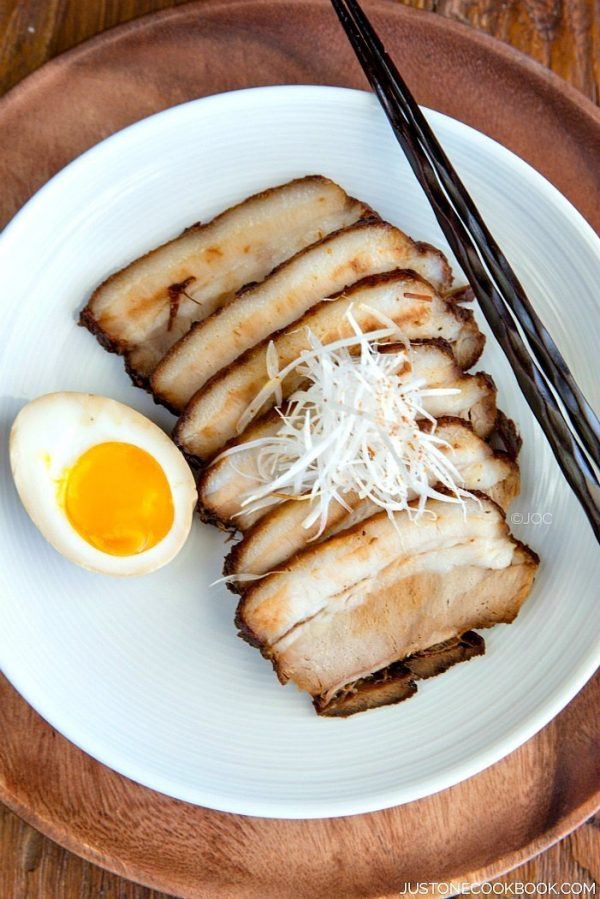 Tips & Techniques
First we sear the meat over high heat to caramelize the surface of the meat.  A cast iron pan is my go-to choice for browning meat.  With cast iron, you can really turn up the heat and food comes in direct contact with an evenly heated surface.  This step definitely makes a difference with the finished dish enhancing it with complex layers of flavors.
After browning the meat, it is then braised in soy sauce based seasoning at a low temperature for about 1 hour.  The pork will slowly soak up all the flavors in the pot.  Ginger and Tokyo negi helps remove the unwanted meat taste and adds more depth to the sauce.
When the sauce is reduced, it's ready to serve.  Slice the chashu thinly but thick enough for the texture.  If you really want to take it a step further, use a propane torch to sear the slices to add smoky charred flavor.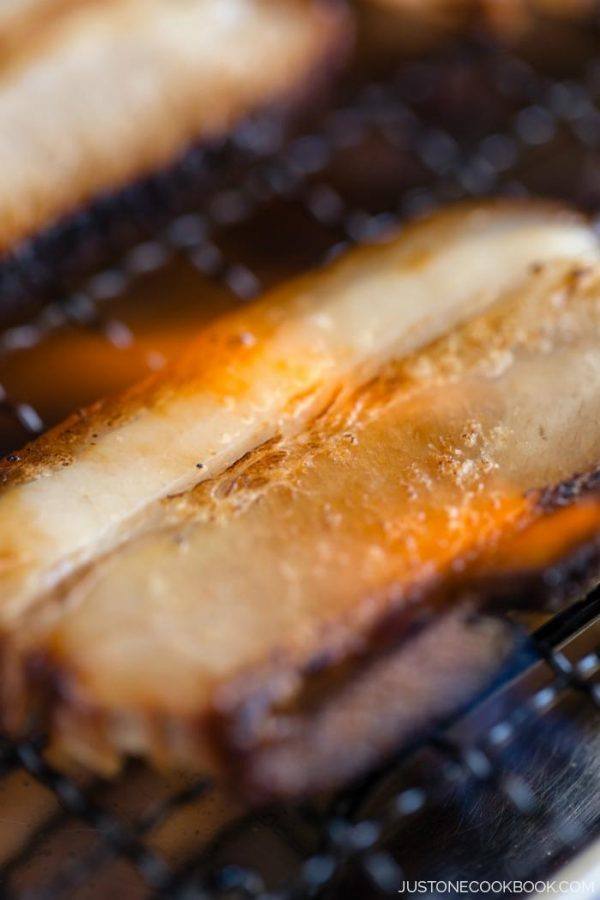 Besides enjoying chashu with ramen or by itself, you can also use chashu as topping for other noodle dishes including Hiyashi Chuka and Tsukemen, make sandwich with buns, or use it for fried rice, which is my favorite way to use up the broken pieces or edges of chashu.
I've been cooking this quick chashu recipe for over 10 years and my family loves it.  Chashu served at ramen shops braise the meat for several hours and then marinate the meat in the refrigerator overnight to intensify the flavors.  This recipe is a shortcut version for those who want a quick and easy chashu recipe.  It takes less time to prepare and it's much simpler, yet the final result is pretty phenomenal.
I originally shared this recipe back in 2011.  Since then many readers have tried this recipe and given me great feedback.  So this time I came back with a video and new sets of photography.
If you make ramen at home but don't want to spend hours for chashu, I hope you try this recipe!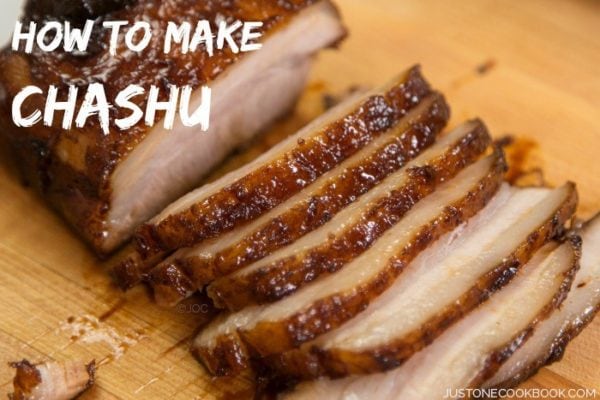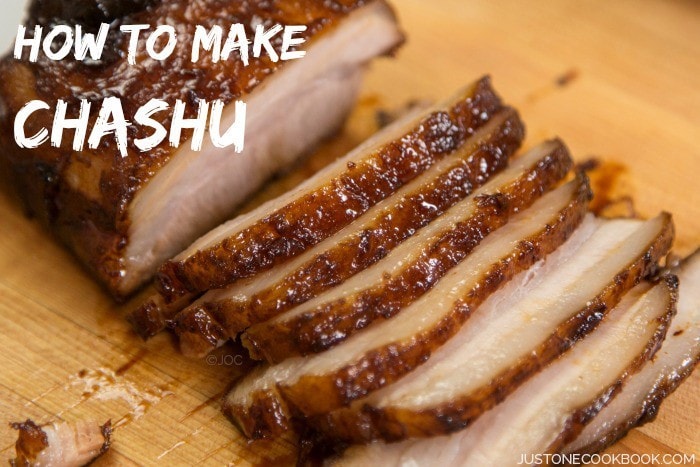 Don't want to miss a recipe? Sign up for the FREE Just One Cookbook newsletter delivered to your inbox! And stay in touch on Facebook, Google+, Pinterest, and Instagram for all the latest updates. Thank you so much for reading, and till next time!
Chashu
Learn how to make easy, melt-in-mouth Chashu pork belly recipe at home! Braised in a sweet and savory sauce, you can now enjoy the tender slice of meat as topping with your ramen!
Course:
Main Course, Side Dish
Keyword:
ramen, ramen topping
Servings
:
4
as ramen topping
Ingredients
¾

lb

pork belly block

(340 g)

1

tsp

salt (kosher or sea salt; use half if using table salt)

½

Tbsp

neutral flavor oil (vegetable, canola, etc)

2

inch

ginger

(sliced)

1

Negi/Long Green Onion

(or leaks/green onions)
Instructions
Gather all the ingredients.

Cut negi into 2 inch lengths and separate the green parts and white parts. For white parts, make an incision lengthwise and remove the soft green core. Keep it with the green part, which will be used later on for cooking.


Stack up the white part of negi and slice thinly. Soak in cold water for 10 minutes and drain well. Put it in an air-tight container or cover with plastic wrap. We will use this for garnishing chashu later.


Peel and slice ginger.


Sprinkle and rub the salt on the pork belly. If your pork belly block is big, you have two options. Cut into smaller pieces or roll it into a log with butcher's twine, keeping the thick fat on the outside. Start tying from the center of the log toward left and right.


Heat the oil in a cast iron skillet (or regular frying pan) over high heat and brown the fat side first, then flip over to brown the other side. It'll take about 10 minutes.


While browning, put all the ingredients for seasonings in a heavy-bottom pot (or regular pot).


Place the pork belly in the pot and add ginger and negi and bring it to a boil.


Place an otoshibuta (drop lid) on top of the meat. If you don't have one, make one out of aluminum foil (and here's how). Do not use a regular lid. To learn more about what Otoshibuta does,

click here

.

Lower the heat to medium low and simmer, occasionally turning, for about one hour or until there is ¼ inch liquid left in the pot.


Remove the otoshibuta and reduce the sauce until you can see the bottom of the pot when you scrape the sauce. Stay in the kitchen as the meat can easily get burnt if there is no liquid left. After 15-20 minutes or so, bubbles start to appear. You are getting close to the end. Turn off the heat when you see the bottom of the pot when you slide the meat around. The sauce is now thickened and meat is shiny.


Take out the meat and cut into thin slices.


This is an optional step, but use a

propane torch

or broiler to sear each slice of pork belly to enhance the flavor.

Transfer to a serving plate and top with Shiraga Negi and Shichimi Togarashi. Or serve with ramen.


If you don't use the chashu right away, pack the chashu and the sauce in an air-tight plastic bag to give it more flavor all around. You can store it in the refrigerator up to 5 days and 3 weeks in the freezer.
Recipe Notes
If your pork belly still has rind and want to remove it, check this video for directions.
Recipe by Namiko Chen of Just One Cookbook. All images and content on this site are copyright protected. Please do not use my images without my permission. If you'd like to share this recipe on your site, please re-write the recipe and link to this post as the original source. Thank you.
Editor's Note: This post was originally shared in May 2011.  New video and photos are added in September 2014.  Recipe is slightly adjusted.