My Menma recipe is a quick and simple shortcut to make this classic ramen topping at home. We thinly slice bamboo shoots and simmer them in a soy-based sauce that's sweet, nutty, and slightly spicy. Add a crunchy and savory bite to your ramen, stir-fries, and mixed rice with these seasoned bamboo shoots.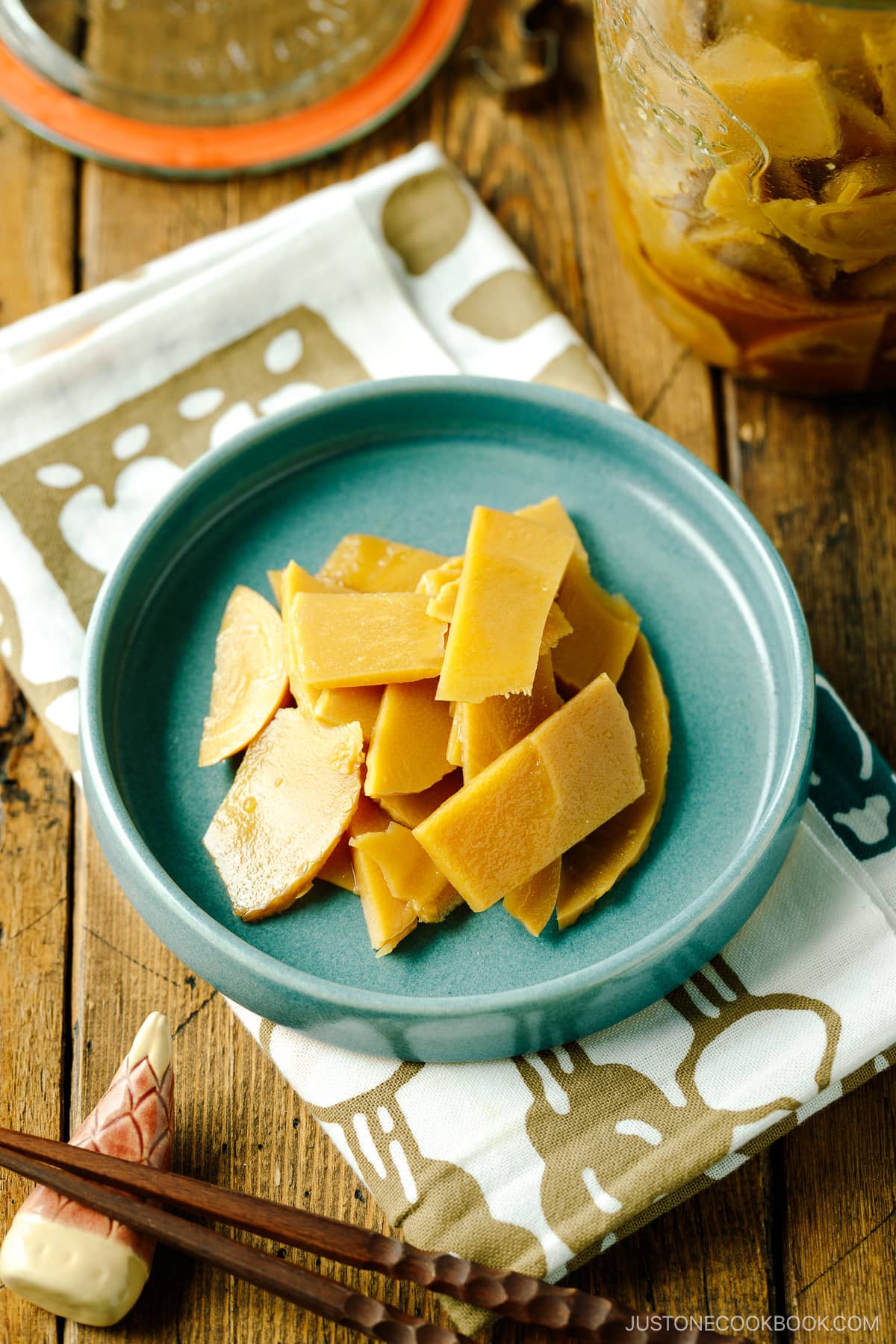 One of the classic and essential toppings on ramen is menma (メンマ), or seasoned bamboo shoots. They contribute significantly to the beloved noodle soup, thanks to its delightful crunchy texture and its distinct combination of sweet, savory, and earthy flavors.
Over the years, many JOC readers have requested this recipe, and I've finally created my own version. It's taken me a long time because making it from scratch with the traditional method would take over a month. Plus, I couldn't find premade bags of fermented bamboo shoots suitable for home use here in the US. As a solution, I've developed a more accessible method to prepare menma, so you too can make it home.
What is Menma?
Menma (メンマ) is a popular Japanese condiment made from seasoned bamboo shoots, frequently served atop ramen. Traditionally, menma is crafted using lacto-fermented bamboo shoots (more on this later), rendering it a truly unique ingredient.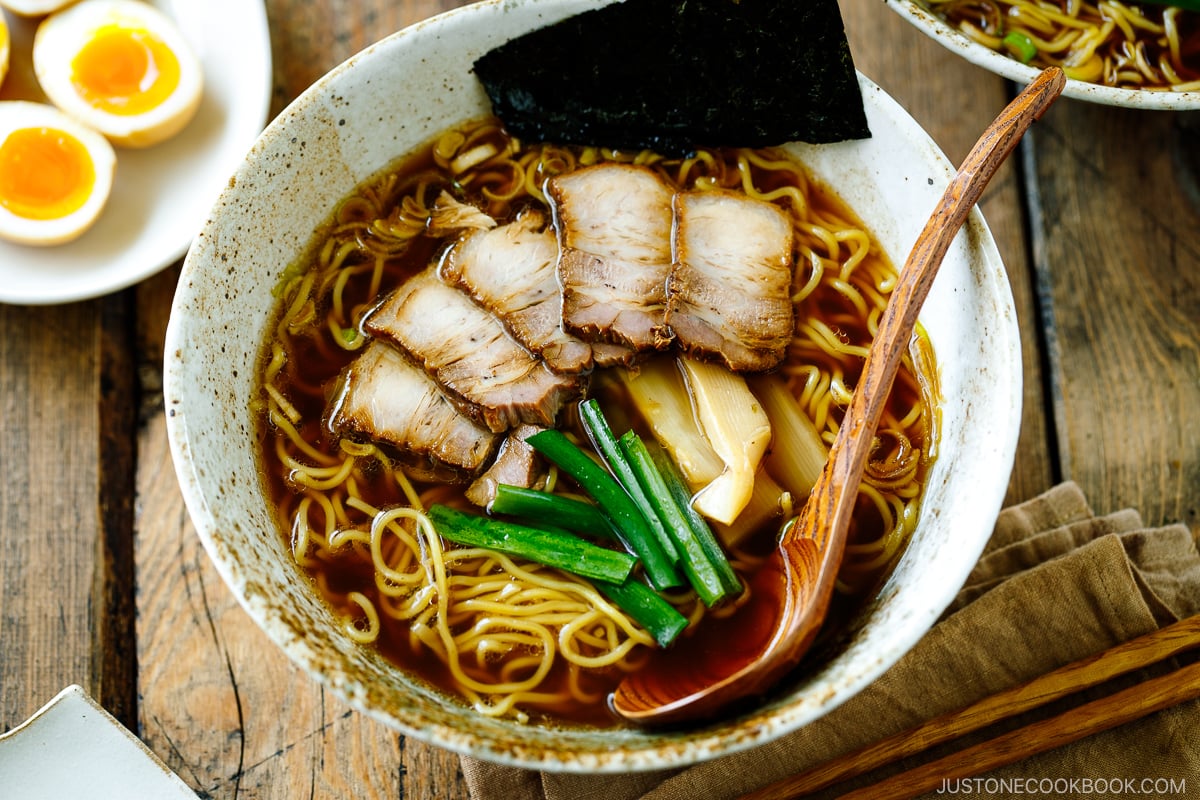 The specific type of bamboo shoots used in making menma is called machiku (麻竹), or hemp bamboo, which differs from the bamboo commonly used in other Asian dishes.
Hemp bamboo is primarily cultivated in the subtropical southern Chinese provinces of Fujian and Guangdong, as well as in Taiwan. Due to its naturally high sugar content, these bamboo shoots (also known as shinachiku (支那竹)) are particularly well-suited for lacto-fermentation. During this process, they undergo an intricate transformation, breaking down sugars and starches to develop a desirable flavor, aroma, and texture.
The Process of Lacto-Fermentation
Here's the process to make the fermented bamboo shoots—the main ingredient for menma.
The prepared hemp bamboo is steamed or boiled to remove the scum.
It is slowly and naturally fermented for about a month.
Once fermented, it is dried in the sun for about 3 to 4 days.
After drying, it is rehydrated, boiled, and left to rest until it returns to room temperature. The process of boiling and bringing it back to room temperature is repeated many times.
Finally, it is cut, packed, and shipped.
The entire process demands significant effort and an extended duration, but it results in bamboo shoots with a distinct aroma, a satisfyingly crunchy texture, and a subtle sweet and sour taste.
How Ramen Shops Prepare Menma
Ramen shops purchase commercial-sized bags of these fermented bamboo shoots (塩メンマ, 塩漬けメンマ) from Taiwan or China. Then, they soak the shoots in water to remove saltiness and then simmer them with a soy-based seasoning.
Home-Friendly Menma Recipe
Since it's impossible to find fermented bamboo shoots outside of Japan, I have to use pre-boiled bamboo shoots and simmer them to create a quick menma recipe. These pre-boiled bamboo lack the signature crunch and taste of the fermented ones. Nevertheless, they are still flavorful and enjoyable.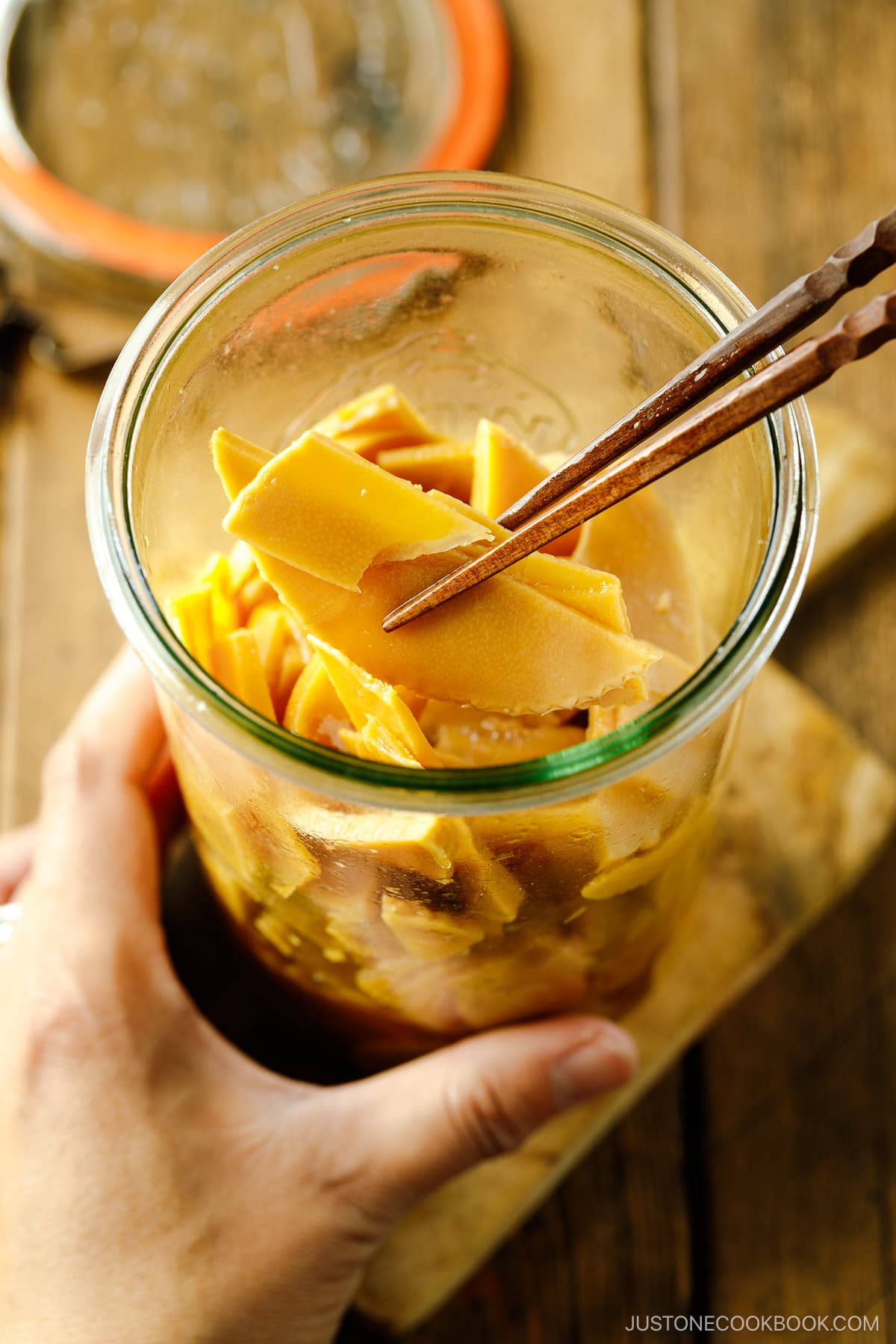 How to Make Menma
The Ingredients You'll Need
Bamboo shoot – I use a pre-boiled bamboo shoot, which you can find in the refrigerated section at Japanese or Asian grocery stores.
Sesame oil
Seasoning – salt, soy sauce, sugar, and chicken stock
Variations
Optionally, you can add the following ingredients.
Jump to Recipe
The Cooking Steps
Cut the bamboo shoot into thin slabs. Sprinkle salt and set aside for 10-15 minutes. Then, quickly rinse them and pat dry.
Heat the sesame oil and cook the bamboo shoots for 3 minutes.
Season them with sugar, soy sauce, and chicken stock. Cover the bamboo shoots with a drop lid (otoshibuta). Let it simmer until the liquid is almost gone and the bamboo shoots are tender.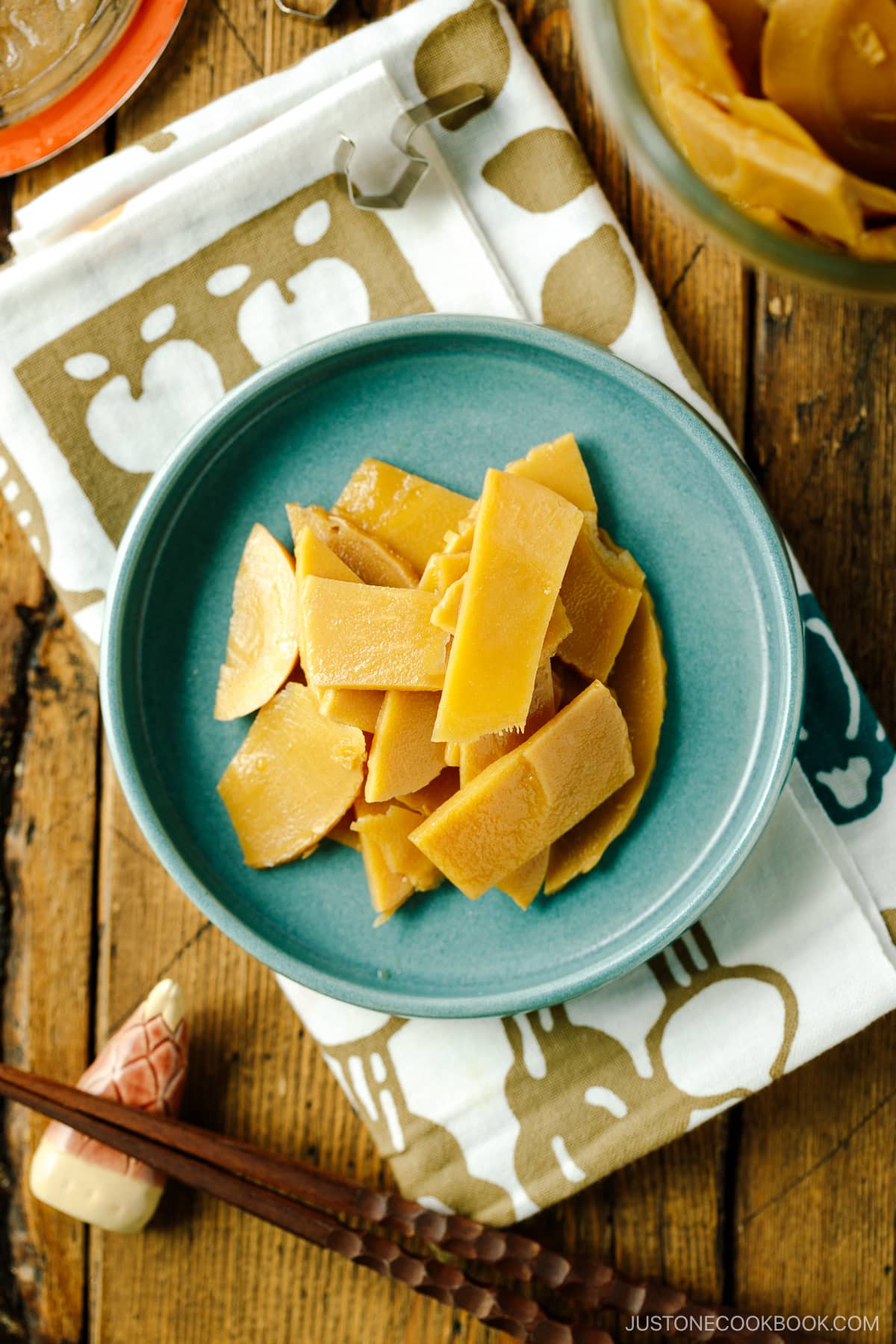 Where to Buy Store-Bought Menma
Here in San Francisco, I can get these two brands of menma from a Japanese grocery store.
Momoya brand menma has been around in Japan and it's quite popular. Luckily, you can purchase it on Amazon.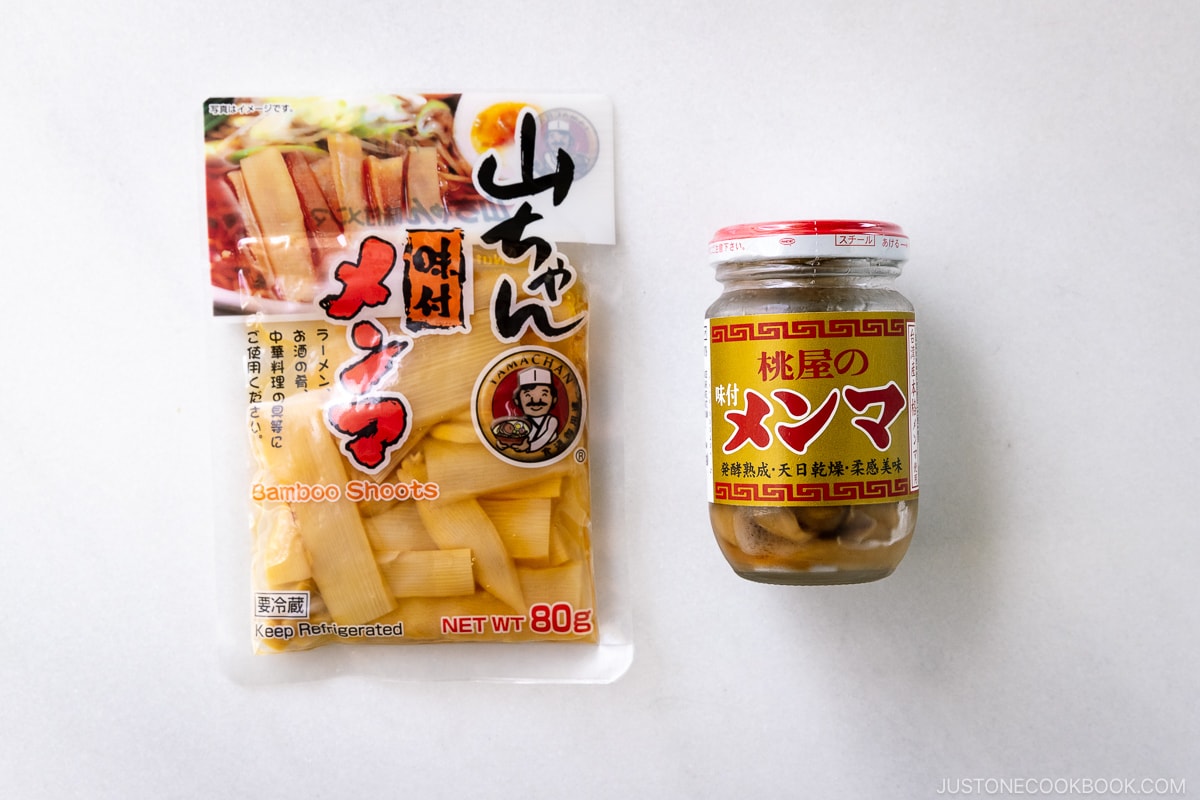 Ways to Use Menma (Seasoned Bamboo Shoots)
Topping for ramen
Quick stir-fry with green leafy vegetables
Toss it with wakame seaweed and serve as a side to go with steamed rice
Mix with cooked rice to make Maze Gohan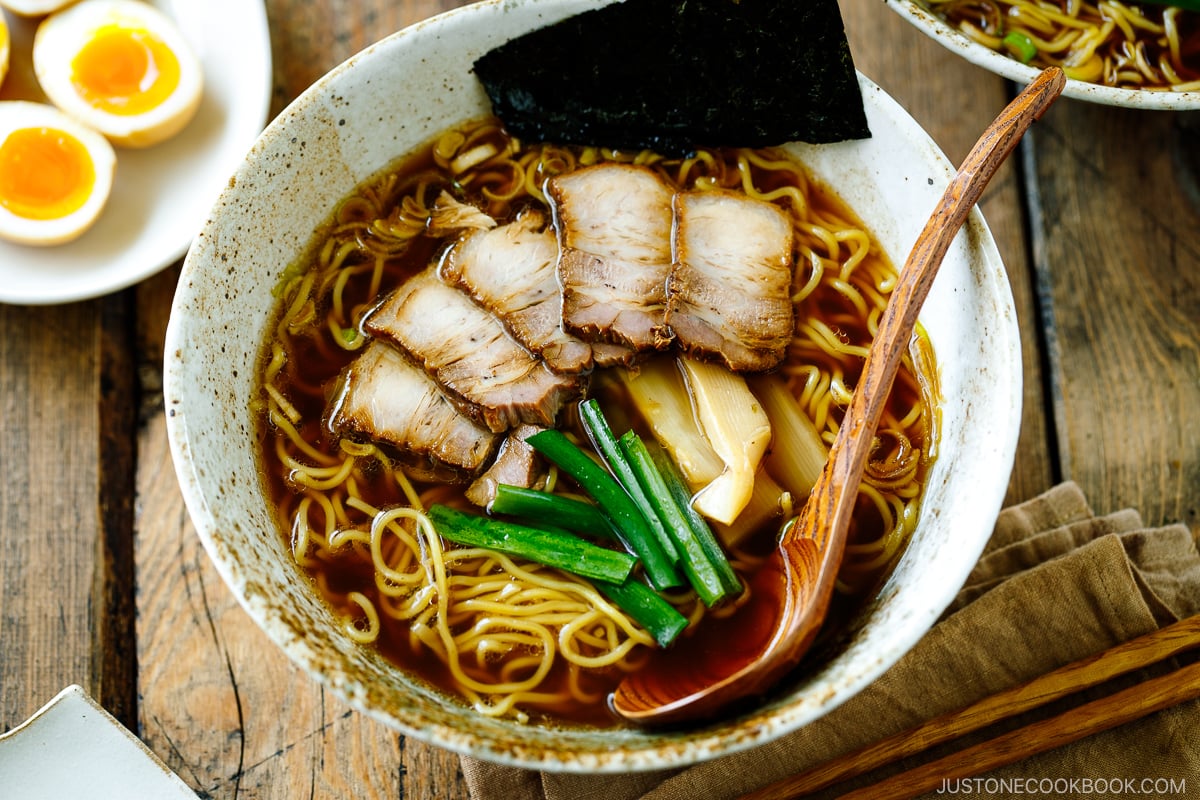 Wish to learn more about Japanese cooking? Sign up for our free newsletter to receive cooking tips & recipe updates! And stay in touch with me on Facebook, Pinterest, YouTube, and Instagram.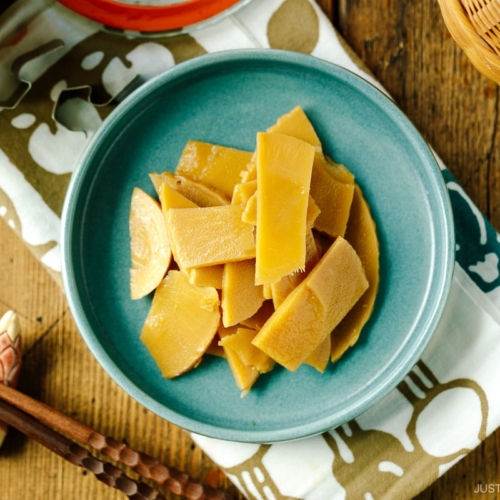 Menma (Seasoned Bamboo Shoot)
My Menma recipe is a quick and simple shortcut to make this classic ramen topping at home. We thinly slice bamboo shoots and simmer them in a soy-based sauce that's sweet, nutty, and slightly spicy. Add a crunchy and savory bite to your ramen, stir-fries, and mixed rice with these seasoned bamboo shoots.
Servings:
1
batch (2 cups, 480 ml per batch)
Japanese Ingredient Substitution:
If you want substitutes for Japanese condiments and ingredients, click
here
.
Instructions
Gather all the ingredients.

Open

1 package boiled bamboo shoot

and cut the bamboo shoot in half lengthwise. Lay each half with the cut side up and slice widthwise into half circles. Use the bamboo shoot segments as a guide and cut on either side of the segments. I cut my slices about ⅛ inch (3 mm) thick. If you see a white, gritty substance on the bamboo, wash it off under cold water. While the substance is edible, we remove it for a more attractive presentation.

Next, lay the half-round slices flat. Then, cut them once more the long way to make long slabs. I like to stack the half-circle slices and cut several at a time.

Cut in half any very long slabs into shorter pieces. (Aim for bite-sized pieces that are easy to pick up with chopsticks.) Now, spread them out into a single layer.

Sprinkle

Diamond Crystal kosher salt

over the bamboo shoots and gently massage them. Set aside for 15 minutes.

Once the bamboo shoots become more flexible, rinse them under cold water and pat dry with a paper towel.
To Simmer
Heat a medium saucepan on medium. When the pot is hot, add

1 Tbsp toasted sesame oil

and the bamboo shoot slabs. Sauté the bamboo shoots until well coated with the oil.

Add

2 Tbsp sugar

and

2 Tbsp soy sauce

and mix it all together.

Add

¾ cup chicken stock/broth

and bring it to a boil.

Once boiling, reduce the heat to a gentle simmer and place an otoshibuta (drop lid) on top of the bamboo shoots. Cook until the liquid is almost gone.

When the liquid is nearly gone, add

½ tsp la-yu (Japanese chili oil)

, if you're using any. Turn off the heat and transfer the Menma to a jar to cool.

You can also add the remaining liquid, if there is any. However, soaking in the cooking liquid will make the menma saltier as time passes by, so you can omit it.
To Serve
Top your ramen dishes with your homemade Menma.
To Store
Store in the refrigerator for 1 week or in the freezer for a month.
Nutrition
Nutrition Facts
Menma (Seasoned Bamboo Shoot)
Amount per Serving
% Daily Value*
* Percent Daily Values are based on a 2000 calorie diet.
©JustOneCookbook.com Content and photographs are copyright protected. Sharing of this recipe is both encouraged and appreciated. Copying and/or pasting full recipes to any website or social media is strictly prohibited. Please view my photo use policy
here
.