Who needs take-out when you can make this quick & tasty wok charred shrimp fried rice at home!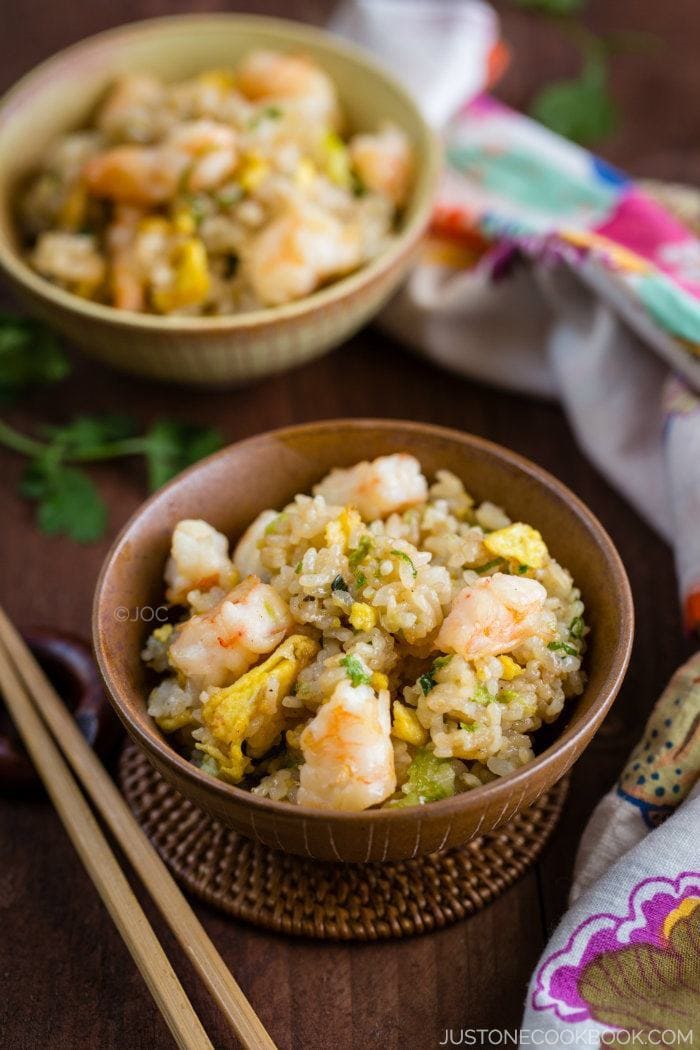 What do you normally cook or prepare when it's close to dinner time but nothing is ready? One of the dishes I turn to is this Shrimp Fried Rice because it's made of ingredients that I usually can find in my kitchen. Plus wok charred fried rice with bits of egg and shrimp, who could resist right?
Watch How to Make Shrimp Fried Rice 海老チャーハンの作り方
Delectable wok charred fried rice tossed with shrimp, egg, and green onion!
These days life gets so busy with my children's activities and my blog work that quite often when it's almost dinner time, I came to realize the dinner is not even ready. Of course eating out is always an option, but homemade food is more economical (especially with growing children) and much healthier. What to do? I have a lot of recipes that can prepared in 30 minutes and one of them is shrimp fried rice. Since I usually have frozen shrimp and leftover rice in my freezer, it's easy to get the ingredients ready for shrimp fried rice.
You can substitute other proteins for shrimps as well. I typically make it with shrimp because it defrosts quickly and my children loves shrimp recipes, especially my son who absolutely loves Ebi Fry and Shrimp Tempura.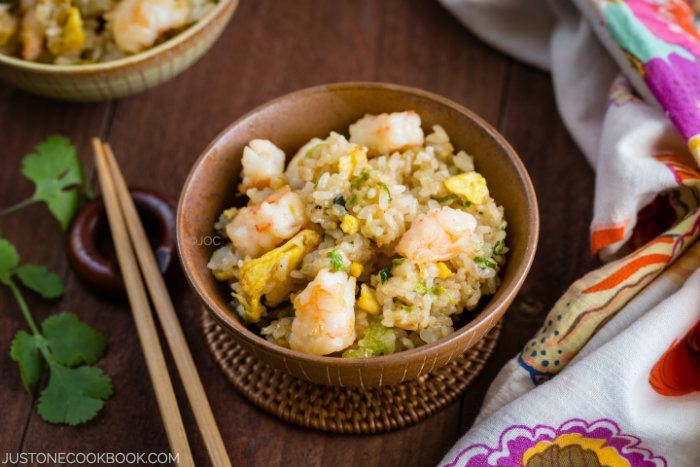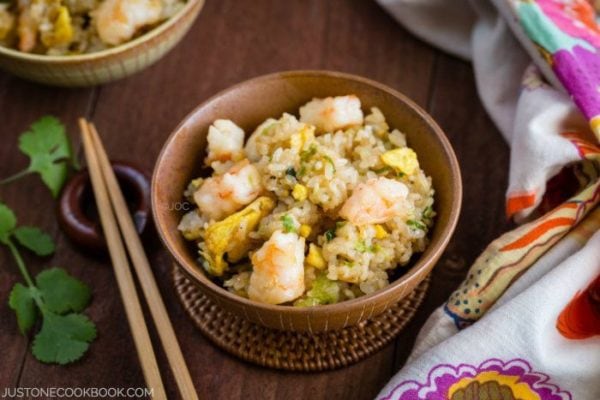 Tricks and tips to make the perfect fried rice
Wok: You need a large wok or frying pan that has enough space for rice to move around. You need to be able to toss the rice and other ingredients while cooking. When you put too much rice and ingredients, the fried rice will form a big clump so I highly recommend to cook for 1-2 servings at a time.
Heat: Fried rice at the restaurant tastes good because it has that smoky flavor from the high temperature and the seasoned wok. Cooking over high heat is required and a layer of oil on a hot surface will form a non-stick coating on the wok. If the wok is not hot enough, rice will start sticking everywhere. Since you will be cooking on high heat, please make sure all the ingredients are prepped and ready to toss in. FYI, if you decide to use a non-stick frying pan, don't use high heat as you will ruin your pan.
Oil: First of all, you will need a decent amount of oil to cook fluffy egg. I know you might prefer to use as little oil as possible. But at the same time, you don't want your fried rice to stick on your pan and ruin your dinner right? Don't worry about oily egg because later on when you add the egg back in the wok, the oil on the egg will coat the rice and help rice separate from each other.
Rice: You can't make fried rice with freshly cooked rice. Use day-old cold rice because it is more firm and has no excess moisture so it will separate and won't be mushy. However, if you don't have leftover rice in hand, make rice ahead and let the rice cool to reduce the moisture content.
Ingredients & Seasonings: Use ingredients which do not contain too much moisture. Extra moisture or too much saucy seasonings will turn the fried rice mushy. Other than that, be creative and use any leftover meats and veggies you find in the fridge (but keep it simple)!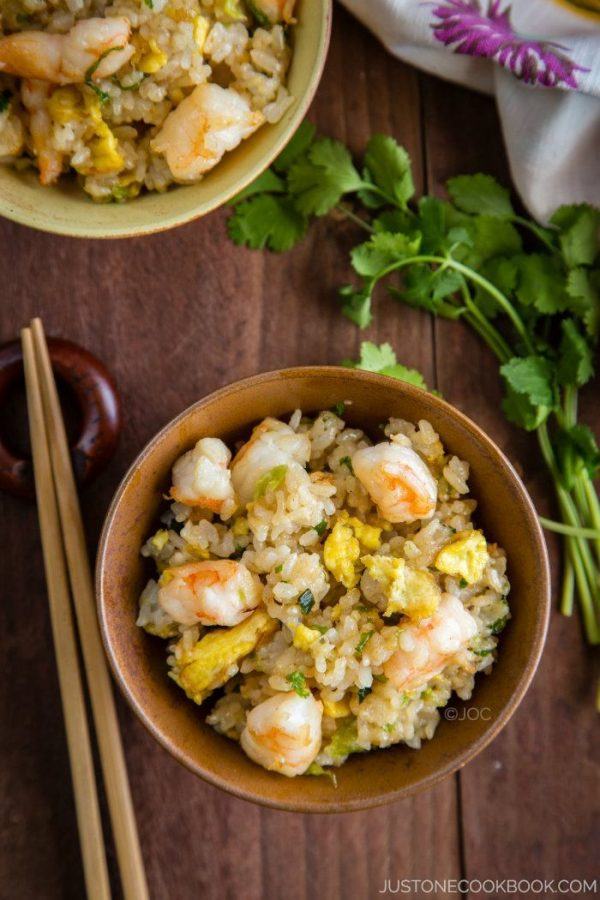 Similar Recipes:
Don't want to miss a recipe? Sign up for the FREE Just One Cookbook newsletter delivered to your inbox! And stay in touch on Facebook, Google+, Pinterest, and Instagram for all the latest updates. Thank you so much for reading, and till next time!
Shrimp Fried Rice
Who needs take-out when you can make this quick & tasty wok charred shrimp fried rice at home!
Course:
Main Course, Side Dish
Keyword:
fried rice, mixed rice, yakimeshi
Ingredients
6

shrimps

(6 shrimps = 100 g or 3.7 oz) (shelled and deveined)

1

leaf

iceberg lettuce

(1 leaf = 30 g or 1 oz)

1

green onion/scallion

2

Tbsp

neutral flavor oil (vegetable, canola, etc)

1

large egg

1

Tbsp

sesame oil (roasted)

1

tsp

sake

¼

tsp

salt (kosher or sea salt; use half if using table salt)

2

cups

cooked Japanese short grain rice

(preferably day-old cold rice)

⅛

tsp

white pepper powder

Freshly ground black pepper

1

tsp

soy sauce
Instructions
Gather all the ingredients.

Cut iceberg lettuce and scallion into small pieces.


Gently whisk the egg in a small bowl.


Heat wok until surface almost smoking, add the oil and spread it around till it coats the surface evenly. Add the egg and cook over high heat. The egg will not stick to the pan as long as you put enough oil. Quickly mix it with spatula and when it's 80% cooked, take it out and put on a plate.


In the same wok, add shrimp and then sake and salt. Cook until shrimp change color outside. Inside doesn't have to be cooked through at this time. Take shrimp out onto the plate.


Add sesame oil and cook scallion, stir until nicely coated with oil.


Add the rice and break up the chunks of rice. Toss the wok and mix well together.


When rice is coated with oil, put the egg and shrimp back in the wok again and toss all together. Add lettuce, white pepper, freshly ground black pepper and soy sauce. Toss the wok frequently and mix it all together. Serve immediately.

Recipe Notes
Recipe by Namiko Chen of Just One Cookbook. All images and content on this site are copyright protected. Please do not use my images without my permission. If you'd like to share this recipe on your site, please re-write the recipe and link to this post as the original source. Thank you.