Pork shabu salad recipe and egg drop soup. Make the pork salad and use the remaining liquid from cooking pork slices as the soup stock.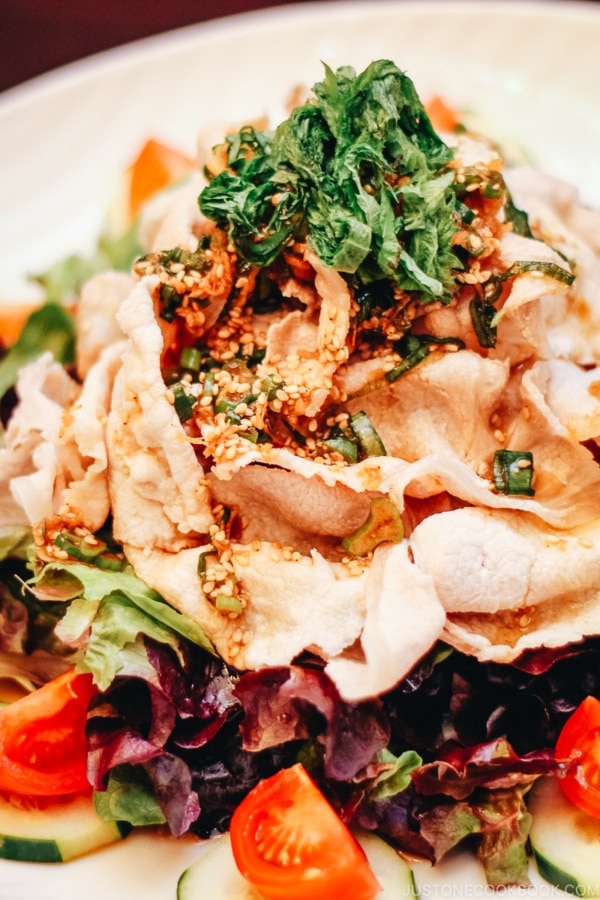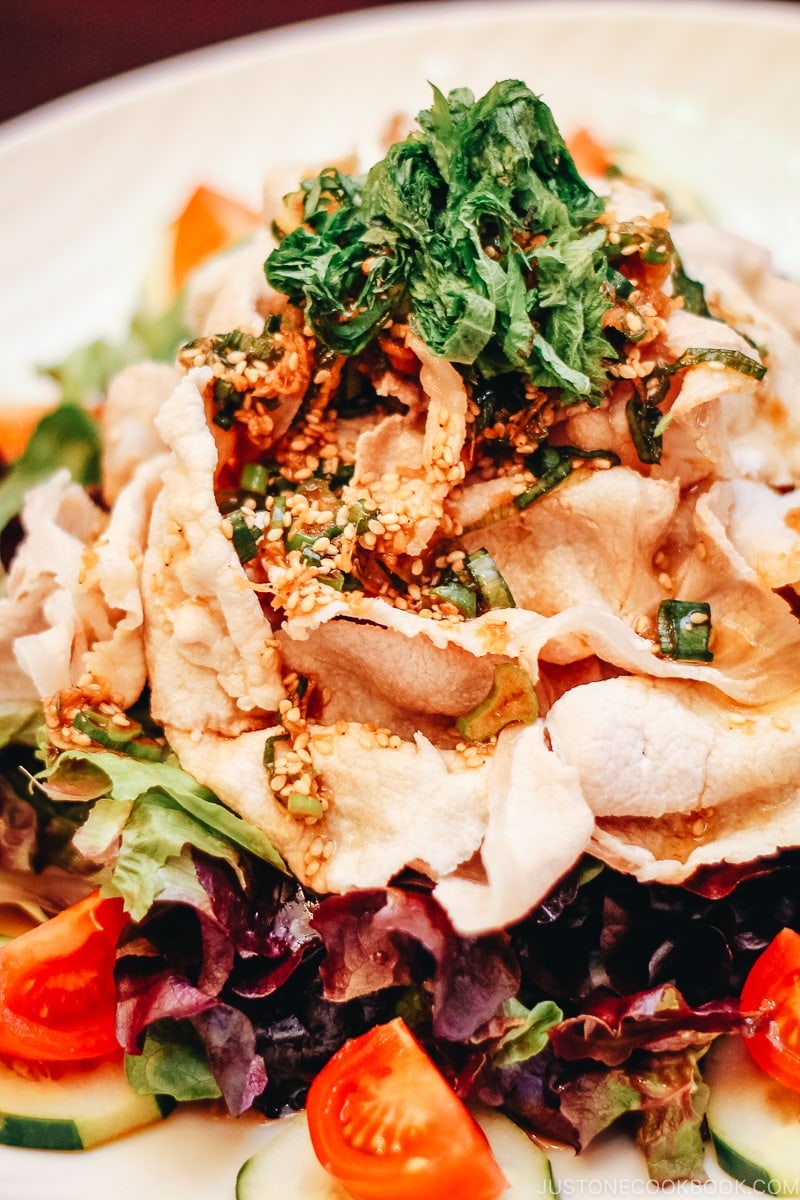 For the past two days, I was working hard on my blogroll (see under Links tab) and Recipe Index. If you visit my blog often, please let me know you are here so that I can add your website under my Links. I'll be more than happy to do so.
Building the Recipe Index page took me a long time. I already have categories on the left column under my picture. However I tried to make more detail categories under in Recipe Index. For example, "Main Dish" category is further broken down in Recipe Index, like "Main Dish – Beef." I also listed all of my recipes By A-Z (alphabetical orders) and all the ingredients. "Chicken" in left-side column can be "Chicken Thigh" in By Ingredient. Something like that.
You probably think I'm really obsessed in terms of organizing things. You are right! I get this uncomfortable feeling when things are not in order. My brain works in hierarchy and putting everything in order makes me feel very comfortable. Oh wait, I'm not done with the Recipe Index yet. I will be adding a small thumbnail next to the recipe so even though you are not familiar with Japanese food, you can get some idea on what kind of dish it is. I hope this sounds good to you and help you find a recipe easily according to your needs.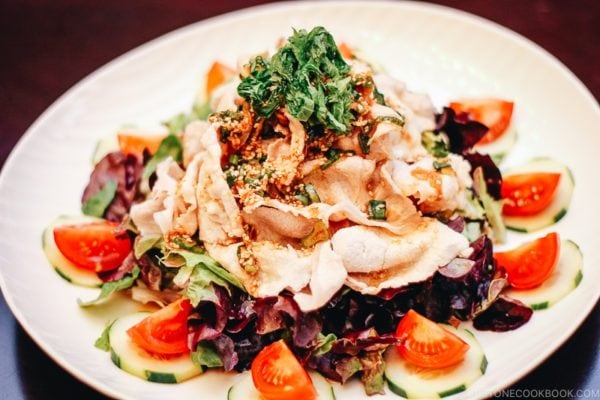 I realized lately that my blog is already evolving from my original goal. In the beginning, this blog was for me to store all my recipes so I can use my iPad in the kitchen to quickly search my recipes (instead of organizing in a binder or printing out a recipe from my computer). I also wanted to keep this blog for my kids so one day they will have a record of all my recipes.
And now, I'm excited to share Japanese recipes with people who are not familiar with Japanese food. Initially, I imagined that my blog is for people who already cook Japanese food or want to cook certain Japanese food. But now I see a lot of people who are actually interested in Japanese food but haven't tried cooking or eating. I'll be happy if I can introduce some Japanese food to you, so you might try some new food at Japanese restaurants or even try making it yourself at home!
Let's talk about today's recipe (phew today I actually talked a lot!). Today's recipe is actually 2 dishes; you make a salad and you get a free soup! If you enjoy eating Shabu Shabu or like Ponzu flavor, I'm sure you'll like this salad.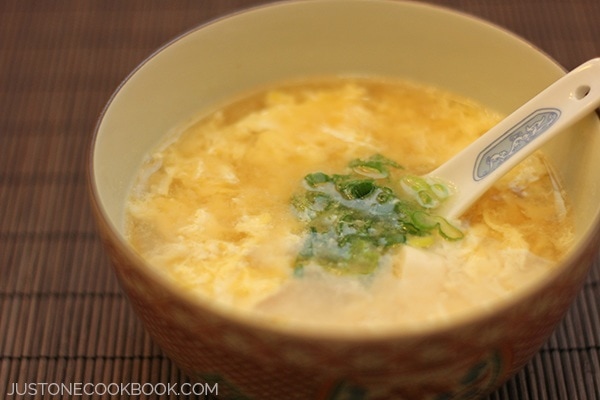 Have a wonderful weekend my foodie friends! We are going to the Sierra this weekend with our friends to play in the snow. I haven't told my kids yet. They'll be psyched when they find out! See you on Monday…
Sign up for the free newsletter delivered to your inbox and stay in touch with me on Facebook, Pinterest, YouTube, and Instagram for all the latest updates.
Pork Shabu Salad with Ponzu Dressing & Egg Drop Soup
Pork shabu salad recipe and egg drop soup. Make the pork salad and use the remaining liquid from cooking pork slices as the soup stock.
Ingredients
Japanese Ingredient Substitution:
If you want substitutes for Japanese condiments and ingredients, click
here
.
Instructions
To Make Pork Shabu Shabu Salad
Arrange the salad. In a small bowl, whisk together the ingredients for ponzu dressing.

Bring 3 cups of water to a boil in a medium saucepan. When boiling, add 1 Tbsp sake.

Hold a slice of meat with chopsticks and place it into the boiling water.

You can cook 2-3 slices of meat at a time.

When the meat changes color, transfer it to a paper towel to drain water. When you finish cooking all the meat, don't discard this stock yet. We'll use it to make Egg Drop Soup.

Place the cooked meat on top of the lettuce and put Shiso leaves on top. Pour Ponzu Dressing when you are ready to eat.
To Make Egg Drop Soup
Gather all the ingredients for Egg Drop Soup.

Keep the soup simmering over medium heat and use a sieve to skim off the scum and fat from the soup. To clean the sieve, you can prepare a bowl of water and clean the sieve in the bowl every time you pick up scum.

When the soup is clean, add tofu, soy sauce, salt, and white pepper and wait to boil again.

SLOWLY stir in beaten egg, moving the bowl around over the saucepan. If you pour the egg too quickly it'll become chunky instead of flowery. You will see the fluffy egg start to flow.

Serve in the soup bowl and garnish with green onions. Serve immediately.
To Store
You can keep the leftovers separately in airtight containers and store in the refrigerator for up to 2 days.
Nutrition
Nutrition Facts
Pork Shabu Salad with Ponzu Dressing & Egg Drop Soup
Amount per Serving
% Daily Value*
* Percent Daily Values are based on a 2000 calorie diet.
©JustOneCookbook.com Content and photographs are copyright protected. Sharing of this recipe is both encouraged and appreciated. Copying and/or pasting full recipes to any website or social media is strictly prohibited. Please view my photo use policy
here
.