Hanpen is a variety of Japanese fish cakes. It has a soft and fluffy melt-in-your-mouth texture and is often used in soups, stews, and other dishes as it absorbs flavors well.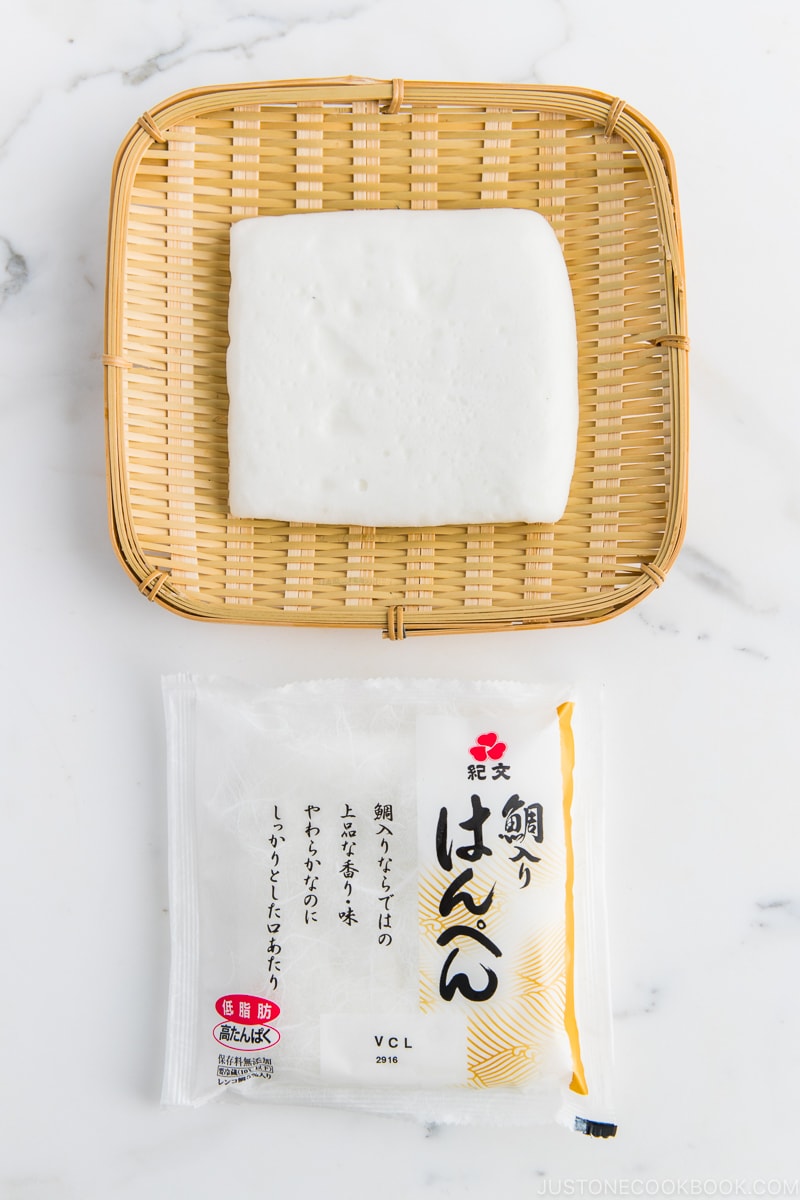 Hanpen (はんぺん) is a squishy, spongy food product consisting of white fish paste (AKA surimi すり身), mountain yam, and seasoned with salt and kombu dashi. It's primarily tasteless and absorbs flavors quickly.
What Is Hanpen
The pale white hanpen is a Japanese seafood product made from white fish (Alaska Pollock, cod, or a mixture of several white fish), salt, and kombu dashi with grated Japanese mountain yam as a binding agent. It comes in various shapes, such as triangles, squares, circles, or half-moons.
It's low in fat and calories, high in protein, and a rich source of calcium. The Japanese have eaten the traditional fish cake since the Edo period (1603-1867).
What Does It Taste Like
It has a light and mild taste with a barely noticeable fishy flavor. The texture is fluffy, spongy, and squishy.
How To Use Hanpen
You can grill, deep-fry, or simmer it in broths. As it's already cooked, you can also eat it as is.
You may know it as an ingredient in Oden (the winter hot pot featuring various fish cakes stewed in dashi). It is also essential in making the Japanese New Year dish Datemaki (Sweet Rolled Omelette).
To use it in bento, you can stuff the pockets with sliced or shredded cheese or cooked ground meat and toast it until golden brown.
Where To Buy
You can find hanpen in the refrigerated or frozen section of Asian and Japanese grocery stores.
How To Store
Store hanpen in the refrigerator and use it up within a week of purchase. Once opened, use it immediately as it goes back quickly.
You can also store it in the freezer, which will last about a month. However, the texture becomes slightly grainy during the freezing process.
Recipes Using Hanpen
---
Wish to learn more about Japanese cooking? Sign up for our free newsletter to receive cooking tips & recipe updates! And stay in touch with me on Facebook, Pinterest, YouTube, and Instagram.