Print Recipe
Jump To Recipe
Marinated in saikyo miso and baked to perfection, Black Cod with Miso is a beautiful seafood dish you can pull off at home. With its delicate and buttery texture, the Miso Cod simply melts in your mouth.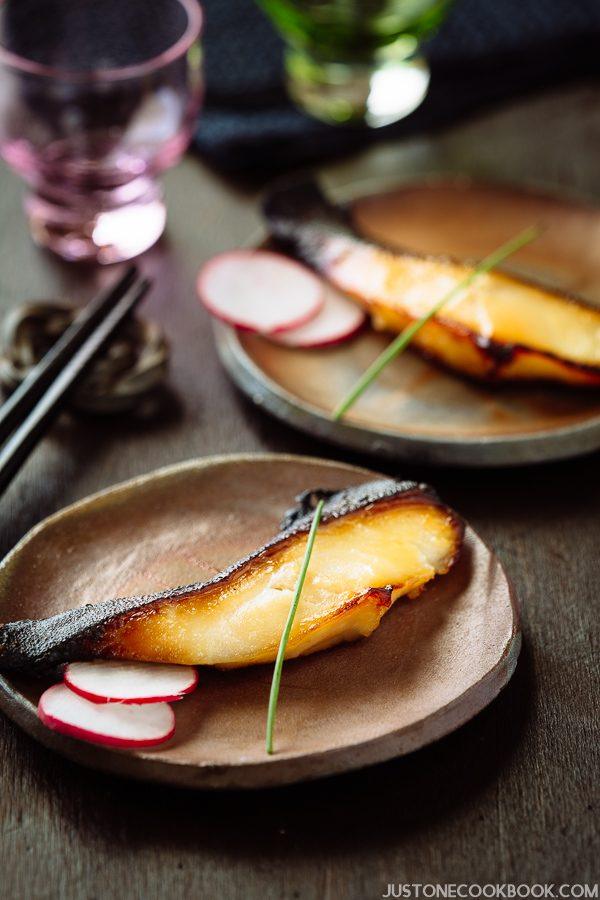 A classic Japanese dish, Black Cod with Miso (or simply Miso Cod), is served at many formal Japanese restaurants. These days you may have heard of the dish after it's made famous worldwide by the acclaimed fine Japanese restaurant chain Nobu. Luckily, the miso glazed black cod recipe is simple enough that you can enjoy this wonderfully seasoned fish at home.
How To Prepare Miso Cod
To enjoy the succulent texture, we prepare the fish by marinading it in sweet miso for at least 2-3 days until the sweet & salty flavor is completely absorbed before it is cooked. Traditionally the fish fillet is soaked in marinade for even up to a week. In Japan we refer to this marinade Saikyozuke (西京漬け), and once it's grilled, Saikyo Yaki (西京焼き).
Saikyo in Japanese means "west city", which is the former name for Kyoto. This specific cooking method is named Saikyo because the recipe utilizes Saikyo Miso (sweet white miso) originated from the Kyoto area. The traditional Saikyo Yaki recipes include just three ingredients: Saikyo miso, mirin, and sake.
The sharpness of the miso and sweetness of the mirin work wonderfully to cut the fish's fattiness. When it's baked to perfection, the deep flavor of the marinade comes through and the buttery flesh simply melts in your mouth. It's so good that my young children can easily finish one fillet of the fish on their own.
The Choice of Fish for Miso Cod Recipe
Despite Nobu's popular menu "Black Cod with Miso", the fish used in this recipe is actually not related to a cod at all.  "Black cod" is a common name for sablefish (Gindara 銀ダラ) or butterfish.  It's known for its silky and tender rich texture and flavor. High in omega-3 fats, it is the preferred fish choice since it doesn't have the strong taste of fat fish like tuna or mackerel.  The creamy white flesh pairs extremely well with miso paste that is sweet, savory and salty.
If you couldn't find sablefish, you can also use other fish to enjoy with the versatile miso marinade. I like alternating between black cod, sea bass, or salmon and my family enjoy them equally. If you go to a Japanese supermarket, you should be able to find black cod in the fresh fish section.
In the US, you can also find sustainable caught Alaskan black cod from online seafood company. It's rather pricey but still a much better deal to enjoy the fish at home rather than ordering at a fancy restaurant.  With some simple advanced preparation, this Black Cod with Miso recipe is so easy to pull off and the results are irresistible.
If you are looking for a classic Japanese recipe for serving dinner guests, this Miso Cod will make a pretty impressive main dish. Prep it ahead, have a quick broil in the oven, and dinner is ready. Easy but no lack of elegance.
Don't want to miss a recipe? Sign up for the FREE Just One Cookbook newsletter delivered to your inbox! And stay in touch on Facebook, Google+, Pinterest, and Instagram for all the latest updates.
Miso Cod (Black Cod with Miso)
Ingredients
2

fillets

sablefish (gindara)

(you can also use salmon, sea bass, etc.)

2

tsp

Kosher salt

2

Tbsp

sake
Instructions
2 to 3 Days Beforehand
Sprinkle salt over the fillets and set aside for 30 minutes. This will help get rid of the fishy smell and remove excess moisture from the fish.


Wet a paper towel with sake and gently pat the fillets dry. Do not wash the fish.


Mix all the ingredients for the marinade in a bowl.


Put half of marinade on the bottom of an airtight container (with lid). Place the fillets in the container and slather the fillets with the remaining marinade. Cover the lid and keep in the fridge for 2-3 days (at least overnight; traditionally for a week.)

To Cook the Fish
Preheat oven to 400F (200C). With your fingers, remove the marinade off the fillets completely. Do not leave excess miso on the fish; otherwise the fish will burn easily. Place the fish skin side up on baking pan lined with parchment paper.


Bake the fish until the edges are browned and the flesh is cooked through, about 20-25 minutes. Do not flip the fish while baking as the flesh is very flaky.
Recipe Notes
Recipe by Namiko Chen of Just One Cookbook. All images and content on this site are copyright protected. Please do not use my images without my permission. If you'd like to share this recipe on your site, please re-write the recipe in your own words and link to this post as the original source. Thank you.
Editor's Note: The post is originally published on Sep 21, 2011.  The photos and content were updated in November 2013 and July 2017.