A classic Japanese autumn soup, Matsutake Suimono (Clear Soup) is cooked with seasonal matsutake mushrooms, tofu and mitsuba herb in a clear dashi broth. It's absolutely nourishing and packed with health benefits.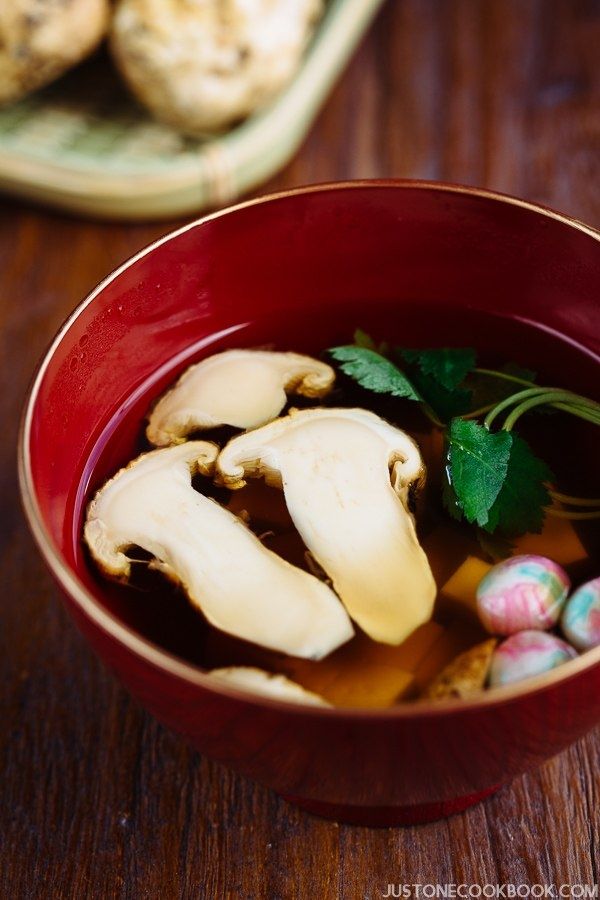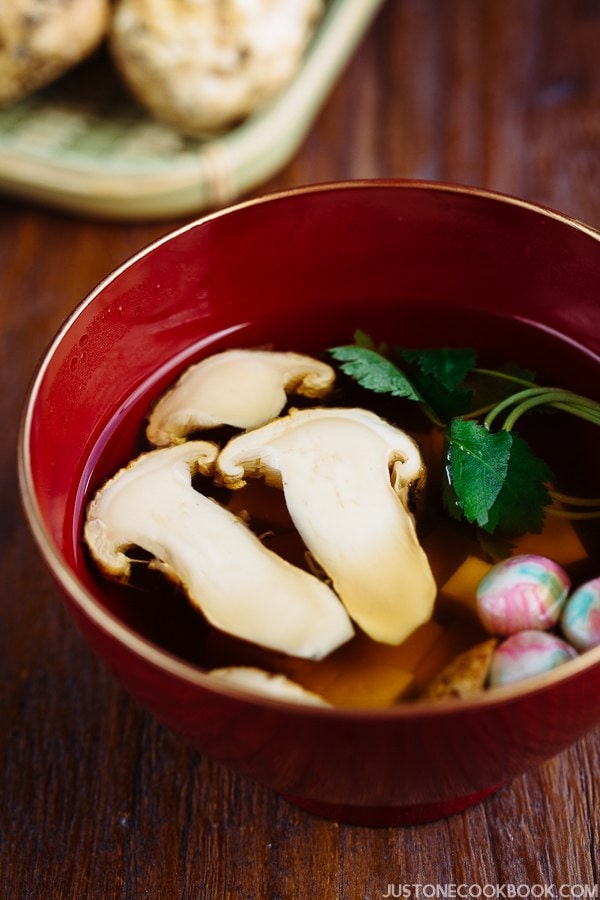 Matsutake Soup (松茸お吸い物) is a classic Japanese autumn soup with highly-prized fragrant matsutake mushrooms in clear dashi broth. This type of soup does not have miso paste, and is called Suimono or Osuimono which means "food you can sip".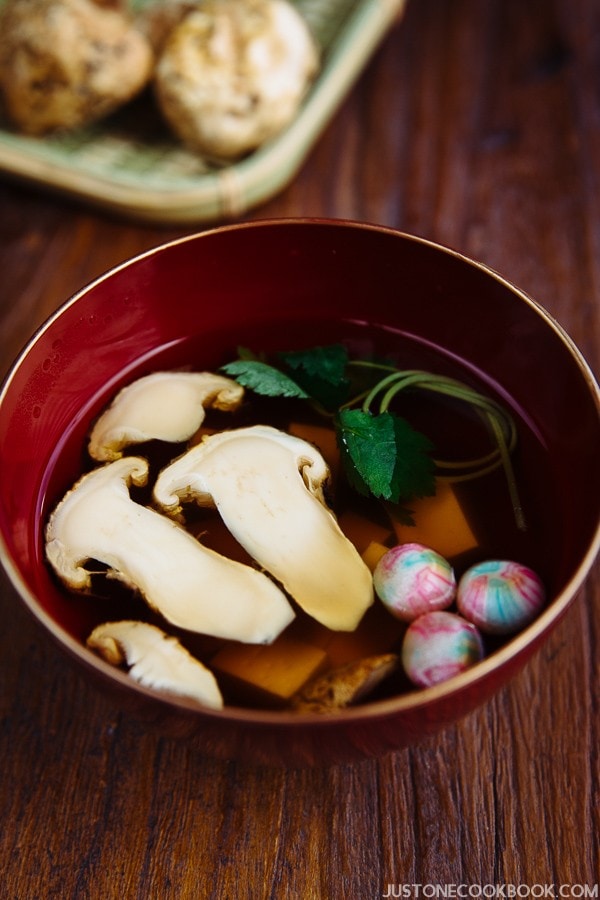 What is Matsutake Mushroom?
If you are a seasoned mushroom forager or mushroom connoisseur, you've probably heard of matsutake mushrooms.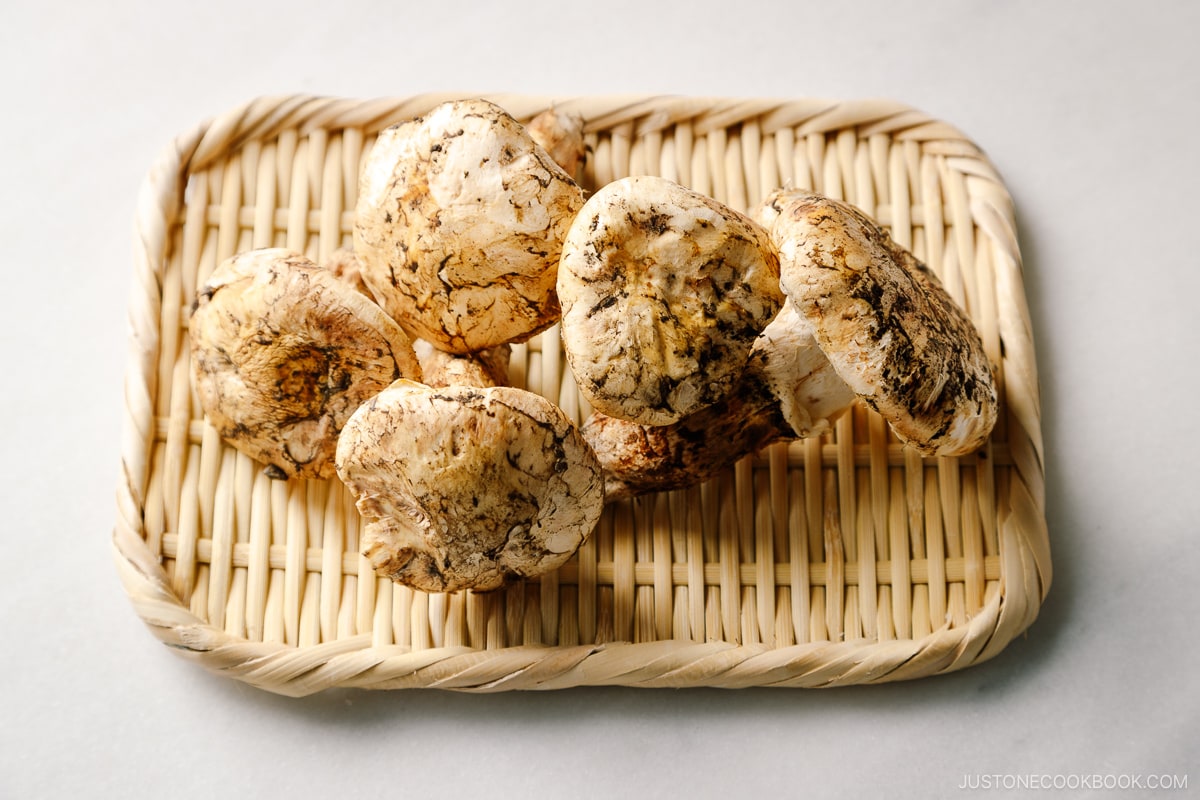 An aromatic mushroom found near specific species of pine tree, matsutake are large firm mushrooms that are ivory in color. In Japanese, matsu (松) means pine and take (茸) means mushroom. It has a very distinct taste and smell like no other food. Imagine a mushroom with extremely concentrated smell of pine wood. Matsutake holds a special place in the culinary world in Japan just like truffles are to French people. We also strongly believe that eating matsutake have many health benefits and one of it includes reducing the free radicals that lead to cancer.
The Japanese has many different preparations for this savory mushroom. One of the simplest ways to enjoy this prized mushroom is by simply grilling it and seasoned with only soy sauce and mirin. We also use it to infuse other dishes like rice or chawanmushi.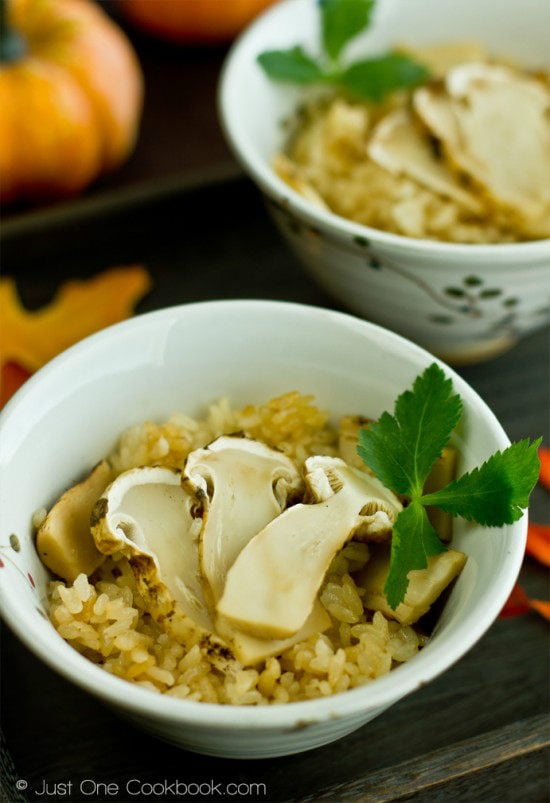 In Japan, due to an issue with pine roundworm, the production has decreased over the past few decades. However, the mushroom is also grown in other parts of the world. The ones I buy from the local market are from the US (Oregon/Washington areas).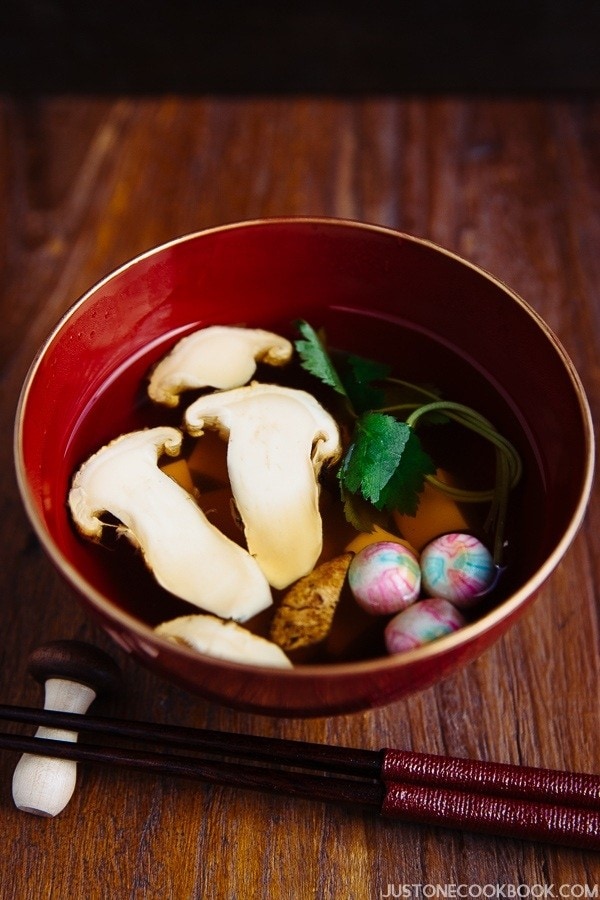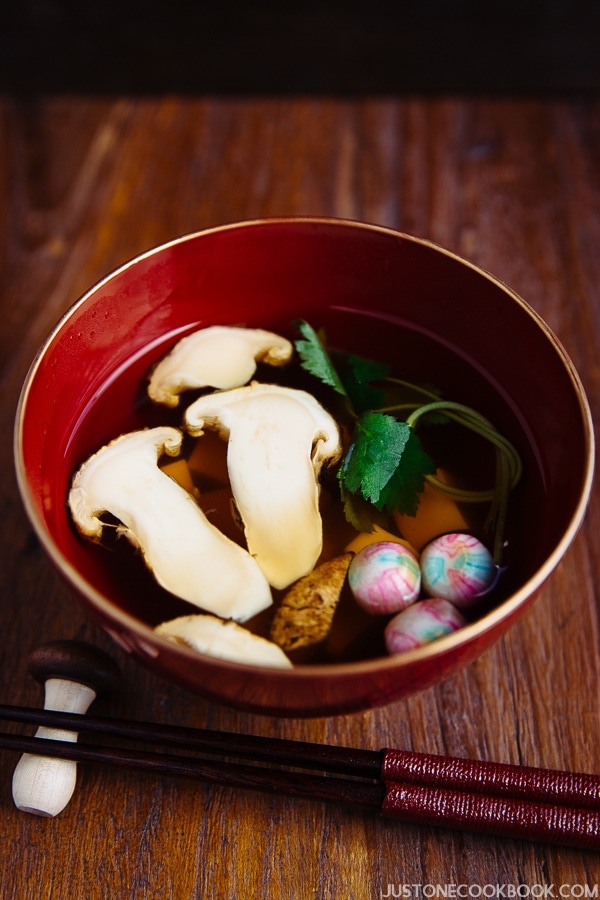 Alternatives to Matsutake Mushroom
For this clear soup recipe, if you cannot find matsutake locally, you can substitute with other kind of mushrooms. You can also experiment with other ingredients you think that will work for a clear delicate soup. My recommendation is to choose ingredients with simple flavor as they can't overpower the subtle yet rich flavor of dashi broth. Try to combine a nice selection of colors and shapes.
As for dashi, you can use convenient dashi powder instead of making the dashi soup base from scratch to save time. But for a simple dish like this where seasonings are minimal, good broth made from scratch will make a huge difference for the resulting flavor. For this simple homemade dashi recipe, I cut down some extra steps from my original dashi recipe. All you need is kombu and katsuobushi, and they are available at most Asian supermarkets and not necessarily just in Japanese supermarkets.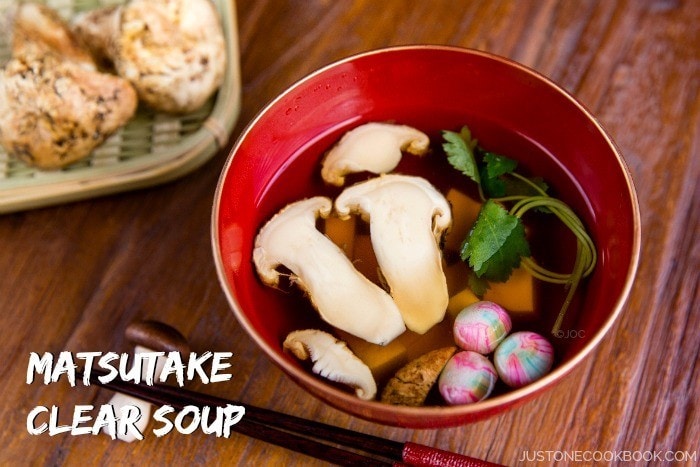 Looking at the image above, you might wonder about those cute little pink balls in the soup. They are called Temari Fu (手まり麩). Fu (麩) or Ofu (お麩) is wheat gluten that is often used as meat substitutes (read more details here). Temari is a traditional Japanese ball made by kimono scraps (see the photo below). I included these balls to add nice accent to the color of the soup. I brought these back from my Japan trip, and unfortunately this type of fu is hard to find outside of Japan.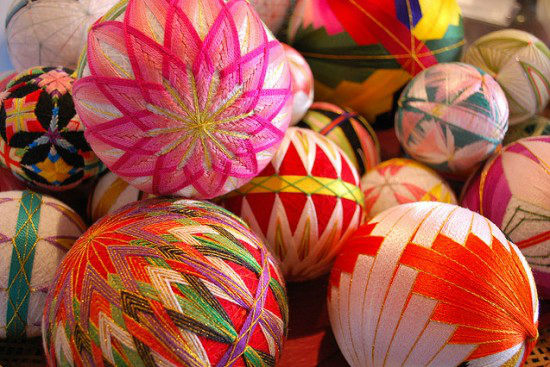 Aren't they beautiful? You can try making these gorgeous Temari Sushi!
Aromatic, healing, and cleansing, Matsutake Soup can literally warm you from head to heart when the weather is starting to cool down. I hope you enjoy the recipe as much as I do.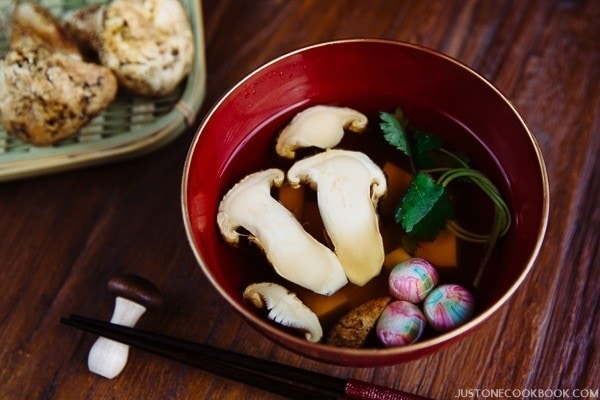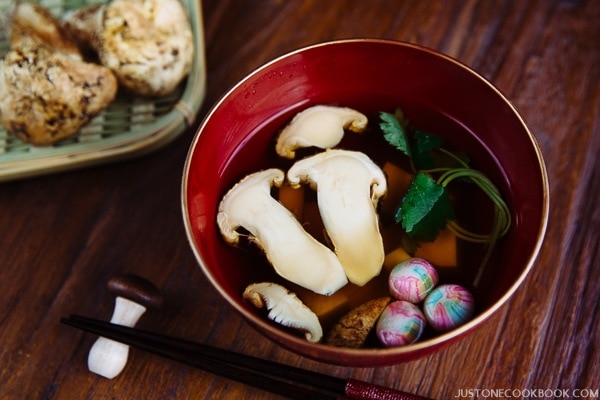 Wish to learn more about Japanese cooking? Sign up for our free newsletter to receive cooking tips & recipe updates! And stay in touch with me on Facebook, Pinterest, YouTube, and Instagram.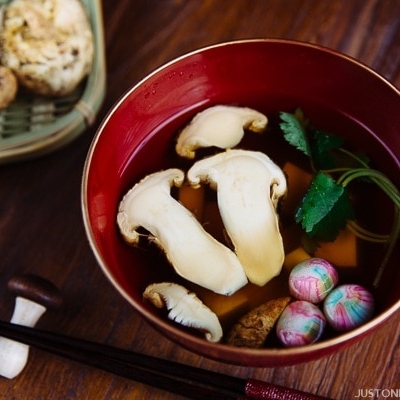 Matsutake Clear Soup (Suimono)
A classic Japanese autumn soup, Matsutake Suimono (Clear Soup) is cooked with seasonal matsutake mushrooms, tofu, and mitsuba herb in a clear dashi broth. It's absolutely nourishing and packed with health benefits. 
Video
Japanese Ingredient Substitution:
If you want substitutes for Japanese condiments and ingredients, click
here
.
Instructions
Gather all the ingredients.
To Prepare the Ingredients
Clean

1 matsutake mushroom

with a damp paper towel. Because mushrooms absorb moisture like a sponge, we try not to wash the mushroom. Shave off a thin sliver of the mushroom stem as if you are sharping a pencil with a knife. Cut into thin slices.

Tie a knot in each stem of

4 sprigs mitsuba (Japanese parsley)

. If you use scallion, finely slice it.
To Make the Dashi
Gently clean

1 piece kombu (dried kelp)

with a damp cloth but leave the white powdery substance which contributes to the umami flavor in the dashi. Do not wash the kombu.

In a medium pot, put the kombu in

2 cups water

. Heat up slowly on medium-low heat. If you have time, soak for 3 hours ahead of time or preferably overnight. The kombu's flavor comes out naturally from soaking in water.

When boiling, add

1 cup katsuobushi (dried bonito flakes)

. Simmer for just 30 seconds and turn off the heat.

Strain the dashi through a fine-mesh sieve set over a bowl. Gently squeeze to release the extra dashi into the bowl.
To Make the Soup
Transfer the dashi back to the saucepan and bring to a boil. Add the seasonings:

1 Tbsp sake

,

2 tsp mirin

,

2 tsp soy sauce

, and

½ tsp Diamond Crystal kosher salt

.

Cut

5 oz soft/silken tofu (kinugoshi dofu)

into small cubes and add to the soup. Then, add sliced matsutake mushrooms and cook until ingredients are heated through, about 2–3 minutes.

Soak

4 Temari Fu (wheat gluten)

in water to hydrate. When the temari fu is soft, squeeze the water out and place it in a serving bowl.

Add the mitsuba to the soup right before serving.
To Serve
Serve the soup into bowls and garnish with

yuzu zest

on top.
Nutrition
Nutrition Facts
Matsutake Clear Soup (Suimono)
Amount per Serving
% Daily Value*
* Percent Daily Values are based on a 2000 calorie diet.
©JustOneCookbook.com Content and photographs are copyright protected. Sharing of this recipe is both encouraged and appreciated. Copying and/or pasting full recipes to any website or social media is strictly prohibited. Please view my photo use policy
here
.
Editor's Note: The post was originally published on October 12, 2014. The content has been updated in October 2017.