Prized for their distinct aromatic odor and flavor, matsutake mushrooms are the taste of autumn. Learn more about this king of mushrooms and how to cook with them!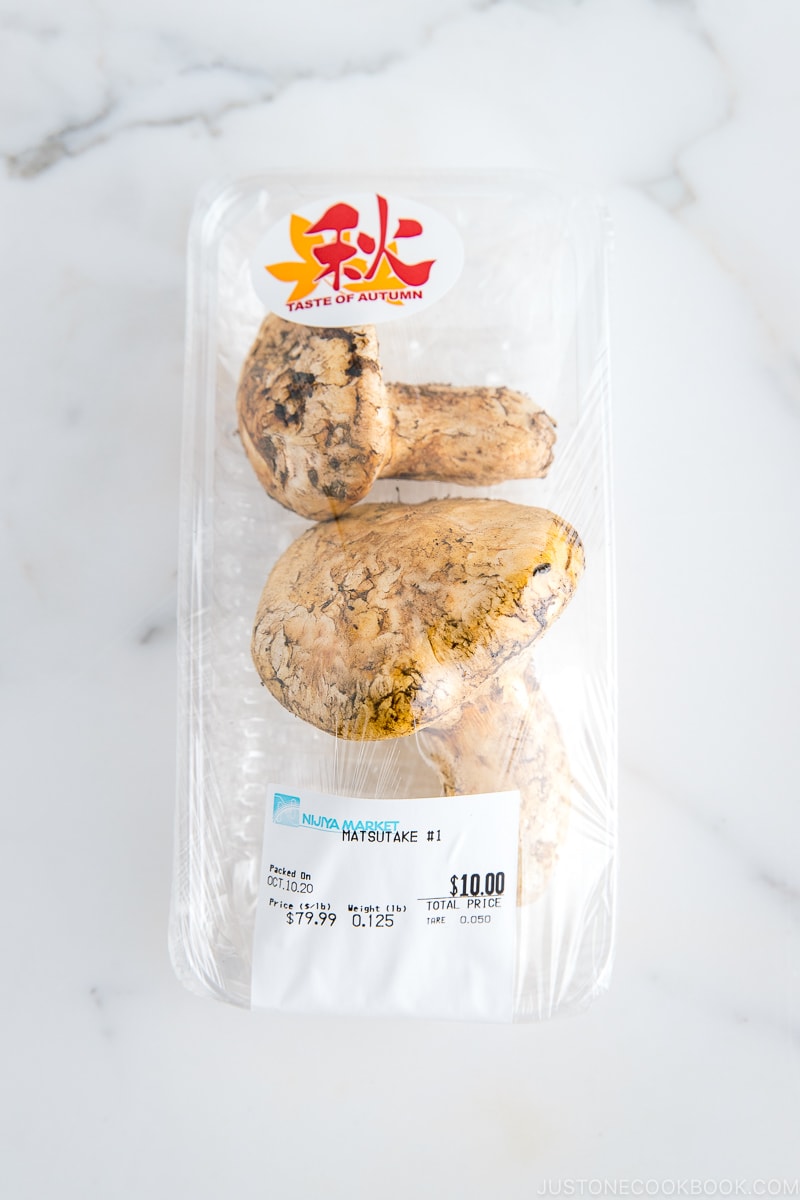 Matsutake mushrooms (松茸), or pine mushrooms, are prized by the Japanese for their unique flavor and aroma. Its place in Japanese cuisine is similar to truffle for the French. The Japanese eat matsutake cooked with rice or broth to highlight the ingredient.
What Is Matsutake Mushroom
Matsutake mushrooms (tricholoma matsutake) grow wild in fir and pine forests. They are harvested in Asia from early fall through midwinter. Its name matsutake means "pine mushroom" in Japanese.
Two related species, Tricholoma magnivelare and Tricholoma murrillianum, are found throughout the western United States, such as northern California and Oregon, Canada, Europe, and Turkey. They're typically referred to and sold as matsutake. 
In Japan, top-quality domestic matsutake mushrooms are expensive as they're rare and cannot be cultivated like other mushrooms. Grocery stores in Japan sell imported cheaper matsutake mushrooms, but the Japanese try to buy domestic ones as they are more fragrant and considered high status.
What Does It Taste
While most mushrooms are enjoyed primarily for their taste, matsutake mushrooms are appreciated for their aroma. The scent invokes the taste of autumn, with a hint of sweet cinnamon and cypress. It has a firm, meaty texture and a spicy flavor.
The famous author of "Mushrooms Demystified" David Arora describes the smell as "a provocative compromise between red hots and dirty socks." It may not sound the most appealing, but it does have a unique smell that some may find overwhelming.
How To Use
For the Japanese, matsutake signifies the arrival of autumn. Thus, the Japanese eat them in various fall dishes. Enjoy them roasted, grilled, or added to clear broths. It pairs well with dashi.
Highlight the delicate flavors of matsutake by making matsutake soup, takikomi gohan, and chawanmushi.
Recipes Using Matsutake Mushrooms
Where To Buy
Here in the Bay Area, we can get fresh, local matsutake mushrooms at Japanese supermarkets and farmers' markets for about $40-80 per pound (depending on the grade).
In the U.S., matsutake is most commonly found along the Pacific Northwest, Idaho, and Canada. The season starts from September through December or the first snow. Some national forests regulate picking and may require permits, so please check the official website before foraging.
How To Store
Check the gills for trapped dirt and clean by gently wiping the mushrooms with a damp cloth. Avoid washing them, and if you're concerned about hidden bugs or dirt, you can submerge them in a bowl of water. Cut off the hard stem and pat dry.
Whether you store them in the fridge or freezer, note that the aroma will disappear with time. It's best to eat them as quickly as possible.
If you're not using the mushrooms immediately, wrap them with a damp paper towel, put them in a plastic bag, and store them in the refrigerator for no more than a week.
You can also freeze them for up to 2-3 months. When using frozen matsutake, do not thaw them completely. Use frozen mushrooms or if you want to slice, thaw partially so you can cut.
How To Choose The Best
Choose firm, intact mushrooms with unopened caps instead of wide-opening umbrellas. The caps should not look dried out, and the stems should look plump, not slimy.
---
Wish to learn more about Japanese cooking? Sign up for our free newsletter to receive cooking tips & recipe updates! And stay in touch with me on Facebook, Pinterest, YouTube, and Instagram.