Prized by the Japanese for its distinct aromatic odor and flavor, matsutake mushrooms are the taste of autumn. Learn more about this king of mushrooms and how to cook with them!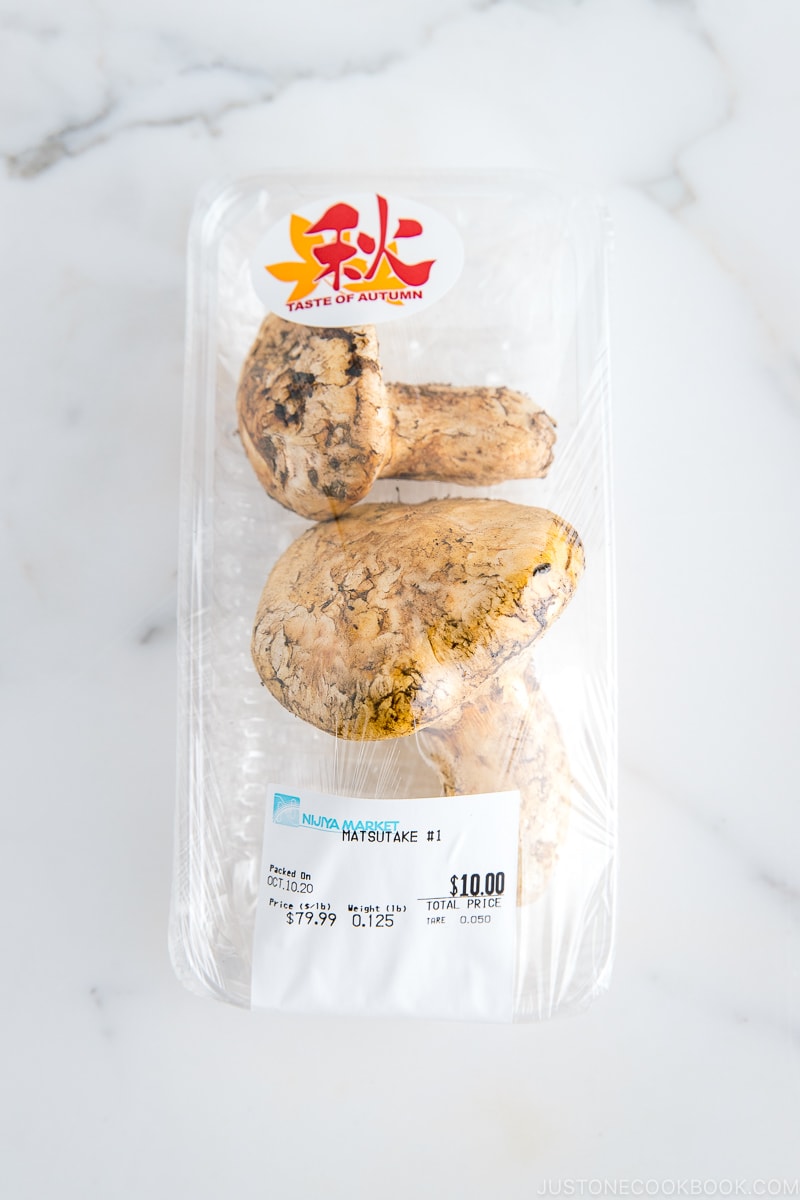 What is Matsutake Mushroom
Matsutake mushrooms (松茸), or pine mushrooms, are prized by the Japanese for its distinct aromatic odor and flavor. Its place in Japanese cuisine is very similar to black and white truffle for the French. Culturally, they symbolize fertility and happiness, so they are sometimes given as special gifts.
In Japan, top quality domestic matsutake mushroom could easily fetch for as much as $1000 per pound. Grocery stores in Japan sell imported matsutake mushrooms for a less expensive price, but people still try to buy domestic ones as they are more fragrant and the price is affordable for a small amount.
How Do Matsutake Mushrooms Taste?
While most mushrooms are enjoyed primarily for their taste, matsutake mushrooms are appreciated for their unmistakable aroma. The scent is said to invoke the taste of autumn, with a hint of sweet cinnamon and cypress. It has a firm, meaty texture and a spicy flavor.
Although they work well in different types of dishes, I recommend starting out with a smaller amount since the fragrance can be overwhelming to some. Try it with Japanese recipes before you branch out with other dishes.
Where to Get Matsutake Mushrooms
Here in the Bay Area, we are able to get fresh, locally grown matsutake mushrooms at a Japanese supermarket and farmers market for about $40-80 per pound (depending on the grade).
In the US, matsutake mushrooms are most commonly found along the coast of the state of Washington, and in Oregon, Northern California, Idaho, and Canada. The season starts from September through December or the first snow.
Buying and Storage Tips
Choose firm, intact mushrooms with unopened caps instead of wide opening umbrellas. The stems should also look plump and make sure they are not slimy.
Before you cook or store them away, make sure to clean and remove the dirt by gently wiping the mushrooms thoroughly with a damp cloth.
If you're not using the mushrooms right away, wrap them with a damp paper towel, put in a plastic bag, and store them in the refrigerator for no more than a week. You can also freeze them for up to 2-3 months by wrapping them in plastic and store in a freezer bag. Do not thaw them completely. Use frozen mushrooms or if you want to slice, thaw partially so you can cut.
Recipes Using Matsutake Mushrooms
For the Japanese, matsutake mushrooms signify the arrival of autumn, so they are commonly featured in various fall dishes. You can enjoy the mushrooms in many different preparations. They are great roasted or grill or add them in soups or broths.
Some of the popular Japanese dishes that highlight the delicate flavors of Matsutake include matsutake soup, takikomi gohan (rice), and chawanmushi. You can find my recipes here: