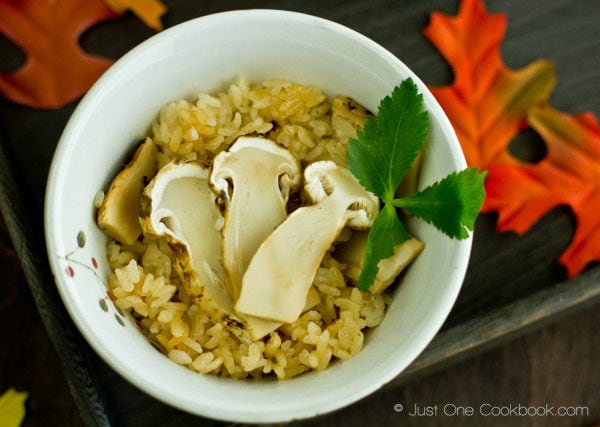 Matsutake mushroom (pine mushroom) – a delicacy from Japan are highly prized by the Japanese for its distinct aromatic scent and flavor.
In Japan, wild matsutake mushrooms are hard to find and the high quality ones can cost up to $1,000 per pound and the exotic ones for up to $2,000.   Luckily, we are able to find them in the local Japanese supermarket for about $40 per pound (US grown).  Living up to its reputation, the aroma and flavor this mushroom offer is simply amazing.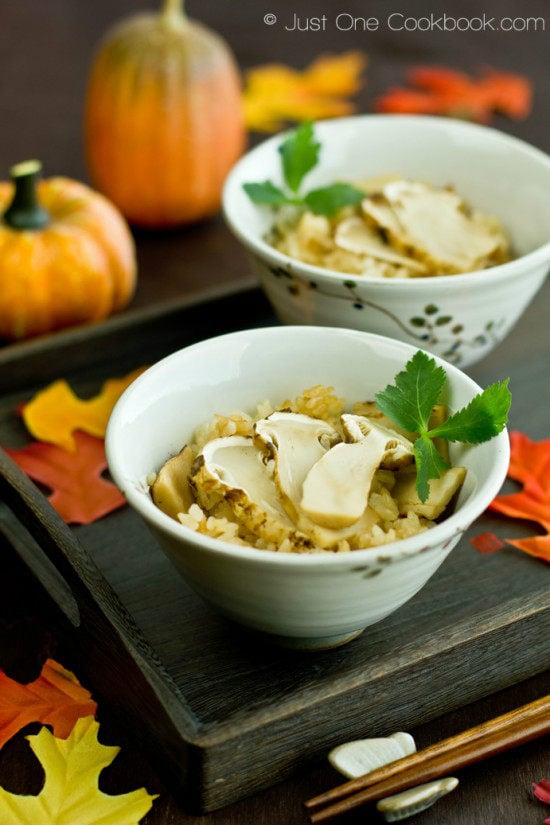 Matsutake Gohan (Seasoned Rice with Matsutake) is probably the most popular and well-known matsutake recipe in Japan.  Its flavor and essence has been compared to France's truffles.  During my research, I became curious on the differences between truffles and mushrooms.  It turns out truffles and mushrooms are both fungi, the key difference is mushrooms grows above ground and truffles grow underground.  Isn't it interesting?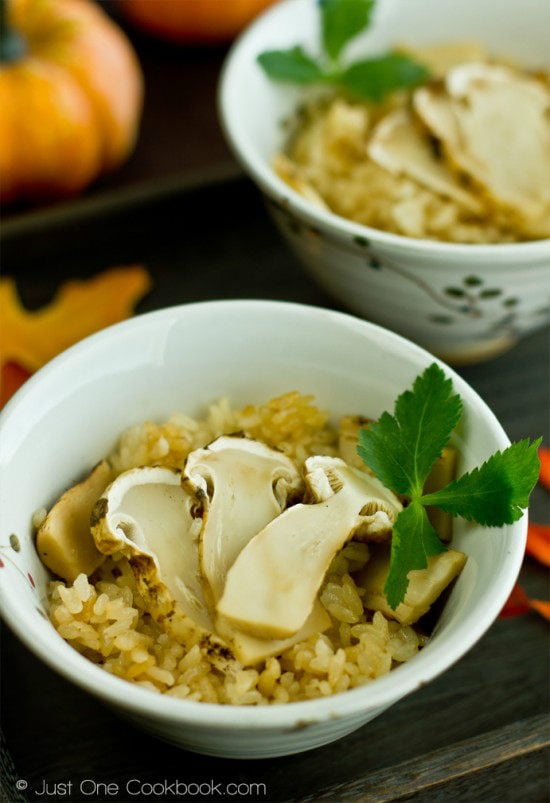 Don't want to miss a recipe? Sign up for the FREE Just One Cookbook newsletter delivered to your inbox! And stay in touch on Facebook, Google+, Pinterest, and Instagram for all the latest updates. Thank you so much for reading, and till next time!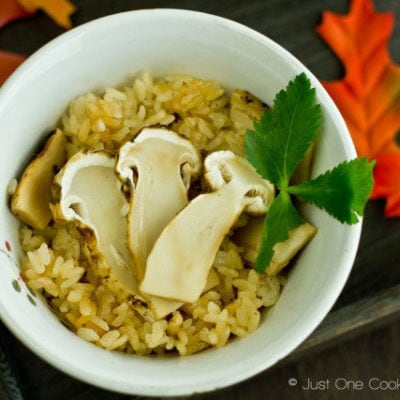 Matsutake Gohan (Wild Pine Mushroom Rice)
A delicacy from Japan are highly prized by the Japanese for its distinct aromatic scent and flavor.
Keyword:
mixed rice, mushroom
Instructions
Rinse the rice with cold water. When water is half-translucent*, drain water and transfer the rice into a sieve and set aside for 30 minutes.

Trim off the bottom of the mushroom stem. Thoroughly clean the mushroom with damp towel or paper towel. Do not wash the mushroom. Slice lengthwise into ⅛" slices.


Put the rice and Seasonings in a rice cooker, and add dashi stock until 3 cups for White Rice.

Add matsutake mushroom on top of the rice and start cooking. You do not need to mix. When the rice is cooked, mix it gently. Garnish with Mitsuba before you serve.

Recipe Notes
*Unlike old days, rice is now milled very well so it's recommended not to continue washing until the water is clear.
Recipe by Namiko Chen of Just One Cookbook. All images and content on this site are copyright protected. Please do not use my images without my permission. If you'd like to share this recipe on your site, please re-write the recipe in your own words and link to this post as the original source. Thank you.