This umami-rich Japanese Mushroom Rice is cooked in a savory dashi soy broth and topped with butter, chopped chives, and sea salt flakes. Use a mix of different Japanese mushrooms like shiitake, king oyster, and shimeji for flavor and texture.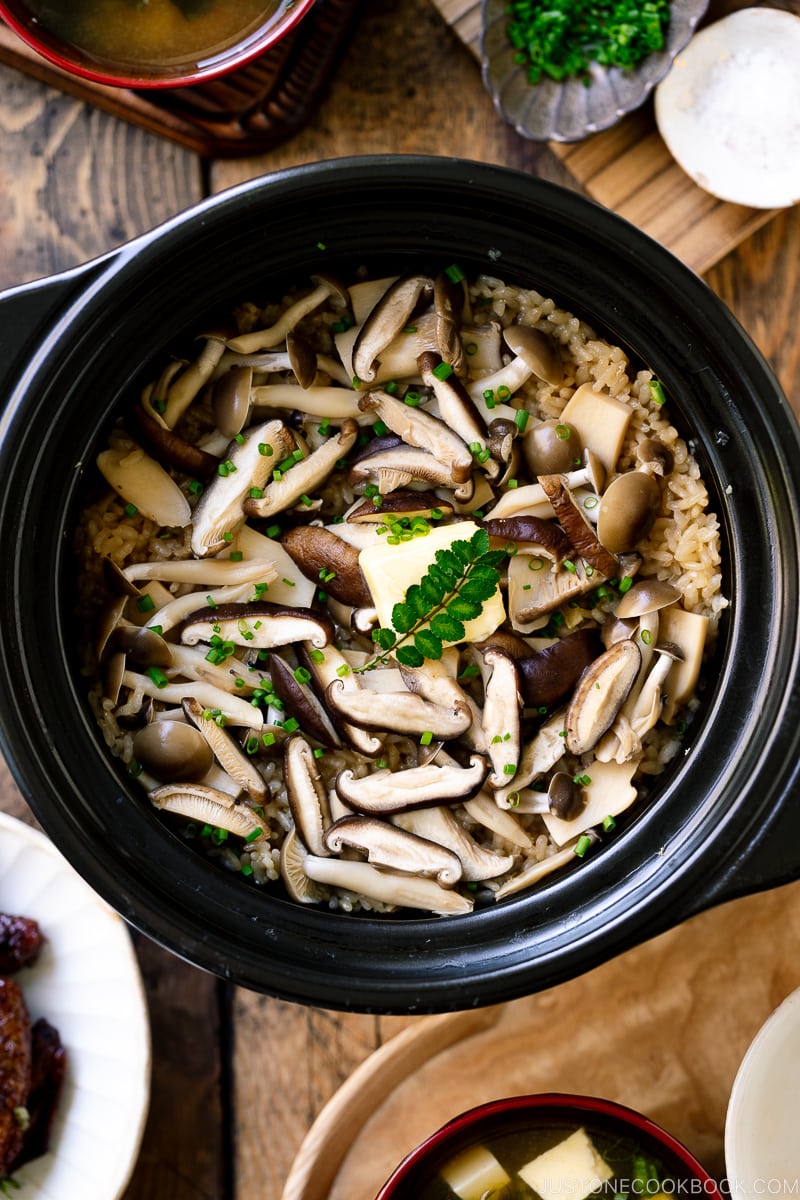 There are so many ways to cook and enjoy Japanese rice beyond ordinary steamed rice to accompany your meal. When I plan to serve a light main dish, I usually go for mixed rice with fresh seasonal ingredients or pantry staples.
Today, let's make Japanese Mushroom Rice (きのこご飯). Japanese mushrooms, such as shiitake, enoki, shimeji, and maitake, are getting more popular these days and I can get them at local grocery stores or farmers' markets. Whether you're a mushroom fan or not, I'd love you to give this recipe a try. This dish spotlights the beauty of all-mighty mushrooms—and I think you're going to fall in love!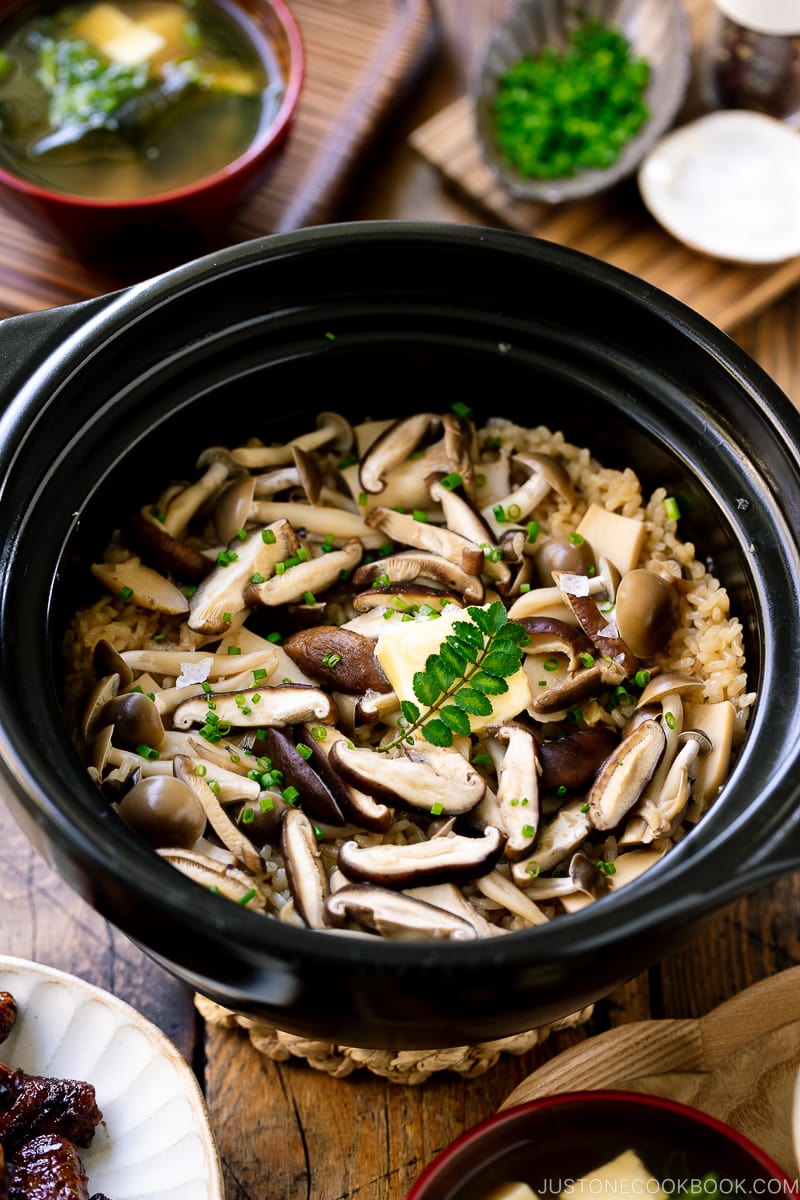 What is Japanese Mushroom Rice?
Japanese mushroom rice (known as kinoko gohan in Japanese) is another variation of takikomi gohan, which is a Japanese mixed rice dish that incorporates steamed rice with a mixture of vegetables, proteins, and seasonings.
In this kinoko gohan, a mixture of mushrooms is cooked with the rice so the entire rice dish is infused with an aromatic, earthy, umami flavor. Any mushroom lovers would enjoy this beautiful rustic recipe!
Why You Should Make This Japanese Mushroom Rice
Light yet flavorful, umami-rich, and savory.
So easy to make!
Simple & accessible ingredients.
Vegan-friendly by using Kombu Dashi (with the addition of dried shiitake mushrooms).
Freezer-friendly. Leftovers? Save it for another meal!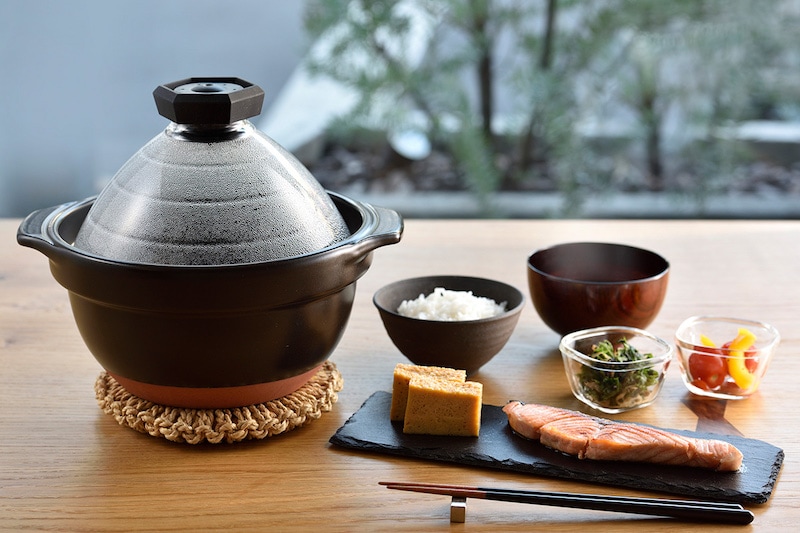 My Favorite Rice Cooker – Hario GohanGama
In case you are new to my blog, I cook Japanese rice using various methods: rice cooker, stovetop pot, donabe (Japanese earthenware or clay pot), and Instant Pot. Each one has its perks and you can certainly make this Japanese mushroom rice recipe with your chosen vessel.
But today, I want to talk about my ABSOLUTE favorite way to cook rice and it has to be with Hario's GohanGama. You might have seen me using this rice cooker in my Instagram stories many times.
Hario's GohanGama is basically a heat-resistant Japanese clay pot that features a glass lid. This is a sponsored post, but it's a product that I truly enjoy. The rice turns out fluffy, tender, and incredibly fragrant every time. I can't recommend it enough to those who are looking for an alternative way to cook rice!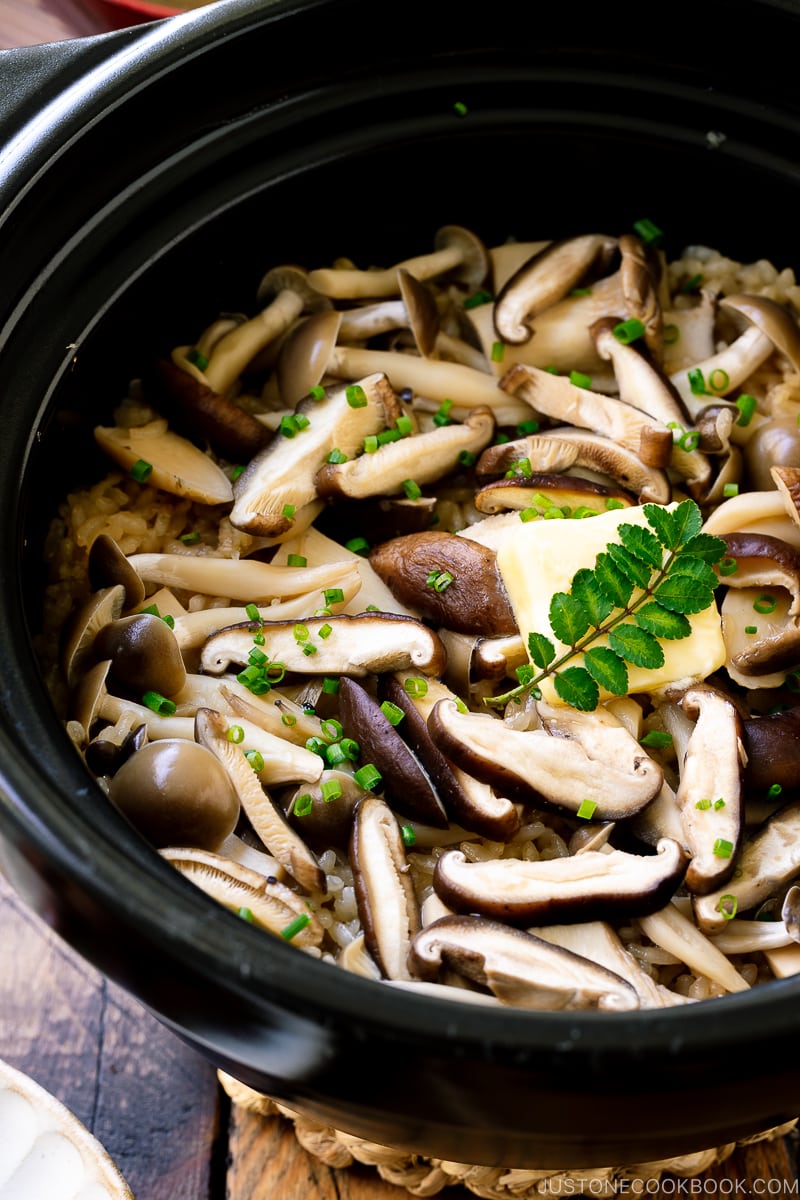 How to Make Japanese Mushroom Rice
Ingredients You'll Need
Japanese mushrooms – I used fresh shiitake, shimeji, and eringi (king oyster) mushrooms in this recipe; you can use enoki, maitake, or other kinds of mushrooms such as cremini. Consider both flavors and textures for the mix.
Japanese short-grain rice – For best results, I recommend using Japanese short-grain rice, which is the same type of rice we use for making sushi. It has a sticky, fluffy texture that is different from the other types of rice. The closest substitute is Korean short-grain rice. Learn more: Japanese Rice: Everything You Need To Know
Dashi (Japanese soup stock) – I used the combination of dashi with kombu and katsuobushi today, but if you're vegetarian/vegan, you make this quick Kombu Dashi and add some dried shiitake mushrooms in it.
Seasonings – Soy sauce, mirin, sake, and salt.
Toppings – Butter, chives, and sea salt flakes.
Overview: Cooking Steps
Make dashi (Japanese soup stock), if you haven't already. You can make it from scratch, use a dashi packet (my method today), or dashi powder. If you're vegan/vegetarian, make kombu dashi and add a few dried shiitake mushrooms to the broth.
Rinse rice and drain. I have the whole tutorial on the proper rice rinsing tutorial here.
Cut mushrooms into bite-size pieces.
Add rice, seasonings, and stocks. Then mix it all together before you put the mushrooms on top. Let the rice soak in the seasoning broth for 20 minutes.
Cook the rice. Once it's finished cooking, let it steam for 10-15 minutes before fluffing the rice.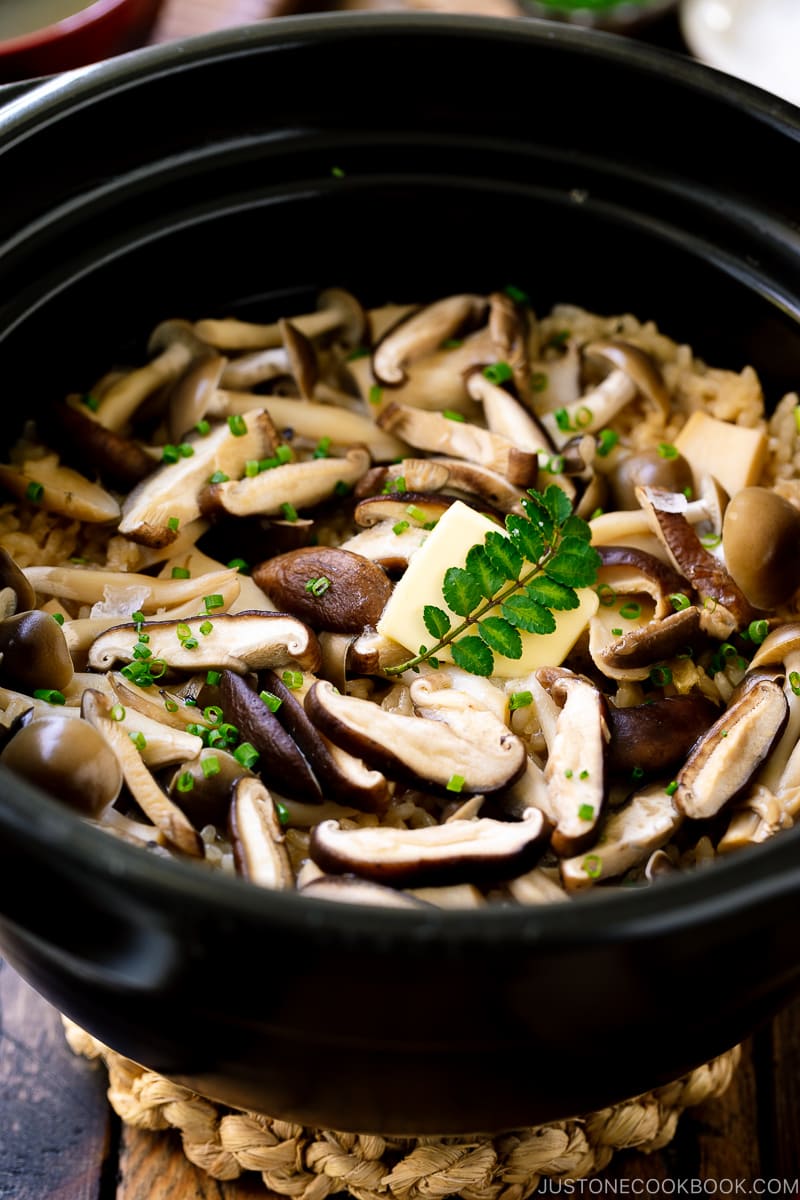 5 Tips on Making Japanese Mushroom Rice
Take note of the rice cooker cup – If you have never owned a rice cooker, you may not be aware that rice is measured with a rice cooker cup. 1 rice cooker cup is 180 ml, equivalent to 3/4 US cup. This measurement is standard for all brands of rice cookers. If your rice cooker comes with a clear rice cooker cup, it is a 180-ml cup.
The ratio for Japanese short-grain rice to water is 1:1.1 or 1:1.2 – For 1 rice cooker cup (180 ml) of Japanese rice, you will need 200 ml of water.
Quickly rinse mushrooms – There are a lot of discussions on whether you should be washing mushrooms or not, and this is because mushrooms can soak up moisture. If your mushrooms look relatively clean, you can gently brush them with a pastry brush or paper towel. If dirt is attached to mushrooms and hard to remove, you can quickly rinse them under cold running water and dry them with a clean tea towel or paper towel. Just DO NOT SOAK them.
Do not mix rice and ingredients – This applies to all mixed rice recipes. You first need to mix the rice and broth (with seasonings), but other ingredients such as veggies and meat must go on top. This ensures the rice is cooked evenly. Only mix everything together once the rice is done cooking.
Always soak Japanese short-grain rice – Japanese rice is plump (thicker) than other varieties and it needs a head start to absorb moisture to the core. Soaking for 20-30 minutes is standard.
Cooking in a Rice Cooker or a Stovetop Pot
You will cook the rice exact same way whether you cook this recipe in your electric rice cooker or stovetop pot.
This means that you prepare each ingredient as I explained and put everything in the same order in your cooking device. Make sure to soak the rice for 20-30 minutes.
If you're cooking the rice in an electric rice cooker, click the start button (or "mixed rice" menu).
If you are cooking the rice in a pot over the stovetop:
Cover the pot with the lid and bring it to a boil over medium heat. You can take a quick peek to see if the water is boiling (otherwise do not open the lid).
Once the water is boiling, turn the heat to low and cook, covered, for 12 to 13 minutes, or until the water is completely absorbed (take a quick peek). If there is water left, close the lid and continue cooking for a little longer.
Remove the pot (with the lid on) from the heat source and let it steam for another 10 minutes.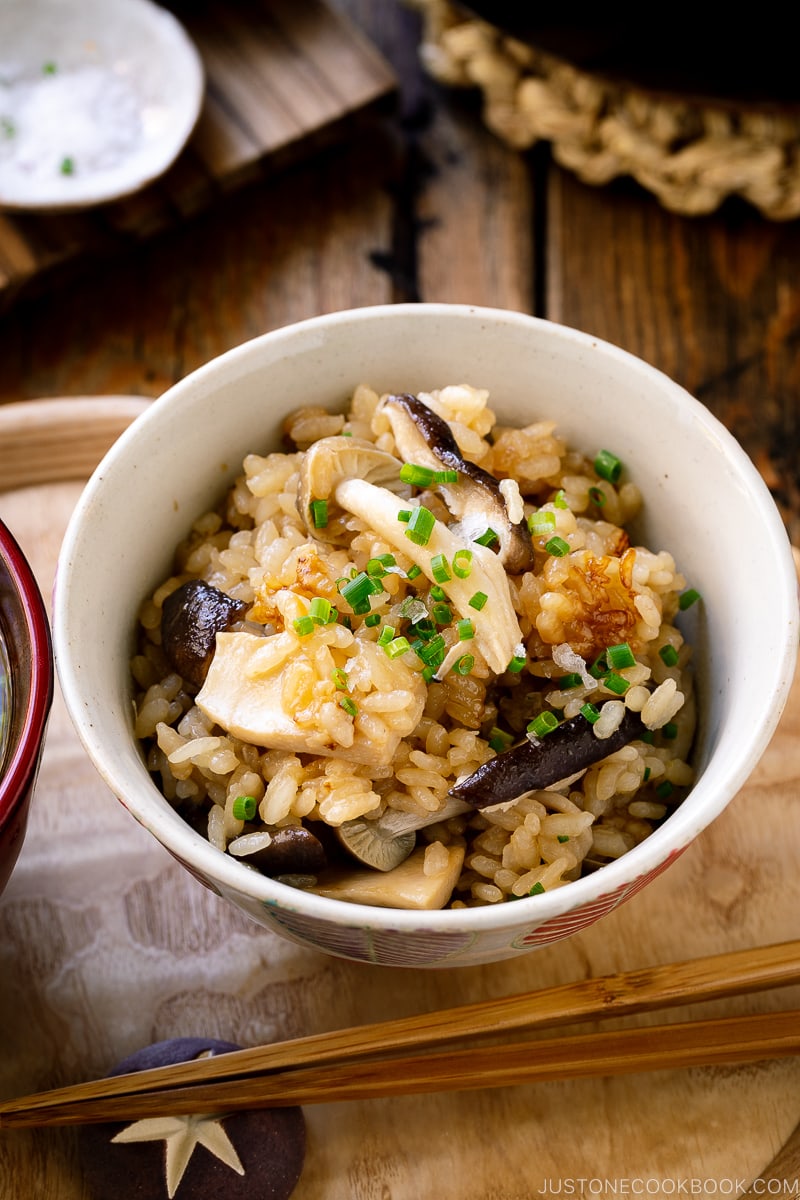 What to Serve with Japanese Mushroom Rice
I usually serve Japanese Mushroom Rice with a main dish that's not too heavy, such as Miso Salmon, Shio Koji Chicken, or Soy-Glazed Eggplant.
This is a perfect side to serve with your vegetarian and vegan dishes.
Other Delicious Rice Recipes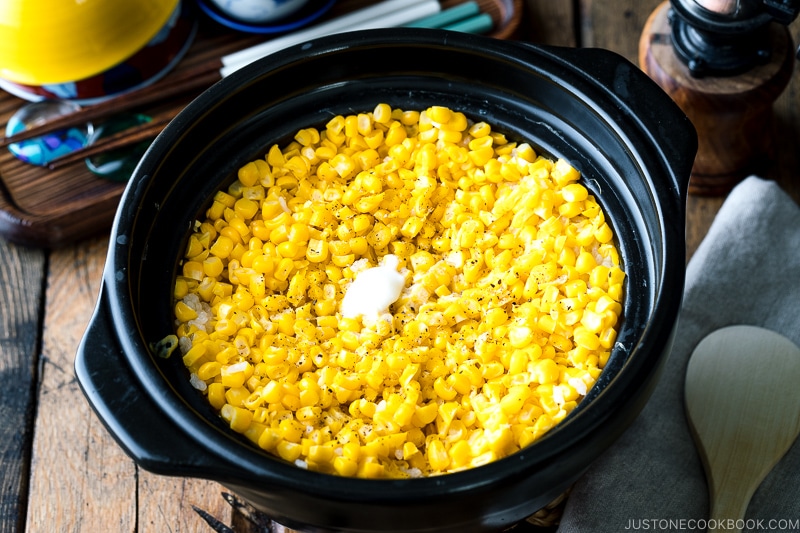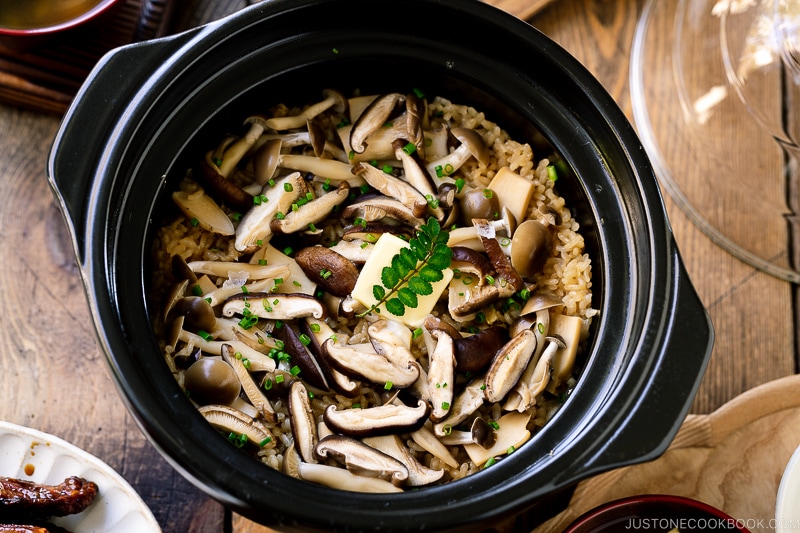 Wish to learn more about Japanese cooking? Sign up for our free newsletter to receive cooking tips & recipe updates! And stay in touch with me on Facebook, Pinterest, YouTube, and Instagram.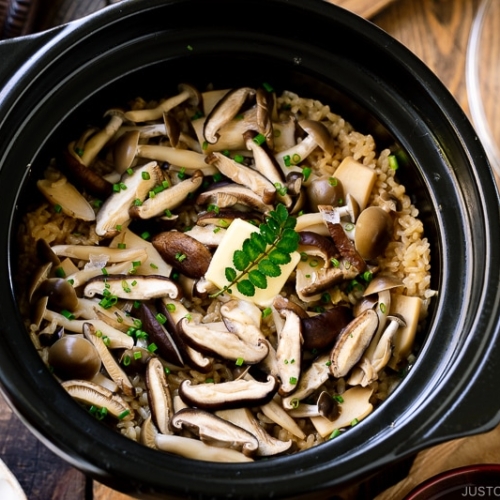 Japanese Mushroom Rice
This umami-rich Japanese Mushroom Rice is cooked in a savory dashi soy broth and topped with butter, chopped chives, and sea salt flakes. Use a mix of different Japanese mushrooms like shiitake, king oyster, and shimeji for flavor and texture.
Video
Ingredients
7

oz

assortment of Japanese mushrooms

(for 4 servings, I used ½ package (50 g) of shimeji mushrooms, 2 small king oyster mushrooms (eringi), and 5 shiitake mushrooms)

2

rice cooker cups

uncooked Japanese short-grain white rice

(360 ml, 1½ US cups, 300 g of uncooked rice yields roughly 4 servings (3½ US cups) of cooked rice)
For the Toppings
2

Tbsp

unsalted butter

(divided)

5

stalks

chives

(or scallions/green onion)

½

tsp

sea salt flakes
Japanese Ingredient Substitution:
If you want substitutes for Japanese condiments and ingredients, click
here
.
Instructions
Gather all the ingredients. The Japanese short-grain rice-to-water ratio is 1 to 1.1 (or 1.2). I used my Hario GohanGama (donabe rice cooker) in this recipe, but you can use an electric rice cooker (same measurement, and start cooking as usual) or a pot with a heavy bottom (for better heat distribution).
To Wash the Rice
Put the rice in a large bowl and add just enough cold tap water to submerge the grains. Discard the water immediately (so the rice doesn't absorb the cloudy water). Next, use your fingers to gently wash the wet grains in a circular motion for 15-20 seconds. Add water to rinse and immediately pour off the cloudy water. Repeat this "wash and rinse" process a couple more times until the water is clear. Drain the rice in a fine-mesh sieve and shake off the excess water. Set aside while you prepare the mushrooms.
To Prepare the Mushrooms
Cut the king oyster mushrooms into 1½-inch (3.8 cm) lengths. Then, slice the lengths into thin slabs.

Cut and discard the bottoms of the shimeji mushrooms and separate the individual mushrooms with your fingers.

Discard the stems of the shiitake mushrooms and thinly slice the caps.
To Cook the Rice
To your rice pot, add the well-drained rice, dashi, soy sauce, mirin, sake, and salt.

Peel and grate the ginger. You will need about ½ tsp per 4 servings.

Add the ginger and minced garlic (I use this garlic press). Mix the rice and seasoning mixture well. Gently shake the pot and use your fingers to level the rice so that it's evenly distributed and submerged in the water.

Gently place the mushrooms on the rice, arranging the brown shiitake caps and shimeji mushrooms on top so they look pretty when the rice is done cooking. DO NOT MIX. The rice will not cook evenly if mixed with the mushrooms. Cover with the lid and let the rice soak for 20-30 minutes (soaking is crucial for preparing Japanese short-grain rice).

For the Hario GohanGama, cook on medium-high heat until it starts to whistle, roughly 10-11 minutes. For a regular donabe or heavy-bottomed pot, cook on medium-high heat for about 13-15 minutes. For an electric rice cooker, choose the Mixed Rice menu, if available; otherwise, start cooking.

For the Hario GohanGama, once whistling, cook for another 1-2 minutes and turn off the heat. For a regular donabe or pot, as soon as the rice is done cooking, remove it from the heat.

Let the rice steam for 20 minutes for the GohanGama and 10 minutes for the donabe, pot, and electric rice cooker. This resting period is crucial for the rice to steam properly. Resist the urge to peek under the lid and release the steam during this time.

Meanwhile, finely chop the chives and transfer them to a small plate. Also, prepare small plates of the sea salt flakes and butter. When the rice is done steaming, add half the butter on top of the mushrooms and quickly close the lid to let it melt with the residual heat.
To Serve
Sprinkle the chives and sea salt flakes on top, and add the other half of the butter (if desired). Gently mix the mushrooms into the rice using a slicing motion to avoid mashing the rice grains. Serve the mushroom rice in individual rice bowls and sprinkle more chives and sea salt on top, if desired.
To Store
You can keep the leftovers in an airtight container and store in the refrigerator for 2 days and in the freezer for a month.
Nutrition
Nutrition Facts
Japanese Mushroom Rice
Amount per Serving
% Daily Value*
* Percent Daily Values are based on a 2000 calorie diet.
©JustOneCookbook.com Content and photographs are copyright protected. Sharing of this recipe is both encouraged and appreciated. Copying and/or pasting full recipes to any website or social media is strictly prohibited. Please view my photo use policy
here
.