Cooked in classic Japanese dashi broth, this simple and elegant Bamboo Rice or Takenoko Gohan is a perfect way to welcome spring! The savory rice mixed with sweet, tender and crunchy bamboo shoots – it's a taste of spring in every bite.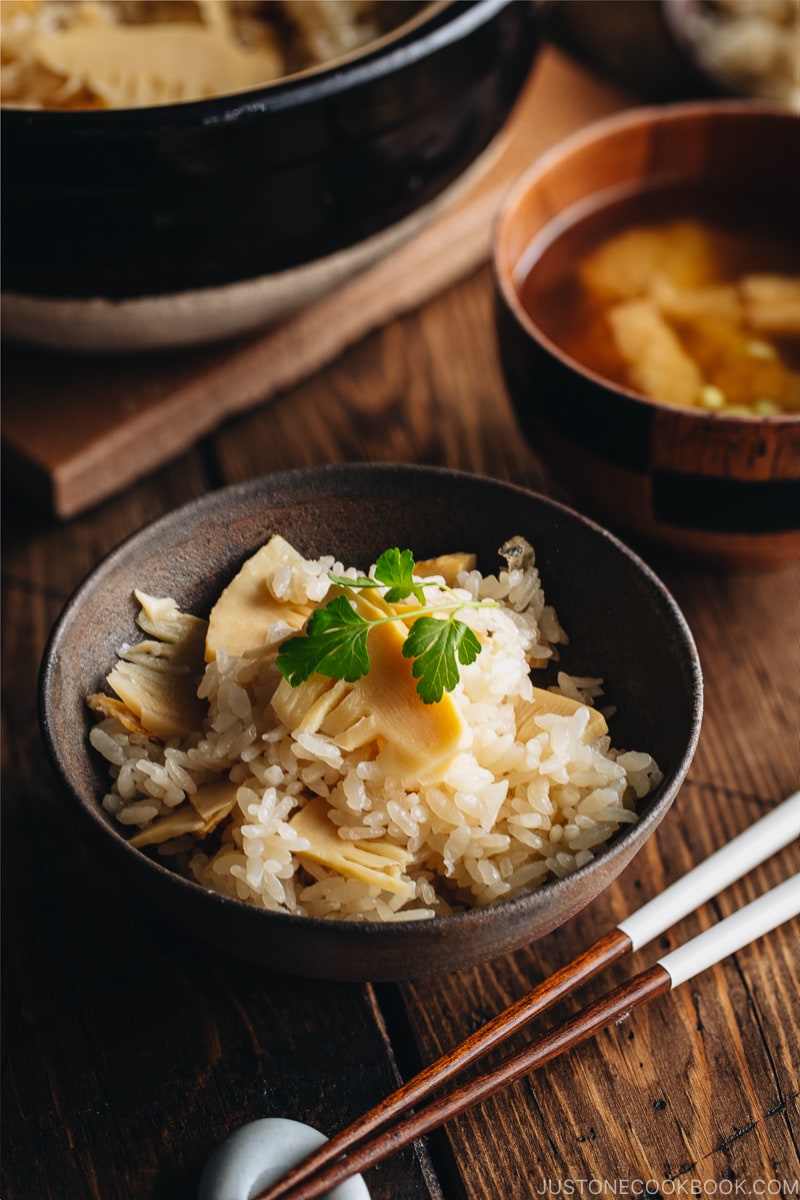 Japan has distinct four seasons, and each season is characterized by an abundance of seasonal ingredients. In Spring, we anticipate the emergence of fresh bamboo shoots and make Bamboo Rice, or Takenoko Gohan (たけのこご飯). It's a simple rice dish cooked in dashi broth with the addition of tender bamboo shoots.
As bamboo represents the coming of spring, the mixed rice holds a special place in Japanese cuisine. It also brings me such joy to cook for my family as we gather at the dinner table to give thanks for the new season.
Watch How to Make Bamboo Rice
Cooked in classic Japanese dashi broth, this simple and elegant Bamboo Rice or Takenoko Gohan is a perfect way to welcome spring! The savory rice mixed with sweet, tender and crunchy bamboo shoots – it's a taste of spring in every bite.
Edible Bamboo – Bamboo Shoots
Delicate young bamboo shoots are a common ingredient in Japanese cooking just as they are in most Asian culinary world. They are tender and edible when cooked, and they taste like spring to me. You've probably tasted bamboo shoots in ramen, but the uses extend wide and far in the kitchen. You can find bamboo shoots in many Japanese recipes such as:
The mild flavor and tender-crisp texture of bamboo shoots make it an excellent addition to bulk up your stir-fries, soups, salads or as a delicious topping to your noodle dishes.
Bamboo shoots are in season in spring between late March through May. Keep an eye out when you visit Japanese or Asian grocery stores. You might be lucky to score some fresh bamboo shoots to make delicious food with them.
Most of the Japanese and Asian grocery stores sell pre-boiled and vacuumed packed bamboo shoot like the picture shown below. The bamboo shoots are already boiled, so you can quickly heat up and enjoy right away. Do not use the canned variety to make Bamboo Rice.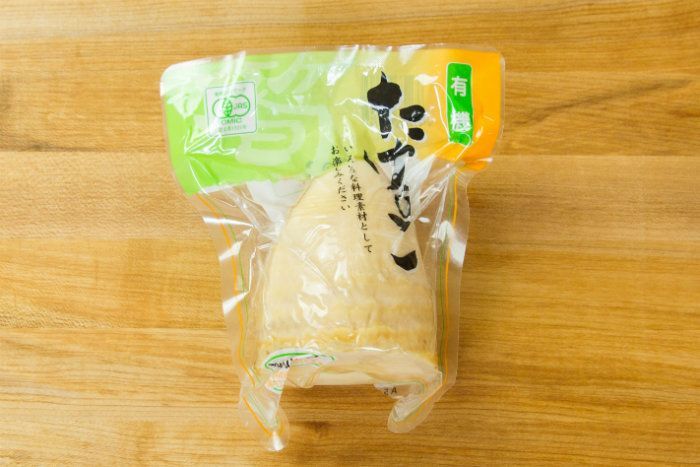 If you don't use the entire bamboo shoot, you can save the leftover in an airtight container. Make sure to soak the bamboo shoots in cold water all the time and change the water every day to keep it fresh until you are ready to use. They can last up to two weeks when they are properly refrigerated.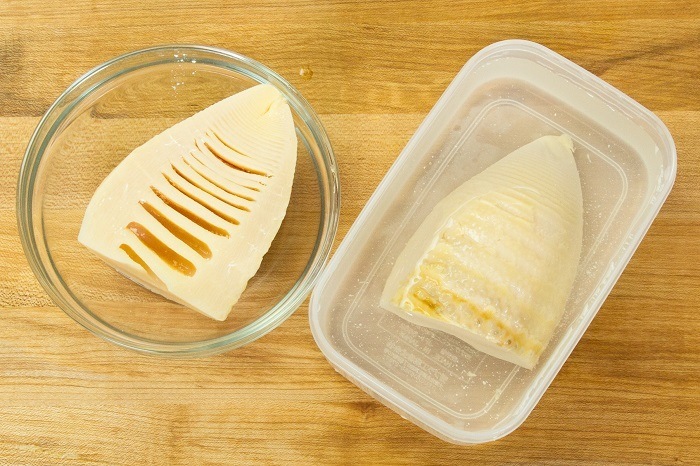 You can rinse off the gritty white substance in the bamboo shoot, but they are edible. If they don't bother you, there's no need to rinse it off.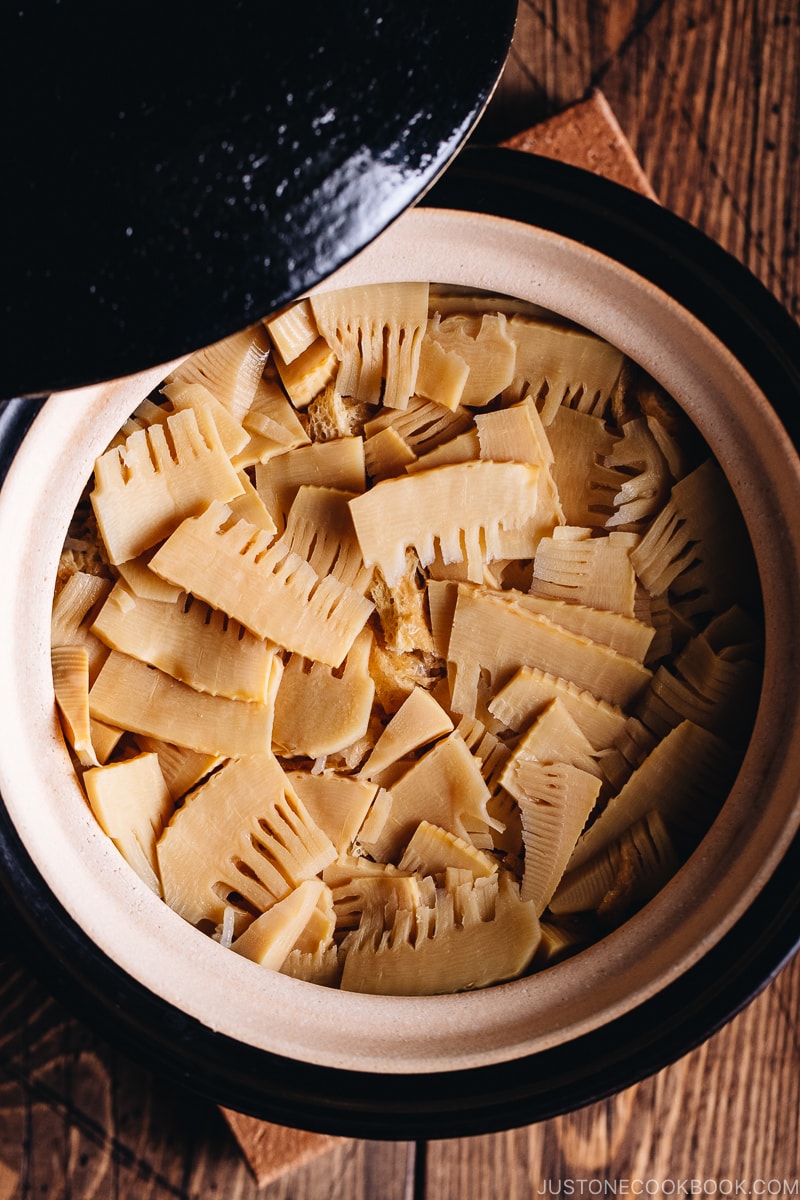 Cooking Takenoko Gohan in Kamado-san
If you ask me what is the very best way to cook Japanese rice, I would say, without a pause, to cook in Kamado-san (かまどさん).
Kamado-san is a Japanese earthenware (donabe) rice cooker made with special clay. It produces the most delicious rice than any other cooking methods. My family can vouch for that as they can taste the difference immediately.
So, what is the difference between Kamado-san and the regular donabe? While the regular donabe is a fantastic all-around cooking pot, Kamodo-san is specially designed for cooking rice. It has a double lid, a porous clay body and a thicker bottom that cook the rice evenly with steady heat distribution. As a result, the rice is fluffier and shinier.
I still cook my rice in my rice cooker once in a while, but my family enjoy rice cooked in my Kamado-san, especially special rice dishes like this bamboo rice.
Where to Get a Kamado-san: If you are in Los Angeles, check out Toiro Kitchen & Supply. You can also purchase one online and they will ship internationally as well. If you are in Japan, you can purchase one on Amazon or major department stores in the city you are in. Usually, there is a big kitchen floor where you can purchase unique Japanese kitchen items, including Kamado-san. My brother hand-carried two of his new Kamado-sans to Bangkok where he lives.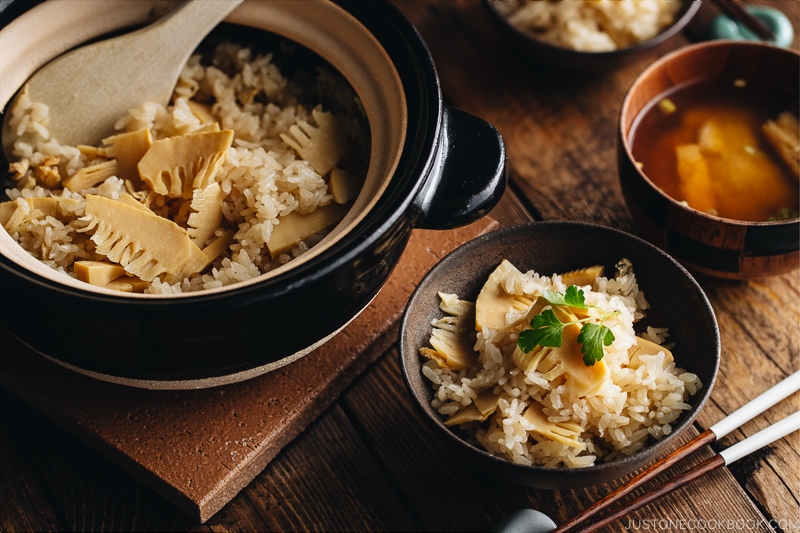 Other Methods to Cook Bamboo Rice
You can, of course, prepare Bamboo Rice using other methods. All the preparation steps are exactly the same up till you add rice, broth, ingredients (in that order) into your cooking pot. Remember, DO NOT MIX the rice and ingredients. Each rice kernel will cook through evenly when rice is compact and next to each other.
Rice Cooker
Once everything is in the inner pot of the rice cooker, close the rice cooker lid. Press "mixed rice" cooking program/mode, and press start. If your rice cooker doesn't come with a "mixed rice" setting, go ahead and start cooking rice as you normally do, but do not open the lid for extra 5 minutes after the cooking program is done (after beeping). The "mixed rice" setting help the bottom of rice gets nice brown char, which we call "Okoge" (お焦げ). Adding those extra 5 minutes for the regular cooking program will give some time for the rice to brown.
Other types of Donabe and Heavy Bottom Pot (Dutch oven) on Stovetop
Place the lid on the pot and start cooking over medium heat. Keep an eye on the liquid/broth until it starts to boil (It'll take about 10 minutes). Once boiling, turn the heat to low and cook for 15 minutes without opening the lid. When it's done cooking, quickly open the lid and see if there is any water left. If so, cook additional 1-2 minutes. Then remove from the heat (don't keep it on the hot burner), and let it steam for 10-15 minutes.
Instant Pot (Pressure Cooker)
The only difference for Instant Pot method is that the broth that goes into the Instant Pot needs to be 360 ml, instead of 400 ml. For pressure cooking Japanese rice, rice to water ratio is 1 to 1. Therefore, the katsuo dashi should be 300 ml (instead of 340 ml), and after adding condiments (total 60 ml), the total broth will be 360 ml.
Close the lid and click MANUAL. Set HIGH pressure for 2 minutes. When it's finished cooking, the Instant Pot will beep and switch automatically to the "Keep Warm" mode. Let the pressure release naturally for 10 minutes (10-minute "natural release") and then proceed with a "quick release" by turning the steam release handle to the "venting" position to let steam out until the float valve drops down. Do not exceed more than 10 minutes, and fluff the rice and serve immediately (otherwise, rice may stick at the bottom).
Whichever method you decide on making this Bamboo Rice (Takenoko Gohan), it is a special time to savor this springtime produce. You could keep it simple by serving bamboo rice with just a side of miso soup, or with the addition of grilled mackerel (saba shioyaki) and a fresh green side like Spinach Gomaae. I hope you enjoy!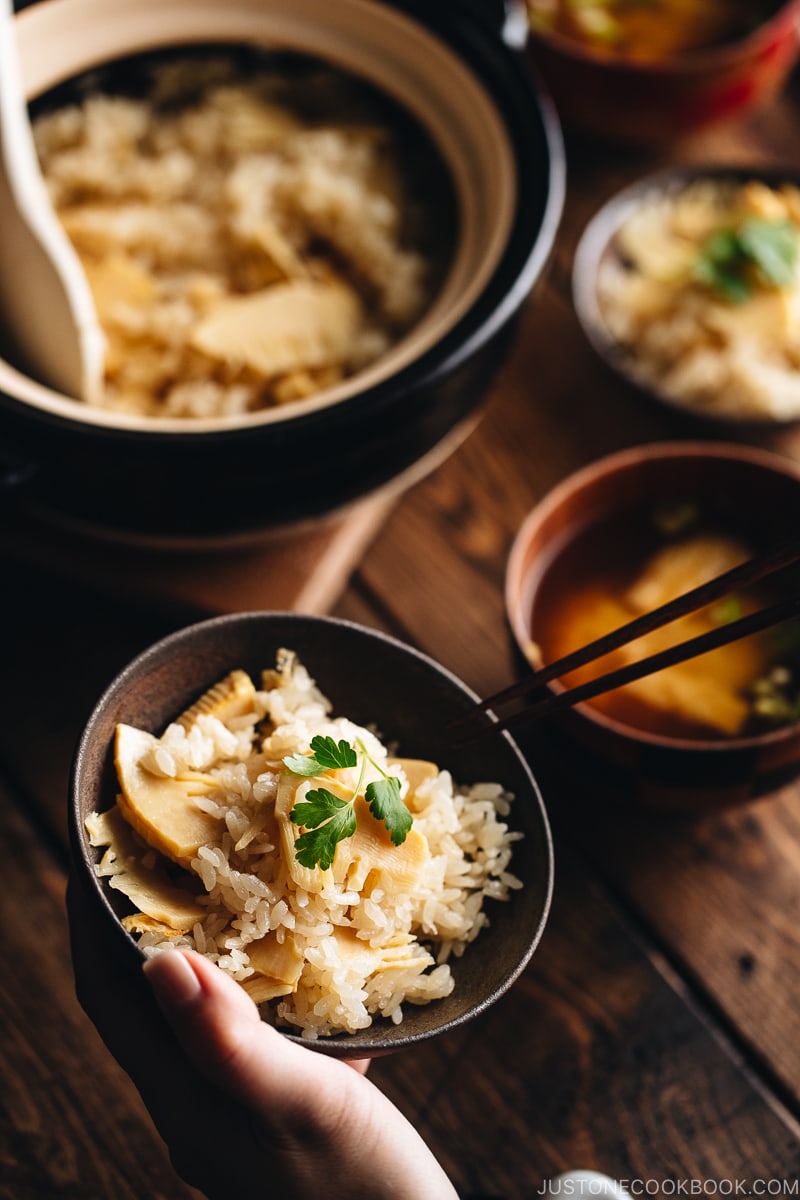 Other Mixed Rice Recipes on Just One Cookbook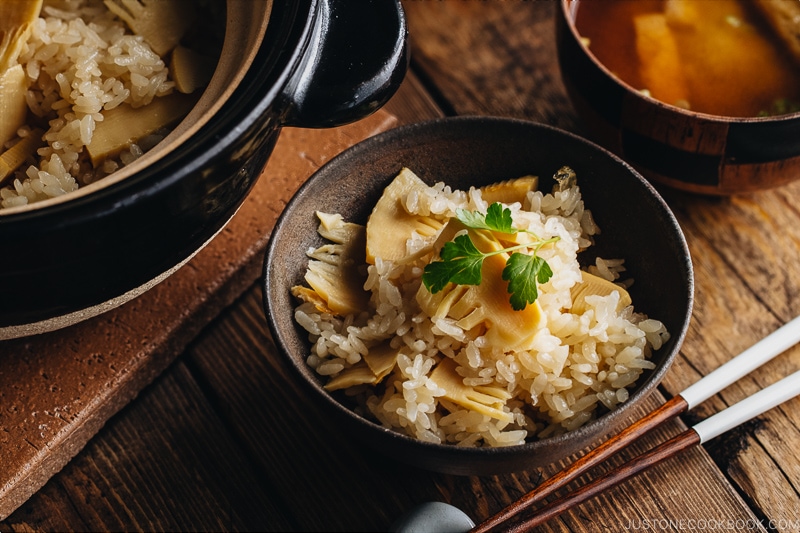 Japanese Ingredient Substitution: If you want to look for substitutes for Japanese condiments and ingredients, click here.
Wish to learn more about Japanese cooking? Sign up for our free newsletter to receive cooking tips & recipe updates! And stay in touch with me on Facebook, Pinterest, YouTube, and Instagram.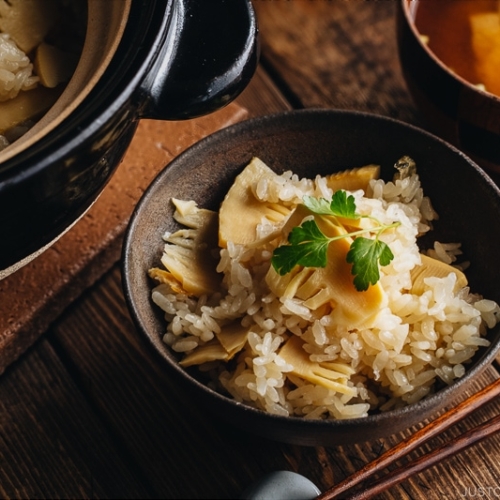 Bamboo Rice (Takenoko Gohan)
Cooked in classic Japanese dashi broth, this simple and elegant Bamboo Rice or Takenoko Gohan is a perfect way to welcome spring! The savory rice mixed with tender and crunchy bamboo shoots - it's a taste of spring in every bite.
Ingredients
2

rice measuring cups

uncooked Japanese short-grain rice

(180 ml x 2 = 360 ml)

5.3

oz

boiled bamboo shoot

(½ boiled bamboo shoot; each bamboo shoot size is different, so adjust accordingly)

½

aburaage (deep-fried tofu pouch)

(You can omit it if you can't find it, but the oil from aburaage actually gives a nice savory flavor and the texture of aburaage is great. Aburaage is one of the "must" ingredients in my mixed rice recipes. You can also cut up crispy fried tofu puffs from an Asian grocery store. However, blanch them first to get rid of excess oil.)
Seasonings
2

Tbsp

sake

2

Tbsp

usukuchi (light-colored) soy sauce

(You can use regular soy sauce, but in Japan, we often use light-color soy sauce so the rice doesn't become too dark from soy sauce. You don't have to buy this soy sauce unless you use it for noodle soup and chawanmushi where you want the soy sauce flavor but don't want your dish to have a darker color.)

½

tsp

kosher or sea salt (I use Diamond Crystal; use half for table salt)
Japanese Ingredient Substitution:
If you want substitutes for Japanese condiments and ingredients, click
here
.
Instructions
To Prepare Rice
Rinse the rice under cold water, by gently rubbing the rice with your fingertips in a circling motion. Submerge the rice in water and pour out the starchy water. Rinse and repeat until the water becomes clear. Soak rice in water for 20-30 minutes. Meanwhile, start preparing the next ingredients. After soaking for 20-30 minutes, drain water completely and set aside for 10 minutes. If you don't have time to wait, then shake off the excess water the best you can.
To Prepare Katsuo Dashi
Add 1 ½ cup water in a saucepan and bring it to almost boil. Add 1 cup packed katsuobushi to the water, reduce the heat, simmer for 30 seconds, and turn off the heat. Set aside and let the katsuobushi sink to the bottom, about 10 minutes.

Strain the dashi through a fine-mesh sieve over a liquid measuring cup. You need exactly 340 ml. If you don't have enough, add water. If you have too much, then take it out. Tip: You can use used katsuobushi for Second Dashi (Niban Dashi) or make homemade furikake.

Add 2 Tbsp sake, 2 Tbsp usukuchi soy sauce (or regular soy sauce), and ½ tsp kosher salt. Usukuchi soy sauce (lighter color soy sauce) will not darken the rice as much as regular soy sauce.

Mix well to combine and let the salt dissolve completely. At the end, you should have 400 ml of broth.
To Prepare Ingredients
Prepare boiling water and pour over the aburaage to remove excess oil. Cut in half first and then cut into thin strips. Squeeze excess water out.

Open the packaged bamboo shoot and cut in half. Some pieces may be bigger or smaller, but you will need 5.3 oz (150 g).

Then cut the halves into quarters. The key here is to cut into smaller pieces so it's easy to eat with rice. I usually keep the tip of bamboo, roughly ¾ inch length as intact (a triangle shape looks cute for presentation).

Then for the rest of bottom bamboo parts, cut into thin slices.
To Cook Rice
The rice should be drained well by now. Add the rice into the donabe (or rice cooker/heavy bottom pot). Pour 400 ml broth you prepared, and make sure the rice is evenly distributed in the pot.

Evenly distribute the aburaage over the rice (DO NOT MIX with rice) and then bamboo shoot on top of aburaage (again do not mix with the rest). Rice needs to be steamed nicely and evenly and when it's mixed with other ingredients, it will not be cooked.

If you're using the Kamado-san, place the inner lid and then the donabe lid. Cook on medium-high heat (or medium for a professional stove) for 14 minutes.

Once it's cooked, remove from the stove and set aside for 20 minutes.
Cooking with Rice Cooker
Choose "regular" or "mixed rice" mode and start cooking. If you use "regular" setting, let it steam for 10 minutes more to create "okoge" (burnt rice).
Cooking On the Stove
Bring it to boil on medium heat (you can peek to see if it's boiling). Once boiling, reduce the heat to low and cook for 15 minutes, or until liquid is completely gone.
To Serve + Store
Serve into individual rice bowls and enjoy! You can keep the leftovers in an airtight container and store it in the refrigerator for up to 3 days and in the freezer for a month.
Nutrition
Calories:
302
kcal
·
Carbohydrates:
63
g
·
Protein:
7
g
·
Fat:
1
g
·
Saturated Fat:
1
g
·
Sodium:
700
mg
·
Potassium:
89
mg
·
Fiber:
3
g
·
Sugar:
1
g
·
Vitamin A:
5
IU
·
Vitamin C:
1
mg
·
Calcium:
24
mg
·
Iron:
3
mg
©JustOneCookbook.com Content and photographs are copyright protected. Sharing of this recipe is both encouraged and appreciated. Copying and/or pasting full recipes to any website or social media is strictly prohibited. Please view my photo use policy
here
.