Also known as yellowtail collar, Grilled Hamachi Kama is a fish you will find on menus throughout Japan. All you need are four ingredients to make this traditional rustic dish.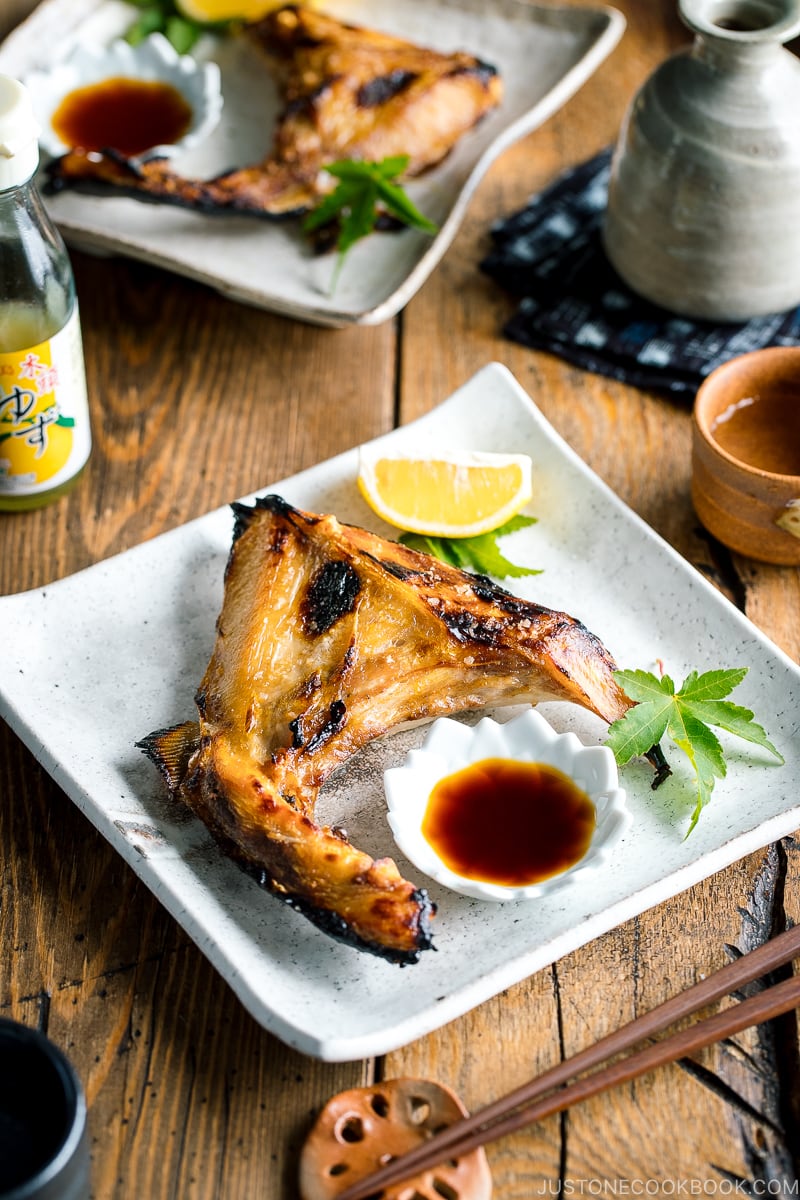 Of all the types of fish we eat in Japan, Hamachi (魬, はまち, ハマチ) is a favorite among home cooks and professional chefs alike. If you go to a Japanese sushi restaurant, you will most likely find Negihama Maki, or Yellowtail Scallion Roll, offered as a type of maki sushi. Yellowtail is another name for Hamachi.
This is a fish I always have on hand (fresh or frozen) because it takes no time to prepare (20 minutes), and I can make miso soup or quick side dishes at the same time. I promise the flavor of this fish, and the easy cooking method, will make it a favorite in your home, too!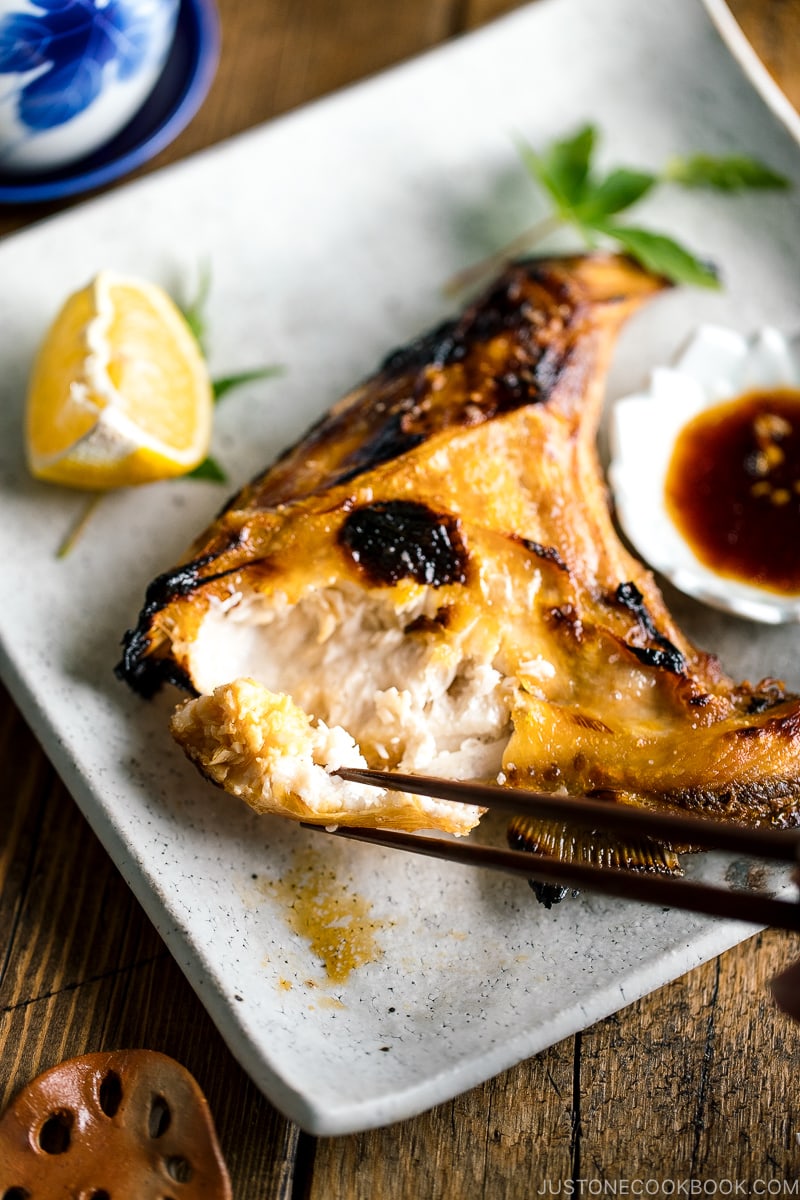 What is Hamachi Kama?
Hamachi Kama (はまちのカマ) is the collar of the yellowtail located just above the gills and below the head. It is the fattiest part of the fish, making it naturally juicy, and there are two located in each yellowtail (one per side). Typically, Hamachi is grilled or broiled until the skin is crisp and the inside is just cooked through. You can easily scrape the flesh off the cartilage with chopsticks.
What Is the Difference Between Hamachi and Yellowtail?
There are several names for this fish—Hamachi, Buri, Yellowtail, or Japanese Amberjack—depending on where you are. What's the difference? It all comes down to the age and size of the fish, and different regions of Japan will also name the fish based on the way it was caught (farmed vs. wild-caught). No matter what name you see on the menu, the raw fish should have pale pink flesh with a stripe of deep red coloring.
What Does Hamachi Kama Taste Like?
The flavor of the yellowtail collar is subtle and "clean." The juicy texture of the meat can be compared to mackerel, but the taste is much milder. If you've tried fresh hamachi sashimi, you know the flavor is delicate, rich, and slightly sweet. It pairs beautifully with citrus, which you'll see in my recipe below.
Health Benefits of Hamachi/Yellowtail
Hamachi, or yellowtail, offers a number of nutritional benefits. Because it is a naturally oily fish, it is high in omega-3 fatty acids (like salmon), which are important for brain and heart health. This fish is also particularly high in vitamin A, vitamin D, and calcium. Like all seafood/meat, it's important to buy good quality (it makes a difference in the flavor, too!), and only consume raw hamachi if you know it is "sashimi quality."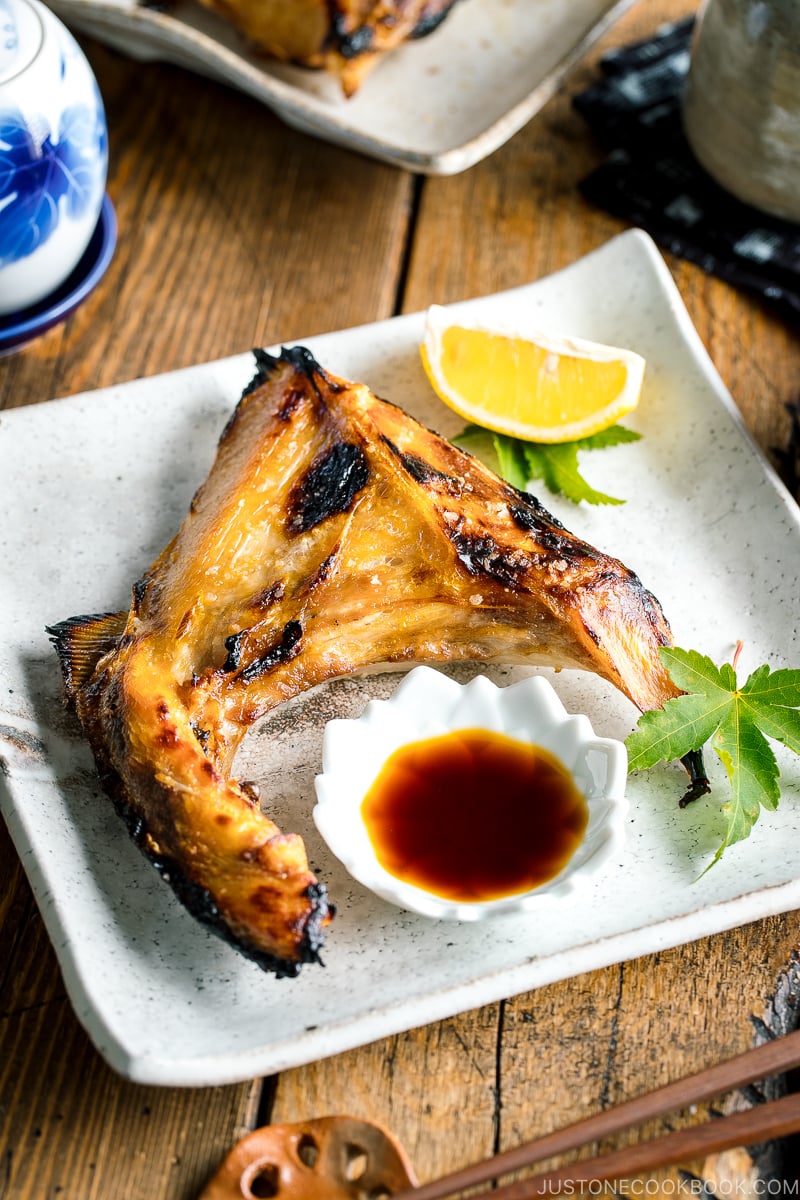 Where to Buy Hamachi Kama
Hamachi Kama is available at most Japanese markets. Check the freezer section as well for individual packs of frozen Hamachi Kama. Korean grocery stores also sell them, sometimes at a cheaper price than Japanese markets. If you have access to a fresh seafood market, you can ask if they have "Yellowtail Collar" available.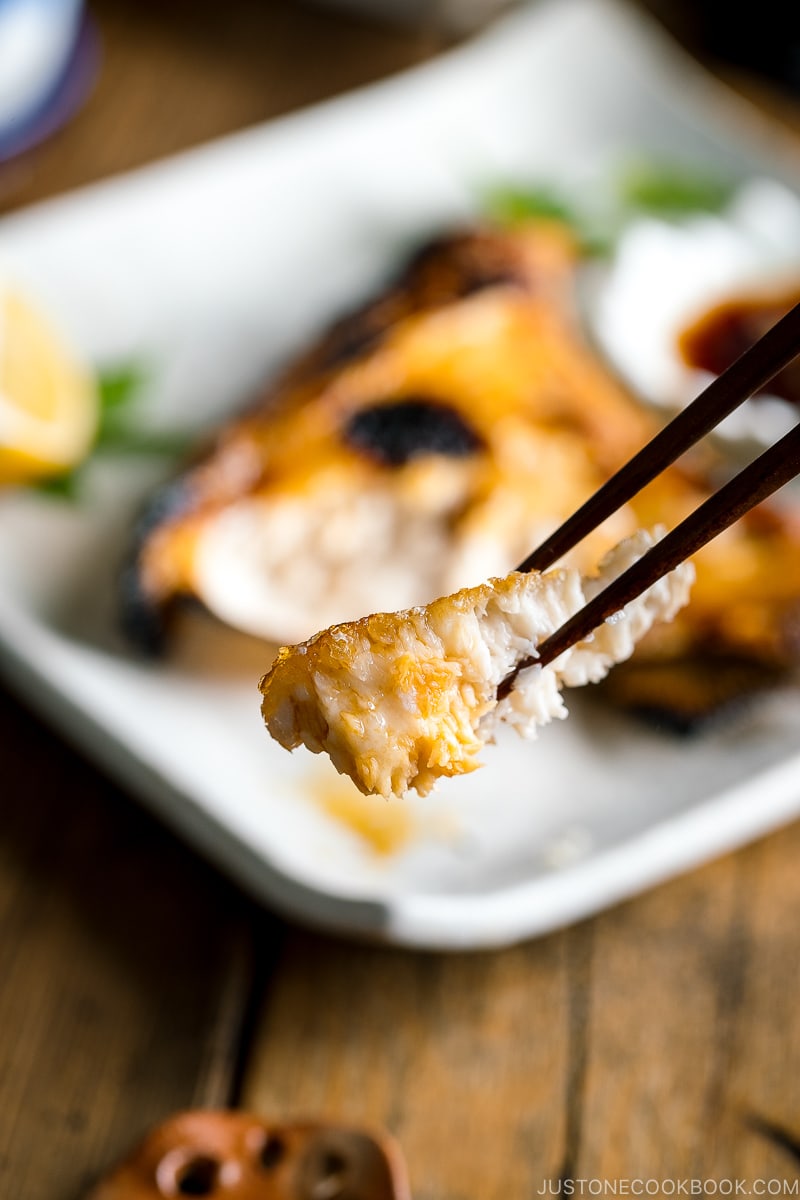 3 Reasons I Make Hamachi Kama at Home
It's fast – This recipe takes less than thirty minutes to make, which is perfect for busy days. There is always at least one package of Hamachi Kama in our freezer, which defrosts quickly under cold, running water.
It's easy – There is so much natural flavor in yellowtail that you don't need much else to make it into a delicious meal. Before broiling the Hamachi Kama, brush the pan with a little oil to prevent sticking–that's it! No need to season it because it will be served alongside a small dish of soy sauce and yuzu juice, like a simplified version of my homemade Ponzu Sauce.
It saves time and money – There's no doubt a traditional Japanese dish like this would cost more at a restaurant. It can be intimidating to try new recipes at home, especially if it involves fish or meat you haven't cooked with. But once you see how simple and truly delicious it is, you may find yourself eating out less often.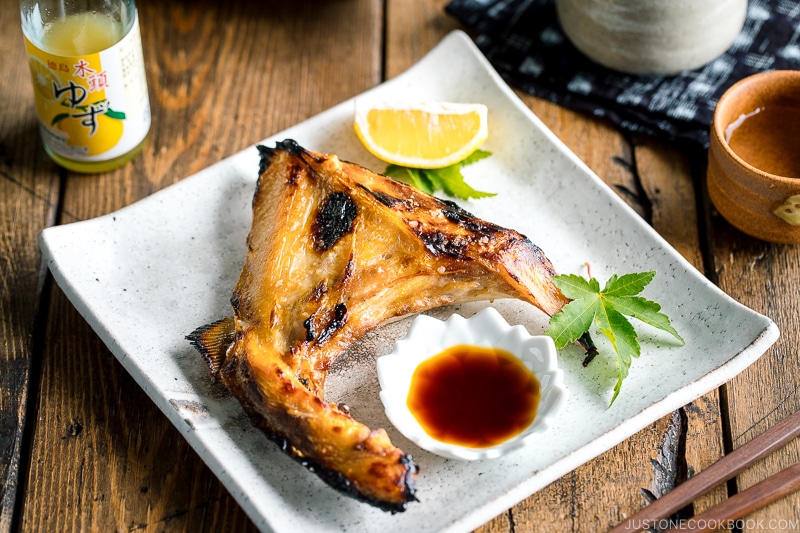 Wish to learn more about Japanese cooking? Sign up for our free newsletter to receive cooking tips & recipe updates! And stay in touch with me on Facebook, Pinterest, YouTube, and Instagram.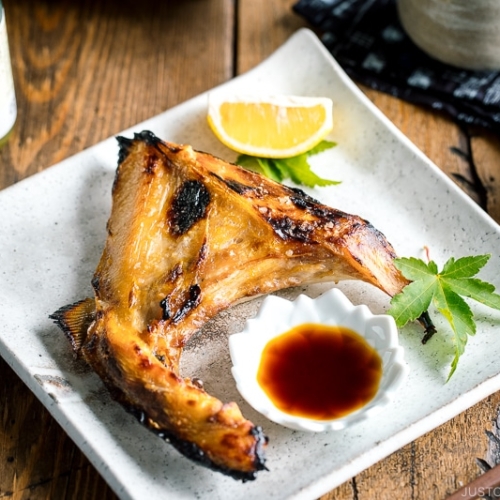 Hamachi Kama (Grilled Yellowtail Collar)
Also known as Grilled Yellowtail Collar, Hamachi Kama is a flavorful dish that you will find on menus throughout Japan. All you need are four ingredients to make this traditional rustic dish.
Servings:
2
(as main dish)
Ingredients
2

pieces

hamachi kama (yellowtail collar)

(11 oz, 312 g for 2 pieces; available in Japanese markets)

⅛

tsp

Diamond Crystal kosher salt

(optional; if you plan to lightly dip your fish in yuzu-flavored soy sauce, you can omit sprinkling the salt)
Japanese Ingredient Substitution:
If you want substitutes for Japanese condiments and ingredients, click
here
.
Instructions
Gather the ingredients. If the hamachi kama is frozen, thaw it beforehand by placing the fish, still in its vacuum-sealed package, in a bowl under a thin stream of cold running water for 20 minutes. Alternatively, you can put the fish in a bowl of iced water to defrost for 2 hours (takes longer but saves water), or in the refrigerator for 9 hours.
To Broil (Recommended)
Preheat the broiler* with a rack placed about 6 inches (15 cm) away from the top heating element (in the center of the oven) for 5 minutes. When broiling, you don't control the temperature in the oven; instead, you control the distance between the broiler and the surface of the food. It's similar to using hotter and cooler zones on your grill. *Broiler setting: Low (450ºF/232ºC), Medium (500ºF/260ºC), and High (550ºF/288ºC). I usually use the Medium (6 inches away) or High (8 inches away) setting.

Crinkle a sheet of aluminum foil and line the baking sheet. This helps prevent the fish skin from sticking to the foil.

Place the hamachi kama on the foil, skin side down. Sprinkle the salt over the fish.

Broil on Medium (500ºF/260°C) for 8-10 minutes until the surface is blistered and browned a bit. Please remember the cooking time varies depending on the thickness of the fish and the distance between the broiler and the food. You do not need to flip the fish. It should flake easily with chopsticks or a fork.
To Bake (Optional)
Preheat the oven to 425°F/218ºC with a rack placed in the middle and bake for 10-12 minutes, until the edges are crispy and the top is golden brown and opaque. A good rule of thumb to remember is to bake 5 minutes per ½ inch thickness (measure at the thickest part of the fish). You do not need to flip it. It should flake easily with chopsticks or a fork.
To Serve
Mix the soy sauce and yuzu juice/extract together and divide into individual small dishes. Serve the freshly grilled fish immediately on individual plates with the dipping sauce on the side and an optional lemon wedge. Squeeze the lemon over the fish and dip the hamachi kama lightly in the sauce to eat. Enjoy!
To Store
You can keep the leftovers in an airtight container and store it in the refrigerator for up to 2 days or in the freezer for a month.
Notes
Recipe by Namiko Chen of Just One Cookbook. All images and content on this site are copyright protected. Please do not use my images without my permission. If you'd like to share this recipe on your site, please re-write the recipe and link to this post as the original source. Thank you.
Nutrition
Nutrition Facts
Hamachi Kama (Grilled Yellowtail Collar)
Amount per Serving
% Daily Value*
* Percent Daily Values are based on a 2000 calorie diet.
©JustOneCookbook.com Content and photographs are copyright protected. Sharing of this recipe is both encouraged and appreciated. Copying and/or pasting full recipes to any website or social media is strictly prohibited. Please view my photo use policy
here
.
Interested in More Japanese Grilled Fish Recipes?
Editor's Note: The post was originally published on January 18, 2011. The images and content were updated in October 2020.