Cooked to perfection in a broth of dashi, soy sauce, and mirin, Simmered Kiriboshi Daikon is a traditional Japanese dish made from daikon (radish) and aburaage (fried tofu). It is a dynamic side dish for a variety of Japanese meals and can be served at room temperature, warm, or chilled.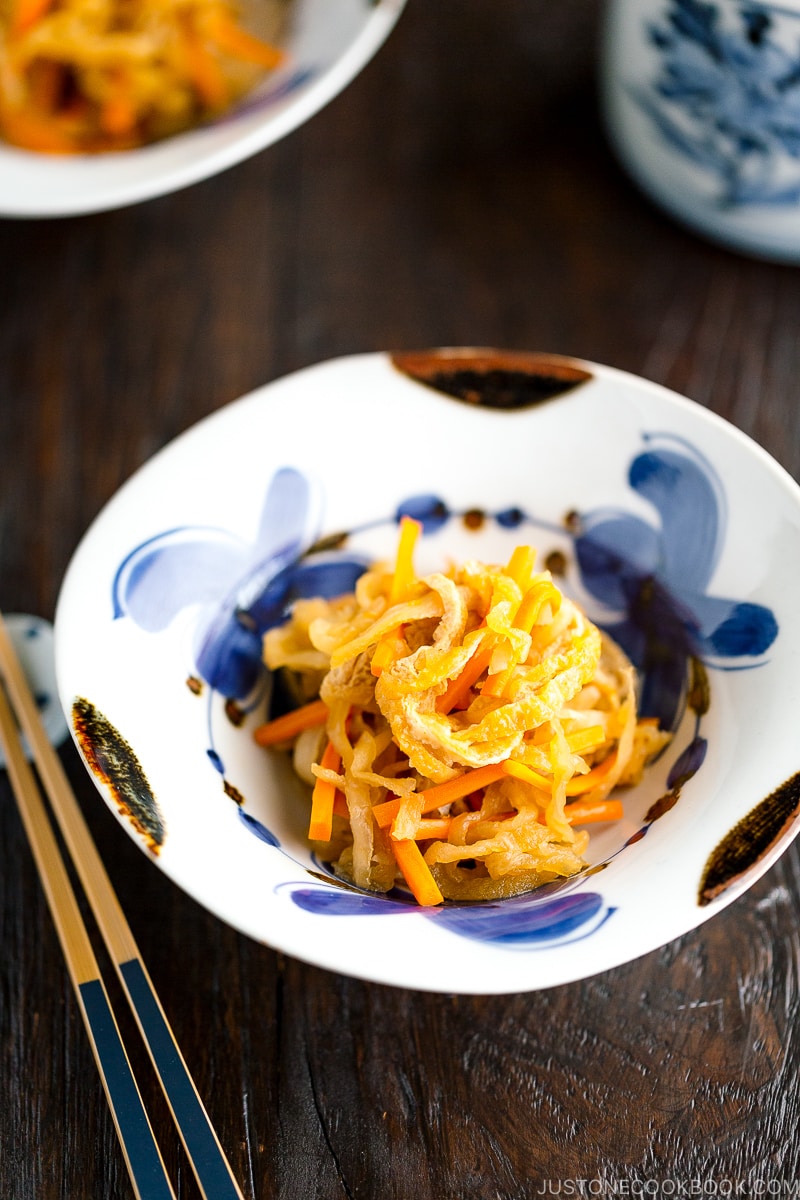 Some of the traditional Japanese recipes you see on Just One Cookbook, such as this Simmered Kiriboshi Daikon (切り干し大根の煮物), may be unfamiliar to you. Although these "exotic" dishes may not spark your culinary interest, I feel it is important to feature them to give you a broad view of Japanese food and culture.
If you travel to Japan one day or watch a Japanese movie or travel program, you might just encounter one of these traditional dishes and appreciate it even more. But no need to wait until then, you can try this recipe now to enjoy your next Japanese meal!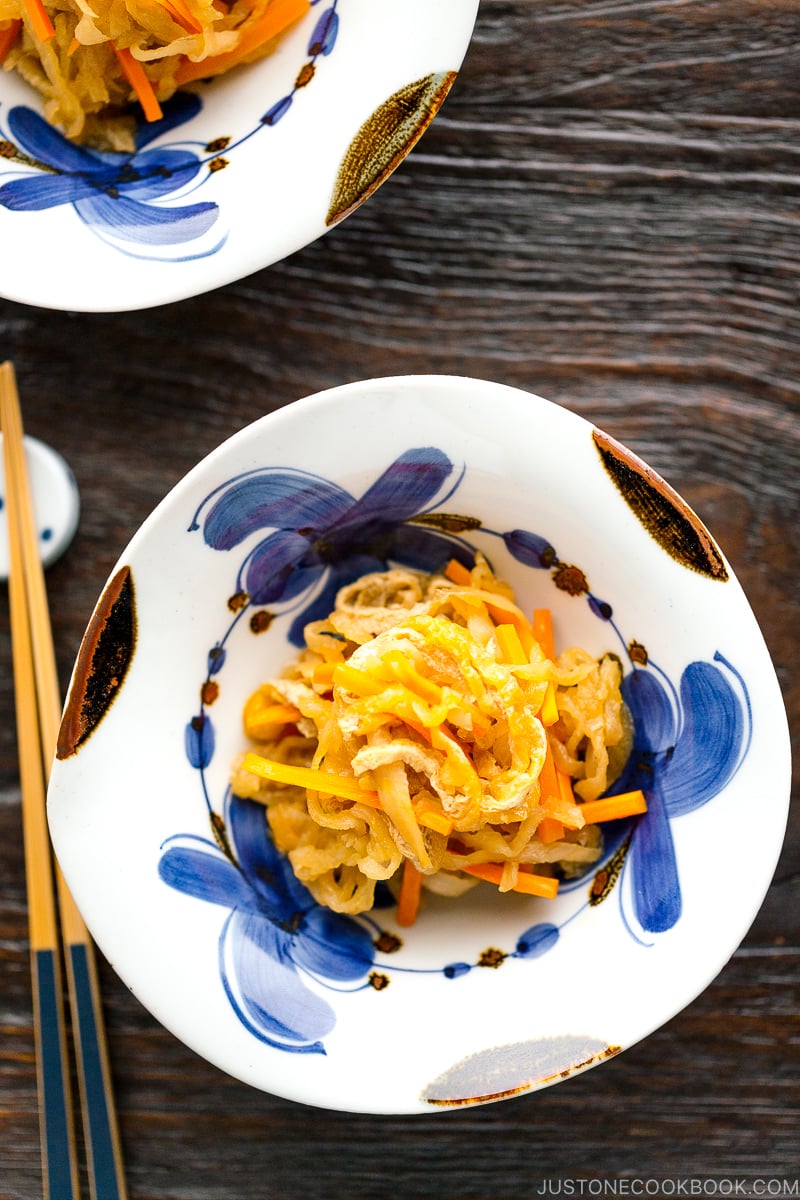 Simmered Kiriboshi Daikon is a commonly cooked dish in Japanese homes. They might not be the stars on Japanese restaurant menus, but they are the healthy, delicious foods that are eaten daily by Japanese families. True, authentic, Japanese dishes are at the core of what I want to share with you on my blog for you to learn and experience the real Japan. I have shared many of these recipes already, but it is really only the start. There are so many homemade-style dishes yet to feature, and for you to discover on Just One Cookbook.
Japanese Simmered Dishes (Nimono)
A typical Japanese meal setting involves 1 soup and 3 dishes along with steamed rice and pickles. This is called Ichiju Sansai (一汁三菜), and we covered this topic in this post. Three dishes usually consist of one main protein dish and two small vegetable dishes, like grilled fish, Spinach Gomaae, and Eggplant Agebitashi.
We have various side dishes that are built with vegetable ingredients. Sometimes a type of protein may be included but the portion is very small compared to the main vegetable ingredients.
These vegetable dishes are often simmered in savory dashi (Japanese soup stock), soy sauce, sake, and mirin, and they are called Nimono (煮物). We have countless types of nimono dishes in Japan. From single-ingredient nimono to multiple-ingredient nimono, the dishes can be made with everyday ingredients such as daikon and carrots or seasonal ingredients such as kabocha squash or fukinoto (butterbur).
When we prepare a simmered dish, we usually make a big batch so we can serve multiple simmered dishes, including previously-cooked ones. That way, two (vegetable) side dishes for Ichiju Sansai can be prepared easily every day.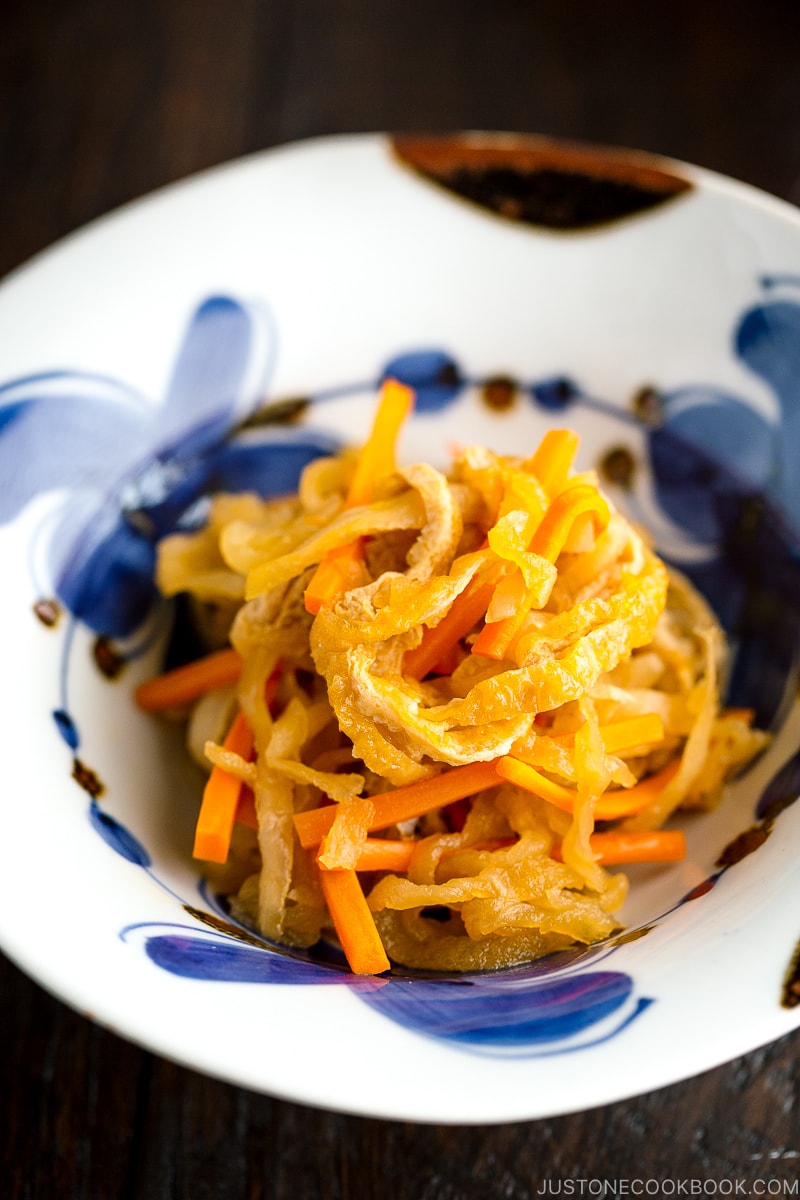 What is Kiriboshi Daikon?
Kiriboshi Daikon is dried daikon strips or dried shredded daikon radish. Basically, Japanese daikon radish is shredded into thin strips and dried in the sun. You can purchase a packaged kiriboshi daikon in dried food sections in a Japanese grocery store – the same section as dried shiitake mushrooms and kombu.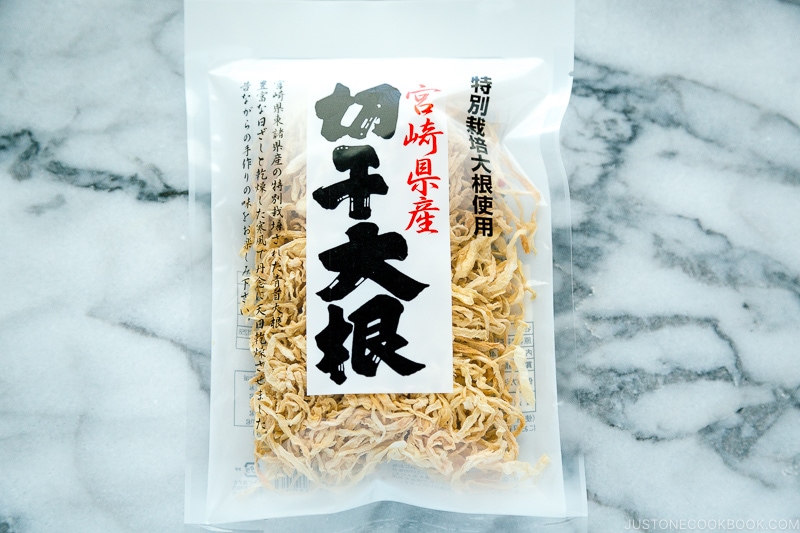 Through the drying process, the flavors become more concentrated and intense. The same thing happens for dried shiitake mushrooms and all the dried herbs like basil and thyme. The drying process also brings out the sweetness of this nutrient-rich kiriboshi daikon.
I have to admit that dried daikon is pretty stinky. Thought I'd give you a heads-up just in case you are expecting some guests. But once they are cooked, the pungent smell goes away so you don't have to worry about it.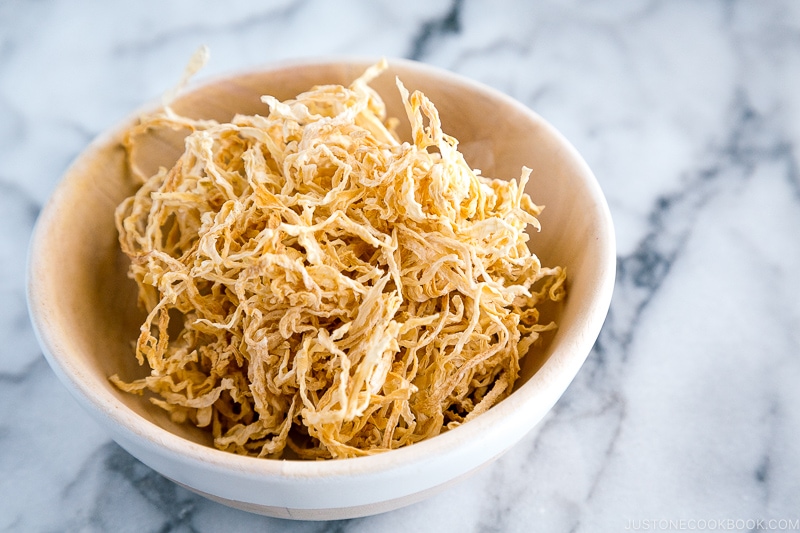 Just like how you hydrate dried shiitake before use, we also soak kiriboshi dasikon in water for 15 minutes. And just like reserving the soaking water of dried shiitake, we also reserve the water from kiriboshi daikon. In the old days, nothing goes to waste. The soaking water has a sweet taste to it, so we can use it to cook simmered dishes, soups, takikomi gohan (mixed rice), or even Japanese curry to give them a naturally sweet flavor.
When you have extra daikon rolling around, it might be a fun project to shred it and leave it in the sun for a week (again, expect some smell). When you don't have fresh ingredients, you can count on your emergency dried daikon in the pantry to make this dish.
Serve Simmered Kiriboshi Daikon with steamed rice, miso soup, Japanese Salted Salmon, and Nikujaga for an authentic Japanese home-cooked meal.
Make It Vegetarian/Vegan-Friendly
It's very easy to adapt this recipe to a vegetarian or vegan dish as the main ingredients do not include any meat or seafood. Simply use Vegan Dashi instead of Awase Dashi (a combination of kombu and katsuobushi) that I used in this recipe.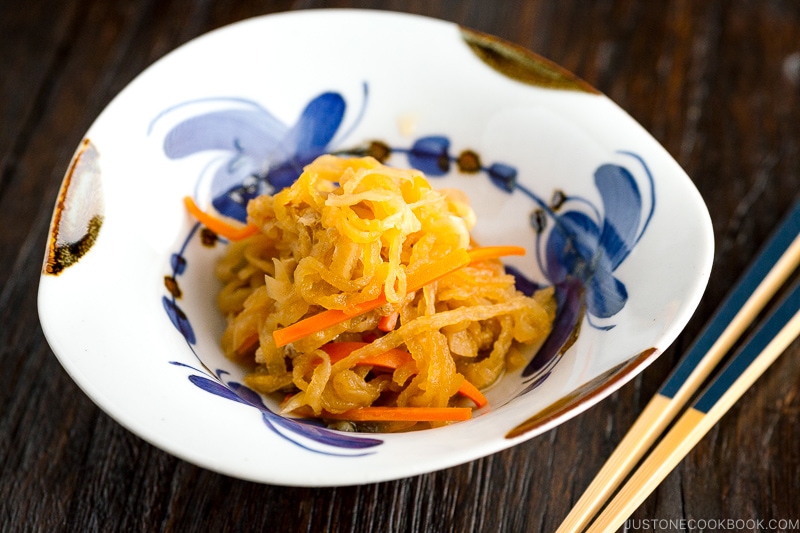 Wish to learn more about Japanese cooking? Sign up for our free newsletter to receive cooking tips & recipe updates! And stay in touch with me on Facebook, Pinterest, YouTube, and Instagram.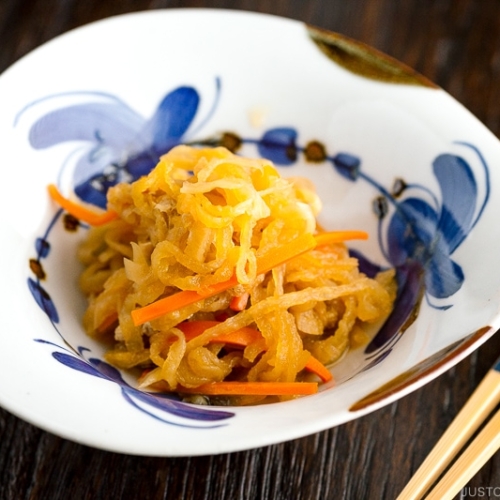 Simmered Kiriboshi Daikon
Simmered Kiriboshi Daikon, cooked in a broth of dashi, soy sauce, and mirin, is a traditional Japanese dish made from daikon (radish) and abura-age (fried tofu).
Servings:
4
(as a side dish)
Japanese Ingredient Substitution:
If you want substitutes for Japanese condiments and ingredients, click
here
.
Instructions
Gather all the ingredients.

Quickly rinse kiriboshi daikon and soak in water for 15-20 minutes.

Reserve ½ cup soaking water. Drain and squeeze water out. Cut into 2-3 inches.

Boil water and blanch the aburaage for 30 seconds to remove the excess oil. Cut into thin strips.

Peel the carrot and cut it into julienned strips.

Heat the oil in a large pot over medium heat. Cook Kiriboshi Daikon for a few minutes, and then add carrot and aburaage to coat with oil.

Add 1 cup dashi, ½ cup reserved cooking water, 1 Tbsp sake, 2 Tbsp mirin, 2 tsp sugar, and kosher ⅛ tsp salt and bring to a boil.

Once boiling, add 2 Tbsp soy sauce.
To Serve and Store
It can be served hot, warm, at room temperature, or even cold. Enjoy!
To Store
Keep the leftovers in an airtight container and store in the refrigerator for up to 3 days and in the freezer for a month.
Nutrition
Nutrition Facts
Simmered Kiriboshi Daikon
Amount per Serving
% Daily Value*
* Percent Daily Values are based on a 2000 calorie diet.
©JustOneCookbook.com Content and photographs are copyright protected. Sharing of this recipe is both encouraged and appreciated. Copying and/or pasting full recipes to any website or social media is strictly prohibited. Please view my photo use policy
here
.