High in nutrients and a great pantry staple, kiriboshi daikon or dried daikon strips are sundried daikon. It's cooked in simmers, tsukemono, and vinegar side dishes and eaten year-round.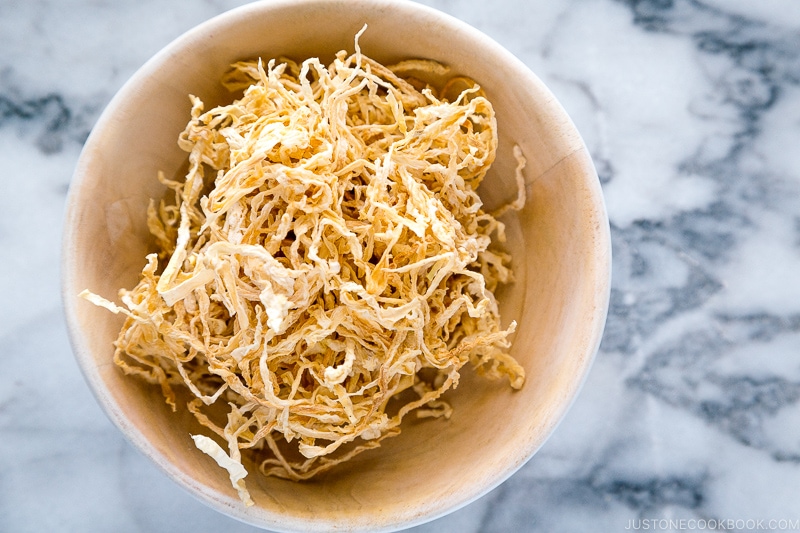 Kiriboshi Daikon (切り干し大根, "cut and dried daikon") is dried daikon radish strips. This Japanese food product is a shelf-stable pantry item. It is a valuable preserved food eaten for centuries when fresh vegetables were scarce and highly nutritious.
What Is Kiriboshi Daikon
Kiriboshi daikon is a dried food (乾物・かんぶつ) consisting of sundried daikon strips. In dried form, it resembles thick and brown wavy ribbons. It's most commonly cooked in a simmer of carrot and aburaage seasoned with dashi, soy sauce, and mirin.
The Japanese have eaten kiriboshi daikon since the Edo era (1603-1867). It's made by harvesting the daikon during the cold months, cutting it into strips, then sun drying. It's also known as sengiri daikon (千切り大根, "thousand-cut daikon") in the Kansai region (central Japan).
Kiriboshi daikon is a well-known health food with an incredible amount of nutrients. Studies have shown that sun drying increases the daikon's glutamic acid and GABA (an amino acid that helps regulate brain function, suppress blood pressure, and relieve stress). In other words, daikon becomes more nutritious when exposed to sunlight.
What Does It Taste
It has a mildly sweet taste with an umami aftertaste. It has a fibrous crunchy texture and can soak up flavors well.
Varieties
You can also find kiriboshi daikon cut into circles and half moons. Due to the drying techniques, the color can range from pale white to an earthy brown color.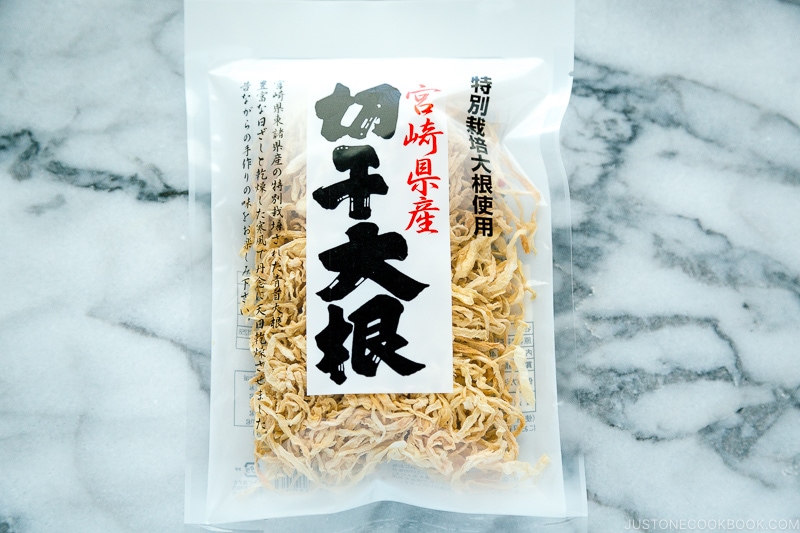 How To Use
Reconstitute it in plenty of water before cooking, around 5-10 minutes or shorter if in boiling water. Avoid soaking it for too long, as the nutrients will seep out. Squeeze out the excess water, chop it into pieces, and then it's ready for use.
As for the soaking liquid, don't toss it as it contains nutrients such as potassium and vitamins B1, B2, and C. It's also flavorful and mildly sweet from the dried daikon. Use it for cooking simmered dishes, miso soup, salad, takikomi gohan (mixed rice), or to add a sweet-umami flavor to Japanese curry.
If you have extra daikon, it might be a fun project to make it yourself. Cut it to shred it and leave it under the sun for a week.
Where To Buy
You can purchase a packaged kiriboshi daikon in dried food sections in a Japanese or Asian grocery store in the same aisle as dried shiitake mushrooms and kombu. You may also find it online on Amazon and other retail sites.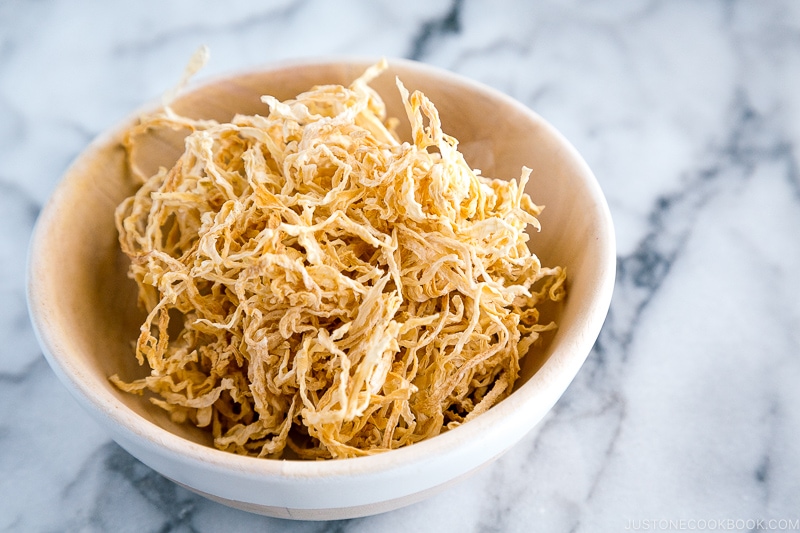 How To Store
As it's a dried product, you should avoid exposing it to humidity and high temperatures to preserve its shelf-life. Store opened packages in a dry, dark place at room temperature, away from direct sunlight. For cooked kiriboshi daikon, keep it in an airtight container.
Recipe Using Kiriboshi Daikon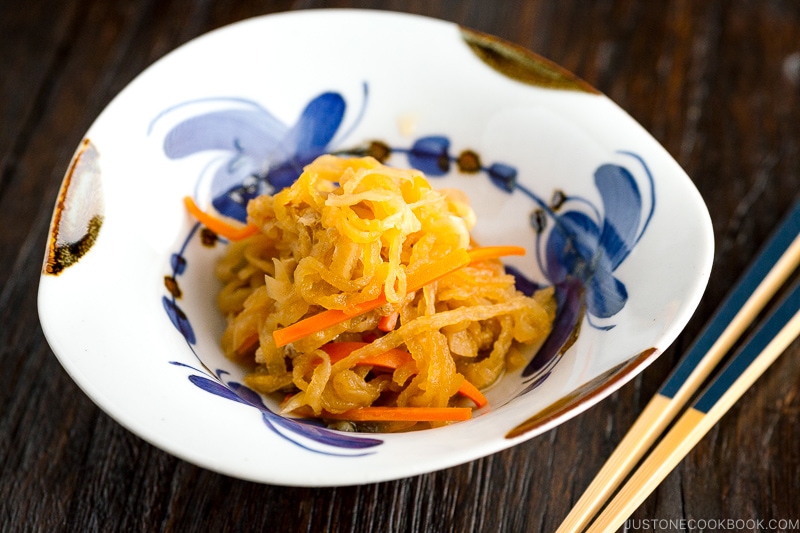 Health Benefits
Compared to raw daikon, kiriboshi daikon is loaded with nutrients the body cannot produce. It's also low in calories, cholesterol, and carbohydrates.
Helps control high blood pressure
Kiriboshi daikon contains 3500mg of potassium per 100g, the highest of any food. Potassium helps balance the water and salt in our bodies. It can prevent bloating and high blood pressure from consuming too much salt and water.
Good for bone health
It's also high in calcium, about 500mg per 100g. It contains 20 times more calcium than raw daikon.
Calcium is a mineral that forms bones and teeth, and a calcium deficiency can make bones brittle and cause osteoporosis. It's a vital nutrient you want to take with vitamin D to increase absorption. Foods high in vitamin D include mushrooms and fish. Thus, add mushrooms such as shiitake or shimeji to a kiriboshi daikon dish.
Keeps you regular and gives a sense of fullness
Dietary fiber includes insoluble dietary fiber and water-soluble dietary fiber. Kiriboshi daikon contains both insoluble and water-soluble dietary fiber. Insoluble dietary fiber is effective in relieving constipation and stimulating the intestines. On the other hand, water-soluble dietary fiber slows down the absorption rate of nutrients and suppresses the rapid rise in blood sugar levels.
Fiber can also give you a sense of fullness.
Prevents fatigue and anemia
Iron is a nutrient that carries oxygen throughout our bodies. Therefore, when there's an iron insufficiency, it can result in anemia. Anemia makes it harder for oxygen to be carried throughout the body, making it easier to get tired. The iron content of kiriboshi daikon is very high, 3.1g per 100g.
---
Wish to learn more about Japanese cooking? Sign up for our free newsletter to receive cooking tips & recipe updates! And stay in touch with me on Facebook, Pinterest, YouTube, and Instagram.