Creamy and tangy Homemade Spicy Mayo is a killer sauce made with just three ingredients—Japanese Kewpie Mayonnaise, sriracha sauce, and a splash of lime juice. Use it on sushi, sandwiches, rice bowls, and tacos for an extra kick of heat.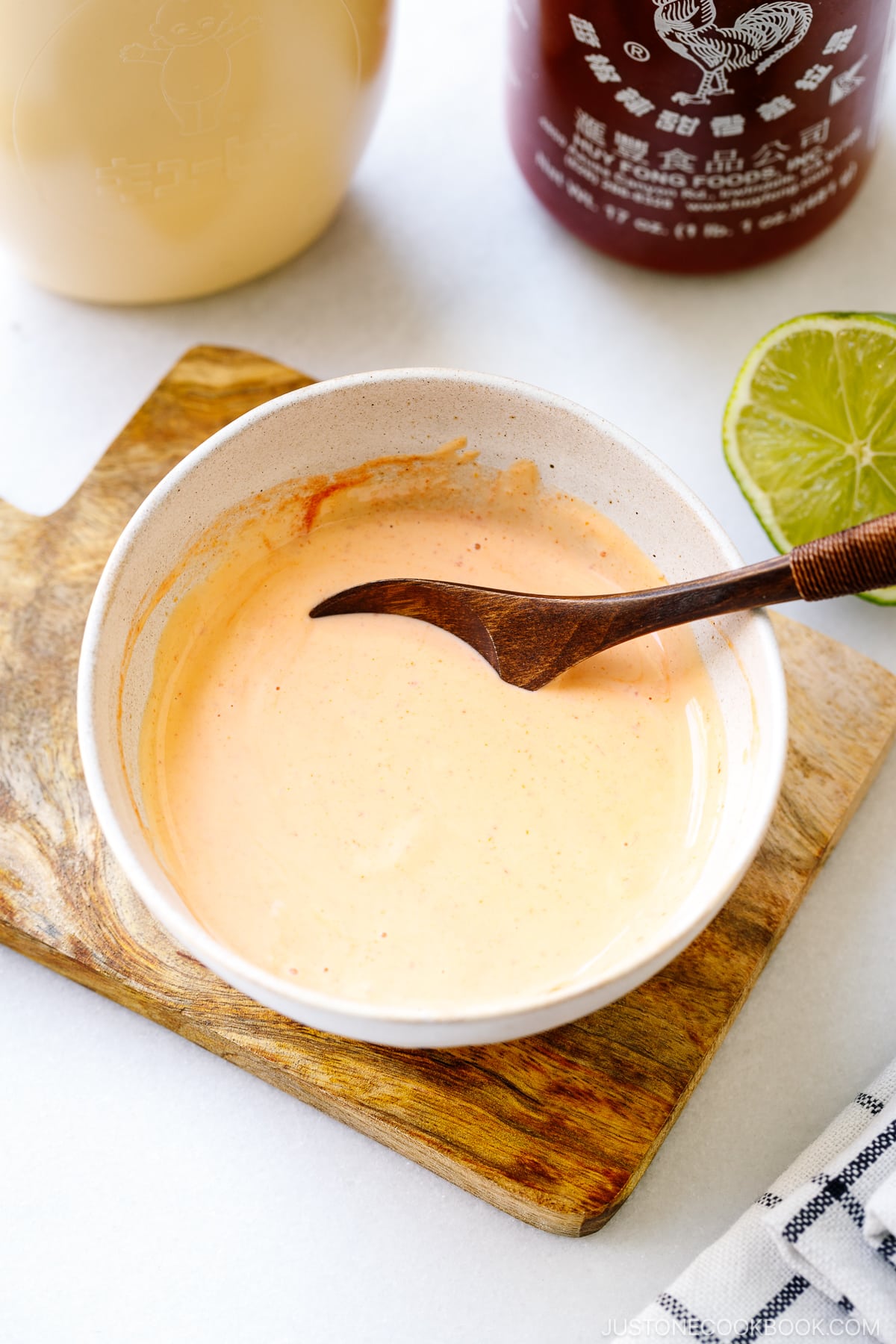 When inventive sushi chefs decided to pair two staple condiments—mayonnaise and sriracha sauce together, the result is a wonderful sauce that gives sushi such as Spicy Tuna Rolls or Dragon Rolls an extra oomph.
This spicy mayo may not seem like a recipe at all, but sometimes a simple combination is all it takes to transform your dishes. I find myself reaching out for this easy homemade sauce more than I think!
What is Spicy Mayo?
Spicy mayo is made with three simple ingredients: Japanese mayonnaise, sriracha hot chili sauce, and a splash of lime juice. This all-purpose spicy mayo is great for sushi, sandwiches, burgers, tacos, and fries! It's so easy to make and is a must-have in my household.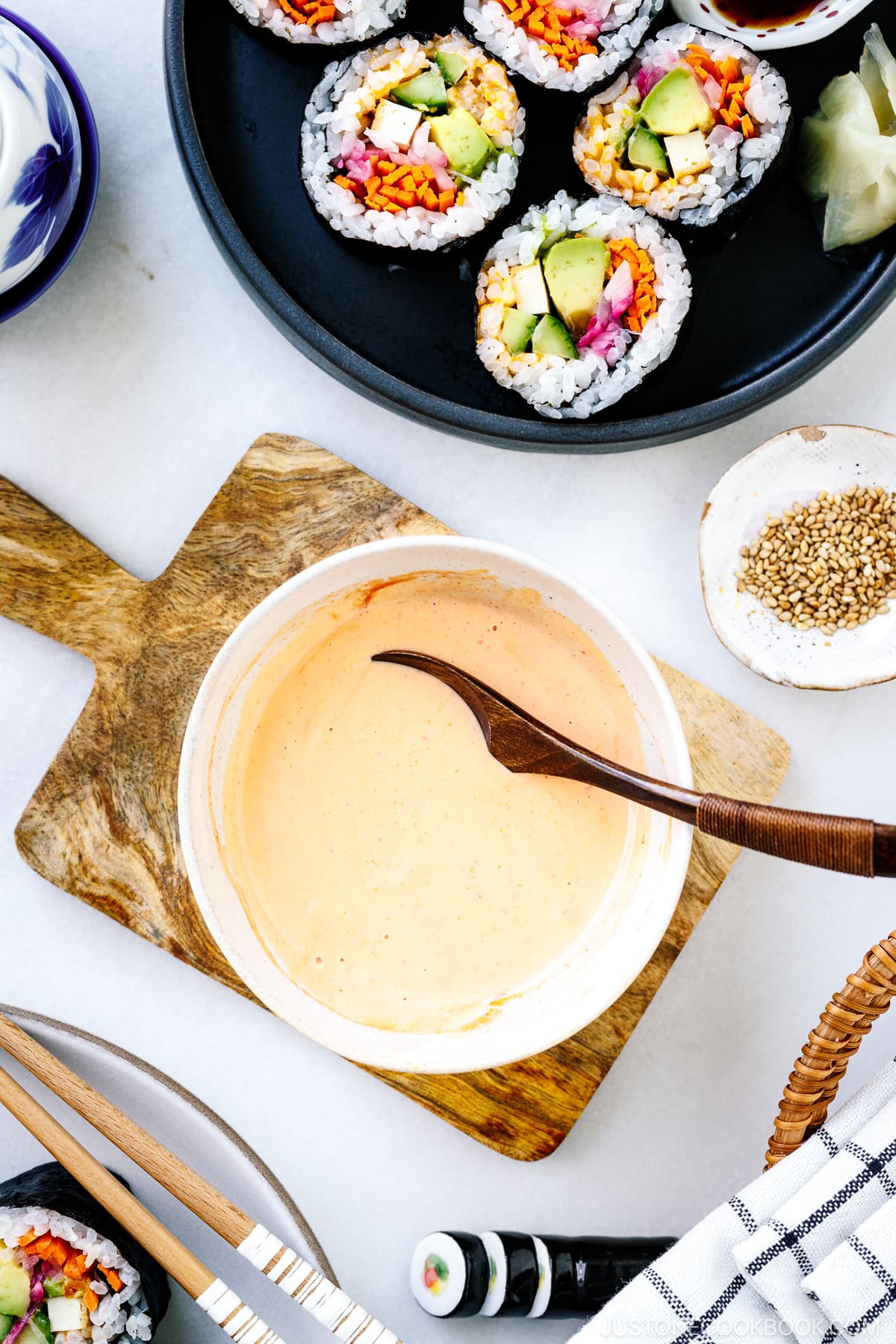 How to Make Spicy Mayo
The Ingredients You'll Need
Japanese Kewpie Mayonnaise – I highly recommend using

Japanese mayonnaise for the umami-rich fl

avor as it does make a difference. You can buy one on Amazon.
Sriracha Sauce – I use the Huy Fong brand. You can buy one in Asian grocery stores or on Amazon.
Lime juice – It's optional, but I recommend adding a splash of lime juice for tang and brightness. A little goes a long way as too much will dilute the consistency.
The Cooking Steps
Combine Japanese mayo, sriracha sauce, and lime juice in a bowl and mix well. Enjoy!
Yup, it is as simple as that! You can always experiment with different ratios of condiments to accommodate your tastebuds.
Substitution Tips and Variations
Mayonnaise – For vegan, you can use vegan mayonnaise.
Sriracha Sauce – For organic options, you can use Yellowbird or Sky Valley brands. Some people might use other types of hot sauce, but I think sriracha yields the best taste.
Lime – You can use lemon in a pinch, but I like the taste of lime for this recipe.
Roasted sesame oil – I see some recipes online that use roasted or toasted sesame oil. I have never tried it myself but I think it might be nice to add a tiny splash of toasted sesame oil to enliven the sauce, especially to enjoy spicy mayo as a dip. For sushi rolls and sandwiches, I'd keep it simple as a creamy and thick spread works best.
How to Store Spicy Mayo
Serve the spicy mayo immediately or transfer it to an airtight container like a mason jar and store in the refrigerator for up to a month.
Why Japanese Kewpie Mayonnaise?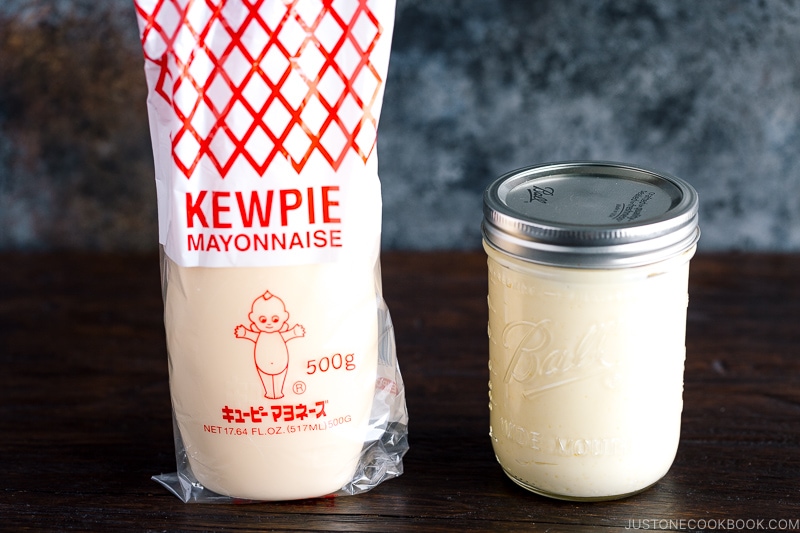 Made with egg yolks instead of whole eggs, Japanese mayo is specifically used in Japanese recipes such as Japanese Egg Sandwich (Tamago Sando), Okonomiyaki, Japanese Kani Salad, and Japanese Potato Salad. It is creamier and more umami-filled than regular mayonnaise, which is why it's best for making spicy mayo too!
The most popular brand is Kewpie mayo, which can be found at most Asian grocery stores (including online or on Amazon). Or, you can make your own following my Homemade Japanese Mayo recipe.
Best Recipes with Spicy Mayo
A generous drizzle of spicy mayo on sushi rolls adds creaminess and a spicy kick! Beyond sushi rolls, spicy mayo also makes a good company for any dish you can think of. Here are just some of the best foods to put your spicy mayo on: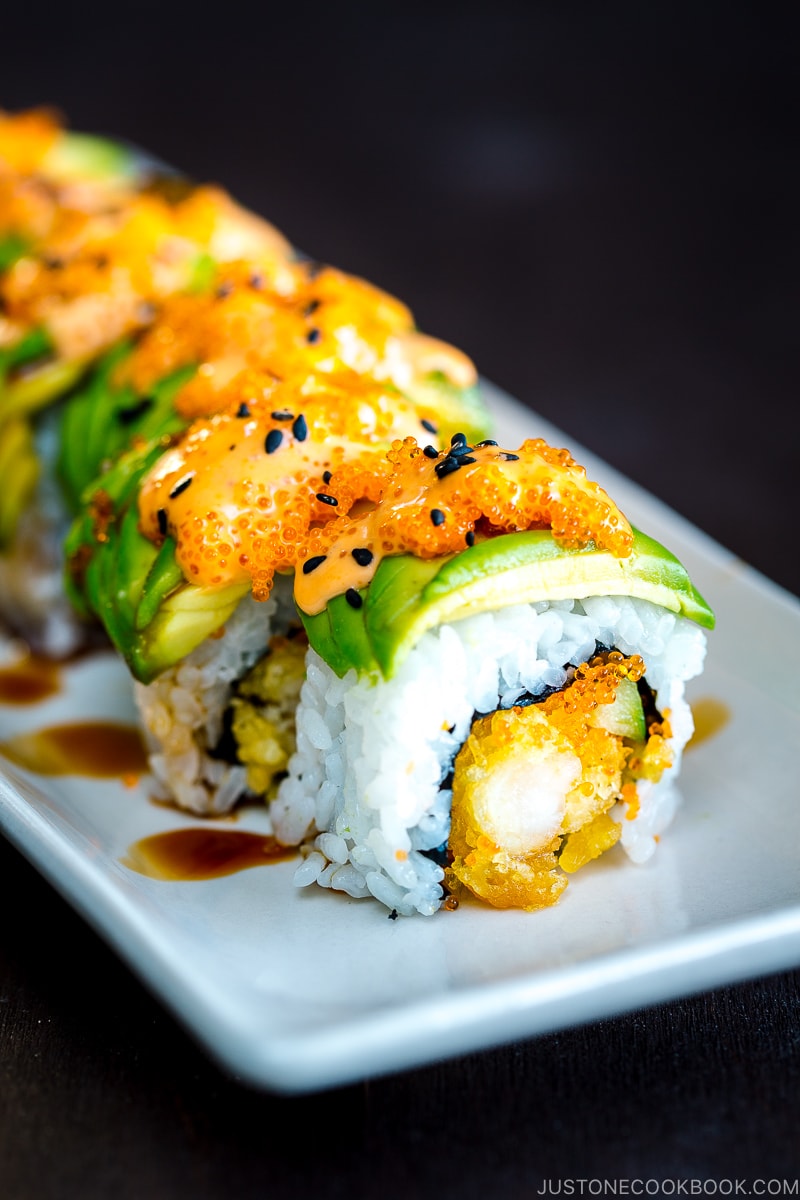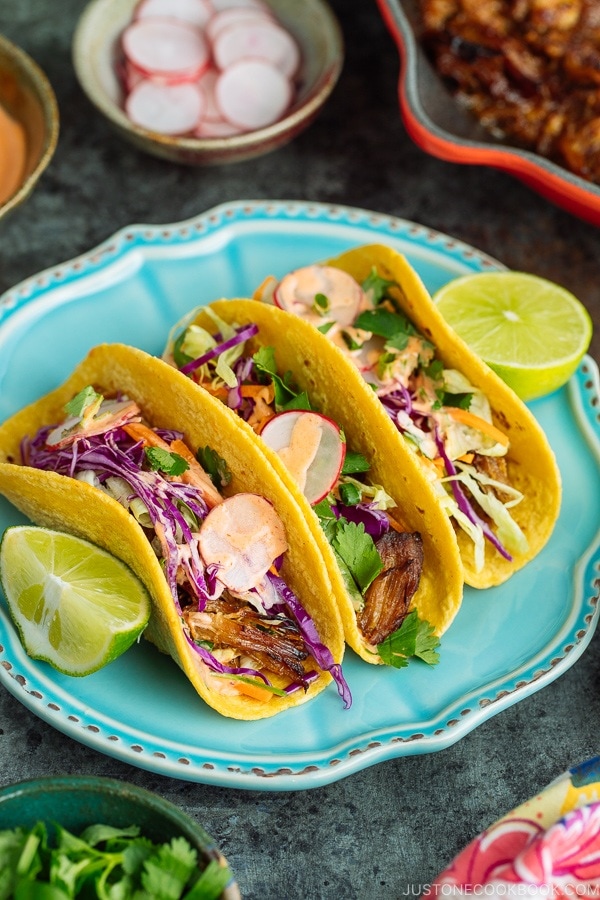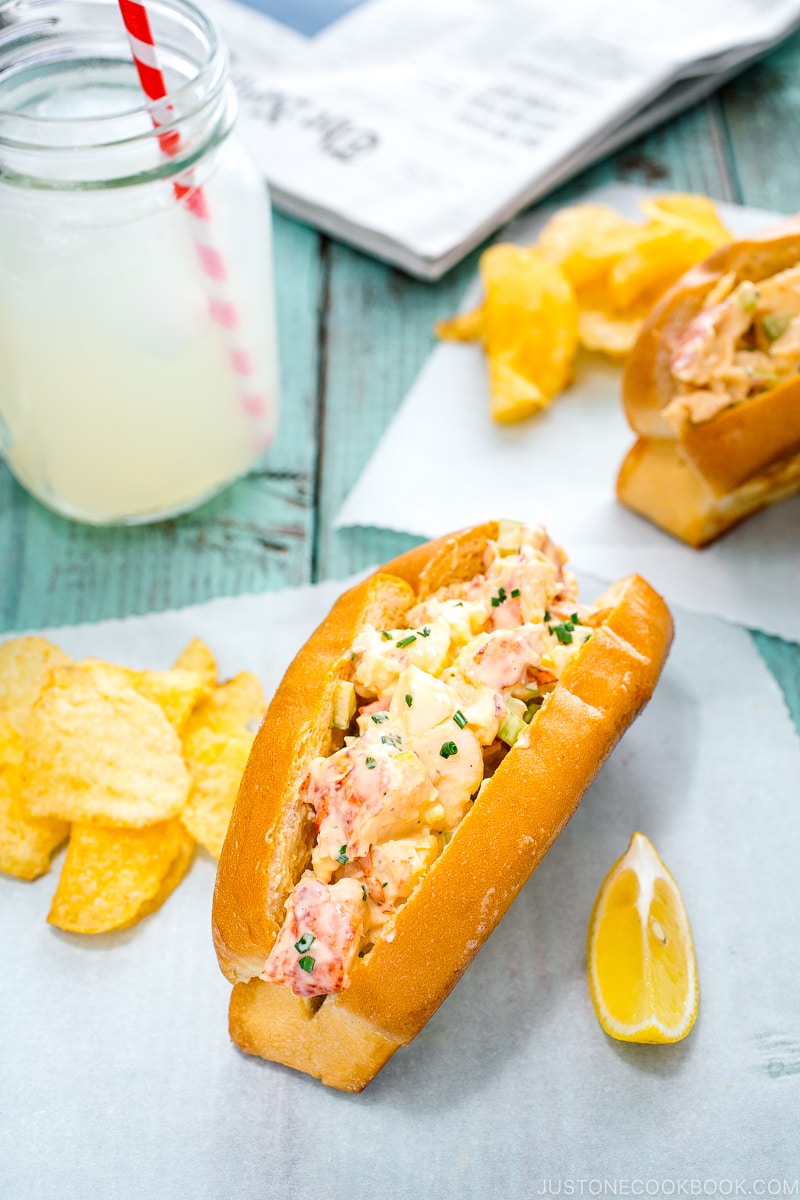 Frequently Asked Questions
Is Spicy Mayo the same as Yum Yum Sauce?
Both spicy mayo and yum yum sauce have a mayonnaise base, but spicy mayo packs a lot more heat than yum yum sauce. Most spicy mayo is made with just two ingredients like the one I share here. Yum yum sauce is sweeter and less spicy as it uses ketchup or tomato paste, vinegar, garlic, sugar, and a little hot sauce. It is used in American-style hibachi restaurants.
Is Spicy Mayo gluten-free?
While brands vary with seasonings, both Japanese Kewpie mayonnaise and sriracha sauce don't have any gluten.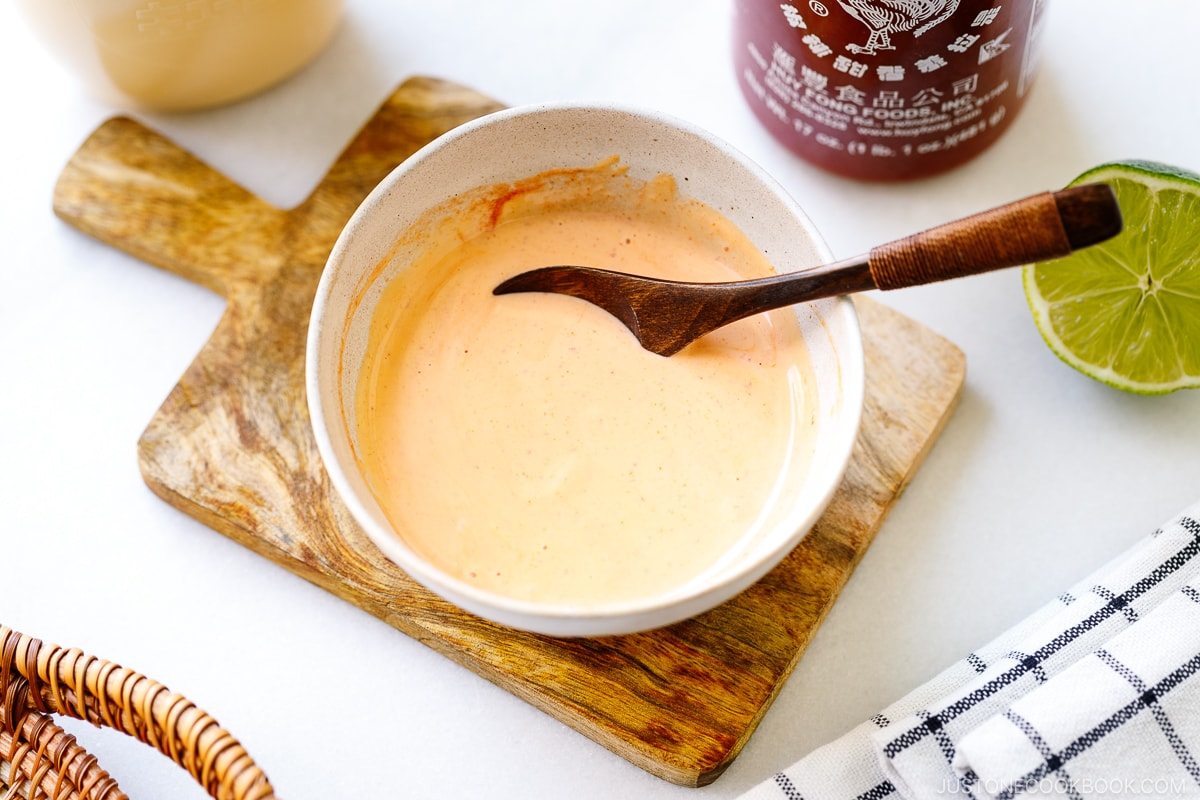 I hope you enjoy my spicy mayo recipe! Give us a thumbs up and tell us your favorite ways of using this amazing sauce.
Wish to learn more about Japanese cooking? Sign up for our free newsletter to receive cooking tips & recipe updates! And stay in touch with me on Facebook, Pinterest, YouTube, and Instagram.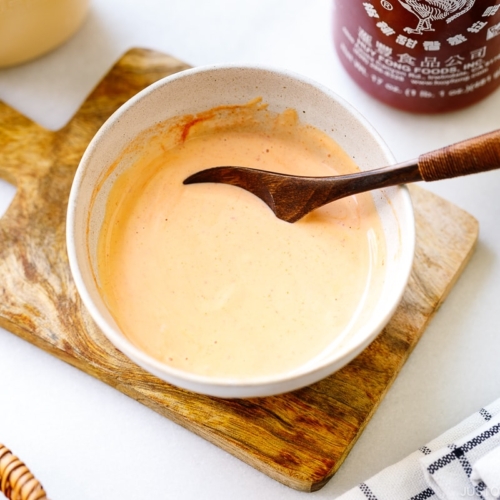 Homemade Spicy Mayo
Creamy and tangy Homemade Spicy Mayo is a killer sauce made with just three ingredients—Japanese Kewpie Mayonnaise, sriracha sauce, and a splash of lime juice. Use it on sushi, sandwiches, rice bowls, and tacos for an extra kick of heat.
Servings:
1
(¼ cup or 60 ml) batch
Ingredients
1

Tbsp

sriracha sauce

splash

lime juice
Japanese Ingredient Substitution:
If you want substitutes for Japanese condiments and ingredients, click
here
.
Instructions
To Store
You can keep this Homemade Spicy Mayo in an airtight container and store in the refrigerator for 7–10 days.
Nutrition
Nutrition Facts
Homemade Spicy Mayo
Amount per Serving
% Daily Value*
* Percent Daily Values are based on a 2000 calorie diet.
©JustOneCookbook.com Content and photographs are copyright protected. Sharing of this recipe is both encouraged and appreciated. Copying and/or pasting full recipes to any website or social media is strictly prohibited. Please view my photo use policy
here
.
Editor's Note: This post was originally published on May 6, 2013. The post has been republished with new images, additional content, and a slightly revised recipe on May 31, 2023.