When you're craving for some sweet, succulent lobster meat coated with spicy mayo piled into a buttery toasted bun, here's the recipe you need to make hassle-free lobster rolls at home.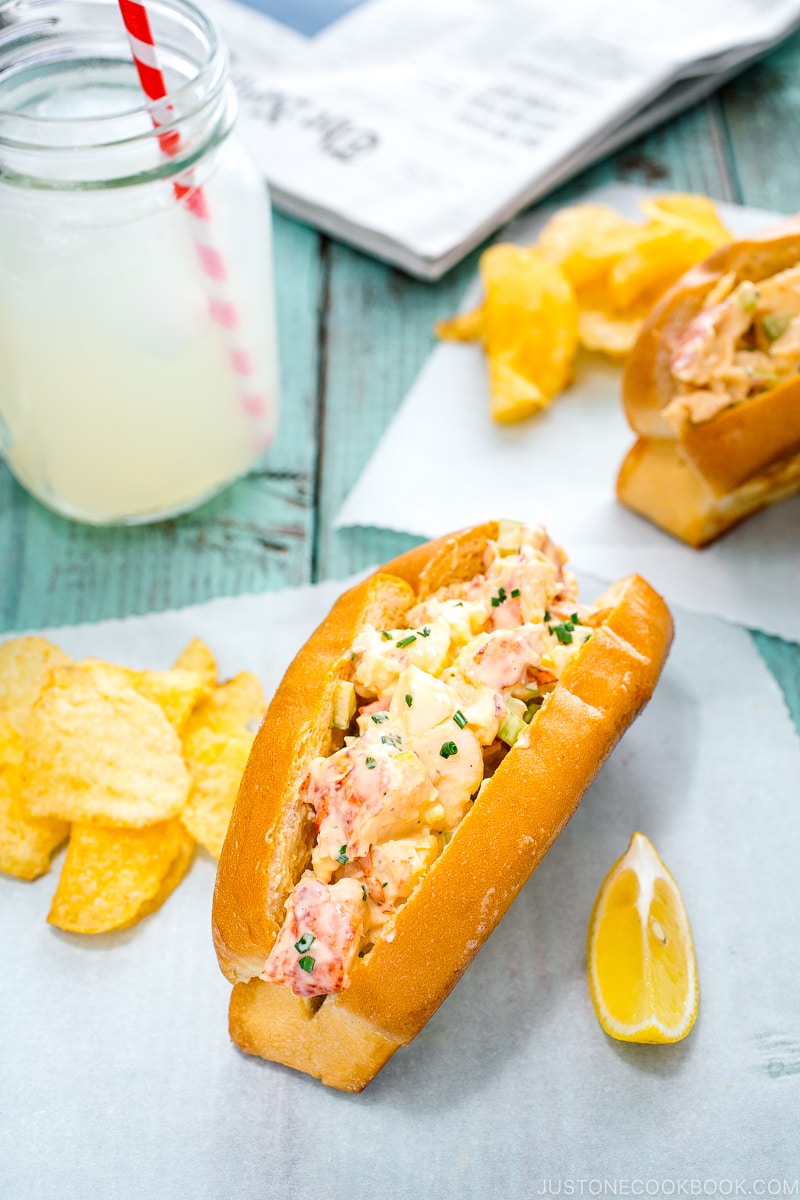 I rarely make sandwiches with seafood, but I always have a special spot for lobster roll ever since I had the best one in Boston. There is something magical about the sweet and succulent lobster meat mixed with mayonnaise on a buttery roll. Hmm, just the thought of it is already making my mouth water.
What is Classic Lobster Roll?
The lobster roll is a sandwich that originated in New England. It's made of just a few ingredients: large chunks of lobster, butter, lemon juice, and mayonnaise, stuffed into a grilled hot dog bun. Some versions may contain diced celery or scallion. Potato chips or french fries are the typical sides.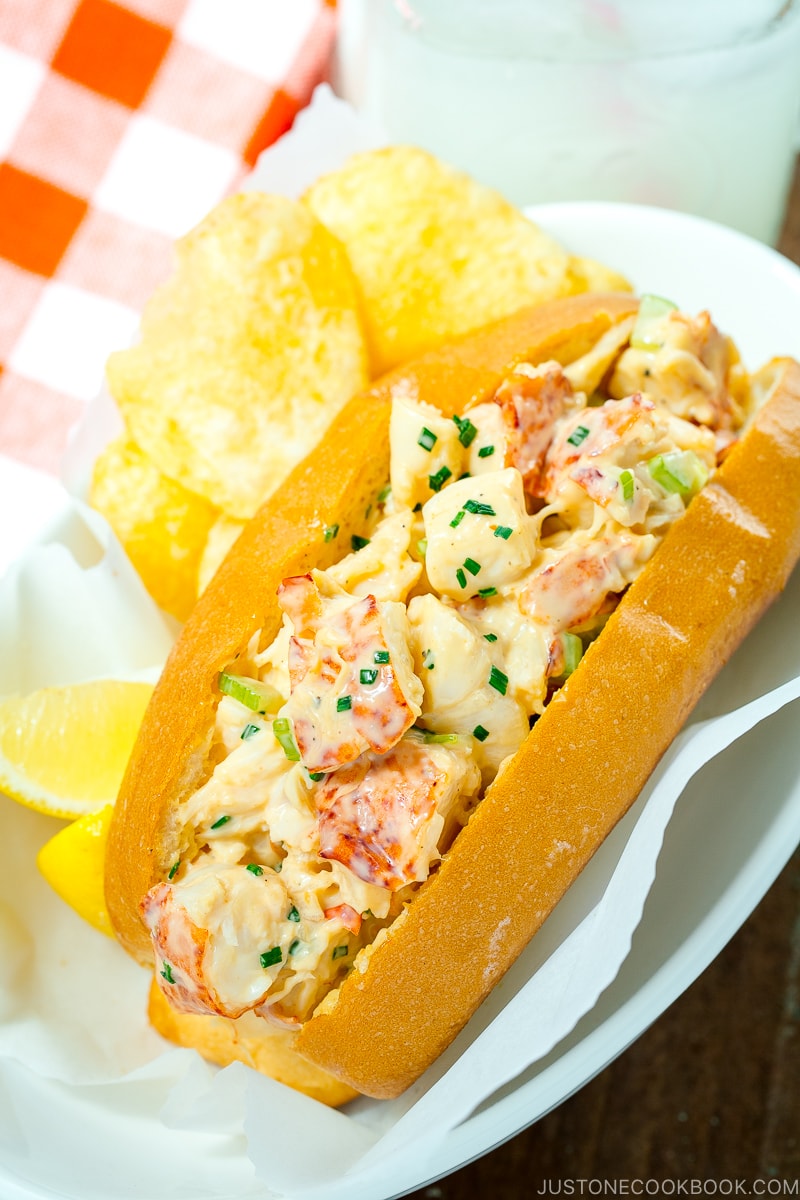 Lobster Roll with Spicy Mayo
There are variations of this sandwich from different parts of New England. Some may or may not contain diced celery, scallion, mayonnaise, cayenne pepper, or lettuce. For this recipe, instead of making them with Japanese mayonnaise like I always use, I went with my Homemade Spicy Mayo!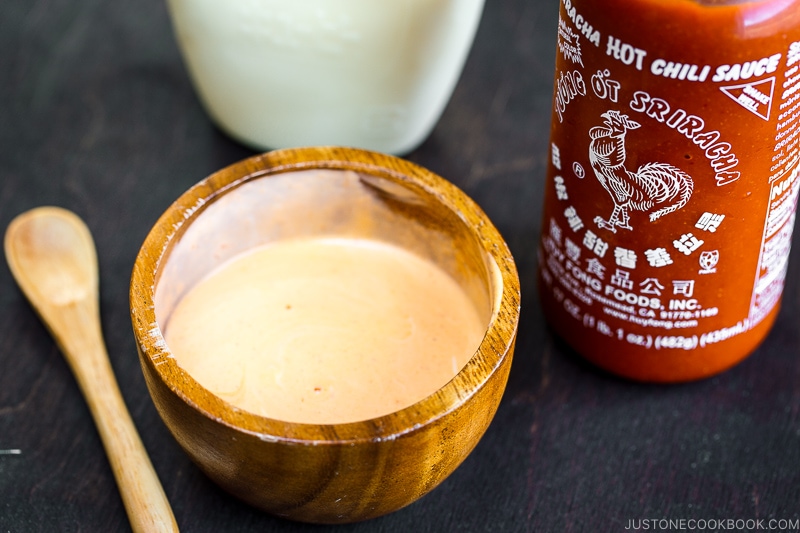 Use Lobster Tail for Lobster Rolls
Although the word "lobster" might discourage you to try this recipe at home, I highly recommend you giving it a try. It is super easy requiring just a few simple ingredients. I suggest getting lobster tails for hassle-free cooking. Lobster tails are easy to work with – simply defrost and boil. You can peel off the meat easily with hands.
Split-Top Buns for Lobster Rolls
To make my lobster rolls a bit more authentic, I used split-top New England style lobster roll buns. Luckily, I found out that a local lobster restaurant carries 12 rolls in a bag for sale. They are made by Le Boulanger. You can also check out your local specialty grocery stores. You might be lucky to find a bag of top-split buns like these.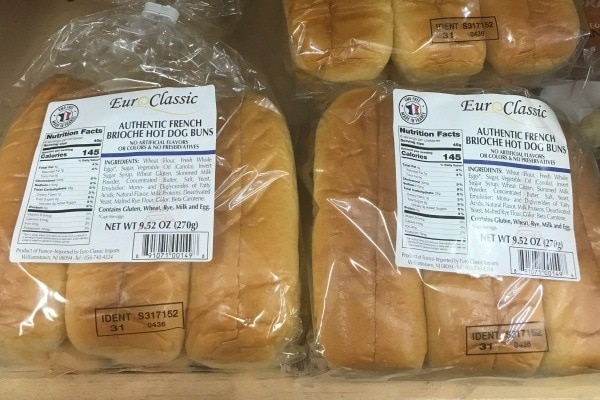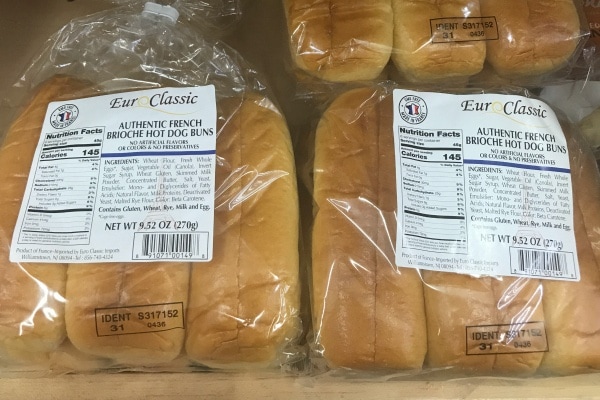 Now I almost feel like I'm back in Boston! I may not win the best lobster roll competition, yet I'm simply content with my homemade version. I can't wait to go back to the northeast one day and try all the different versions. If you are a fan of lobster rolls, where did you get the best lobster roll?
Watch How To Make Lobster Rolls
Sweet, succulent lobster meat coated with spicy mayo is piled into a buttery toasted bun, simply irresistible!
Luke's Lobster Rolls
During our visit to the Boston area, we tried many New England lobster rolls from various restaurants and our favorite one was Luke's Lobster.
They have stores all over the US but if you want the convenience of eating their lobster roll at home, you can order them online at Luke's Lobster.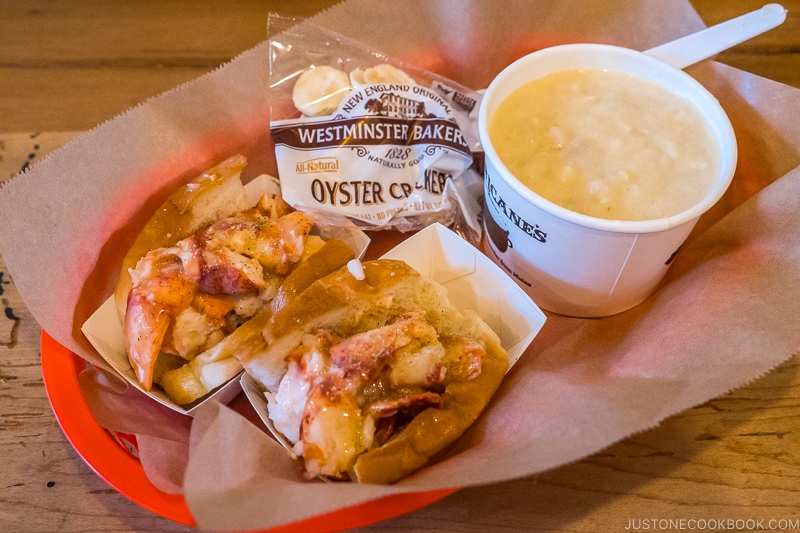 You Love Seafood? Here Are Other Seafood Dishes You May Enjoy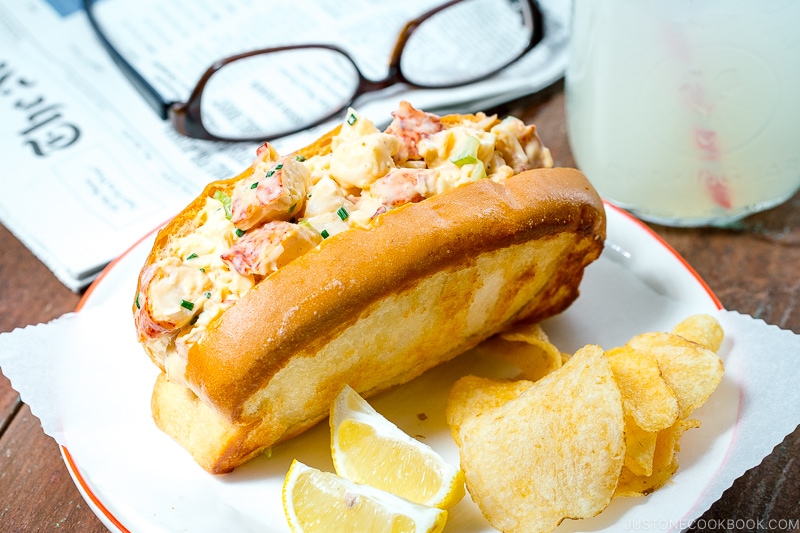 Japanese Ingredient Substitution: If you want to look for substitutes for Japanese condiments and ingredients, click here.
Wish to learn more about Japanese cooking? Sign up for our free newsletter to receive cooking tips & recipe updates! And stay in touch with me on Facebook, Pinterest, YouTube, and Instagram.
Lobster Roll
When you're craving for some sweet, succulent lobster meat coated with spicy mayo piled into a buttery toasted bun, here's the recipe you need to make hassle-free lobster rolls at home.
Video
Japanese Ingredient Substitution:
If you want substitutes for Japanese condiments and ingredients, click
here
.
Instructions
Gather all the ingredients.
Defrost the Lobster Tails
Place the lobster tails in the refrigerator for 8-12 hours (or place them in a bowl of cold water for a quick defrost).
Boil the Lobster Tails
Fill a large pot with water and add 1 tsp salt for each quart of water. Bring the water to a rolling boil and add the lobster tails into the pot.

Boil the tails for about 8 to 12 minutes until the shell is bright red color. Do not cover. Stir the lobsters half way through cooking. Remove the lobster tails from pot when done.


Let the lobster rest for 5 minutes or so after cooking to allow the meat to absorb the moisture inside the shell.

To Make the Lobster Salad
Cut celery into thin strips lengthwise and chop into small pieces. Finely cut the chives.


Cut the lobster shell in half lengthwise and remove the meat from the lobster tails. Cut the lobster meat into ½ inch (1.3 cm) pieces.

In a large bowl, mix the lobster meat, celery, and chives with spicy mayo and season with salt and pepper. If you have time, place the lobster salad in refrigerator for 5-10 minutes which allows the salad to absorb the flavorings.

To Prepare the Buns
If your buns are not split yet, make a slit on the top of buns with knife.


Heat the griddle or a large skillet and melt the butter over medium-low heat. Place flat sides of buns on melted butter and gently move around to let them absorb the butter.


Brush the top side with butter. Toast the buns until golden brown on both sides.

To Assemble the Lobster Rolls
Divide the lobster salad evenly and fill the buns. Drizzle with lemon to enhance the flavor.

To Store
The lobster salad mixture can be store in an airtight container and store in the refrigerator for up to 2 days.
Nutrition
Nutrition Facts
Lobster Roll
Amount per Serving
% Daily Value*
* Percent Daily Values are based on a 2000 calorie diet.
©JustOneCookbook.com Content and photographs are copyright protected. Sharing of this recipe is both encouraged and appreciated. Copying and/or pasting full recipes to any website or social media is strictly prohibited. Please view my photo use policy
here
.