A Taste of Hiroshima: Grilled Oysters with Ponzu Sauce. These plump, juicy oysters with citrus ponzu sauce will get it off to a good start of the meal!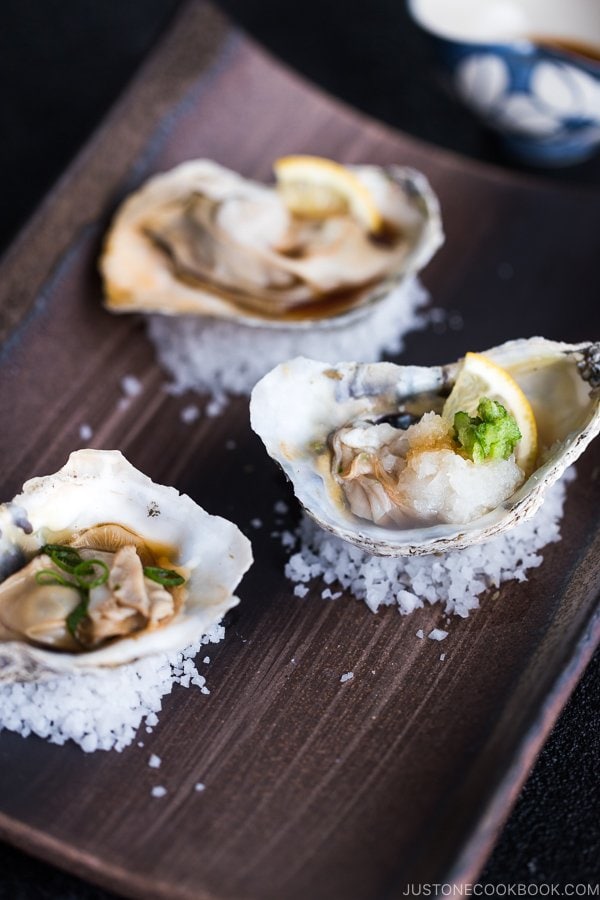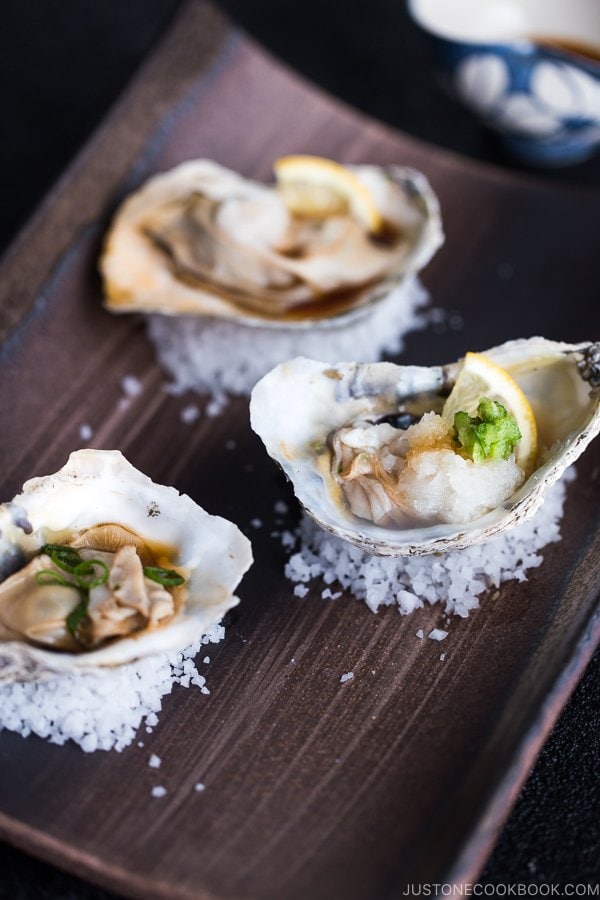 One of the best ways to experience a local culture is food. As we kicked off our Japan Travel series, I am super excited to feature a local recipe for each of the locations we traveled to. Today we are going to have a taste of Hiroshima with their most famous local food – oysters!
Today I will bring you this most delicious Grilled Oysters with Ponzu Sauce (牡蠣のポン酢焼き)! And don't miss out on the Hiroshima Japan Guide if you have yet to read it.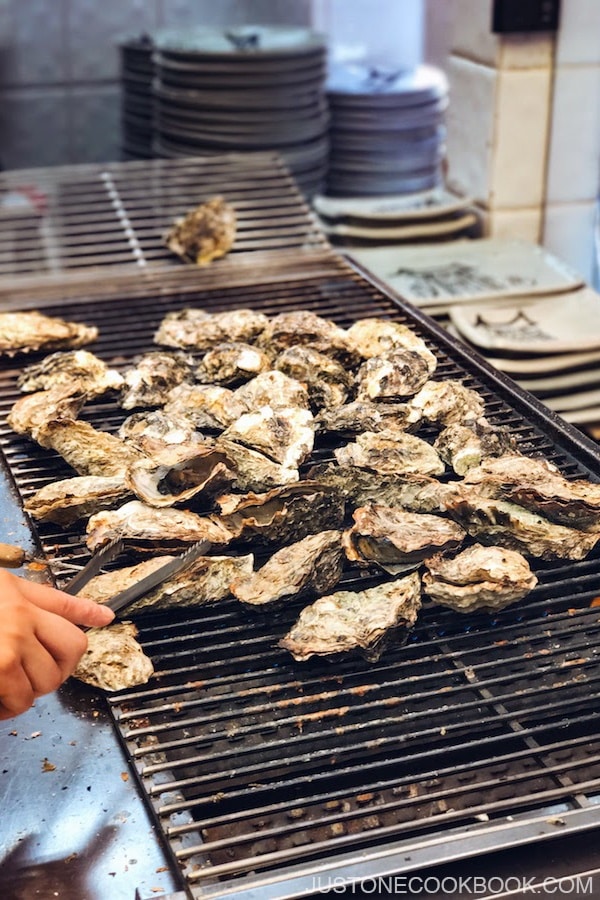 In Hiroshima and Miyajima, the oysters are usually enjoyed cooked rather than raw. If you like the rich, irony taste of oysters, but you don't care for eating them raw, then today's recipe is especially for you.
For those who enjoy raw oysters, have you tried grilling them? They are equally delicious as fresh raw oysters!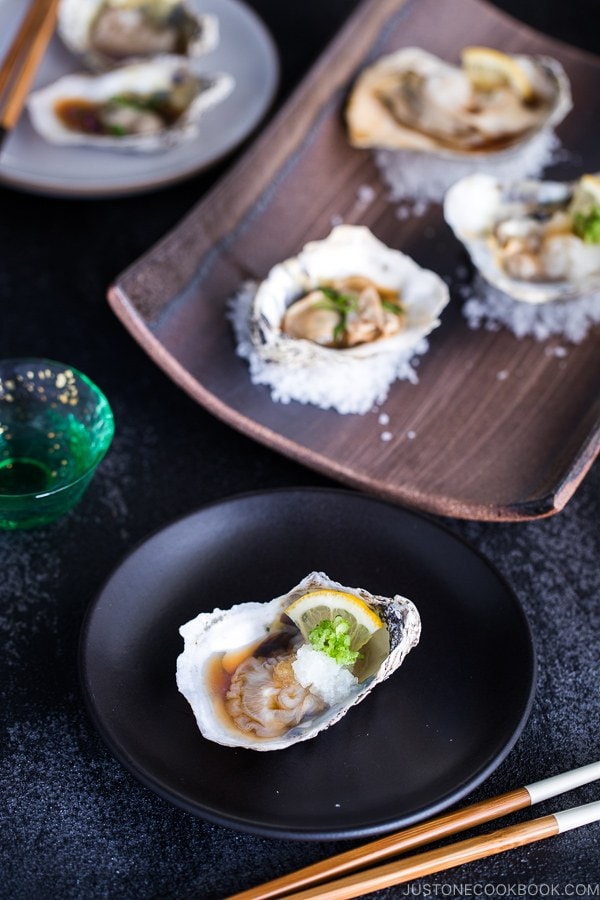 How to Pick Oysters
Oysters are sold all year round, but they are the firmest and sweetest from late fall to spring. At your local fish market or grocery store, look for oysters that feel heavy in the hand and have a deep cup. Make sure they are tightly closed so the brine is kept inside.
If the shells are slightly open, tap the oyster gently to make sure it closes its shells when tapped. Don't get any oysters that don't close.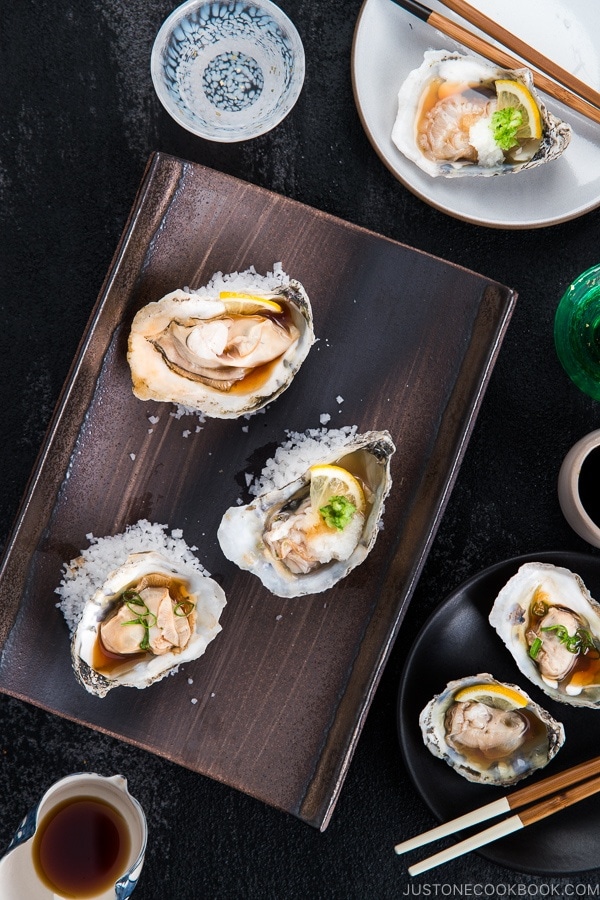 Five Types of Oysters – Which One to Choose?
Depending on the location and condition of their cultivation, there are significant differences in the flavor profiles of oysters. In general, Atlantic/Eastern oysters tend to be brinier while Pacific oysters tend to be sweeter when it comes to flavor.
Just like any food, it's all about personal choice. Try out different oysters to see what you like. If you're new to oysters, start with the sweeter type.
The type of oysters I bought at Whole Foods for today's recipe is called Olde Salts Oysters (Crassostrea Virginicas – #1 below) from Chesapeake Bay, Virginia.
1. Atlantic/Eastern Oysters (Crassostrea Virginicas)
Atlantic/Eastern oysters account for most of the American oyster supply. They tend to be brinier than other oysters, with a thinner, more watery texture.
Examples:
Blue Point – from Long Island's Great South Bay (Today, however, "bluepoint oyster" is often used as a general term for any Atlantic oyster)
Alabama Gulf – from Bayou La Batre and Mobile Bay
Chesapeake Bay – from Maryland and Virginia
Malpeque – from Prince Edward Island
Wellfleet – from Cape Cod, Massachusetts
2. European Flats (Ostrea Edulis) 
European flats have smooth, round, flat shell with a shallow cup and have a meaty and crunchy texture with a sharp mineral, a bit gamey taste.
Examples:
Belons (but not all European flats are Belons as they must be grown in the Brittany region of France)
3. Kumamoto Oysters (Crassostrea Sikamea)
Kumamoto oysters were introduced to Washington in 1947 and became one of the most popular oysters in the US (They were never popular in Japan). Kumamotos spawn later and in warmer water, so they remain firm and sweet even in summer months. They are small and deeply fluted with sharp, pointy shells, and have a sweet taste.
4. Olympia Oysters (Ostrea Lurida or Ostrea Conchapil)
Olympia oysters are the smallest of all the species (about the size of a quarter!) and are the only oyster native to the West Coast. They were so popular during the Gold Rush era and thought to be extinct. However, some wild populations still exist and are protected in the Pacific Northwest. Olympias at the market and in restaurants are cultivated mostly in the Puget Sound, Washington. They have a creamy texture with a sweet and metallic taste.
5. Pacific Oysters (Crassostrea Gigas) 
Formerly know as Japanese oysters (as they were brought to the US from the Asian Pacific in the early 1900s), Pacific oysters are the most commonly cultivated oyster on the West Coast. They are small and distinctly more fluted with ruffled edges, and have a sweeter, less briny taste than Atlantic oysters.
Examples:
Penn Cove – from Washington State
Quilcene – from Washington State
Kumamoto – from California and Washington
Miyagi – from California and Washington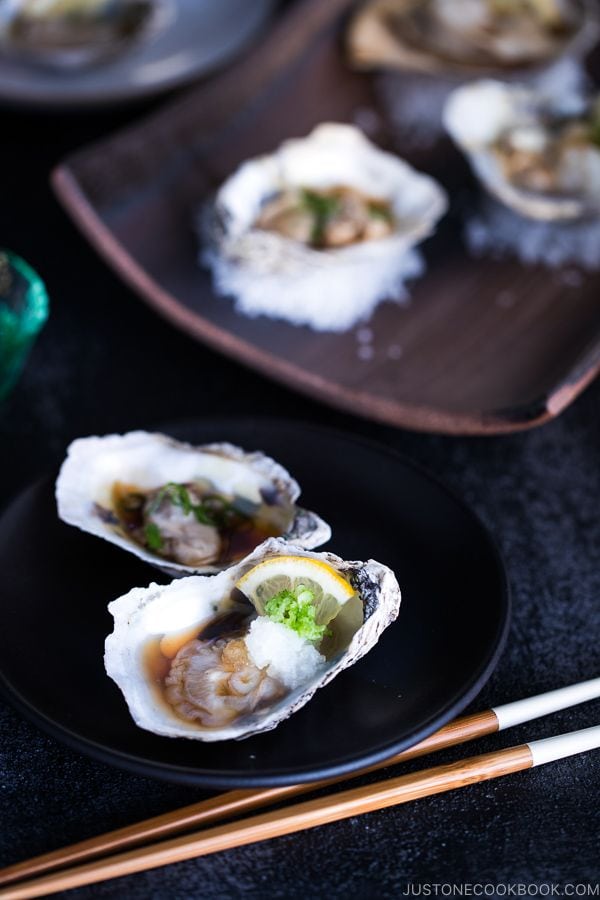 Three Ways  to Enjoy Grilled Oysters with Ponzu Sauce
In Japan, people enjoy grilled oysters in different ways, from a simple squeeze of lemon juice to melted butter with a drizzle of soy sauce. Today I want to show you our family's favorite way to eat oysters. We personally like it with citrusy ponzu sauce, and here are quick three ways to enjoy oysters with the use of ponzu sauce.
1. Mizore Ponzu Sauce
Mizore (みぞれ) ('sleet' in English) means grated daikon in Japanese cooking terms from its look. For this recipe, I grated both daikon and cucumber to create refreshing garnish. When you pour ponzu sauce over the oysters, it gets dispersed quickly and the flavors meld with the oyster instantly. With the addition of fine texture from the grated daikon, it gives a fresh note to your tongue.
2. Simple Ponzu Sauce with Green Onions
To enjoy ponzu sauce with grilled oysters, a simple garnish of green onions would be just enough, especially a homemade ponzu (YUM!!!).
3. Yuzu Kosho Ponzu with Lemon Slice
If you're lucky enough to live close to a large Japanese grocery store like Mitsuwa and Nijiya, you will most likely find this amazing condiment called Yuzu Kosho (柚子胡椒) made of chili peppers, yuzu peel, and salt which is then allowed to be fermented. Amazon sells it too, but I haven't ordered it so I am not sure about the quality (yet). If you can get hold of yuzu kosho, you want to use it to spice up your dishes and sauces. Here I added just a dash of yuzu kosho into my homemade ponzu sauce. And I was amazed how much this little seasoning can jazz up the grilled oysters with its peppery and citrusy kick.
Now it's time to slurp and swoon over these deep-cupped shellfish. If you're planning a trip to Hiroshima, you know the first food you can eat!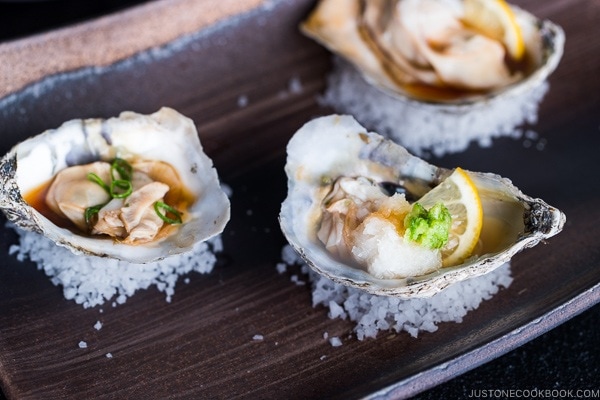 Wish to learn more about Japanese cooking? Sign up for our free newsletter to receive cooking tips & recipe updates! And stay in touch with me on Facebook, Pinterest, YouTube, and Instagram.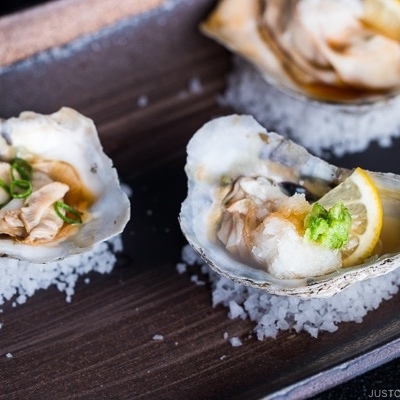 Grilled Oysters with Ponzu Sauce
A Taste of Hiroshima: Grilled Oysters with Ponzu Sauce. These plump, juicy oysters with citrus ponzu sauce will get it off to a good start of the meal!
Video
Ingredients
6

oysters

coarse sea salt

(optional)
Japanese Ingredient Substitution:
If you want substitutes for Japanese condiments and ingredients, click
here
.
Instructions
Gather all the ingredients first.

Take out the oysters from the bag as soon as you get home.

Scrub oysters with brush under running cold water and place them on ice until you're ready to grill.

Thinly slice green onions.

Cut the lemon in half, and cut 2 thin slices of lemon. Then cut them into quarters (now you have 8 quarters). Set aside.

Grate cucumber and set aside in a small bowl.

Peel daikon and grate finely. Set aside in a small bowl.

Put some yuzu kosho and ponzu in a small serving bowl, and mix well.

On a serving platter, create 6 mounds of coarse sea salt for nesting each oyster.
To Grill
Preheat grill to high heat. Place the oysters on the heated grate with the cup sides facing down to hold in the juices. Cover and grill until oysters begin to open, about 4-5 minutes. Keep in mind the cooking time depends on the strength of grill and size of oysters.

Use tongs, transfer each opened oyster from the grill as soon as the shell pops open (even slightly open). Discard any oysters that do not open.

To open the oysters, place one oyster between a folded kitchen cloth. Open the shell, keeping the cup side down. Using a paring knife, cut the connected muscles between shells. Discard the top shell and remaining brine (it would be too salty to eat with ponzu). Pick out any fragments of the shell and place it on the platter. Repeat with the rest of oysters.
To Serve
Put lemon slices, grated daikon, and grated cucumber on 2 oysters; place chopped green onion and lemon slices on the other 2 oysters, and finally just lemon slices on the last 2 oysters. Pour regular ponzu or Yuzu Kosho Ponzu on the oysters to enjoy.
Nutrition
Nutrition Facts
Grilled Oysters with Ponzu Sauce
Amount per Serving
% Daily Value*
* Percent Daily Values are based on a 2000 calorie diet.
©JustOneCookbook.com Content and photographs are copyright protected. Sharing of this recipe is both encouraged and appreciated. Copying and/or pasting full recipes to any website or social media is strictly prohibited. Please view my photo use policy
here
.