Kakiage don is a delightful rice bowl dish topped with shredded vegetables and shrimp tempura, drizzled with homemade tempura sauce.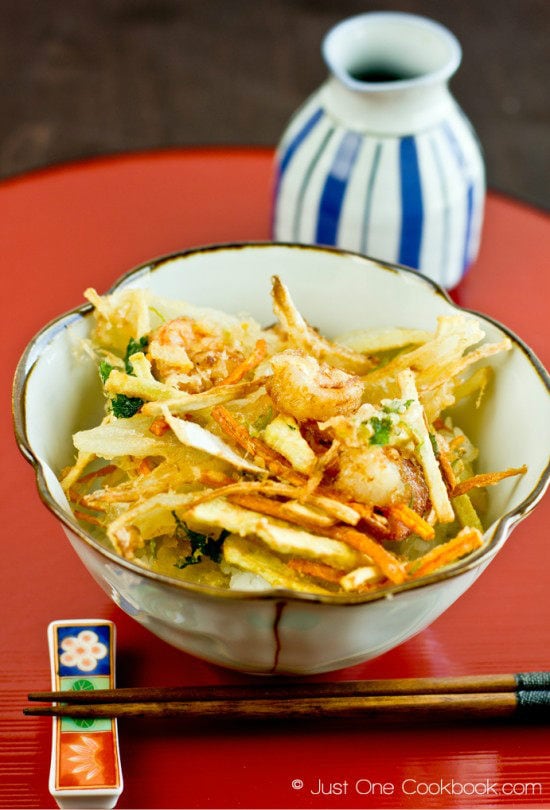 Since Thanksgiving is just around the corner, I would like to share my gratitude to all my readers who enjoy my posts and tried my recipes. This week Just One Cookbook has reached 1000 subscribers (Feed readers & Email Subscribers)! You provide me the encouragement to continue blogging that I would have never imagined myself doing. It means a lot to me and thank you for your support! I prepared Kakiage Tempura Don (vegetable & shrimp tempura donburi) to celebrate this occasion!
What is Kakiage Tempura?
Kakiage (かき揚げ) or Kakiage Tempura is one of the various types of tempura. Several kinds of vegetables are thinly sliced or julienned, coated with tempura batter, and deep-fried together, typically in a round shape. As a result, it's easy to place it on top of donburi (rice bowl) or hot soba or udon noodle soups.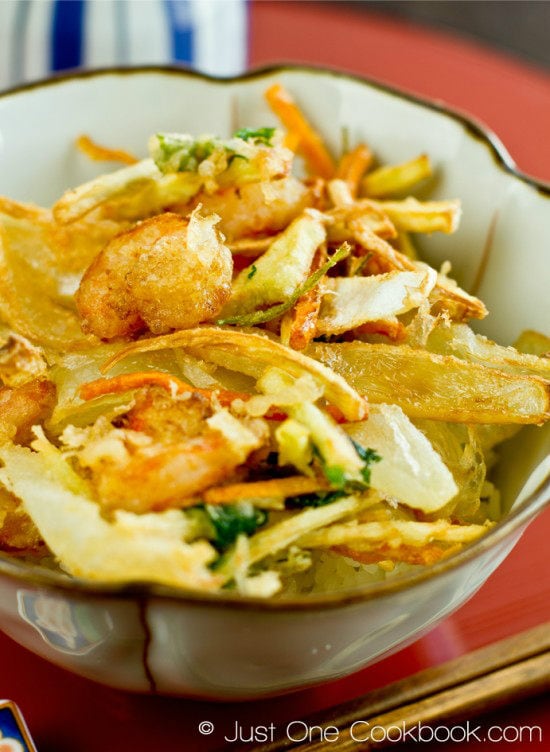 The Popular Kakiage Ingredients
Carrot
Gobo (burdock root)
Mitsuba
Onion
Shiitake mushrooms
Shrimp
Sweet potato
You can use other ingredients, but it's best to use denser ingredients like root vegetables so that kakiage has a nice crunch to it. Onion slices and shrimp give a tender texture to contrast against root vegetables.
3 Important Tips to Make Successful Kakiage
Sprinkle potato starch (cornstarch) before you dip ingredients in the batter. The potato starch will absorb excess moisture from the vegetables and act as a glue to the batter.
When you add the battered vegetables to the oil, try to make them flat, so it's easier to cook through. Thick battered vegetables take a longer time to cook inside.
Don't touch or move the batter after you add it to the oil. The batter around the vegetables needs to be solidified and has enough structure before you flip.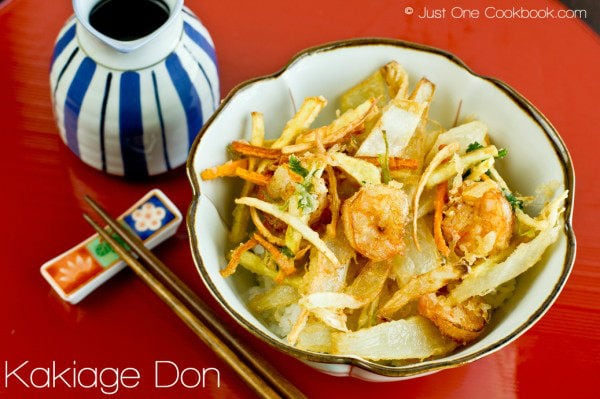 Wish to learn more about Japanese cooking? Sign up for our free newsletter to receive cooking tips & recipe updates! And stay in touch with me on Facebook, Pinterest, YouTube, and Instagram.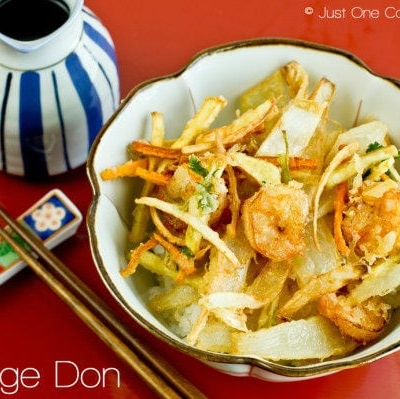 Kakiage Don
Kakiage don is a delightful rice bowl dish topped with shredded vegetables and shrimp tempura, drizzled with homemade tempura sauce.
Ingredients
Japanese Ingredient Substitution:
If you want substitutes for Japanese condiments and ingredients, click
here
.
Instructions
Gather all the ingredients.
To Make Tempura Sauce
Heat all the ingredients for Sauce in a small saucepan and bring to a boil. Remove from heat and set aside.
To Prepare Kakiage Ingredients
Marinate shrimp in 1 Tbsp sake for 10 minutes to get rid of the unwanted smell. Cut all the vegetables into thin strips, about 2 inches (5 cm) long. They should all be roughly the same size so it's easier to cook through and eat. Soak sweet potatoes and gobo (burdock root) in water to prevent them from changing color for 10 minutes. Drain really well.
To Make Tempura Batter
Heat the oil and sesame oil to 350ºF (180ºC) in a wok or pot. While oil is heating up, start preparing the tempura batter.

In a medium bowl, beat egg yolk gently and add iced water and sake. It's important to keep the batter icy cold at all time. The crispiness of Tempura comes from the temperature difference between hot oil and cold batter.

Add sifted flour, baking powder, and salt into the egg mixture. Using chopsticks, mix around the bowl just 10 times in circular motion. The key here is not to produce gluten in the flour. The batter can be lumpy and should be slightly runnier than regular tempura batter.

Add the shredded vegetables and shrimp in the empty bowl. Sprinkle with potato starch (cornstarch) and coat well with chopsticks.

Pour the batter over the ingredients and mix.

To Deep Fry
When the oil is 350ºF (180ºC), take a scoop of the ingredients with a fine-mesh sieve or slotted spoon and let the excess batter drip off.

Slowly slip the ingredients into oil, keeping them as flat as possible. Keep the ingredients from separating and collect all the pieces into one big flat chunk with chopsticks. Deep-fry for 1 minute without touching, then flip to deep-fry until golden-brown. Drain excess oil on a paper towel. Pick up crumbs left in the oil with a fine-mesh sieve. It's important to clean the oil after every batch so the oil does not get darker with the burnt crumbs. Continue with the rest of the batter.
To Serve
Re-heat the tempura sauce. Put steamed rice in donburi bowls and drizzle a little bit of the sauce over rice. Keep the remaining sauce in a small serving container. Place the kakiage over the rice. Drizzle more tempura sauce when you're eating.
To Store
You can keep the leftover kakiage in an airtight container and store in the refrigerator for up to 3 days or in the freezer for a month. Reheat in the oven (or toaster oven) till crispy and do not use a microwave.
Nutrition
Nutrition Facts
Kakiage Don
Amount per Serving
% Daily Value*
* Percent Daily Values are based on a 2000 calorie diet.
©JustOneCookbook.com Content and photographs are copyright protected. Sharing of this recipe is both encouraged and appreciated. Copying and/or pasting full recipes to any website or social media is strictly prohibited. Please view my photo use policy
here
.