Filled with starchy vegetables, meat, and flat noodles in miso-based dashi broth, this hearty noodle soup called Hoto is a popular regional food from Yamanashi prefecture in Japan.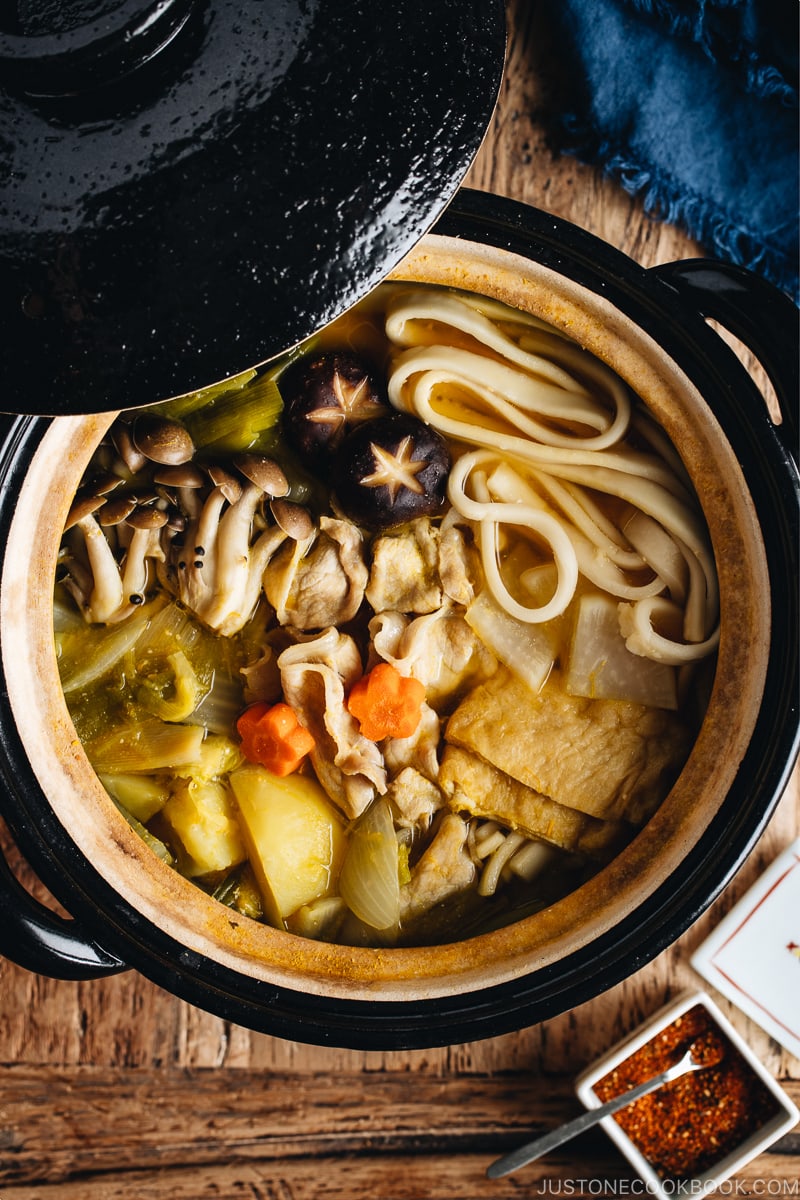 For the past several years, my family has visited Yamanashi prefecture a number of times. Yamanashi is in the proximity of Tokyo and Yokohama where my family lives, and the convenience brought us to a few different ryokans (Japanese-style inn) to enjoy delicious food and onsen (hot springs).
Each trip, we got to enjoy the famous regional noodle soup called Hoto (pronounced as [Hōtō]). This hearty, homey, rustic noodle soup is especially comforting in winter months and I couldn't wait to share the recipe after our recent trip in January.
What is Hoto?
Hoto (ほうとう, 餺飥) is a miso-based noodle soup originated in Yamanashi, Japan. It's known as a regional food from Yamanashi, and it consists of vegetables (especially kabocha squash), meat, noodles in a dashi broth that is seasoned with local Koshu (甲州) or Shinshu (信州) miso.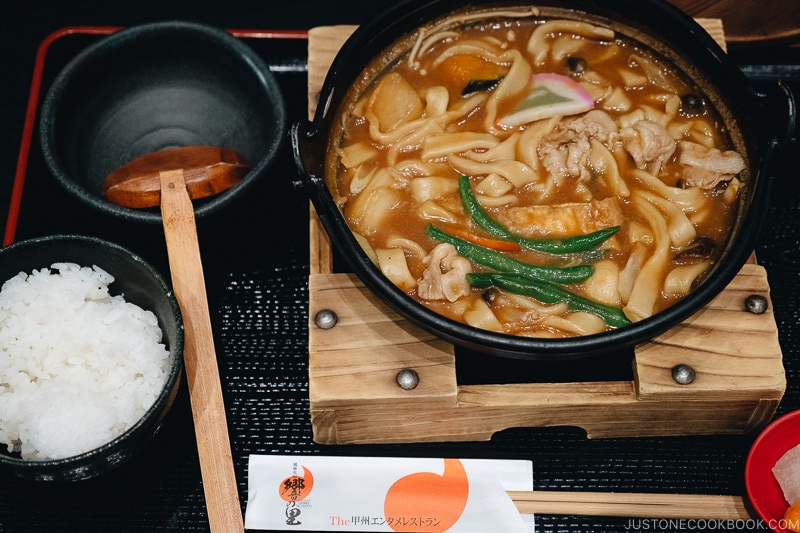 The noodles in this soup are a bit different from udon noodles. The dough has a tougher texture and is not mixed with salt or left to sit. Hense, the noodles are more doughy and lack of elasticity. It has a lot more similarity to dumplings than noodles.
Since these noodles are not required to parboiled prior to adding to the soup, they are cooked raw in the soup along with the other ingredients.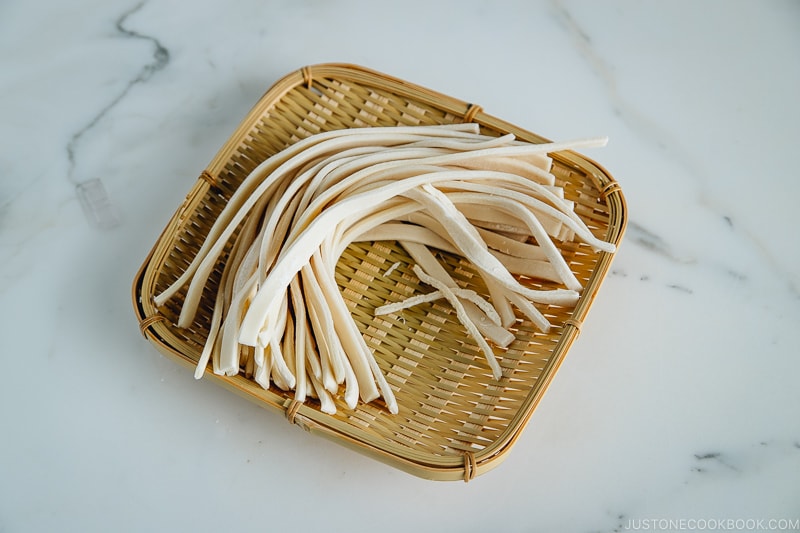 The origin of Hoto was due to shortages in local rice crops. The rice fields in Yamanashi were turned into wheat farming, and flour products like hoto noodles were invented to counter food scarcity.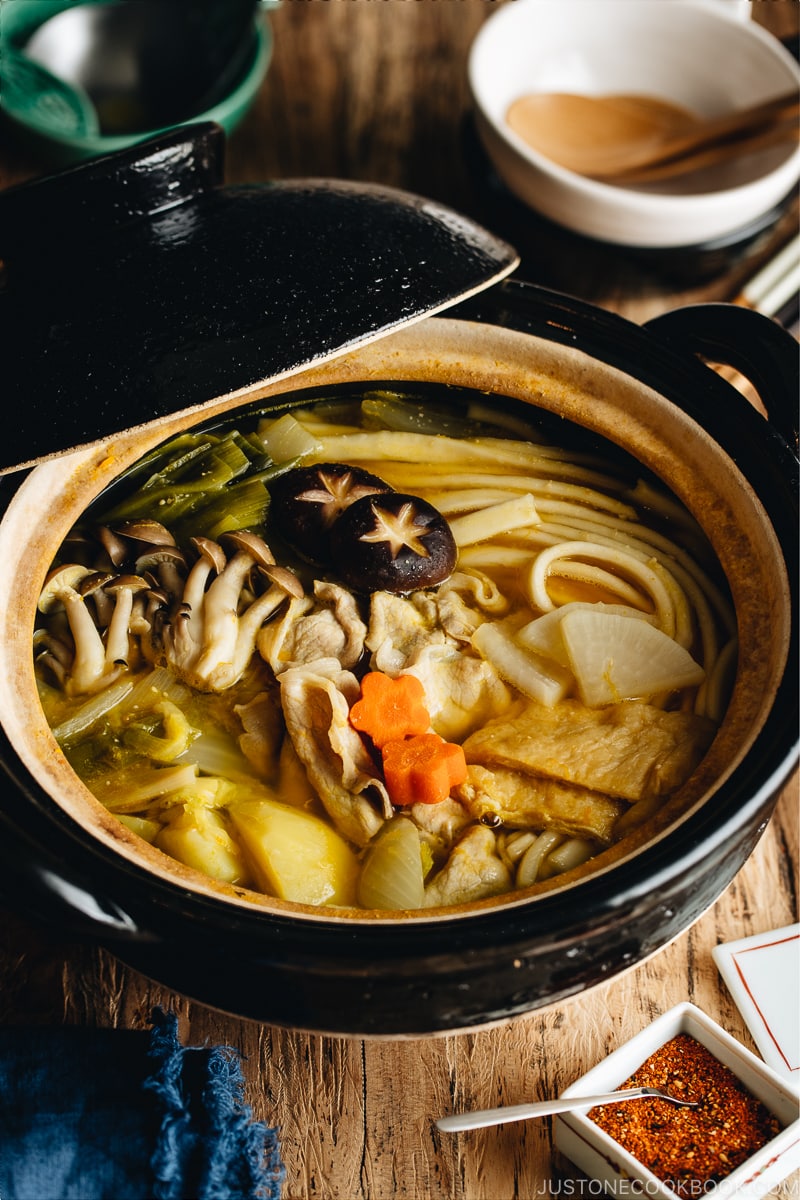 Ingredients You Need for Hoto Noodle Soup
This home-style noodle soup is a lot more flexible when it comes to ingredients. You can use what you have in the fridge and it would work just fine. Fresh hoto noodles are impossible to find outside of Yamanashi prefecture, so some people use udon noodles instead. You can also make hoto noodles from scratch. All it needs is flour and water. Be sure to check out the Notes section in the recipe below if you'd like to make the noodles yourself. It's easier than you think!
Proteins of your choice:
Vegetables
Others
In Yamanashi, you'd find hoto noodles being served in an iron pot, which keeps the noodles and soup hot. At home, I use my versatile donabe (Japanese earthenware pot) to cook and serve the dish. No donabe? You can certainly use any soup pots (heavy cast iron or clay pots are best).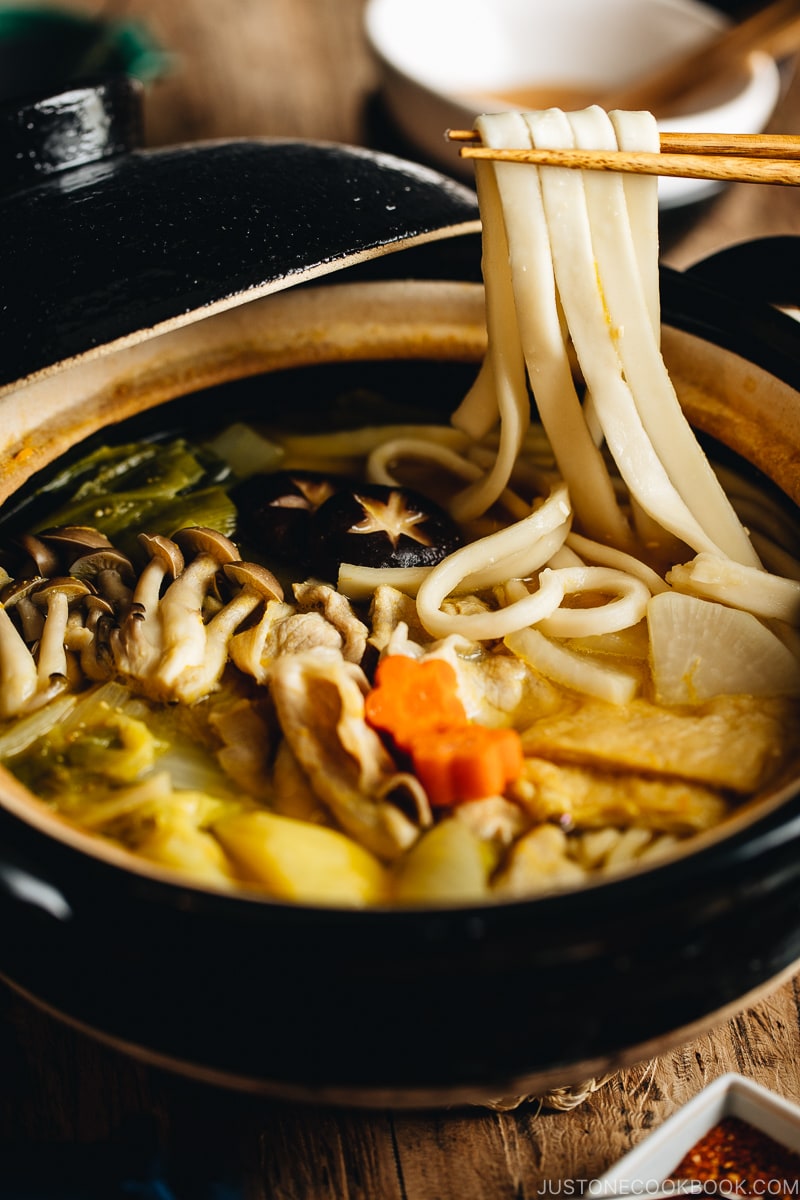 Mutenka Enjuku Koji Miso for Hoto Noodle Soup
The main flavor for the noodle soup is dashi made with anchovies and kombu that is seasoned with local miso.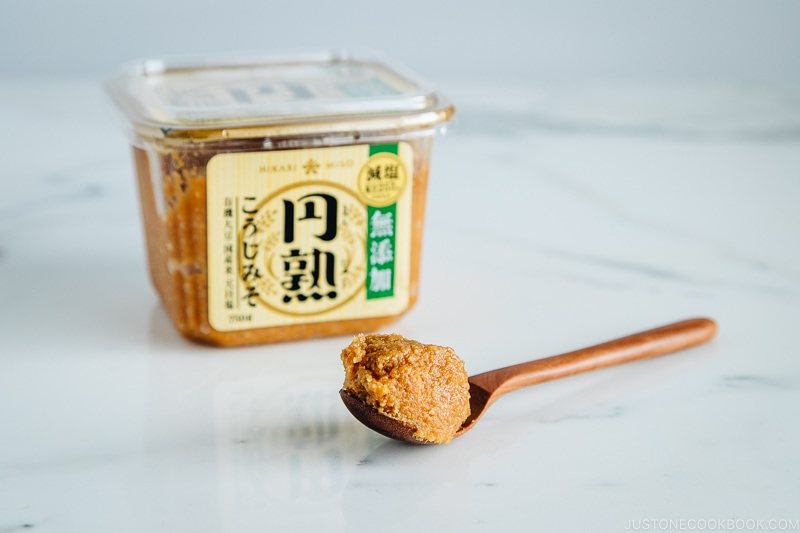 Mutenka Enjuku Koji Miso (with a green label) from Hikari Miso® contains 25% less sodium than Mutenka Enjuku Koji Miso. It still has a full flavor and umami yet no food additives or preservatives are used in this genuine koji miso. It is so delicious, and it's one of my favorite miso to enjoy in all types of recipes that require miso.
If you already have miso in your fridge, you can definitely use it for the broth before you venture into other types of miso. You can read all about miso to be familiar with different types of miso.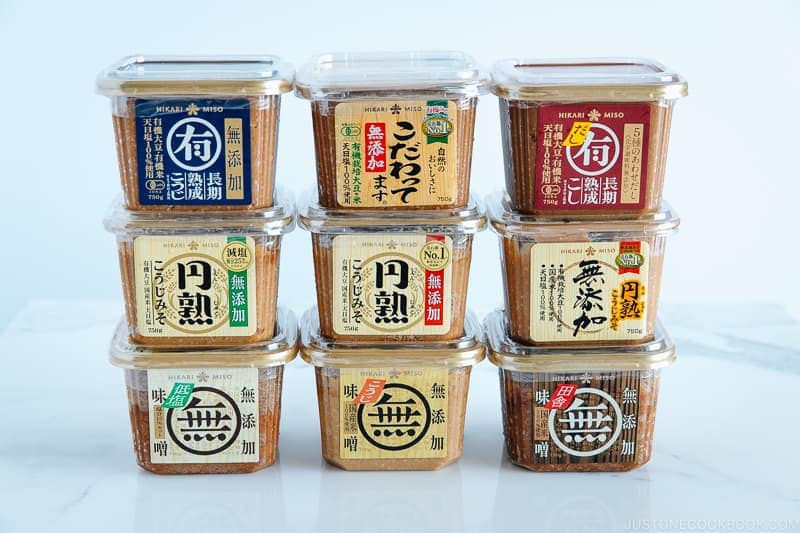 Where can I buy Hikari Miso®? 
Japanese grocery stores (Nijiya, Mitsuwa, Marukai, local mom-pop shops, etc)
Asian grocery stores (including Chinese/Korean grocery stores)
I have been using all kinds of miso from Hikari Miso® for over a decade, and I enjoy the partnership with them. Thank you Hikari Miso® for sponsoring this post!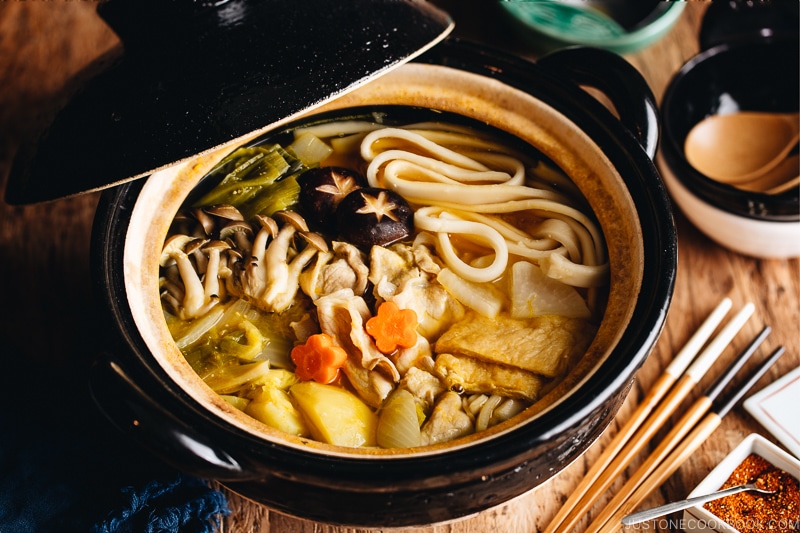 Explore Japan's Regional Foods
Part of the fun of visiting Japan is the endless opportunity of trying out its multifaceted regional foods. And the great news is – you can recreate these flavors at home with the regional food recipes I've shared on Just One Cookbook. I hope you enjoy making Hoto Noodle Soup, and if you have any recipe request for Japan's regional food, just leave a comment below!
Japanese Ingredient Substitution: If you want to look for substitutes for Japanese condiments and ingredients, click here.
Sign up for the free Just One Cookbook newsletter delivered to your inbox! And stay in touch with me on Facebook, Pinterest, YouTube, and Instagram for all the latest updates.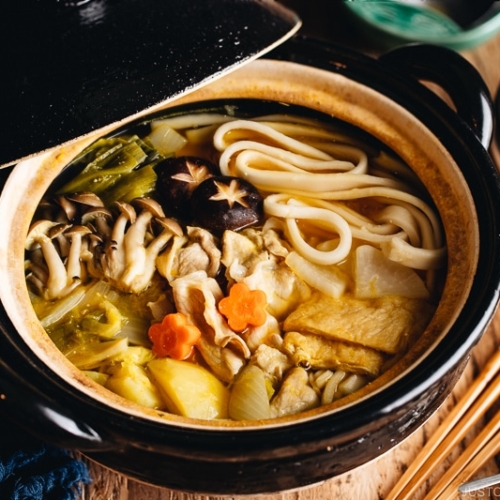 Hoto Noodle Soup
Filled with starchy vegetables, meat, and flat noodles in miso-based dashi broth, this hearty noodle soup called Hoto is a popular regional food from Yamanashi prefecture in Japan.
Ingredients
Japanese Ingredient Substitution:
If you want substitutes for Japanese condiments and ingredients, click
here
.
Instructions
Gather all the ingredients.
Make Dashi
Soak the kombu in 5 cups water.

Remove the head and gut (inside the tummy area) of anchovies. If you're not sure where the gut is, it's the black thing inside the tummy area. This will reduce the bitter flavor in dashi.

Put the clean anchovies (left piles) in a tea bag (or cheesecloth) and discard the remains.

Add the bag to the kombu dashi, cover, and slowly bring to almost a boil on low heat.

Once almost boiling, remove the kombu and continue to cook anchovies for another 10 minutes. Skim the foam/scam while cooking. After 10 minutes, remove the bag of anchovies. Set aside.
Prepare Ingredients
Remove the seeds of kabocha squash and cut it into 1-inch cubes.

Cut daikon into half and cut into ¼ inch slices. Then cut them in half.

Cut carrot into ¼ inch thick rounds. If you like, you can cut out into a flower shape.

Cut the potato into small pieces and cut the onion into ½ inch slices.

Cutting the napa cabbage into smaller pieces, especially the bottom tougher part of the leaves.

Cut the leeks into 2-inch pieces. Cut each tube piece into quarters lengthwise.

Cut the bottom of shimeji mushroom and shiitake mushrooms.

[Optional] You make a decorative flower shape on the cap of shiitake mushrooms. See the post

here

.

Pour boiling water over Aburaage to remove oil and cut into 4 pieces.

Now all the ingredients are ready to be cooked.
Cook Hoto
Heat the dashi over medium heat and start cooking tough vegetables first, such as leeks, onion, daikon, the bottom part of napa cabbage, potatoes, kabocha, etc.

Once boiling, add the thinly sliced pork (separate each slice).

Add 4 Tbsp sake and 2 Tbsp mirin. Bring it to boil. Once boiling, add the rest of ingredients and hoto noodles.

Bring it back to boil again and skim the foam/scum as you cook.

Add the 5-6 Tbsp miso (varies depending on the type of miso) and continue to cook on simmer until noodles and all the ingredients are cooked through, about 10-15 minutes.

Always check the flavor. Add salt to taste and add more miso if necessary. Serve hot and enjoy! We usually bring the donabe to the table with a portable gas burner stove and serve into individual bowls. Sprinkle Shichimi Togarashi if you like it spicy.
Notes
To make hoto noodles (for 4 servings):
In a large bowl, combine 200 g all-purpose flour and 90 g water. Only if necessary, add a little bit of water. Transfer to a working surface.
Knead until the dough becomes smooth texture and form a ball. Transfer back to the bowl and cover with plastic wrap for 10 minutes.
Sprinkle the working surface with the extra flour and divide the dough into 2. Flatten each dough with the heel of your hand and roll out the dough using a rolling pin. The thickness should be 3-4 mm.
Sprinkle flour on the working surface and fold the sheet of the dough into thirds or fourths and cut into 1 cm thickness.
Divide the noodles into 2 (one half for this recipe, the other half for the next batch of hoto – make sure to sprinkle extra flour so noodles don't stick together).
Nutrition
Calories:
681
kcal
·
Carbohydrates:
112
g
·
Protein:
38
g
·
Fat:
6
g
·
Saturated Fat:
2
g
·
Cholesterol:
54
mg
·
Sodium:
924
mg
·
Potassium:
1804
mg
·
Fiber:
12
g
·
Sugar:
16
g
·
Vitamin A:
11916
IU
·
Vitamin C:
72
mg
·
Calcium:
207
mg
·
Iron:
8
mg
©JustOneCookbook.com Content and photographs are copyright protected. Sharing of this recipe is both encouraged and appreciated. Copying and/or pasting full recipes to any website or social media is strictly prohibited. Please view my photo use policy
here
.