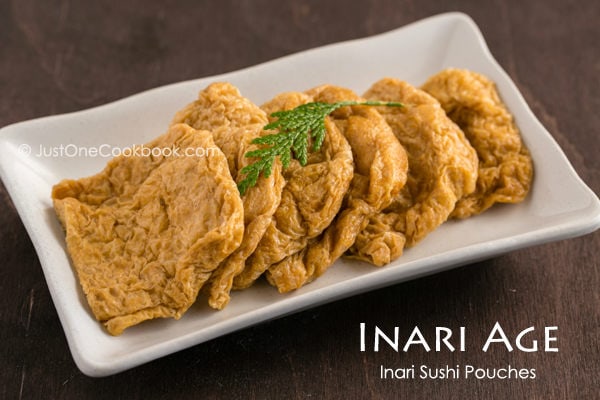 Were you able to guess today's recipe based on the picture?  If you were, then I would say you are an expert in Japanese food!
They are called Inariage (稲荷揚げ) or Sushiage (寿司揚げ) and "Age" here is not pronounce like "age" as in "your age", more like Ah-geh.  Let's talk about what they are, how to use them, and of course, how to make them.
The ingredient itself are deep-fried tofu pouches or called Abura Age (油揚げ).  When you read "deep-fried tofu", most people would recall thick square deep-fried tofu used in Asian dishes.  Those are called Atsu Age (厚揚げ) in Japan.  However, these deep fried tofu pouches are flat and come in a package similar to the picture below.
Abura Age are made from soybeans and is made by cutting tofu into thin slices and deep fried two times, once at lower temperature first and then at high temperature last.  The tofu skin becomes so thin that it creates hollow space inside the skin (similar to a pita bread), which allow you to stuff different ingredients in these tofu pouches.
When Abura Age is cooked in dashi stock seasoned with sugar and soy sauce, we call them Inari Age or Sushi Age because they are often used for Inari Sushi.
These tofu pouches absorbs sweet and salty umami flavors into the tofu during the simmering process and when you bite into Inari Sushi, you get to enjoy the amazing harmony between rice, tofu skin, and the sweet and salty flavor.
You can also use Inari Age as a topping for Kitsune Udon Noodle Soup.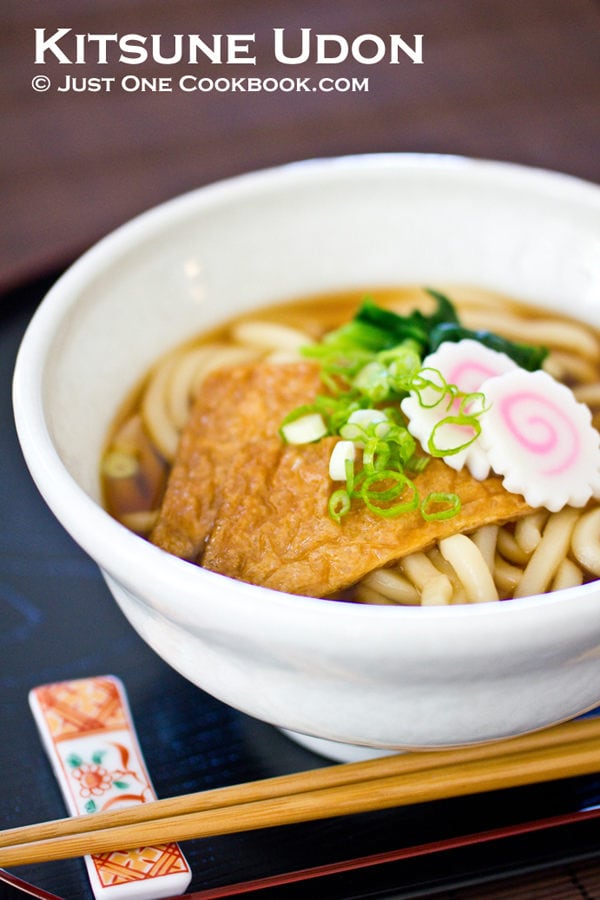 Usually store-bought Inari Age is too sweet for my liking so I like to make my own Inari Age.  It only takes 15 minutes to cook and it is a very simple process.  I usually make a lot and freeze them so that I can save time when I make Inari Sushi or Kitsune Udon.  I hope you enjoy!
Don't want to miss a recipe? Sign up for the FREE Just One Cookbook newsletter delivered to your inbox! And stay in touch on Facebook, Google+, Pinterest, and Instagram for all the latest updates. Thank you so much for reading, and till next time!
Inari Age
Cooked Abura Age in dashi stock seasoned with sugar and soy sauce. Inari Age or Sushi Age are often used for Inari Sushi, Udon and Takikomigohan.
Course:
Condiments, Side Dish
Keyword:
abura age, tofu pocket
Ingredients
1

cup

dashi

(Awase, or Kombu for vegetarian)

5

Tbsp

sugar

3

Tbsp

soy sauce
Instructions
Gather all the ingredients.

Cover the Abura Age with plastic wrap and roll the rolling pin (I used a pestle) over the Abura Age. This step helps to open the pouch easier.


Cut the Abura Age in half.


Add the Abura Age in boiling water and cover with

Otoshibuta (drop lid)

. Boiling for 3 minutes should be enough to reduce the smell and oil from Abura Age's deep-fried oil before cooking in dashi soy sauce.

Discard the water and quickly rinse Abura Age under cold water. Squeeze the excess water out.


In a large pot, combine dashi stock, sugar, and soy sauce and bring to a boil.


Add the Abura Age in the pot and place Otoshibuta.


Cook the Abura Age on medium low heat for 15 minutes until the liquid is 90% evaporated and absorbed into the Abura Age. Remove from the heat and let it cool down.


Gently squeeze out the liquid (but not completely) and save the liquid in a separate bowl. You use this liquid to make Inari Sushi. If you don't make Inari Sushi now, pack liquid and Inari Age in a separate airtight container. You can store in the refrigerator for up to 3 days and the freezer for up to 2-3 weeks.