Simmered in a sweet and savory dashi-based broth, Inari age (pronounced Ee-NAH-ri ah-geh) are seasoned deep-fried tofu pockets used to make Inari sushi and kitsune udon.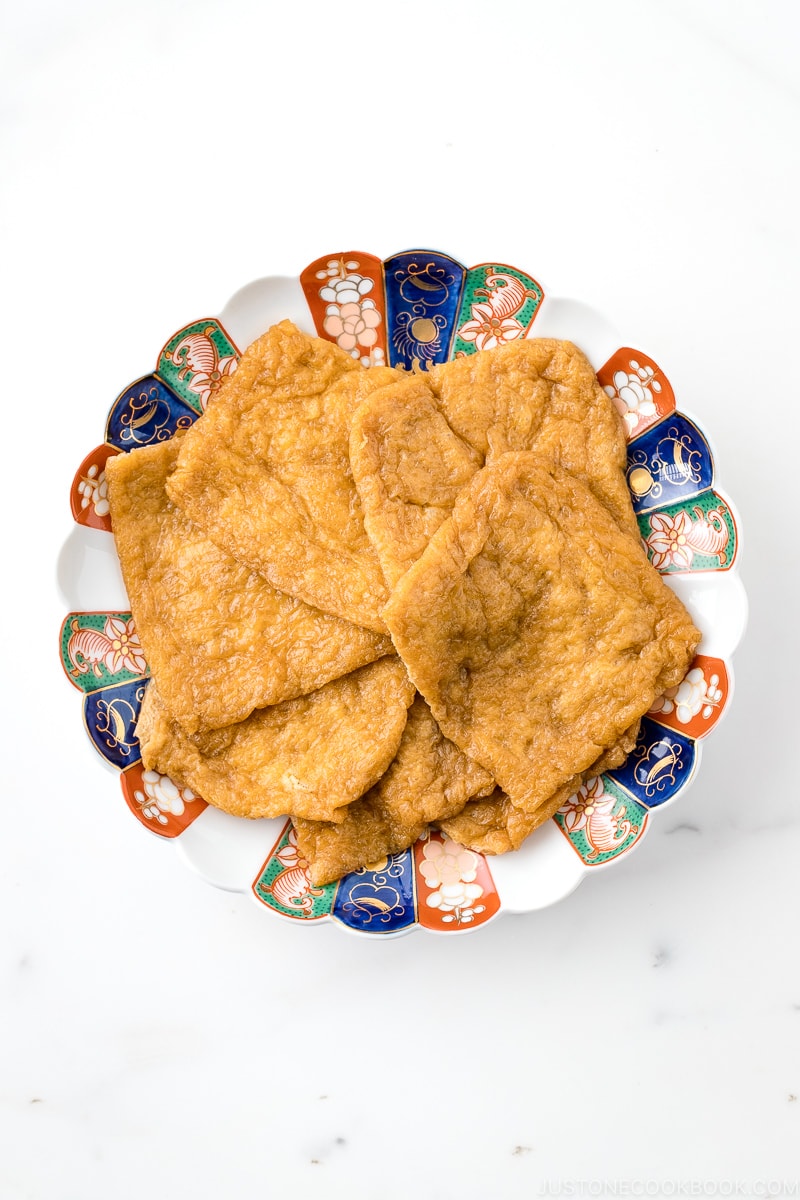 What's Inari Age
Inari Age (稲荷揚げ, いなりあげ), pronounced as [Ee-NAH-ri ah-geh], are deep-fried tofu pockets (or sometimes called "pouches") called aburaage that are cooked in dashi based broth, sugar, mirin, and soy sauce.
Savory, sweet, and full of juicy mouthfeel, Inari Age is the key ingredient to make Inari Sushi and as a topping for Kitsune Udon.
I often find the store-bought Inari Age too sweet to my liking, so I like making my own. It is very simple and only takes 15 minutes!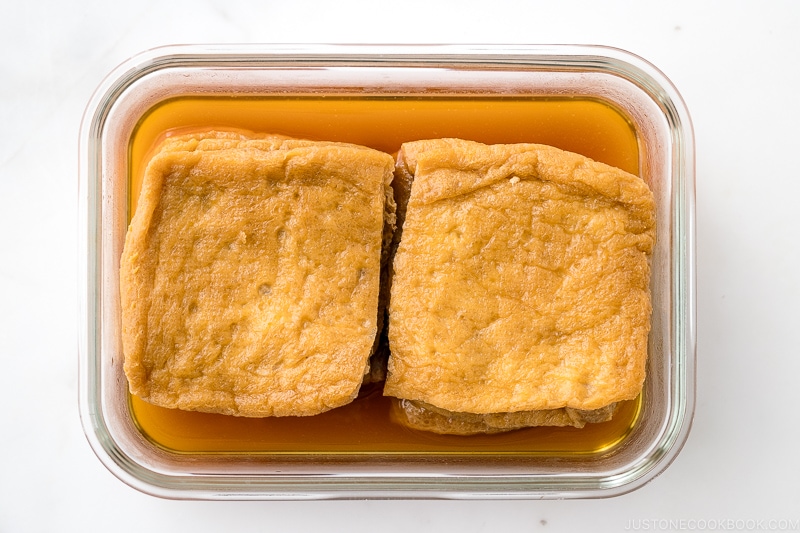 How to Make Inari Age at Home
Ingredients You'll Need:
Aburaage (fried tofu pouch/pocket) – A popular ingredient in Japanese cooking, aburaage are deep-fried tofu pouches made from soybean. This is a great pantry item to stock up on in your freezer, especially if you enjoy vegetarian/vegan Japanese dishes. You can learn more about how they are made here.
Dashi (Japanese soup stock) – There are a few methods to make the Japanese soup stock. For this recipe, I used Awase Dashi made with katsuobushi (dried bonito flakes) and kombu (dried kelp). However, if you are vegetarian/vegan, you can make Kombu Dashi. Dashi is very easy to make, but you can also use a convenient dashi packet (I don't use dashi powder).
Soy Sauce – The most basic but compulsory flavoring that gives the broth its salty and savory taste.
Sugar – You'll need sugar to balance the salty flavor from soy sauce, but feel free to adjust the amount.
Mirin – It adds mild sweetness and umami.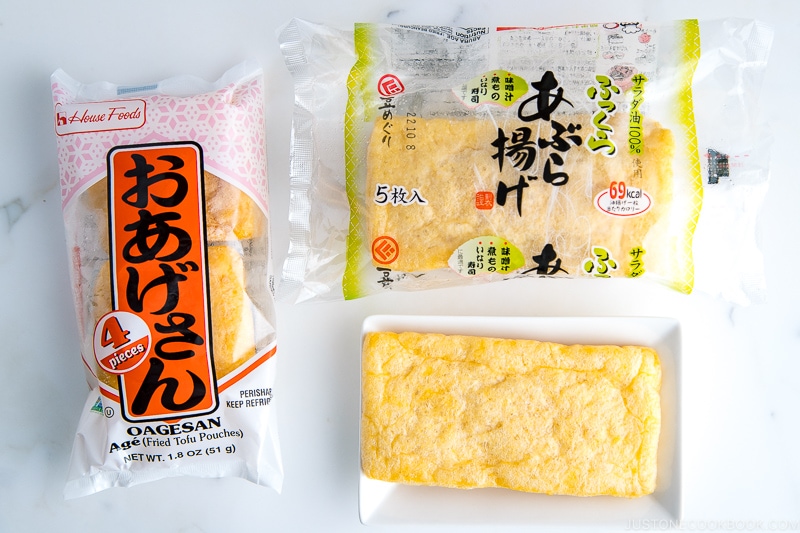 Overview: Cooking Process
Blanch the aburaage in a boilin gwater to remove the (factory) oil for a cleaner taste. Drain well.
Combine the ingredients for the sauce for aburaage.
Cook the aburaage in the sauce until the sauce is almost gone.
Set aside and let cool. The aburaage will continue to absorb more flavors.
If you're not using the inari age right away, you can keep them in an airtight container and store in the fridge/freezer.
How to Store Inari Age
I like to make a big batch and freeze them for later use! You can store it in the refrigerator for up to 3 days and the freezer for up to 3 weeks.
An Important Cooking Tool for Making Inari Age
Because the aburaage (tofu pouch) is lightweight and floats on the liquid, you will need a drop lid called Otoshibuta (落し蓋) when you simmer them in the pot.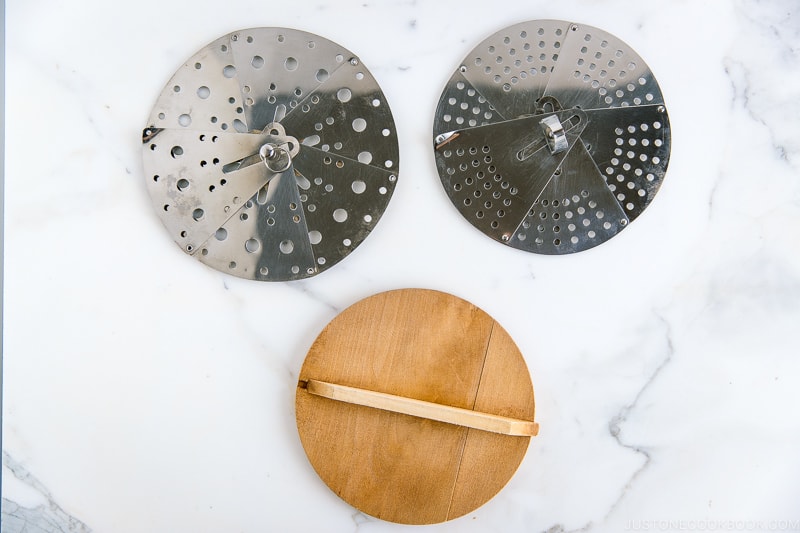 The otoshibuta is a tool that we commonly use when making simmered dishes as it helps to distribute the simmering broth evenly and prevent evaporation. If you don't have an otoshibuta, you can make it with a sheet of aluminum foil (see this post).
I use an adjustable stainless steel otoshibuta, which can change the size of the drop lid based on different pot sizes.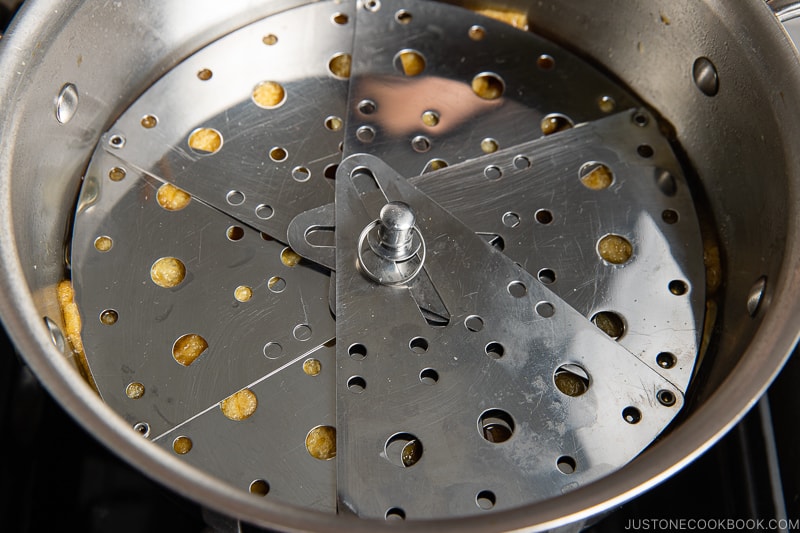 As the tofu pouches are cooked gently in the savory dashi-based broth, they absorb the amazing umami flavor and capture some of the juices for the best enjoyment.
Homemade vs. Store-Bought Inari Age
As I mentioned earlier, I often find the store-bought Inari Age too sweet to my liking. Therefore, if you can find the aburaage in your Japanese grocery store, I highly recommend making your own Inari Age.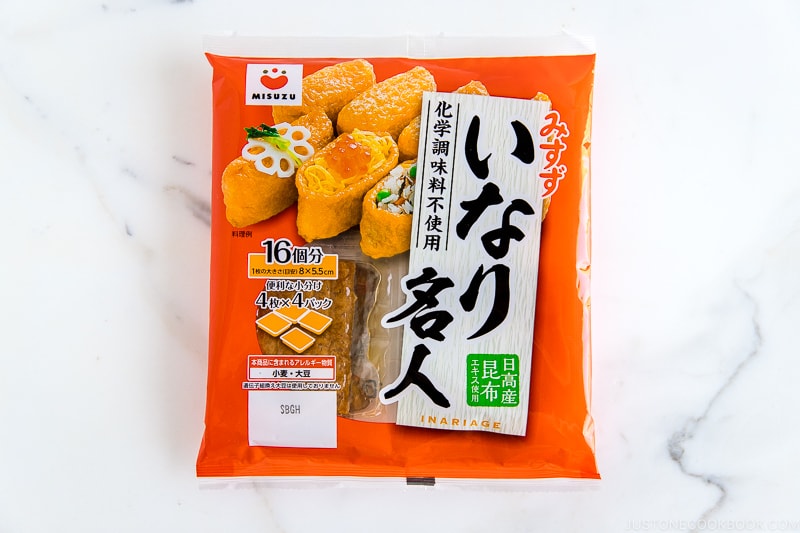 However, I've heard it's very difficult to find aburaage as the majority of Asian grocery stores don't carry it. In that case, you may find the store-bought Inari Age very convenient when you want to make Inari Sushi and Kitsune Udon.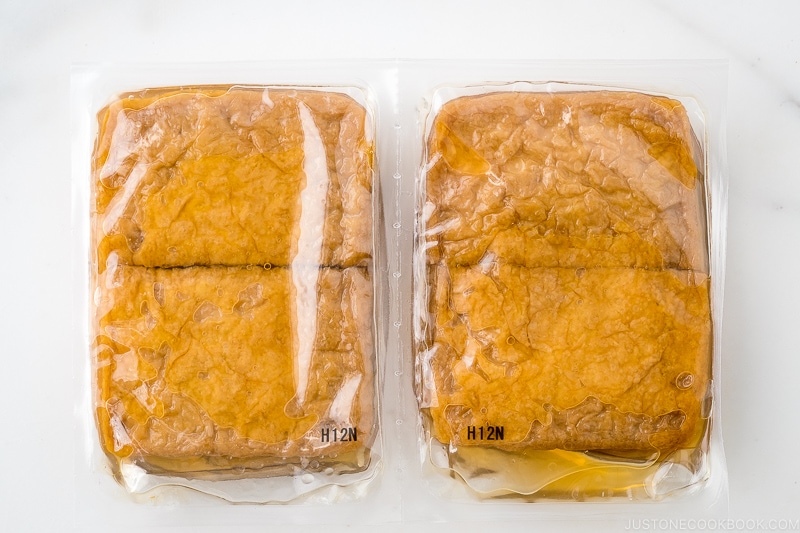 Typically you can find it in the refrigerator or freezer section at Japanese or Korean grocery stores. You may find a canned Inari Sushi which is also available on Amazon.
Delicious Recipes Using Inari Age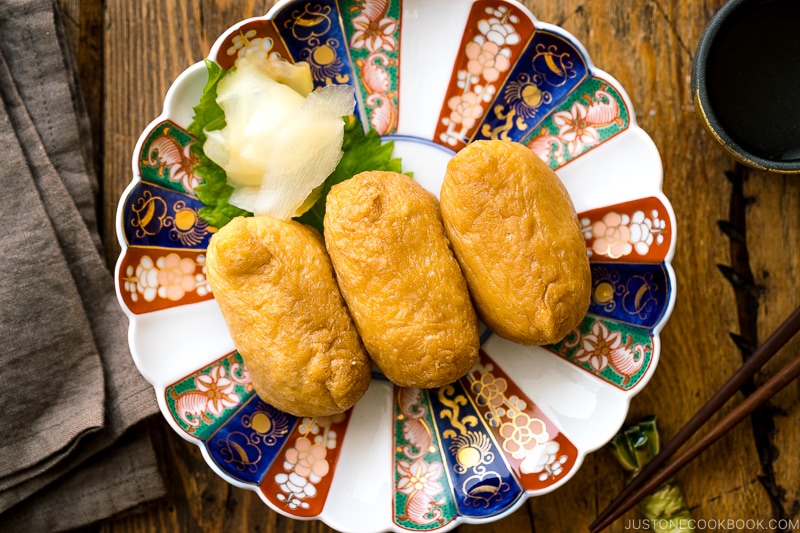 Stuff your homemade Inari Age with vinegared rice and make Inari Sushi! The sushi rice contrasts beautifully with the well-seasoned tofu pouches and you can never get enough of each bite!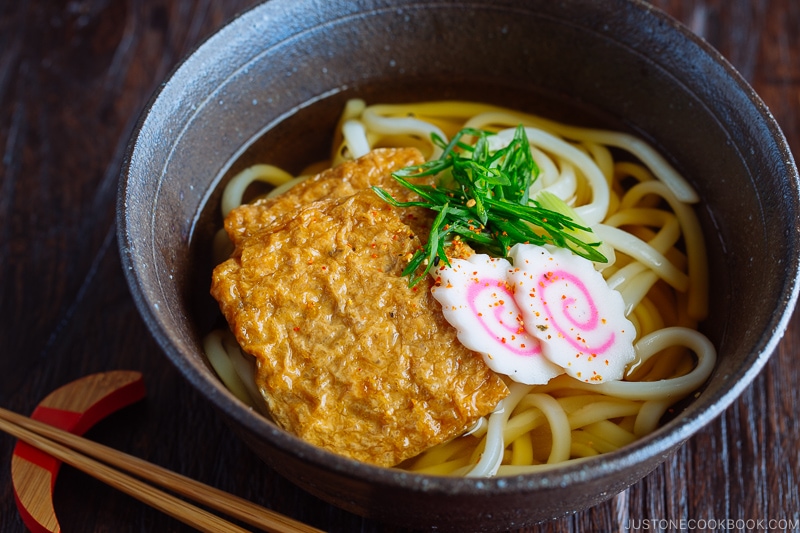 Top your udon noodle soup with Inari Age for the classic Kitsune Udon!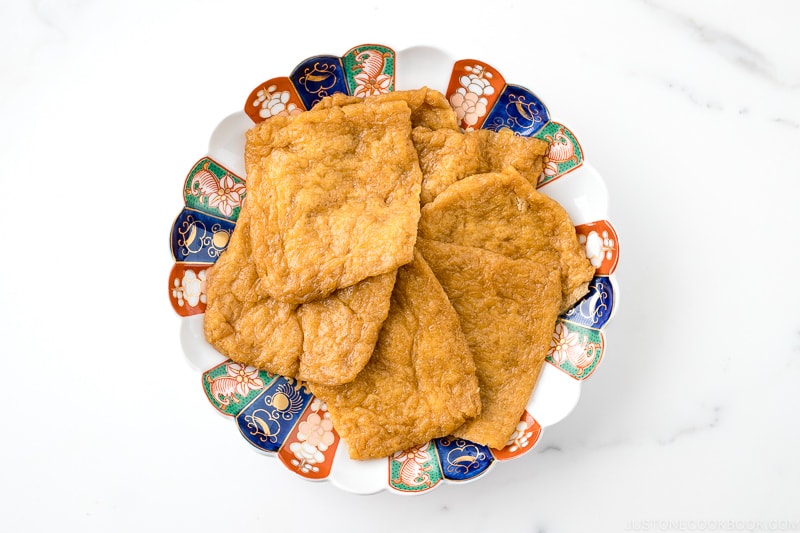 Wish to learn more about Japanese cooking? Sign up for our free newsletter to receive cooking tips & recipe updates! And stay in touch with me on Facebook, Pinterest, YouTube, and Instagram.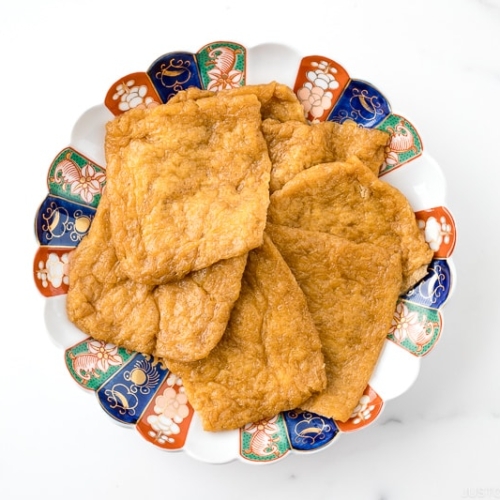 Homemade Inari Age
Simmered in sweet and savory dashi-based broth, Inari Age is seasoned deep-fried tofu pockets used for making Inari Sushi and Kitsune Udon.
Japanese Ingredient Substitution:
If you want substitutes for Japanese condiments and ingredients, click
here
.
Instructions
Gather all the ingredients. Bring a medium saucepan of water to a boil. Before you start, I want you to consider doubling the ingredients, especially if you're making Inari Sushi. Why? The aburaage is very fragile and you may end up breaking the pouches and making holes. It's always nice to have backup pouches!

Cut

6 pieces aburaage (deep-fried tofu pouch)

in half crosswise. Gently open the aburaage pouches all the way to the bottom. It's easier to separate the skin at this step than trying to open it after simmering.

If a pouch is hard to open, gently roll it with a chopstick. This helps to rub against the tofu pouches and it might help you to open the pouch.

When water is boiling, cook the aburaage for 2 minutes, pressing down and turning over. This helps remove the (factory's deep fry) oil from the aburaage.

Drain the aburaage into a sieve and rinse the saucepan. Gently press the aburaage with a ladle to squeeze water out. Do not press hard as the aburaage will tear easily.

In the same saucepan, combine

1½ cups dashi (Japanese soup stock)

,

3 Tbsp soy sauce

,

3 Tbsp mirin

, and

3 Tbsp sugar

, and bring to a boil.

Once boiling, add the aburaage to the saucepan. It's easy to flip the aburaage when you arrange the pouches in a circular/petal-like shape.

Place the otoshibuta (drop lid) on top of the aburaage and cook on medium-low heat for 30–40 minutes. Flip the aburaage occasionally to make sure it's simmered evenly. When the liquid is going down fast, your heat is probably too high so reduce the stove's heat to low.

When the cooking liquid is ¼–½ inches (1 cm) in the saucepan, remove the saucepan from the heat. Let the aburaage soak in the cooking liquid and let cool completely.
To Store
Transfer the inari age and cooking liquid in an airtight container. Store it in the refrigerator for 3 days and in the freezer for 3 weeks. Use it for Inari Sushi and Kitsune Udon.
Nutrition
Nutrition Facts
Homemade Inari Age
Amount per Serving
% Daily Value*
* Percent Daily Values are based on a 2000 calorie diet.
©JustOneCookbook.com Content and photographs are copyright protected. Sharing of this recipe is both encouraged and appreciated. Copying and/or pasting full recipes to any website or social media is strictly prohibited. Please view my photo use policy
here
.
Editor's Note: This post was originally published on March 6, 2013. The post has been updated with new images and a revised recipe in December 2021.
Our Recommendations for Buying Sashimi Online


When we have a sudden craving for sashimi we usually buy from our local Japanese supermarkets. If you don't have a reliable shop to purchase quality sashimi nearby, we would recommend buying from Catalina Offshore online.
They've been in business for over forty years and all the sashimi products we've tried from them are outstanding. Use J1COOK20 for 10% discount. Disclosure: We earn a small percentage commission from your purchase of products linked to Catalina Offshore.