Easy steamed chicken mixed with cucumber and dressed in a chili oil (La-yu) marinade. A simple yet flavorful chicken recipe, perfect way to start a meal.
Today March 11th in Japan marks the 2nd anniversary of the devastating 2011 Tohoku earthquake, also known as the Great East Japan Earthquake.  A 9.0-magnitutde earthquake followed by a devastating tsunami wave cost the lives of over 16,000 people with almost 3,000 still reported as missing.  Recovery will take time and many people are still working hard to repair and rebuild in affected areas.  To me, it is important that we never forget and keep supporting those who need us.
Remembering this tragic event today, I want to talk about this amazing Japanese lady and her book that was recently released, and share one of her recipes at the end of this post.
Her name is Nobuko Hashimoto, known dearly as "Hashimoto mama" among the earthquake volunteers from all over the world.  She was a victim of the devastation herself in Ishinomaki (石巻), where the city was among the most seriously affected by the earthquake and tsunami.
In addition to her own hardship of getting her life back aside, she generously opened her house for volunteers and has been preparing food for over 5000 volunteers with her and husband's own money that they saved in case of emergency before the tragedy happened.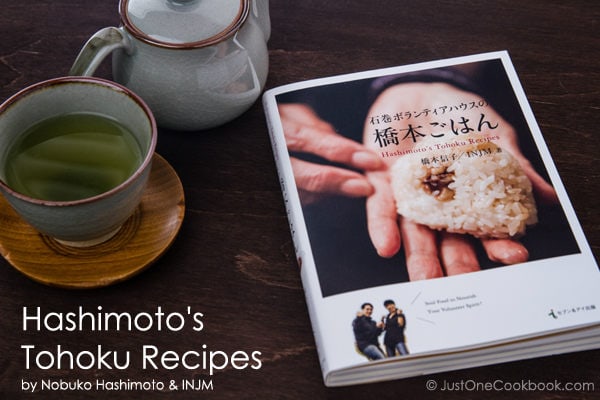 Hashimoto mama's new book, Hashimoto's Tohoku Recipes (「石巻ボランティアハウスの橋本ごはん」), tells the story of how she ended up preparing thousands of meals for people and how this has impacted to her life as well as volunteers'.  In her book, she also shares the popular Tohoku regional recipes that she has been cooking for volunteers.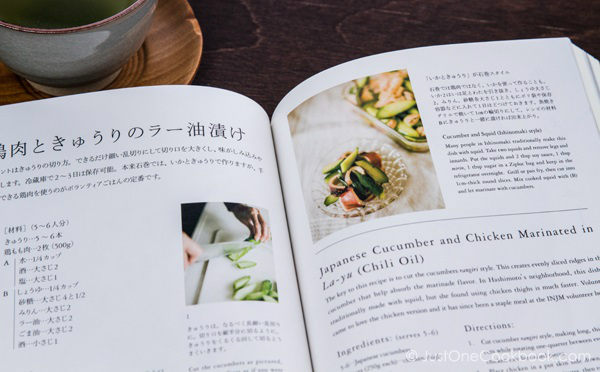 My Pantry page was also mentioned in this book thanks to Joseph, a California Just One Cookbook reader.  He spent a lot of time volunteering in Ishinomaki and fell in love with Hashimoto mama's cooking which led him conceive the idea for this book.  I want to thank Joseph for letting me be a part of this beautiful book.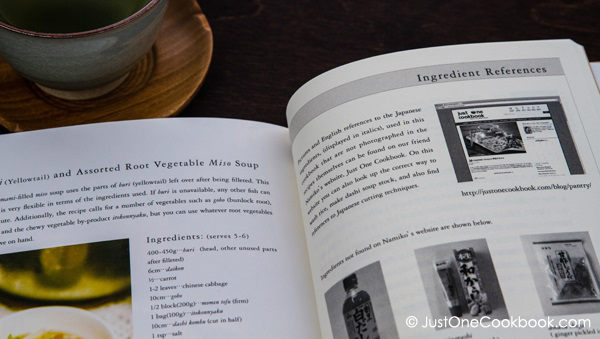 I received this book a couple days ago from the publisher and I started reading this book.  I'm moved by Hashimoto mama's kind and giving heart as well as her positive and cheering personality despite the hard situation she is in.
The book is written in both Japanese and English.  It's truly my pleasure to give away 3 books to Just One Cookbook readers.  This giveaway is open to everyone, worldwide.  Please click HERE to enter the giveaway.
Full disclosure: This giveaway is sponsored by yours truly.  Just One Cookbook is not being paid or given any compensation for this giveaway.
For those living in Japan, you can order the book from Amazon.  Each copy is 1680 yen with free domestic shipping!  If you are living outside of Japan, you can order the book from a non-profit volunteer organization It's Not Just Mud (INJM).  For those living in the U.S, you can order the book at Kinokuniya.com.
I cooked one of her most popular recipes from the book and I hope you enjoy the recipe below.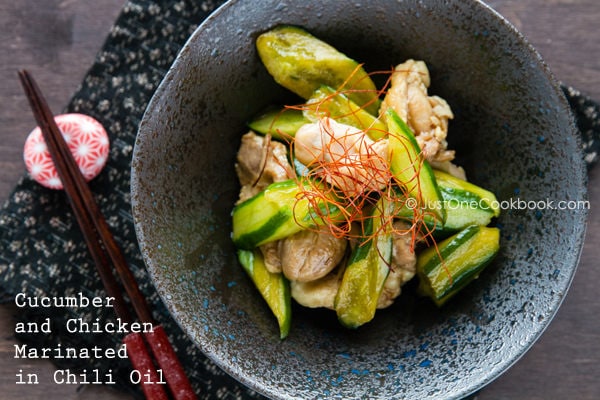 Don't want to miss a recipe? Sign up for the FREE Just One Cookbook newsletter delivered to your inbox! And stay in touch on Facebook, Google+, Pinterest, and Instagram for all the latest updates. Thank you so much for reading, and till next time!
Cucumber and Chicken Marinated in Chili Oil
Easy steamed chicken mixed with cucumber in chili oil (La-yu) dressing, perfect way to start a meal.
Course:
Main Course, Side Dish
Keyword:
chili cucumber, cucumber salad
Ingredients
Seasonings A:
¼

cup

water

2

Tbsp

sake

1

Tbsp

salt (kosher or sea salt; use half if using table salt)
Instructions
Gather all the ingredients.

Discard both ends of the cucumbers and peel the skin, leaving some part unpeeled for the look.


Cut the cucumbers in

"rangiri" style

, making long, thin diagonal cuts while rotating one-quarter between every cut.

Cut the chicken into bite-sized pieces.


Place the chicken in a frying pan skin side down and add the Seasonings A.


Cover and start cooking over medium heat. Simmer for 2 minutes, then turn the chicken over and continue simmering covered for 2 minutes. Turn off the heat.


Continue cooking with remaining heat and make sure the chicken is cooked through.


Combine Seasonings B in a large air tight container.


Remove the warm chicken from the pan and add in the container.


Add the cucumbers and mix well. Let marinate for at least 10 minutes. You can keep in refrigerator up to 2-3 days. Serve at cool or room temperature.

Recipe Notes
Slightly adapted from Hashimoto's Tohoku Recipes.
Recipe by Namiko Chen of Just One Cookbook. All images and content on this site are copyright protected. Please do not use my images without my permission. If you'd like to share this recipe on your site, please re-write the recipe in your own words and link to this post as the original source. Thank you.