Planning to host a sushi party? Here's a comprehensive guide just for you. You'll learn how to make sushi rice, a selection of sushi to serve, equipment & tools, snack & beverage ideas, and many other useful tips for a successful sushi feast.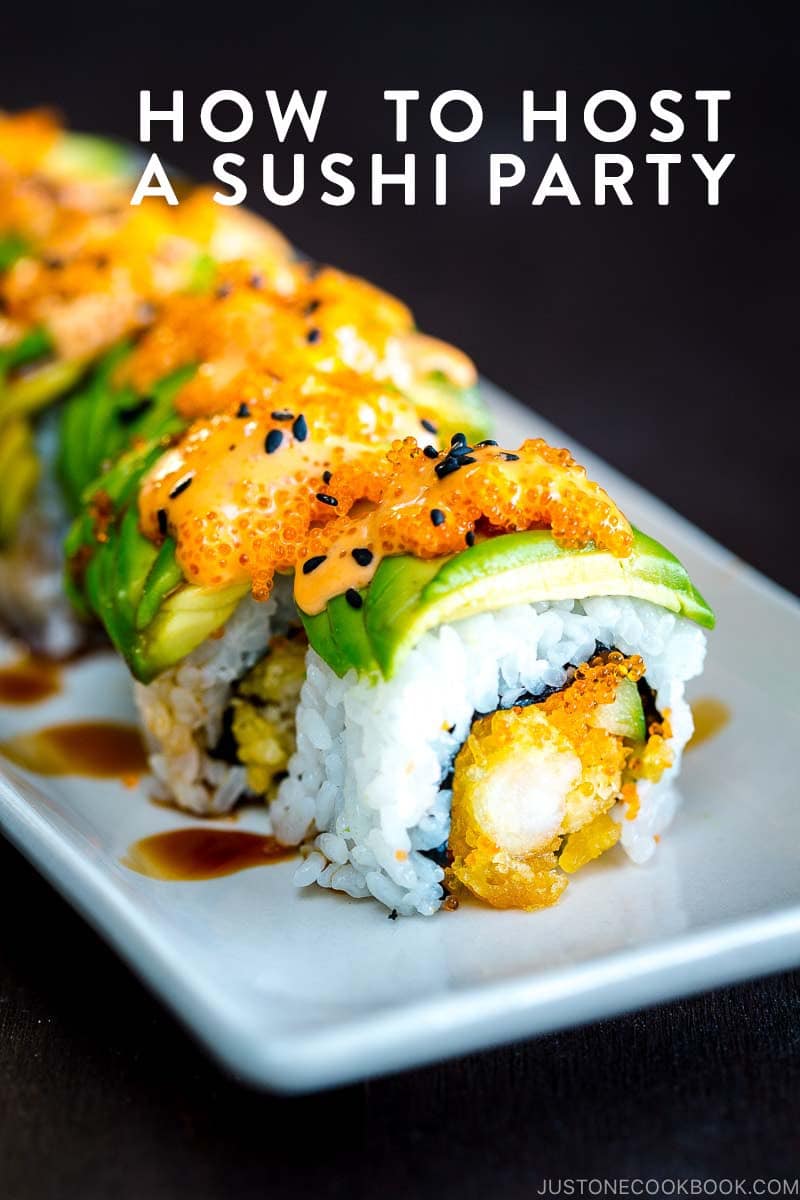 Are you gearing up for the holiday party season? Today's theme is all about how to host a sushi party. I promise it's going to be a fun, hands-on culinary experience that your guests will never forget!
Feeling intimidated? Don't be. Rolling sushi is easier than you think. You can keep the party as simple or as elaborate as you like.
The guide I've put together below will help to jump-start your planning. You'll learn how to cook sushi rice, selections of sushi to prepare, must-have equipment, and so on. There are also delicious Japanese snack ideas, salad with carrot-ginger dressing, matcha ice cream, and cookies on the menu.
Are you ready to invite your foodie friends and enjoy a memorable sushi feast? Let's get rolling!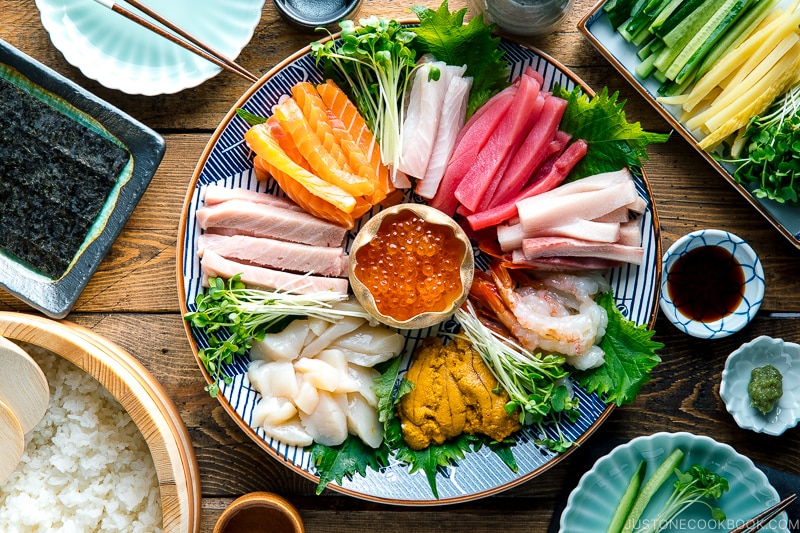 How To Host A Successful Sushi Party
Step 1: How To Cook Sushi Rice 酢飯の作り方
Perfect sushi rice is the key to a successful sushi party. You can make the sushi rice up to 4 hours ahead; cover and let stand at room temperature until ready to serve. For directions on how to make sushi rice, you can watch this video or read the recipe from the How to Make Sushi Rice post.
Simple instruction on how to make delicious sushi rice with kombu, rice vinegar, sugar, and salt.
Step 2: Identify Types of Sushi & Fillings to Serve
There are many different types of sushi you can make for the party. Below are some of the easy sushi recipes with step-by-step instructions, video tutorials, and plenty of good tips for you to choose from.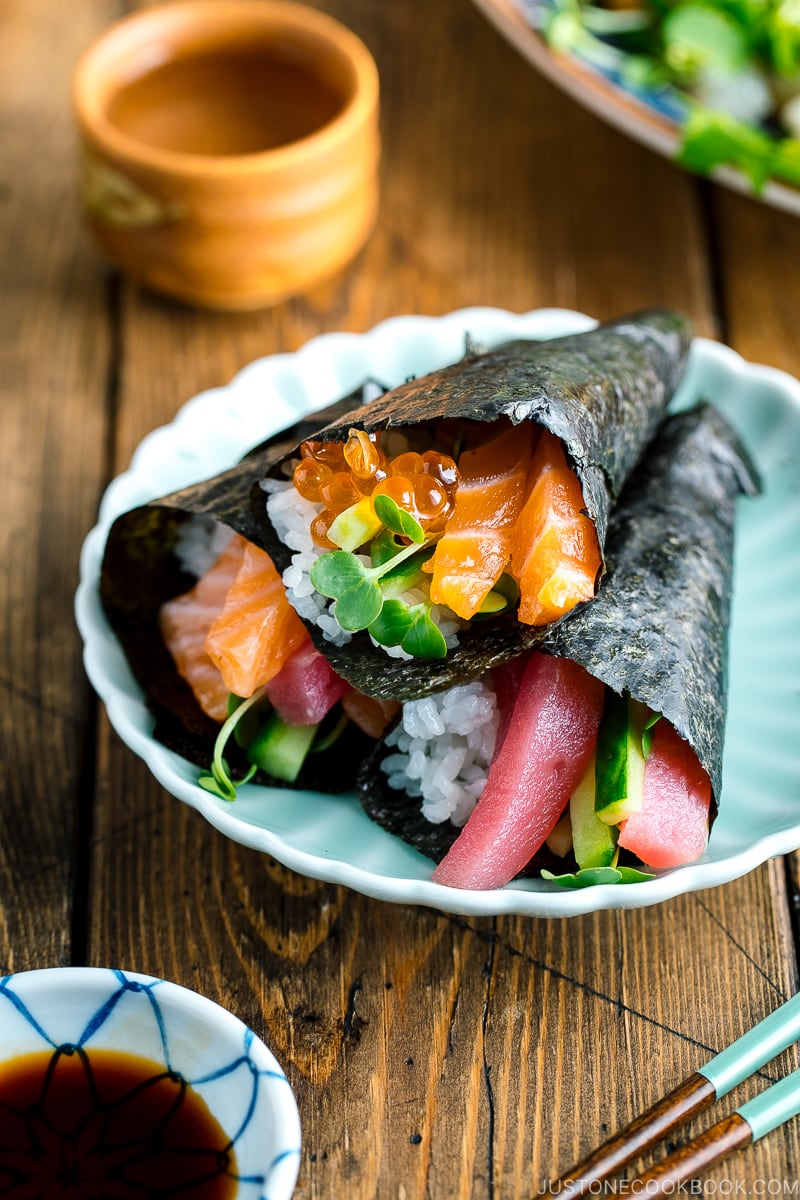 Made of cone-shaped seaweed filled with rice and fillings, Temaki Sushi can be assembled without any slicing involved. It is my favorite type of sushi to serve at parties. Since it doesn't require any bamboo mat or slicing, your guests just need to place some rice and their favorite ingredients in the corner of the nori sheet, then roll into a cone, and dig in!
To make Sushi Rolls, you can choose a few easy ingredients — cucumber, tuna, avocado, bell pepper, asparagus, carrot, omelette, or imitation crab — as the main fillings and slice them into small pieces. Have the bamboo mats ready and let the guests do the rolling and slicing. These popular sushi rolls are perfect for first-timers to practice their sushi-making skill.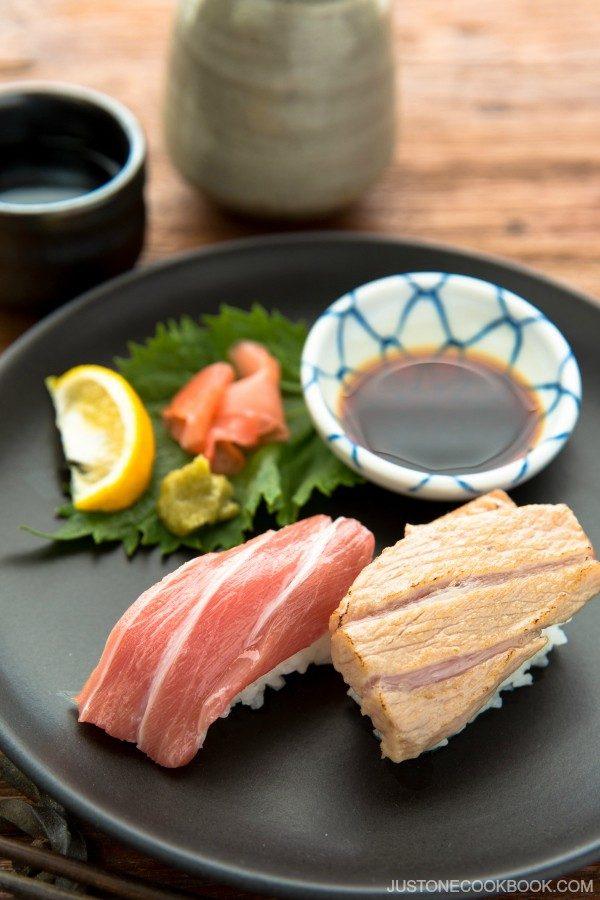 Another common type of sushi, Nigiri Sushi, refers to sushi with a slice of raw fish on top of a rice pillow. This sushi makes a special treat for guests that appreciate raw fish and seafood.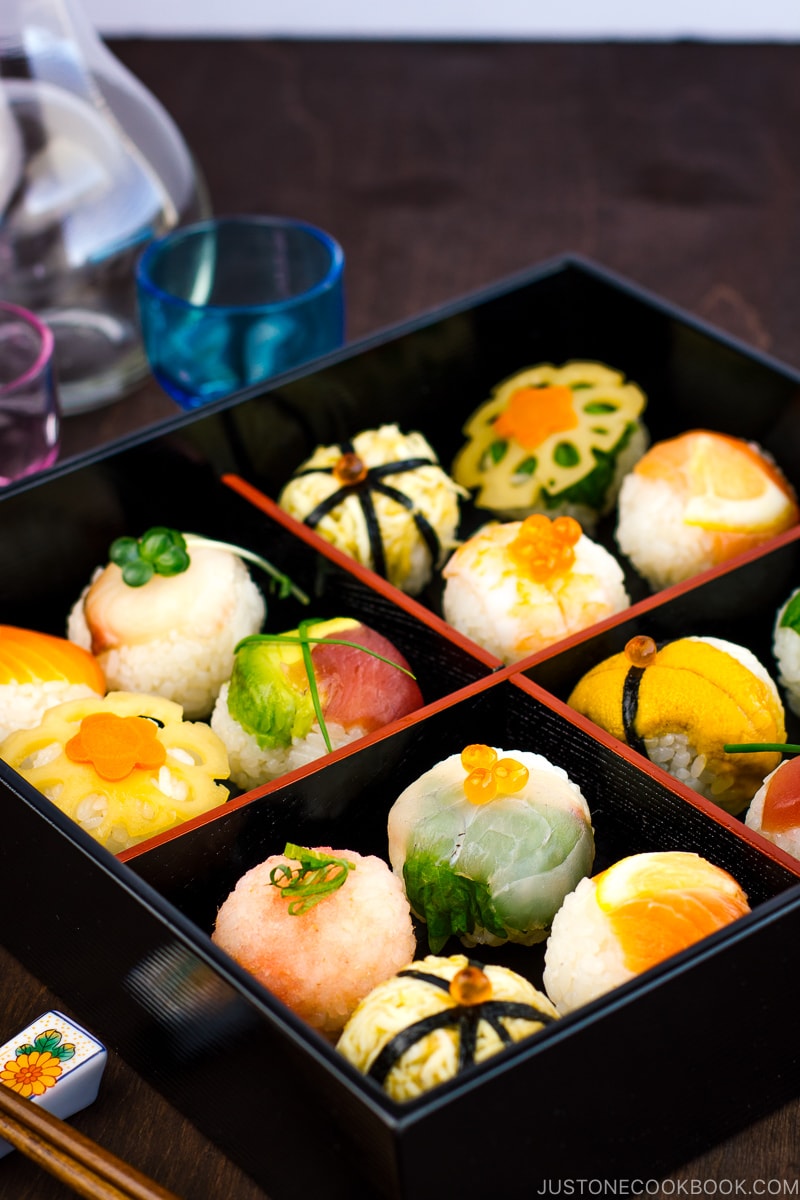 Named after the traditional Japanese embroidered balls, this colorful ball-shaped sushi is often served during happy occasions like Hinamatsuri (Girl's Day) in Japan. Kids & adults alike will have fun making & eating these Temari Sushi.
Other Popular Sushi for Sushi Party:
Tips on Choosing the Sushi Fillings:
Be flexible & creative with your sushi fillings. From vegetarian to gluten-free, you can easily consider the diet preferences of your guests. If there are kids in the party, you can even use seasonal fruits, omelette, ham/turkey slices or cheese as fillings.
Pick around 6-8 ingredients that are easily accessible to you.
Step 3: Prepare the Condiments
You will have to enjoy your homemade sushi with some condiments such as:
Step 4: The Extras (Appetizers, Sides, Snacks & Desserts)
When your guests ask what to bring along for the sushi party, don't be shy to enlist them to bring some of the snacks, appetizers, desserts, or beverages. Most of these items are available at Japanese grocery stores, Asian grocery stores, or some major grocery stores such as Trader Joe's or Costco. And if you are up for it, you can make two or three sides to round up the feast.
For appetizers, salads & soups:
For fun snacks & desserts:
For beverages: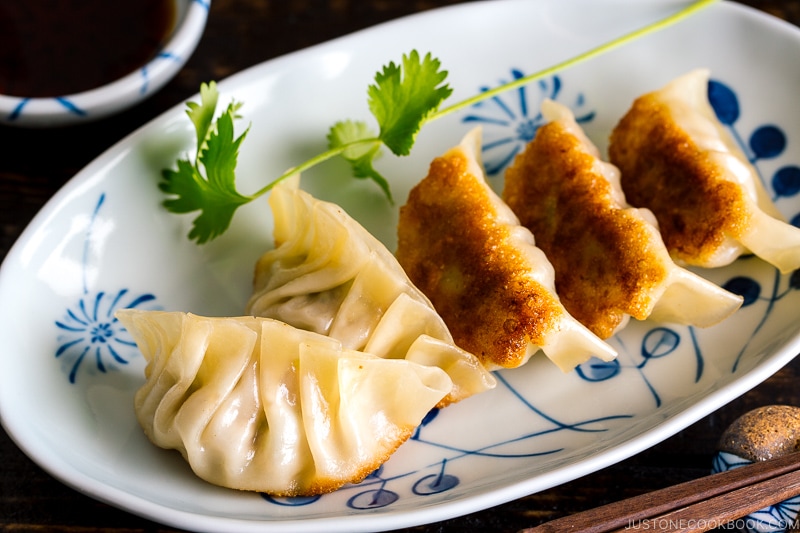 Step 5: Equipment & Tools
You will need:
A few cutting boards (one for every 2-3 people).
A few pairs of sharp knives.
A few sets of bamboo sushi mats for making sushi rolls. I found this cool set of sushi oke/hangiri, bamboo mat, and rice paddles on Amazon. If you're planning to throw a sushi party often, this is a must!
Small bowls of hand-dipping water by combining ¼ cup water with 2 tsp. rice vinegar. This helps to prevent rice from sticking to your hands.
Utensils (chopsticks), dinnerware (plates and dipping sauce plates), and serveware (large platters).
You can also ask your guests to bring along any of the equipment they might have at home.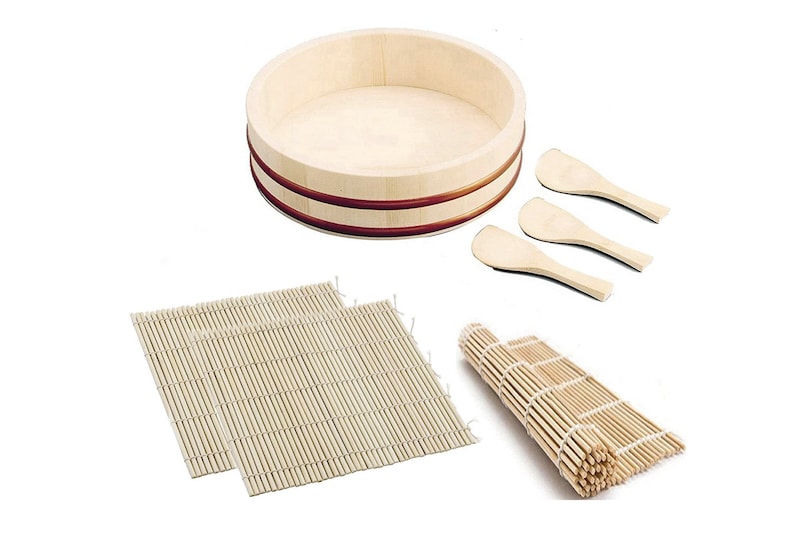 Sushi Making Kit Available on Amazon
Step 6: Setting the Table & Decorations
Arrange all the sushi ingredients at the center of your table or the serving station. Set up each cutting board with a small bowl of vinegar hand-dipping water and the other equipment you may need.
For decorations, you can accent the sets with origami, Japanese lanterns, river rock pebbles, or paper fans. Bonsai makes an impressive centerpiece too.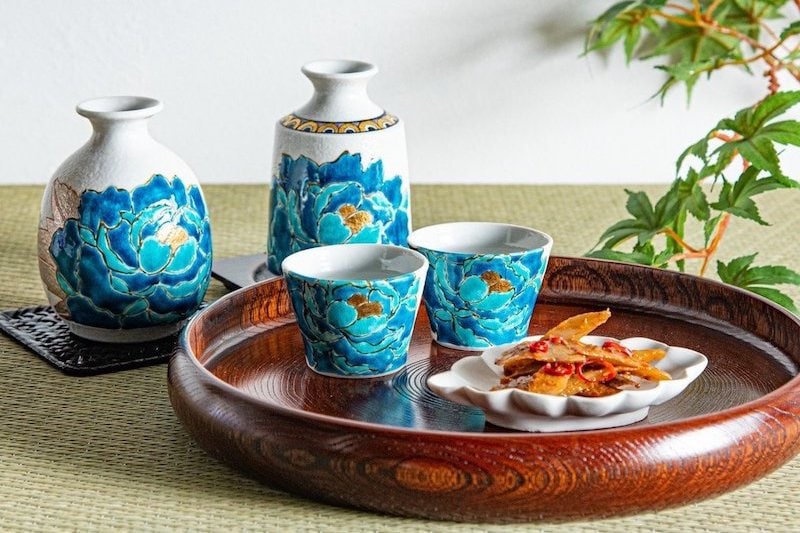 Step 7: Prepping the Ingredients
You can make the sushi rice 4 hours before your guests arrive. Cover it with a moist kitchen towel. Pre-cut your ingredients into small or thin slices and place them on serving platters. You can also make it a team effort to help with the preparation as part of the activity.
Step 8: Enjoy the sushi party!
Once you have everything spread out at the table, it's time to do the spreading, layering, tucking, and rolling the sushi! Enjoy with any extras you might be serving, like salad, gyoza or soup. Not every sushi will turn out to be picture-perfect, but they will still taste delicious, and most importantly everyone has fun at the sushi party!
Itadakimasu (bon appetite)!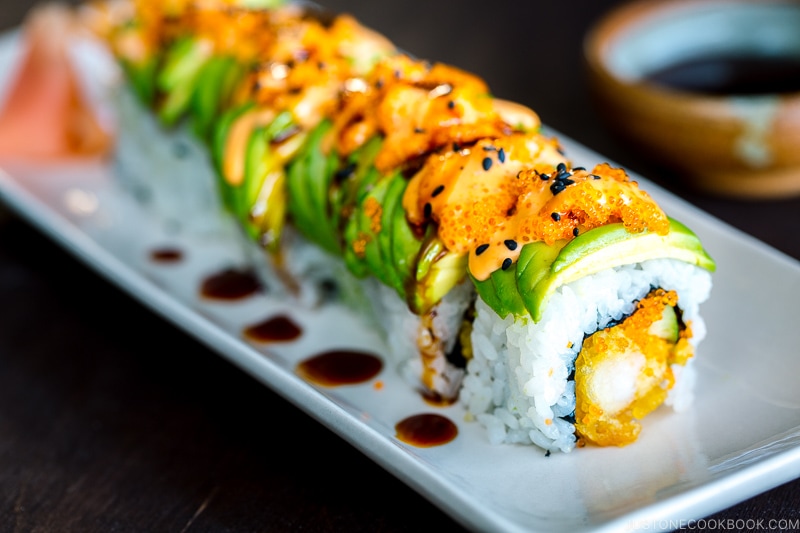 More Party Recipes You'll Love
Wish to learn more about Japanese cooking? Sign up for our free newsletter to receive cooking tips & recipe updates! And stay in touch with me on Facebook, Pinterest, YouTube, and Instagram.
Our Recommendations for Buying Sashimi Online


When we have a sudden craving for sashimi we usually buy from our local Japanese supermarkets. If you don't have a reliable shop to purchase quality sashimi nearby, we would recommend buying from Catalina Offshore online.
They've been in business for over forty years and all the sashimi products we've tried from them are outstanding. Disclosure: We earn a small percentage commission from your purchase of products linked to Catalina Offshore.