Let's make fresh Kakimochi at home with this Japanese rice cracker recipe. Flavored with salt, soy sauce, or your favorite seasonings, this tasty savory snack will hit the spot!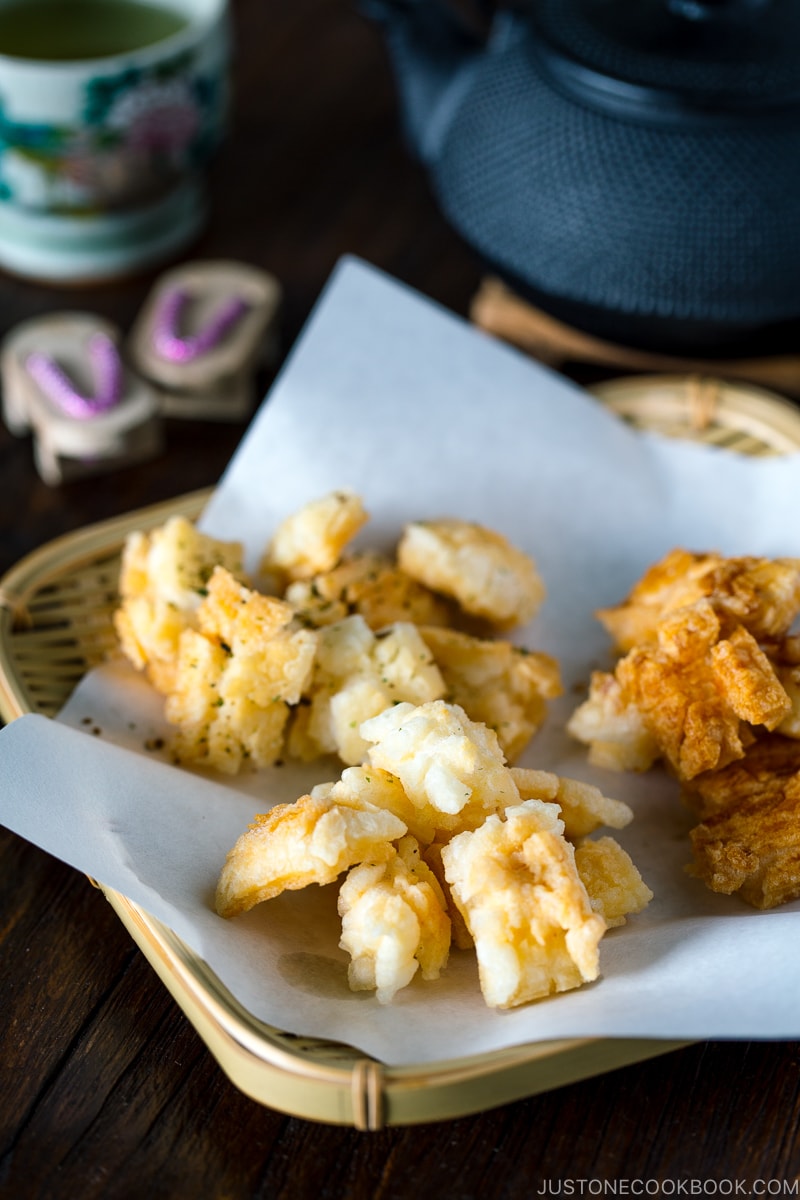 The Japanese New Year celebration was over a few months ago. If you still have leftover rice cakes in your pantry or freezer and you're not sure what to do with them, here's a great solution. I'll show you a quick and easy homemade rice cracker recipe.
If you are an all-year-round mochi eater like me, don't forget to check out my favorite mochi recipes at the end of this post!
Homemade Rice Cracker Recipe
Rice crackers are a common snack in Asia where rice is the key staple food. In Japan, there are two types of rice crackers: Senbei and Okaki.
Senbei vs. Okaki
Senbei (煎餅) or Osenbei (お煎餅) are rice crackers made of rice (うるち米). The origin of senbei is actually China. The Chinese rice crackers that were brought to Japan during Heian Period (789-1185) were made with flour (technically "flour crackers"). However, the Japanese loved rice so much that they started making crackers with rice instead. That's how senbei started to become popular in Japan.
Okaki (おかき) are rice crackers made of sweet rice/glutinous rice (もち米). We call smaller size okaki Arare (あられ). Just like senbei, okaki has been around since Heian Period. People didn't want to toss the mochi used for New Year's decoration (Kagami Mochi), so they scraped the mochi into smaller pieces with their hands, dried them, and deep-fried them to enjoy the leftover mochi. You might notice that I said, "scraped the mochi with my hands." Why hands, you might ask? In Samurai's house, using cutlery at the beginning of the new year was considered bad luck, so people used their hands to scrape the big mochi into smaller pieces, instead of using a knife.
Different Sizes, Shapes & Flavors for Rice Crackers
Rice crackers come in various sizes, shapes (squares, rectangular, round, ball), and flavors (usually savory but sometimes sweet). There are several ways to make them: you can bake, grill (traditionally over charcoal), or deep-fry.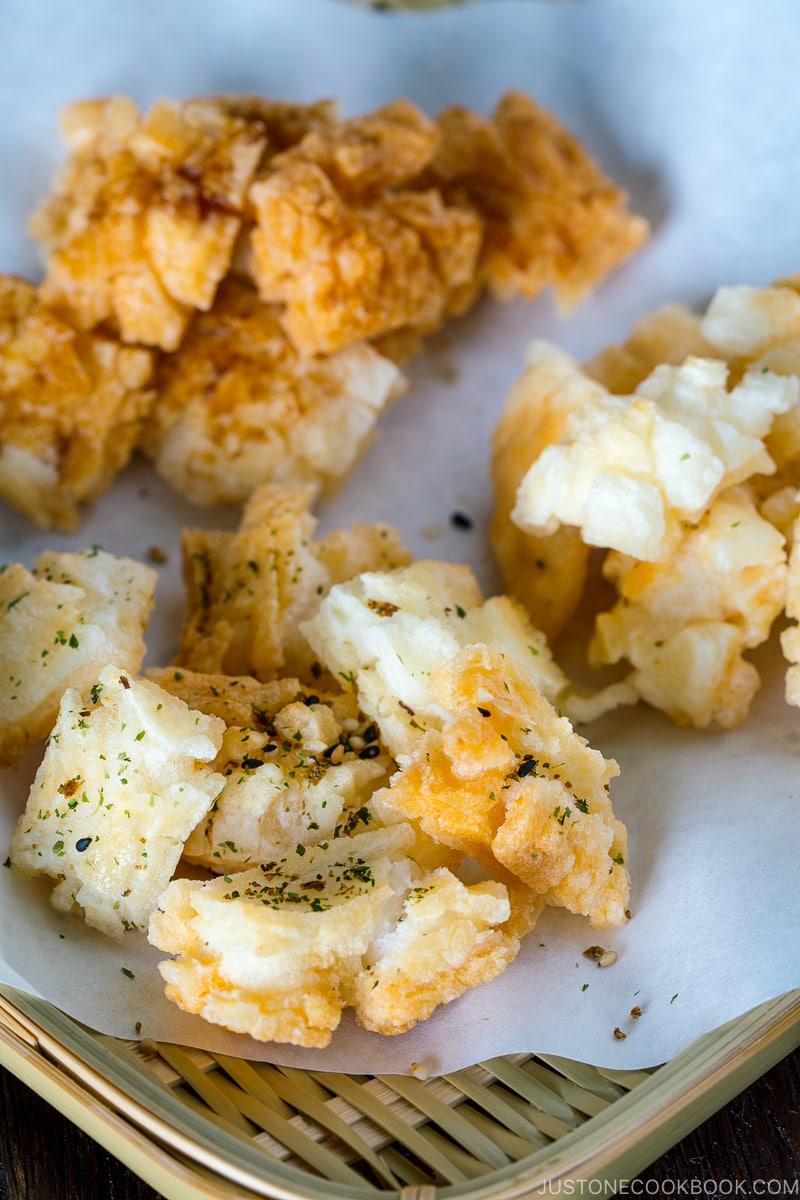 Kakimochi (かき餅) – Japanese Rice Cracker Recipe
For today's rice cracker recipe, we will use mochi (sweet rice/glutinous rice); therefore, this is a type of Okaki instead of Senbei. This particular Okaki is called Kakimochi (かき餅) in Japanese.
The process to make Kakimochi at home is very easy. You just need to cut mochi into thin slices, air dries them completely until the moisture is removed, then break into small pieces and deep fry them.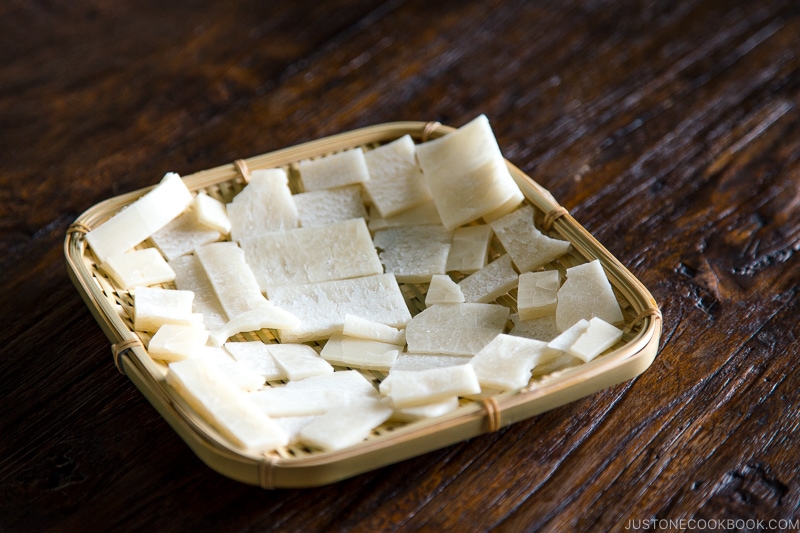 The dried mochi pieces will puff up like popcorn while deep frying in oil. Immediately after frying, season Kakimochi with your favorite flavors: salt, soy sauce, Furikake, Shichimi Togarashi, or even curry powder!
Although Kakimochi can be purchased easily at grocery stores in Japan, homemade ones are still the best! They are light and super crunchy. I like to enjoy them with green tea for my afternoon snack when I crave something savory. With their adorable shapes, I think these rice crackers make a fun snack for parties too.
I hope you enjoy making this homemade rice cracker recipe. If you try it, don't forget to share your picture on Instagram, Facebook, or Twitter with #JustOneCookbook. Thank you so much for reading, and till next time!
Other Recipes Using Japanese Rice Cake
Wish to learn more about Japanese cooking? Sign up for our free newsletter to receive cooking tips & recipe updates! And stay in touch with me on Facebook, Pinterest, YouTube, and Instagram.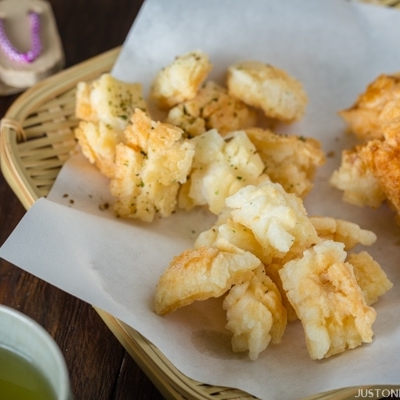 Homemade Rice Crackers (Kakimochi)
Let's make fresh Kakimochi at home with this Japanese rice cracker recipe. Flavored with salt, soy sauce, or your favorite seasonings, this tasty savory snack will hit the spot!
Japanese Ingredient Substitution:
If you want substitutes for Japanese condiments and ingredients, click
here
.
Instructions
Gather all the ingredients.
To Dry Mochi (7-10 Days Before Frying)
Cut kirimochi into small pieces and ⅛ inch (3 mm) thickness. Lay the mochi pieces in a single layer on a flat tray or wire rack.

Allow them to air dry with good ventilation for at least one week. As mochi pieces dehydrate, they might break into smaller pieces so try not to touch. The surface of mochi pieces will be cracked and flaky and the texture will be harder.

Another option: I haven't tried this method, but I've read that you can alternatively bake the mochi pieces at 400ºF (200ºF) for 15 mins. For a convection oven, reduce cooking temperature by 25ºF (15ºC). You can lightly brush oil and season with salt (so the salt will stick to the rice crackers).
To Cook Rice Crackers
In a frying pan (I use a cast-iron skillet), add the oil to about ¾ inch (2 cm) deep and heat it to 340ºF (170ºC). Add a few pieces of mochi pieces first. If small bubbles start to appear around the mochi, then add more pieces in a single layer, keeping some space in between as they pop and expand. The mochi pieces will turn white and puff up.

Turn over each piece and cook until mochi pieces are popped and lightly golden brown. Increase heat so the oil is 350ºF (180ºC) and fry till mochi pieces are golden brown.

Remove the mochi pieces from the oil and place a wire rack or a plate lined with paper towels. While they are hot, season with salt.

Optionally, you can sprinkle furikake or brush soy sauce (adjust the amount of salt if you use soy sauce).
To Serve and Store
It's best to consume immediately on the same day. Once cooled, you can also put them in an airtight container and store at room temperature for a few days.
Nutrition
Nutrition Facts
Homemade Rice Crackers (Kakimochi)
Amount per Serving
% Daily Value*
* Percent Daily Values are based on a 2000 calorie diet.
©JustOneCookbook.com Content and photographs are copyright protected. Sharing of this recipe is both encouraged and appreciated. Copying and/or pasting full recipes to any website or social media is strictly prohibited. Please view my photo use policy
here
.