Made with white chocolate, butter, and cream and dusted with Japanese green tea powder, this decadent Matcha Chocolate (or Matcha Nama Chocolate) is simply irresistible. It's rich with a truffle-like texture and just the right touch of sweetness.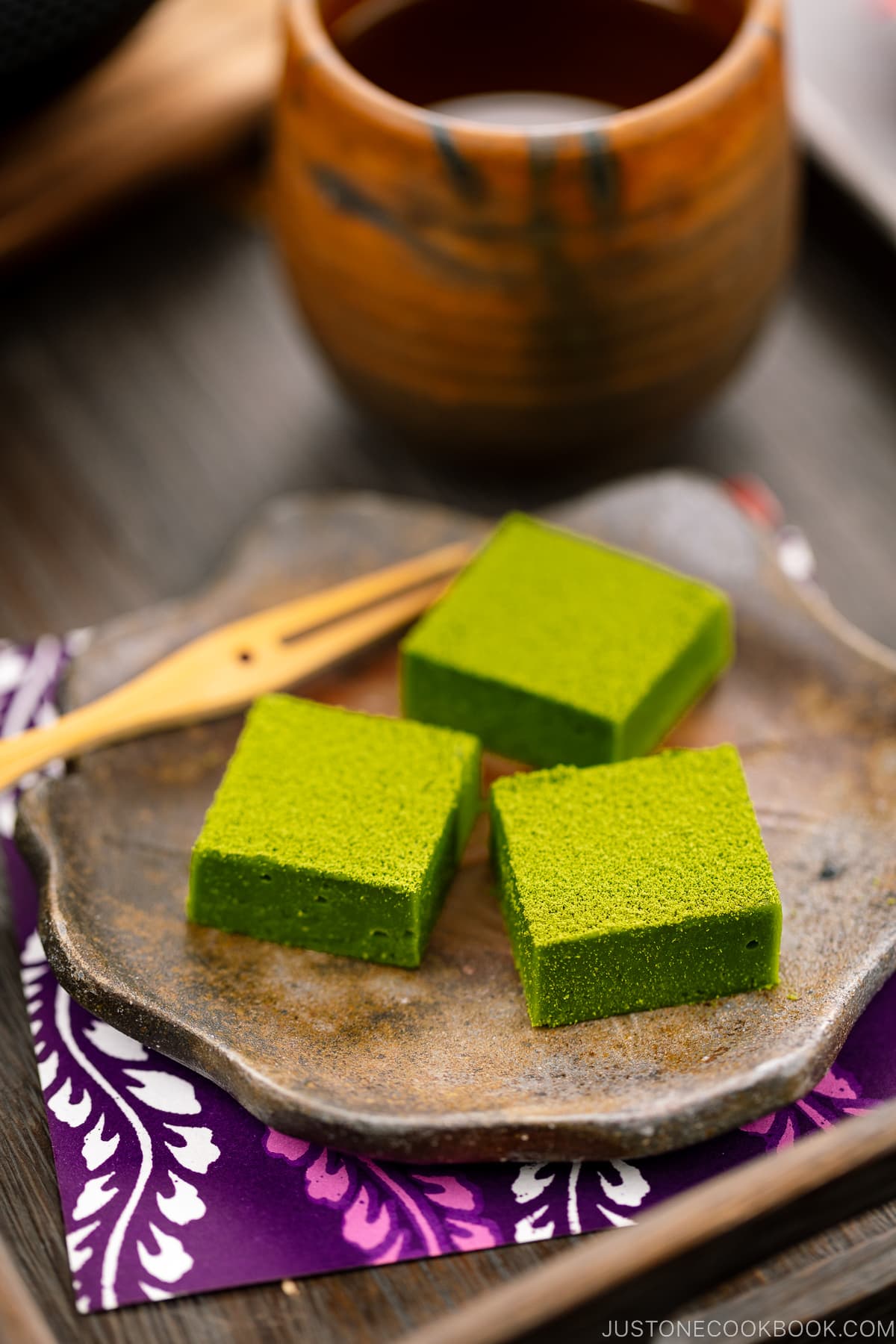 This Matcha Chocolate, or what we call Matcha Nama Chocolate (抹茶生チョコレート) in Japan, simply melts in your mouth.
As I was testing this recipe, I knew I won't be able to stop eating them so Mr. JOC took them to work. He told me later, "The green tea chocolate disappeared in seconds." I promise you, it's really good!
Green tea powder, or matcha (抹茶), has a unique bitter taste to it. The flavor of "matcha" is quite different from the green tea served at Japanese restaurants. Matcha is typically used for making tea at the traditional Japanese tea ceremony. This tea tends to be thick and exceptionally bitter, but it goes quite well with wagashi (和菓子), a traditional Japanese confectioneries that are very sweet by itself.
The color of matcha is a bright, beautiful green color, so if your matcha powder doesn't have that nice vivid hue to it, your matcha is well past its prime. The green tea powder is also quite pricey, especially if it is of tea ceremony quality, but the culinary grade is good enough for baking and making these chocolates.
As you may already know, green tea delivers a healthy dose of antioxidants and cancer-fighting power. Catechins in green tea are also known to have many beneficial health properties and matcha has greater potential health benefits than other green tea.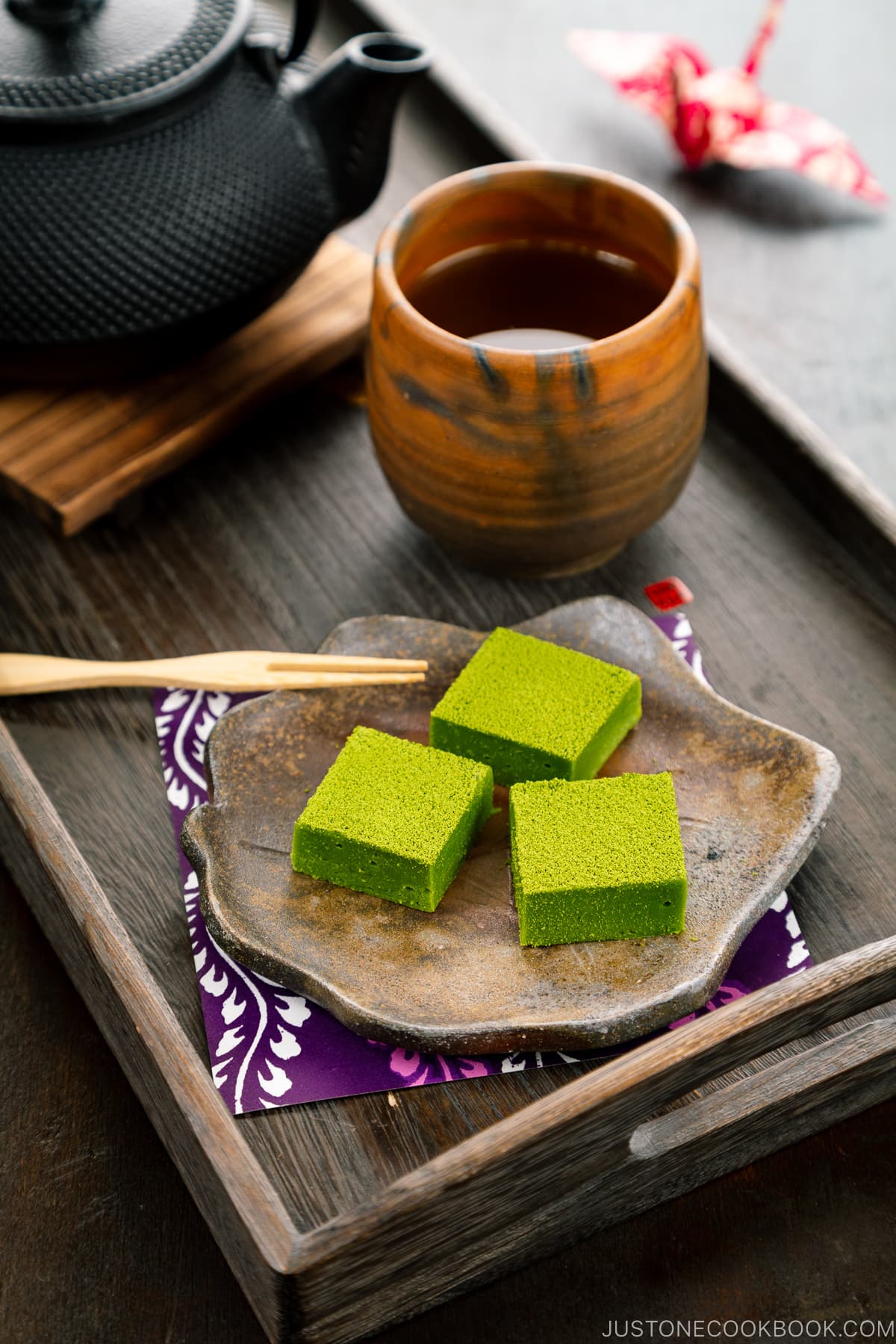 In Japan, there are many varieties of green tea chocolate in stores, including green tea Pocky's, Melty Kiss, Kit Kat, and the popular ROYCE' Chocolate.
When I made ROYCE' copycat Nama Chocolate two years ago, I received many requests for the green tea version. I love anything with green tea, so I'm really happy to finally share this green tea version with you this year. Right in time for Valentine's Day!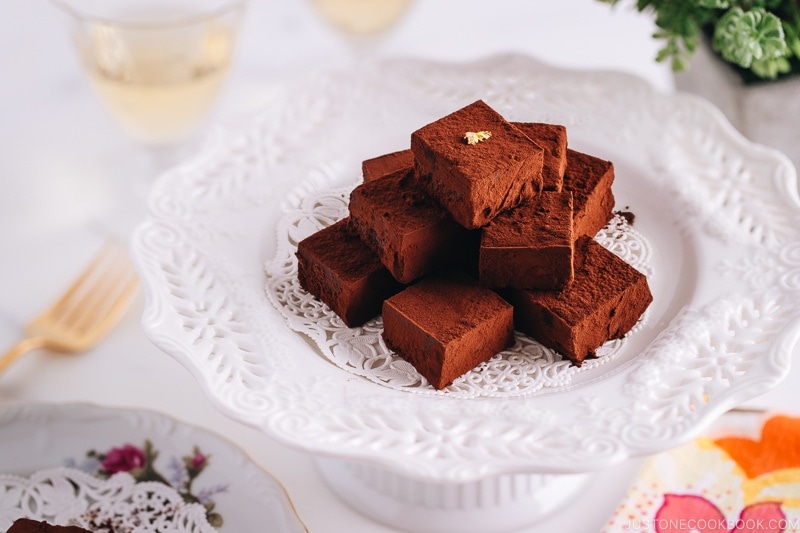 The cooking process for this recipe is very similar to the regular Nama Chocolate recipe, but white chocolate is used instead of regular chocolate. My only advice for you is to work fast to melt the white chocolate while the cream is warm.
Rich, yet not so sweet, decadent truffle-like matcha green tea chocolate, it is simply irresistible. If you love green tea sweets, this will be the ultimate treat for you.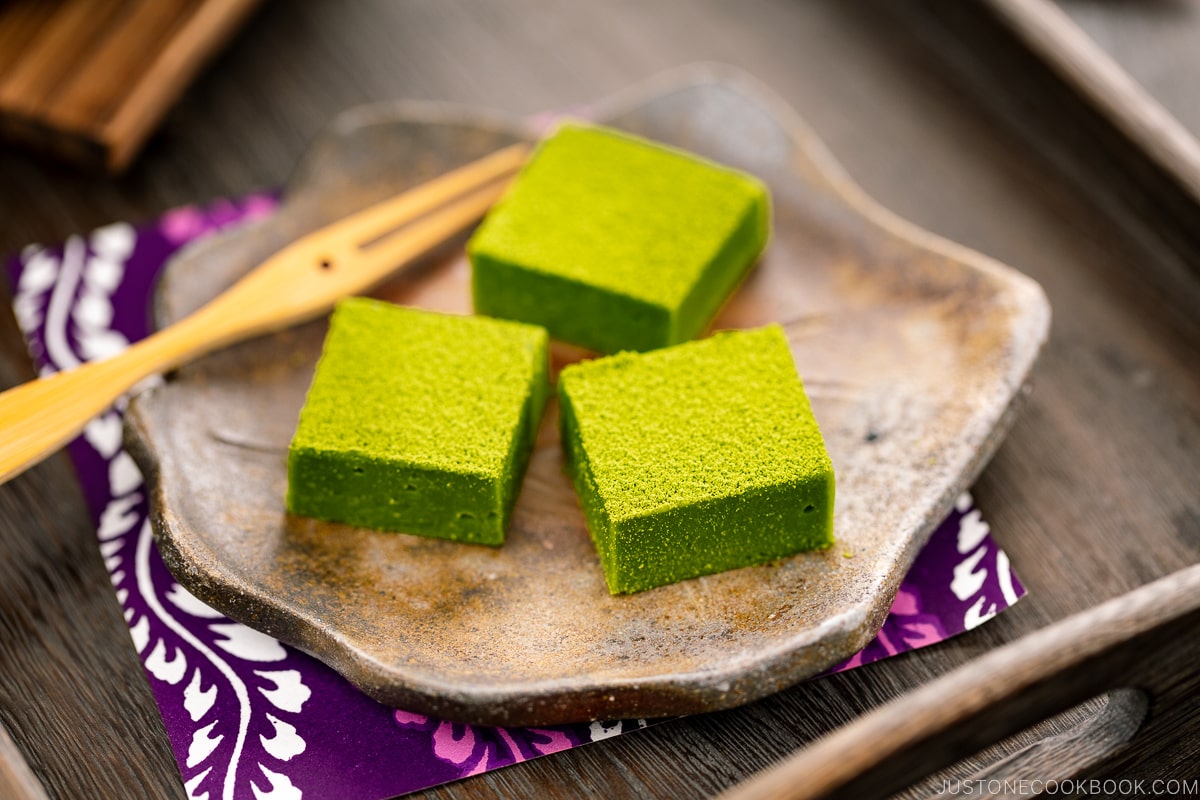 Wish to learn more about Japanese cooking? Sign up for our free newsletter to receive cooking tips & recipe updates! And stay in touch with me on Facebook, Pinterest, YouTube, and Instagram.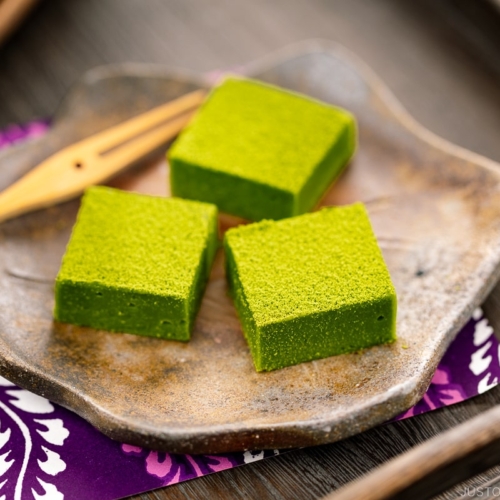 Matcha Chocolate
Made with white chocolate, butter and cream and dusted with Japanese green tea powder, this decadent Matcha Chocolate (or Matcha Nama Chocolate) is simply irresistible. It's rich with a truffle-like texture and just the right touch of sweetness. 
Video
Japanese Ingredient Substitution:
If you want substitutes for Japanese condiments and ingredients, click
here
.
Instructions
Gather all the ingredients. You will also need

1

8- x 8-inch (20 x 20 cm) baking dish and line it with parchment paper.

Chop

14 oz white chocolate

into small pieces so it will melt quickly.

Cut

2 Tbsp unsalted butter

into small pieces.

Add

½ cup heavy (whipping) cream

into a small saucepan and bring it ALMOST to a boil over medium heat. Keep an eye on the cream; when you see bubbles around the saucepan, remove from the heat.

Immediately add the white chocolate and butter. With a rubber spatula, mix all together.

The mixture will start to solidify, so melt the chocolate and butter while the cream is still warm.

Once the mixture is smooth, sift and add

2 Tbsp matcha (green tea powder)

into the mixture.

Mix and combine together until the color is homogeneous.


Into a prepared the baking dish lined with parchment paper, pour the green tea chocolate mixture.

Tap the baking dish a few times on the kitchen countertop to remove any air bubbles. Flatten the surface with the rubber spatula if necessary. Refrigerate for 4–5 hours (or overnight).

Lift the parchment paper to remove the green tea chocolate from the baking dish. Run the sharp knife under hot water to warm up the knife and wipe it dry completely.

Slice the 8- x 8-inch (20 x 20 cm) chocolate block into 4 smaller squares, then cut each square into 9 small pieces.

Dust

2 tsp matcha (green tea powder)

on top of the chocolate. Store the chocolate in the refrigerator until ready to serve. Serve chilled.
To Store
You can keep the leftovers in the refrigerator for 2–3 days, but it's best to enjoy it sooner.
Notes
IMPORTANT: PLEASE READ BEFORE MAKING!
Make sure the bowls and utensils you are using are perfectly dry. Even a small amount of water/steam can "seize" the chocolate melting process.
When buying white chocolate, make sure that it contains cocoa butter because some inferior brands contain vegetable fat. White chocolate should be ivory-colored (white chocolate made with vegetable fat is white-colored).
The fat content for heavy (whipping) cream is 38%, which is used to whip cream.
TROUBLESHOOTING:
The two most common problems of working with chocolate are separating and seizing.
Separation (oil came out of the chocolate) happens when you get the chocolate too hot. When chocolate gets too hot, the cocoa butter separates from the solids, and there is no way to salvage it (although you can bake with it and it tastes fine). The best way to prevent separation is to use gentle heat (simmer on lowest heat) and stir frequently. Since we're not using a double boiler in this recipe, make sure you do not bring the heavy whipping cream to a full boil. Remove from heat as soon as you saw bubbles around the edges of the saucepan.
Seizing happens when moisture is introduced to melted chocolate (even a tiny amount of liquid or steam). It happens all of a sudden from a smooth bowl of liquid chocolate to a lumpy, grainy mass of chocolate.
To learn more details and how to fix the overheated or seized chocolate, please read HERE.
Nutrition
Nutrition Facts
Matcha Chocolate
Amount per Serving
% Daily Value*
* Percent Daily Values are based on a 2000 calorie diet.
©JustOneCookbook.com Content and photographs are copyright protected. Sharing of this recipe is both encouraged and appreciated. Copying and/or pasting full recipes to any website or social media is strictly prohibited. Please view my photo use policy
here
.