Warabi Mochi is a chilled, deliciously chewy, jelly-like mochi covered with sweet and nutty soybean powder and drizzled with kuromitsu syrup.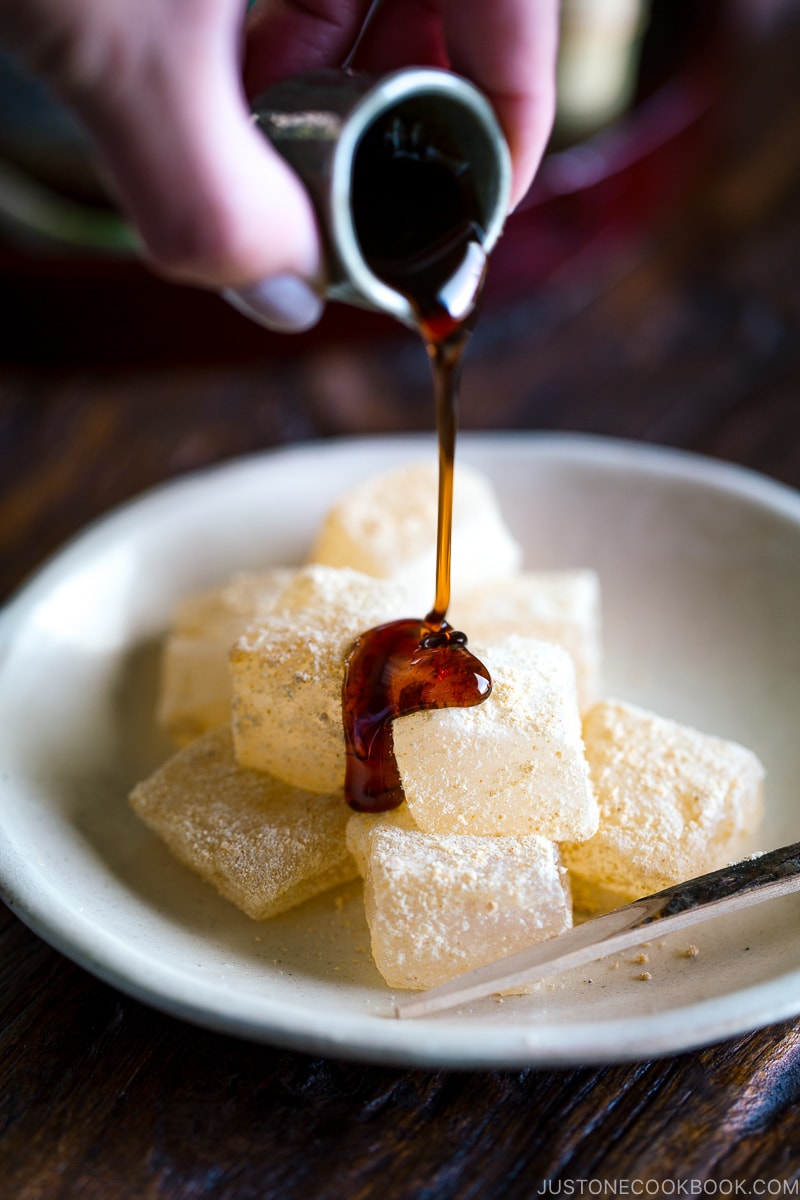 I usually spend my summers in Japan with my children, and that's when they explore new Japanese foods that are not always available in the SF Bay Area. Warabi Mochi (わらび餅) was their new "discovery" this year and I've enjoyed making it at home after we came back.
What is Warabi Mochi?
If you haven't heard of Warabi Mochi (わらび餅), don't worry, you're not alone. There are many types of "mochi" in Japan, and this is just one of them. And unfortunately, this type of mochi is not so well-known outside of Japan. Maybe it's due to the lack of available ingredients to make them.
Warabi Mochi is made of warabi starch or bracken starch. Warabi/bracken is a type of fern, and the starch comes from the rhizomes (underground stem).
Unlike typical mochi made from glutinous rice, warabi mochi's texture is more jelly-like and it's chewy yet dissolves quickly. Because it is clear and looks refreshing, warabi mochi is often enjoyed in the summertime.
What does it taste like? Believe it or not, it has almost no flavors – the only thing you taste is the sweet toasted soybean flour or kinako and the kuromitsu (黒蜜, brown sugar syrup). Sometimes red bean paste is wrapped inside the warabi mochi too.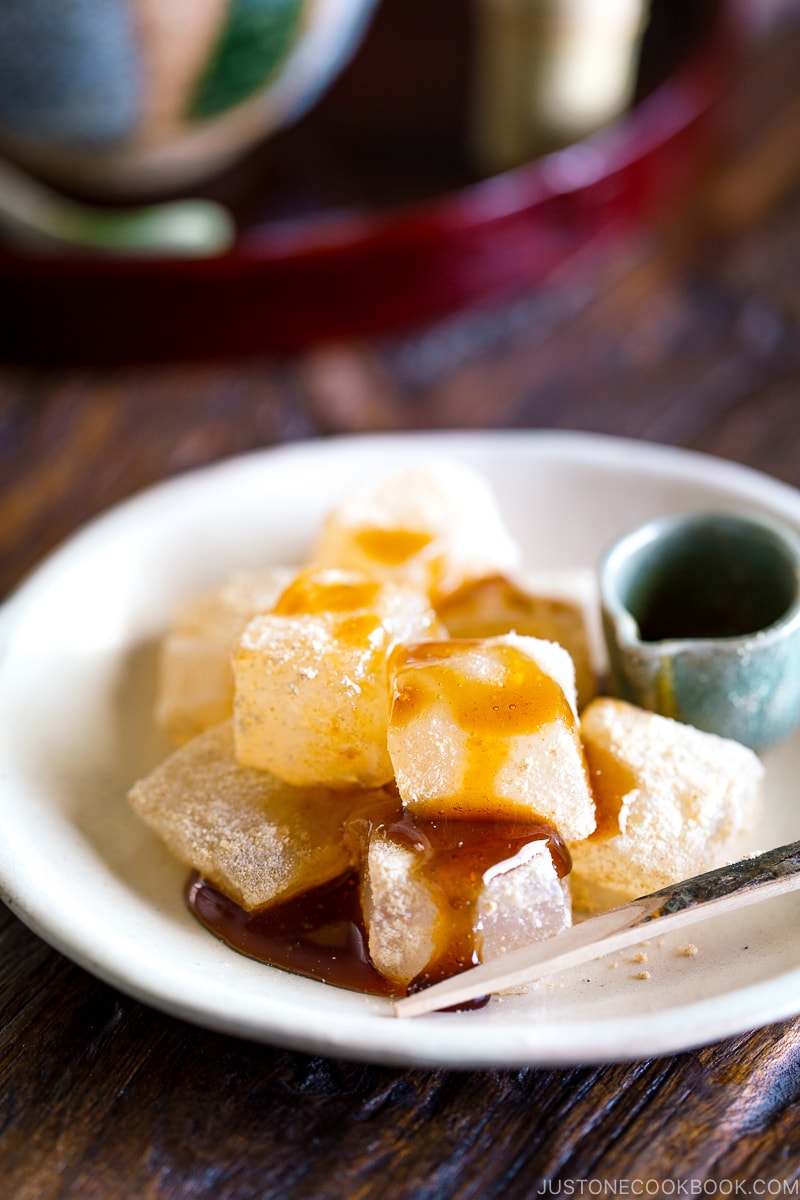 2 Types of Starch used in Warabi Mochi
Making this dessert is the easy part. The hard part is getting the main ingredient – warabi/bracken starch. Most likely typical Asian grocery stores won't carry it so you'll need to check Japanese grocery stores. There are 2 types of warabi/bracken starch.
Hon Warabiko (本わらび粉) – Warabi 100%
This is the pure starch from warabi (but please read the next section for more details). It's very expensive because it's difficult to harvest, and only a small amount of the roots (just 5%) becomes starch. It is also very time consuming to process it into powder. If it's made from hon warabiko then the price is usually very expensive.
Warabi mochi made with 100% warabi/bracken starch is more brownish or blackish color. The package comes in clay-colored pebbles (not powders). If you refrigerate warabi mochi, it gets hard. Therefore, true warabi mochi is stored at room temperature all times and it only lasts for a day.
Warabi Mochiko (わらび餅粉) – Made of other starch
The majority of warabi mochi that you can purchase is made with other starch, not warabi starch. If you look at the ingredients, it should say sweet potato starch (甘藷(サツマイモ)澱粉) or tapioca starch (タピオカ澱粉). Warabi mochiko is more reasonably priced, and you will probably find this type in a Japanese grocery store.

Where To Buy Warabi/Bracken Starch
Warabi starch I used for this recipe is "warabi mochiko", the sweet potato starch type.
While I was researching where you can buy bracken starch, I found out that you can get "hon warabiko" (本わらび粉, 100% warabiko) on Amazon here and here. However, I've also read that because there is no regulation, a lot of places sell the mixture of warabiko and other starch as "hon warabiko". So keep in mind that it might not be 100% bracken starch even though the box says so, especially if it's a relatively affordable price (but it's more expensive than warabi mochiko).
If you're looking for kinako, toasted soybean flour, you can find a really good quality one from Hokkaido, Anything From Japan ships internationally, or here on Amazon.
For kuromitsu syrup, you can purchase it here on Amazon. Or, you can make with an equal part of brown sugar and water to make the syrup.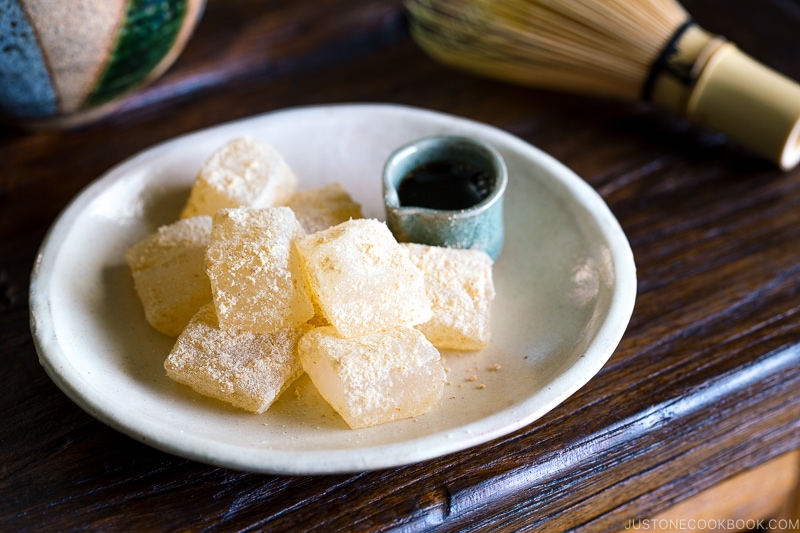 I hope you enjoy making this warabi mochi recipe! If you make this recipe, snap a picture and hashtag it #JustOneCookbook. I love to see your creations on Instagram, Facebook, & Twitter! Thank you so much for reading and till next time!
Japanese Ingredient Substitution: If you want to look for substitutes for Japanese condiments and ingredients, click here.
Wish to learn more about Japanese cooking? Sign up for our free newsletter to receive cooking tips & recipe updates! And stay in touch with me on Facebook, Pinterest, YouTube, and Instagram.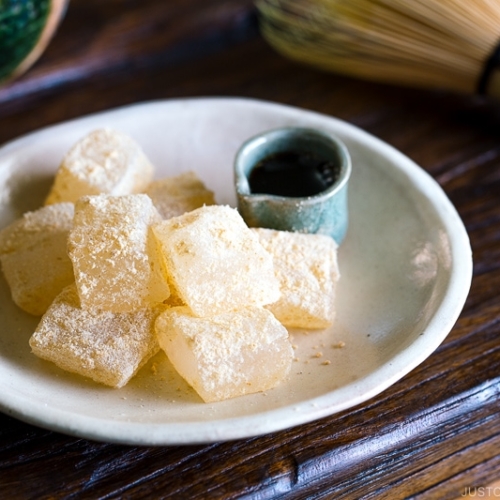 Warabi Mochi
Warabi Mochi is a chilled, deliciously chewy, jelly-like mochi covered with sweet and nutty soybean powder and drizzled with kuromitsu syrup.
Ingredients
¾

cup

Warabi Mochiko or Warabiko (bracken starch)

(To substitute, you can use potato or tapioca starch. However, please note that it will be a different consistency.)

½

cup

sugar

(The ratio of warabi mochiko and sugar ratio is usually equal. However, if you use a generous amount of kuromitsu syrup, you can reduce sugar to ⅓ cup or 80 g.)

1 ¾

cup

water
Japanese Ingredient Substitution:
If you want substitutes for Japanese condiments and ingredients, click
here
.
Instructions
Prepare all ingredients and sprinkle some kinako on a baking sheet.


In a medium saucepan, combine the Warabi Mochiko, sugar, and water and mix all together.

Heat the mixture over medium heat until it starts to boil.


Then reduce the heat. Using a wooden spatula, stir (more like beat) constantly and vigorously for 10 minutes, or until the mixture is thick and evenly translucent. It's quite a workout but be patient, it'll transform to clear color!


Remove the mochi from the heat and transfer to a baking sheet that's covered with kinako (soybean flour). Sprinkle more kinako on top and let it cool in the refrigerator for 20 minutes.


Once it's cooled, take it out from the refrigerator and slice into ¾ inch cubes. Toss the warabi mochi with kinako and serve on the plate. If you like, pour the Kuromitsu (brown sugar syrup) over the Warabi mochi and enjoy.

To Store
You can save warabi mochi at room temperature for 1-2 days. If you keep in the refrigerator warabi mochi gets hard and becomes white color. Warabi mochi is tastier if you refrigerate for 20-30 mins before you eat. If you use real warabi starch, it lasts only for a day and must be enjoyed soon. If warabi starch is mixed with other starch, it lasts longer, but the color is not as clear.
Nutrition
Calories:
217
kcal
·
Carbohydrates:
48
g
·
Protein:
3
g
·
Fat:
2
g
·
Saturated Fat:
1
g
·
Polyunsaturated Fat:
1
g
·
Monounsaturated Fat:
1
g
·
Sodium:
2
mg
·
Potassium:
189
mg
·
Fiber:
1
g
·
Sugar:
26
g
·
Vitamin A:
9
IU
·
Calcium:
30
mg
·
Iron:
1
mg
©JustOneCookbook.com Content and photographs are copyright protected. Sharing of this recipe is both encouraged and appreciated. Copying and/or pasting full recipes to any website or social media is strictly prohibited. Please view my photo use policy
here
.