Representing the elegance of the changing season with trees in full bloom, these Cherry Blossom Rice Balls are a perfect dish to bring to a spring picnic!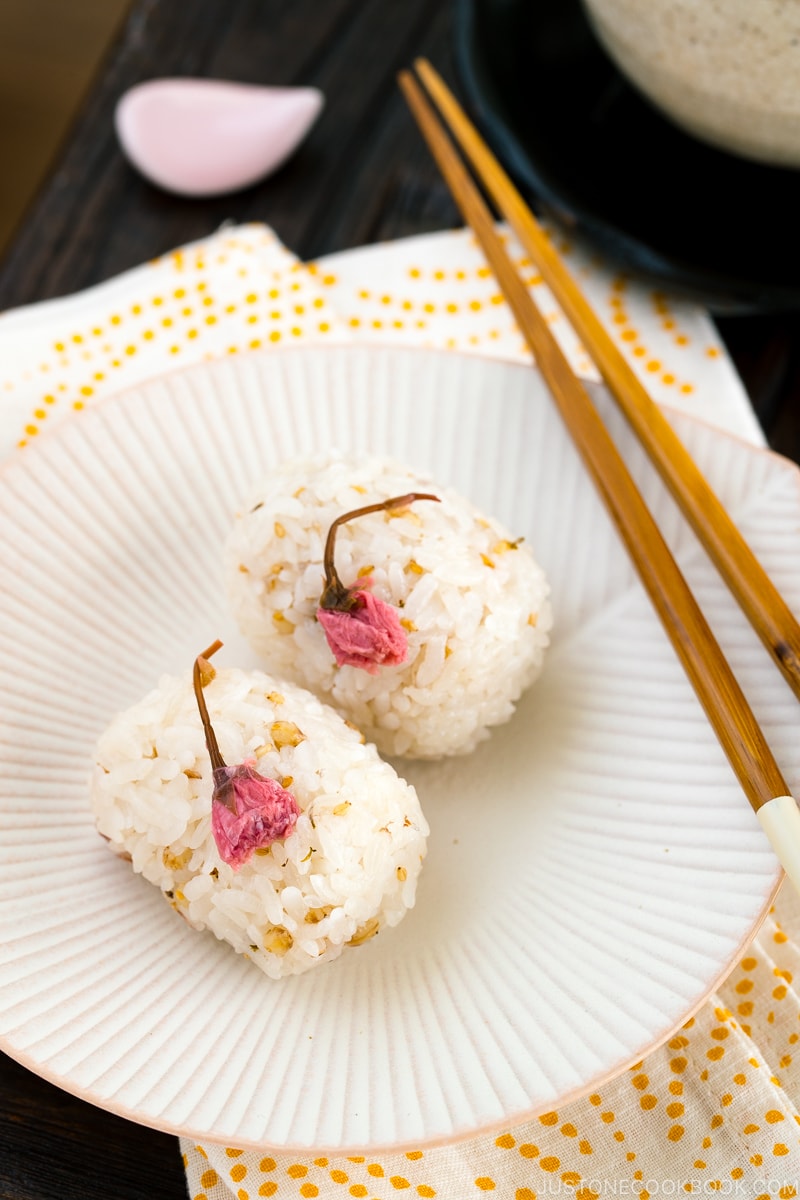 Until today, I have shared only sweet-tasting recipes with cherry blossoms. To balance out the sweetness, I have a delicious savory recipe to share using salt-pickled cherry blossoms.
Cherry Blossom Rice Ball (桜のおにぎり) is a wonderful way to incorporate this Japanese seasonal ingredient into a picnic snack or part of a Japanese-themed meal. They also make a memorable gift to your loved ones that you can surprise them with this spring to celebrate the return of warm weather and fresh, spring flowers.
Cherry Blossom for Culinary Use
Japanese cuisine focuses heavily on seasonality. You will find many dishes that incorporate seasonal ingredients. Eating in season is also a thoughtful and profound way to be connected to nature.
When springtime comes, we not only admire the flowers but also preserve them to cherish the taste of the season. The custom of using cherry blossoms for culinary has been around for many years in Japan. We serve cherry blossom tea at weddings and we make cherry blossom rice balls for hanami viewing. Since cherry blossoms stay in bloom for just two weeks, they are a gem to take delight in. And for me, cooking with cherry blossoms brings many happy memories of my childhood back in Japan.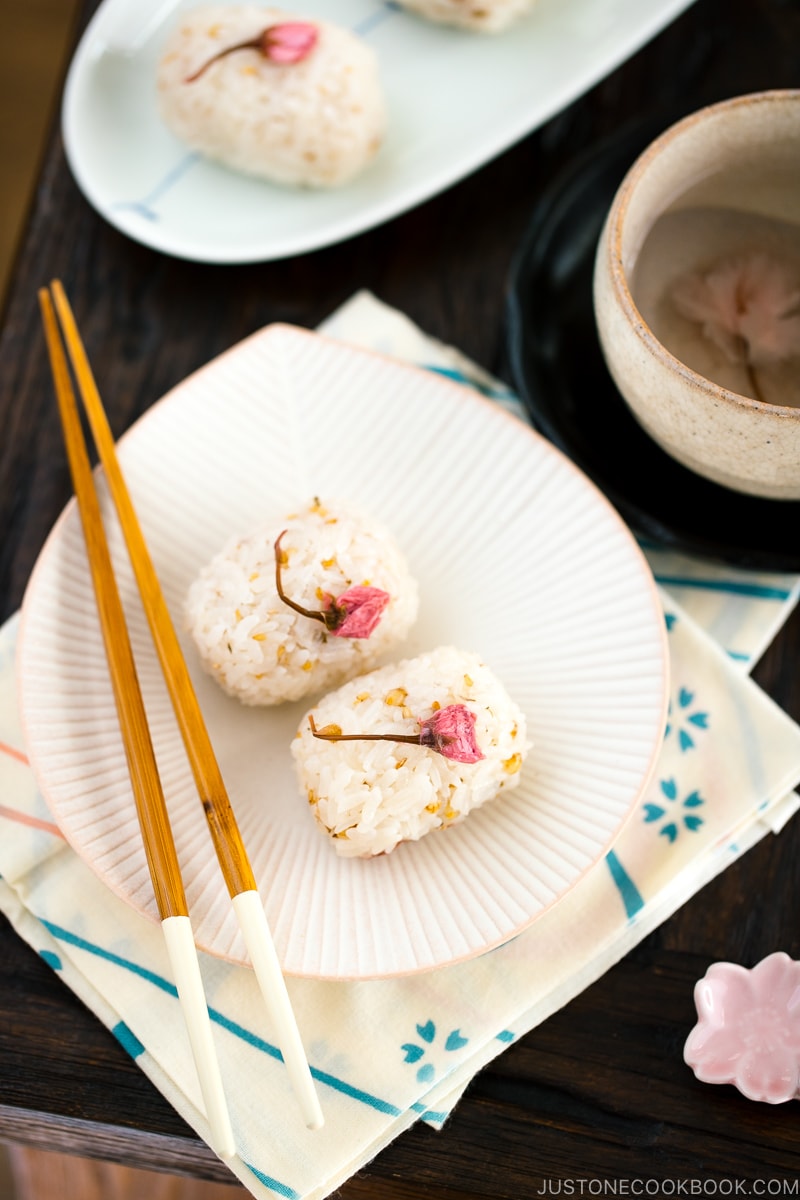 A Springtime Match – Cherry Blossoms Rice Balls
Salt-pickled cherry blossoms not only work well with sweets but also with savory dishes, like rice balls! I usually buy salt-pickled cherry blossoms for baking, but I always end up with a few leftover blossoms. Since these pretty flowers should not go to waste, I use them to make these delicious rice balls (onigiri). They are quick and easy to make, and always a family favorite.
Slightly salty with a delicate floral fragrance, these cherry blossom rice balls are an absolute treat and they capture the essence of spring so beautifully. You want to pack them in a bento box and enjoy them under the full-blossomed cherry trees!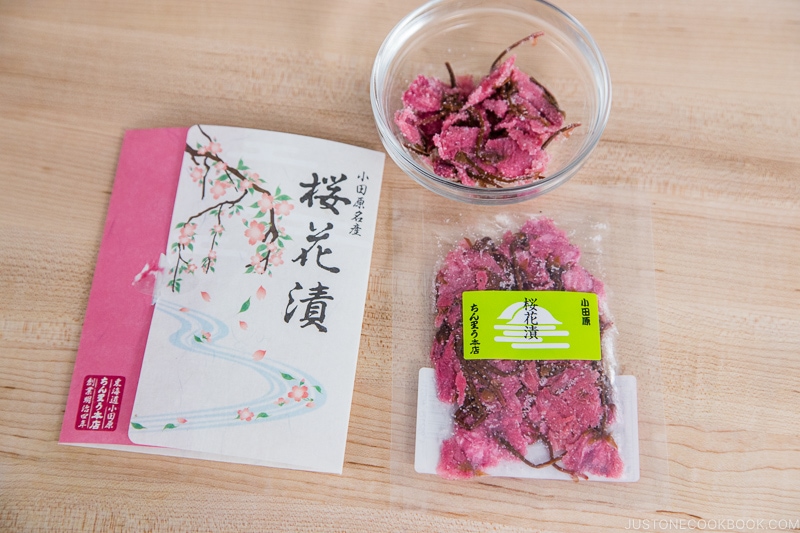 What Are Salt-Pickled Cherry Blossoms and Where to Get Them?
These edible salt-pickled cherry blossoms are made with Yaezakura (八重桜), blossoms of more than five petals. They are carefully handpicked while the buds are still tender and young, then washed, drained, and dried before they are sprinkled with salt. On the next day, the brine is squeezed out and the flowers are pickled in ume plum vinegar (梅酢) and let sit for about 3 days. Finally, they are dried in a single layer for another 3 days in the shade or until they are completely dried. To preserve, the blossoms are packed in a jar with salt. This way, they can be kept for one year.
You can purchase these salt-pickled cherry blossoms from this Japanese online store that ships internationally (this company also sells them on Amazon), or another brand on Amazon. You might be able to find it at Japanese grocery stores when in season. You can also purchase it from Weee!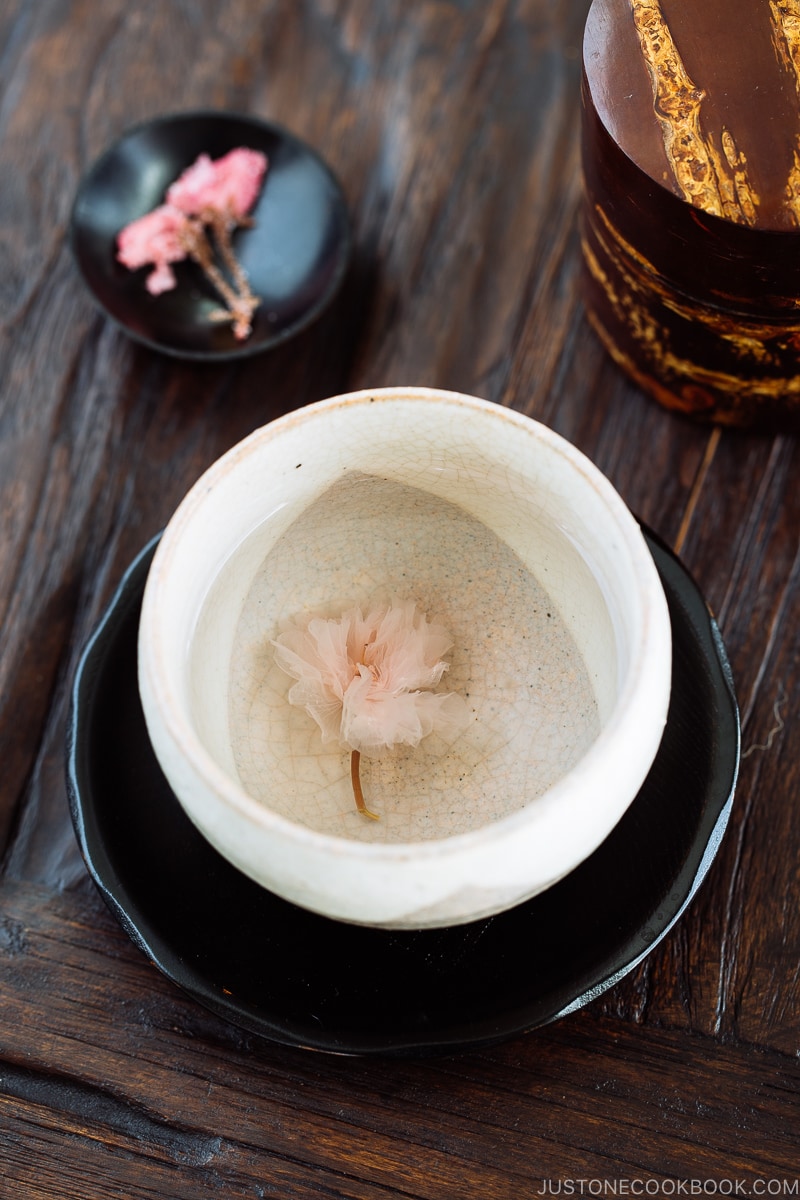 What is Mochi Mugi (Barley)?
When we were in Okinawa last Christmas, I had a chance to try a type of rice ball with mochi mugi. And I LOOOOVED them.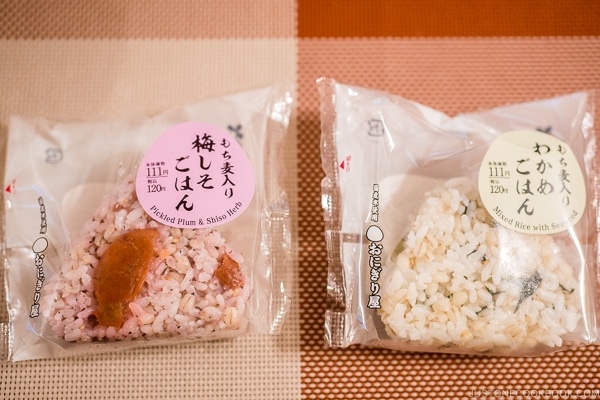 So I brought this package of Mochi Mugi back to the States.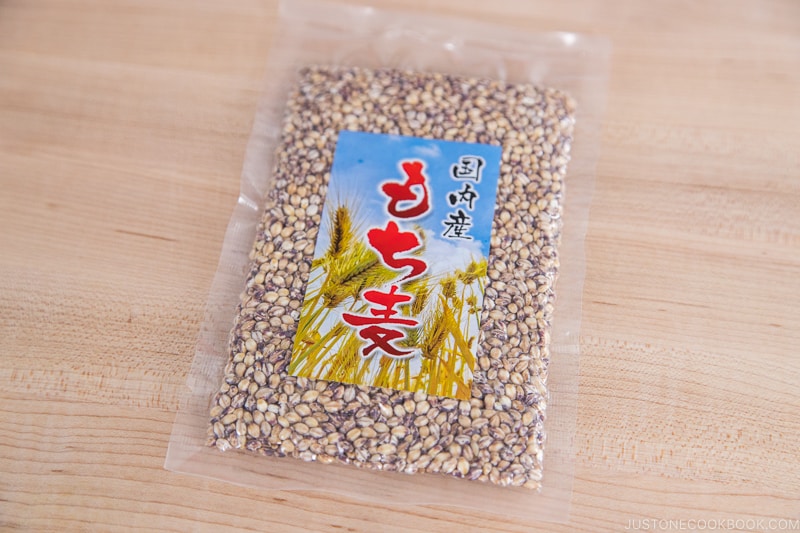 Mochi mugi (もち麦) is a type of barley. It contains 4 times the amount of fiber found in brown rice, which is approximately 25 times that of white rice. Mochi mugi is also rich in vitamin B1, phosphorus, and vitamin B3, and has a protein content comparable to quinoa!
Only a small amount of mochi mugi was added to the regular white rice in this recipe. Yet, when you bite into the rice ball, you immediately know that it adds a nice bouncy texture to the onigiri. I love adding into rice ball recipes now, so I made room in my suitcase to bring some back from Japan (that was before I found out how easy it was to purchase here in the US!).
Other Recipes Using Salt Pickled Cherry Blossoms
Here are other recipe ideas for you to try using salt-pickled cherry blossoms that you can bring along for your picnic basket or bento. Enjoy spring and I hope you get to take time off to go for a hanami adventure with your loved ones.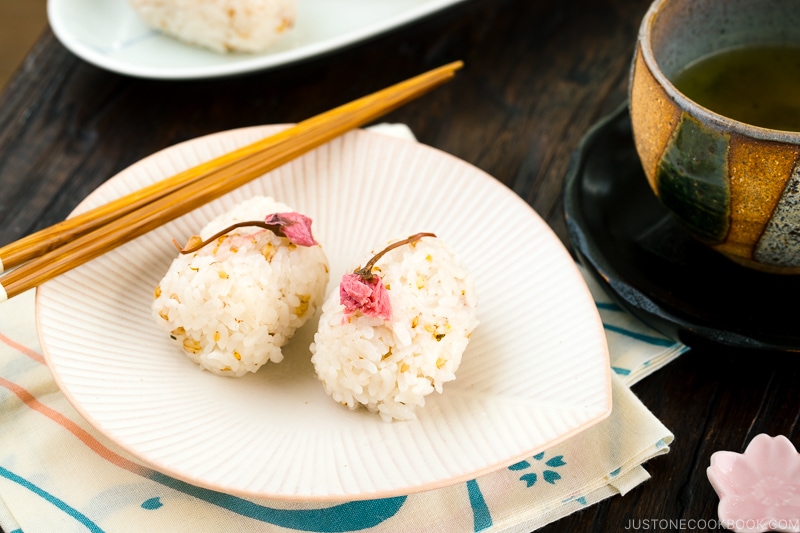 Wish to learn more about Japanese cooking? Sign up for our free newsletter to receive cooking tips & recipe updates! And stay in touch with me on Facebook, Pinterest, YouTube, and Instagram.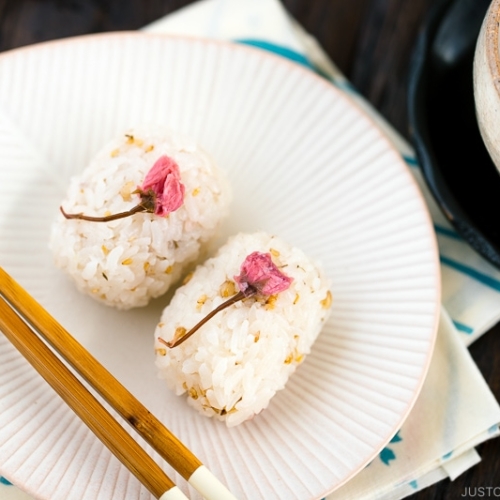 Cherry Blossom Rice Balls
Representing the elegance of the changing season with trees in full bloom, these Cherry Blossom Rice Balls are a perfect dish to bring to a spring picnic!
Japanese Ingredient Substitution:
If you want substitutes for Japanese condiments and ingredients, click
here
.
Instructions
Gather all the ingredients. Please note that 1 RICE COOKER cup is 180 ml, not 240 ml (1 cup).
To Prepare Rice and Cherry Blossoms
Rinse the rice under cold water until it's almost clear. Add mochi mugi to the rice (read the instruction of the package to see if it's necessary to rinse). Let the rice soak in water for 30 minutes, and then drain water completely over a sieve.

Put 12 salt-pickled cherry blossoms in a bowl. Add water and gently rinse off the salt from the flowers. Discard the water and add new water.

Let the flowers soak for 5 minutes. Then gently pick up 6 nicest looking flowers and lay them on a plate.

Pick up the rest of flowers as well as broken pieces and squeeze the water out.

Chop the flowers finely. You should get about 1 teaspoon.
To Cook Rice
Now transfer the well-drained rice and mochi mugi into the rice cooker, add water until the 1-cup line (200 ml). Then evenly distribute the chopped flowers over the rice. Press "start" to cook the rice.

Once the rice is done cooking, add 2 tsp white sesame seeds and fluff the rice with a rice scooper. Roughly divide the rice into 6 equal portions.
To Make Rice Balls
First wet both of your hands with water in order to keep the rice from sticking to your hands. Gently tap 2-3 finger tips in kosher salt and rub to spread all around your palms (Why using salt? Please read Notes below). If you are using table salt, use half the amount as it is saltier than kosher salt.

Scoop out one portion into one hand. Then mold the rice with your hands by pressing it down gently to form a barrel shape (or any shape you like). Your hands should be just firm enough so the rice ball doesn't fall apart. You don't want to squeeze the rice too tight. Continue making rice balls with the rest of rice. Place each of the reserved flowers on top of the rice balls and serve warm or at room temperature.
Notes
Salt for making rice balls:

You may wonder why we use more salt when the rice is already flavored with salt-pickled cherry blossoms. I tried skipping the salt once, but the cherry blossom rice balls turned out bland. When making rice balls in Japan, we use salt to preserve the rice balls at room temperature as the rice gets hard in the fridge.
Nutrition
Nutrition Facts
Cherry Blossom Rice Balls
Amount per Serving
% Daily Value*
* Percent Daily Values are based on a 2000 calorie diet.
©JustOneCookbook.com Content and photographs are copyright protected. Sharing of this recipe is both encouraged and appreciated. Copying and/or pasting full recipes to any website or social media is strictly prohibited. Please view my photo use policy
here
.