Celebrate Spring with these crispy and buttery Cherry Blossom Cookies with salt pickled cherry blossoms.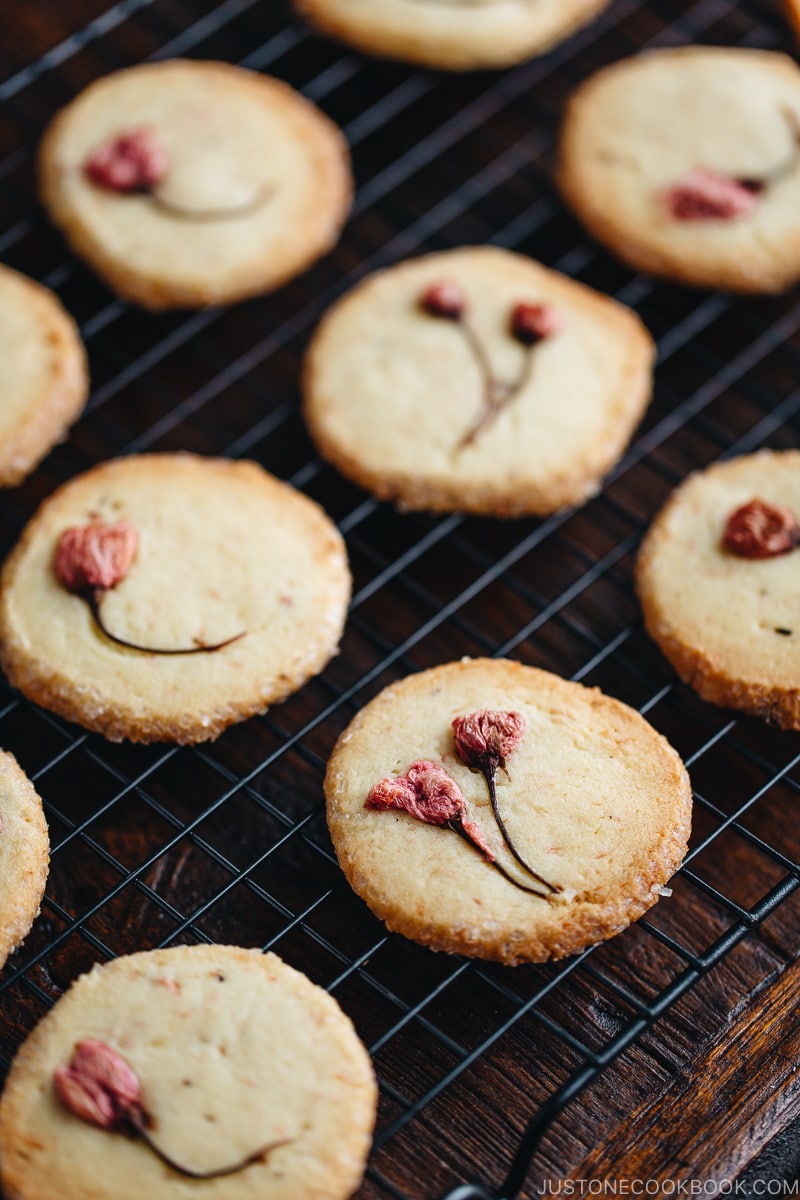 Spring in Japan is so beautiful and magical. All the hills and parks are covered with pink and white cherry blossom trees, and many of them adorn city streets as well.
To celebrate the beauty of cherry blossoms, I shared my Cherry Blossom Milk Pudding recipe last week, and this week I want to share Cherry Blossom Cookies with you.
Watch How To Make Cherry Blossom Cookies
Enjoy crispy and buttery cherry blossom cookies with salt pickled cherry blossoms, decorate the side of cookies with sparkling sugar for an elegant look and taste.
Cherry Blossom Cookies

with Salt Pickled Sakura
Many of you probably didn't know that cherry blossoms (sakura in Japanese) are actually edible. In Japan, we preserve them with salt so they can be used in various dishes. However, it's not as simple as just sprinkling salt over the blossoms. The whole preserving process takes place over several weeks.
Tender young buds are hand-picked, washed, and dried. They are then soaked in ume plum vinegar for several days before being dried completely. Finally, they are packed in jars or packages with salt.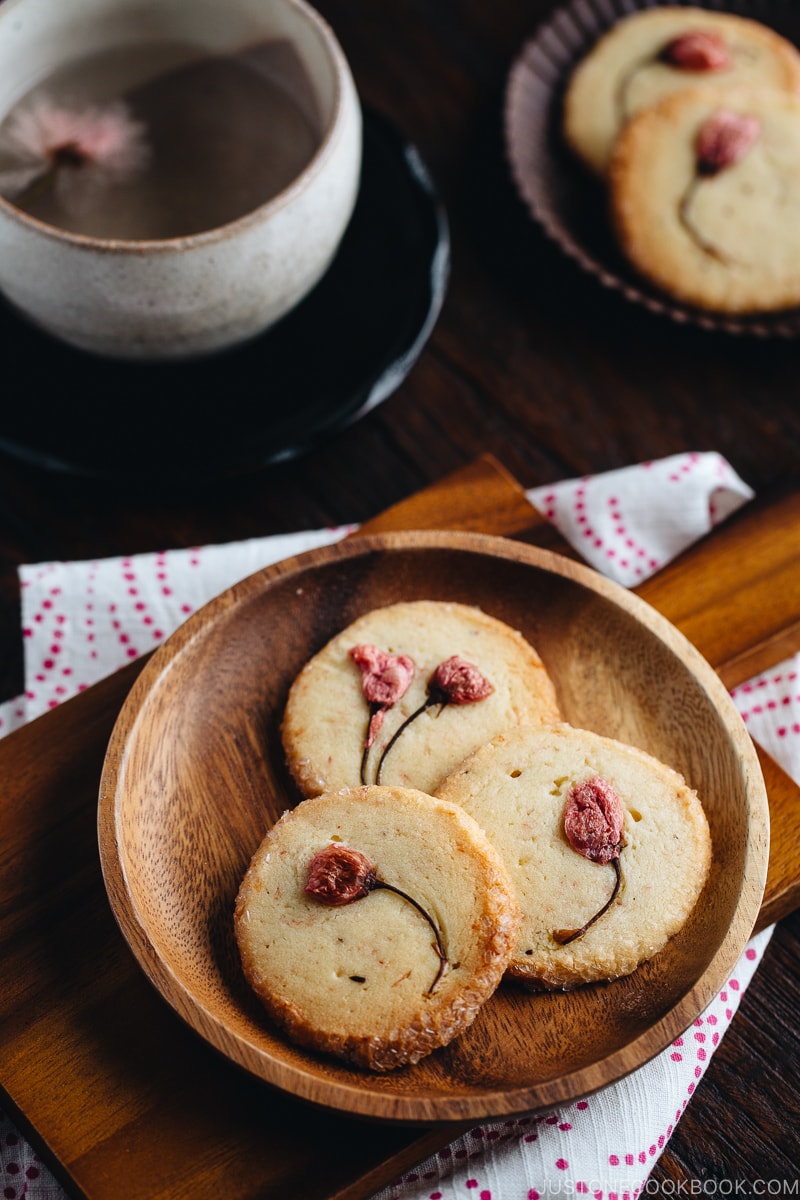 I think it will be fun to make them from scratch one day. For those of us who are not lucky enough to have cherry blossoms around us, we can purchase them from this online store that ships internationally!
Buttery, Slightly Salty, Cherry Blossom Cookies
These cherry blossom cookies are butter cookies, or you may know them as shortbread cookies or sable cookies. They are unleavened cookies, which means that leavening agents such as baking powder or baking soda are not used in the recipe.
They consist of just butter, sugar, and flour and often flavored with vanilla. We use salt pickled cherry blossoms in this recipe, so it adds just enough saltiness essence to the rich, buttery cookies. You can smell and taste the cherry blossoms, which is the highlight of these cookies.
The texture of the cookies is "crisp" rather than chewy or soft cookies. It is commonly necessary to chill the dough for easy handling. The chilled dough will give clean, sharp edges for the cookies and holds its shape better in the oven.
Usually, for this type of cookies, you roll the dough into a cylindrical shape, chill, and then slice into rounds (or roll out the dough, chill, and cut out).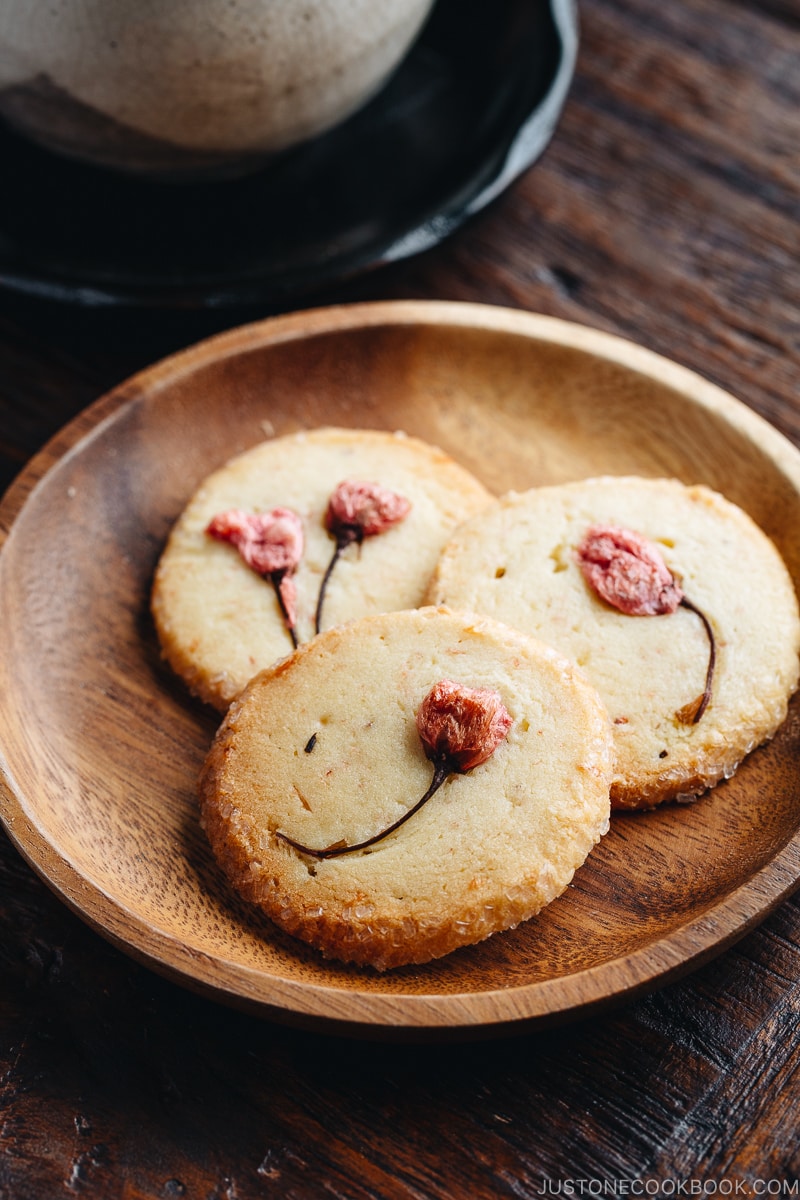 Ingredients Substitution
Powder Sugar vs. Granulated Sugar
I've made butter cookies with both sugar and they both work, so you can experiment and decide. I used powder sugar for this recipe because I read some article that granulated sugar in butter cookies would not dissolve completely while being baked. Given that butter cookies don't contain liquid, the cookies would wind up with a rough texture.
Cake Flour vs. All Purpose Flour
Again, you can make butter cookies with either flour. Butter cookies are meant to be somewhat crumbly because they have a high butter (fat) content. If you use all-purpose flour, they will be a little more sturdy than the ones made with cake flour (a mix of both would be best). Cake flour gives light texture, and I think it fits better with this cherry blossom recipe. So I opted cake flour for this recipe. In Japanese, we say this texture saku saku (サクサク).
Sparkling Sugar
White sparkling sugar can be replaced with granulated sugar. Sparkling sugar has larger grain so that it won't melt and disappear while being baked. It adds a particular look as well as nice crunch when you bite into it.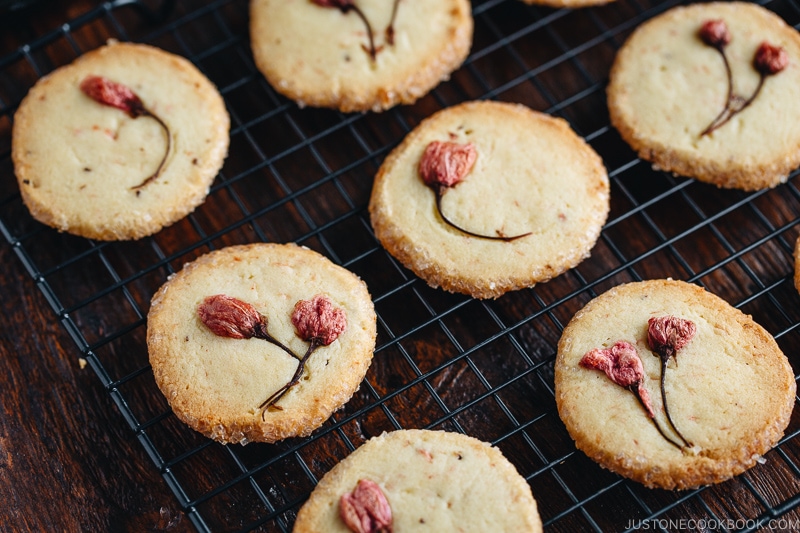 Recipes Using Salt Pickled Cherry Blossoms 
Use salt pickled cherry blossoms this spring to make these delicious and pretty recipes! Happy spring!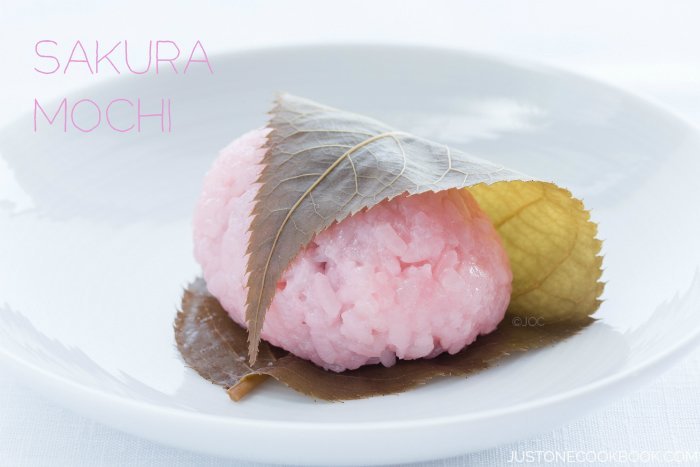 Don't want to miss a recipe? Sign up for the FREE Just One Cookbook newsletter delivered to your inbox! And stay in touch on Facebook, Google+, Pinterest, and Instagram for all the latest updates.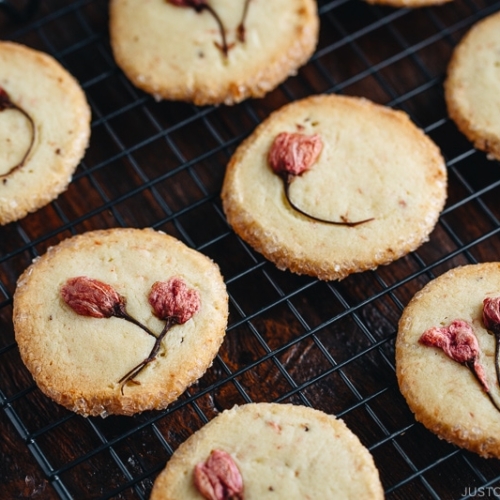 Cherry Blossom Cookies
Celebrate Spring with these crispy and buttery Cherry Blossom Cookies with salt pickled cherry blossoms.
Video
Ingredients
½

cup

unsalted butter

(4 oz, 1 stick, 8 Tbsp; room temperature)

1

oz

salt pickled cherry blossoms

(1 pack)

1

cup

cake flour (If you use a measuring cup, follow this method: fluff your flour with a spoon, sprinkle it into your measuring cup, and use a knife to level it off. Otherwise, your flour ends up with more than 120 g.)

⅛

tsp

kosher salt (Diamond Crystal; use half for table salt)

½

cup

confectioners' sugar/powdered sugar

1

large egg yolk

(0.5 oz, 15 g)

white sparkling sugar

(Sparking sugar has large grain so that it won't melt and disappear compared to granulated sugar and gives a nice look and crunch.)
Japanese Ingredient Substitution:
If you want substitutes for Japanese condiments and ingredients, click
here
.
Instructions
Gather all the ingredients.

Cut the unsalted butter into smaller pieces (so that they will soften faster). It's important to soften the butter before we start.


Separate salt pickled cherry blossoms into 2 groups: good flowers for decoration on the cookies, and 1 Tbsp of damaged flowers for blending in the cookie dough.

To remove saltiness, soak each group of flowers in water (separately) for at least 30 minutes.

Squeeze water out from 1 Tbsp of damaged flowers and pat dry with a paper towel.

Then mince the flowers and set aside.


Pick up the good flowers from the water, shape the petals nicely, and place the each flower on paper towel. Cover with another sheet of paper towel and gently pat dry. Set aside.


Sift the cake flour and add the salt in the same bowl.


In a stand mixer fitted with the paddle attachment or in a large bowl with a hand mixer, beat the butter until smooth and creamy.


Add the ½ cup (60 g) powdered sugar and blend until soft and light. Scrape down the bowl as needed.

Add the egg yolk and mix well until combined.


Gradually add 1 cup cake flour (120 g) and blend until the dough is smooth.

Add minced cherry blossoms and blend well.


Because the dough will be still too soft to roll into a log shape, cover the bowl with plastic wrap (or take out the dough from the bowl and wrap with plastic wrap) and keep in the fridge for 1 hour.


Shape the dough into a cylinder, about 1.5 inches (4 cm) diameter.


Wrap in plastic wrap and chill in refrigerator until firm, at least 2 hours. Optional; you can place the dough on a bed of rice while chilling. It'll help keep the dough in nice cylindrical shape, so your cookie slices won't be flat on one side.


Preheat the oven to 350ºF (175ºC). For a convection oven, reduce cooking temperature by 25ºF (15ºC). Line the baking sheet with parchment paper or silicone baking liner.

Remove the plastic wrap, and then wrap around the dough with a damp paper towel so that the dough will be slightly wet. Or of course, you can use traditional method and brush egg wash on the dough (but damp paper towel method works every time for me).


In a tray that fits the cookie dough, sprinkle the white sparkling sugar. Remove the damp paper towel and roll the cookie log on the sparkling sugar.


With a sharp knife, slice the dough into ⅓ inches (7 mm)-thick rounds. Place them on the baking sheet, leaving about 1" (2.5 cm) between rounds.

Gently press down the reserved cherry blossom and decorate on the cookie rounds. Tip: If the cookies are left out too long, place in the refrigerator for 10-15 minutes until the cookies are chilled (or the freezer for a short time); otherwise, the butter melts too quickly in the oven and the cookies will be flat.

Bake the cookies at 350ºF (170ºC) for about 15 minutes, or until the edge of the cookies start to get golden brown.

Remove from the oven and let cool on the baking sheet for 5 minutes; then carefully transfer to a cooling rack and let cool completely.

To Store
You can keep the cookies in an airtight container and store at a cool place for at least 4 days. You can also freeze the unbaked logs of dough, wrapped in plastic wrap, for up to 2 months. Let sit at room temperature for about 10 minutes before cutting and baking. Do not let the dough fully defrost.
Notes
Cake Flour: A properly measured cup of cake flour weighs 4.23 oz (120 g). The weight for 1 cup flour varies on how you measure it. When you measure flour by volume, please follow the methods below. I've tested this method many times, and if you do it properly, 1 cup is VERY close to 120 g each time.
Fluff up the flour several times with a spoon.
Using the spoon, sprinkle the flour into your dry measuring cup (the one that measures exactly a cup at the top).
Scrape off the excess with a knife.
Nutrition
Calories:
90
kcal
·
Carbohydrates:
8
g
·
Protein:
1
g
·
Fat:
6
g
·
Saturated Fat:
4
g
·
Polyunsaturated Fat:
1
g
·
Monounsaturated Fat:
2
g
·
Trans Fat:
1
g
·
Cholesterol:
25
mg
·
Sodium:
10
mg
·
Potassium:
14
mg
·
Fiber:
1
g
·
Sugar:
2
g
·
Vitamin A:
225
IU
·
Vitamin C:
1
mg
·
Calcium:
5
mg
·
Iron:
1
mg
©JustOneCookbook.com Content and photographs are copyright protected. Sharing of this recipe is both encouraged and appreciated. Copying and/or pasting full recipes to any website or social media is strictly prohibited. Please view my photo use policy
here
.